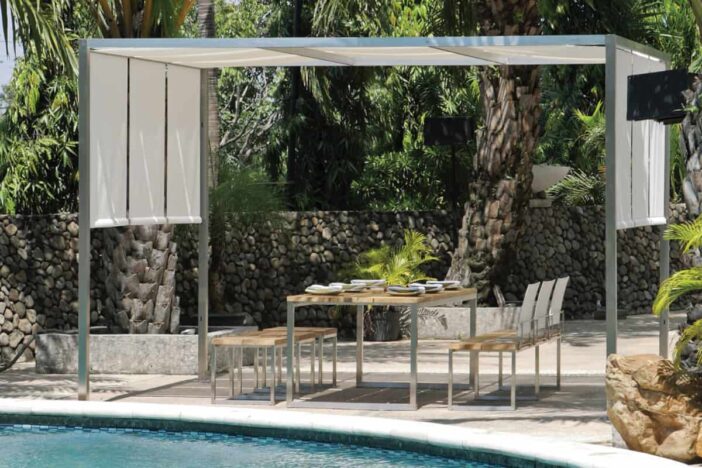 Your outdoor patio is the perfect place to host spring and summer parties. Aside from delicious food, cold drinks and good music, there are a few other things you can include to really take your patio to the next level.
A fire pit
Outdoor fireplaces are a must-have for patios. Not only do they create a cozy ambiance, they warm up the outdoor space to keep guests comfortable and happy during those cooler spring and summer nights. You can opt for a portable fireplace so you can move it to wherever the party guests may be gathering. Have s'more materials like marshmallows, chocolate and graham crackers on hand to provide your guests with the ultimate summer snack whenever they may be craving it.
A movie theater
Movies are always a fun group activity, but who wants to be inside when it's so beautiful outdoors? Bring the movie experience to your patio by setting up a big projector screen outside. Surround the area with plenty of pillows and blankets so everyone can cozy up for the film.
A water garden
Create a serene environment for your patio with a water garden. This way, you can enjoy the relaxing sound of water trickling over a set of stones, as if you and your party guests were all transported to a remote creek in the mountains.
A built-in beverage cooler
Entertaining guests usually means having to run back and forth between the patio and the kitchen to retrieve drinks. But with a built-in beverage cooler on your outdoor table, you won't have to. This weekend DIY project will allow drinks to sit in the middle of your table on ice so they're always cold and easily accessible.
A pergola, canopy or shade
A pergola is perfect for any patio because it creates a feeling of privacy without entirely enclosing the space. The cross rafters still allow cool breezes and warm sun to creep in, creating an airy, open environment to relax in with your family and friends. Adding a canopy, pavilion or bungalow is another terrific way to spice up your outdoor space. It provides sun protection and a little style to a deck or poolside area.
---
Photo Credits