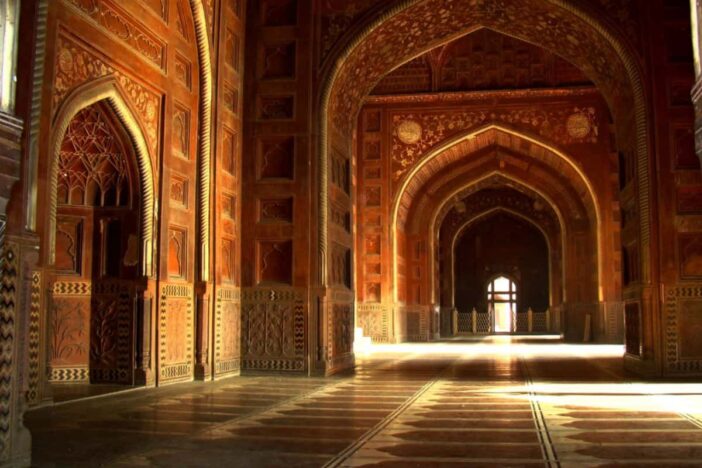 A new wonder of the world – Mughal emperor Shah Jahan's stunning mausoleum for his wife Mumtaz Mahal
A lover of Islamic-style architecture, Shah Jahan, emperor of the Mughal Empire, commissioned the Taj Mahal as a tomb for his wife, Mumtaz Mahal, which was completed around 1653. Today, the Taj Mahal is one of the most celebrated architectural marvels of the world – noted for its bright white marble exterior, beautiful domes and awe-inspiring spires. Combining Arabic, Persian and Indian styles, this structure's impressive yet restrained elegance can serve as a welcome source of inspiration if you're looking to bring a sub-continental appeal to your home's interiors. Here are some Indian and Taj Mahal-inspired elements to consider for your humble abode.
Complex patterns highlight traditional Indian style
One of the qualities that makes Indian decor so distinct is the overwhelming use of intricate, complex patterns in virtually every capacity. Geometric and floral designs that weave in and out of hand-woven kilim Indian rugs, window dressings, throw pillows, wallpaper and carved furnishings give this style a rich, multilayered appeal characteristic of the sub-continent. Often these patterns are accentuated by gold-embroidery and bright, inviting colors like light blue, deep red and yellow.
Aged wooden furniture are hallmarks of Indian decor
Even in the most modern Indian homes, you'll find pieces that feature an aged appeal. Lounge chairs, sofas and ottomans often display dark hardwood frames with ornate carvings and a rough, vintage aesthetic. In contrast to these dark woods, soft, plush pillows and cushions should display warm colors for added visual appeal and comfort. These styles can be further accentuated in a living room by tying in a complementary traditional rug.
Indian design features exotic accents
In addition to aged furnishings, exotic accents are commonly found in Indian homes. Idols, gems and statues function as religious decorations, while more practical elements like teapots, candlesticks and incense trays can provide added character to a room. Playing with accents that feature precious and semi-precious stones will also help recreate the elegance of the Taj Mahal's interior decor.
Photo Credits
Bjorn Christian Torrissen