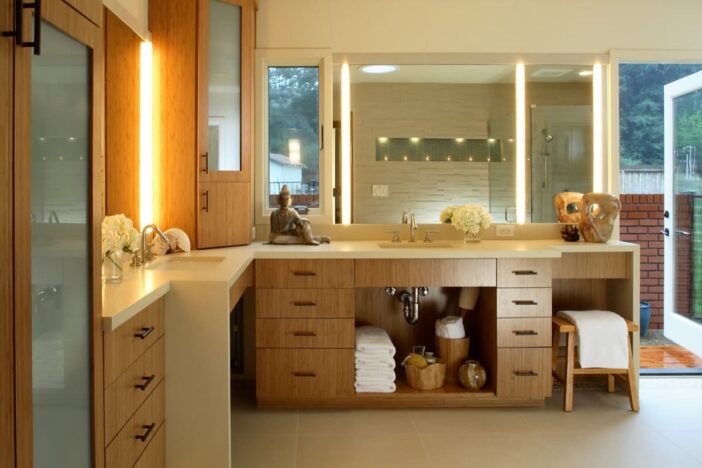 The bathroom is one of the only places you can go for complete privacy, making it a great space to turn into your sanctuary. However, between a toilet, shower and sink, among other bathroom necessities, you may not have much space to work with. Fortunately, there are design secrets that focus on opening up and brightening the area rather than adding extra clutter. Additionally, with the right style choices, you can make relaxing in a bubble bath an experience in which to relish.
Hide the toilet paper
A toilet can always be found in a bathroom, but that's not the only reason this room is used. When you're turning to this space for relaxation, toilet paper is the last thing you want to look at. Plus, you need a place to hide all of your hair and makeup products.
Use a storage bench or medicine cabinet for both functionality and added elegance. Wood is a popular choice for cabinets or shelving units. This versatile material adds warmth and glow that will only benefit your relaxing hideaway. Plus, it balances outs the cooler elements of marble, glass and tile that are typically found in a bathroom.
Add art pieces
Whether it's on the back of the toilet, on top of a cabinet or sitting on your sink, accent pieces add an artistic flair to your sanctuary. Select hanging wall art or sculpture that reflects the elements of the outdoors, like leaves or metals, to bring natural harmony into your bathroom.
Create a glow
Accent lights highlight art pieces displayed in the bathroom, or they can serve as decor all on their own. For example, place lanterns wherever there's an open surface for a glowing and nautical ambiance. To add a more sophisticated element to the space, place a chandelier or a small hanging light either in the center of the room or above the bathtub. However, with larger rooms, you made need a few of these fixtures for adequate lighting.
Functionality is an important factor when making lighting choices, and you can have both brightness and elegance in your bathroom. Use effective task lighting to properly apply makeup or shave in the bathroom mirror. Sconces on either side of the sink mirror will provide enough brightness to see clearly in this typically dark room. Additionally, consider adding dimmers to your lights. Not only will it allow your eyes to more easily adjust during your morning grooming routine, but a soft glow will effectively transition your space from bathroom to sanctuary when you're soaking in a bubble bath.
---
Photo Credits
Design by Yuko Matsumoto, CKD, CBD of Altera Design Kitchen & Bath
Featuring Dura Supreme Cabinetry
Photo by Douglas Johnson Photography