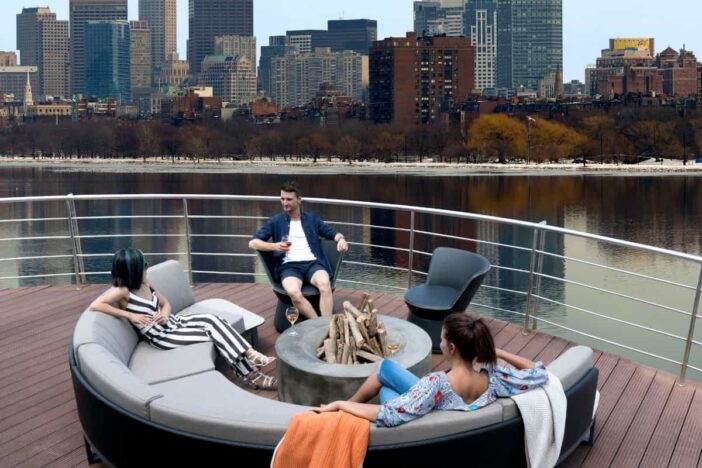 A well-decorated patio is a pivotal component of a home designed for entertaining. With summer quickly approaching, it's time to prepare this feature of your house for the many graduation parties, birthday celebrations and summer barbecues that you'll be hosting this season. It's important to create an inviting atmosphere that welcomes guests. It makes them feel at home and keeps the festivities going all night. If you're looking to be the hot-spot for friends and family this summer, check out these tips for creating the perfect patio:
Light it up
Just because the sun sets doesn't mean your party has to. With warmer temperatures stretching further into the night, there's no need to move everyone indoors when it gets dark. However, you will need to provide adequate lighting in order to extend your evening. Strings of light are a trending option for outdoor illumination. The romantic, shabby chic lighting style that mimics the speckles of the stars is ideal for a relaxing atmosphere.
For a brilliantly lit option, go for a sparkling chandelier – this piece isn't just for the dining room or foyer. However, this option only works for those with an awning or overhead trellis. By making the lighting a focal point on your patio, you can add a touch of elegance to an otherwise typical summer night. Plus, it will provide a sufficient amount of light for your guests.
Create an outdoor living room
Choosing the appropriate outdoor furniture can really set the scene for your patio. Select pieces that will endure the unpredictable weather, so you can ensure that your backyard will be well-equipped for years to come. Remember, comfort is an important factor when deciding which furniture to incorporate into your patio design. Choosing outdoor chairs and couches with cushions will create a cozy place for neighbors and family to gather and remain all night.
As far as colors, you'll want to incorporate hues and shades that complement your entire home. Since your patio is an integral part of your living space, it should coincide with everything else. If you have incorporated neutral colors throughout your kitchen and family room, carry that pattern over to your patio furniture and decor. This will create a smooth transition from one room into the next.
There's no doubt you'll be having plenty of barbecues and meals outside. So, you'll also need outdoor dining equipment to avoid having people walk around with plates in their hands all night. Use a coffee table to hold appetizers and place small tables around the furniture to set down drinks. This will provide a convenient spot to put food, but it also leaves the area more open and casual than a dining room. On the other hand, if you're patio is large enough, include a full-sized table as an addition to your outdoor living room setup.
Patio Decor
You should approach the design of your patio like you would with any room in your home. However, unless your patio is screened-in, you'll want to take the weather into account. You may want to go with a more natural theme – that way you can incorporate elements that will survive through rain or shine. Potted plants are an excellent strategy for highlighting your color scheme and creating a cozy setting. Throw in some lanterns and other rust elements, and you've successfully turned your backyard into the perfect sitting area.
There are many options when it comes to creating an entertainment-ready patio. As long as you provide a cozy atmosphere that will take you well into the night, you can turn your backyard into the perfect gathering place.
---
Photo Credits