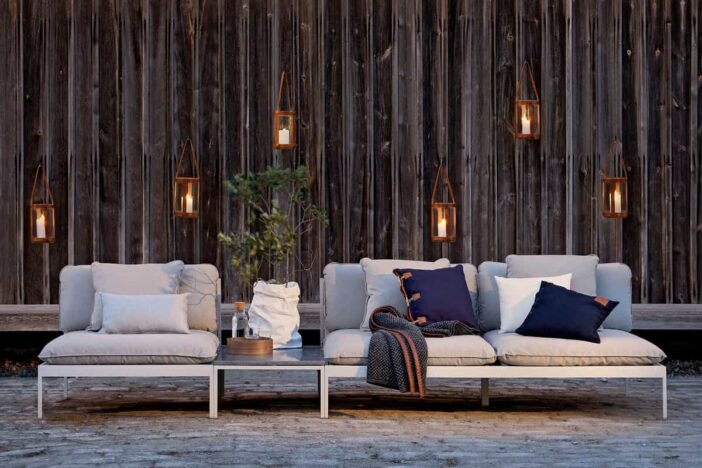 Just as your family is made of different personalities, the house you live in should exude its own character. After all, your home is your sanctuary. The atmosphere of your space can greatly impact how easy or difficult it is to unwind. Anyone can kick back and relax on a comfortable sofa, but you want the overall feeling of the home to be one that invites family members and guests to take a seat in the first place. Of course, it's important to balance comfort with the elements of design. But it's easier than you might think.
Destress with distressed furniture
There's just something about the lived-in look of a home that manifests all the ideals of comfort. Perhaps that's why bed and breakfasts win out over modern hotels when it comes to finding a quaint place to stay.
Create this familiar vibe in your home with distressed furniture. The dents and chipped wood of imperfect pieces, like flea-market finds or items that nestle well into shabby chic design, have their own character and will fit right in with unique personality of your family.
If you're not fully into the rustic look, you can still incorporate this idea in smaller doses. For instance, consider adding a distressed coffee table among your sleek contemporary furniture. This coincides perfectly with the old-new combo of shabby chic and will add enough warmth to be inviting without turning your house into a cottage-style home.
Sink into well-made furniture
The look and feel of your furniture is important for creating a comfortable home. When you sit down on your sofa or sink into your loveseat, you should feel comfortable enough that you don't need to keep switching positions to relax. However, that's only one proponent of creating a cozy atmosphere. The furniture also needs to look inviting as well, which involves its shape and fabric.
Consider incorporating horizontal furniture, like long couches or chaise lounges, into your interior design. They invite the sitter to fully extend his or her body and completely relax. Additionally, plush material is more welcoming than a hard, wood chair, for example. Many modern pieces are upholstered, so you can still have contemporary design while creating a comfortable space.
Create warmth with color
There's a reason a sunny day is favorable to a bone-chilling winter night. Warmth is key to creating comfort, and that goes beyond temperature. For color, bright hues win out over cool blues or deep purples at creating comfort. Rather, the darker shades establish elegance and sophistication and should be incorporated in smaller doses to produce a warmer atmosphere. However, painting a room canary yellow may not be best suited when it comes to interior design. Instead, opt for warm neutrals, such as rich browns, creamy beige and bronze, that will coincide with any of your furniture choices.
Light up your home
A dark room might be comfortable when you're trying to sleep, but your bedroom shouldn't be the only place you construct a cozy atmosphere. Think about areas that don't get natural light, such as the basement, foyer and hallways. To carry that warm ambiance throughout your home, make sure these spaces are well lit. For example, you may need to position lights down the entire length of the hallway rather than posting one source at either end. Or, consider hanging a chandelier in the foyer. Not only will this larger fixture provide ample lighting, but having it in your home's entryway will set the tone for your entire house.
Don't sacrifice style for comfort or vice versa. With the right interior design choices, you can have it all.
---
Photo credit
Skargaarden