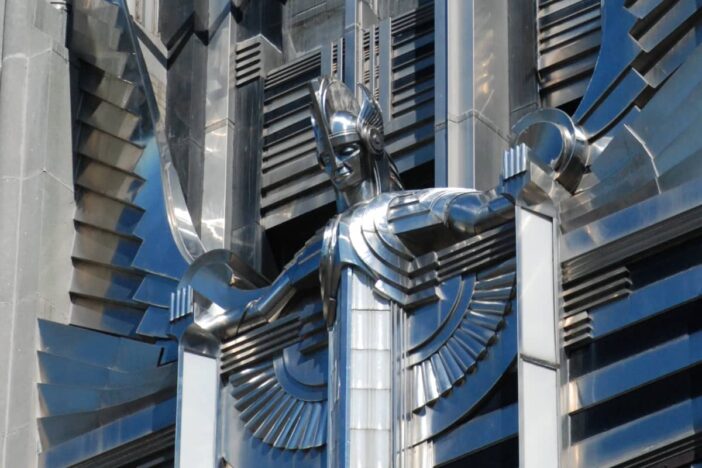 What is art deco style?
Design styles are intrinsically linked to culture. The trends, technologies, social norms and even political climate of a certain time period influence everything from architecture to fashion to interior design. This connection between culture and design is amazingly apparent when studying art deco. The design style that's so often described as "bold" and "opulent" is a striking representation of its time period: the Roaring '20s.
Understanding the bold aesthetic
The art deco style is often called "eclectic," largely due to its seamless combination of stark, geometric lines and shapes with grandiose ornamentation and exotic details. The mixture makes for a striking aesthetic that's easy to recognize. Whether you're studying architecture or interior design, you'll notice some key identifiers of the style.
Art deco patterns and features
Features of this design style, in both architecture and design, include:
Horizontal and vertical lines
Art deco architecture often includes windows and doorways that are inset into buildings in rows or columns, drawing the eye vertically or horizontally. Similarly, the style plays with depth perception through the use of line and forced perspective. The importance of the window or door is heightened through the increased focus. These same lines can be found in a multitude of other art deco designs, including furniture, sculpture and other artwork with straight painted, embroidered or carved details.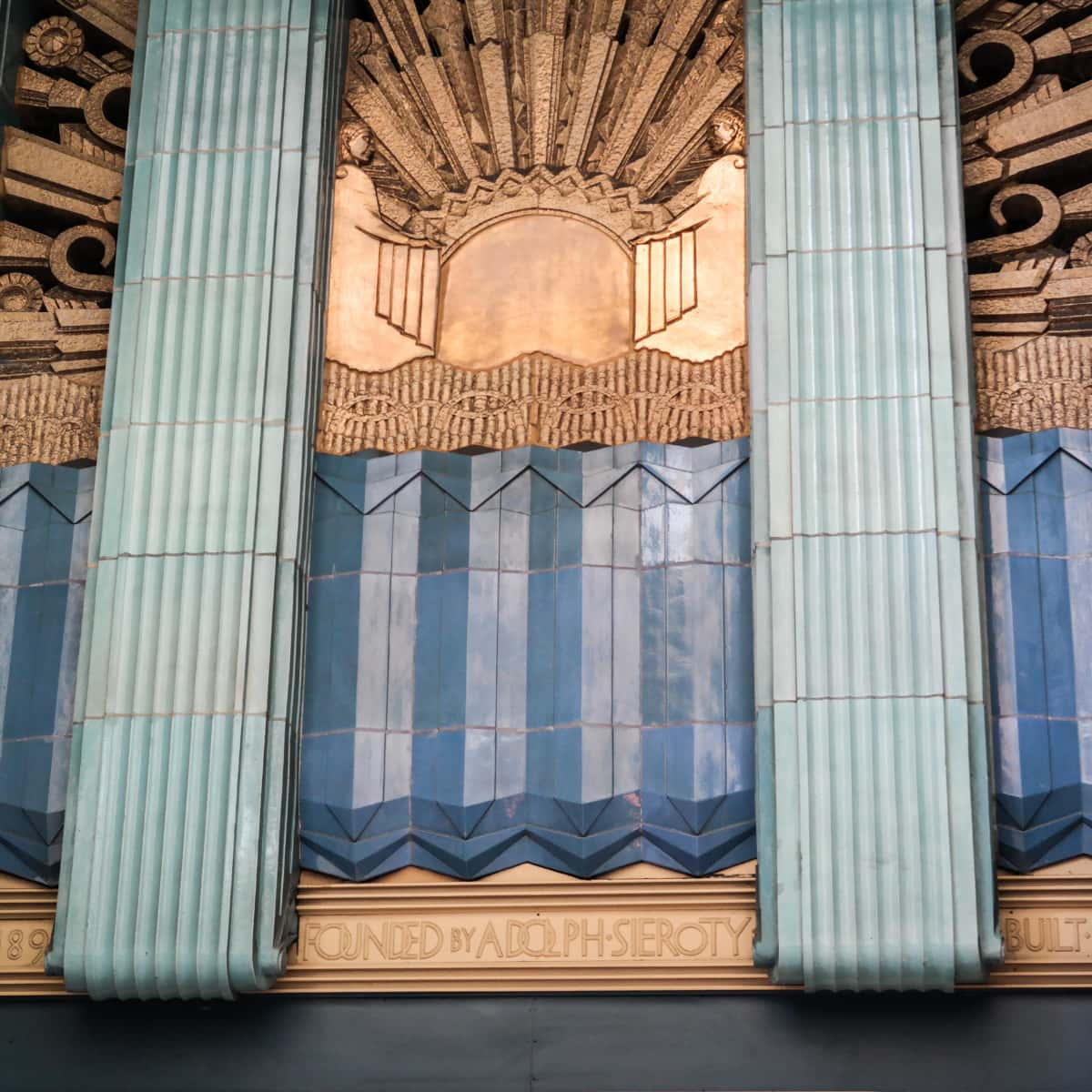 Geometric shapes
You'll find various triangles, chevrons, zigzags and other elementary geometric shapes incorporated in the dramatic facades of buildings and lavish interior designs of this style. Imagine funky triangular tabletops or cabinets with lacquered chevron patterns embellishing the doors or inlaid surfaces of the sides and shelves. A signature characteristic of this style is the juxtaposition of sharp angular shapes within the same design element or stark transitions from one section to the next. It's present in everything from art deco wallpaper to picture frames.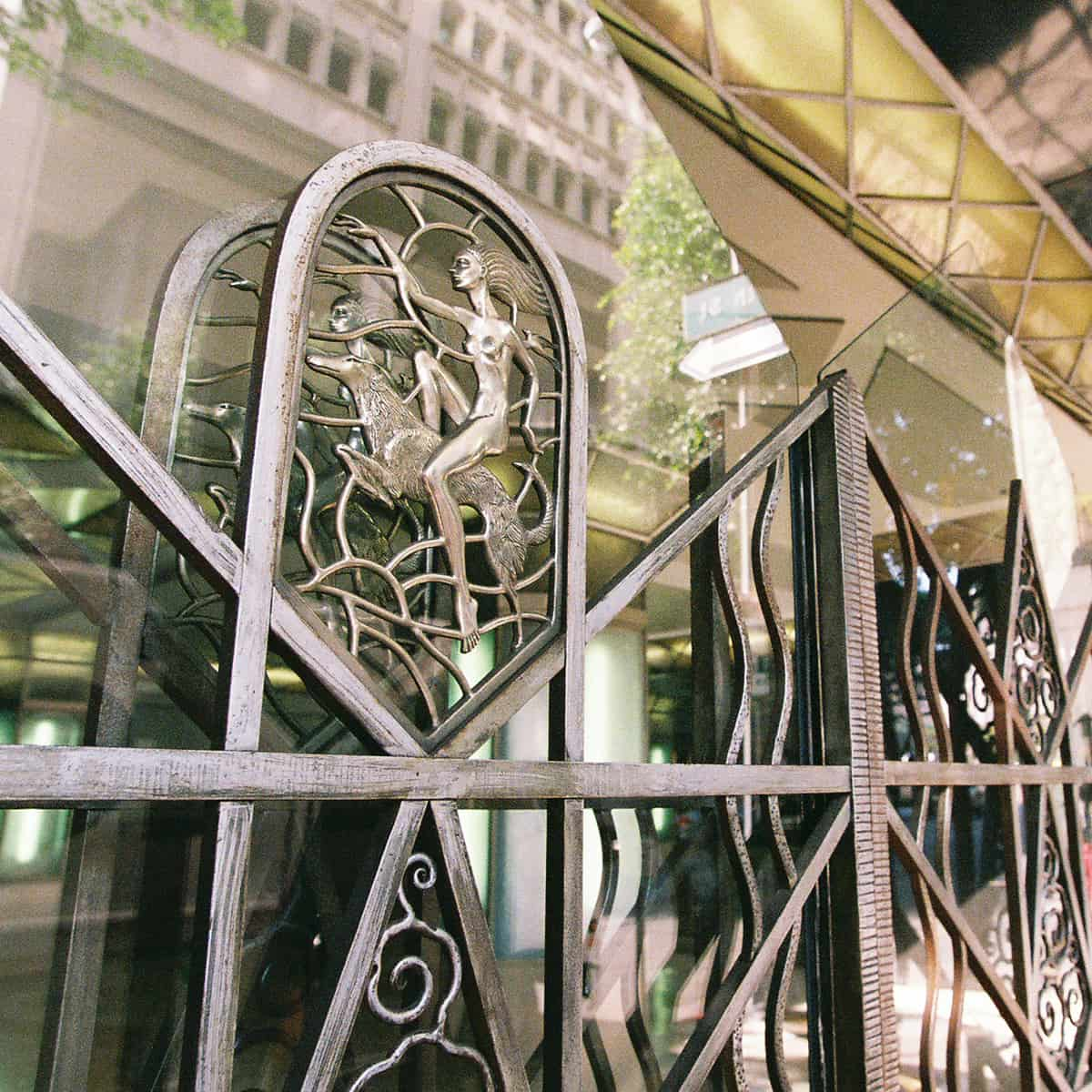 Elaborate details
One of the distinct hallmarks of art deco design is the opulent detailing of architectural elements, lighting and furnishings. The style was greatly influenced by art and architecture from exotic and far off lands. This means that buildings, furniture and other interior decor include sumptuous Egyptian, Parisian, Oriental and other eclectic designs. Intricate bas-relief carvings in various materials were favorite ostentatious additions of this era and were often the focal point of the room.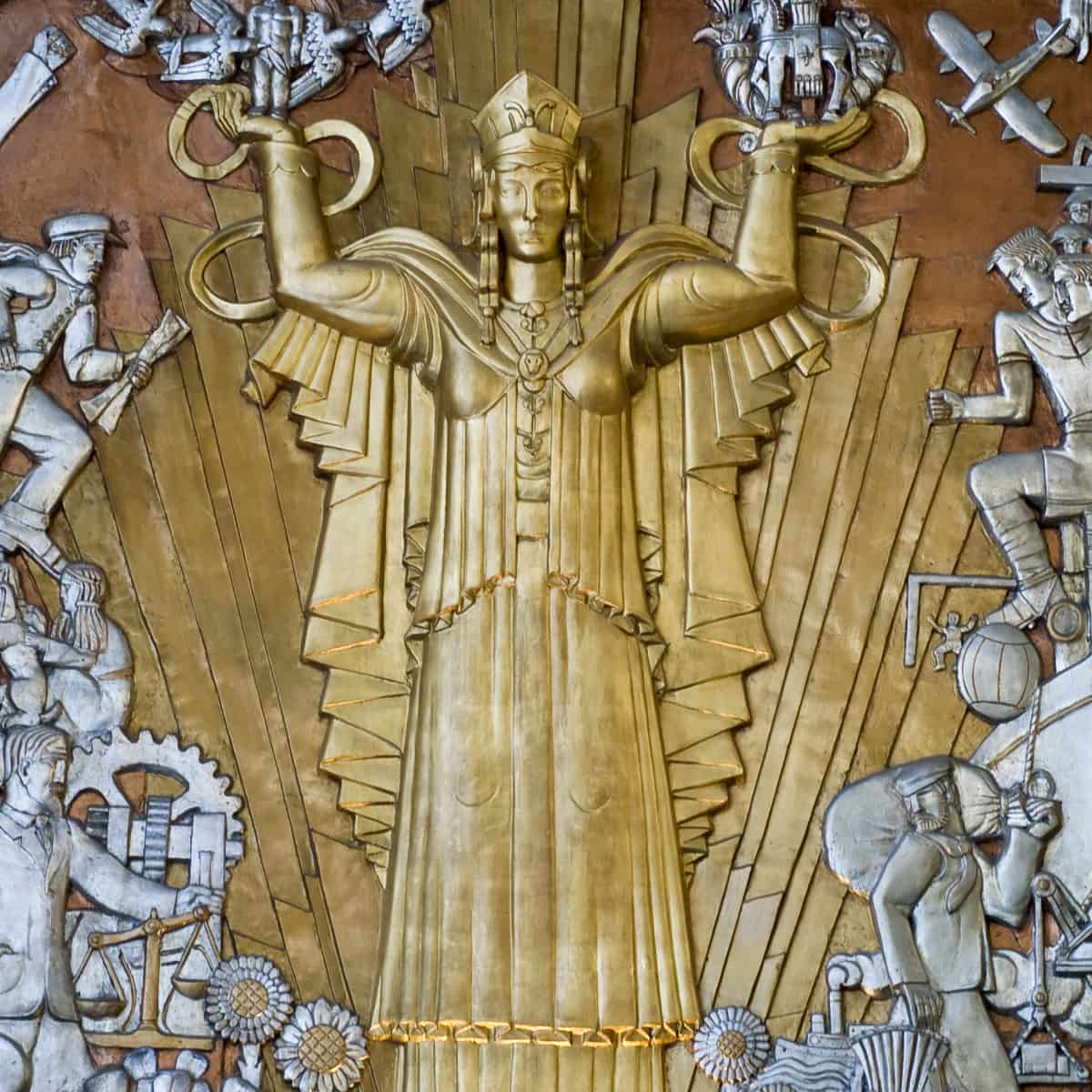 Ornate interiors
Art deco interiors are often ornate and extravagant, full of lacquered, glossy wood, shimmering gold, chrome and modern light fixtures. Fanciful geometric floor designs in tile or lavish wall mosaics depicting gods or scenes from nature frequently adorned the grand rooms of banks, courthouses or theatres. This meticulous work required hours of painstaking effort by artists whose work remains stunning even today. Heavily ornamental crown molding and colorful ceiling accents ensured that no square inch was left dull to the eye.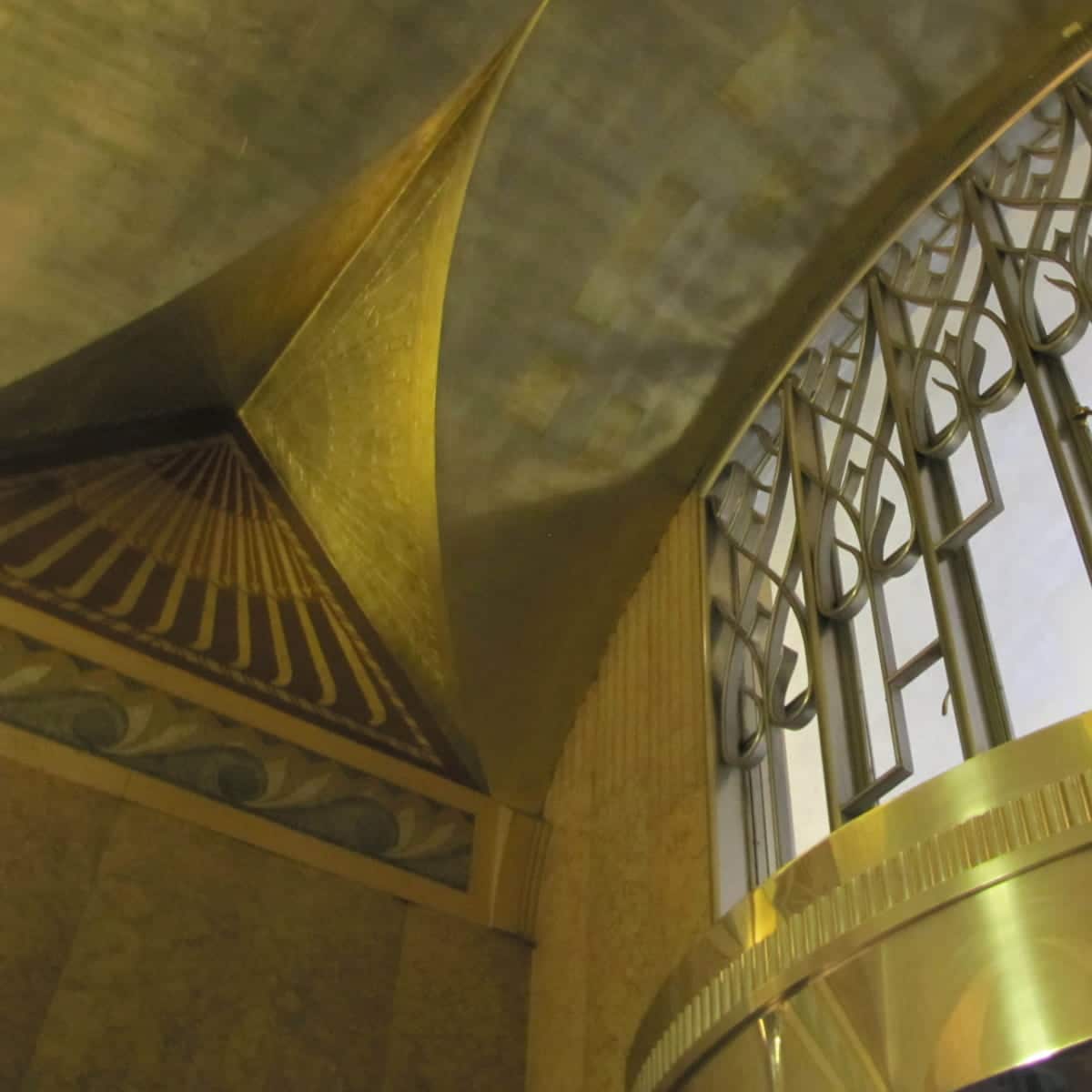 Sweeping curves
Art deco's stark angular geometric shapes and straight lines are blended with graceful sweeping curves (think of the semicircles at the top of the Chrysler Building). These flowing lines were also integrated in many grand staircases and arched entrances. Deco furniture often has a curving element, too, like an armchair with a rounded back or curved armrests. This curvature can be seen in many of the club or blossom chair designs that were popular in this era, which provides a dramatic contrast to the ordered linear aspect of much of the architecture.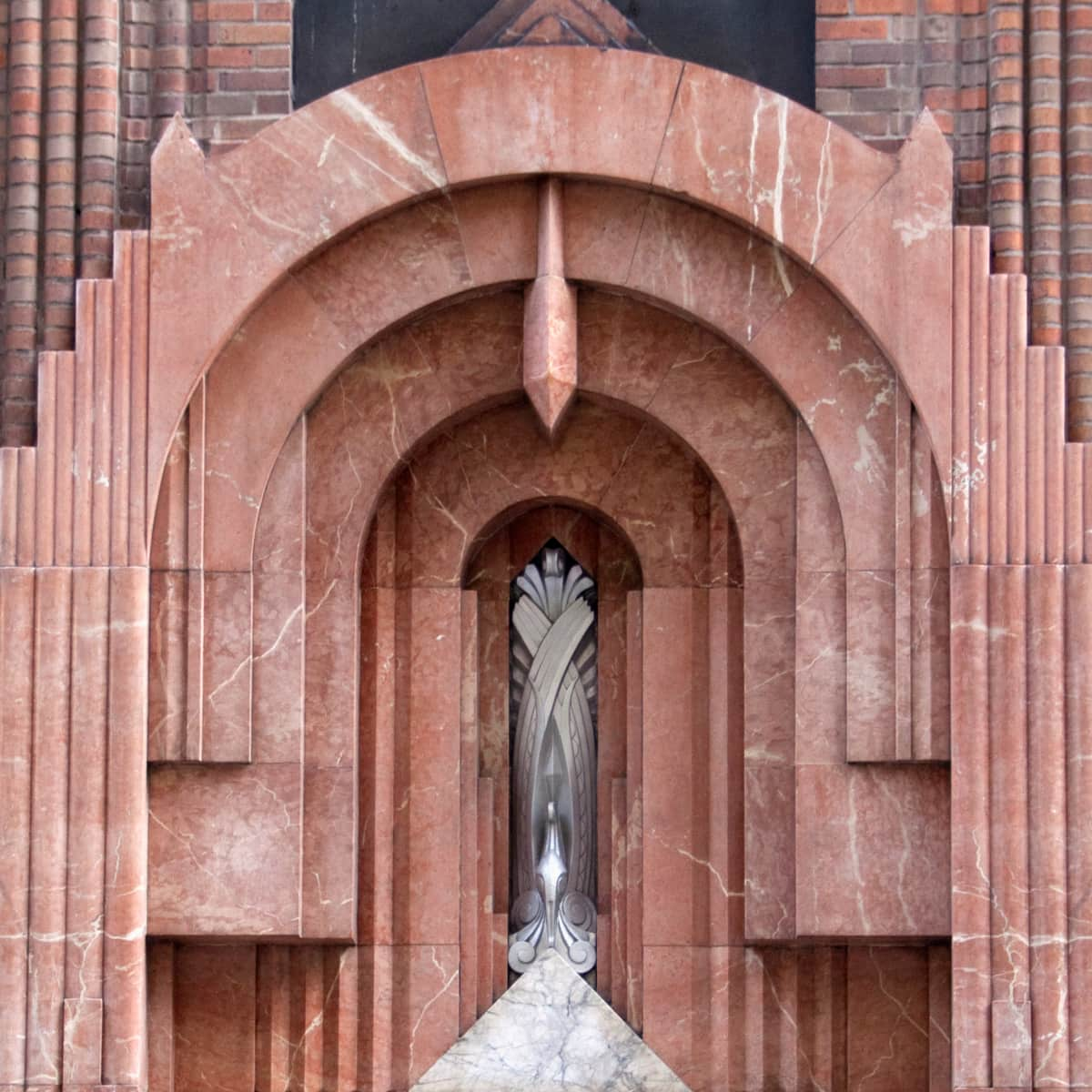 Symmetry
Art deco is a highly symmetrical design style, which is a characteristic that comes from its modernism influence. Balance was an important consideration for the architecture of the time. Many courthouses, financial institutions and other pillars of urban authority built during the 1920s needed to convey a sense of stability, while still retaining visual appeal. Art deco achieved both and has stood the test of time. It contrasted much of the frivolity of the avant-garde art movement of the time, which sought to convey beauty in untraditional forms and images.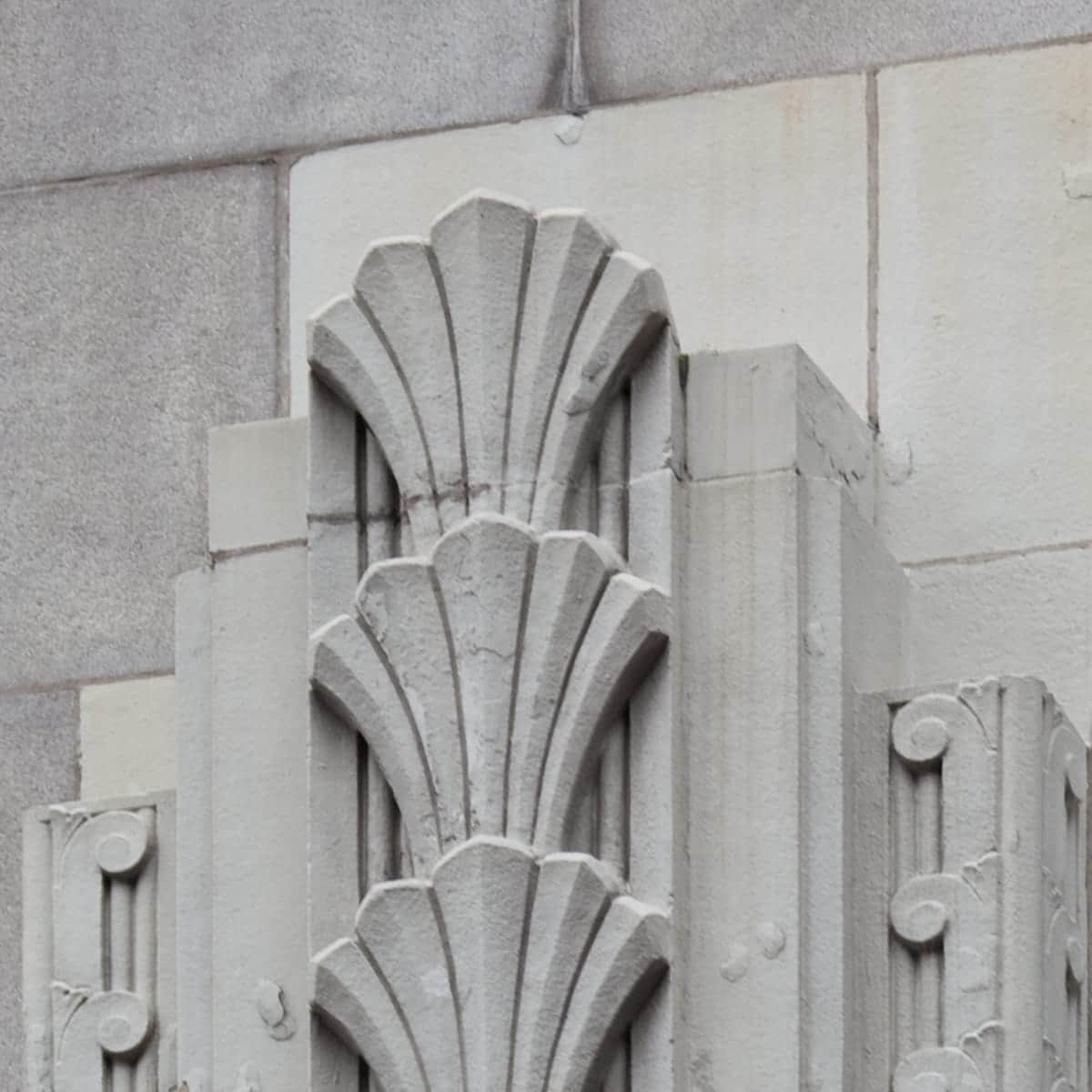 An eclectic style
As is already evident, art deco has a number of design influences. Early art deco artists and architects were impacted by an array of previous styles, including cubism, constructivism, functionalism, modernism, futurism, Bauhaus and art nouveau. Art deco is also one of the most pervasive architectural styles you'll find in the U.S. – you'll see the characteristic buildings anytime you drive through a major city.
When was the art deco movement?
You can't appreciate art deco completely without understanding how it came about – its cultural origins influence the style's aesthetic hugely. It became prominent from around 1919 to 1940, during the period between the two World Wars, when people around the globe were embracing modernism and grandeur, traveling more and using new technologies.
What does art deco mean?
The most prominent introduction of art deco designs to the world was during the Paris Exhibition of 1925. Twenty countries took part in the exhibition of architecture, artwork, furniture and goods – the only requirement? Designers had to use completely modern ideas. Almost all of the countries exhibited designs with art deco themes, including modernism and luxurious splendor. The designs of everything from furniture to jewelry to ceramic pottery were elaborate, eclectic and diverse, and almost all were meant to be showy and decorative. The etymology of "Art Deco" originates from this event, as it is simply a truncation of the words "Arts Decoratifs" in the title.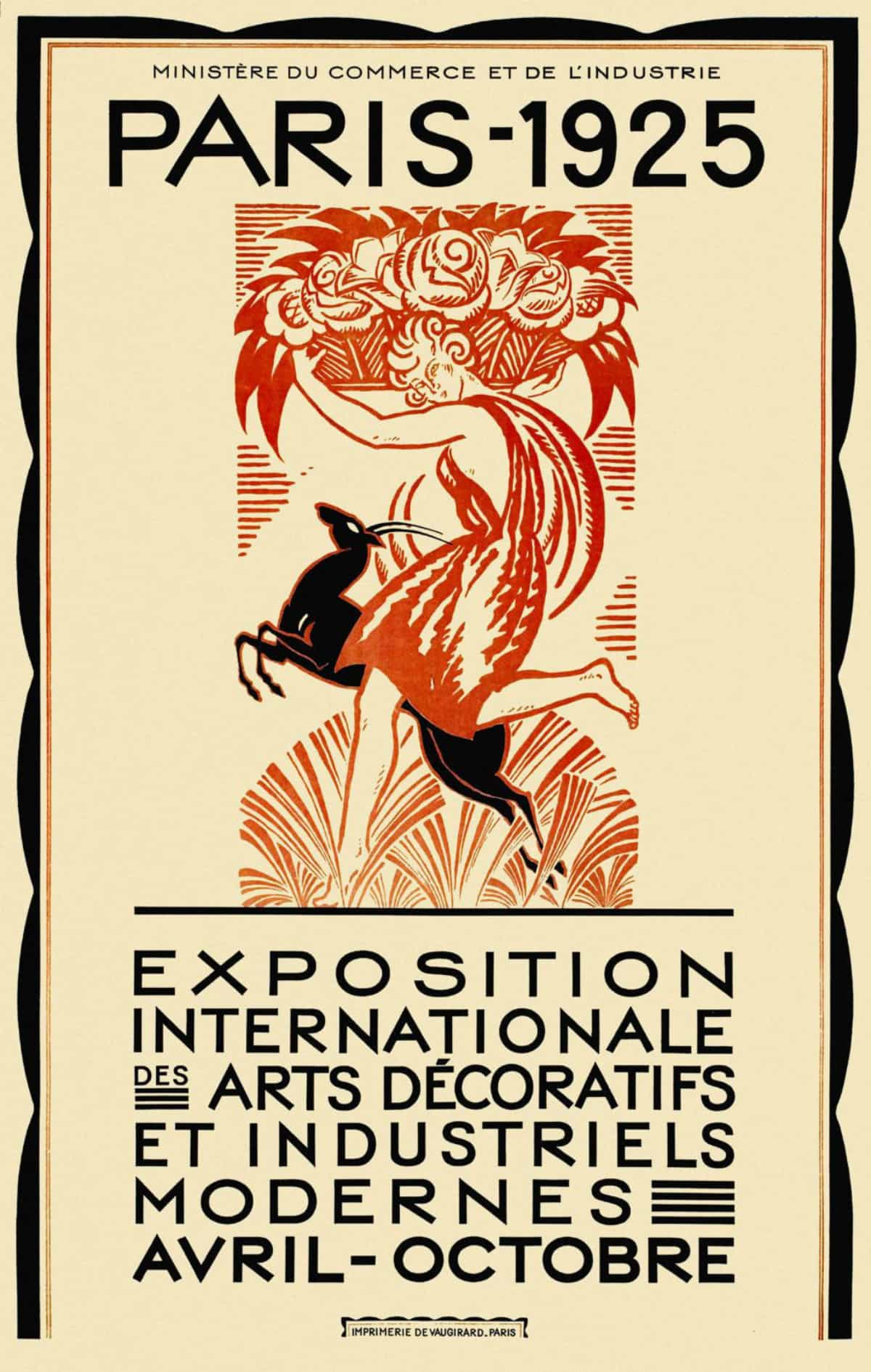 Movement to the US and the Machine Age
In 1926, the Metropolitan Museum of Art asked for contributions from the Parisian exhibit to create its own. After the Met's exhibition, art deco took off in the U.S., but with a slightly less opulent aesthetic. During the '20s, the economy and manufacturing industries were booming, and the Machine Age was in full swing. Whereas the designs at the Paris Exhibition were meant to be one-of-a-kind, because of the growing furniture and decor industries, art deco designs in the U.S. began to be mass-produced in factories and were a bit simpler.
The Roaring '20s
Art deco was a relatively short-lived design style. Therefore, it has become inextricably linked with one historical period in particular: the Roaring '20s. During a time when men and women were dressing in lavish clothing and embracing splendor, art deco's luxurious, fun style fit in perfectly. Outdoor soirees where guests sipped cocktails and conversed on decadently ornate wrought iron garden furniture were all the rage. These days, it's prominently showcased in films set during that time period, including "Midnight in Paris," "Chicago" and Baz Luhrmann's "The Great Gatsby." If you've seen Luhrmann's film, consider the glossy opulence of Jay Gatsby's mansion and the deco cabinets and furnishings featured in Daisy Buchanan's sitting room. These films make one thing clear: Art deco was an integral part of the period and continues to be one of the most beloved decorating styles.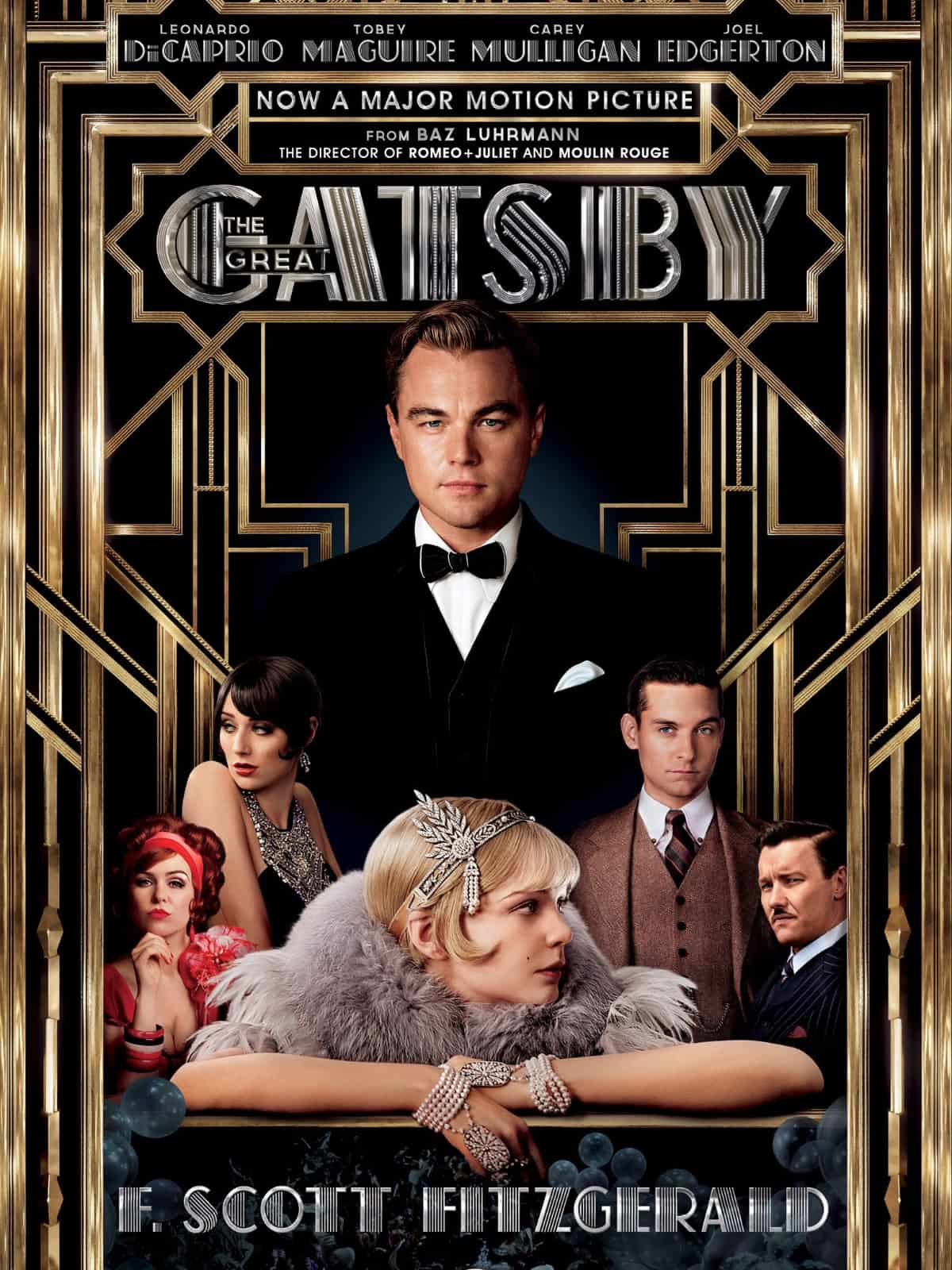 Prominent figures who influenced the design style
There are tons of architects and designers who greatly influenced art deco, but some had more of an impact than others. Here are just a few of the most prominent figures in the design style's history:
Le Corbusier
Le Corbusier was a highly influential architect and designer, and although his work was more in line with mid-century modern and Bauhaus, he's credited for being the first person to use the term "art deco." His showing at the Paris Exhibition was one of the only ones that featured more modern, simplistic designs in stark contrast to the elaborate French art deco ones.
Josef Hoffman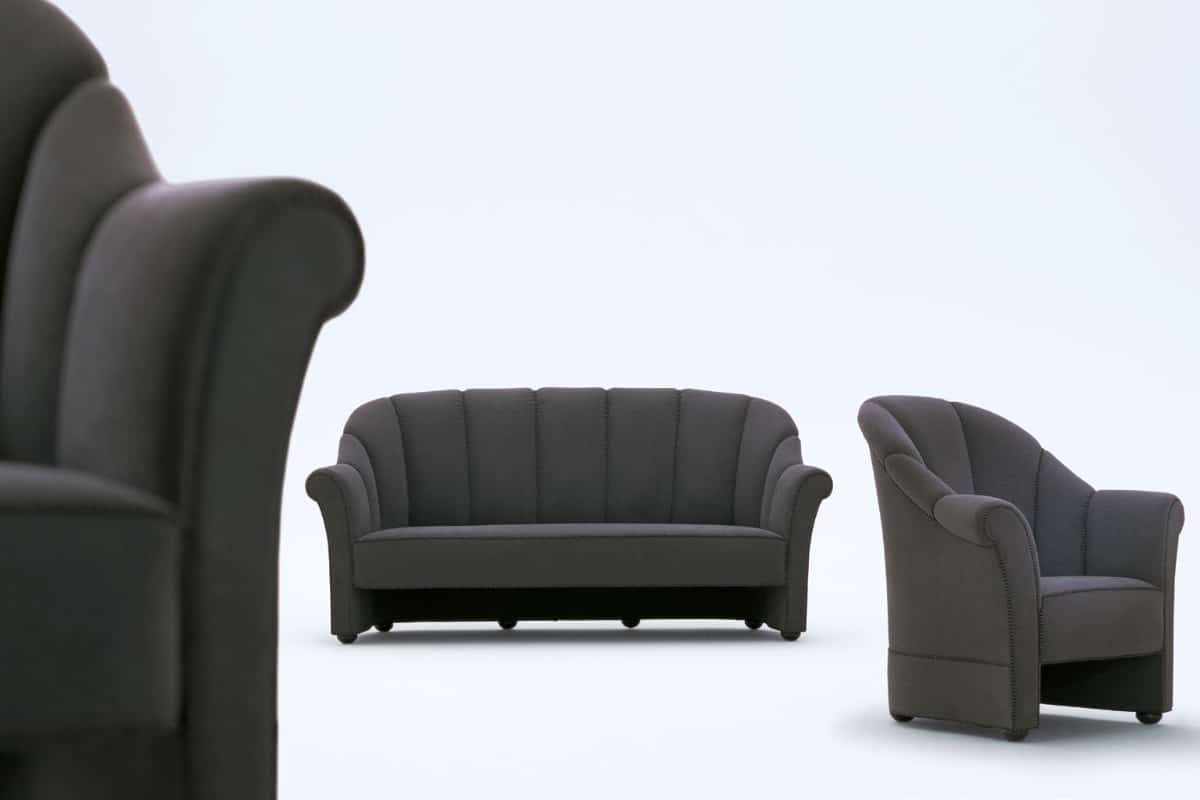 Josef Hoffman designed furniture, decor and architecture during the turn of the 20th century. His work, which often included grid-like patterns and furniture with straight vertical wooden bars, is thought to be an important influence for art deco designers.
August Perret
August Perret designed one of the earliest examples of art deco buildings – the Théâtre des Champs-Élysées in Paris. He specialized in using reinforced concrete in his designs, and the theater's exterior features this concrete along with the inset windows, geometric lines and sweeping curves characteristic of the art deco style.
Émile-Jacques Ruhlmann
Ruhlmann is one of the most important art deco furniture designers of all time. In true French art deco fashion, his designs are opulent and lavish, using exotic woods, interesting veneers, perfect proportions and ornate details. In fact, Ruhlmann became one of the most celebrated designers in his day, after his work was showcased at the Paris Exhibition. Ruhlmann is known especially for his cabinets, which typically featured trademark graceful legs and geometric patterns.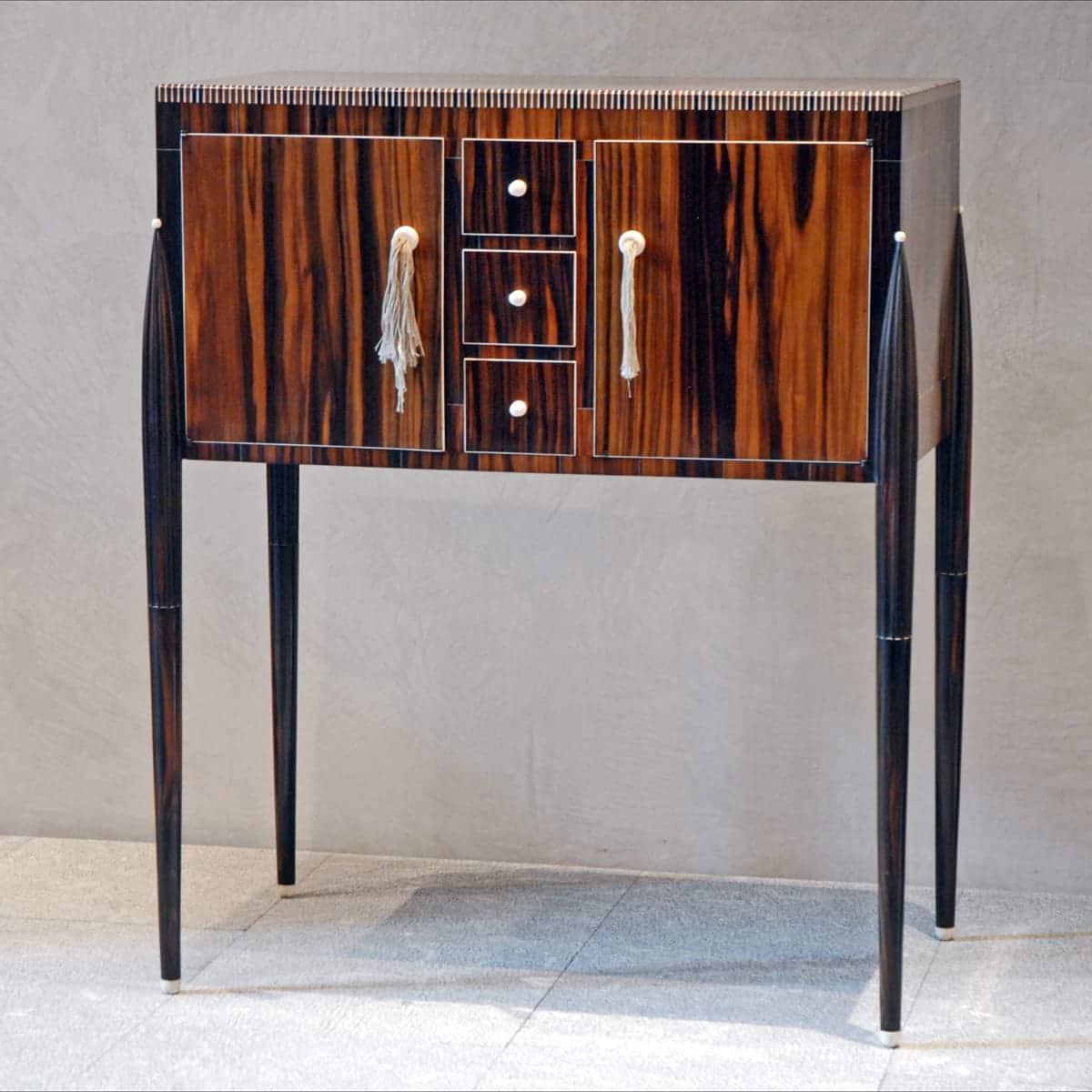 Eileen Gray
Though she wasn't as well-loved as Ruhlmann in her time, Eileen Gray is now thought of as one of the top art deco designers. Her specialty was in beautiful and exotic lacquers – a hallmark of the style that she used in her designs for furniture and screens. Gray is also known for her modern designs, including the Bibendum Chair, which was a pod-like armchair inspired by the Michelin man.
Sue et Mare
Sue et Mare (Louis Sue and Andre Mare) were a furniture-designing duo, who, like Ruhlmann, had a very popular exhibit at the Paris Exhibition. From cabinets to screens to tables, Sue et Mare's designs were known for their high-gloss lacquering, chrome and exotic, colorful woods, like Cuban mahogany.
Art deco architecture
There are a few iconic examples of art deco architecture that should be mentioned in any conversation surrounding the design style. They includes:
The Chrysler Building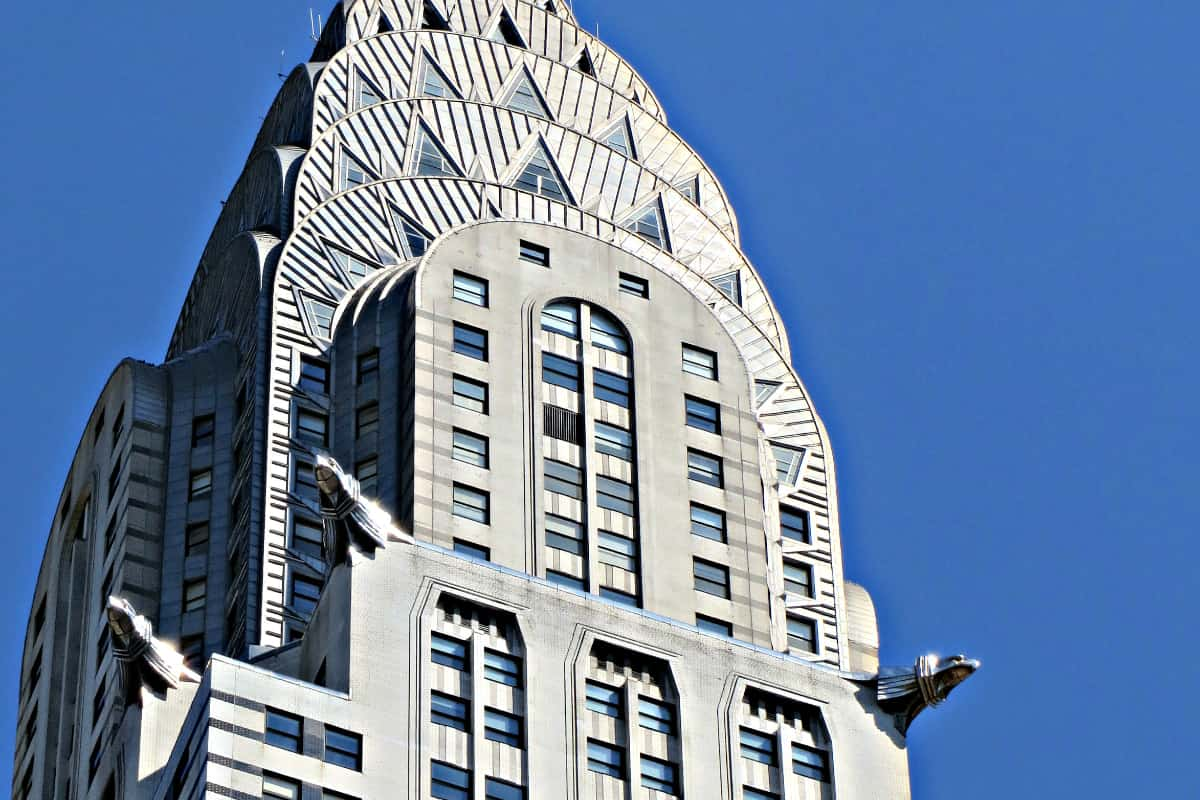 Located in New York City and designed by William Van Alen, the Chrysler Building is perhaps the most widely used example of art deco. The skyscraper's vertical columns and inset windows draw the eye upward toward its spire, and the rounded layers of the spire contain triangular details for an aesthetic that perfectly encapsulates the timeless style.
Luhrs Tower
Luhrs Tower is a skyscraper in Phoenix that was designed by architectural firm Trost & Trost. It contains several elements of art deco design, including an ornamental facade and doorway reminiscent of the intricate details in French art deco designs.
Art deco movie theaters
During its heyday in the '20s, cinemas were also booming in popularity throughout the U.S. For that reason, in the '20s and '30s, small towns across America were making room for art deco movie theaters, many of which are still standing today. The theaters' facades typically featured elaborate deco marquees, often with chevron or other geometric details characteristic of the style. The lobbies and auditoriums inside were full of ornate ceilings, lacquered walls and other graphic deco features. Some of the most famous include the Paramount Theater in Oakland, California, and the Majestic Theatre in Detroit, among many others.
Art deco furniture & art
There are many memorable pieces of furnitures from the era, and the art deco movement had a lasting impact on fashion and art too.
Etat Cabinet
The Etat Cabinet is a classic art deco piece of furniture, designed by Ruhlmann. This cabinet is made of dark glossy wood, with tiny geometric details and a large image of a vase filled with flowers that was rendered using ivory. The clean lines and ornamental detailing are perfect examples of the design style.
Hill House Chair
Designed by Charles Rennie Mackintosh, the Hill House Chair is a dining chair that features a dramatically high back with a ladder-like design of glossy black wood slats, ending with a grid of wood at the top.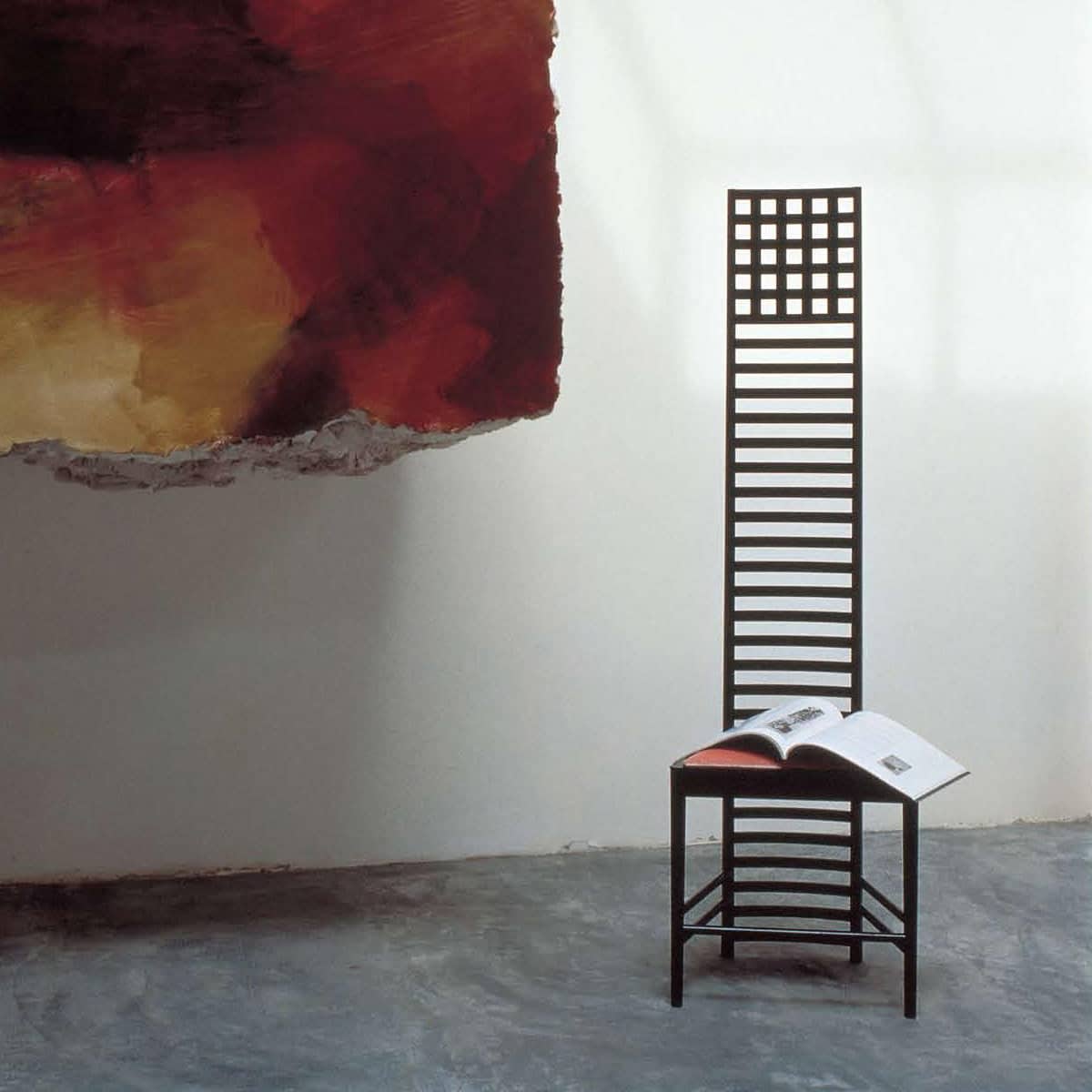 Sculptures
Art deco spanned not just architecture and interior design, but art, fashion and jewelry design, too. As such, deco sculptures became very popular, typically made of bronze, ivory, marble and other exotic materials. One of the most famous sculptures of the period is designer Max Le Verrier's "Clarte," which features a nude woman leaning backward and holding a light in her outstretched hands.
Art Deco Posters
Some of the most memorable images from this period can be found in the printed commercial works that adorned the walls for the masses to see.
A.M. Cassandre
The most important of these Art Deco artists was A.M. Cassandre. This classically trained Art Deco graphic artist brought Art Nouveau and Cubism inspirations together to create advertising that appealed to the common man. His unforgettable style simplified the message both visually and textually. Cassandre sought to create works that could be read from fast-moving vehicles – an important consideration as transportation technology was rapidly improving.
He created eye-catching Art Deco travel posters for Le Nord Express and Normandie that glorified this technological advancement. Later, he produced magazine covers for Harper's Bazaar and even Yves Saint Laurent's iconic YSL logo.
Art Deco Fonts
A critical component of Cassandre's work was typography. The bold and striking typefaces not only communicated selling messages, but they also served a decorative function – often surrounding the graphic elements as an Art Deco border. He even created three of the most quintessential Art Deco fonts: Acier, Bifur and Peignot.
Art deco today
Though art deco only spanned a short time period, it influenced designs for everything from architecture and furniture design to fashion, art, pottery, jewelry and more. Because of this, the style is still very much a part of our culture, with art deco buildings still prominently featured in skylines and deco themes found in many modern furnishings. During its heyday, art deco truly had a huge impact on the design world.
---
Photo Credits
Mohawk Building by Peter Dutton from Forest Hills, Queens, USA [CC BY 2.0], via Wikimedia Commons
Oviatt Building Entrance by MelissaMStewart / CC BY-SA
Daily Express Building from by DarTar [Public domain], via Wikimedia Commons
General Electric Building by Spinklink (Own work) [CC BY-SA 4.0], via Wikimedia Commons
General Electric Building by Tony Hisgett from Birmingham, UK / CC BY
John W. McCormack Post Office by Carol M. Highsmith [Public domain], via Wikimedia Commons
Exposition Poster from By Elee46 (Own work) [CC BY-SA 3.0], via Wikimedia Commons
The Great Gatzby Poster from Warner Bros.
Hoffman Chair from Wittman
Ruhlmann Cabinet by By Jean-Pierre Dalbéra from Paris, France [CC BY 2.0], via Wikimedia Commons
Chrysler Building by John Wisniewski on Flickr
Hill House Chair from Cassina