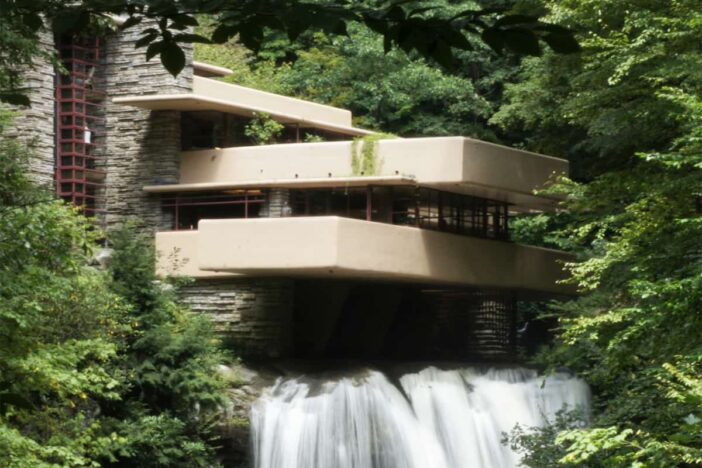 Frank Lloyd Wright's Fallingwater, located in Pennsylvania, is one of the prolific architect's most famous homes. Built in the 1930s for the Kaufmann family, Fallingwater appears to float over a waterfall. The stunning home has been designated a National Historic Landmark and resides on the renowned World Heritage List. Its genius cantilevered design can teach you a lot, and you don't have to be an architect to appreciate the building. In fact, here are some interior design tips you can take away from Fallingwater:
Frank Lloyd Wright staple – Surroundings inspire design
The Fallingwater house was designed to evoke the landscape upon which Wright built it. With a stunning, multi-level rock waterfall, hilly terrain and woodsy surrounding, the Pennsylvania scenery was certainly inspiring for the iconic designer. Looking at the home, you can see how he infused the surroundings into the design. The tiered construction mimics the look of the waterfall and is the epitome of organic architecture. Wright even used native stones to side the house.
While you may not have a stunning waterfall near your home, you can still decorate your interior using inspiration from your area. From using materials native to where you live to selecting a color scheme based on your neighborhood's greenery and stone, pulling inspiration from your surroundings is quite Wright.
Make use of exterior spaces – Outdoor fireplaces & furniture
Fallingwater features tiers of outdoor patios that gave the residents a space to enjoy nature. You can do the same in your home. Don't neglect your yard when you decorate, and instead think of it as you would any other room. For instance, pick beautiful but sturdy outdoor furniture to create a lounge space for your deck. Or, make your yard cozy by installing a fire pit or built-in fireplace – they also make a great statement.
Carefully select your color scheme, furniture and decorative elements when you plan your yard. Make sure your design decisions integrate seamlessly with your landscaping. Updating your outdoor spaces will make you more inclined to use them, which means getting plenty of fresh air.
Fallingwater house subtlety – Consider rhythm 
You might think of flow when you decorate, but what about rhythm? Sometimes, you want more energy in a space, and using interior design to create rhythm is just what the doctor ordered. Frank Lloyd Wright played with rhythm by including long horizontal lines alongside tall vertical ones in Fallingwater. You can see this in the tiers that hang over the waterfall and in the tall, stone-clad chimney.
In your home, pay attention to lines and traffic flow. How does one space connect to the next? Do your lines vary in height and length? You can create rhythm by alternating between a long line of a sofa and a tall line of a bookcase. Art too can influence rhythm. Here are design techniques that can help you create rhythm:
Repetition – This happens when you repeat a shape or color in your space. It creates cohesion, expectation and an overall pleasing look. Wright features repetition in use of materials and levels.
Contrast – Having two different repeating elements provides contrast. Long and short, high and low, dark and light: These elements contrast each other.
Gradation – Contrast is a sharp transition from opposing elements, but gradation offers a smooth transition. Change your decor from light to dark slowly, for instance.
Organic architecture & interior design
Fallingwater is well-renowned for its groundbreaking design and the way it seems to fit so perfectly into its surroundings. As such, you can take a lesson or two in design from the beautiful home to create your own personal oasis in nature.
---
Photo Credits