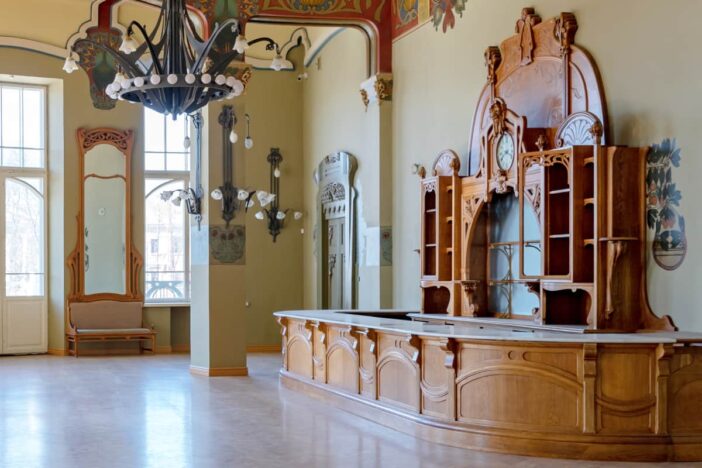 Do you love the fluid lines of organic shapes? Do you prefer patterns that incorporate floral designs? Do you like art that seems to have motion? Then you might be a fan of art nouveau. This design movement began in the 1880s and was popular until World War I. It encompassed art, architecture and design, and it encapsulates the fluid shapes that prevail in nature. What's more, art nouveau includes subject matter inspired by Mother Nature.
If all that sounds good to you, incorporating bits and pieces of art nouveau design in your home could refresh your space – it is based on nature, after all. With that in mind, here are a few simple and creative ways to give your house a nouveau look:
Create an accent wall
Sure, painting all four walls of a room one color will look nice. However, if you want a focal point in your living room, differentiating one wall could really draw the eye. In fact, you don't even have to use paint. To add an art nouveau feature to your home, pick a wall in the room – whichever one you want people to look at, such as the one surrounding a fireplace. Purchase wallpaper that has an art nouveau design and paste it to that wall.
Some homeowners are wary of wallpaper, but we don't think you should be. When used correctly, wallpaper can add pattern and texture to a space, and it doesn't have to be a dated design. The paper can even have a subtle pattern. Choose a design that's inspired by plants, whether it has flowers or a leaf pattern.
Add artwork
Hanging nouveau art is an easy way to feature the movement in your interior design. Look for artists that exemplify art nouveau if you want to put prints or paintings in your home – Alphonse Mucha, for instance, is widely regarded as the figure of art nouveau painting and illustrating. His work features organic shapes, natural elements and a heavily outlined style – signature art nouveau patterns
Additionally, sculptures can give your space an art nouveau look. Pick pieces that have only curved lines or that remind you of plants or animals. Branches, leaves, flowers and butterflies are all common motifs of the art movement.
Rethink your lighting
Your lighting fixtures are relatively easy to replace, and the ones you install can breathe new life into your home. Whether you look for table lamps with that art nouveau feel or chandeliers that will update your home, you can find a fixture that fits your theme.
As with sculptures and wallpaper patterns, your lighting fixtures should incorporate the staples of art nouveau, such as curved lines, nature motifs and a sense of motion.
Pay attention to the details
Your home can have little accents that create a bigger art nouveau picture. Find tiles with floral designs to place on your bathroom floor, put a vase with twisting vine patterns on your coffee table or switch out your candle holders for pieces with a more winding shape.
If you add up these small features and changes, you'll be left with an overall look that makes you feel like you're living in an art nouveau gallery.
Update an area rug
Finding an area rug with a pattern is easy as pie. However, your focus should be finding one with the right pattern. The vine, flower or leaf images you seek in wallpaper can be found in area rugs, so look for something that's nature-inspired.
Pick up statement pieces
While detail and accent pieces help bring an interior design together, having foundational elements is necessary as well. End tables, coffee tables, chairs and bookcases are all great pieces to purchase with an art nouveau design. As always, look for those curving lines and organic motifs.
Photo credits