What is the best patio umbrella?
The answer is – that depends. There are many things to consider when buying a patio umbrella. Modern architectural design incorporates a seamless transition from indoor to outdoor spaces. Elaborate decks and lavish outdoor furniture allow you to enjoy nature, without sacrificing style or comfort. As spring and summer arrive, you'll spend more and more time outside entertaining or lounging poolside. To keep you and your guests cool and protected from the hot sun, it's important to have ample shade. Patio umbrellas are a prudent solution, in lieu of more permanent construction. However, choosing the right outdoor umbrella can be challenging. Based on your home, environment, budget and preference, there are many factors to take into consideration. This guide will help you gain a better understanding of patio umbrellas, their styles, materials and features. This knowledge will help take the uncertainty out of your buying decision and ensure that you can relax outdoors for years to come.
What are the parts of a sun umbrella?
When you're researching outdoor umbrellas and comparing different brands and models, it's important to have a clear understanding of the various components and options. Buyers should utilize the table below to identify common umbrella parts and learn their functions.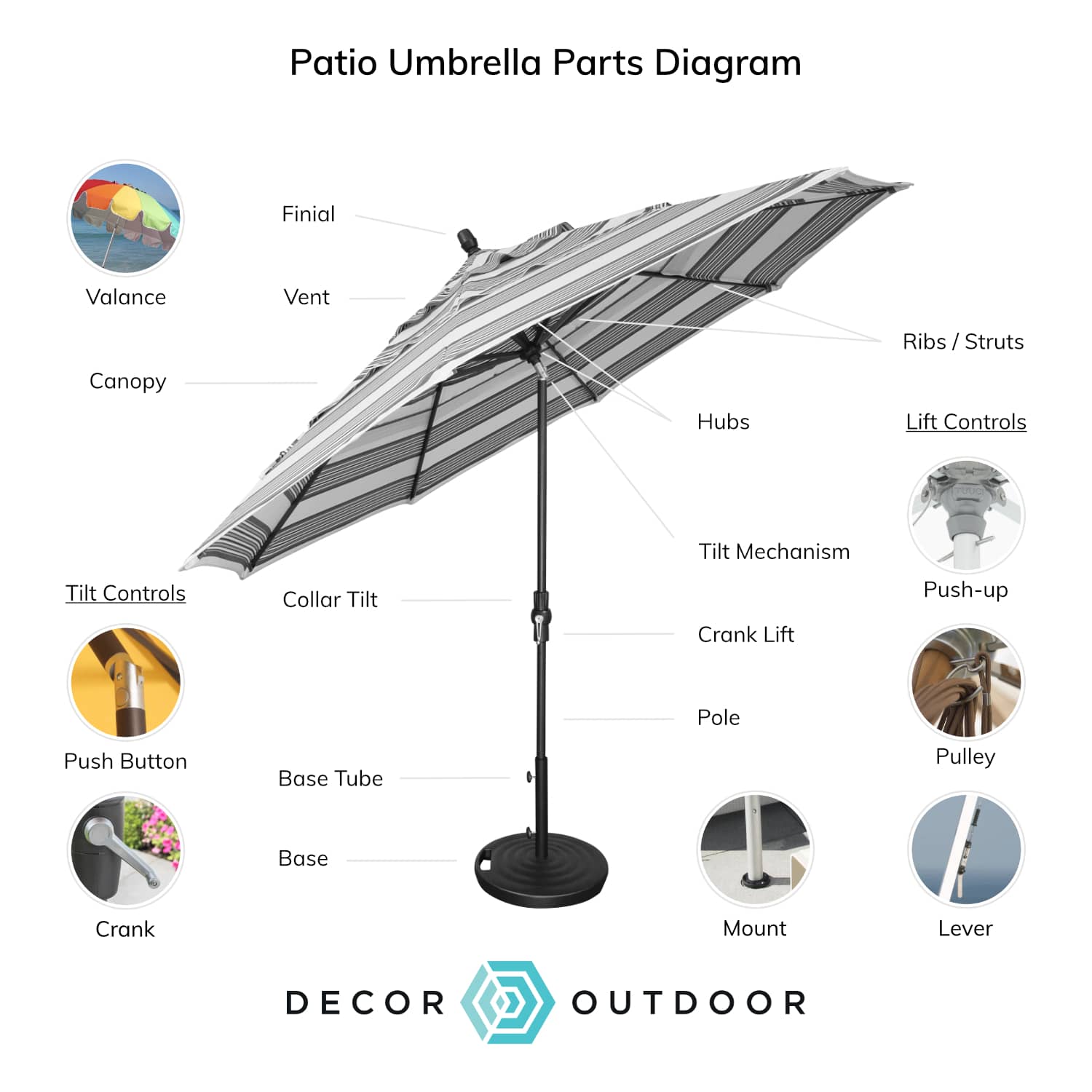 For traditional market style umbrellas, the main support for the canopy is a vertical rod or pole. They're available in a variety of widths and often come in two pieces for easier shipping and storage. Single pieces and thicker poles are more resilient to windy conditions. Cantilever style umbrellas utilize an offset angular structure to support the canopy. They are multi-jointed and often provide 360° rotational capabilities.
The object that sits at the apex of a patio umbrella is called the finial or ferrule. It is both functional and decorative, as it anchors the canopy to the pole and provides a bit of aesthetic flair.
Freestanding patio umbrellas are secured within a weighted base or stand to keep them upright, and prevent them from tipping over in windy conditions. Bases are made from or use a variety of heavy materials to provide stability.
In lieu of a base, patio umbrellas may be stabilized using a more permanent mounting apparatus. There are different configurations, based on the surface on which the umbrella is being attached.
---
What styles or types of outdoor umbrellas are there?
The first decision you have to make when buying a patio umbrella is what style you want. Your outdoor space constraints, furniture layout and expected usage can all factor into which style is right for you. Even after considering all of these variables, your own personal taste is the final determinant. So what is out there? There's a wide variety of umbrellas to choose from, but they all essentially fall into one of two categories: center pole or offset.
Market Umbrella (a.k.a. Center Pole Umbrella)
The defining characteristic of centerpost patio umbrellas is the presence of a straight pole that extends from the top of the canopy to a securing base. It may be a single, solid piece or two separate pieces that are joined together. It's important to note that center pole umbrellas may be stabilized by either a mobile or fixed base. This is the most common style of outdoor umbrella and it has been around for a long time. This type of outdoor umbrella can be effective protection against direct sunlight but reflected or diffuse ultraviolet radiation exposure from the sides diminishes the overall shade protection [Slevin 2014]. Within the market category, there are a number of variations.
Standard Market Umbrella – This is the most popular style of center pole umbrella. It has a round or octagonal shape with a clean edge. Some canopies are vented to encourage airflow, which cools the area below and helps the umbrella withstand windy conditions.
Beach Umbrella – This type of parasol tends to have a minimalist style. The canopy usually has a round shape with hanging valances around the edge. Many beach umbrellas utilize a simple spiked base, which is inserted into the sand.
Half Umbrella – This specialized umbrella is constructed with one flat side, which allows it to be placed flush against a wall. It's perfect for shading balconies or small porches that have confined spaces. Think of it as a portable awning. Canopies are rounded or straight with clean edges, drapes or valances.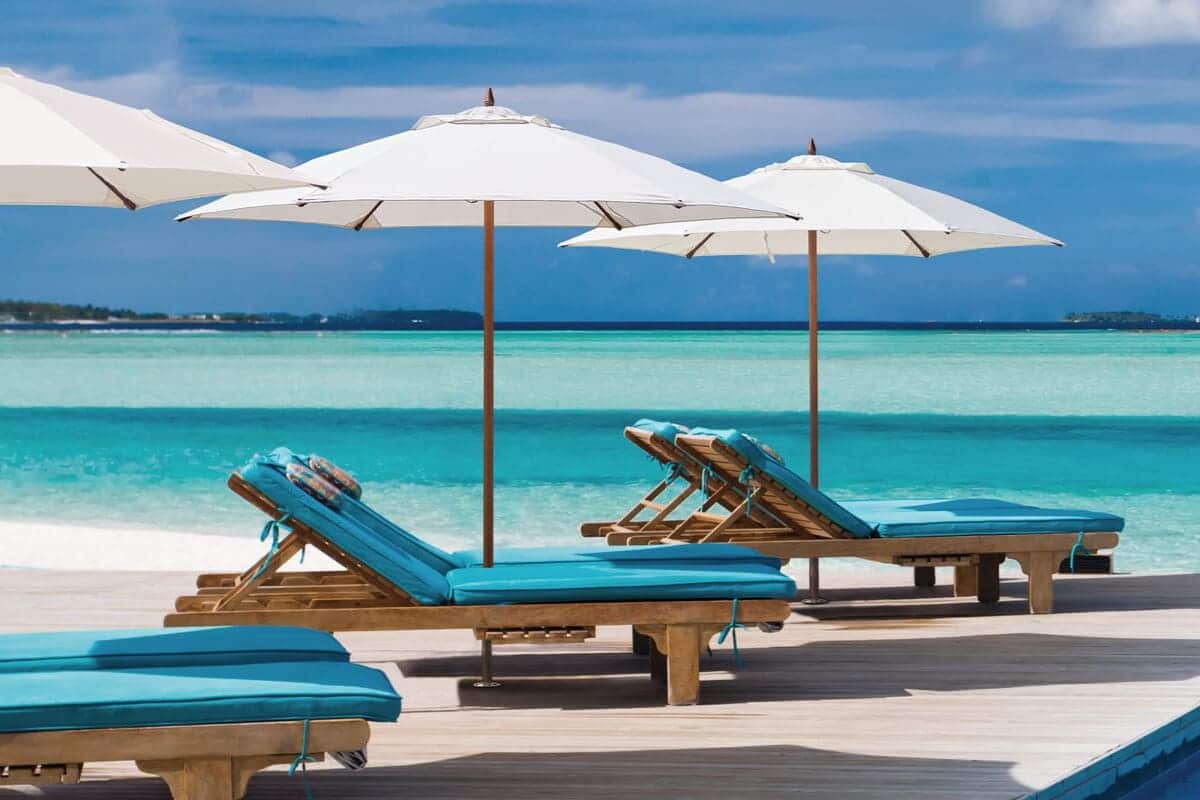 SHOP MARKET UMBRELLAS
---
Cantilever Patio Umbrella (a.k.a. Offset Umbrella)
Cantilever outdoor umbrellas feature an arched or jointed pole positioned off to one side. The canopy is supported from the side and above, which allows it to hang freely over a variety of seating and table configurations. The main benefit of modern cantilever umbrellas is that they can shade a large area without the obstruction that a center pole causes. This is especially important if you are shading a dining table that does not have an umbrella hole or a hot tub. Many cantilevers can also rotate to provide 360° coverage, which makes them even more versatile. Offset patio umbrellas require heavier bases than center poles and are typically more expensive.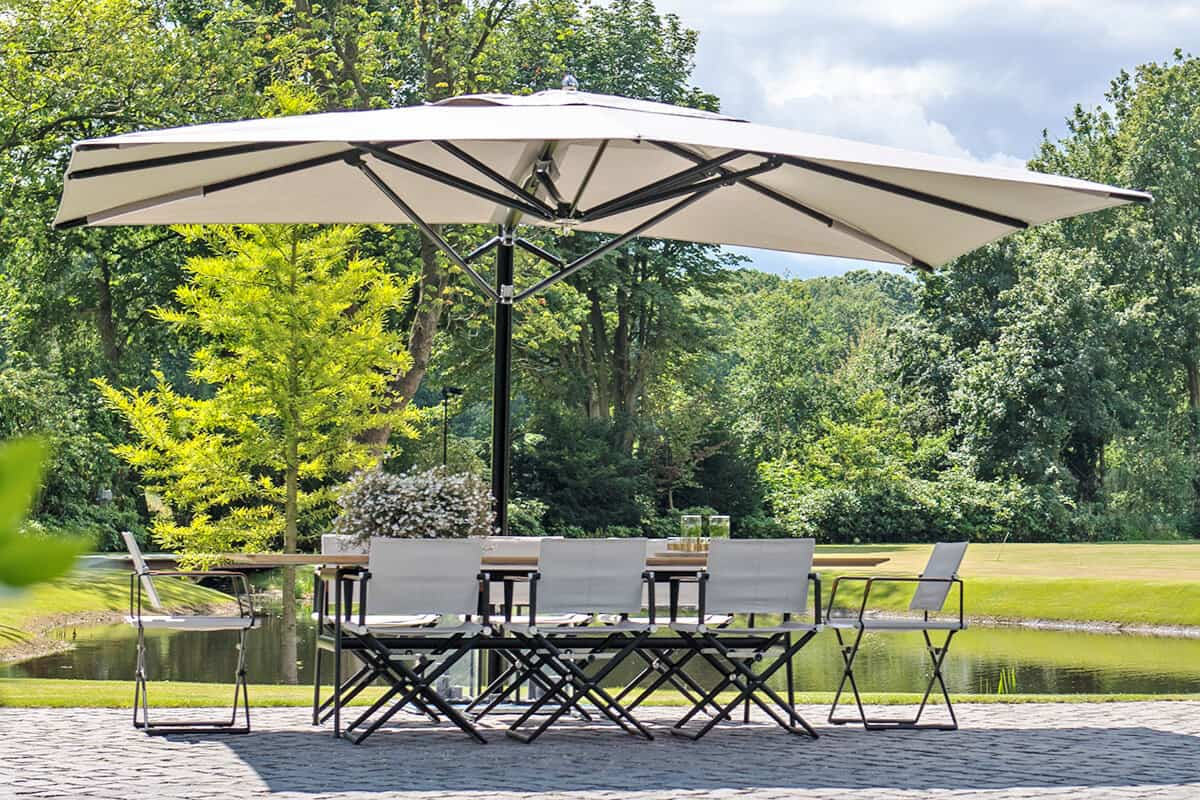 SHOP CANTILEVER UMBRELLAS
---
What size & shape outdoor umbrella is ideal?
However, a good guideline is to first measure the area or table that you want to shade. Be sure to take into consideration the room needed to comfortably situate chairs. Then, add 2 to 2 1/2 feet to each side to determine the canopy diameter that provides just the right amount of shade. Review the reference table below for examples.
Suggested pool umbrella sizes
| Table Size | Umbrella Size | Shade Area | Ideal Settings |
| --- | --- | --- | --- |
| up to 30″ | 6-7′ | 36-49 ft2 | 2 Seat Bistro |
| up to 36″ | 7-8′ | 49-64 ft2 | 4 Seat Dining / Lounge Chair or Chaise |
| up to 48″ | 8-9′ | 64-81 ft2 | 4-6 Seat Dining / Small Sofa |
| up to 60″ | 9-10′ | 81-100 ft2 | 6 Seat Dining / Small Lounge |
| up to 72″ | 10-11′ | 100-121 ft2 | 6-8 Seat Dining / Medium Lounge |
| up to 84″ | 11-12′ | 121-144 ft2 | 8 Seat Dining / Large Lounge |
| up to 96″ | 12-13′ | 144-169 ft2 | 8-10 Seat Dining / Large Lounge |
| up to 108″ | 13-14′ | 169-196 ft2 | 10+ Seat Dining / Extra Large Lounge |
Shape
Choosing the shape of your sun umbrella canopy comes down to three things: the shape of the table or space you want to cover; any physical constraints of your outdoor environment; and of course your personal aesthetic preference.
Round
If the table or the lounging area you want to shade is symmetrical, a round (really it's octagonal or even hexagonal) umbrella is a solid choice. Rounded canopies also complement traditional design styles, while providing an organic feel that helps to create a welcoming ambiance. If you have a lot of surrounding foliage, round canopies may reduce the need to prune additional branches.
Square
Square canopies are another obvious choice for symmetrical spaces, and provide maximum shade. They tend to enhance contemporary decor styles and create a sleek elegant look. Squared canopies also provide a sense of visual balance when combined with parallel architectural features of your deck or patio.
Rectangular
Oval or longer tables are often best served by rectangular-shaped umbrella canopies. A square or rounded umbrella that shades the entire length of a long table can overwhelm the space. Similarly, lanais and small balconies may require thinner options, because there just physically isn't enough room for anything else.
One other thing to be aware of is the height from the bottom of the canopy to the top. Tall rounded or arched canopies may have an aesthetically pleasing silhouette, but are much less wind-resistant than shorter or even flat ones. An aerodynamic design allows the air to flow more freely and lessen the chance the shade blows over.
---
What pole or frame material is best for a shade umbrella?
Choosing the material for your umbrella frame is really about deciding what your priorities are. Are you trying to match the look of your outdoor furniture set? Are you most concerned about durability in a moist or windy environment? Or, do you really want to complement the landscape and architectural design of your home? Heck, you might simply want to help your favorite canopy fabric really "pop." The three primary materials used to construct garden umbrella poles and frames are wood, aluminum and fiberglass. Each material has its own benefits and characteristics, so you'll have to decide which one best suits your needs.
Wood
Wooden umbrellas have classic, timeless appeal. Their natural, sophisticated look works well in lush green environments, where nature is at the forefront. A well-maintained wooden umbrella is a beautiful accent to rich woodgrain furniture and a hardwood deck. The most common hardwoods used are teak, eucalyptus and bamboo. However, these costly raw materials make wood umbrellas very expensive.
Wood is treated to resist insects, decay and weather damage, but it does tend to fade after extended exposure to the sun and rain. Additionally, wooden poles are less durable than their aluminum and fiberglass counterparts, and can even snap when faced with extremely strong winds. Many manufacturers offer faux wood finishes on their metallic or fiberglass models, if you decide that you absolutely must have the look of wood.
SHOP WOOD UMBRELLAS
---
Metal
Stainless steel and aluminum patio umbrellas have a sleek modern vibe that complements minimalist decor and wide open spaces. Stainless steel is naturally corrosion-resistant thanks to its chromium and nickel content. However, harsh saltwater environments can cause some corrosion to occur. Marine-grade stainless steel also has 2-3% of molybdenum which strengthens the steel and makes it even more resilient to rust. This make stainless steel umbrellas great choices for coastal areas or on yachts.
Aluminum is an inexpensive alloy, lightweight and durable, which makes it a great choice for outdoor shades. Most aluminum frames are powder-coated or anodized to resist corrosion and other signs of wear. Aluminum is inherently malleable and strong, so it can be shaped into extremely dynamic and interesting shapes that wood cannot attain. It also comes in a wide variety of finishes, which helps it coordinate with other furniture pieces. Aluminum will not break in high winds, although it can warp after prolonged exposure over a long period of time.
SHOP METAL UMBRELLAS
---
Fiberglass
Outdoor umbrellas with fiberglass poles and frames are among the most durable on the market. Fiberglass is lightweight, strong and far more flexible than wood or aluminum. This flexibility allows it to bend without breaking, in even the most severe wind storms. Additionally, fiberglass does not rust or rot, so it even performs well in wet conditions.
While it tends to be more expensive than the other material options, its ability to withstand extreme weather conditions for years make it a strong investment in the long run. Fiberglass umbrellas are available in a variety of colors, which helps them blend into any outdoor color palette. Many modern patio umbrellas pair fiberglass ribs with aluminum poles to reap the benefits of both materials. Tilt and crank lift features are also available on most fiberglass parasols.
SHOP FIBERGLASS UMBRELLAS
---
What canopy fabric should I use for my backyard shade?
Choosing your canopy material is one of the most important decisions you have when buying a patio umbrella. Not only is the color or pattern the most visible aspect of the umbrella, but ultimately it is what protects you and your kids from the heat and glare of the sun. Canopies are made from many different materials with their own physical characteristics, benefits, drawbacks and cost considerations. Unless you're going for a tiki themed backyard with a thatch canopy, you're going to need to select a durable fabric. Some fabrics are coated with PVC or styrene-acrylic to increase weather resistance, but the process has the drawback of decreasing the textile's tensile tearing strength [Eltahan 2017]. Here are a few of the more common canopy material options and brands.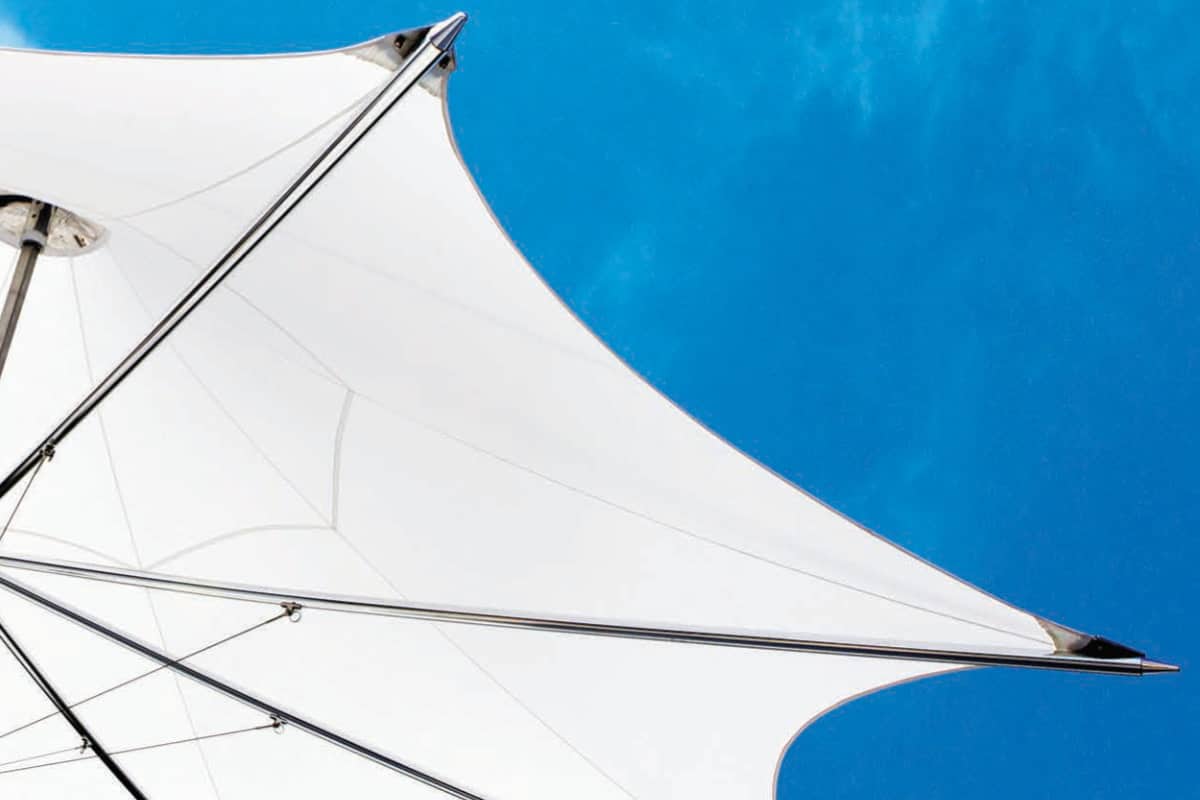 Acrylic – Sunbrella®
Other popular acrylic brands include: Outdura, Suncrylic and Spuncrylic.
Polyester – Pacifica®
Olefin – Texsilk®
Polyethylene – Coolaroo®
What umbrella color is best?
Holding canopy fabric constant, there are relative performance differences between colors. Darker colors absorb light and heat, while lighter ones reflect them. Consequently, deeper tones like navy, burgundy, forest green and violet block UV rays more effectively than sky blue, pink, lime and lilac. The temperature below dark canopies is slightly hotter too, although the height of most umbrellas would make the difference less noticeable. The closer a color is to white (e.g. beige, natural & cream), the more glare may become an issue. If you have a pool or light-colored external walls and flooring, you may want to steer toward darker umbrellas to help minimize reflected light. Dark canopies also tend to hide dirt better than light ones, so they require less frequent cleaning. However, dark and vibrant colors are more susceptible to fading. A striking black or chic dark taupe canopy will degrade over time to shades of grey and brown. Similarly, electric blue and fire engine red will fade to muted versions of their original color if exposed to direct sunlight. Fading, along with structural damage, will motivate you to consider buying a replacement canopy for your outdoor umbrella.
| Color | UV Protection | Temperature | Fading | Glare | Cleaning |
| --- | --- | --- | --- | --- | --- |
| Dark | Stronger | Hotter | More | Lower | Less Frequent |
| Light | Weaker | Cooler | Less | Higher | More Frequent |
There are also aesthetic considerations such as coordinating with the palette of patio furniture, architecture or even the environment. Earth tones convey a more organic and natural feel and are great for wooded areas. Jewel tones add rich color without overpowering the rest of the outdoor setting. Neutrals complement most decor and add subtle sophistication. Bold colors are eye-catching statements that add life and energy to a space.
Finally, there are psychological and physiological considerations depending on the purpose of your outdoor setting. Red increases your heart rate and hunger – making it a good choice for restaurants. Orange and yellow evoke cheerful and happy feelings – perfect for public gathering areas. Brown and green make people feel comfortable and relaxed – ideal for hardwood decks surrounded by trees. Blue conveys trust and health, but makes you thirsty and less hungry – nice idea for a poolside bar.
---
What kind of pool umbrella stand or base is appropriate?
Once you've determined the style and size of your patio umbrella, you'll need to figure out what kind of base you want or need. Choosing the right base or stand is critical to ensure that your umbrella is stable and upright under calm conditions and does not fly away when there's a gentle breeze. Center pole and cantilever umbrellas can use either mobile or fixed bases, but the latter is more appropriate the larger the umbrella is and the windier the setting.
Mobile
Mobile bases are what most people think of when they picture residential outdoor umbrella setups. Even though they are heavy, these stands can be moved from one spot to another with minimal difficulty (some have wheels to make this easier). Most freestanding bases are round, square or rectangular and are made from iron, concrete or stone. There are also hollow plastic ones that require you to add sand or water to create the weightiness. Some heavy duty versions have steel frames with aluminum covers in which you stack pavers of granite or other weighty materials. Most manufacturers provide a variety of finishes, so you can coordinate with your furniture. If you have an outdoor table with an umbrella hole, you'll need to carefully measure your mobile base to ensure that it can safely fit below.
Fixed
A fixed base (i.e. mount) is commonly used when a deck umbrella is very large, the environment is windy or it's a commercial installation. As the name indicates, fixed bases are not portable. They are secured to a single location by means of an attachment kit that varies by surface type. In practice, fixed bases are the best choice to guarantee the stability of your umbrella. Commercial environments are extremely active and the decor takes a regular beating, so it makes sense to minimize the chance of an umbrella being tipped over by passers-by. Nature and life are unpredictable, so eliminating any uncertainty about the safety of your shade lets you relax in peace. There are a few types of fixed bases:
Floor Mount – This is the most popular fixed base structure. Floor mounting kits enable you to quickly secure a base plate and sleeve to a concrete patio, hardwood deck or cement poolside. They work great beneath all kinds of umbrella tables since you don't need clearance for a bulky stand.
Wall Mount – This type of fixed base can only be employed for cantilever umbrellas that are designed to accommodate a vertical mounting. Consider a wall mount when you have a small area, where ground space is at a premium.
In-Ground – These bases are inserted directly into the ground and can be secured by pouring concrete around them. Typically, these are only used for very small umbrellas. If you have soft dirt or loose gravel and want to establish a permanent setting, this type of base is probably not the best choice.
How heavy does the deck umbrella base need to be?
The required weight of your mobile base is dependent on three factors: the size of your umbrella canopy; the expected environmental conditions; and the presence or absence of an umbrella table. There are many schools of thought as to how much weight is needed, but we tend to err on the side of safety. To account for average wind conditions, our rule of thumb for free-standing center pole umbrellas is 10 pounds per canopy foot. If the pole is running through an umbrella table, you can reduce it to 5 pounds per foot. The best offset patio umbrellas either include or identify the appropriate mobile base, or provide you with choices of fixed mount options, so there's usually less confusion. However, bases for cantilever umbrellas often run 30-40 pounds per canopy foot or more.
Recommended deck umbrella minimum base weights*
| Type / Size | 7′ | 8′ | 9′ | 10′ | 11′ + |
| --- | --- | --- | --- | --- | --- |
| Market Umbrella | | | | | |
| (Through table) | 35 lbs | 40 lbs | 45 lbs | 50 lbs | 55 lbs |
| (Freestanding) | 70 lbs | 80 lbs | 90 lbs | 100 lbs | 110 lbs |
| | | | | | |
| Cantilever Umbrella | 210 lbs | 240 lbs | 270 lbs | 300 lbs | 330 lbs |
*These are general guidelines. Follow the umbrella manufacturer's recommendations for their specific models.
Base Tube Diameter
Whether you're using a mobile or fixed base, make sure that it can accommodate the diameter of the umbrella pole. Most center pole umbrellas range from 1 1/2 to 2 1/2 inches in diameter. If you're purchasing the umbrella and base from different sources, please be sure to double-check with the manufacturers to ensure compatibility. Ideally, you want a base tube that is no more than 1/4″ wider than the pole to ensure a snug fit.
---
Additional Features
Standard patio umbrellas are relatively static, which can pose challenges as the sun travels across the sky or you move furniture. Some umbrellas, however, offer additional dynamic features that can resolve these shade problems.
Multi-Canopy
Some contemporary offset umbrellas have modular designs that allow you to add more than one canopy. Typically, two or four canopies are used to shade multiple areas when floor space is at a premium. These adaptable deck umbrellas are great for outdoor restaurants and cafes where dining tables are situated close together.
SHOP MULTI-CANOPY UMBRELLAS
Tilt
Certain center pole crank lift umbrellas include a tilting function that enables you to angle the canopy shade. This allows you to more effectively block the sun throughout the day, without having to reposition the umbrella. See the "What are the parts of a patio umbrella?" section below to learn about the different tilt mechanisms. Tilting patio umbrellas are less stable than static ones, and are not recommended for high use or commercial installations.
Swivel
Some cantilever umbrellas have 360° rotation capability. This allows you to cover a much larger area, without ever moving the base (not even a choice if you have a mounted base). This is extremely handy if you continually move about during the day and want to remain in the shade.
---
How important is wind speed for sun umbrellas?
The wind condition of your environment is a critical factor in evaluating patio umbrellas and materials. Still air or lazy breezes can accommodate almost any type of shade, whereas gale force winds require reinforced design, increased material strength and flexibility, as well as more substantial mounting and heavier base weight. Additionally, as wind gusts increase in intensity, it becomes increasingly important to properly close and secure canopies in a timely fashion to prevent damage and extend the life of your umbrella.
Beaufort Scale – Measuring Wind Speeds & Their Effects
The most common reference used by outdoor umbrella manufacturers to measure the wind tolerance of their shades is the Beaufort wind force scale. It was developed in 1805 by Irish hydrographer Francis Beaufort to help sailors estimate wind conditions at sea. This scale is based on visual observation in lieu of scientific measurement tools and it helped to standardize what had been subjective. Later, land observations were added and measurable wind speeds were assigned to the descriptions. [Forrester 1986]
Most patio umbrella brands indicate the Beaufort scale level, along with the acceptable wind speed ranges, for each of their products and variations in size, shape, etc. These tolerances are typically listed on specification sheets or in warranties since product damage coverage is dependent upon proper use and maintenance under specific conditions.
Beaufort Wind Scale Chart
Below are the Beaufort scale levels and their corresponding descriptions, wind speeds and land conditions.
| Level | Description | Wind (mph) | Land Conditions |
| --- | --- | --- | --- |
| 0 | Calm | 0-1 | Smoke rises vertically |
| 1 | Light Air | 1-3 | Wind direction is indicated by smoke drift but not wind vanes |
| 2 | Light Breeze | 4-6 | Wind is felt on the face; leaves rustle; vanes begin to move |
| 3 | Gentle Breeze | 7-10 | Leaves and small twigs are in constant motion; light flags are extended |
| 4 | Moderate Breeze | 11-16 | Wind raises dust, leaves and loose paper; small tree branches move |
| 5 | Fresh Breeze | 17-21 | Small trees in leaf begin to sway |
| 6 | Strong Breeze | 22-27 | Larger tree branches move, whistling is heard in telegraph wires; umbrellas are used with difficulty |
| 7 | Near Gale | 28-33 | Whole trees move; resistance felt when walking against wind |
| 8 | Gale | 34-40 | Twigs break off trees; generally impedes progress |
| 9 | Severe Gale | 41-47 | Slight structural damage occurs; shingles blow off roofs |
| 10 | Storm | 48-55 | Seldom experienced inland; trees broken or uprooted; considerable structural damage |
| 11 | Violent Storm | 56-63 | Very rarely experienced inland; accompanied by widespread damage |
| 12 | Hurricane | 64+ | Widespread destruction |
How easy is an umbrella to use?
Regardless of whether you land on a market or cantilever umbrella, it's important to evaluate how easy the shade is to operate. That depends largely on the size of the umbrella, its functional characteristics, the outdoor environment and your activity. Every design has its pros and cons with different options available within even the same model, so take careful consideration before making a selection.
Accessories
There are other items that you should consider when ordering a patio umbrella.
Lights
If your outdoor entertaining continues into the evening, you might think about adding some patio umbrella lights. LED lights generate far less heat than previous bulbs, so they can be built into the ribs or hubs of modern umbrellas. Or, you can purchase them separately and mount them on the underside or perimeter of the canopy. Many sizes, configurations and colors of lights are available, so you can customize the ambiance you want to create.
Heaters
To optimize space and comfort, a number of commercial and high-end residential deck umbrellas have heaters integrated into their design. These pivoting infrared devices typically attach to support struts and emit directional heat to warm the area immediately below the canopy. The heaters' electrical lines are concealed within the pole or mast and they often share their power supply with a lighting system.
Speakers
A few luxury umbrellas even have Bluetooth™ speakers that can connect to your mobile device and play your favorite songs. They may also include Wi-Fi and USB charging so you don't have to be disconnected just because you're outdoors.
Protective Cover
A weather-proof cover is a "must-have" accessory for any outdoor umbrella. Your shade takes a beating during the heat of the day and in the summer months, so it deserves the protection of a cover during its downtime. Most covers are made from heavy duty canvas fabrics, but hard shell versions do exist, as well. See the maintenance and storage tips below to learn why a cover is critical to extending the life of your umbrella.
---
What are alternatives to deck umbrellas?
Sometimes, an umbrella is not the best shade solution for a particular outdoor circumstance. There are a number of stylish options available, each with its own specific application.
Shade Leafs
These contemporary personal shades have chic organic or geometric designs, and have been growing in popularity. They're typically used to shield an individual chaise or sunlounger. Shade leafs consist of a small base with an artistic canopy that arches over the chair. Luxury resorts and hotels, in the Caribbean, Mediterranean and other balmy climates, will often have shade leafs poolside for their upscale clientele.
Shade leafs usually have rotating canvased frames, which allow you to continually adjust the level of sun exposure, without disturbing your neighbor. They are lightweight, so they're easy to move about if you change your furniture configuration.
Sun Shades
These elegant contemporary shades are a variation on cantilever umbrellas. Their offset poles support flat geometric shades that can easily be rotated, angled, raised or lowered. They may not have the overall coverage of larger umbrellas, but they do provide many of the same benefits. Unlike traditional umbrellas, the canopies of sun shades don't open and close. However, their lower profiles are more aerodynamic and capable of withstanding stronger winds, depending on the design.
They're used as an expression of aesthetic taste, as much as for a specific functional purpose. Alone, they are iconic visions. In a row or group, they create an artistic vista of order.
Shade Sails
These eye-catching stretched canvas shades create a wondrous covering of geometric shapes, without destroying the natural beauty of the skyline. Consisting of triangles, squares and rectangles of varying sizes, these sails protect against the glare and pounding heat of the sun above, while still allowing cooling airflow below. Their design is quite simple but effective and customizable.
The corners of the pieces of canvas are secured to sliding tracks on walls or mounted poles and stretched until taut. They are used alone or in combinations that can be adjusted throughout the day. They're a stylish option for large commercial dining areas.
Cabanas
These spacious structures are essentially portable rooms with shade options and varying levels of creature comfort. They're often used to shelter sectional arrangements and dining sets, where entertaining may extend into the evening. There is a wide variety of structural compositions and price points. On the low end, a cabana may simply consist of four sturdy poles with crossbars and a canvas canopy.
Most include curtains to provide additional protection and privacy. This extra lateral protection is extremely important to account for the movement of the sun and ambient scattered ultraviolet radiation that reflects off of water and light surfaces [Turnbull & Parisi 2006]. On the high end, you might see louvered wooden or aluminum walls, retractable canopies and built-in seating. Some high quality versions even offer lighting, ceiling fans, speakers and Bluetooth capability.
Pavilions
These simple structured shades are great for covering wide outdoor areas that are too large for a standard umbrella. Pavilions offer an expansive open area for large leisure seating or tables, without obstructing the view. They're often used, in hospitality and residential settings, to provide cover for food and beverage service areas. There are a variety of pavilion designs, but they all essentially consist of dual side supports that provide a framework for a basic canopy covering.
A few of the bells and whistles include: pull-down side shades for morning and early evening sun; retractable canopies; and easy set-up, break down and storage. If a cabana is a little too much to handle, a pavilion is a sensible choice.
SHOP SHADE PAVILIONS
---
How do you clean and maintain a patio umbrella?
To ensure that your outdoor umbrella is looking great and working properly year after year, it's important to keep it clean, maintained and protected at all times.
Cleaning your Outdoor Umbrella
You should frequently clean your patio umbrella to ensure that it retains its appearance and remains free from debris that could hinder performance. Open the canopy completely and, using a hose, spray everything down with water.
Fabric cleaning – In general, mild soap and water are fine for most canopy fabrics, but be sure to read the instructions from the manufacturer for their recommendations. Use a sponge, dishrag or soft bristle brush to clean any problem areas. Let the cleaning solution soak in for a bit and then rinse since soapy buildup can lead to mildew. Keep the canopy open to allow the fabric to air dry completely.
Frame cleaning – The directions for washing your umbrella frame are the same, whether it is wood, metal or fiberglass. Using a clean damp cloth, wipe down the ribs, hubs, pole and finial. Be especially careful around the joints, lift and tilt mechanisms, since you don't want any threads or debris getting caught up in the moving parts. In most instances, mild soapy water is okay to use for cleaning very dirty areas, but consult the manufacturer's instructions to be sure. It's very important that you avoid using an abrasive cloth or harsh cleaners, as they could damage the finish of your wood or metal frame. Keep the canopy open to allow the frame to completely air dry before closing.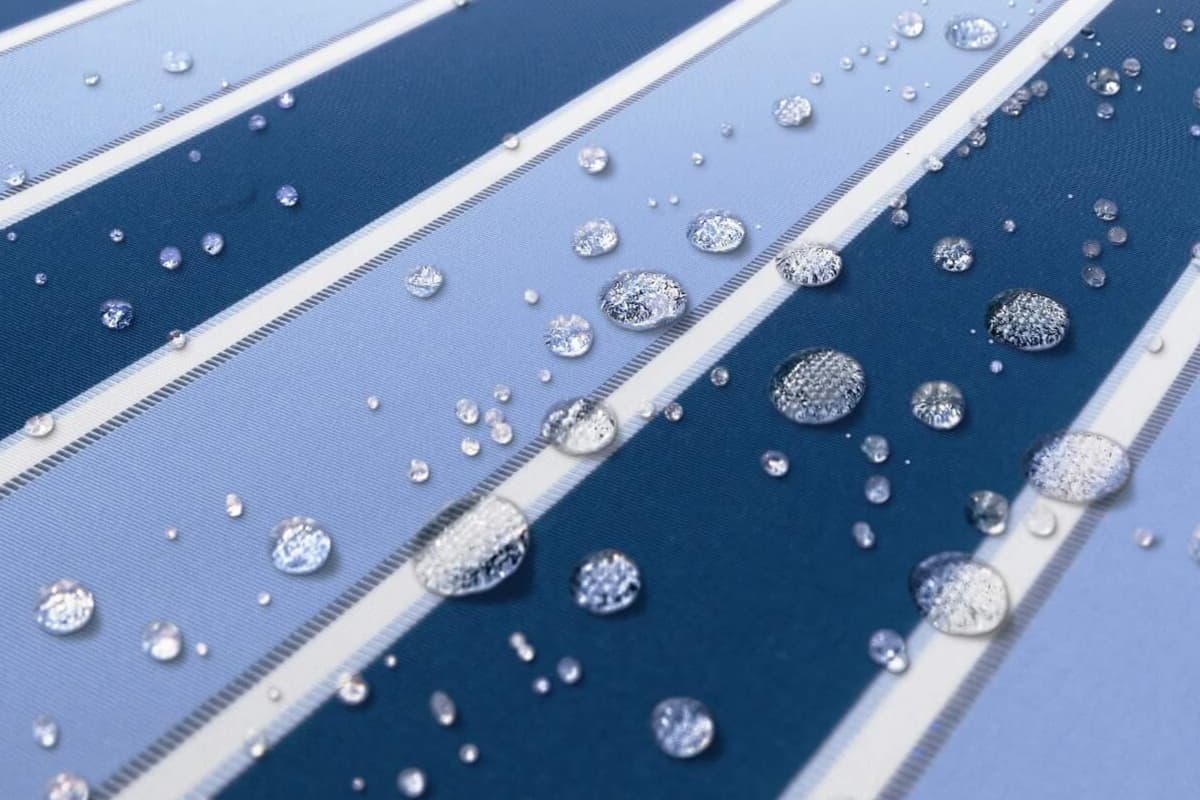 Shade Umbrella Maintenance Tips
Throughout the warm and temperate seasons, a little common sense and care will go a long way toward keeping your outdoor umbrella in tip-top shape.
Open it gently – Most umbrellas are designed to rest comfortably in a fully closed position. To properly and safely open yours, push and extend the main canopy ribs away from the pole a bit before engaging the lift mechanism. If you notice that the umbrella is struggling to open, don't force it – you may need to clear stray twigs or leaves that may be hindering proper functioning of the lift.
Close it when not in use – Even if you have a substantial base or mounting fixture, it's wise to keep your outdoor umbrella collapsed, in its locked position, when you are not using it. Inclement weather and high winds can play havoc with an open umbrella. Rather than risk damaging your umbrella's ribs or launching it across the yard, take a few moments to close it. Many manufacturers exclude wind damage from their warrantees, so be smart.
Keep it dry – Ideally, you should employ an umbrella cover whenever it's not in use. In addition to protecting it from unnecessary exposure to the sun, a cover helps keep out mildew causing moisture. If you can't always put the cover on, be sure that you completely dry the canopy before closing the umbrella. Most outdoor fabrics are treated to resist mold and mildew, but moisture can collect and remain protected within the folds of a closed umbrella.
Review manufacturer recommendations – Each manufacturer has instructions and tips for using their umbrellas. Some woods require periodic oiling, while others can go without it completely. Different materials and structural designs have their own specific guidelines for upkeep, so brush up on what you need to do before you set up your umbrella.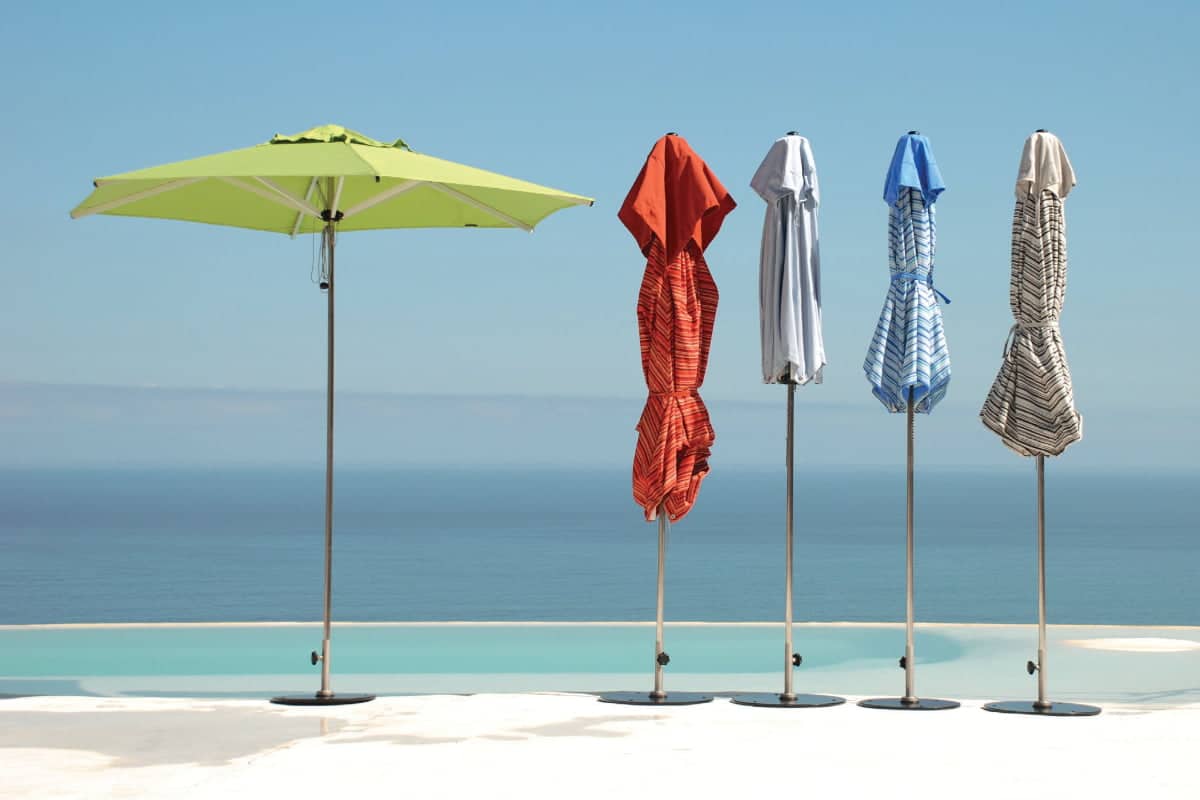 Protection & Storage of Your Umbrella
During the off-season, or when there are extended periods of time during which your patio umbrella remains idle, you should carefully remove the pole and canopy from the base or mount and store it properly.
Make sure it's clean and dry – Follow the guidelines listed earlier, before storing your patio umbrella.
Use a protective cover – The cover will prevent moisture build-up, block dust and debris, and minimize inadvertent damage from other items brushing up against it.
Wrap the folds in one direction – To minimize wrinkling and preserve the aesthetic qualities of your canopy, wrap the folds in the same direction, before securing it within the cover.
Cover the pole ends – To minimize damage to the ends of the pole, you should cover them with cardboard or heavy rags.
Store it in an upright position – Laying umbrellas on their sides puts unneeded weight on the rib assembly, especially if other items are apt to be stacked on them or they are at risk of being stepped on.
Keep it in an enclosed dry area – Be sure to store your umbrella in a dry covered space like a garage, basement or pool house in the off-season. Even if it has a protective cover, the cold and moisture have a way of creeping in and damaging items left outdoors and unattended for too long.
Frequently Asked Questions – Patio Umbrellas
---
References
Photo Credits
Tuuci
Jardinico
Bambrella
Shademaker
Woodline
Umbrosa
ShadeCraft
Cuscini
Treasure Garden
Galtech