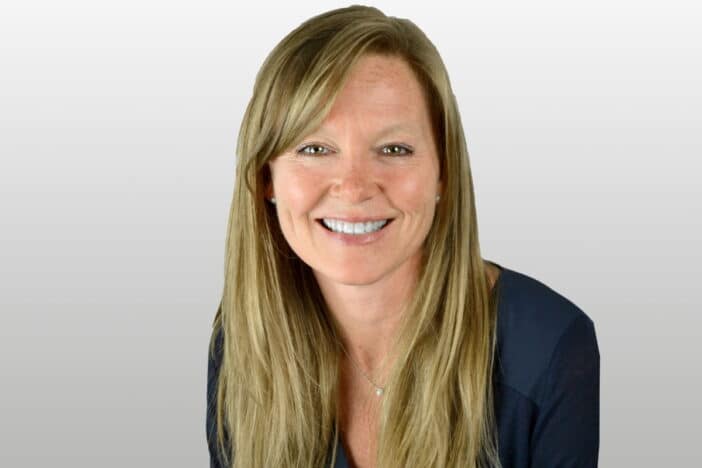 Our Interview with Karen Wistrom, Vice President of Marketing at Dura Supreme Cabinetry.
As part of our exploration of the art and industry of interior design, architecture and decor, we have conducted a series of interviews and asked some of our more prominent expert "colleagues in style" all about their craft.
How have cabinet trends changed over time? Are most changes due to function or aesthetics?
Design and taste preferences certainly shift over time. Some due to function, but most due to changing preference for aesthetics. The most notable evolution in design trends of late has been a homeowner preference for transitional styling. Examples include clean sleek lines, minimal ornamentation and an overall design style that leans toward minimalism. Painted cabinetry, in shades of white or gray, is a prominent trend. It blends beautifully with quartz or marble countertops and subway tile backsplash for a classic, contemporary look. Metal finishes are warming up and shades of bronze, copper or brushed brass are beginning to gain homeowner preference. Textured looks with wood species like hickory or oak in a gray stain are beginning to gain popularity (mixed with sleek painted cabinetry), as are any elements that add a natural or weathered appeal.
Navy Blue as an accent color along with white, gray and black is trending in all facets of interior design, from kitchens to baths to living spaces.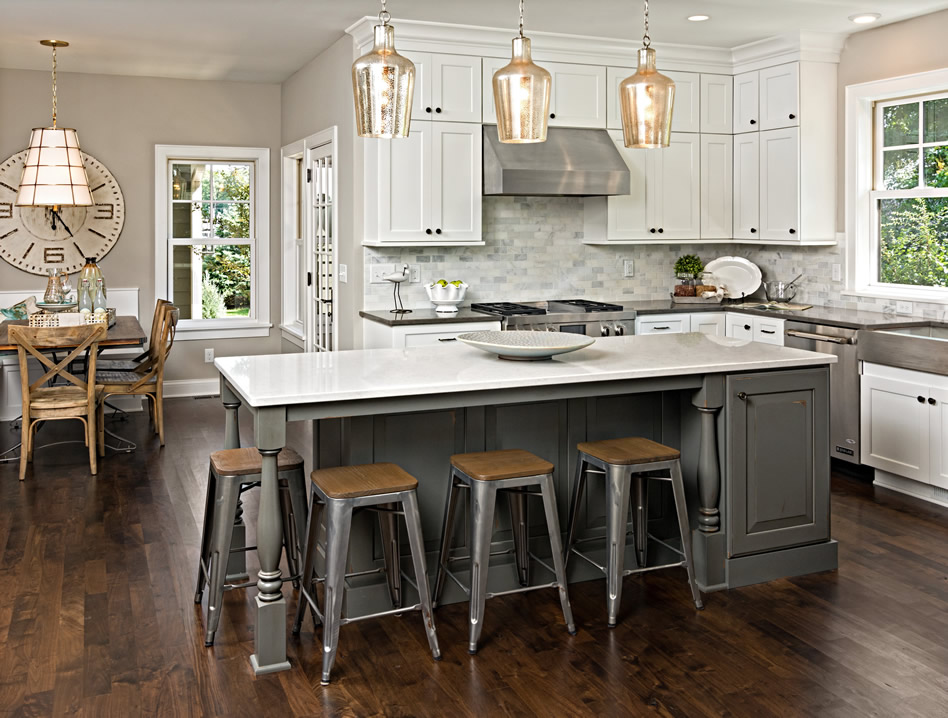 What sustainable or green practices do you have and how are they an asset for both Dura Supreme and consumers?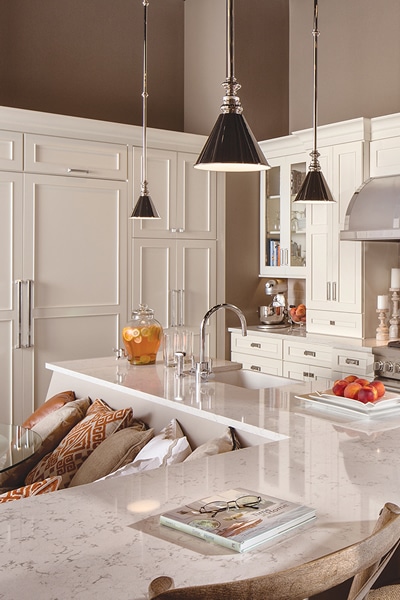 Dura Supreme incorporates green practices into all facets of our products and production. Wood is a natural element and a renewable resource. Our wood comes from sustainable forests and reputable companies that re-plant and practice responsible harvesting. Dura Supreme is an ESP (Environmental stewardship) certified company and all panel products meet CARB qualifications. Computerized cutting equipment ensures that we yield the maximum possible from every piece of wood and reduce waste. Any wood waste that is created, is recycled as animal bedding and wood pellets for pellet stove heating units. In essence, our manufacturing practices ensure that our customers are receiving outstanding quality in the responsibly sourced and produced cabinetry.
What are some of the more interesting or challenging projects you've worked on?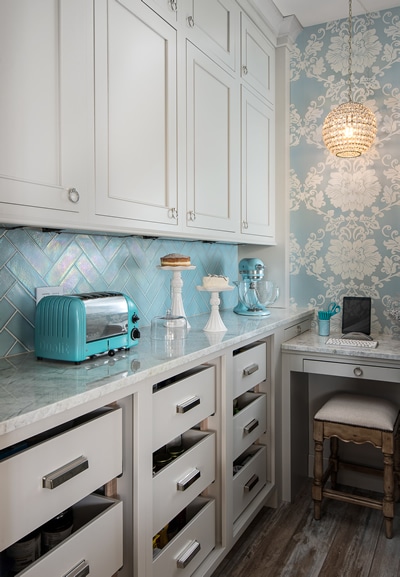 We keep a close eye on trends and color forecasting so that we can develop products to meet the needs of our customers.
We developed a unique "weathered" finish collection for our cabinetry that replicates the look of wood that has been exposed to the elements; sun wind and rain. It's is a heavily textured finish that highlights the unique grain, burl and character of the wood species and is available in a variety of colors. It can create the look of reclaimed barnwood or an antiqued, heirloom piece of furniture. The one-of-a-kind statement finish can be used within an entire kitchen or as a statement piece in an island or hutch. It works beautifully in bath applications and even for wainscot or back of island applications instead of barnwood.
What do you see for the future of cabinetry design?
Cabinetry design will continue to evolve over time to meet the design and functional needs of families and homeowners. Kitchens and baths are the most used and most-loved rooms in a home, and kitchens truly are the heart of a home. Open floor plans provide more and more access to the kitchen, as the hub of activities and the design of a kitchen truly reflects the personal style of the homeowner. One trend on the horizon in kitchen design is to create more specialized "centers" based on the activity in that area of the kitchen. For example, a beverage center completely outfitted with barware, glassware, wine refrigerator, entertainment sink, stemware, etc. all behind cabinetry doors that can be opened and used during entertaining. Or a breakfast center, with its own countertop, dishware, smoothie maker, coffee maker and toaster all behind cabinetry doors that can be closed once the breakfast rush is over. Designing specialized areas within a kitchen that provide a functional purpose as well as a design purpose.
Karen Wistrom
Vice President of Marketing
Biography
With over 25 years of experience in kitchen, bath and home interior design, Karen Wistrom, ASID, NCIDQ and VP of Marketing for Dura Supreme Cabinetry, has been leveraging design trends and color forecasting to develop product lines and products that fulfill the needs of today's discerning kitchen and bath specialists.
To learn more about her and her work, please visit: DuraSupreme.com.
Social Links to Dura Supreme
Photo Credits
Gray kitchen island from Knight Construction Design, Inc
White island cabinetry from Mingle
White pantry cabinets from Lindsey Markel of Dillman & Upton