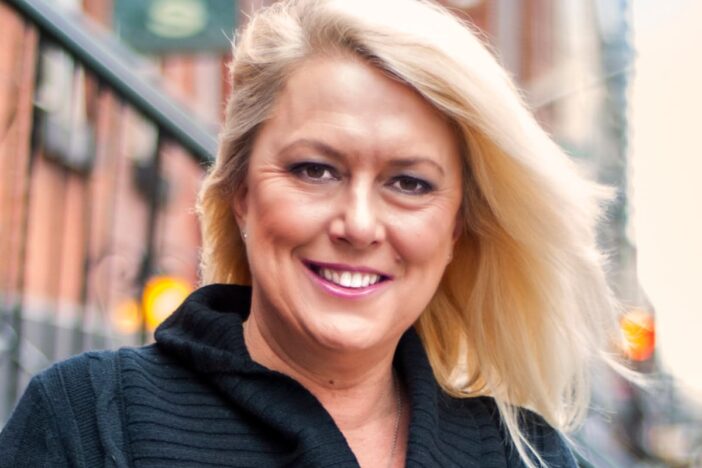 Our Interview with Toni Sabatino of Toni Sabatino Style.
As part of our exploration of the art and industry of interior design, architecture and decor, we have conducted a series of interviews and asked some of our more prominent expert "colleagues in style" all about their craft.
What's your approach on making a bathroom space more luxurious, while still remaining functional?
The bathroom is interesting to me because it has come out from the shadows. What used to be a simple hidden hygienic room has become for some a showplace as well as a personal spa or retreat. There is also a trend for "ease of use". This trend is about universal design, or products that work for people of all abilities. I like to use comfort height toilets and add attractive handrails in showers for people of all ages. What works for those planning to age in place also works well for young families.
Limited space can also play a major role when planning as practicality is not the same for everyone when it comes to personal grooming. When there is no space limitation for creating a personal oasis, luxury baths can include saunas, steam showers, towel warming drawers, refrigeration and lounging areas. When space is limited, I like to take inspiration from the client's passions about fashion, art and personal style to create a balance of luxury that IS functionality. The vast array of gorgeous products currently available make the bath selection process as interesting as any room in the home. Some of my favorite luxury products include faucets with Lalique glass handles, graffiti look hand-painted tubs, houndstooth tile and stylish drains that make even the mundane beautiful.
Adding makeup mirrors, organized easy-access storage for makeup, hair care products, skin creams and lotions, hot rollers, electric razors and all things that help you feel ready to tackle the world are important to me. Ultimately, luxury with functionality is about planning what works for the lifestyle of each client and choosing amazing products to meet that need.
We noticed that you like to use industrial and vintage style metal lighting in your decor. How do you feel these elements enhance your clients' personal style?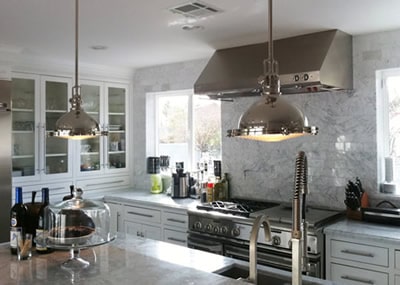 That is a great question and thank you for noticing the lighting! To me, lighting is a major component and really sets a tone. Lighting enhances personal style like a gorgeous handbag adds to an outfit or a lovely scarf or beautiful piece of jewelry. Artful lighting can add a touch of elegance or whimsy or sophistication that really helps define the space. I love to have the recessed cans removed from hallways and have them replaced with lush looking flush mount lighting or pendants. I love handcrafted metal and glass but even when I spec something mass-produced I think of it as a functional sculpture and want it to inspire a second look and maybe some conversation.
What was one of your favorite projects?
A recent apartment renovation for a sophisticated couple on the East side of New York City was one of my favorite design challenges. The couple had an extensive art collection and a few pieces of art deco furniture that were to be incorporated into my design. Color and furniture selection to enhance the art and show the passions of the clients while creating a space that was warm and inviting led me to her wardrobe for additional inspiration. I wanted her to wear her apartment like her Chanel suits and deco styled jewelry. I wanted him to smile as he entertained his family and friends. I remember choosing the soothing pewter-y tone for the wall to enhance the art as well as their skin tones. I wanted her to feel radiant and luxurious so even the kitchen and master bath have some subtle sparkle and lots of bling. The end result is a space that has a romantic sophistication that makes them both proud and comfortable.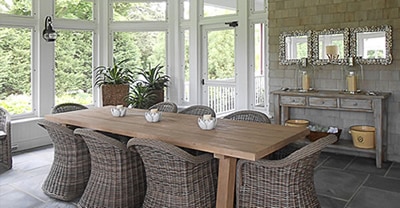 What do you think will be the next major trend in the interior design industry?
I think that the next big trend is a new type of modern that I like to refer to as "New Century" modern. This new modern incorporates simplicity coupled with artisanal furnishings that show passion and personality. It seems that the "less is more" oxymoron is trending now in well-balanced and uncluttered open spaces and I love it! Sweeping lines in these multifunctional open spaces with functional art acting as coffee tables and light fixtures and area rugs are what I am incorporating into current jobs.
Sectional or "fragmented" coffee tables seem to be gaining exposure and I think these are not only great looking but super practical for entertaining. Glass and metal light fixtures with simple geometric shapes fit well into this new century modern that is warm and personal. I am seeing lots of European influence with continuous horizontal lines of built-ins and open shelving along with simple furnishings that allow eclectic art and personal collections to take center stage. I am very happy to see this movement away from heavy ornamentation and visual clutter becoming more mainstream.
Toni Sabatino – Founder and Lead Designer Biography
Toni Sabatino Style, boutique design firm serving Greater New York and beyond.
From the old-time grandeur of Central Park West to the Art Deco beauty of the Chrysler building, or the coveted, laid-back feeling of the Hampton's, Toni Sabatino's style is a mix of high and low design elements with distinctive details that won't compromise the grace and period of a home's architecture.
A leading kitchen designer, Sabatino cut her chops working with a kitchen cabinet manufacturer, and then a distributer in-house, at the same time building a portfolio of 1000 kitchens — everything from floorplans and product specifications to complete delivery and installation — before launching her own firm. Vivid, deep colors, playfully sophisticated patterns and furnishings and large scale are all signatures of her work.
A native New Yorker, Sabatino has designed residential and commercial projects all over Manhattan as well as in Brooklyn, on Long Island, the Hampton's and in resort destinations like Vermont, Palm Beach, Orlando and Las Vegas. She is a proud recipient of a Best Of Houzz Award 2013, 2014 and 2015 for customer satisfaction.
Toni Sabatino is also proud to be a member K+BB Editorial Advisory Board, the Sustainable Furnishings Council, the Thermador Design Council and a regular contributor to Embark Magazine.
To learn more about her and her work, please visit: ToniSabatinoStyle.com.
Social Links to Toni Sabatino