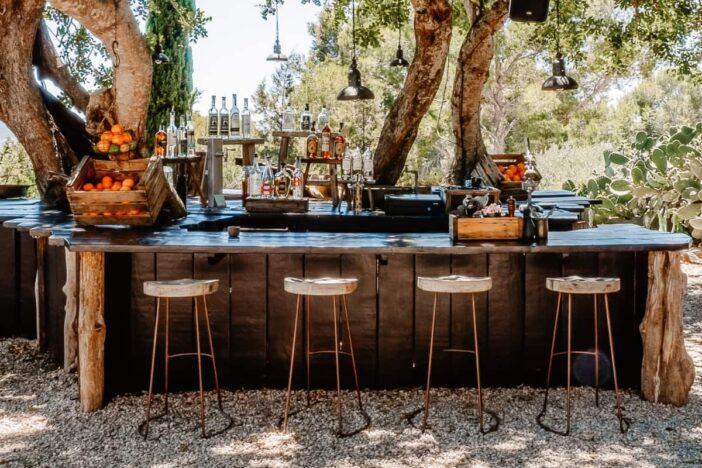 63% of American adults drink alcohol; who doesn't enjoy a carefully crafted cocktail?
It can be a hassle to drive out to your favorite bar every time you want one though. And mixing up drinks in your cluttered kitchen just doesn't have that spark of magic.
You might be fortunate enough to have a large outdoor space, so you're hankering for a backyard bar. But how exactly should it look and feel?
Before you hire a professional designer, put your imagination to the test first. Read on for 12 great ideas for outdoor bars if you need some inspiration.
1. Bohemian Style
You can't go wrong with a Bohemian-styled bar. This has a carefree vibe, which is perfect for a laid-back setting to drink in.
It's also a good style to incorporate plants, as it emphasizes earthy and neutral colors. So don't be afraid to get your green thumb on!
For an excellent Bohemian look, opt for wicker furniture in brown, beige, or white. The woven aesthetic paired with soft fabrics on pillows and throws draped across chairs will make everyone feel right at home. Add a cozy rug for extra appeal!
If your bar's already under a pergola or inside a gazebo, then you're already halfway there for the boho look. Hanging curtains and string lights from them will create a relaxing space where you can spend hours sipping drinks, reading, or chatting with loved ones, even when it gets dark.
2. Tiki Bar
Have you always wanted to go to Hawaii to enjoy the state's gorgeous nature and fantastic weather? Well, you can make your own tropical paradise by building a tiki bar!
This is easy to do if you've already got a bar, but it looks boring. Grab some thatch sheets and wrap them around the front of your bar and the roof, as well as your patio umbrellas, and voila: instant tiki bar!
Use bamboo stools at the bar, and fill your yard with matching furniture and beachy touches, like surfboards. To complete the look, add tiki torches! They're perfect for lighting up dark spots at night.
If you've got a pool, then a tiki bar will complement it wonderfully. It may not be the sparkling Pacific Ocean, but the clear blue waters will suffice.
3. Poolside Bar
Some people find the tiki bar aesthetic cliche and cheesy, and that's okay. If you're one of these people, then you can still get that tropical resort feel without looking like an Islands restaurant.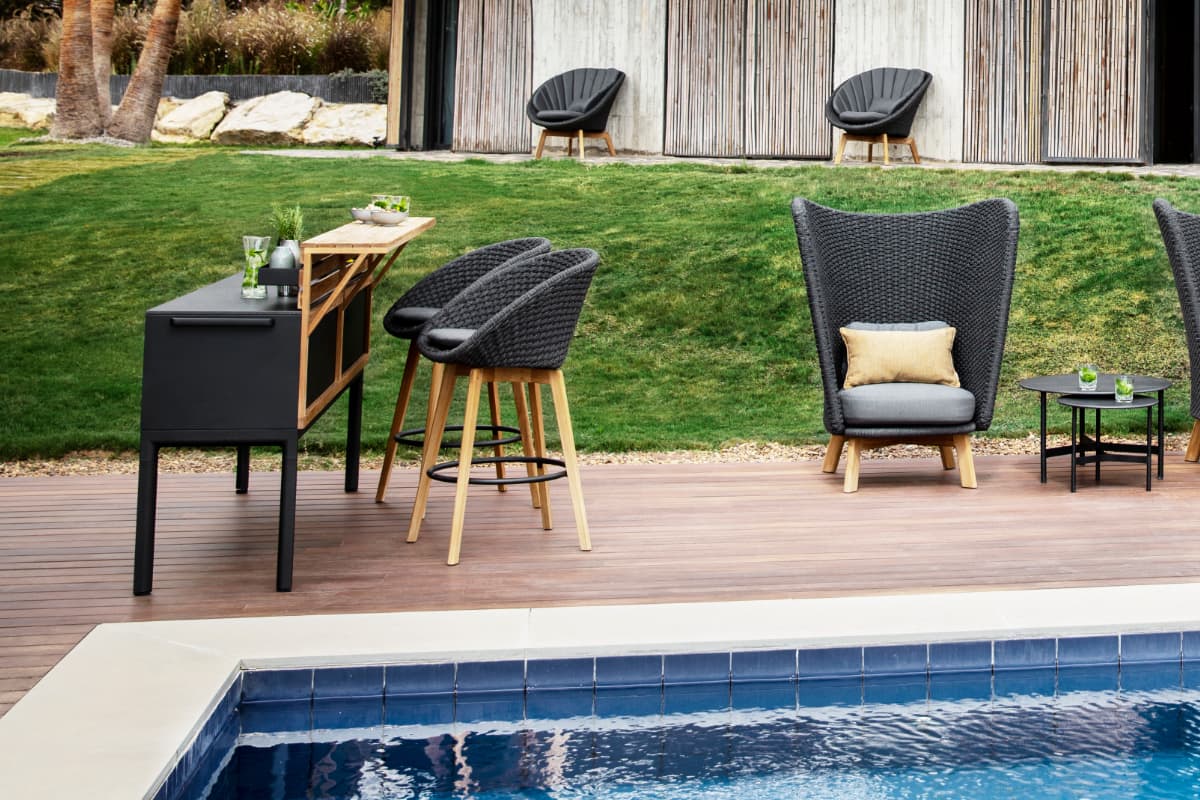 A poolside bar is ideal if you, your family, and guests like to switch between the pool and land. The bar puts those on dry land in close proximity to those still taking a dip, and you'll have an easier time carrying on conversations.
This will work superbly if you already have a cabana since you'll find them along pools and beaches. Installing a bar underneath will make it very convenient for swimmers to get out of the pool, towel off, and sit right down for a cold, refreshing drink.
As far as the style and materials go, the world's your oyster. Natural stone and wood will work best to maintain that beachy vibe, although the former may match better with your pool.
4. Swim-Up Bar
Take the poolside bar a step further, and you'll get the swim-up bar, the ultimate backyard luxury. Because you'll only see these at five-star resorts, you're sure to make your guests' jaws drop when they see this.
You can be as lazy as you want, paddling over to the bar when you're thirsty. You can even munch on a snack or meal if there's a roomy countertop in front. It's great for getting some respite from the harsh summer sun!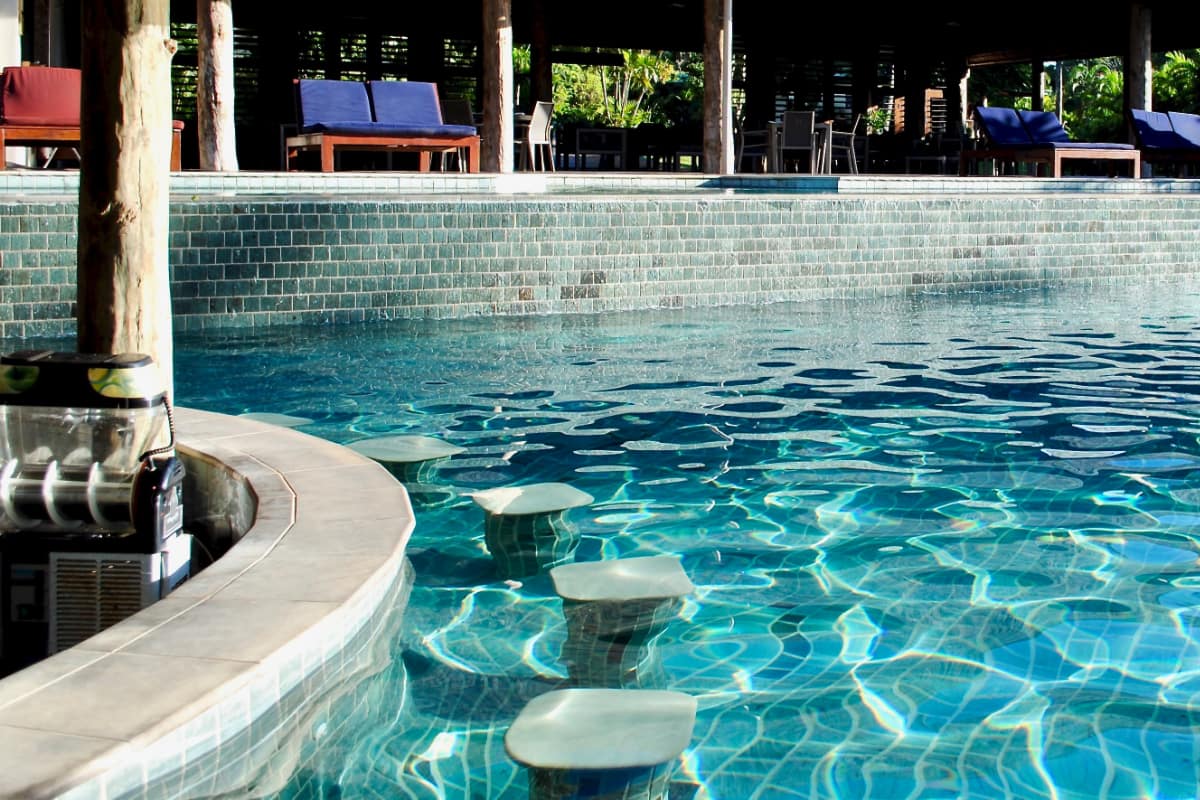 Again, a cabana works best for this type of outdoor bar. The "bartender" and others hanging around can stay in the cool shade while those in the pool can keep swimming along in the refreshing water.
Fit your pool with concrete or stone seats and save your patio furniture for elsewhere.
5. Tuscany-Style Bar
Do you want to be transported to the Italian countryside whenever you sit at your bar? Then go for an elegant Tuscan feel.
To emanate Italian vineyards, pick a dark wood with intricate designs and a marble countertop for your bar. You can match this with wooden bar stools, or contrast it with sleek black metal ones.
Make your patio bar into an Italian getaway by putting it underneath your pergola. Vining plants like wisteria will take the vineyard concept one step further.
You'll feel classy whenever you and your guests have a glass of wine at your Tuscany-style outdoor bar.
6. Sports Bar
If you can't get enough of your favorite sports teams, then you won't have to miss games or run in and out of your house to catch all the action if you have a sports bar!
The beauty of creating your own sports bar is you can use any style and materials. But because you'll have a TV (or two), ensure the bar is underneath a sheltered area, such as a gazebo.
Installing a beer tap is a good idea too, as you'll have plenty of beer flowing while you cheer on your teams. Decorate the area with memorabilia, which will encourage some friendly competition!
7. Garden Bar
You've worked hard to create a lush paradise in your backyard, so a garden bar is an excellent way to show it off. Put it right in the middle of the lawn, so your guests have to come out and admire everything before earning a drink.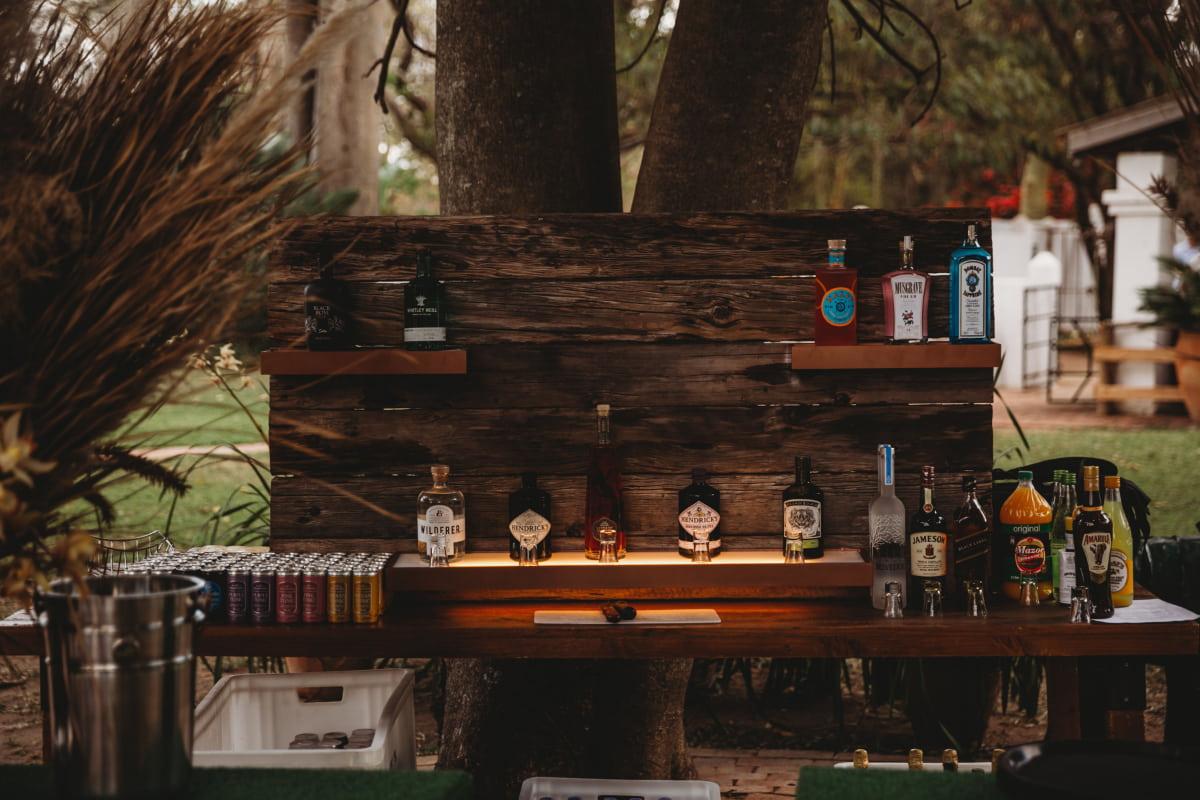 There are a few possibilities here, depending on how much space you have to work with.
For a tiny garden, you can build an L-shaped bar and a few stools out of wooden pallets, then paint them to match your home. If you have enough wood left over, construct a small roof to keep the bartender dry on rainy days. This is an easy and cost-effective way to achieve a rustic garden bar.
If you have more room to work with, then put in a small shed. This is essentially a larger version of the L-shaped bar, and you can shut the shed up when not in use.
Something much easier for big gardens is putting in a gazebo or pavilion. Put in some countertops, and stainless steel chairs will allow everyone to enjoy the sounds and sights of nature, along with a cold beverage. This can work in favor of bar stools, which don't give any back support.
To make things more relaxing, consider putting in a pond or water feature next to your garden bar, as well as some sun loungers. It'll be so zen that you won't ever want to leave.
8. Balcony Bar
Small apartments often don't have yards. And you may not want to have a cocktail with your grumpy neighbor in the common areas, either.
Create a small haven on your balcony by installing a hanging bar table. It's a thin plank that runs along the railings, and you can decorate it with a few glasses, liquor bottles, a cocktail shaker, an ice bucket, and a plant (or two) for good measure. You may not have enough space to place chairs outside, so count it as a stand-up bar.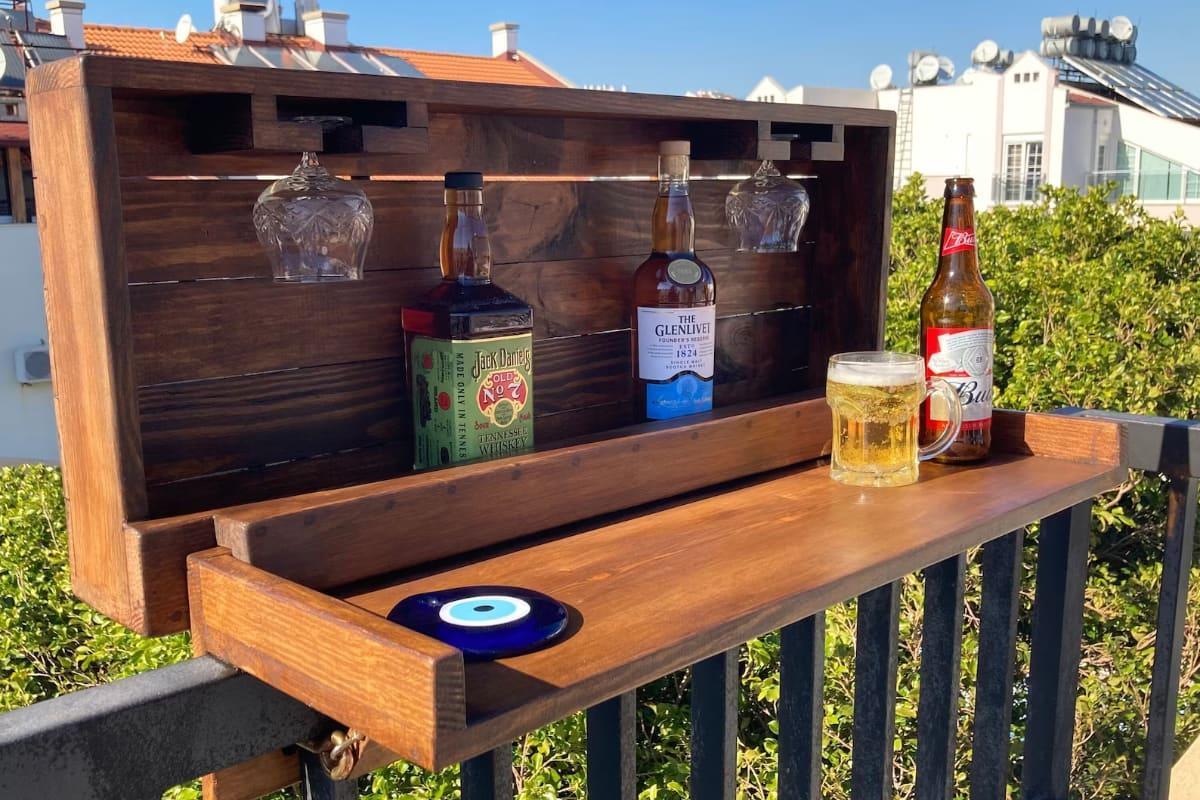 It's not much, but at least you can call it your own! If you're lucky enough, you'll enjoy a fantastic view of the city and sunset while sipping a tasty drink.
9. Rooftop Bar
Urban homes often don't have much outdoor space. So why not look upward?
Out-of-season equipment and junk are usually relegated to the rooftop area; they're out of sight, out of mind. But you can do so much more with this square footage!
Installing a plain countertop and lining it with bar stools will transform your rooftop into the hippest place to drink, especially if you have room for plush patio furniture. Add a sound system and a large TV so you can watch games and movies, as well as put on thumping music to dance around to.
Decorating with potted plants containing herbs and flowers can spruce the place up a bit. An added bonus is you can pick fresh ingredients to put straight into your cocktails. Your guests will definitely be impressed!
You can even integrate the bar with a barbecue area to maximize your entertaining space. In the summer, everyone can head up to the roof and spend countless hours relaxing on the sofa and chairs or chatting with each other at the bar. And you can grill hard and serve up those tasty dishes to everyone in one spot.
To ensure everyone's comfortable, add retractable awnings, patio umbrellas, curtains, and privacy screens. These will enable you to keep partying, whether it's rain or shine!
10. Wine Barrel Bar
A wine barrel bar can be a charming way to recycle, especially if you combine these barrels with reclaimed wood. Not only does it look nice, but it also saves some space if your backyard is tiny.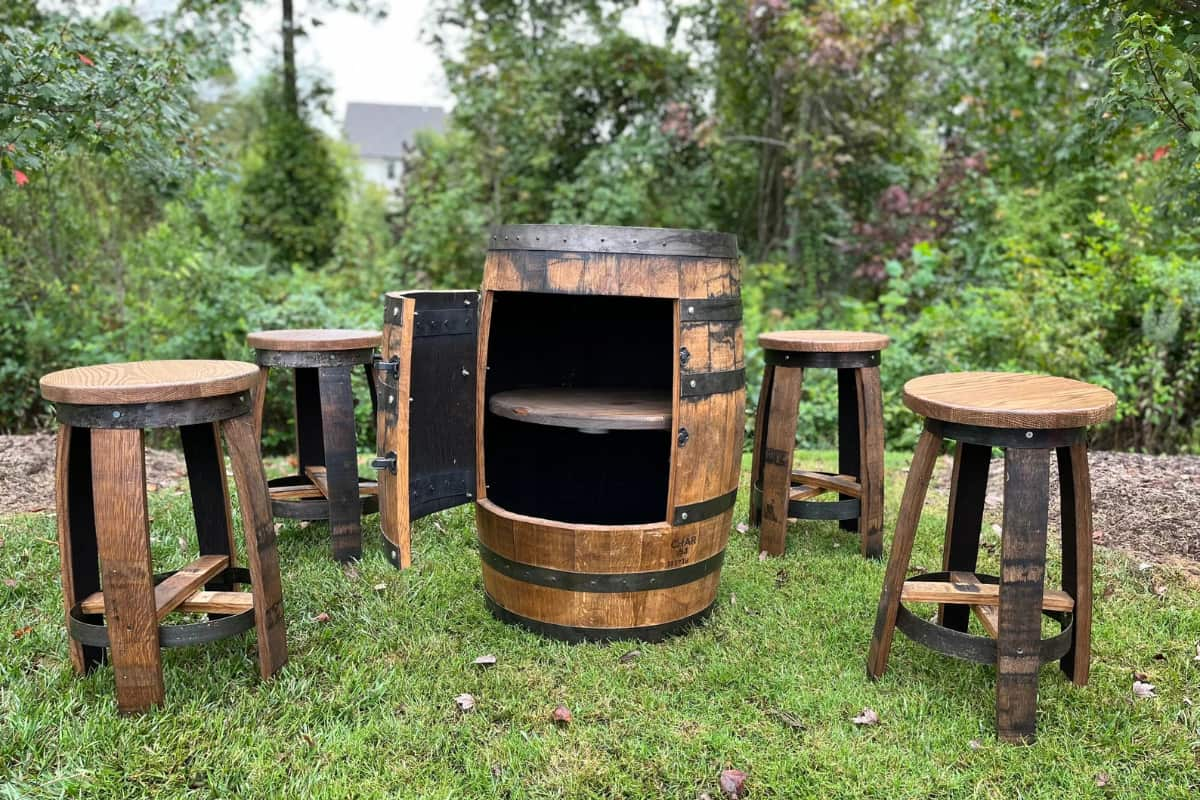 There are two ways to create a wine barrel bar.
The simplest is to get a wine barrel, cut it open to make two swinging doors, and put shelves inside to store your bottles of liquor and glasses.
Attach a larger piece of wood on top, and you can stand (or sit on wooden bar stools) around the bar drinking with friends. If you have more space, you can also get two wine barrels and attach a rectangular piece of wood on top.
Either way, you'll instantly create a rustic vibe!
11. Murphy Bar (Fold-down bar)
If you have a small yard, then every square inch counts. Installing a Murphy bar allows you to utilize all available space, so it's worth considering. Like a Murphy bed, this bar type folds out when you need it and tucks away when you don't.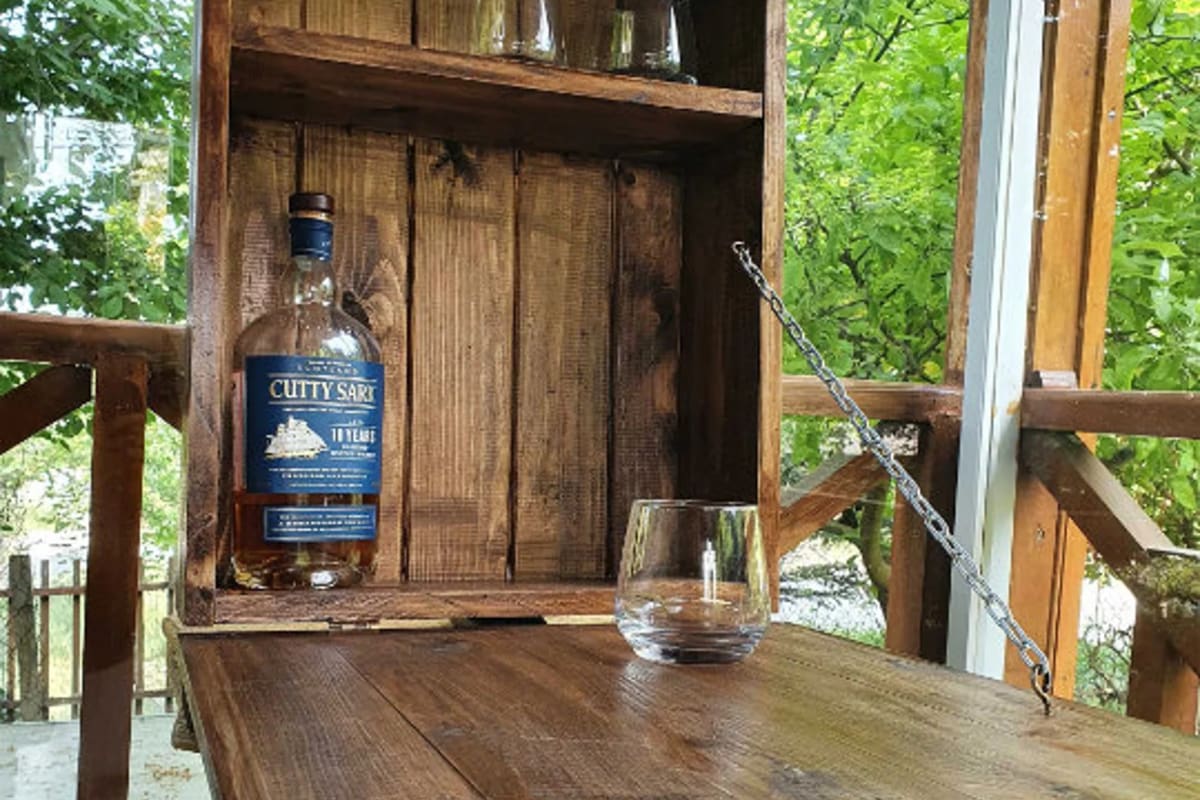 This is a simple idea that you can execute as a DIY project. Using either wood or metal, create a frame on a wall, then a slab that pivots out. You can also section the frame into shelves to store bottles and glasses.
Because this is a plain outdoor bar, don't overdo it on decor or furniture. Clean-cut stools will suffice, and maybe a solid-colored rug underneath as well.
12. Drink Cart Bar
Another way to save on space but still have a bar is to get a drink cart. We know it's not technically a "bar," but if it has drinks and glasses, then it's all good!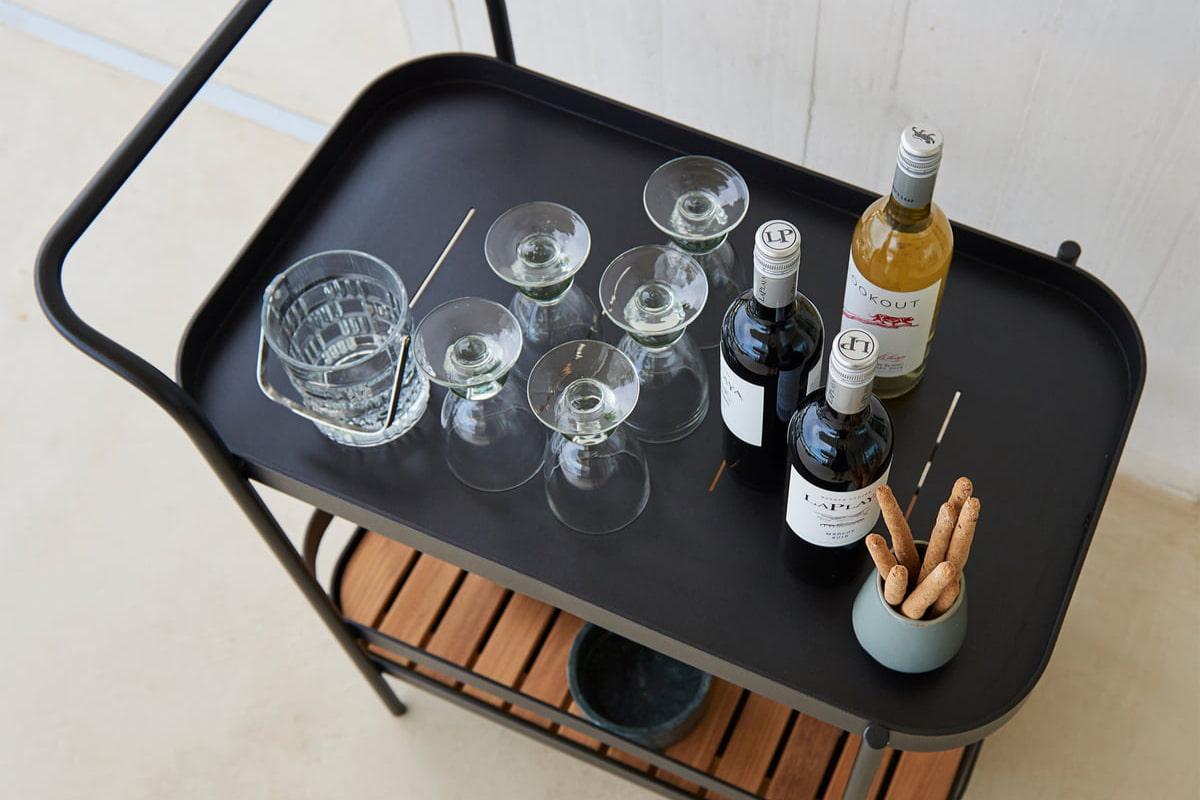 The advantage of having a drink cart bar is that it's mobile. It can go wherever people need drinks, whether that's on the patio, in the garden, or by the hot tub.
When it's not in use, you can put it away in the corner of the yard or even inside the house. That way, it won't feel so crowded outside. Plus, you'll have extra interior decor!
Create One of the Best Outdoor Bars Around
Outdoor bars are fun to have, especially if you like utilizing your outdoor area. And if you thought you couldn't have one because you lack space, think again.
We've come up with some creative ways for you to have a bar right in your backyard (literally). Not only will it take only a few steps to have a cocktail, but you'll also save money by doing the labor yourself. It's a win-win situation!
Want to shop for accessories to complement your outdoor bar? Then take a look at our selection!