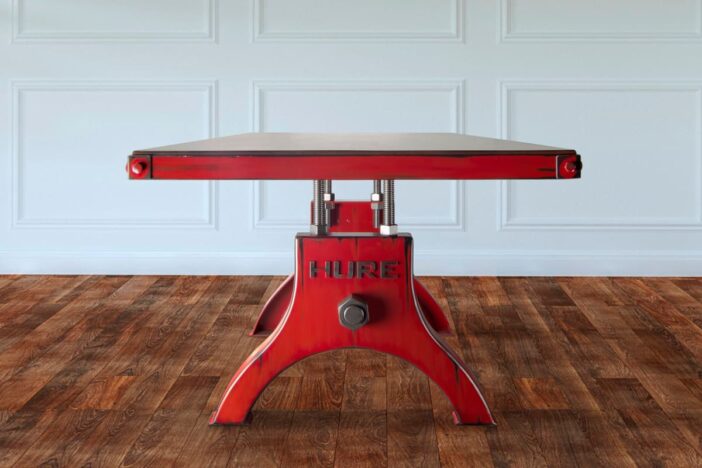 Why are rugged and timeworn styles so popular?
Home decor is a reflection of the personality and style of its owner. In the past, furnishings were handcrafted with attention to detail. Items were built to last and used the finest materials and painstaking techniques. They were veritable works of art worthy of heirloom status. As mass-production processes developed, however, some of the strategic focus shifted from quality to quantity. Convenience and cost became more important and even styles became homogenized, in an effort to create furniture and lighting for larger audiences. Many contemporary designs became more streamlined and lost some of the character of vintage ones. Interior design that relied entirely on modern pieces tended to blur individuality into a common look. In recent years, there has been a responding resurgence in industrial and shabby chic style decor.
Reinventing vintage interior design
Restoration Hardware was one of the first retailers to reintroduce vintage decorating styles that showcase the artistry of fine craftsmanship while celebrating imperfections and irregularities that make each item unique (whether naturally occurring or manufactured). Urban lofts, developed from renovated industrial warehouses, reinforce the growing interest in the innate beauty of utility and appreciation of deconstructed design. No longer are unfinished and functional aspects of industrial architecture deemed "ugly" or an "eyesore." Exposed brick walls, wooden beams, metal ducts and industrial pipe exhibit raw character to be appreciated, not hidden.
Coinciding with the urban renewal movement has been a trend toward more relaxed environments. Perfection has a rigidity that is not conducive to a laid back frame of mind. Perfectly sharp corners, pristinely smooth surfaces and unblemished even finishes are unnatural. As any good Southerner or New Englander knows, a small ding or faded spot on a wooden console table isn't a flaw, it's part of the charm and helps tell the story of the home. Rachel Ashwell even helped coin the term "shabby chic" to describe this distressed coastal cottage style of interior decorating. This recognition isn't new – the traditional Japanese world view aesthetic of Wabi-sabi has embraced transience and the beauty of the imperfect for centuries [Saito 2017].
Old look, but new construction
One of the benefits in the resurgence of old looking design is that you get the charismatic look of timeworn furniture and lights, without any degradation in stability or quality. Materials and fittings are new, so you don't have the same worries you might have with actual antiques. The less worry about a distressed Victorian sofa collapsing or a machine age table lamp getting nicked, the more you can kick back and enjoy the comforts of home. Below are some of the finest brands that have embraced this revival of classic weather-worn style.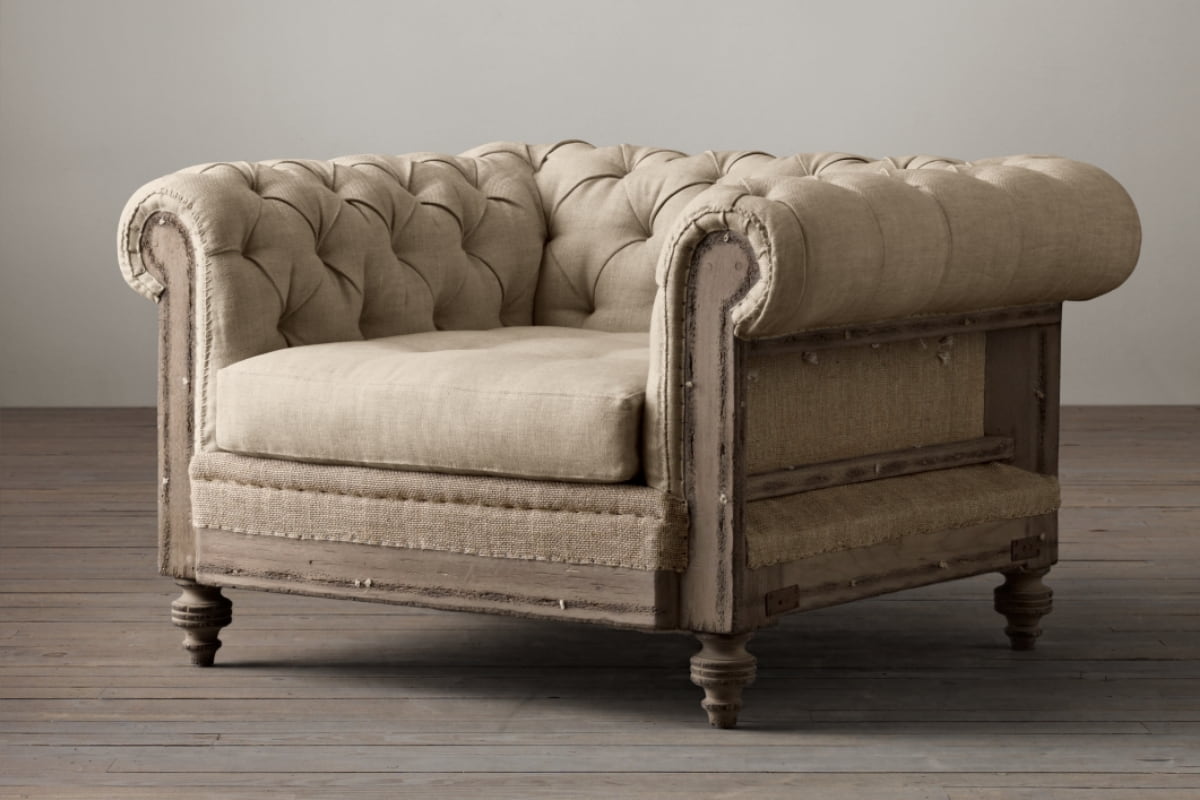 Who makes industrial style furniture and fixtures?
This masculine interior design style goes by many names: industrial chic, industrial loft, urban loft and modern industrial to name a few. Spaces are characterized by high ceilings with rafters, open ducts, exposed brick and hardwood or concrete floors. Industrial tables and chairs tend to be clunkier and utilize a lot of raw or oxidized metals and unfinished woods. Iron, stainless steel, brass and heavy-duty glass are used to create industrial lamps, pendants and other lighting fixtures. Industrial decor incorporates wheels, gears, pulleys, cranks and other mechanical elements for both functional and aesthetic purposes.
Many manufacturers have industrial shelving, a few industrial bar stools or metal floor lamps, but these companies have a wide selection of home and office furnishings in this urban chic style.
Four Hands – Laid back luxury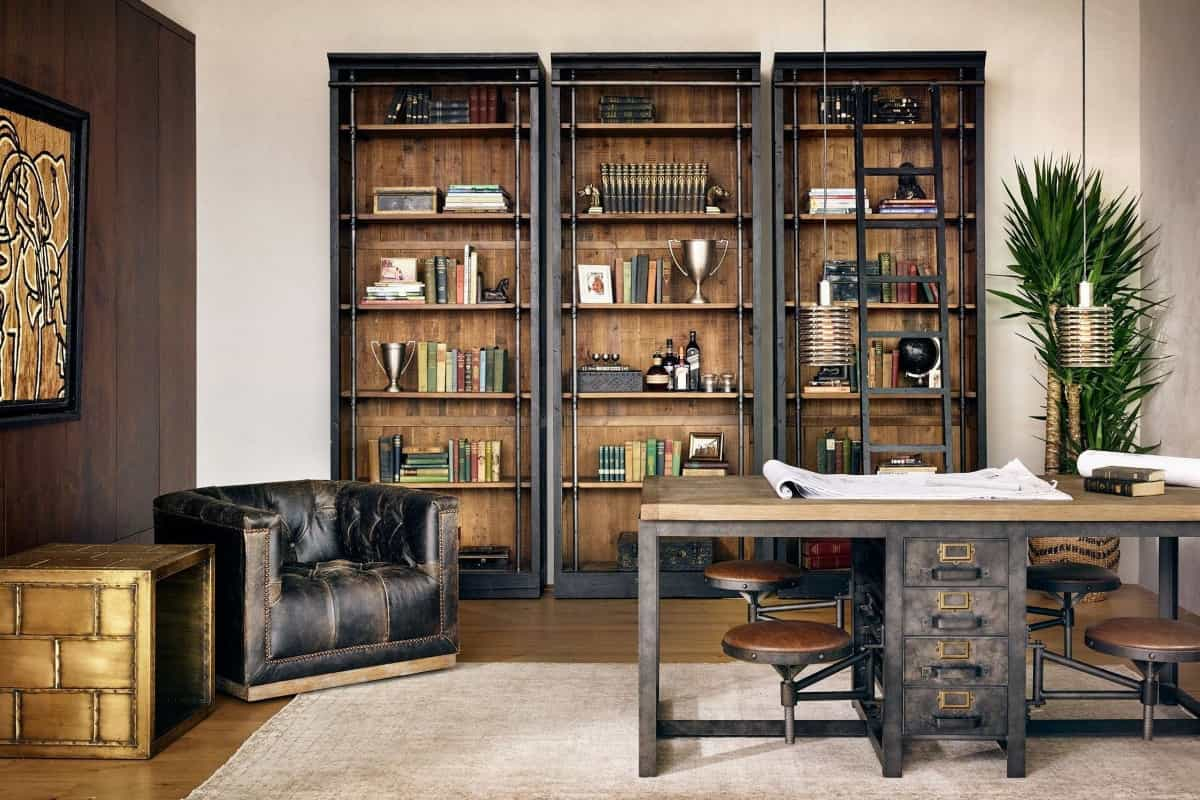 The driving force behind Four Hands home furnishings is a boundless desire for discovery and reinvention. The laid back luxury of their lifestyle furniture begins with a mission to create furniture and lighting that is memorable and tells a story. Four Hands' designers travel the globe in search of international inspiration for new sustainable materials, distinctive shapes, uncommon finishes and eye-catching designs. Then they tinker and tweak the original designs to awaken dormant innovations and reinvent something refined and classic, yet altogether new and cool. The result is a wide range of stunning high-end collections for the living room, dining room or any place you want to entertain guests indoors or outdoors.
Four Hands creatively blends rugged metals, elegantly weathered reclaimed woods, sumptuously woven upholstery and other timeworn materials to produce vintage looking chairs, tables, stools and casegoods. Over the years, Four Hands has created an evolving array of diverse styles to cater to the needs of the most discerning interior designer or upscale home decorating enthusiast. From the modern industrial appeal of the Wesson line, to the rustic eclectic charm of the Bina line and the timeless grandeur of old world craftsmanship in the Van Thiel & Co. collection, Four Hands has it covered.
Go Home – Industrial home decor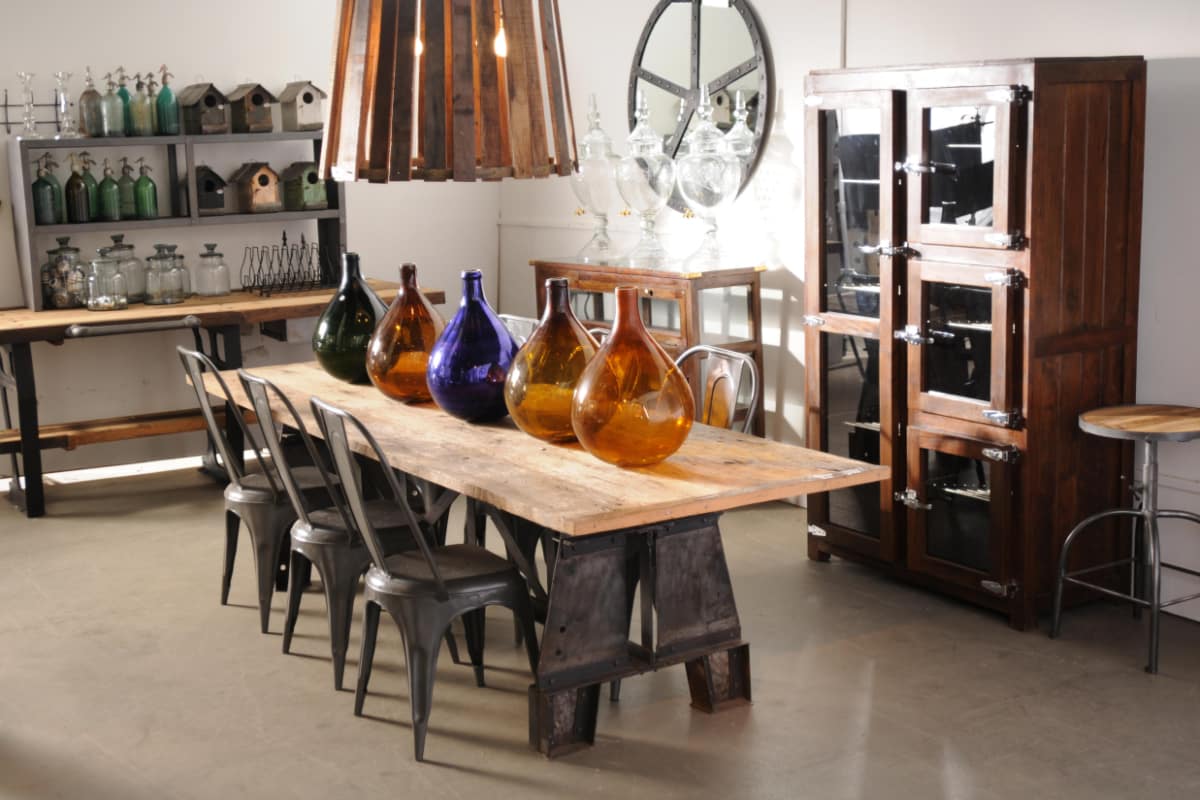 Go Home has made a name for itself in the home and office furnishings industry by focusing on simple creature comforts and accessories, with an eye for vintage industrial interior designs. The owner's passion for rustic styles of the past is derived from years of experience importing antiques for their Golden Oldies parent company. Many items, in the array of seating, tables, lighting and decor collections, are hand made with distressed finishes that give each piece an aged enduring look. Two hallmarks of Go Home furnishings are details and integrated moving parts. These oft-neglected characteristics add authenticity, functionality and intrigue to everyday items.
For example, some of their industrial pendant lighting, table lamps and wall sconces feature pulley systems or accordion-like arms to raise, lower and extend the lighting apparatus. They also have a number of mobile wheeled tables, sofas and storage furniture. Their handsome Factory Station Cart comes with large wheels, wire mesh drawers and a stylish two-tone blackened and galvanized steel finish. Other pieces of furniture incorporate swinging swivel seats, latches and other subtle moving accents that elevate their industrial design to an engaging artistic level.
Like other industrial home furnishings brands, Go Home's collections are inspired by streamlined forms from vintage aviation and nautical craft, as well as rustic farmhouse machinery and reclaimed wood decorative items. Their industrial chic Hipster Sofa has a riveted airplane metal frame with luxurious tufted cigar brown leather. This juxtaposition of machine age aerodynamics, polished metal and artisanal leatherwork is simply cool, making it a popular addition to many residential and commercial urban loft spaces. It's this sort of creativity and vision that enables Go Home to remain at the forefront of rustic chic living and a favorite of industrial interior designers.
Blue Ocean Traders – Unusual furnishings from around the globe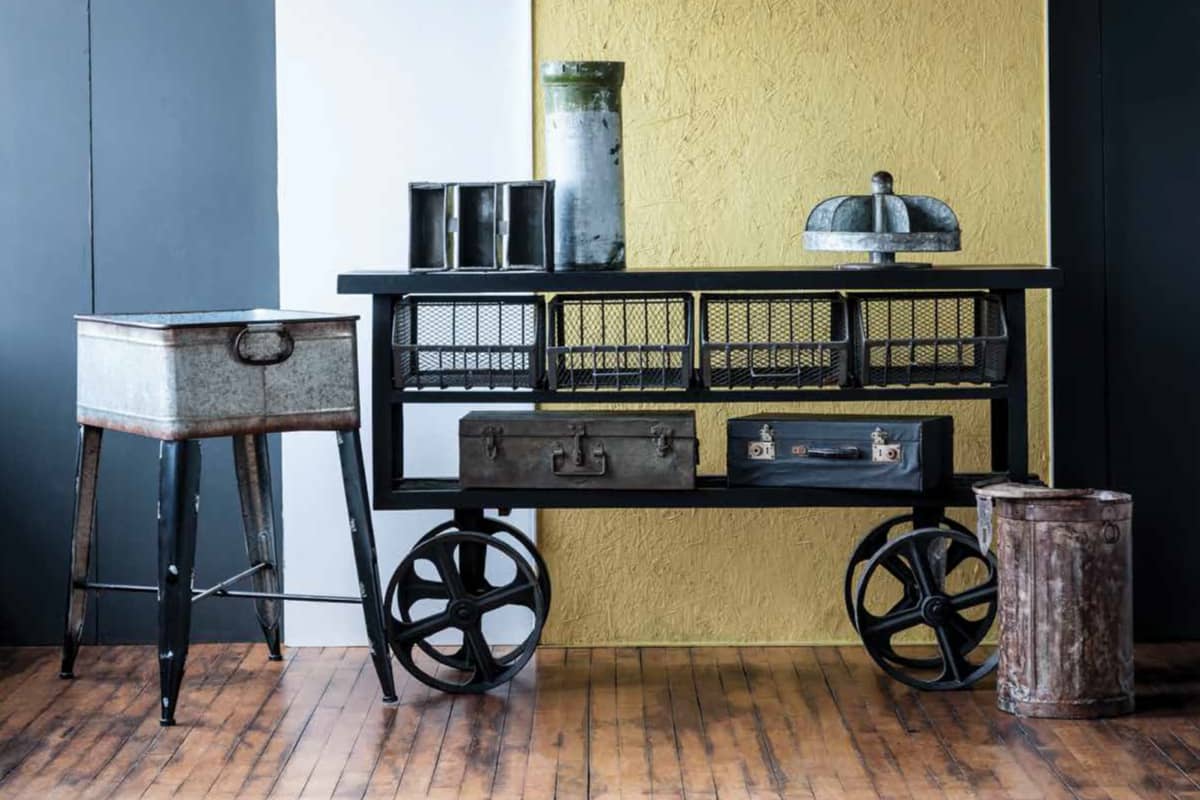 "There's nothing more green than vintage." That is Blue Ocean Traders' mantra and it has never been more relevant. The global awareness of the importance of sustainability continues to grow. Fortunately, being green in this manner coincides with the interior design movement to mix and match old and new. Contemporary minimalist spaces can highlight the craftsmanship of vintage-looking industrial furniture and lighting. Blue Ocean Traders travels the globe in search of exotic home and garden antiques to salvage, recondition and recreate. Their reproductions are true-to-form replicas, often crafted from reclaimed woods, repurposed metals and distressed leather to reinforce the aged lived in look.
Their Industrial Age and Farmhouse Modern collections include a variety of classic rustic metal and wood stools, shelves and rolling tables that look like they were pulled directly from old-time factories, warehouses and farms. But, Blue Ocean Traders also goes the extra mile to provide unusual items to pique curiosity and provoke conversation. Their Line Worker Locker Cabinet is a novel turn-of-the-century inspired storage piece that's sure to draw admiration. Similarly, their enigmatic Folding Shelf Table will keep friends amused and guessing. With an adventurous spirit and an astute eye for uncommon style, Blue Ocean Traders explores Asia, India, Africa and Europe. Their goal is to discover furnishings and accents that add a little international vintage flavor to your home decor.
Industrial specialists
These artisans may have fewer items in their industrial design portfolio, but their devotion to craftsmanship, detailing and quality deserves notice.
Vintage Industrial – Premium grade industrial tables and seating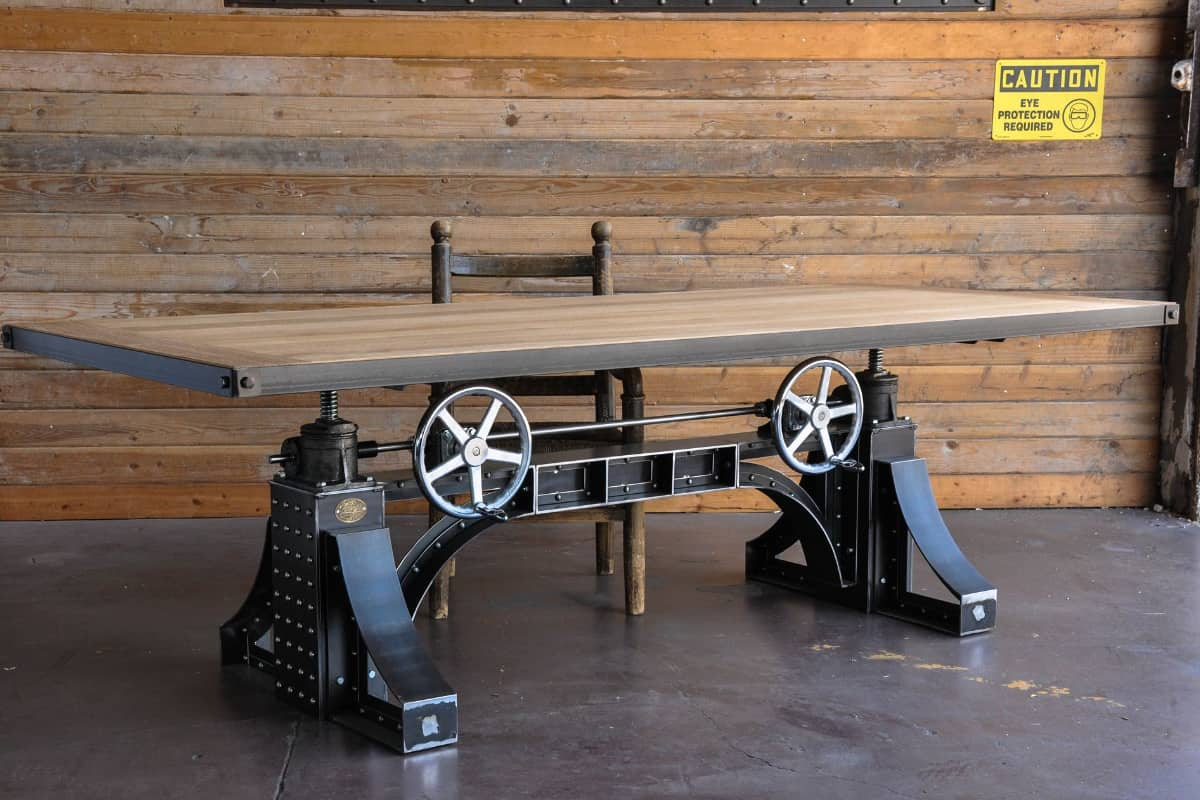 If you're in the market for a seriously rugged and retro table, cabinet or stool, look no further than Vintage Industrial. This Arizona company proudly sources premium industrial grade materials and manufactures every piece of their classic furniture in America. Original and custom designs are meticulously built through a combination of old world craftsmanship and cutting edge technology. Master artisans, with years of experience in metal and woodworking, work side by side with committed apprentices to ensure that this knowledge and artistry is passed on to another generation.
This dedication to excellence, and refusal to cut corners or costs, enable Vintage Industrial to create heirloom-quality crank tables, adjustable industrial dining tables and media consoles that can literally last for centuries. Their bold cast iron and steel sit-stand industrial desks, epic conference tables, durable shelves and filing cabinets have a timeless rustic quality that makes other office furniture pale in comparison. Choose from a variety of color combinations, distressed finishes, base styles or tabletop materials to match your decor or personality. Do you have an old piece of industrial furniture that's missing its wheels? Vintage Industrial is also the world's largest supplier of antique reproduction industrial casters. Finally, they are an ecologically responsible manufacturer. Vintage Industrial reuses or recycles scrap metal and sawdust, while replacing any trees cut down to make their products tenfold.
Terry Tynan – Hand-spun machine age art deco lamps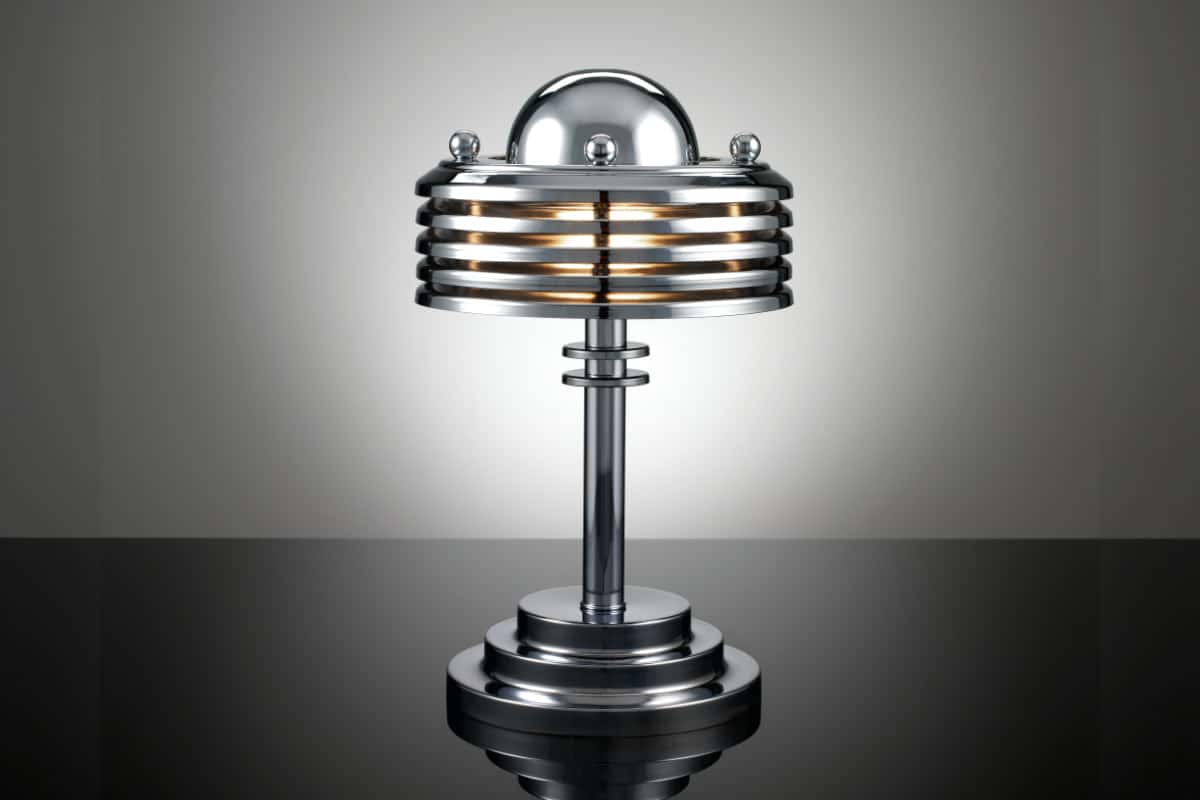 Sometimes, the old ways are just better. While advances in production technologies enable companies to manufacture products faster, more uniformly and in greater numbers, they cannot match the spectacular artistic expression of the true artisan. Terry Tynan is a master craftsman in the oft-forgotten art of metal spinning, who creates original and iconic industrial era machine age lamps and lighting fixtures.
Terry began his career as an eager 15-year-old apprentice in Northern England, where he learned the value of meticulous attention to detail and developed the skills required to work metal by hand. Over the years, his expertise has been utilized to craft a wide range of custom parts for a variety of commercial industries. He has spun everything from titanium jet engine components to simple industrial funnels. But, it is Terry's fascination for the streamlined form of the art deco movement that led to his acclaim as a renowned designer of handmade aluminum and brass table lamps, floor lamps and kitchen products.
Each spun metal light exemplifies the stunning beauty and precision quality that only comes through a steady hand, sharp eye and patience. Their polished metallic surfaces gleam magnificently in the light, while their finely jointed shades and arms provide additional customization for task lighting. The retro modernist look of these deco lamps sets them apart from typical industrial lighting. There is an air of space-age otherworldliness and affluence in their futuristic designs. In 2013, seven of Terry Tynan's lamps were commissioned for "Nero", which is an ultra-posh luxury motor yacht that was inspired by the Corsair Yachts of J.P. Morgan. In fact, his sleek MK24 lamp sits proudly atop the desk in the captain's quarters. Since then, Terry has rejoined international luxury furniture and lighting icon Ralph Pucci in his New York City design studio.
Machine Age Lamps – Original steampunk lighting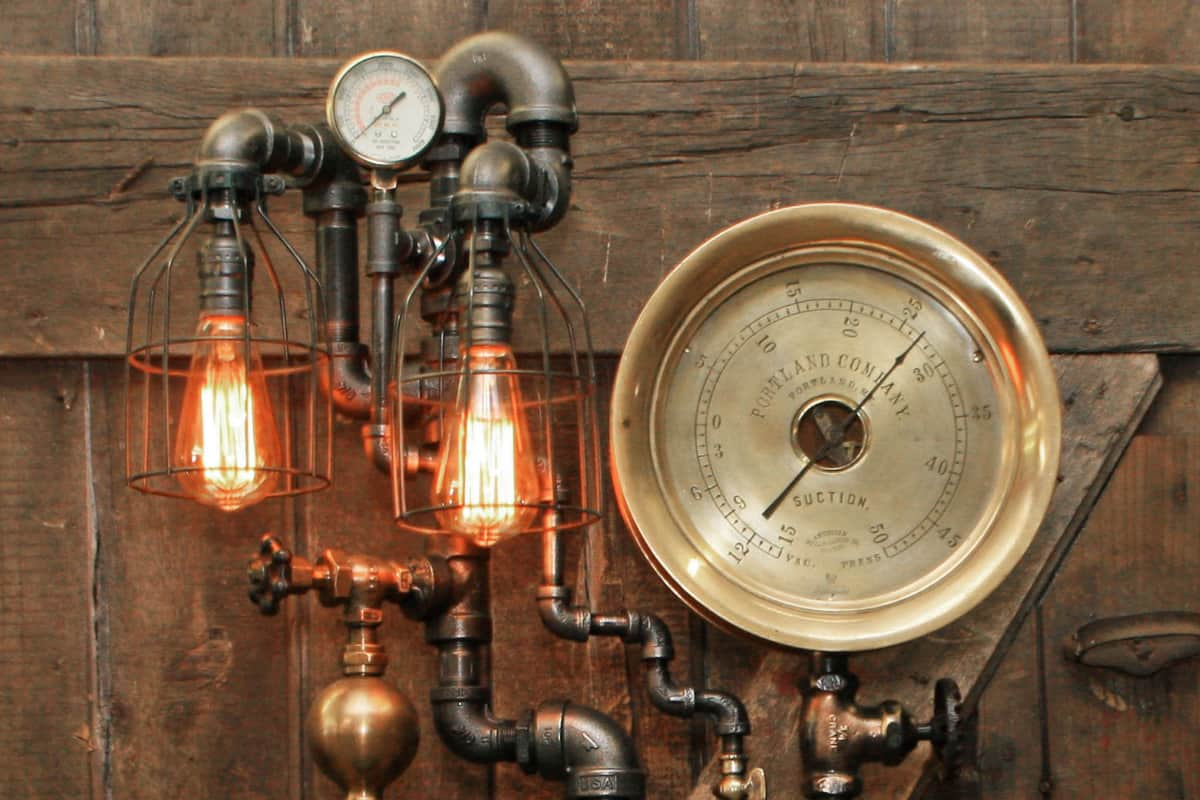 As the saying goes, "everything old is new again." This is especially true of the unforgettable steampunk lights and furniture from Machine Age Lamps. Designer Shawn Carling takes salvaged industrial parts and repurposes them to create imaginative pieces of functional machine age art. Each handcrafted steampunk desk lamp, industrial floor lamp or rustic wall sconce is made from genuine antique pressure gauges, gears, cogs, metal piping and other industrial artifacts. The finished pieces are fitted with modern electrical components (UL listed) and stylish Edison light bulbs are added to complete the vintage eclectic look.
Steampunk is a design style that pulls inspiration from the industrial revolution and the Victorian era of the 19th century. It focuses on anachronistic technologies and retro-futuristic inventions that utilize steam-powered machinery to perform even the most mundane functions. This colorful neo-Victorian design aesthetic can be seen in the iconic imagery of H.G. Wells and Jules Verne novels.
Machine Age Lamps embraces the wonder and imagination of this unconventional style. Many of their carefully crafted industrial light fixtures and coffee tables are influenced by historical aviation and nautical machine designs, but with a playful nod to science fiction. The distressed metal finishes, reclaimed wood and timeworn materials evoke feelings of nostalgia for a magical alternative history that never was. They're not just lamps, they're stories waiting to be told. Shawn's steampunk lighting and furnishings can be seen in corporate and residential environments around the world, and are even featured in popular TV shows like "The Big Bang Theory."
What about shabby chic furniture and French country lighting?
This style of weathered interior design has a more feminine bearing than its industrial counterpart. It too has many incarnations: shabby chic, French country, French farmhouse, coastal, cottage and country chic. It's a pleasing blend of rustic comfort and elegant refinement.
Furniture is typically made from light-colored weathered wood and often has layers of paint in varying degrees of wear, or is faux painted using glaze. Cupboards and cabinets may have elaborate appliques depicting floral swags, garlands or other natural motifs. Upholstery uses lightweight natural fibers, such as cotton and linen, in pastels and soft neutral colors. Wicker is often employed for seating, while oxidized wrought iron is used for drawer pulls and lighting fixtures. Lace and subtly carved accenting provides country flair to many shabby chic lamps, French country coffee tables and cabinetry.
Although it is hardly opulent and ornate, this wear and tear design style is often described as having the flavor of French couture and "old money." Walking into a shabby chic living room is like stepping back in time to a place of fond memories, warm feelings and familiar charm.
These high end manufacturers produce multiple collections of rustic chic chandeliers, armchairs, sideboards and other timeworn furnishings.
Aidan Gray – Subtle sophisticated European design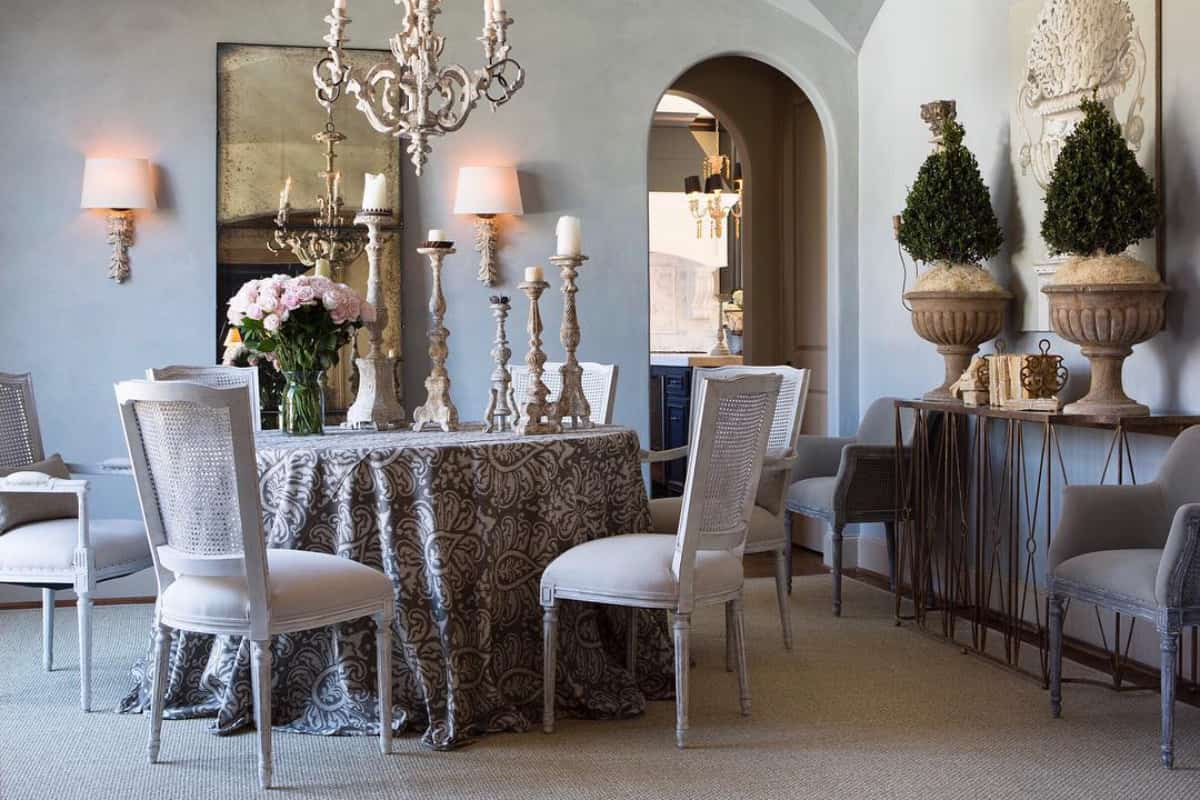 "Understated elegance meets European grandeur." That is the idea that embodies Aidan Gray's desire to create sophisticated, yet affordable luxury home furnishings that border on the sublime. Rich designs are inspired by French and Italian antique furnishings of the 17th and 18th centuries. Their extensive collection of lavish shabby chic chandeliers, ornate wall sconces, architectural lamps, seating and tables exhibits a practiced eye for detail. This attention to subtle minutiae has made Aidan Gray a leader in the French country home furnishings industry. Their commitment to authenticity can be seen in the materials, finishing and accenting of each one-of-a-kind piece.
To achieve their signature authentic vintage look, Aidan Gray begins with graceful old world inspired designs and carefully crafts them using high-quality rustic metals, solid woods and rugged stone. Surfaces are distressed, texturized, rubbed, antiqued and painted by hand to ensure that each item is truly special and has a realistic time-worn look. But, shabby chic isn't chic unless there's an element of elegant detailing. Their designer furniture is accented with subtle flourishes, which make all the difference. Whether it's the ornate scrolled carvings on the cabriole legs of stylish French country dining chairs, the finely tufted natural fiber upholstery of a plush lounge chair or the brushed brass drawer pulls of a gorgeous weather-worn sideboard, Aidan Gray knows that the finishing touches matter.
The neutral color palettes of their collections are perfect for today's discriminating interior designer. Vintage looking furnishings, that complement modern styles without overpowering them, are in high demand. Aidan Gray's charming European designs are nuanced and tastefully refined. The company has also created a dashing line of mid-century modern accent chairs that up the "cool factor" of any room they inhabit.
Eloquence – Old world inspired, hand made reproductions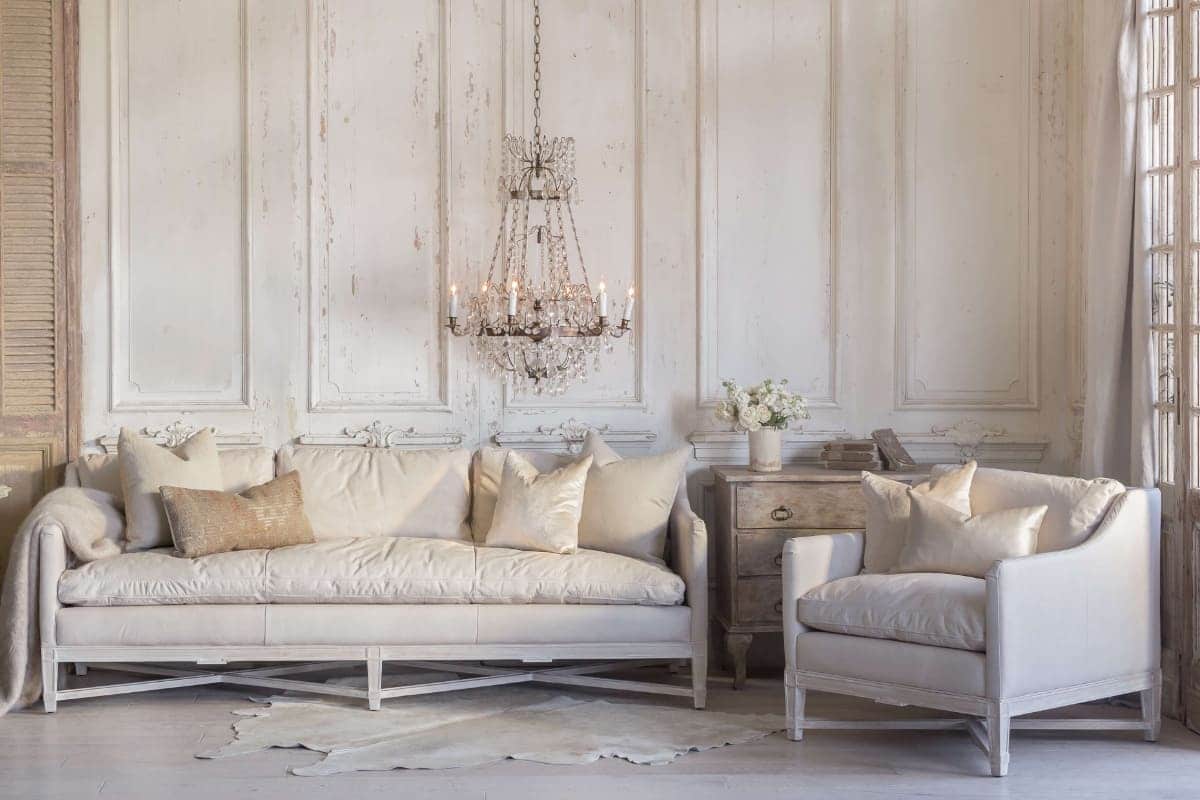 Someone who is "eloquent" is able to express him or herself easily and articulately. The essence of Eloquence is a desire to recreate elegant vintage furniture that "speaks" to interiors designers, decorators and upscale homeowners. Their boutique line of handmade reproductions is inspired by old world European designs. They pay special attention to timeless French Country decor and the ornate styling of the Louis XV and XVI periods.
Each graceful beach wood table and chair is hand-carved, distressed and painted to capture the timeworn glamour of fine antique furniture. The furnishings are assembled using age-old mortis and tenon joints, to ensure authenticity and accuracy to the time period. Many of Eloquence's shabby chic dining room chairs and armchairs have textured reed backrests that are crafted using traditional caning methods. Exquisite button-tufted upholstery gives chaise lounges opulent detailing that elevates the most charming provincial piece to one of luxury. Their elaborate, multi-arm French country chandeliers feature impeccable glass and crystal beading. The skillfully curved burnished ironwork is subtly sophisticated and provides a little rustic Tuscan flair.
This understated ageless elegance is a key characteristic of the finest shabby chic designs. It's also why Eloquence is recognized as a leading brand of European inspired home furnishings. Their subdued color palettes include light neutral shades, soft pastels and floral patterns. It reinforces the vintage feel of their growing collections and really speaks to the artistry of a bygone era.
Bliss Studio – Artisan quality furniture with timeworn finishes
Everything communicates. In the home furnishings industry, that means product designs, raw materials, production methods, construction, finishes and details. They convey the commitment level of the manufacturer to produce furniture and lighting that meets the high standards of today's interior design professionals and discerning homeowners. In an age where mass production is accelerated to quickly accommodate passing fads, something important has been lost – distinction. Bliss Studio recognizes the inherent value and takes pride in doing things patiently, expertly, the old-fashioned way – by hand.
They employ skilled designers, cabinet makers, sculptors, woodcarvers and other artisans to create extraordinary timeless pieces inspired by historical decor. These dedicated craftsmen devote hours and expertise to painstaking processes that are true to antiquity but are almost forgotten today. Bliss Studio is unapologetically obsessed with time-consuming, labor-intensive finishes. Beautifully weathered patinas, gilded accents, distressed metals, hand-applied paints, whitewashed and rubbed woods require a keen eye, adept hand and a patient disposition. But, the resulting old world authenticity and indelible weathered style make it all worthwhile. French country kitchen decor is all the rage today, while shabby chic bedrooms and their cozy beach cottage themes have been favorites of coastal interior decorators for years.
Bliss Studio's elite collection of vintage style occasional, dining and lounge furniture is an eclectic mix of sophisticated European influences. Choose from curvy Baroque Italian entry tables to ornate French country furniture or minimalist ribbed Swedish wall mirrors. Regardless of the origin of inspiration, Bliss Studio reproductions respect the craftsmanship and detail of the originals. For example, their relaxed English style Loft Chair has dramatic barley twist detailing on its wire-brushed weathered poplar legs and frame. Its upholstered armrests and button-tufted seat back are wrapped in a stylish neutral-toned linen fabric. There's even fine nailhead trimming to provide a final touch of refinement, because everything, no matter how small, communicates.
Other brands with a range of timeworn styles
Some luxury furniture and lighting brands carry a wide range of decor styles. Their portfolio of rustic collections has broad appeal and allows homeowners to select items with varying, yet complementary looks, to create a truly personal interior design aesthetic.
Here are a number recognized manufacturers who have created a broad line of weather worn home and garden furnishings.
Zentique – Industrial loft to French country home decor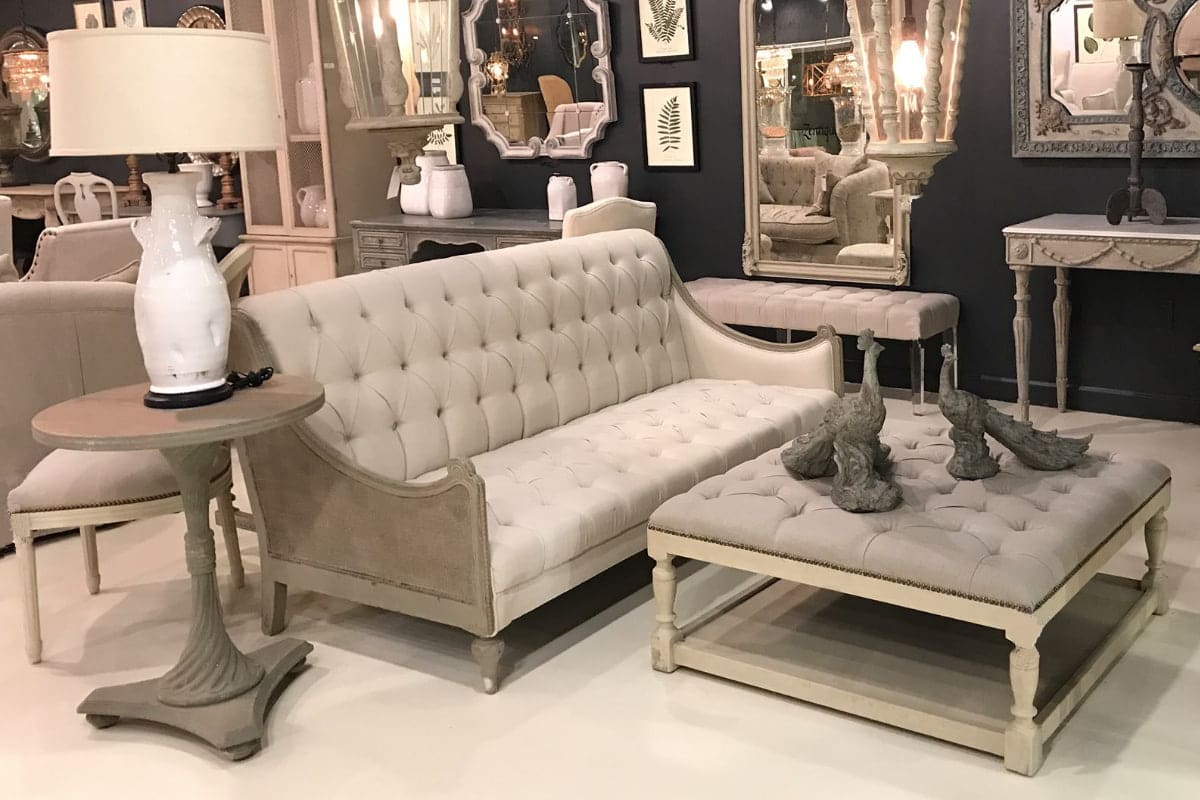 This innovative brand of luxury home furnishings takes a cue from the elegant European designs of the past and incorporates modern sensibilities of form, function and environmental responsibility. Zentique has created a splendid line of furniture that ranges from an industrial loft aesthetic to vintage French country inspirations. They even have contemporary minimalist juxtapositions comprised of clear acrylic with animal hide upholstery. It starts with a commitment to quality materials, authenticity in design and attention to detail. Their rolling Anton Iron Cabinet is a classic example of utility with a rugged industrial edge. Its durable metal construction sports convenient storage compartments, wheels for mobility and a distressed black finish with military-style stenciling.
Zentique has a softer side too. Many of their wingback chairs, club chairs, ottomans, settees and shabby chic sofas sport the deconstructed look made popular by Restoration Hardware. The exposed French country design showcases beautiful washed-out wood finishes, coastal textures and natural fiber fabrics with that "lived-in" look. The quiet elegance of this old world countryside decor complements a variety of interior design styles, which makes it a popular choice with so many people of taste and refinement. Many of the metals and woods used by Zentique are recycled or repurposed from their original use. They prove that you can be both a stylish trendsetter and an eco-friendly responsible corporate citizen.
Arteriors – Artistic furniture and lighting crafted from the finest materials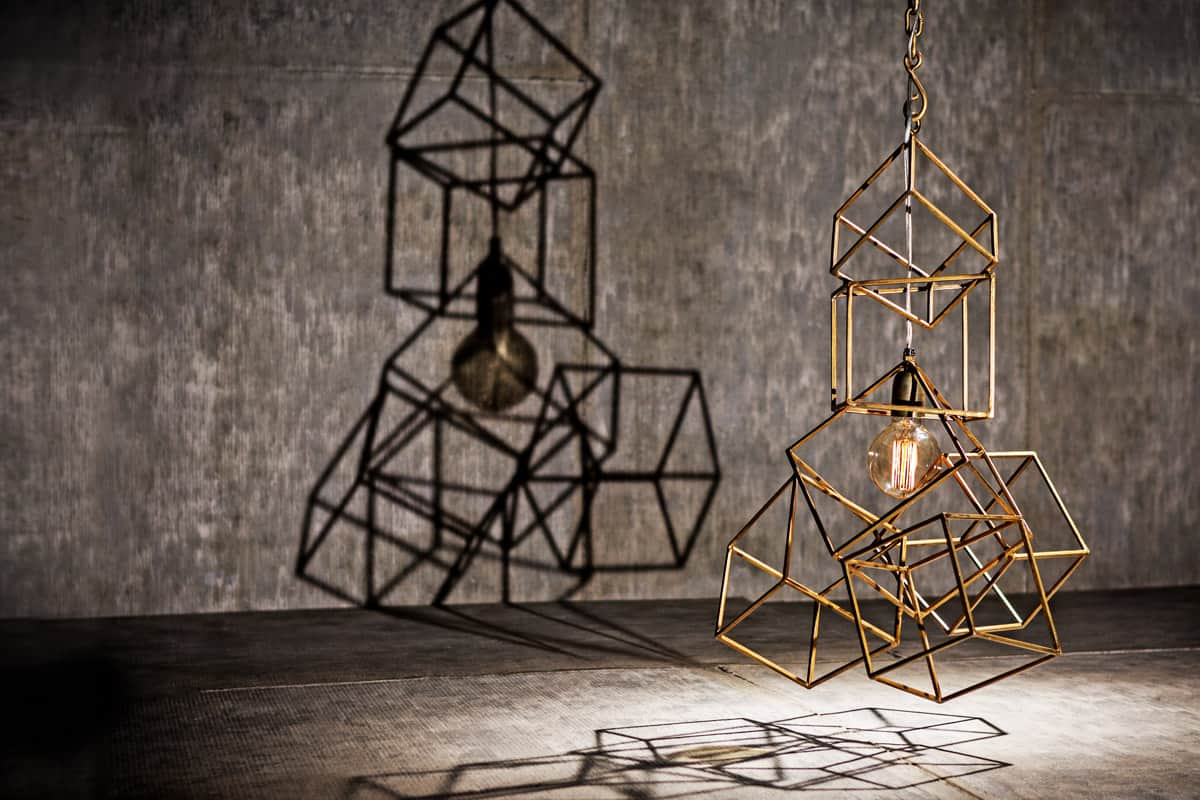 Innovative design relies on inspiration and artistic insight that transcends space and time. Arteriors scours the globe in search of captivating, elegant lighting and furnishing items from today and throughout the centuries. They partner with manufacturers who share their commitment to craftsmanship and penchant for balancing engineering and art.
While an artisan may only be as good as his or her tools, the resulting product is only as good as the materials that go into it. Arteriors invests in the finest raw materials to let creativity and artistry shine through. Their sophisticated luxury collections incorporate premium natural materials such as cowhide, marble and hardwood. They also utilize man-made porcelain, mouth-blown glass, forged iron and bronze. This allows artisans to create the most memorable forms and stunning finishes. Mottled hand-glazed ceramics, richly patinaed woods and lustrously sleek metals enhance the beauty of each piece and elevate their station beyond mere utility. These hand-applied techniques, along with Mother Nature's own inherent variations, ensure that every French Country dining table, industrial stool, shabby chic desk lamp or hanging light is unique.
Arteriors offers furniture and lighting that complement a wide spectrum of interior design styles. Their rustic industrial side tables, weather-worn French country style buffets, chic mid-century modern lounge chairs and avant garde contemporary chandeliers can be found in commercial, hospitality and residential spaces around the world. They continually look for innovative ideas and have collaborated with trendsetting designers. Laura Kirar, Windsor Smith, Barry Dixon, Jay Jeffers and Lisa Luby Ryan have all partnered with Arteriors to create and curate exclusive award-winning collections. Arteriors is also committed to the interior design community and is an active member of the American Society of Interior Designers (ASID), the International Interior Design Association (IIDA) and other industry organizations.
Noir Furniture – Eco-friendly furnishings that are built to last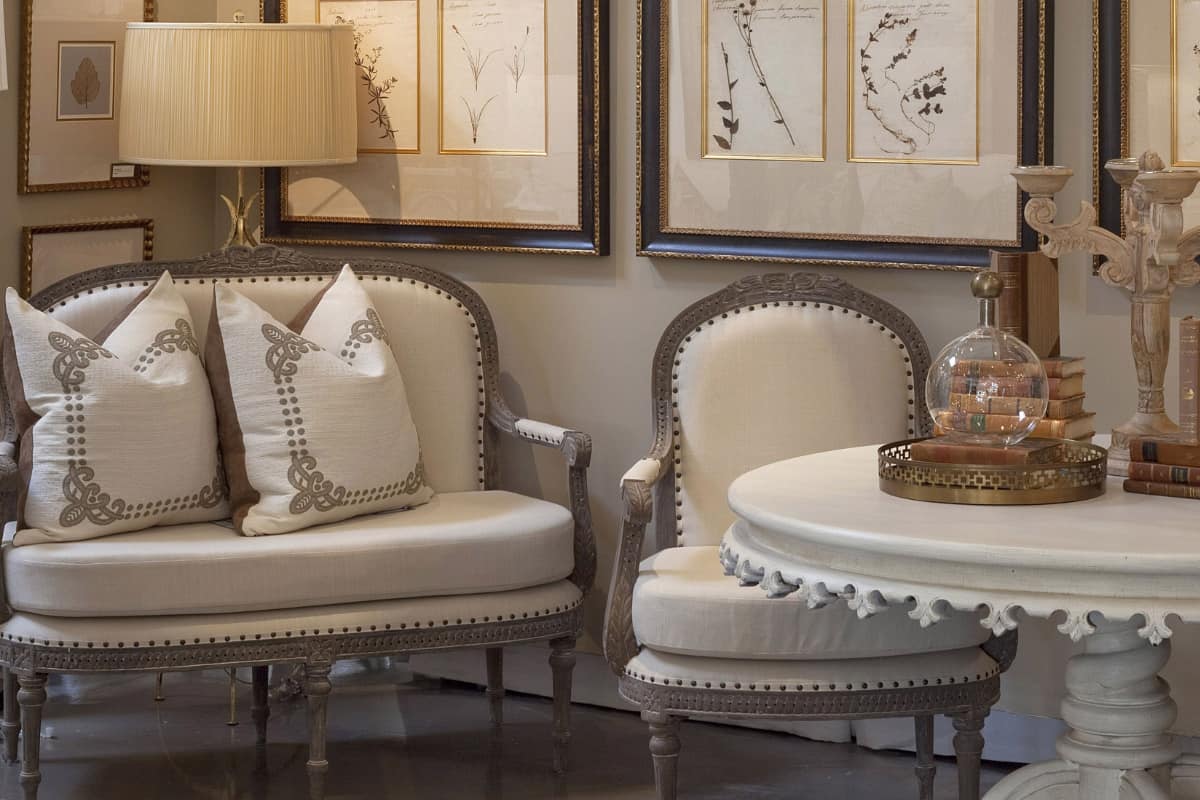 Design, craftsmanship and sustainability. These are the qualities that Noir Furniture puts into everything they create. Their uniquely beautiful home and office furnishings and lighting are meticulously designed to be useful, as well as pleasing to the eye. Each sophisticated piece originates in the mind of lead designer Georg Baehler, who is inspired by the classic styles of the past. He also considers the time-honored skills of the artisans who will bring his ideas to life and the character of the eco-friendly materials they will utilize. Each piece is built to old world standards and is intended to last generations, not seasons. Furniture and lights are hand-finished to ensure that, even though there may be a cohesive aesthetic, they have a one-of-a-kind look.
Noir's collections cover a wide range of popular interior design styles. From an imposing industrial metal Parsifal Dining Table to a weathered whitewashed Colonial Hutch, their eclectic portfolio can satisfy even the most demanding interior designer. Additionally, Noir has an inspired assortment of whimsical and organic looking side tables and bookcases. They also have an extensive line of mid-century modern sideboards and consoles. These items incorporate a variety of reclaimed or repurposed woods and metals. Noir believes you can achieve great design, without shirking environmental responsibility. Another notable feature is the texture of their casegoods. Many drawer and door fronts have elaborate three-dimensional carvings in geometric, abstract and other tactically and visually appealing patterns. This dedication to finding the unconventional ensures that Noir's dynamic line of merchandise will continue to evolve in response to new trends and rediscovery of vintage classics.
What do industrial and shabby chic styles look like?
To help you gain a better understanding of the evolution and appearance of these popular rustic styles, we have written a few insightful articles. Take a look at "Shabby Chic – A Comprehensive Guide" and
In-depth style resources
Industrial ideas
Shabby Chic ideas
---
References

Photo Credits
Main – Vintage Industrial
Old look, new construction – Restoration Hardware