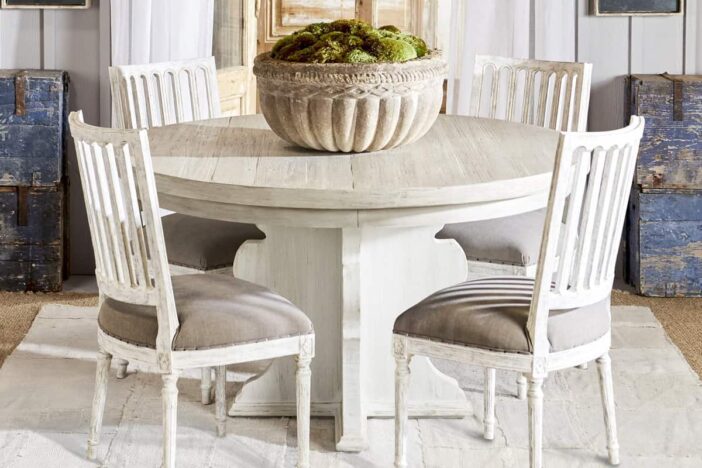 Shabby chic is a term that's frequently tossed around the interior decorating world, but what exactly makes up this popular style? In short, it's a blend of baroque glamour and rustic charm made up of antique furniture, distressed finishes and shiny ornate accents. Often referred to as French country, shabby chic is a bohemian movement that has become one of the most in-demand styles of the hip, young and fashionable. It's an expression of overall lifestyle as much as a choice in decor.
In order to fill your home with this versatile aesthetic, you'll need to mix together the right elements. Our comprehensive overview of this light and refreshing interior design approach will help you understand what makes up shabby chic, its history and how you can integrate it into your home.
Features of shabby chic decor
While shabby chic is often an eclectic array of different patterns and textures, there are several elements that are distinct to this style. Incorporating this look into your home requires some of the following key identifiers:
Anachronistic yet varied vintage design
While the shabby chic aesthetic certainly has an antique quality to it, there's no one true era that perfectly characterizes this type of design. Because of this, you may want to include furnishings and accents from a variety of decades for an artfully eclectic effect. For instance, you might want to combine an ornate traditional mirror from the 30s with a colorful shabby chic dresser or bureau from the 80s to give your bedroom a changing station with unique flair.
Combination of elegant beauty & bucolic appeal
A juxtaposition of two separate elements of interior design, shabby chic effectively intertwines the comforts of rustic style with the elegance of refined beauty. Incorporating this design into a room creates a sweet getaway, where worries are as faint as the style's pastel colors, and the nostalgia of sitting at grandma's kitchen table envelopes the soul. This timeless motif is known for featuring textured materials that have been worn down with love and use.
Whimsical assortment of furnishings, lights & decorative items
One of the best parts about a shabby chic design is that it creates beautiful order out of surface-level chaos. While there certainly are elements that are unique to this school of decor – such as wood furniture or vintage accents – it's ultimately up to you to find a way to make them all fit together. This gives you plenty of room to experiment and rearrange until you find a style that works for you and your home without copying anyone else. Interior designers can stumble upon these one-of-a-kind items anywhere from high-end boutiques to flea markets.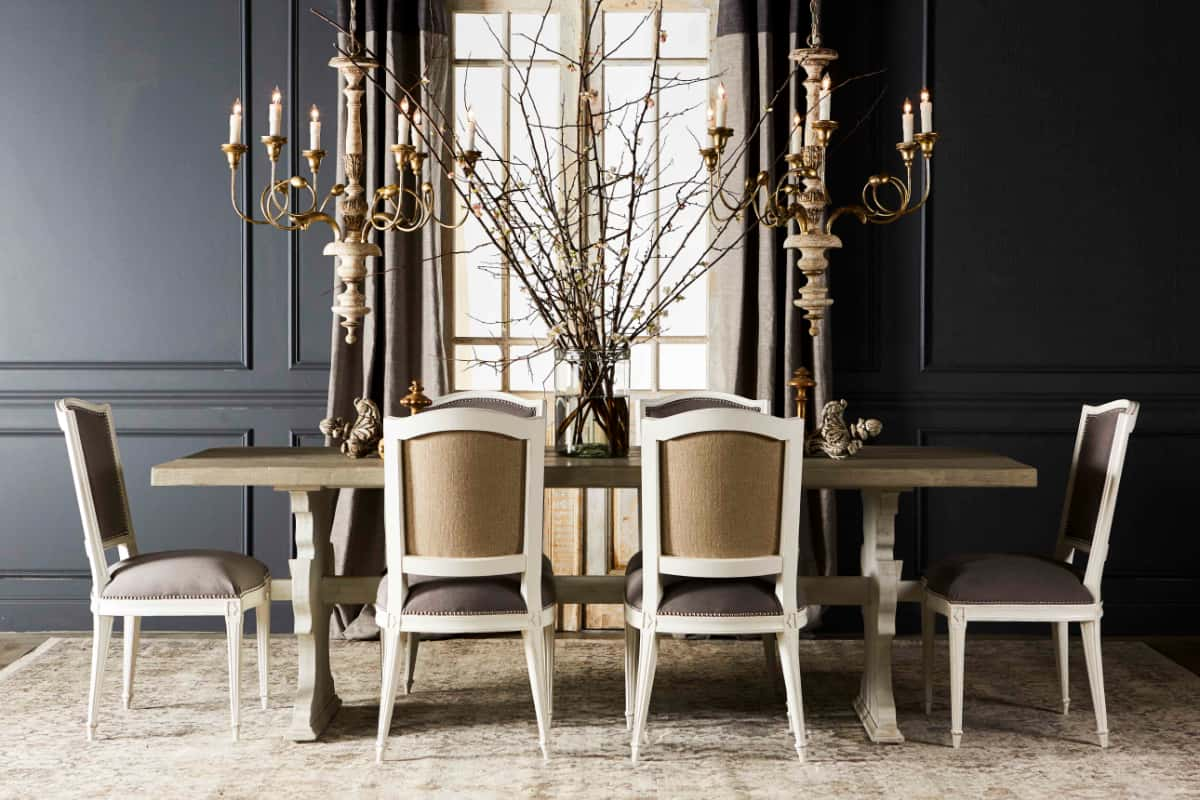 Distressed textures, patinas & weathered woods
A signature characteristic of shabby chic interior design is the prevalence of timeworn finishing on wooden cabinets and other furnishings, and the weathering of metal chandeliers, lamps and accents. Whether on authentic antiques or new pieces made to look old, wood surfaces feature unevenly faded or chipped paint. The natural patina reinforces the live-in look and gives furniture a one-of-a-kind feeling absent in uniform mass-produced pieces. Distressed metallic frames and oxidized iron lighting, knobs, drawer pulls and decorative accents also add to the vintage ambiance.
Neutral color palette accented by a pastel aesthetic
This particular style is typically light and airy, so it's common that shabby chic homes have a color palette made up of neutrals. Whites, ivories, creams, grays and beiges are all wonderful for walls, bedding, trim, flooring, etc. That's not to say that color can't be introduced to the room, however. Bring in soft pastel colors using couch pillows, area rugs, flowers, vintage accessories and slipcovers. Pastels including light greens, dusty pinks and sky blues complement the whites and creams throughout the home.
Shiny details hint at the glamour of yesteryear
Despite the weather-worn look of furnishings and light fixtures, this popular aesthetic relies on the glint of golds and silvers for its aristocratic appeal. Whether it's gilded accents on a shabby chic headboard or polished metal candlesticks on the mantel, shiny elements zhuzh up the neutral palette of the style. Oyster inlays are another subtle way it expresses its soft-spoken elegance.
Theatrical curves & flutes evoke a sense of movement
While shabby chic decor is infused with reminders of eras long since passed, the style is anything but lifeless. Curlicues, spirals and dramatic sweeping lines create a dynamic visual flow, while intricate carvings provide textural appeal. Cabriole legs, with their sensuous silhouettes, are a staple of this interior design and a direct reflection of its European heritage. Molding, banisters and pilasters incorporate engraved flourishes, curving leaves and other intriguing hints of nature.
Boho style imbued with feminine energy
Due to the vintage materials and antiques frequently used in a shabby chic house, the style gives off a distinctly feminine vibe. Floral upholstery, lace curtains and chenille trimming with pinks, light greens, yellows, whites, and light blues perfectly complement and energize the aged appeal of shabby chic furnishings.
Natural elements complement its pastoral roots
The style's French country and farmhouse influences elicit images of grassy hillsides, lush fields and babbling brooks. Floral appliqués on shabby chic bedding and curtains and depictions of shells and twisting vines in carved wooden detailing reinforce the light and airy feeling. Placing live plants and bouquets of fresh-cut flowers around the house or laying a jute rug on the floor is a great way to add to the natural ambiance.
Contrasting sides of shabby chic interior design
Because shabby chic is only about three decades old, it hasn't had the chance to branch out into subgenres. However, it was formed as the product of other interior designs. Its vintage-refined melting pot is a result of rustic and baroque style combinations.
Weathered rustic furniture embodies its informal nature
The relaxed, worn and unrefined details of rustic decor play into the comfortable, "shabby" half of shabby chic. In fact, this style falls under the umbrella category of rustic, along with other similar designs such as farmhouse, country, cottage and coastal. The term "rustic" elicits mental images of cozy cottages and warm fires, and quite appropriately so. The nature-inspired style focuses on raw materials in both architecture and interior design and draws from the emotional influences of the romantic movement of the 1800s. Large wooden beams often line the cathedral ceilings of cabins, stone walls frequently shape cottage homes, and lace cotton curtains don the windows of farmhouses; all-embracing the spirit of a rustic house.
Antique farmhouse vibe grounds shabby chic's personality
Since shabby chic was inspired by the large country houses of Europe, it only makes sense that the style holds farmhouse elements. Farmhouse interior design captures the more simplistic side of the style. Though shabby chic decor hosts ornate and luxurious details, it's the pure, worn and weathered base taken from French and English farm houses that gives the design its true character. However, even its plainer foundation is not quite as modest as that of farmhouse.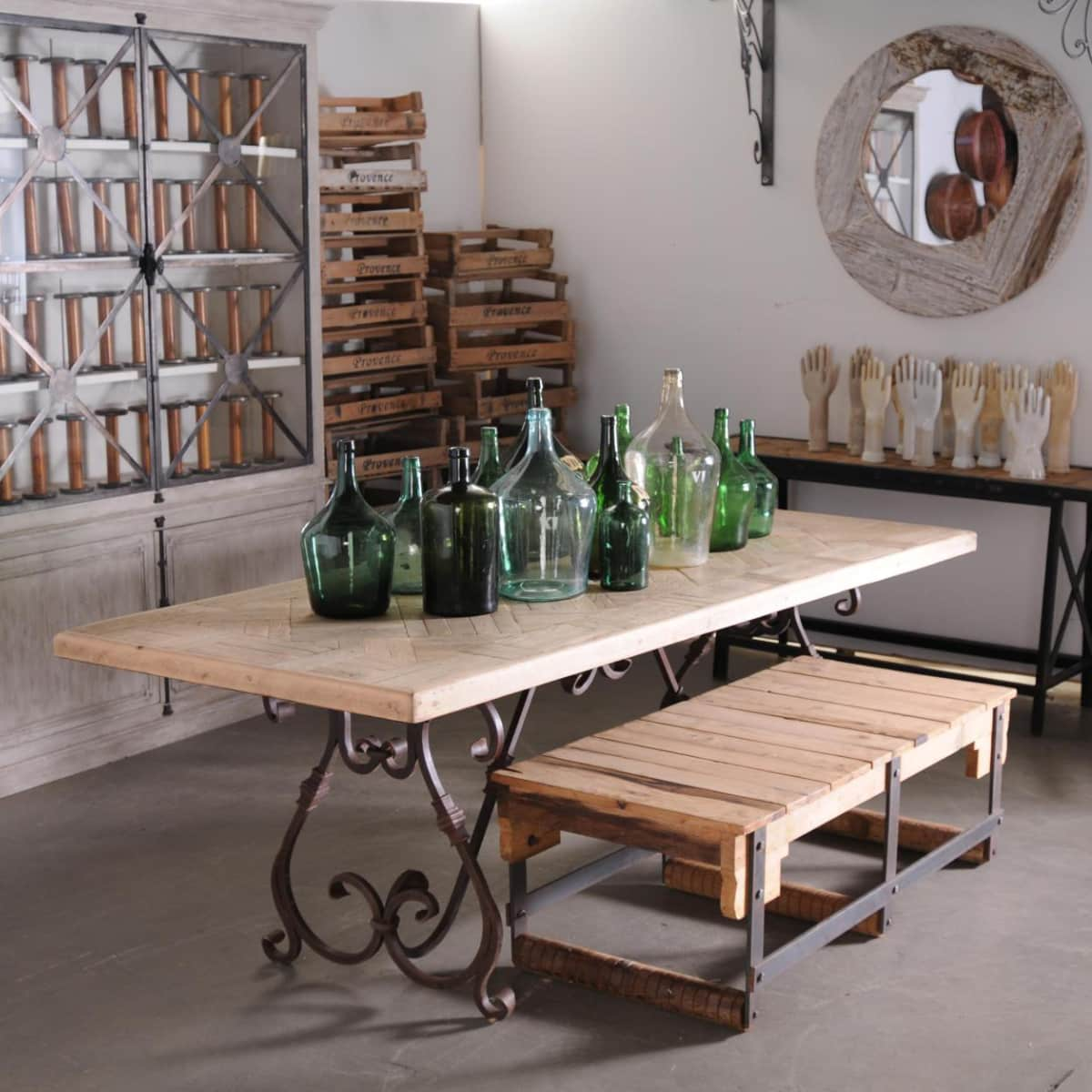 Eclectic country spirit adds to the design's intrigue
Country style pulls decorating ideas and furniture from flea markets and antique shops, although it doesn't host the same lavish details of shabby chic decor. It does, however, also include metallic highlights but the shining details serve a more functional purpose rather than just to add character. Country design often hosts these details in light sources, such as bronze wall scones or copper lanterns. The mixing and matching of odds and ends gives this aesthetic an eclectic carefree feeling.
Soft English cottage palette creates the style's welcoming feel
Cozy and comforting, the incorporation of cottage elements in shabby chic design gives the innovative mode its quaint and homey feel. Its light and airy vibe mimic the pleasant, subdued pastel colors that are so frequently seen in this decor. Lightweight fabrics such as lace and cotton are seen in both design forms, effectively exuding that warm and welcoming atmosphere. Houzz magazine provides several examples on how to incorporate colors into cottage design.
Shabby chic shares the natural timeworn look of coastal living
Coastal design integrates many of the same weather-worn details of shabby chic, but – as the name would suggest – it resembles a home on the beach rather than a cottage in the country. Though coastal design is decorated with seashells and oceanic colors, such as blue, green and coral, the most prominent similarity between coastal and shabby chic is the lived-in vibe it renders. Both styles feature exposed paint on furniture and worn, antique accents. Additionally, just as shabby chic capitalizes on natural elements such as sunlight, coastal design often has open doors, wide windows and skylights. HGTV captures the elements of this style in a coastal-inspired design gallery.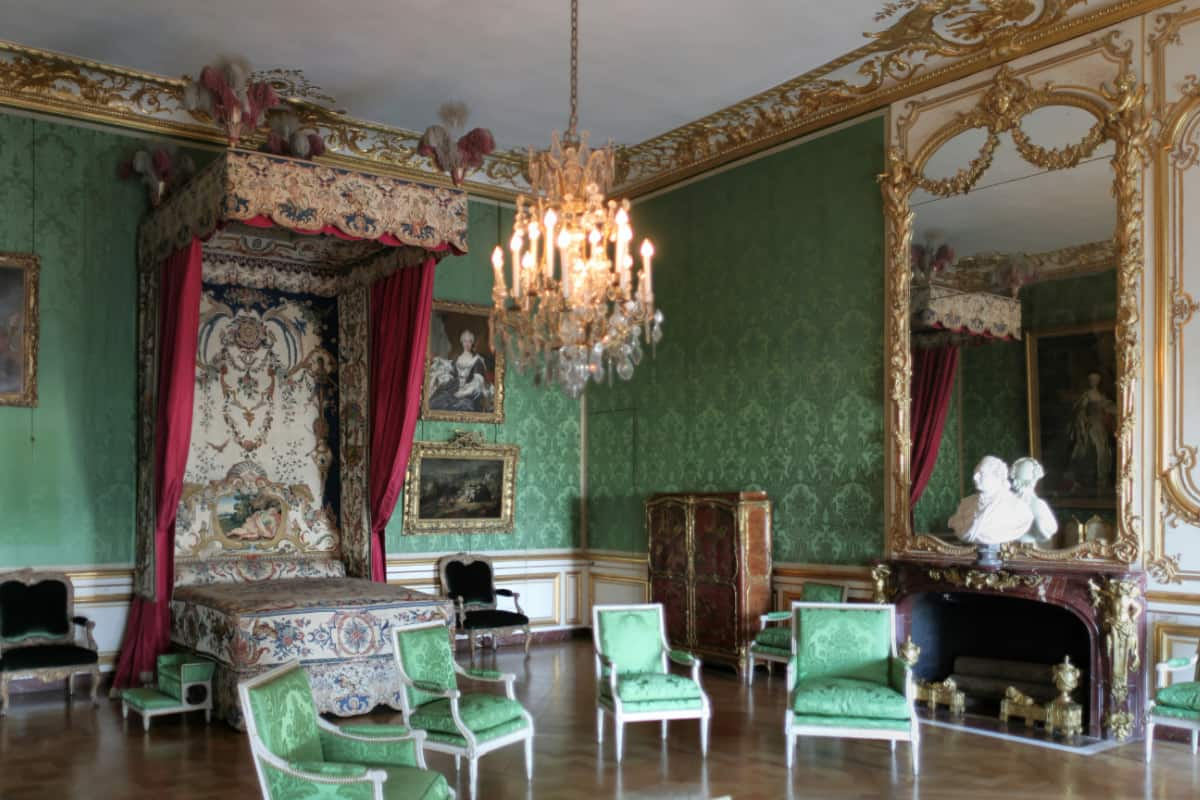 Ornate baroque designs express its elegant character
Draped in intricate details, baroque style forms the "chic" part of shabby chic. This elaborate aesthetic is characterized by its heightened levels of opulence and splendor fit for royalty. After all, that's where this design has its roots. From the end of the 16th century to the start of the 18th century, baroque took center stage in European designs. Most notably, Louis XIV's palace in Versailles embodies baroque style, complete with rich, deep colors, furniture featuring detailed curves and engravings and marvelously gilded accent pieces. Baroque architecture takes elements from the Renaissance period, such as colonnades and domes, and makes them grander and more decorated. The drift toward highly ornamental design culminated in the Rococo movement in France in the 1730s. Its theatrical style conveyed movement and is found in the asymmetrical curves of sculpted molding and intricately carved scallop shells, acanthus leaves and flowers. This flair for the dramatic imbues everything from the legs of tables and chairs to the wrought iron arms of splendid beaded chandeliers.
Baroque pairs with rustic style to create the imperfectly compatible shabby-chic design. Typically, rustic style takes the lead and baroque follows with sophisticated subtlety. For example, fabulous metallic details may elegantly line pastoral cotton curtains, or dim lights comparable to a countryside sunset will sprinkle down from a brilliant crystal chandelier.
---
How did shabby chic begin?
Relatively new to the world of interior design, the history of shabby chic is not nearly as rich as its exuding charm. However, its founding roots stem from designers' appreciation of purity, raw beauty and historical value.
Origins of the simple yet elegant style
The term "shabby chic" was coined by a newly launched magazine in the 1980s called World of Interiors. According to the Daily Mail, founding editor of the magazine Min Hogg defined shabby chic as, "characterful, colourful, used but not abused." She believed look was influenced by the habit of '80s homes to collect overflowing quilts and mix-and-matched fabrics.
In the 90s, this embrace of mismatched vintage items carried over into the world of fashion. Avant-garde Belgian designer Martin Margiela introduced a memorable Fall collection in a Salvation Army. The runway show featured models sporting wrinkled clothing with exposed linings and unfinished hems. Newsweek's coverage of the event announced that, with the audience's approval of the frayed style, "Shabby chic had arrived."
While it may have modern influences, the style has roots in the large country houses of Great Britain. Decorated with airy curtains, faded sofas, weathered wood tables and vintage accents, shabby chic made its debut in these homes before it had a name. In the early 1900s, many of these country houses were abandoned, left with the contents still inside, because of hard financial times faced by the owners. Through time and the change of seasons, the furniture became worn, providing the inspiration for the weathered interior of shabby chic we see today.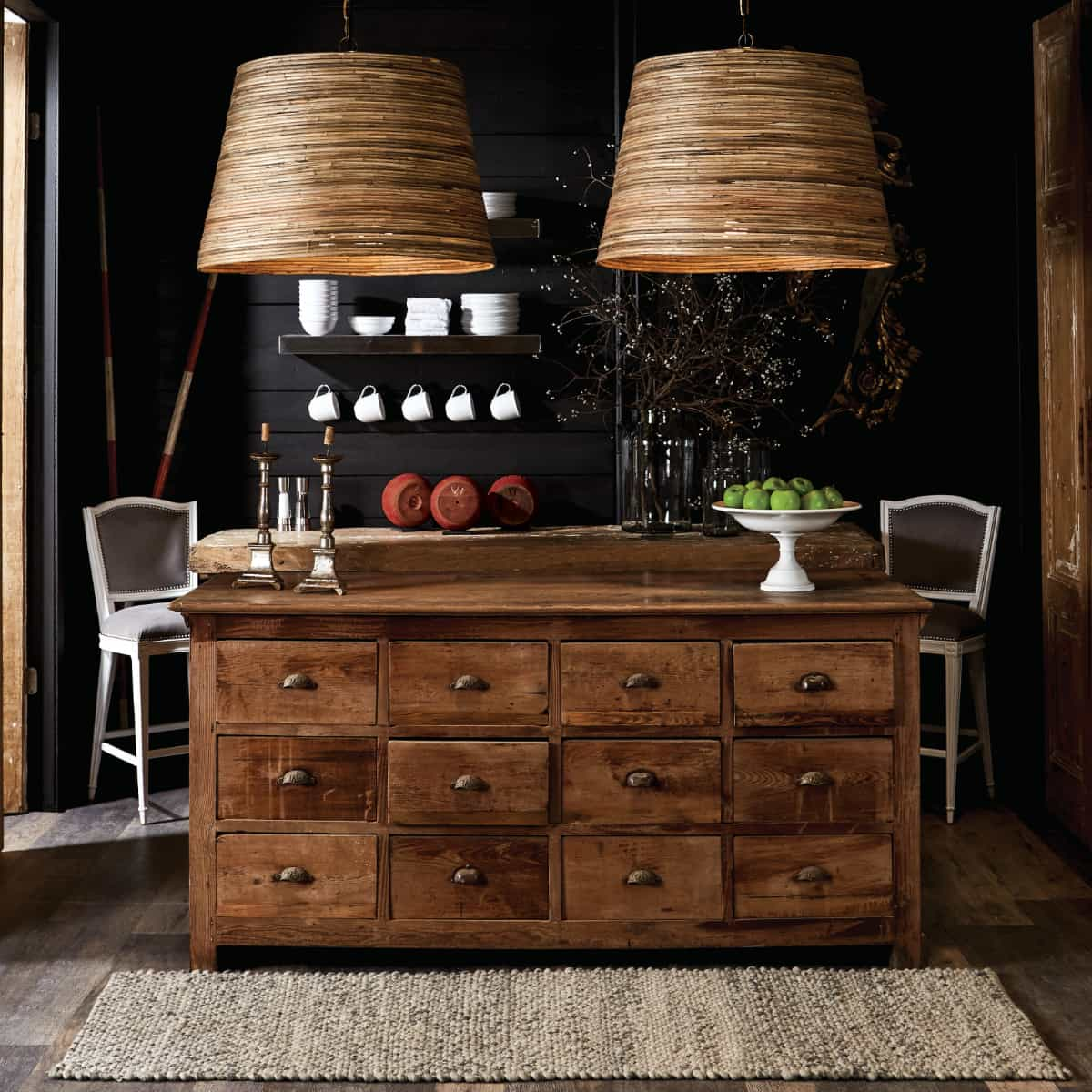 Rachel Ashwell launches shabby chic into popularity
Shabby chic took the design world by storm with the help of London-born stylist Rachel Ashwell. For the past 25 years, Ashwell has been developing the definition for this design with her brand, Shabby Chic Couture. Her interior design line began for practical reasons. She had slipcovers made for her couch so cleaning would be easier when tackling messes made by her two small children, she told Inc. After friends plagued her with questions about where she found such unique pieces, she realized there was both a need and a demand for worn furniture.
Starting as a small store in which Ashwell sold slipcovered furniture and items gathered from flea markets, Shabby Chic Couture has turned into a widely popular style and brand, with five stores throughout the U.S. She hand-picks each product her stores sell, from artisan-crafted chandeliers to custom-made couches. She even opened an impressively quaint bed and breakfast in Texas in 2011, which features elegant rooms that exude the imperfect beauty of the shabby-chic style.
The popularity of the shabby chic also came from 1980s homeowners' desire to demonstrate class and refinement in their decor. Incorporating this style into their homes allowed them to boast interesting vintage pieces that told a unique story.
The future of this rustic & refined interior design aesthetic
Rachel Ashwell sets the standard for shabby chic, and interior designers take her lead when determining the direction for this motif. In an interview with Houzz, Ashwell revealed that she's working on simplifying the style by eliminating elements that distract from its true beauty.
The designer is "Making sure that the 'noise' doesn't take over the magic," she told Houzz. While Ashwell speaks to the overall theme and look, shabby chic is changing in more ways than this. The style is encroaching upon other venues than the home, expanding its role in design.
Shabby chic is becoming especially popular for wedding themes and decor. Brides and grooms can incorporate the charming pastel colors into bridal party garb, vintage accent pieces into centerpieces and twinkling lights into dance floor decor. Shabby chic weddings may have items such as chalkboard signs, mason jars and wildflowers – items that kindle the down-home spirit.
Combining the rich, opulent decor of the baroque style with the pure, raw beauty of rustic form, shabby chic is a charming design that fits into virtually any venue from an elegant home to a humble cottage. The upscale accents on the weather-worn materials add just enough sophistication to strike a perfect balance that exudes nostalgia, comfort and refinement. Though the style has changed subtly through the decades, with much influence from Ashwell, its overall air is timeless and will forever fit your home.
---
Prime examples of shabby chic design you can visit
Nothing conveys the charm and beauty of this design aesthetic like seeing it in person. Here are a couple of iconic places to check out:
Palace at Versailles
Most of the well-known structures related to the shabby-chic style were only partial contributors to this relatively new look. For example, the grandeur of Louis XIV's castle in Versailles plays a major role in the development of the baroque influences of shabby chic, but it doesn't touch on the more pure, rustic elements.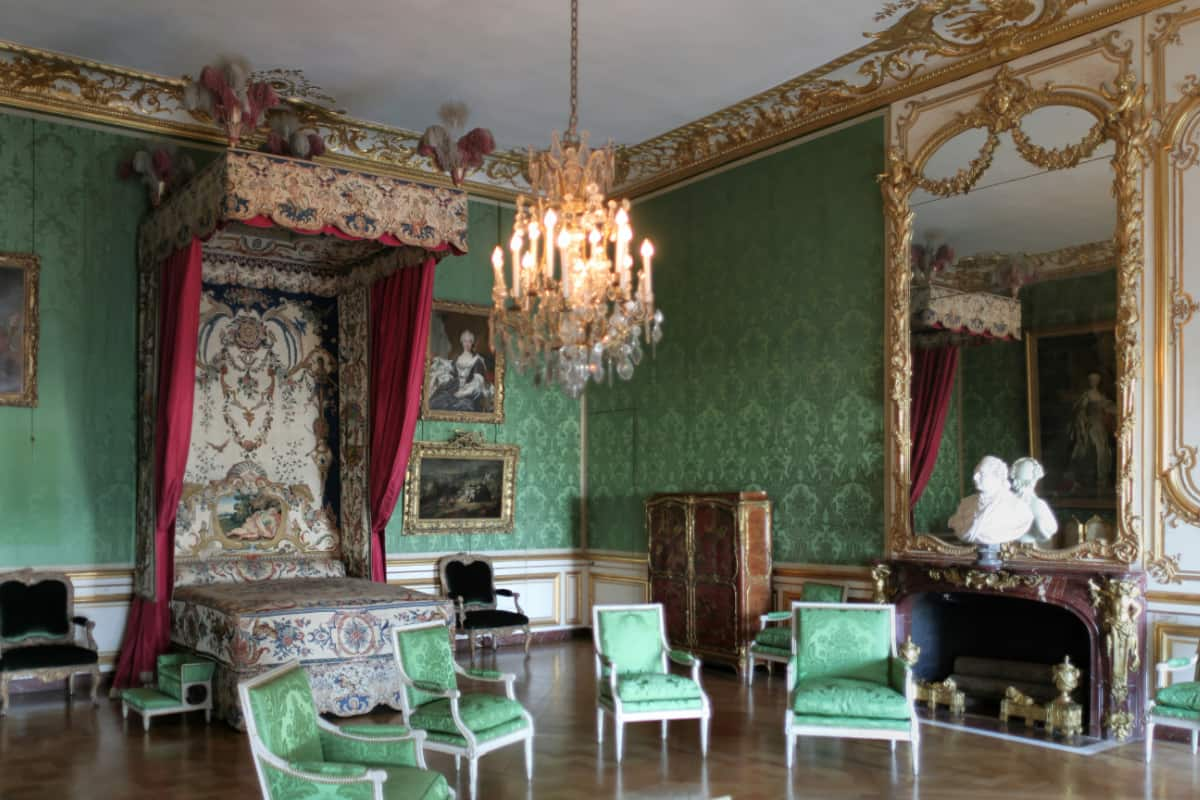 The Prairie
Ashwell's bed and breakfast, The Prairie, in Texas may best capture the shabby chic design in all its nooks and crannies. Sprawling across 46 acres of open landscape in Round Top, Texas, the large size of The Prairie takes nothing away from the quaint aura of this shabby-chic bed and breakfast, which is surrounded by flourishing wisteria trees.
According to The Prairie's website, the once run-down location was restored with a labor of love. Ashwell turned the vintage venue, tacked up with recycled materials, into a five-house bed and breakfast, careful not to disrupt the beauty of the footpaths and hand-crafted elements of its previous owners. Guests can relax on the comfy furniture from her shabby-chic boutiques that fill every room, look up at her dazzling, signature crystal chandeliers and walk on the original floorboards of the farmhouses.
---
Assembling the pieces of a shabby chic interior
If this design style is to your liking, there are some simple ways that you can build the look in a room or throughout your home. Start by collecting a few signature pieces and add to them over time as you figure out what your version looks like and where you discover unique treasures.
Timeless furnishings create the live-in look
Furniture boasts a touch of rustic and coastal style, so pieces are typically distressed with several painted layers. Don't be afraid to mix and match salvaged materials such as painted or stained wood, wicker and wrought iron. In your shabby chic kitchen, for example, combine a white salvaged farmhouse table, a faded natural fiber rug and a wrought iron chandelier for the perfect mix of textures. Chairs are also commonly mismatched to create a difference in texture. When combining chairs, however, make sure they share one common characteristic, whether that's color or shape.
Comfort is another element that's important to keep in mind when searching for this style of furniture. Plush chairs with matching ottomans and couches adorned with plenty of soft, decorative pillows all contribute to the overall cozy feel. Even Ashwell features a few cushy beanbag chairs in her Shabby Chic Couture line. In keeping with the retro, vintage aesthetic embodied by this style, it's important to select pieces that are in good shape, but still seem like they've gone through a little wear and tear. A distressed vintage wood table paired with white lace tablecloth will provide a dining area that's sweet and romantic while also appearing old and weathered.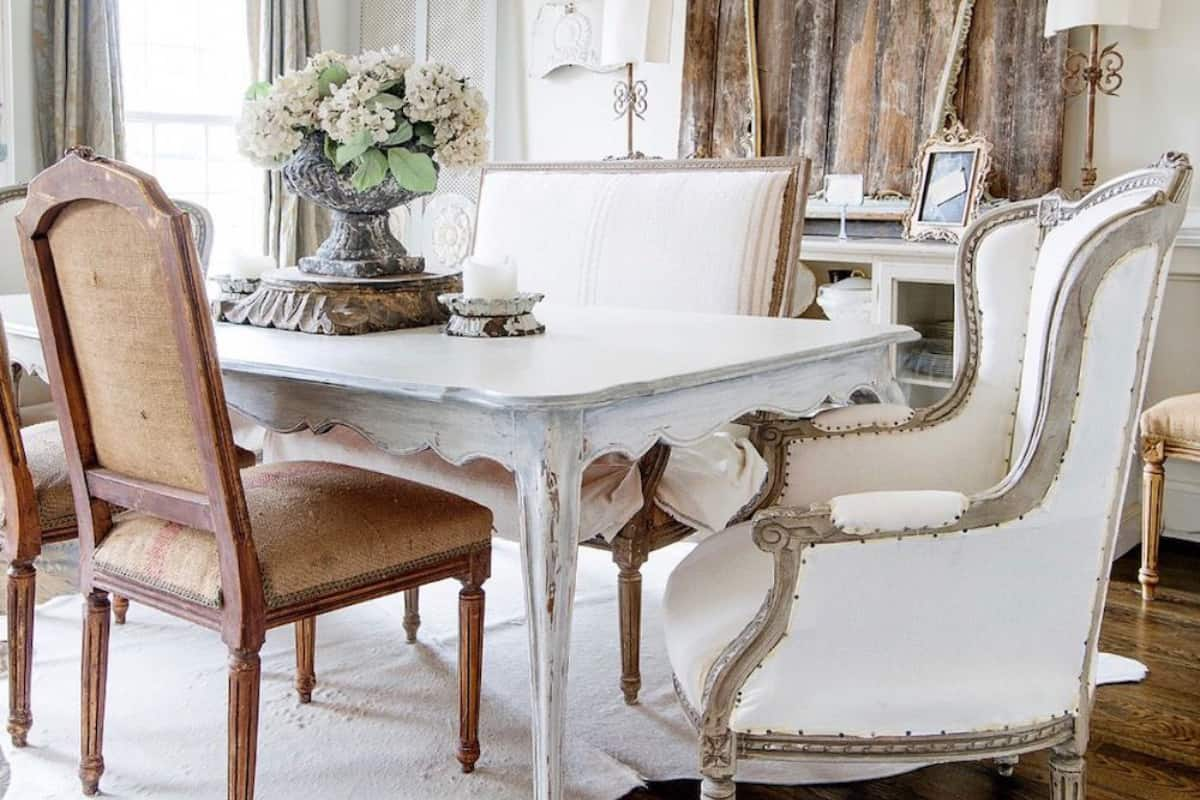 Vintage lighting adds rustic elegance
A shabby chic chandelier is a must in this aesthetic, especially vintage chandeliers. They add a charming antique element to the room and can be installed in virtually any room of the home, from the kitchen to the bathroom. Other light sources should also have a flea market feel to them, so opt for fixtures with materials such as wrought iron or glass. White and cream-colored candles can also add a cozy glow to a room when grouped together on a table or fireplace mantel. Consider flanking the seating in your living room with distressed wooden end tables topped with antique shabby chic lamps.
Natural fabrics provide a relaxed feel
Overall, fabrics should give off a pleasant, comfortable and welcoming aesthetic. Cotton, muslin and linen are three of the most commonly used thanks to their classic look. You can use any of these materials for curtains, drapes, bedding, pillows, and slipcovers, which are a defining element of the style. Slipcovers on lounge and dining seating help soften the look of a room and usually feature a delicate pattern like flowers or stripes. Fabrics are typically adorned with details such as flowing skirts and pintucks.
Curios & accents complete the room
Flea market finds, trinkets, vases filled with fresh-cut flowers and antique kitchen tools are a wonderful way to add character to your home. Many homeowners opt for glass-paneled kitchen cabinets so they can show off vintage plates, cups and bowls. Of course, open shelving is another functional way of displaying any of your accessories. Make sure to include plenty of antique accents like old clocks, candlesticks, picture frames and baskets to round out the style. You can also repurpose items you may already have and use them for decorating. For instance, an old garden gate or wooden door can be transformed into a headboard, and stacked crates would make for a functional nightstand or side table.
Shabby chic wallpaper frequently features pastel floral patterns on neutral backgrounds. The soft palette and delicate designs reinforce the feminine essence of the decor style while the natural elements freshen feel of the room.
---
Creating shabby chic DIY
Sometimes, it's hard to find just the right genuinely old chair or candlestick to make your decor vision come true. Or maybe you're on a budget and don't want to spend an arm and a leg on every piece. Fortunately, there are many do-it-yourself videos to help you create a vintage setting that is truly unique.
How to distress wooden furniture for an antique look
How to weather metals shabby chic style
How to make vintage fabric flowers
Frequently Asked Questions – Shabby Chic
Shabby chic is a popular decor style made famous by interior designer Rachel Ashwell with the following characteristics:
Vintage furniture and lighting
Blend of rustic and ornate styles
Mismatched items and eras
Distressed and weathered surfaces
Neutral backgrounds with a soft pastel palette
Ornately carved curves and accents
Shiny metallic details
Feminine essence
Lace and natural fibers
Natural motifs and live plants
---
Photo Credits
Dining Set – Aidan Gray
Shelves & Dining Table – Go Home
Baroque-Rococo Table – Francisco Anzola on Flickr
Chest & Stools – Aidan Gray
Palace of Versailles – Coyau / Wikimedia Commons
Shabby Chic Home – Shannon Fontaine