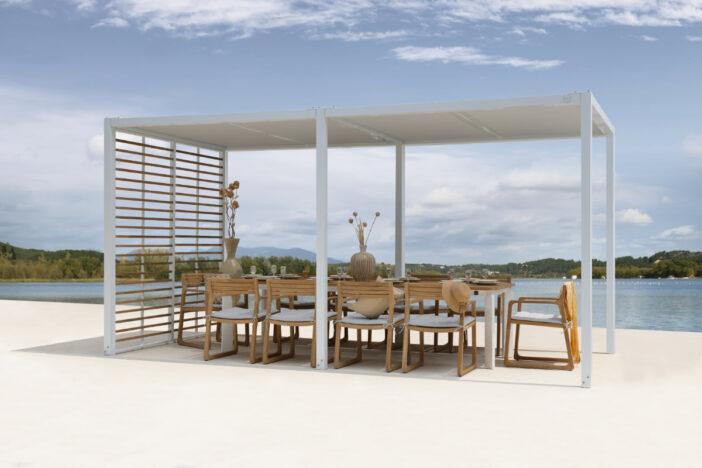 It's recommended that you get anywhere between 10 to 20 mcg of vitamin D per day, depending on your age. For people who love the outdoors, this might sound like good news; after all, one of the main ways you can get this vitamin is through the sun's rays.
But as anyone who's stayed out for too long knows, baking under this brutally hot star can burn your skin and give you sunstroke, even if you slather on sunscreen. This makes outdoor shade necessary, as you'll have a safe haven to go to.
In this article, we'll have an in-depth discussion about your choices for outdoor shade structures. This includes pros and cons, so you'll discover which are best for your backyard.
Gazebos – Private outdoor rotundas
Gazebos are freestanding garden structures with sturdy roofs, which are made with standard materials, like shingles. The roofs are connected to the flooring through posts.
You'll find railings along the perimeter of the gazebo, which makes it an enclosed space while still open on all sides. There may be matching benches inside for your convenience.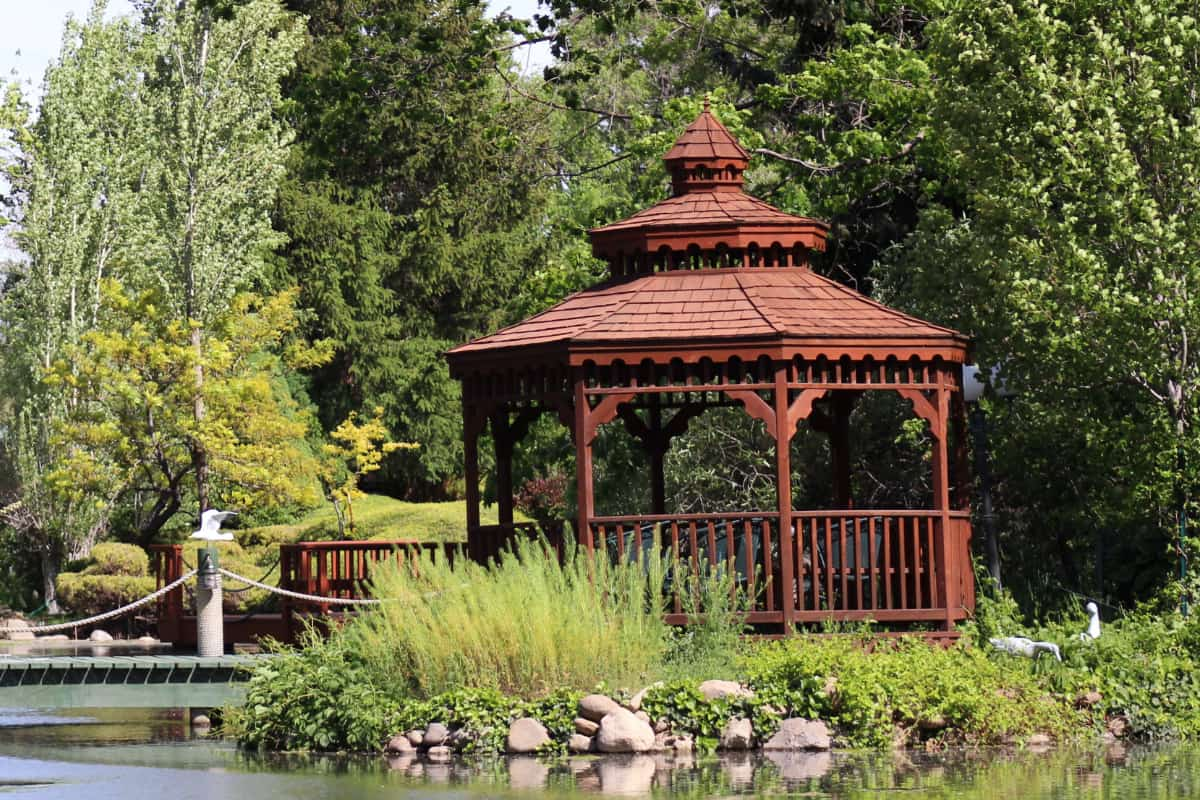 Materials
Because gazebos are so large, they must be made with strong materials. They can include:
Vinyl
Metal (aluminum, steel)
Wood
The most commonly used material is wood.
Purpose/Use
Gazebos provide shade, as well as shelter from the rain. Usually, there's seating inside so you can sit and talk, read books, admire the scenery, etc.
They also serve a secondary purpose: an ornamental feature. You'll certainly have a gorgeous focal point that your guests won't stop talking about!
History
Gazebos have been around for almost forever; wealthy ancient Egyptians used them in their gardens almost 5,000 years ago! They believed their gardens were paradises on Earth that they could take with them into the afterlife. So naturally, the Egyptians spruced up their gardens with these beautiful structures.
Besides ancient Egyptians, Romans, Persians, the Japanese, the French, etc., all have had their own versions of gazebos throughout history. Some were used as small temples (Rome), while others were used for tea ceremonies (Japan).
These structures made their way to the US in the 18th century. While initially, only middle-class (and higher) families had gazebos, today, they're much more affordable and accessible to everyone.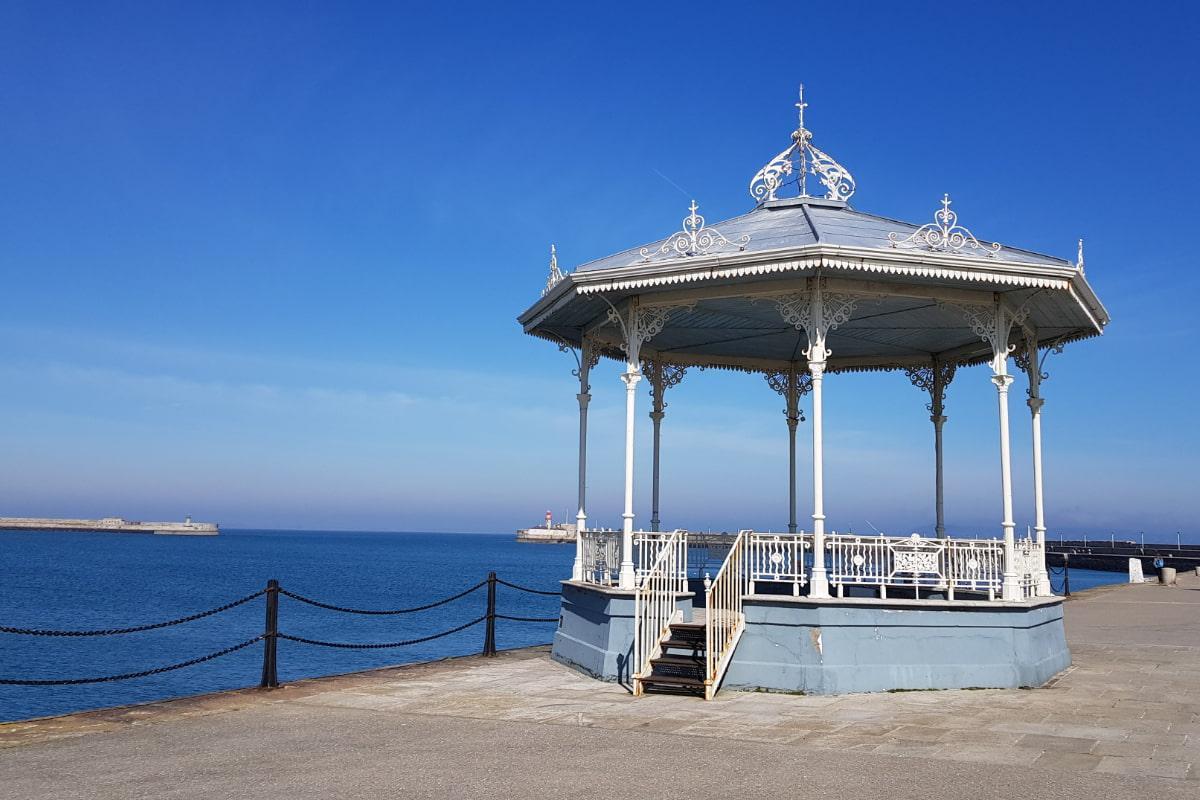 Placement
Because they're freestanding structures, you can put gazebos anywhere you want. They can go on your deck, in the middle of the yard, or by the pool if you have one. One can also be attached to a garden wall.
Designs/Styles
Traditionally, there are two main shapes: hexagon and octagon. Do note that it's easy to get a custom-built gazebo, so you can get any shape you want. Many people choose oval, circle or rectangle.
For those who like more intricate designs, you can get a Victorian-style gazebo. It has an ornate and romantic aesthetic that's easy on the eyes.
Rustic gazebos are also cozy and may have a thatched or shingled roof. They're constructed of wood and other organic materials for a natural feel.
On the other hand, a modern design is simple and comes with a flat or sloping roof. The material choice is typically metal or vinyl.
Modern Customizations
The main difference between traditional and modern gazebos is that the former uses wood and the latter uses metals and vinyl. In addition, modern gazebos tend to have custom shapes.
To make things more comfortable, today's homeowners add things like curtains, screens, outdoor lighting, fans, fire pits, and heaters. You can even install a sound system and outdoor kitchen to provide hours of entertainment for your family and guests.
Gazebos – Pros & Cons
PROS
Can use in all weather
360° view
Provide privacy
Variety of designs
Additional screens ward off pests
CONS
Take up a lot of space
Site must be leveled and drained
May require concrete foundation
High-maintenance
Expensive
Pergolas – Overhead shade latticework
Pergolas look similar to gazebos but aren't as grand. Their name comes from the Late Latin word "pergula," which means "projecting eave."
Pergolas are made of several vertical posts or pillars with no walls. On top of these are cross beams to create a flat roof, and on some, you'll have an open lattice or screens. This means that normally, it isn't 100% shaded underneath unless you pull a canvas or tarp over the top.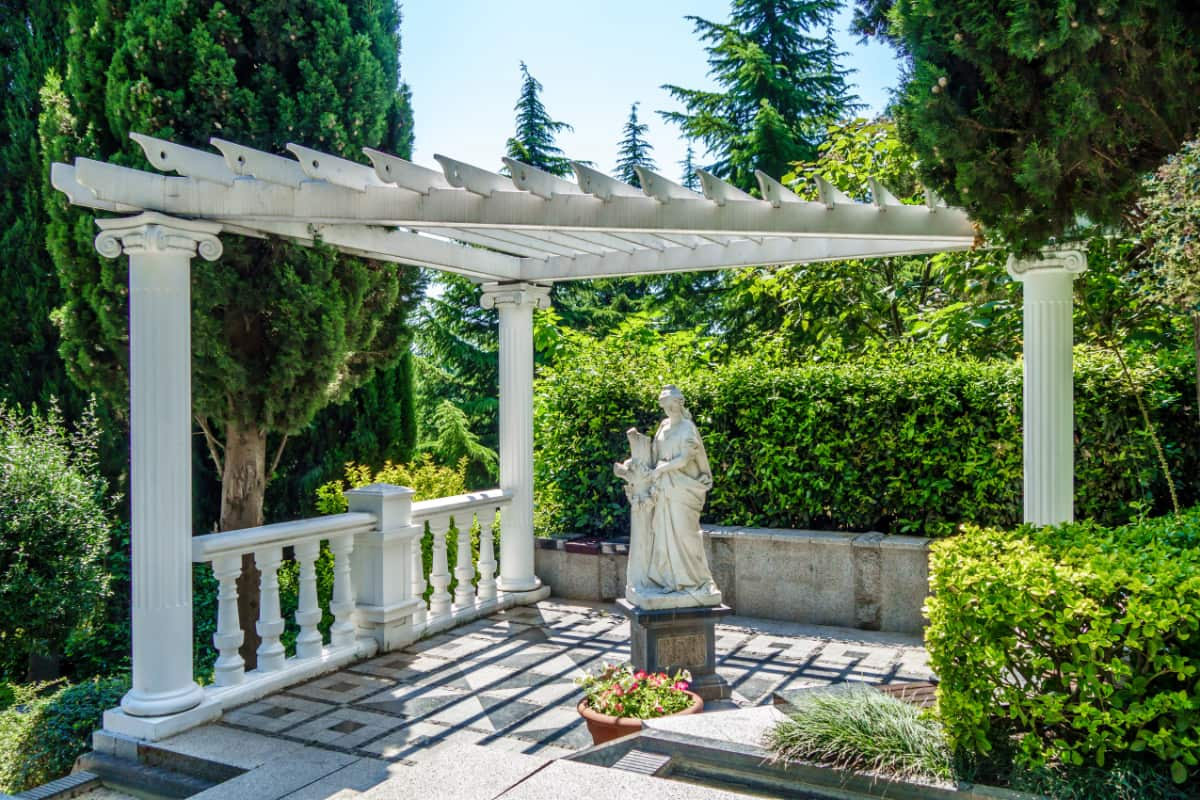 Materials
Historically, pergolas used stone and brick in their construction. However, in modern times, more durable options are available, so you'll see:
Purpose/Use
Pergolas shade walkways so you can get from one pavilion or building to another. They also give you some shelter on an open terrace. Below, you can also place seats or benches to create sitting areas.
These structures are excellent for growing vining plants and add a more natural feel to the area. But while they're great for shade, they provide little protection from the rain. They're mainly used for air circulation and as an extension of your home or patio.
History
This garden feature first appeared in ancient Egypt, back in 1,400 BC. The first is believed to be in a Theban high court. In those times, only the most privileged Egyptians could use pergolas to shade themselves from the hot sun.
The ancient Romans used pergolas in their villas too. During the 17th century, during the Great Italian Renaissance, the stone pillared pergolas provided not only shade but also a place to grow grapes for wine.
Pergolas suffered a decline in popularity in the next centuries since they were too artificial for the naturalistic gardening styles that many favored. But they experienced a revival in the 20th century, thanks to the Arts and Crafts movement in Britain.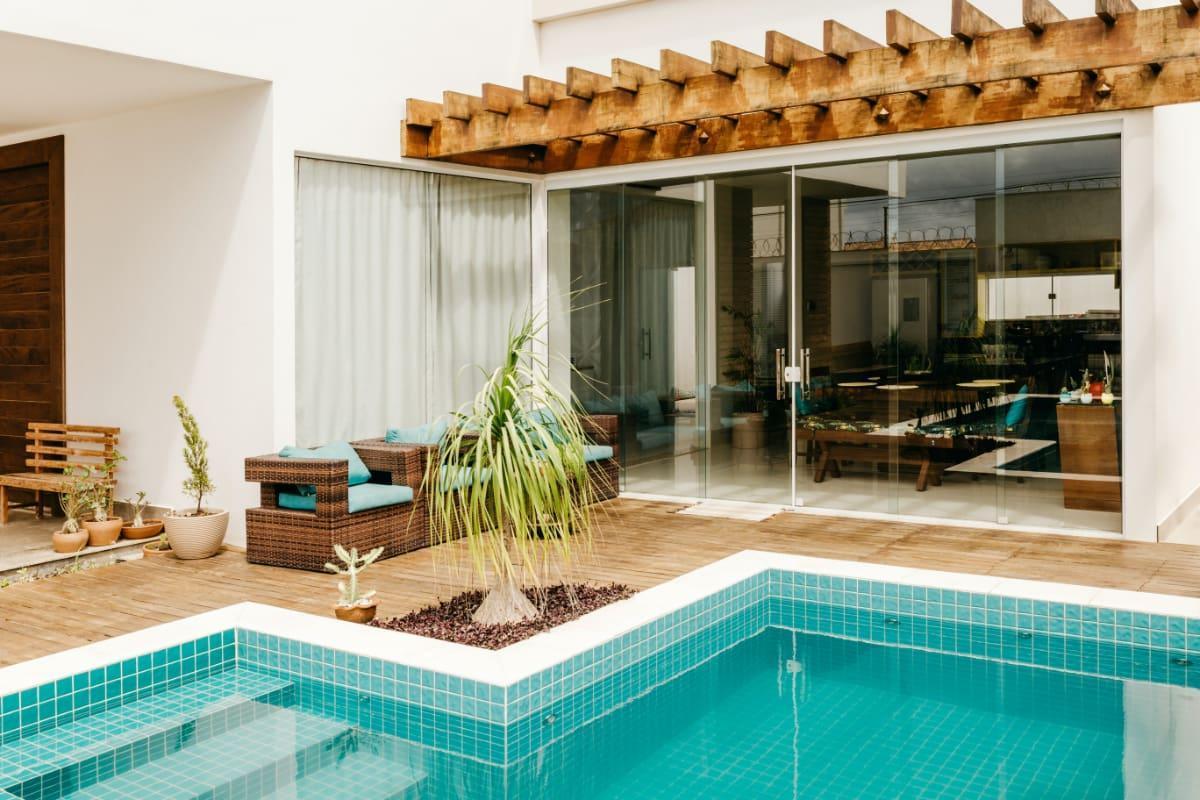 Placement
As we've said earlier, pergolas are placed in between pavilions or buildings. Many homeowners connect theirs to their property.
However, you can also have freestanding pergolas, which can go anywhere in your yard. You can place them where you need shade or would like to grow vining plants.
Designs/Styles
You can have attached or freestanding pergolas, as well as cantilevered ones. This offers you a middle ground, as the roof is supported by a single post. As a result, there's a floating effect that's very popular in modern homes.
The most commonly seen style is the traditional pergola. It's either rectangular or square and can have anything from plain to intricate elements.
For a more formal, elegant and dramatic aesthetic, choose an arched pergola. It'll definitely serve as an amazing decorative accent in your outdoor space.
There's also the gabled pergola if you want more shade. The rectangular or triangular-pitched roof is a godsend when the sun's scorching rays threaten your outdoor time.
Modern Customizations
A useful type of customization is the motorized retractable roof. This allows you to control exactly how much shade or sun you get, and it's easy and quick to do with a remote.
In addition, homeowners like to customize their pergolas with lighting (i.e. string lights and outdoor chandeliers), outdoor curtains, audio-visual systems, and fire pits or fireplaces.
Pergolas – Pros & Cons
PROS
Aesthetically pleasing focal point
Large multi-purpose structure
Cost-effective
"Green" feel
Low-maintenance
CONS
No protection from rain
Lack of privacy
Some materials fade easily
Climbing vines may attract insects
May require building permits
Cabanas – Minimalist poolside bungalows
A cabana is a type of outdoor shade structure that looks very similar to a gazebo.
But while cabanas bear a significantly similar resemblance to gazebos, one of the key differences is that there are three walls and only one open side. This open side faces the water, so people have easy access to the inside. This means you'll usually find cabanas at the beach or by a pool.
On the bottom, you'll find either a wooden or concrete base.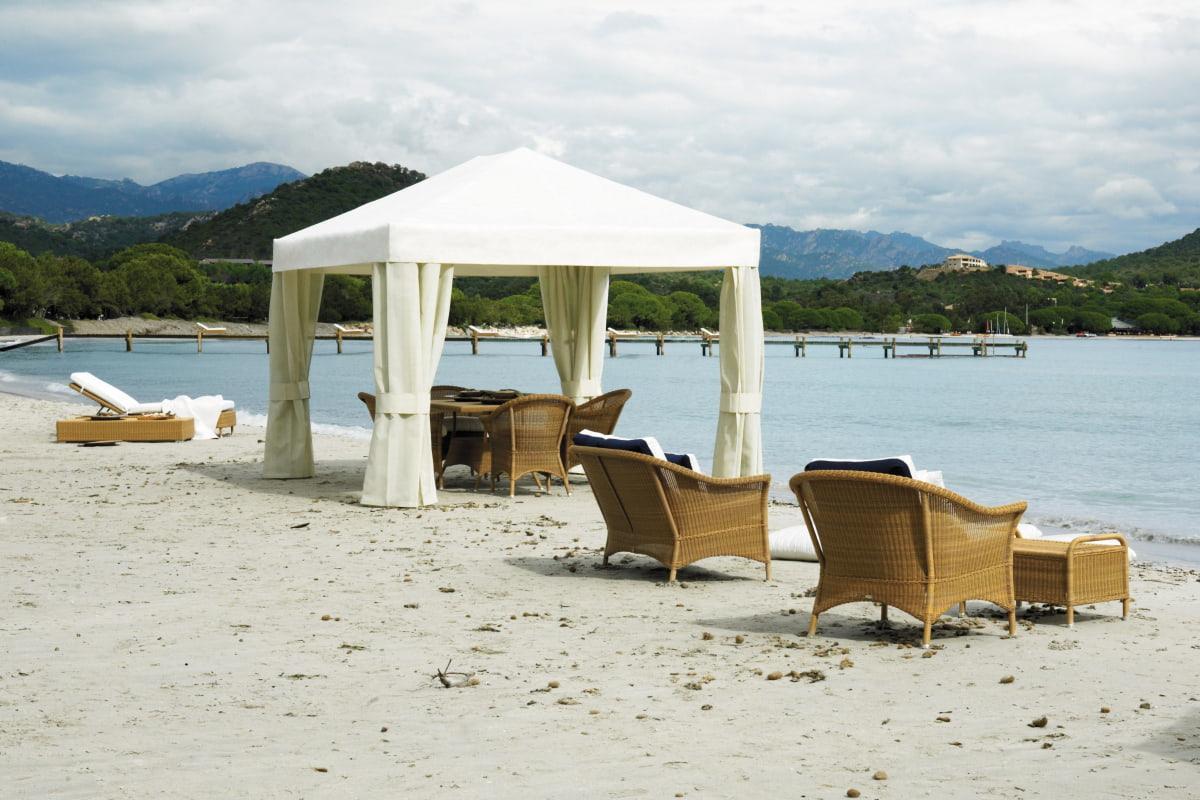 Materials
Initially, people made early cabanas out of natural materials. That's why they have such a tropical feel; it wasn't uncommon to see palm frond cabanas.
But today, cabana frames are typically made of metal, such as steel or aluminum. However, they can also be made of composite plastics and wood.
The roof is usually thatched, meaning materials like fabric, plastic and wood are all feasible materials here.
Purpose/Use
In addition to providing outdoor shade, cabanas are a place where you can change into your bathing suit with some privacy away from other people.
Otherwise, you can use them as a place to relax and entertain guests.
History
It's not known exactly when cabanas were invented but man-made swimming pools first appeared around 2,600 BCE. The Romans also invented the first swimming pools in the first century BC.
Previously, people would use communal bathhouses and they'd have private dressing rooms. Once outdoor pools became popular, the one thing that was missing was the dressing rooms, so the cabana was created to provide the same privacy for changing.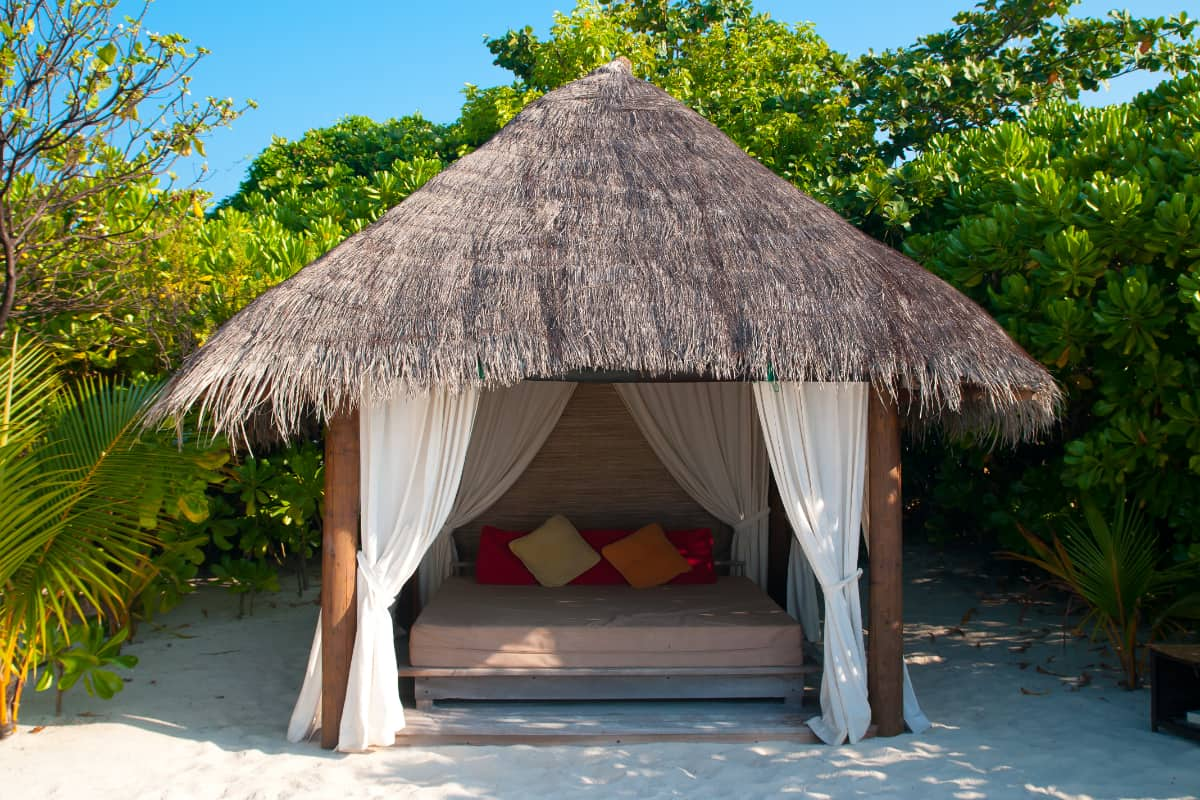 Placement
The above doesn't necessarily mean you need the beach at your doorstep or a pool to have a cabana. If you like how they look, you can place one anywhere you'd like in your backyard! You can even have one on the lawn for a stately piece.
Designs/Styles
Traditional cabanas have a more tropical aesthetic, especially since they usually have thatched roofs and frames made of natural materials.
If you'd like something similar, but with more stone elements, then a rustic cabana is right for you. It still uses natural materials, mainly wood and stone. So as you'd expect, this style is more popular in mountain residences.
Otherwise, to be transported across the world, get a Mediterranean cabana. Think Greek architecture with terracotta and stucco. The design is quite colorful and ornate, so it's perfect for creative homeowners.
Other styles include Bohemian and Asian-inspired, as well as modern. The last choice might be boring for some people, as it entails clean lines and large glass walls.
Modern Customizations
No cabana is complete without some comfy outdoor sun loungers. And like with a few other structures in this article, you can add screens for not only privacy but also cover from bugs.
To make things easier after taking a dip, you can install an outdoor shower inside the cabana. That way, you won't have to leave it to shower and change.
Depending on the size of your cabana, you can put a grill or a small outdoor kitchen in it. Or go for a wet bar instead!
Cabanas – Pros & Cons
PROS
Protection from sun & rain
Open wall minimizes clautrophobia
Provides privacy
Customizable
CONS
High installation & upkeep costs
Extensive maintenance
Can be stuffy if poorly ventilated
Too big for small outdoor spaces
Pavilions – Spacious outdoor coverage for a variety of uses
Pavilions are essentially large tents that provide shelter. The name comes from the old French word "pavellun" or "paveillon" (small palace), which comes from the Latin word "papilio" (butterfly). This gives you a clue as to what pavilions are like: lightweight and thin.
A pavilion has a completely closed roof, and all four sides are completely open. It's supported by four to six posts, although some pavilion styles have more (or less).
The main difference between a pavilion and a gazebo is that there's no built-in floor here. Also, pavilions tend to be larger.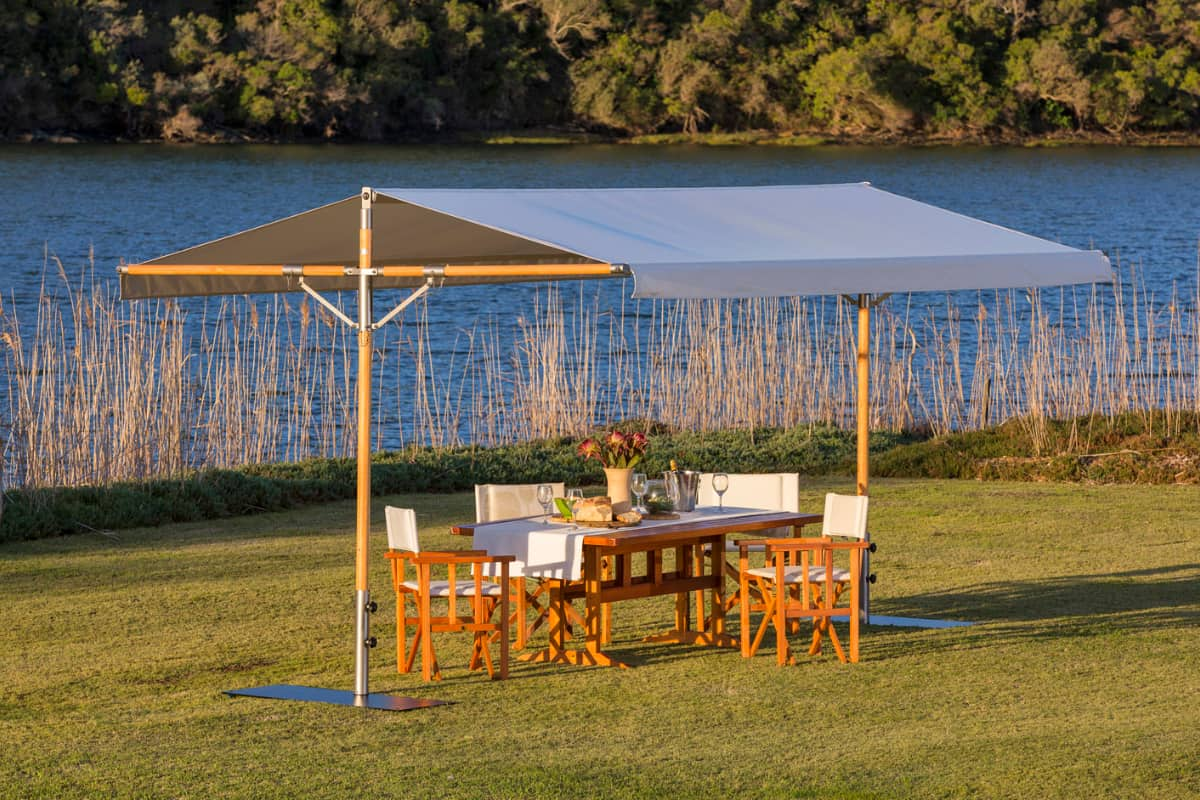 Materials
In general, pavilions use materials such as:
Wood
Metal
Concrete
Stone
Vinyl
For the roof, the most commonly used materials are shingles or metal.
Purpose/Use
People first used pavilions as temporary residences. Later, they served religious purposes, especially in Asia.
But starting in the early 20th century, we started using pavilions as social gathering places. In fact, we still use pavilions for things such as sports, meetings, theater, lectures and exhibitions.
Those placed in residential yards provide shelter from the elements, such as the sun and the rain. Because they're so large, pavilions can serve as focal points too.
History
In the past, pavilions were temporary structures, which made sense for them to be lightweight and thin. But as time went on, and we created more stable and permanent residences, pavilions became more of a decorative thing. For example, in Asia, you'd find pavilions in parks, gardens, and even temples.
In the US specifically, the term "pavilion" was popular in the Eastern colonies, then spread throughout New England and the Deep South. Advertisements for pavilion sales appeared as early as the 18th and 19th centuries.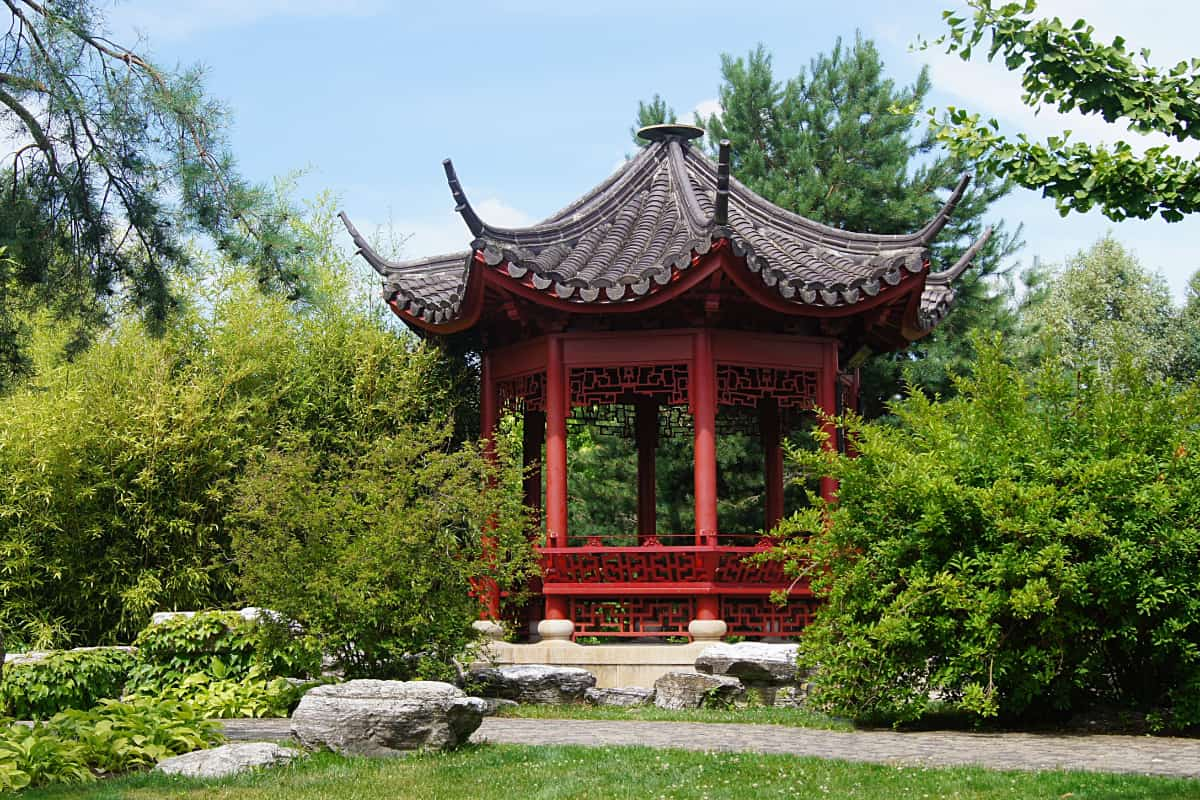 Placement
It's common to find pavilions placed in public gardens and parks. However, in residences, they're typically placed on the patio or deck, attached to the house. When put by the pool, they become a poolhouse.
You can always think outside of the box and place a freestanding one anywhere in your yard though, as it's fantastic for hours of entertainment underneath.
Designs/Styles
The standard pavilion works well with rustic and modern houses. It has simple yet elegant features and is nice enough that it won't stick out like a sore thumb, nor will it steal the spotlight from the garden you've worked so hard on.
Take the standard pavilion a step further, and you'll get the double-roof pagoda. It's still a simple design, but the double-tiered roof adds that extra bit of flair.
Push it another step and you'll get the hex bell roof pavilion. The clean design has a bell-shaped roof with a small window top and is supported by classic pillars.
If you like Asian architecture, then opt for either a traditional Chinese pavilion or Japanese tea house design. Both are typically made of wood and have their own special intricate carvings and decorative details.
Modern Customizations
To coordinate with your home's current aesthetics, you can customize your pavilion roof. Choose from types like hip, gable and flat.
You can also add curtains and shades to get some privacy and additional protection from harsh weather.
Because pavilions are so simple, you can upgrade the look with decorative elements, such as arches, columns and decorative trim. Picking the right ones can give a more cohesive feel between your house and the pavilion.
There's ample space beneath these structures, so you can fill yours with chairs and even dining sets. You and your loved ones will be able to dine al fresco whenever you wish!
Pavilions – Pros & Cons
PROS
Protection from sun & rain
360° view
Multi-purpose
Can attach fixtures
Easy to clean
CONS
Not shielded from strong winds
Not protected from bugs
Lack of privacy
Large size may limits locations
Expensive
Canopies – Fabric sunshades from simple to sensational
Traditionally, a canopy is a simple structure that gives shelter. It has several supporting legs with a flat or low-peaked roof on top, typically made of fabric. The term "canopy" is often used interchangeably with "tent." Technically, the difference is that the sides of canopies are open with a completely closed roof, while tents usually have sides made from the same material. However, lightweight curtains and modular panels on some models make the differences between canopies and other shade structures less clear.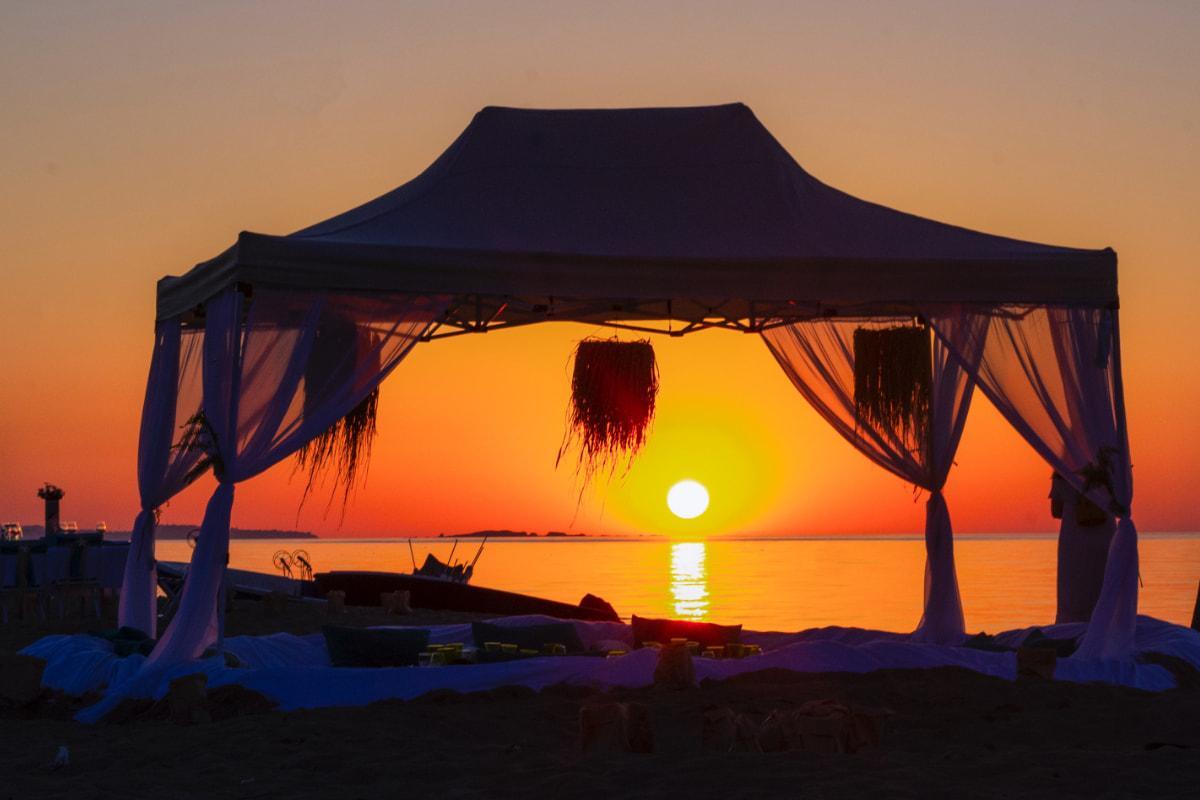 Materials
Generally, metal is used for the base legs or posts; steel's the preferred material since it's strong, durable and affordable. For the roof, you'll find sturdy materials such as PVC or acrylic fabric or some other type of shade cloth.
Purpose/Use
While people used canopies for religious reasons (more about this in the next section), they also had a domestic purpose in shielding doors and fireplaces. This made it possible to get your things together before leaving or upon arriving at the house, and you could use your fireplace, no matter if there was rain or harsh sunshine.
Today, we can still use them for these purposes and to have a cool place to be on a hot day. Jewish couples also hold their wedding ceremonies under a canopy called a "huppa."
History
In ancient times, canopies signified that there were important people around, usually divine or royal. Experts think they came from the cosmic audience tents of kings in old Persia.
Later, in the Middle Ages, churches used canopies as a symbol of divine presence. There were also wooden canopies that hung over tombs, statues and niches in the 14th and 15th centuries.
During the Renaissance, the religious canopy evolved into the baldachin. Then, Europeans started using canopies for non-religious purposes in the mid-16th century.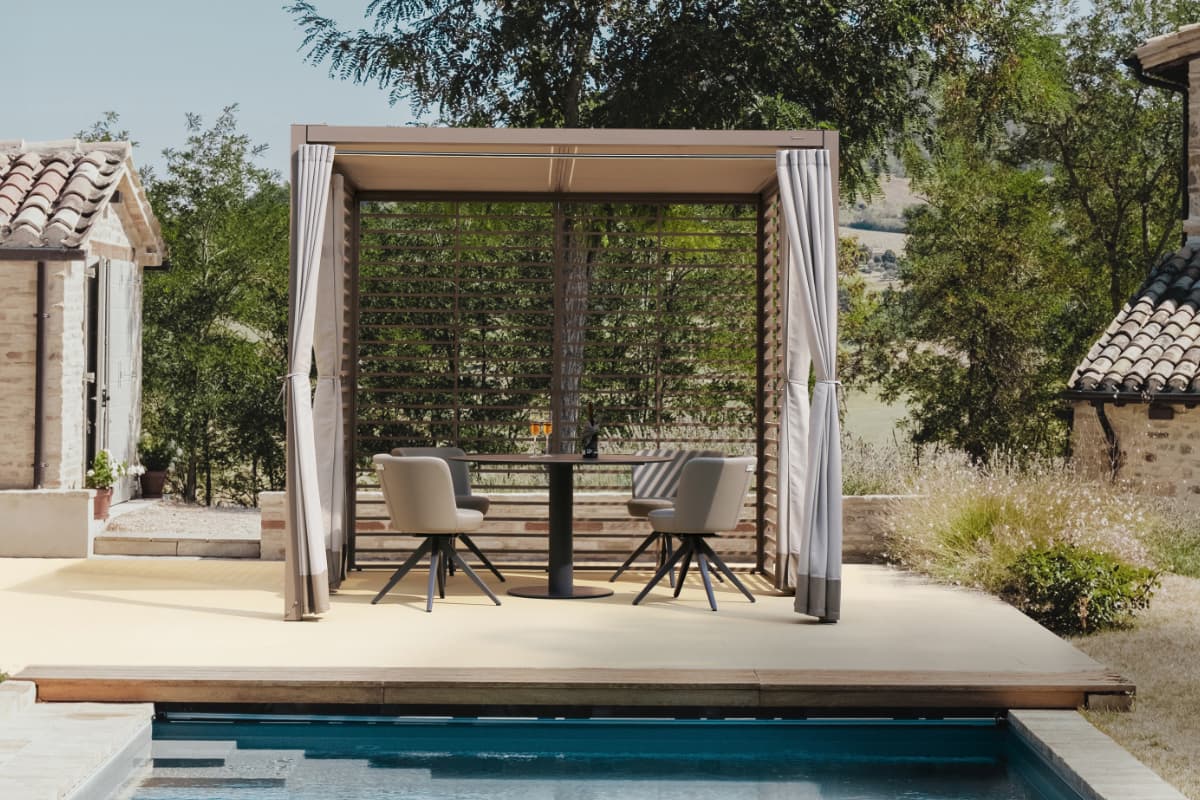 Placement
Many canopies are portable and lightweight, so you can set them up anywhere you wish in the backyard. As the sun shifts, you can move the canopy accordingly with little issue.
If you have a fire pit or fireplace, then centering the canopy over it is a good idea. That way, you and your guests can stand around on a cold and rainy day.
Designs/Styles
These can be the simplest type of shade structures you can get or among the most elaborate.
On the minimalist side, canopies come in all sorts of shapes, sizes and colors. There are also various metal frames from which to choose. Simple versions may have freestanding bases that allow you to move the shade around your outdoor area or break it down for storage in the off-season or between events.
Conversely, more contemporary canopies stretch synthetic fabric roofs across subtantial square or rectangular metal or wooden frames that are permanently mounted to the surface. These large-scale shade structures blur the lines between canopies, pergolas and cabanas.
Modern Customizations
You can get custom images and words printed on the canopy fabric, which can make events more fun or reinforce corporate branding!
Otherwise, with some permanently mounted canopies, there's a wide variety of customizations. For example, you can get a pergola-style canopy for something fancier. Or you can add curtains, a trellis, slatted walls or have your canopy completely open.
Some canopies have adjustable slings too. This allows you to reposition them, which gives you more shade and privacy throughout the day. Other shade options include Roman shades or solar fabric roofs. These hybrid shades create stunning focal points and elevate the elegance of the space, but the luxury look comes at a hefty price tag.
Canopies – Pros & Cons
PROS
Protection from sun & rain
Can cover small or large areas
Some versions are inexpensive
Easy to install
Portable versions
Configurable models are ultra chic
CONS
Portable versions cannot withstand strong winds
Some models may only provide overhead protection
Fabric may need periodic replacement
Pop-up versions are not elegant
Modular systems can be very expensive
Arbors – Bower-like yard or garden arches
An arbor is a small area that adds a secluded shaded space. The earliest arbor was the tree, which is probably why it's named that way; "arbor" is the Latin word for "tree."
They're often mistaken for pergolas; they look almost identical with lattices and trellises. However, the main difference is that the sides have lattices too.
Also, arbors have two or four beams and you'll find an arch at the top.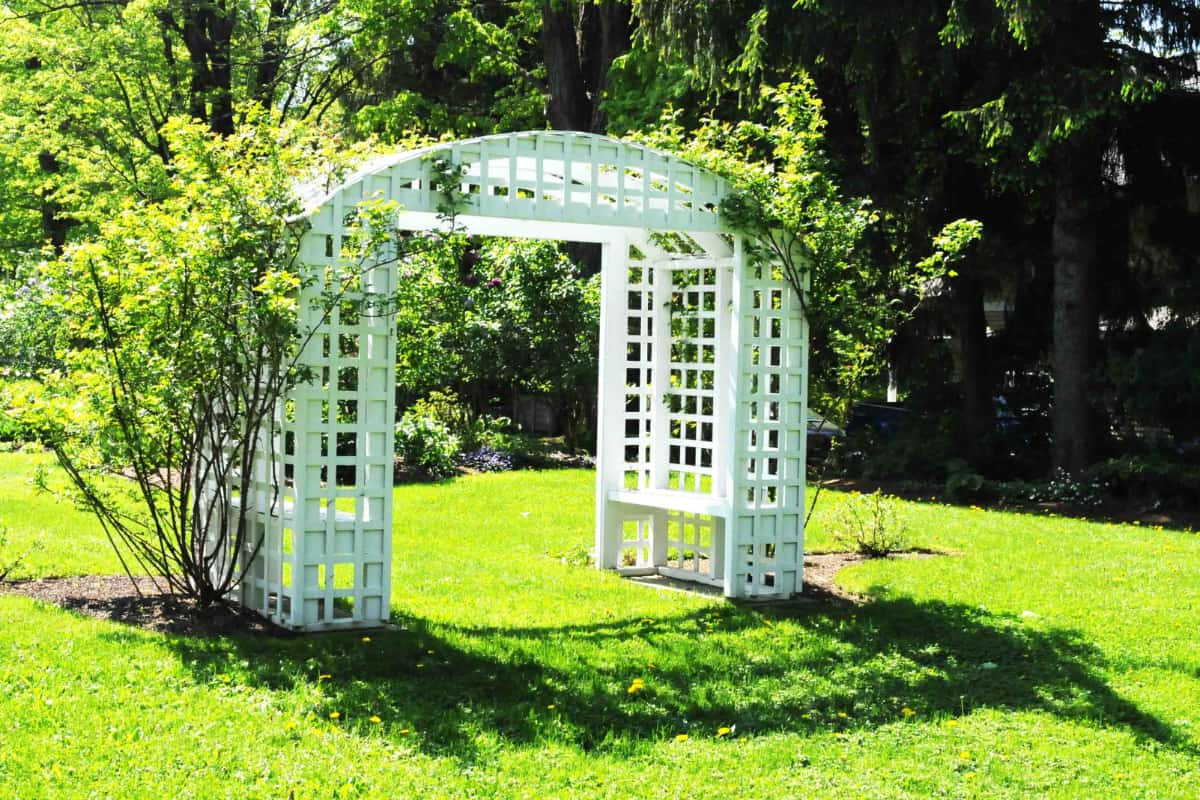 Materials
Ancient Romans (who created the arbor) started off with fancier structures using stone. Later iterations in Europe and the US used simple wood, especially since it made it easier for vining plants to grow on.
Purpose/Use
Arbors are mainly ornamental since they don't provide as much shade as other options. However, one can still give nice cover for a few outdoor seats or benches.
Arbors make fantastic entryways into your yard, as all eyes will be drawn to the luscious flowering vines. You can also use them to accentuate paths and walkways.
History
As with many other shaded structures, arbors were first created in ancient Egypt to give much-needed shade under the sweltering sun. And, of course, ancient Romans used them in their gardens too.
Eventually, arbors made their way to other European countries and then the US.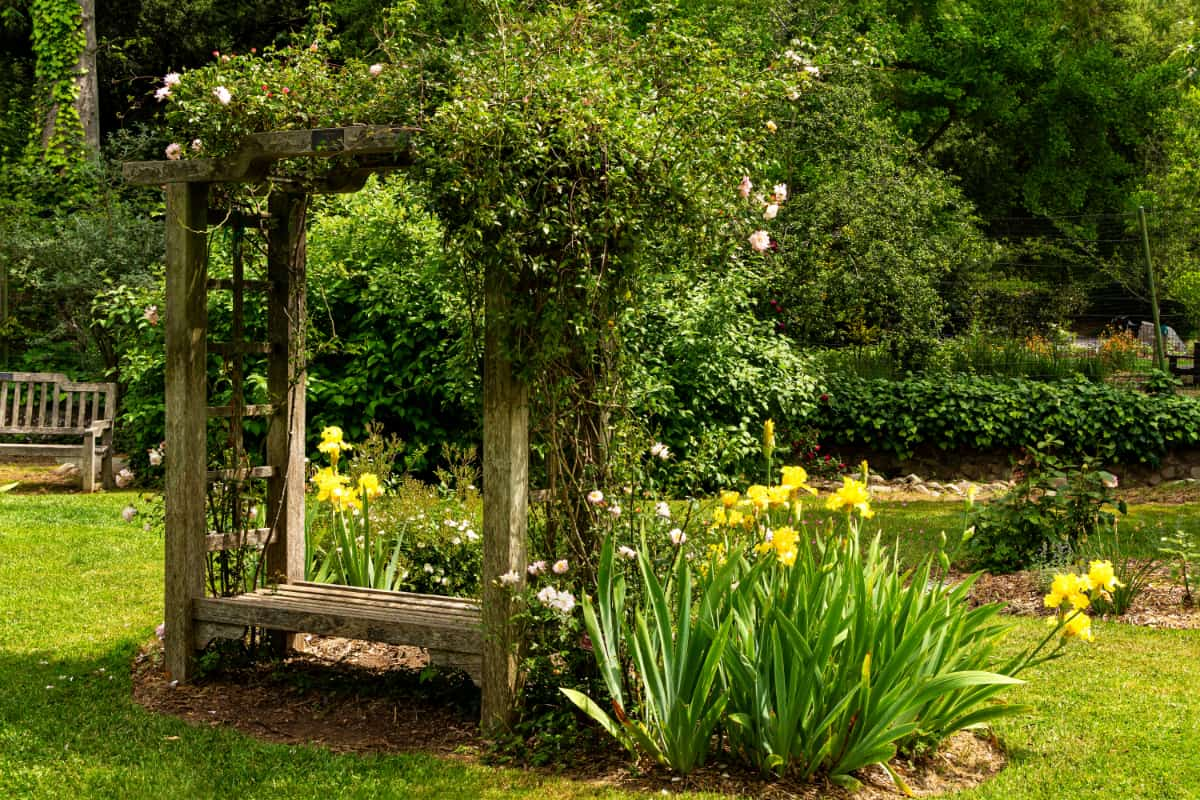 Placement
Because arbors are so small, you can put them anywhere in your yard. You can even have more than one if you want! They're perfect for creating cozy cubbies in your garden.
Designs/Styles
You can go the route of the ancient Romans and create fancy arbors. They constructed theirs out of stone columns and statues, so why not do the same with yours for an elegant feel?
Besides the traditional arbor, you can also get formal or gabled designs. The latter has a pitched roof and can be made from wood, metal, bricks or blocks.
For a style that blends into your landscape, go with a natural arbor, also known as a bower. Use your existing landscape to your advantage and create arbors from tree branches or rock formations.
Modern Customizations
Since they're so tiny and straightforward, there aren't many modern customizations for arbors. The most you can do is place seating beneath them or use them on top of a gate leading into your garden to embellish it.
Arbors – Pros & Cons
PROS
Simple to construct or assemble
Easy installtion
Can be placed anywhere
Affordable
CONS
Don't provide much shade
More decorative than functional
Don't expand outdoor living area
May not support all types of climbing plants
Get Outdoor Shade With Style
Taking advantage of your backyard can make your home feel a lot larger, especially if you can sit on your patio or lawn comfortably. To take full advantage of that space, having outdoor shade is a must.
Many of the structures we've listed here can also shield you from rain, wind and even pests. When you have them installed and experience them firsthand, you'll see exactly what you've been missing out on this entire time.
Want more coverage in your outdoor space? Then take a look at our options for umbrellas and shades now.