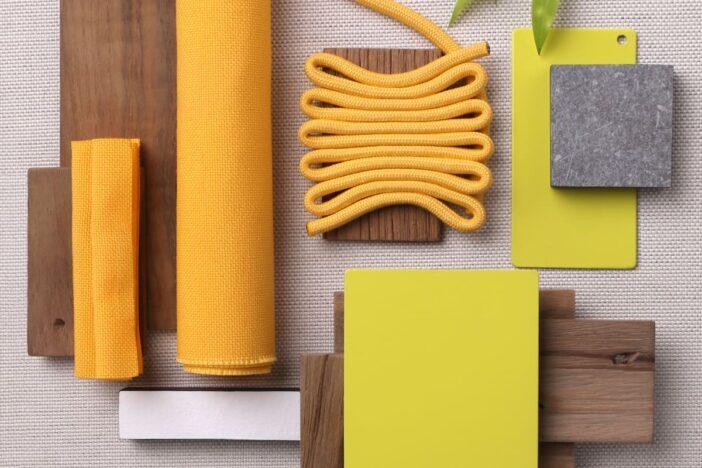 Take a drive down any neighborhood, and there's bound to be at least one or two houses that stand out to you. And chances are, it's because of the colors the homeowners have chosen.
Now think about your own house: is it striking, or does it blend into the homogenous row of homes? If it's the latter, then it's time to reconsider your home's exterior colors.
If you don't know where to start, then relax. We're here with an extensive guide, so your project will be a success!
Keep reading for what you need to keep in mind when sprucing up your outdoor area.
Color Psychology
Before you start splashing paint all over your house and filling the exterior with new things, you need to first understand color psychology. There's a reason why people gravitate toward certain hues; different colors make us feel a spectrum of emotions. So you don't want to inadvertently choose shades that'll make you and your neighbors feel upset or uncomfortable.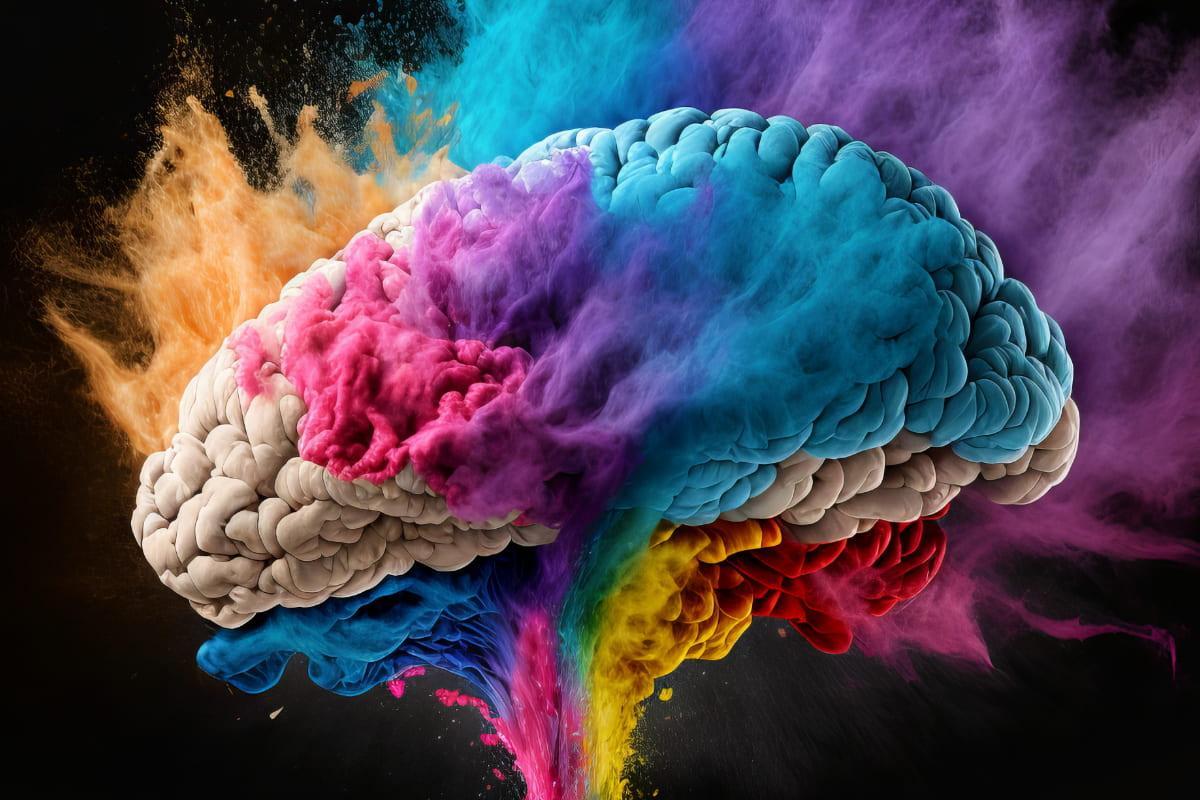 While it's true that your culture will influence your attitudes towards specific tones, there's still a general consensus on the feelings associated with certain colors. Here are some examples:
Black – Sadness and coldness
Red – Passion and love
White – Relief and truth
Blue – Relief and peace
Green – Nature and contentment
Orange – Joy and warmth
Yellow – Joy and hope
Purple – Pleasure and glamor
Pink – Love and earthiness
Color Therapy
Unsurprisingly, we've used color as a form of therapy (chromotherapy) all throughout history. We're not suggesting that you can get free therapy just from painting and decorating your house, but here are the ways colors have been used to heal:
Blue – Treat pain and some illnesses
Indigo – Soothe skin problems
Yellow – Stimulate the nerves
Red – Stimulate the body and increase circulation
Orange – Increase energy levels
Families of Colors
We now know that different colors can invoke various feelings and emotions. But it's also important to understand the families of colors, so when you pick a scheme, you'll stick to similar shades that'll make your home's appearance more cohesive.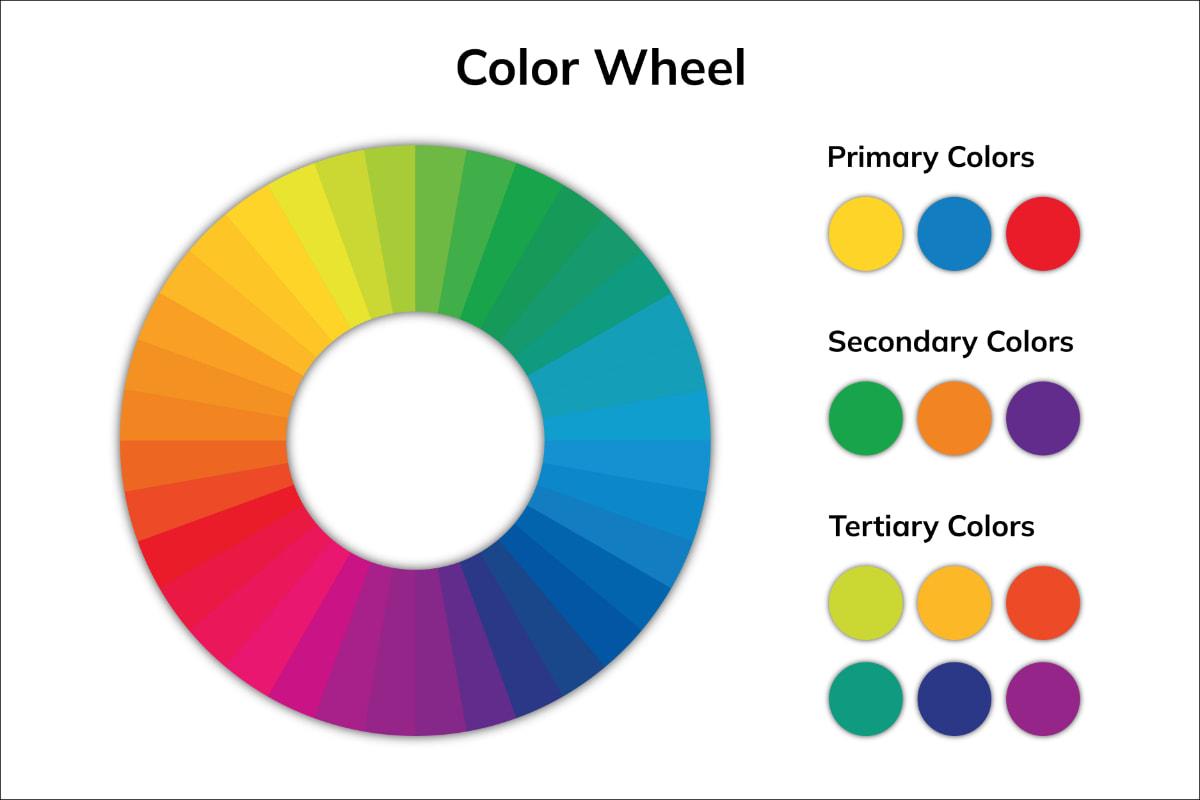 Here are the different groupings you should know.
Warm Tones
Warm tones are those that fall in the red area of the color spectrum. This means that the colors red, orange, and yellow fall under this category.
Depending on the specific shade, warm tones can make you feel anything from comfort to excitement or anger. Plus, one warm tone may make a wall stand out, while another may give a more neutral yet cozy feeling.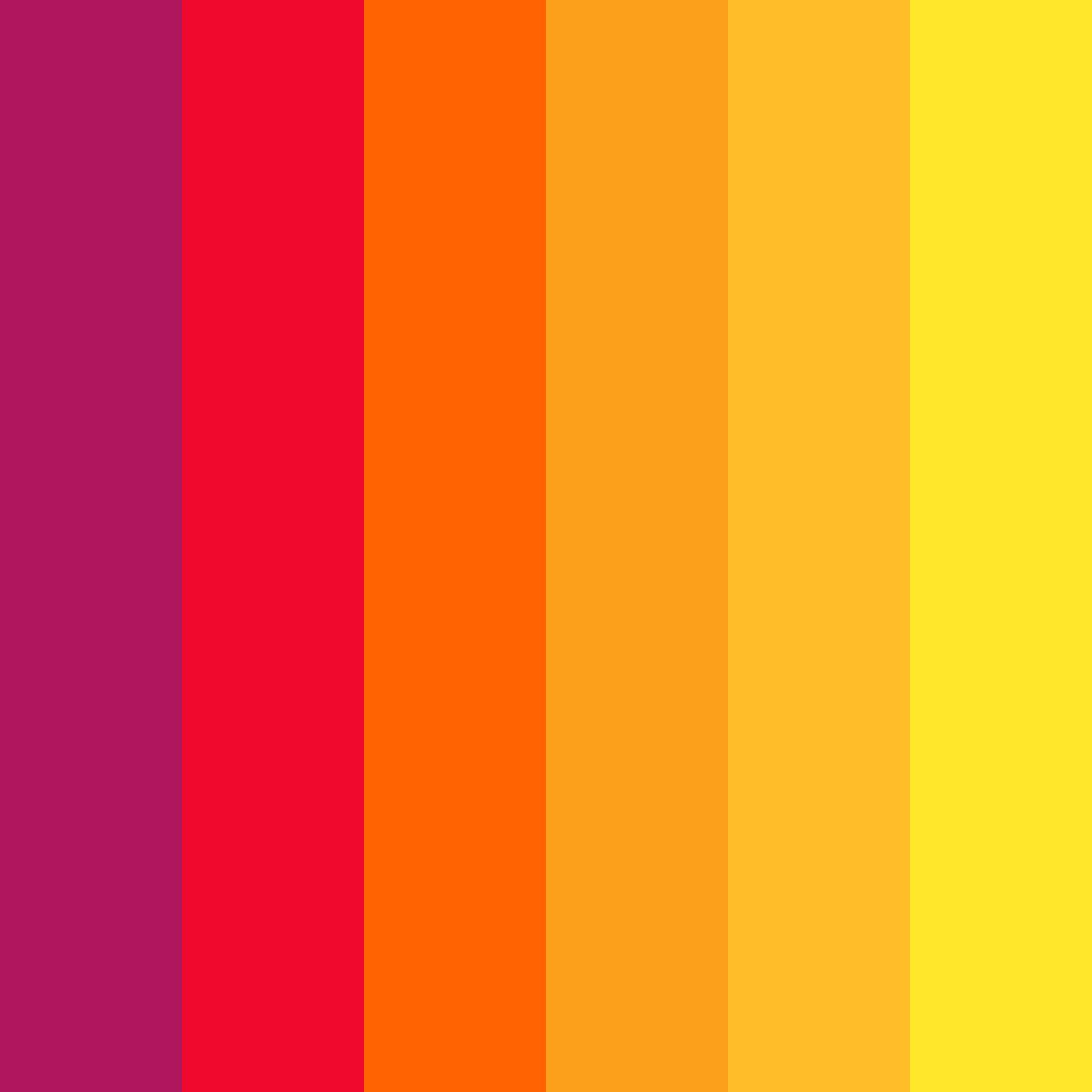 Cool Tones
Cool tones include blue, green, indigo, and violet. In general, they'll have a calming effect, and can remind you of freshness and nature.
These hues can be more vibrant than warm tones, so this color family can be ideal if you want to make your house stand out.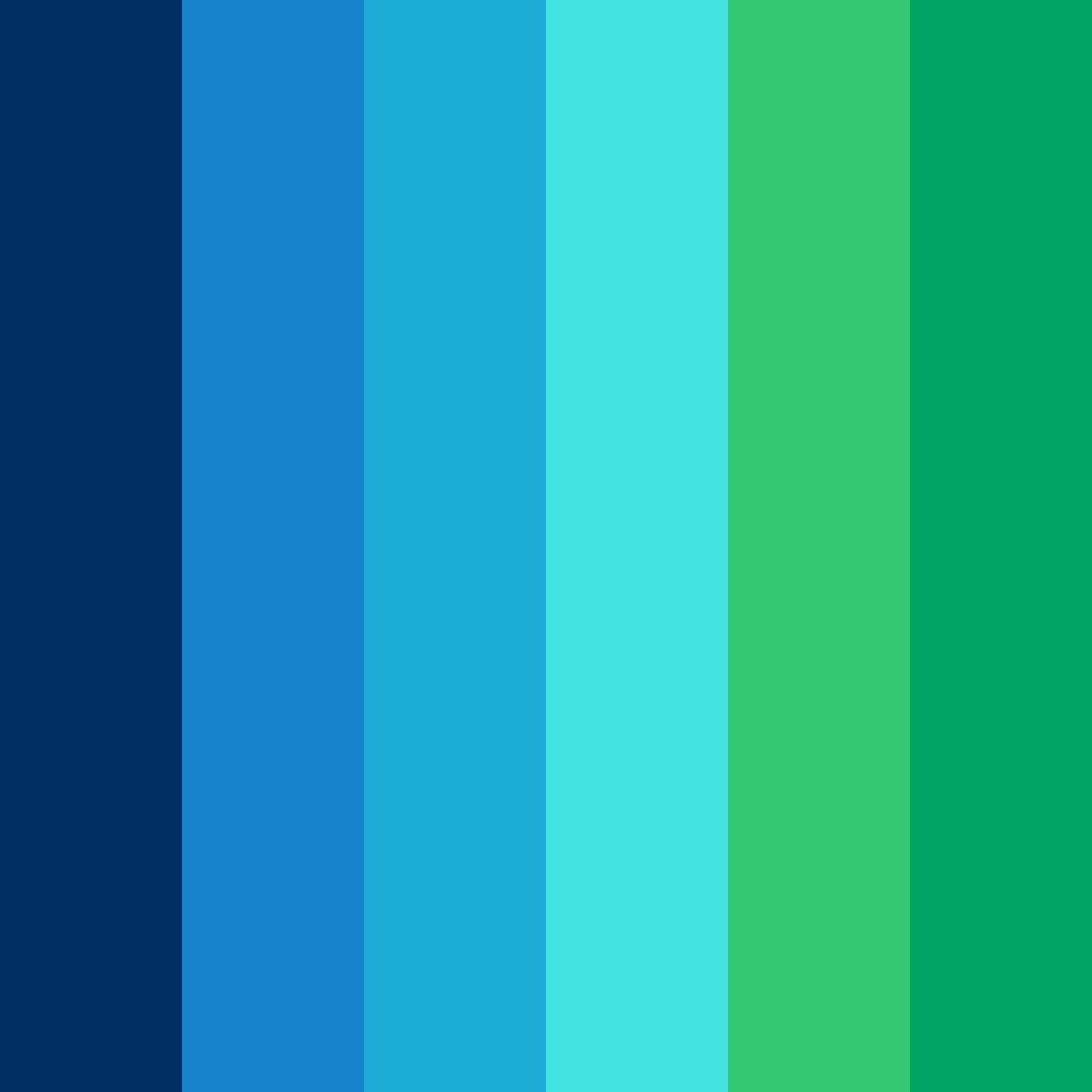 Neutral Tones
As the name suggests, neutral tones fall between warm and cool tones. However, don't mistake that for boring! In fact, many neutral tones have underlying shades that change with different lighting, which can give your home a unique appearance.
Colors that fall in this color family include black, white, gray, cream, brown, taupe, and beige. They're typically used to complement primary and secondary colors, such as red, white, blue, green, and purple.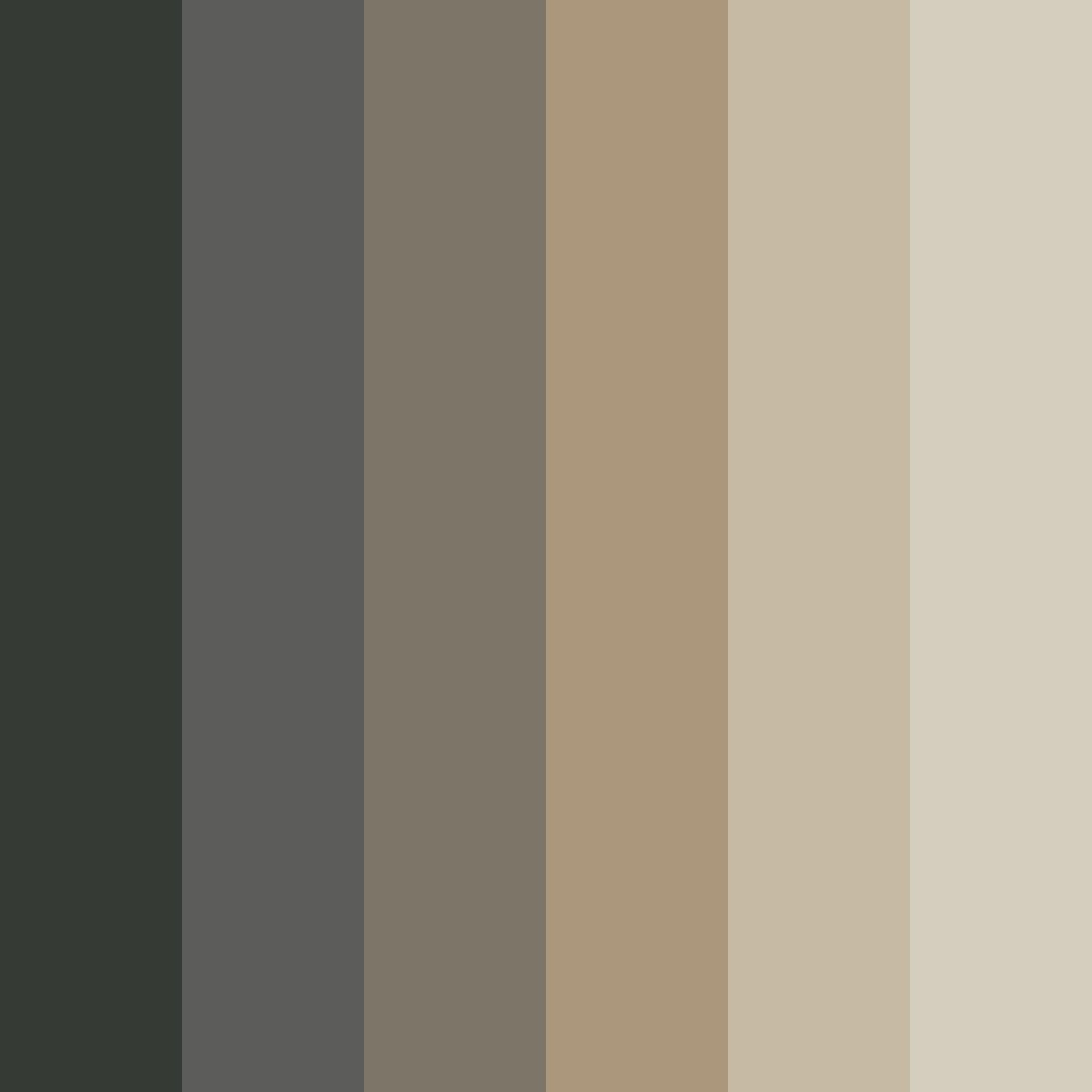 Earth Tones
Earth tones lean on the brown side of the color wheel since that's the color of dirt and soil. So think of hues like sienna, umber, and ochre.
Generally, these colors are used in a neutral way to highlight other aspects of your home.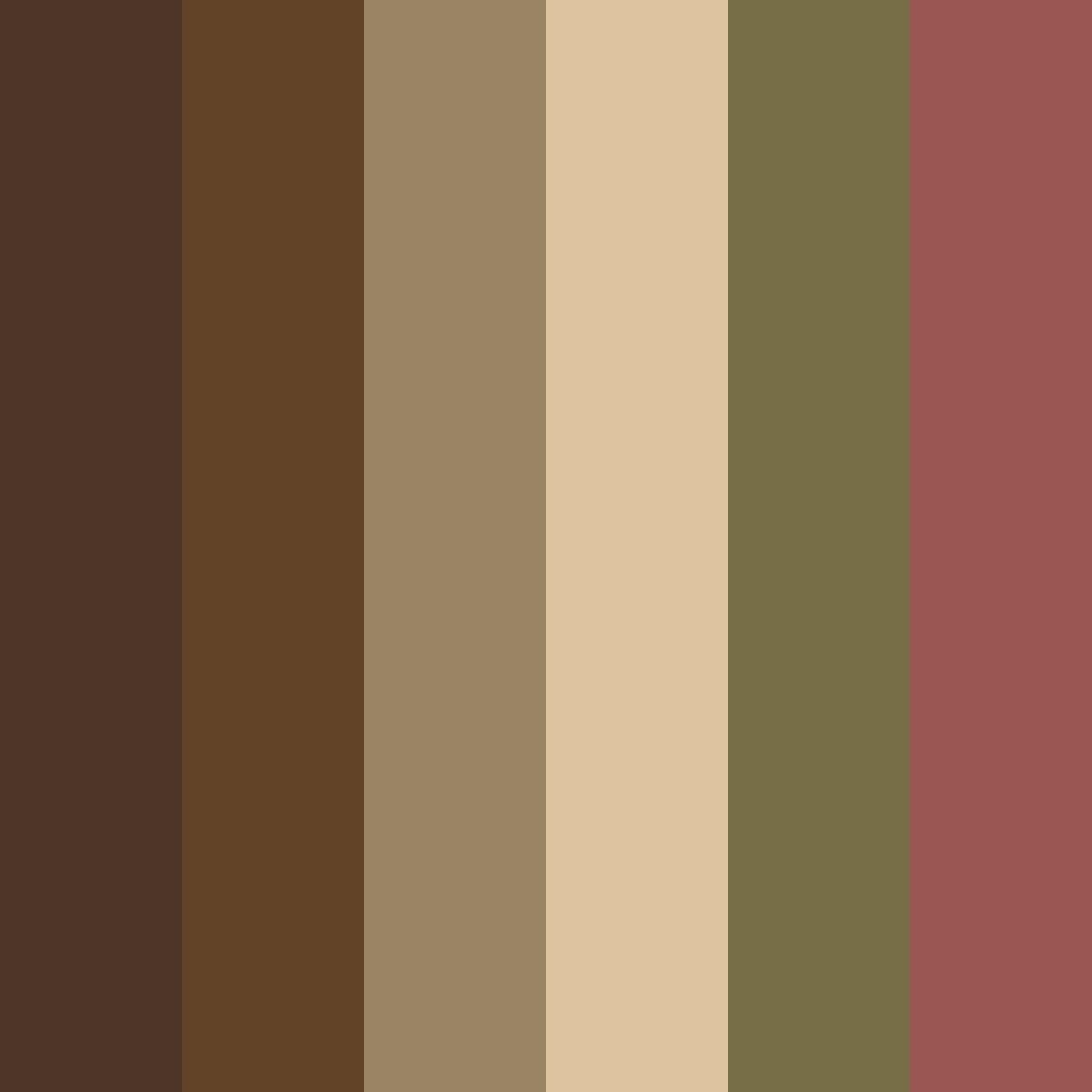 Jewel Tones
As you might've guessed, jewel tones are much flashier than earth tones. Some eye-catching colors include emerald, sapphire, and ruby.
Flashy doesn't necessarily mean bright though. In fact, many jewel tones are rich and warm, giving you the perfect balance of "look at me!" and "I'm not here."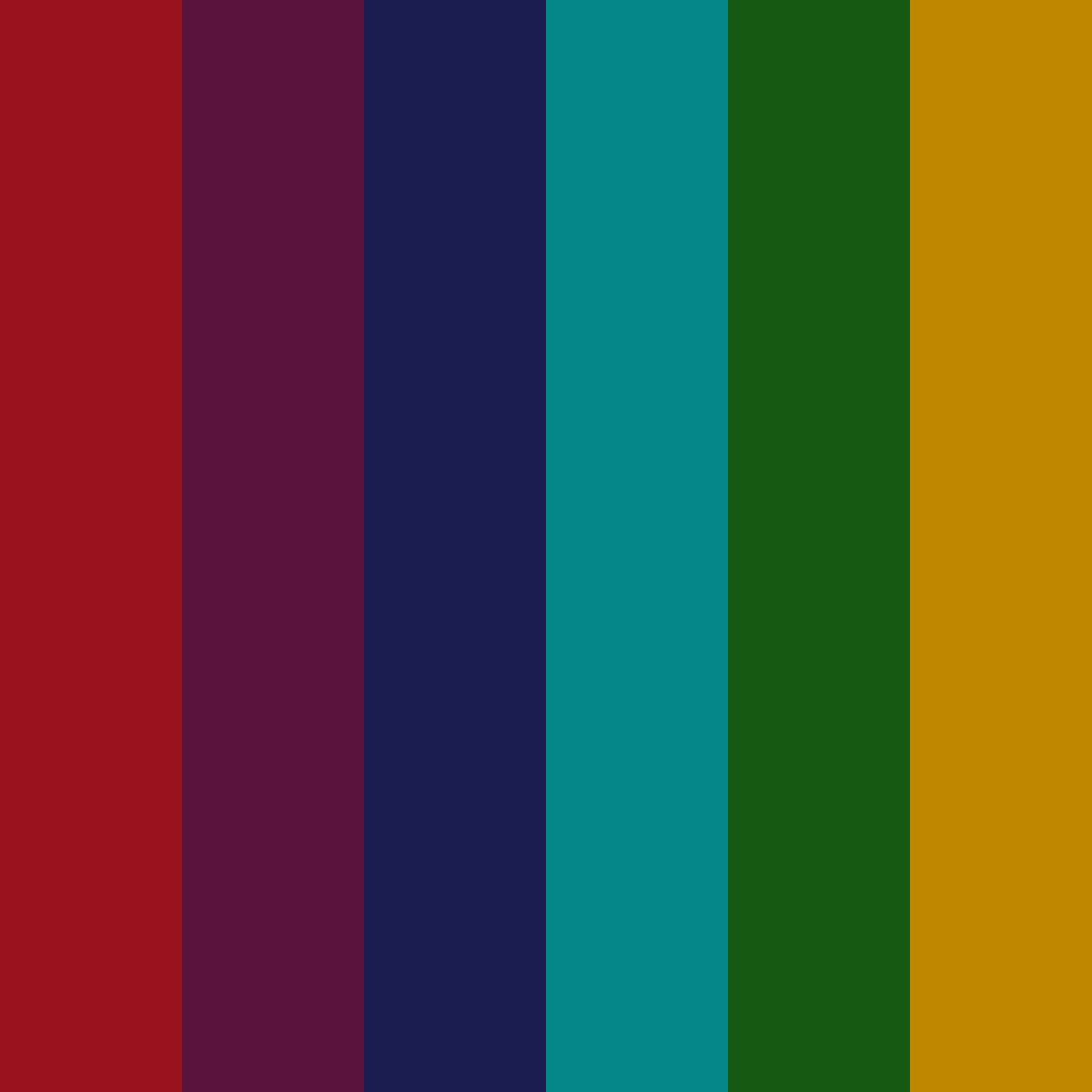 Coordinating Colors
You might have a general idea of which colors you find appealing and which to keep off your list. But they won't always go with one another, especially if they fall into different color families.
If you don't mull over the details, then you might end up with a mess. Below are the things you need to consider so your exterior colors don't clash.
Your Home's Fixed Colors
There are elements of your house that are fixed and you can't change, not unless you want to go through a major home renovation. So you need to work around these things and match your home's exterior colors to them.
The main things you should look at are the brick, stonework, window trims, and roof color. Make sure the colors you select complement these things.
Your Neighborhood's Colors
Take a look around and see which hues your neighbors are using. You can take a page from their book and upgrade your house in a similar fashion, especially if you want to fit in.
On the other hand, you can go the opposite way and make your property the main attraction on the street. For example, if all properties are painted in a neutral tone, you might want to go for a jewel tone for a stark contrast.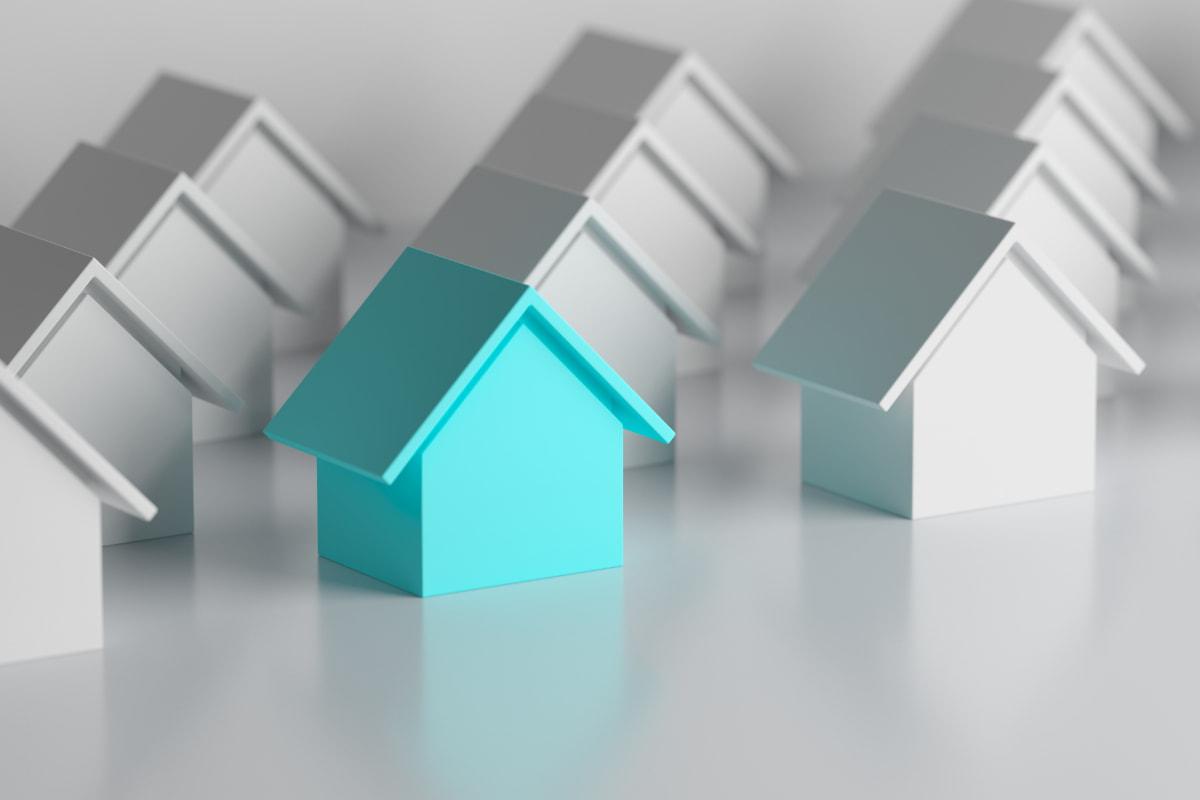 Do note that if you're in a homeowners association, you'll probably have restrictions on the paint colors you can choose. In that case, you can do a quick search to see which color schemes are allowed.
Your Home's Style
Not every color will look right on a home, even if you're trying to be unique and different. There are architectural styles that just don't suit some tones.
For example, Victorian houses usually look great in neutral colors instead of bold ones. And ranch-style houses will look terrible with pastel colors.
If you aren't sure what hues are suitable for your home's style, then browse some pictures online to get some ideas. You can also drive around town and snap some pictures of similar houses.
Don't forget about your home's size either. Avoid dark tones when painting large properties since they'll appear ominous. And on the other hand, avoid light tones for small houses since they'll appear to be floating away.
The Landscape
Your landscaping can have a huge influence over which exterior colors will work (and which won't).
For a lush backyard full of plants, you'll want to complement this by choosing earth tones. Pastels, soft neutrals, and green shades work here too.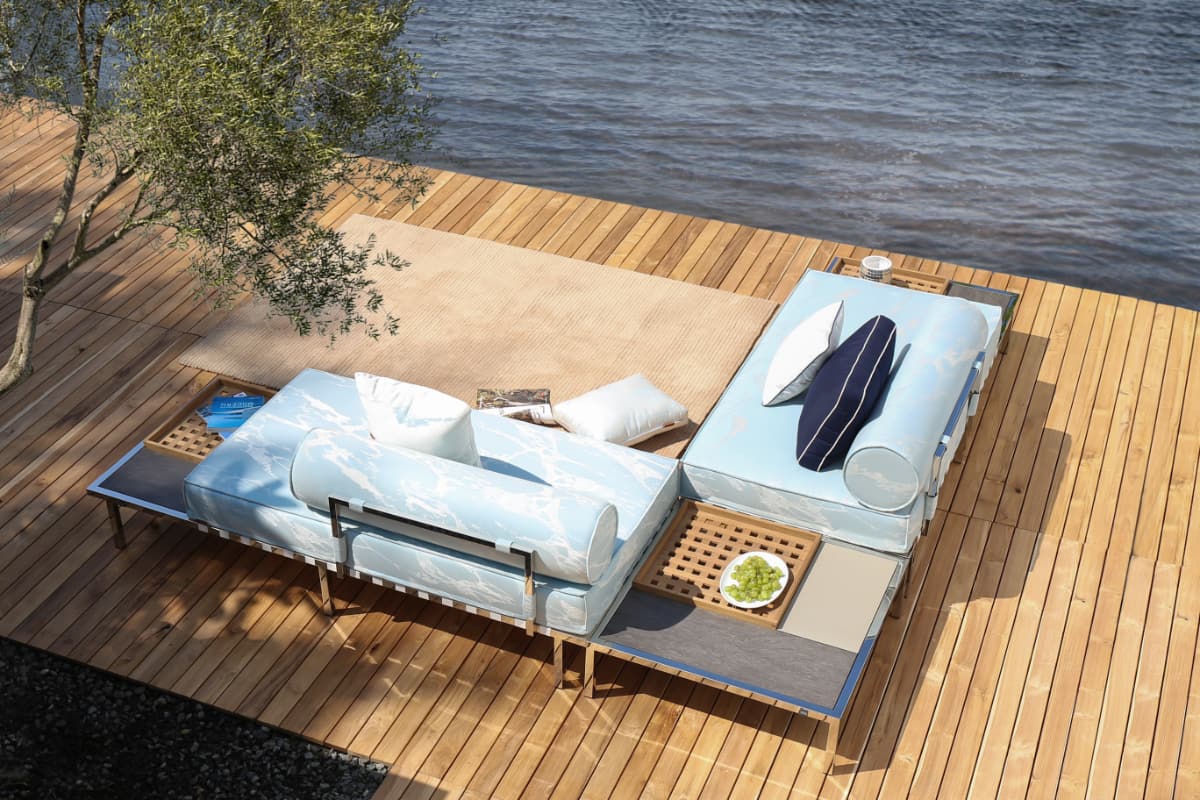 In a more concrete yard with things like stainless steel patio furniture, you'll want to go with neutrals. And in a neatly and rigidly designed landscape (such as one with rows of planters), you'll want to perk things up with bold colors and accents.
The Number of Colors Used
Remember that list of colors you love? It's time to slash things down, at least for your home's exterior walls.
At the most, you should only use two colors. If you go with one and feel like it's too monotonous, you can expand your palette by using its different shades.
The exception to this is when you're selecting smaller items, such as plant pots, lamps, and lanterns.
Balancing Colors
Not only should you stick to two colors max, but you should also have both warm and cool colors. This isn't the same as using both equally though!
For instance, you can pick warm tones to be dominant, then accent things with cool tones. This can keep things interesting and create depth and dimension.
You should also have the color wheel handy. In general, choosing colors next to each other or across from one another is good!
Where to Incorporate Outdoors
Don't just pick a color and slap it on all over your house. This is guaranteed to result in a boring appearance.
Instead, check out these outdoor elements, how you can select the right colors to go with them, and where to use them.
Outdoor Kitchen
Do you have a contemporary and modern outdoor kitchen? Then chances are, it's monochromatic. In that case, having an accent wall would draw attention to the area.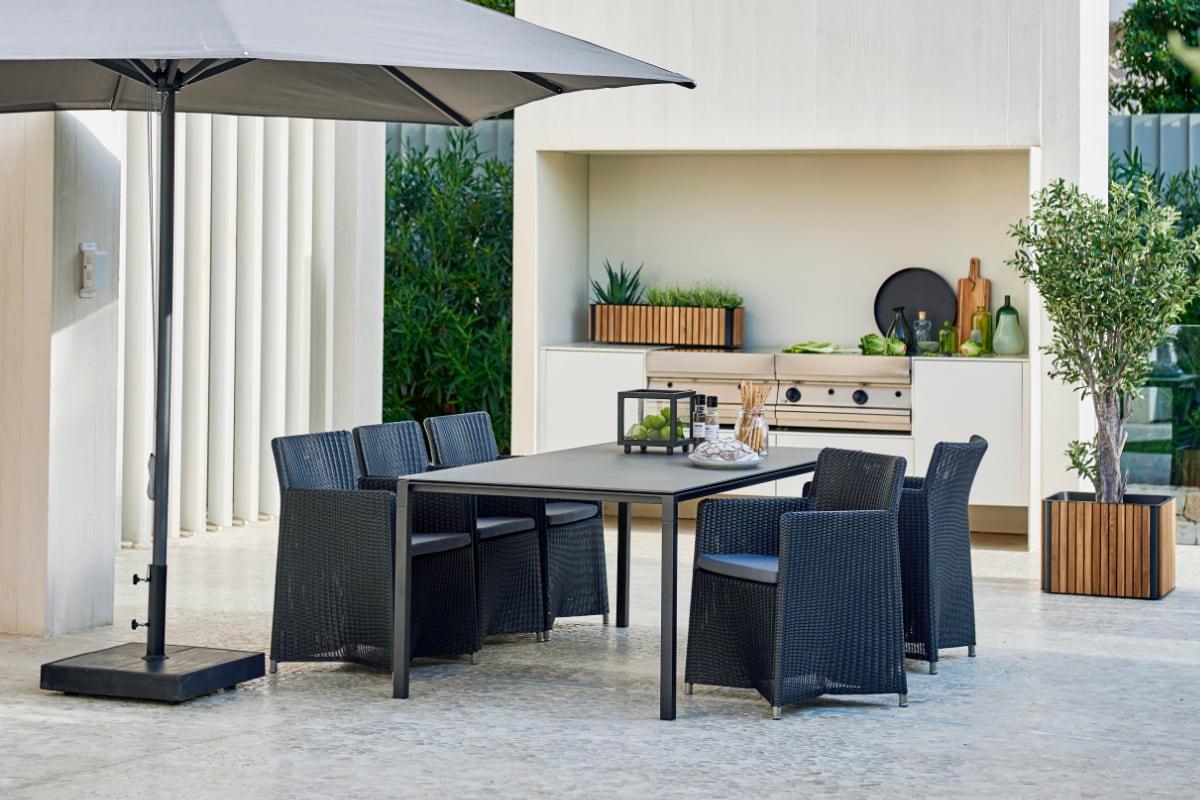 Conversely, if your outdoor kitchen's filled with intricate and elaborate appliances, then you'll want to keep things simple and draw attention to your appliances and dining set. Earth and neutral tones would work well here.
If your outdoor kitchen is located on a patio or deck, then consider keeping things interesting by contrasting the flooring color with the surrounding walls.
Pool
Most homeowners opt for plain concrete in their pools, but that's so dull. You want your pool to be spotted from a mile away!
The best choices are cool tones, such as sapphire blue, crystal blue, ebony blue, and aquamarine. You'll feel like you're in tropical waters each time you dive into your pool.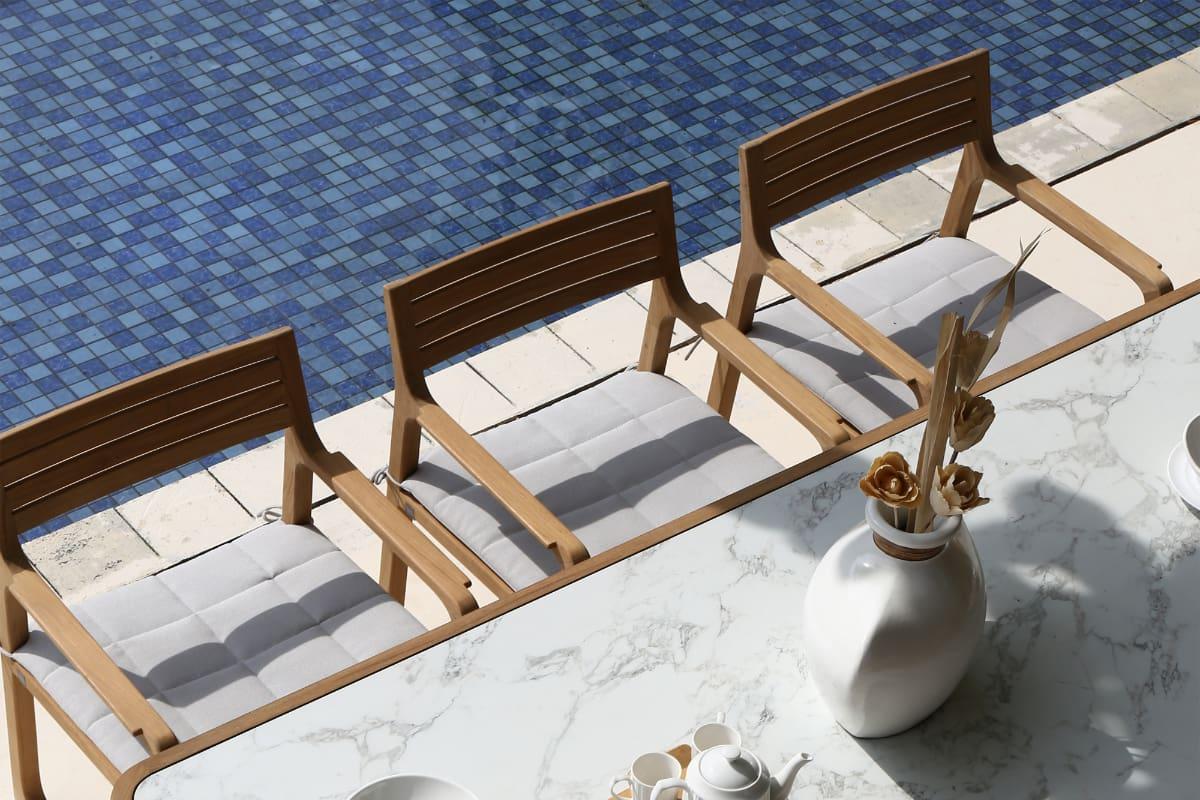 You can then complement the blue hue with white tiles surrounding your pool. They'll emphasize and accent it to create a focal point in your yard.
Fireplace or Fire Pit
The draw of fireplaces and fire pits is the red-hot flame within, so you don't want to detract from it. That's why it's optimal to get neutral or earth-toned fireplaces and fire pits, as they'll have a bold look without dampening the fire's amazing effects.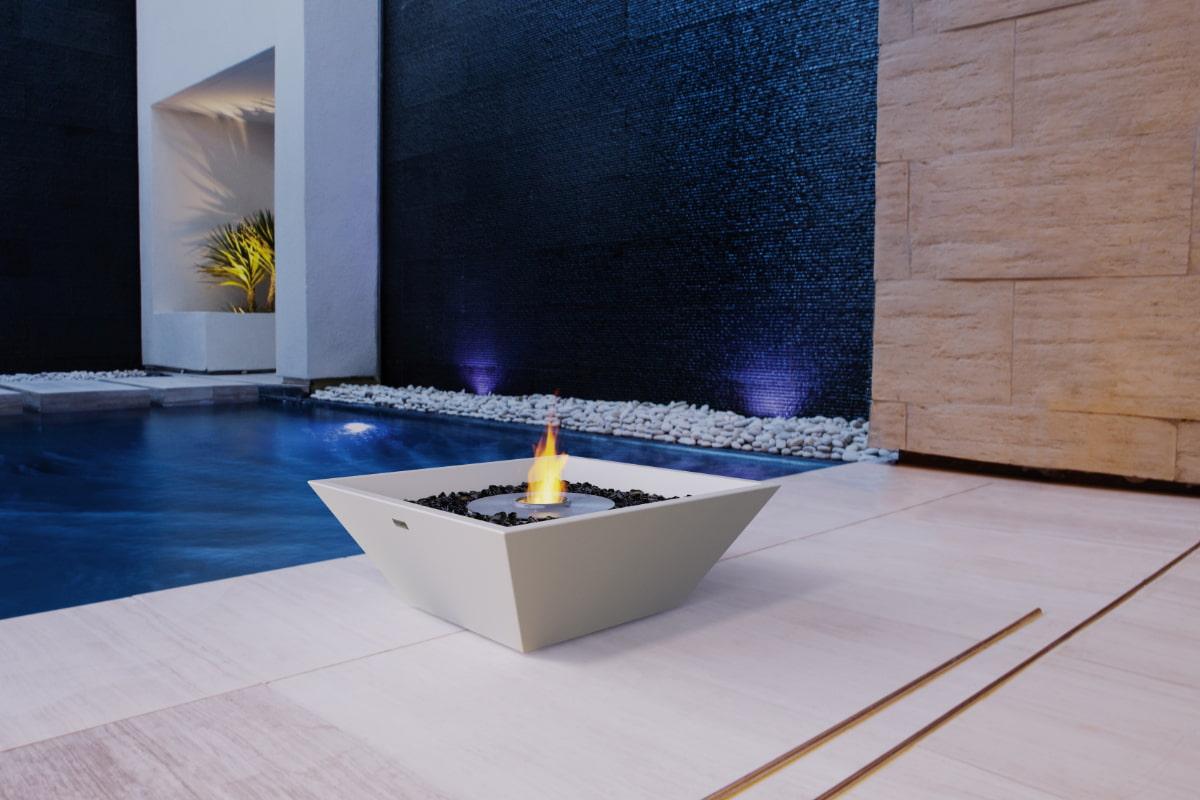 You can choose anything from white and cream to gray, black, sienna, or dark brown. Just make sure that the color you select matches or is the opposite of the surrounding furniture.
If you feel like that's too simple, then pick some accents and bandings in contrasting shades to make your fireplace or fire pit shine.
Umbrellas
Most people buy black patio umbrellas because it's the most effective color at blocking out UV rays. Other dark hues work too, such as midnight blue or pine green.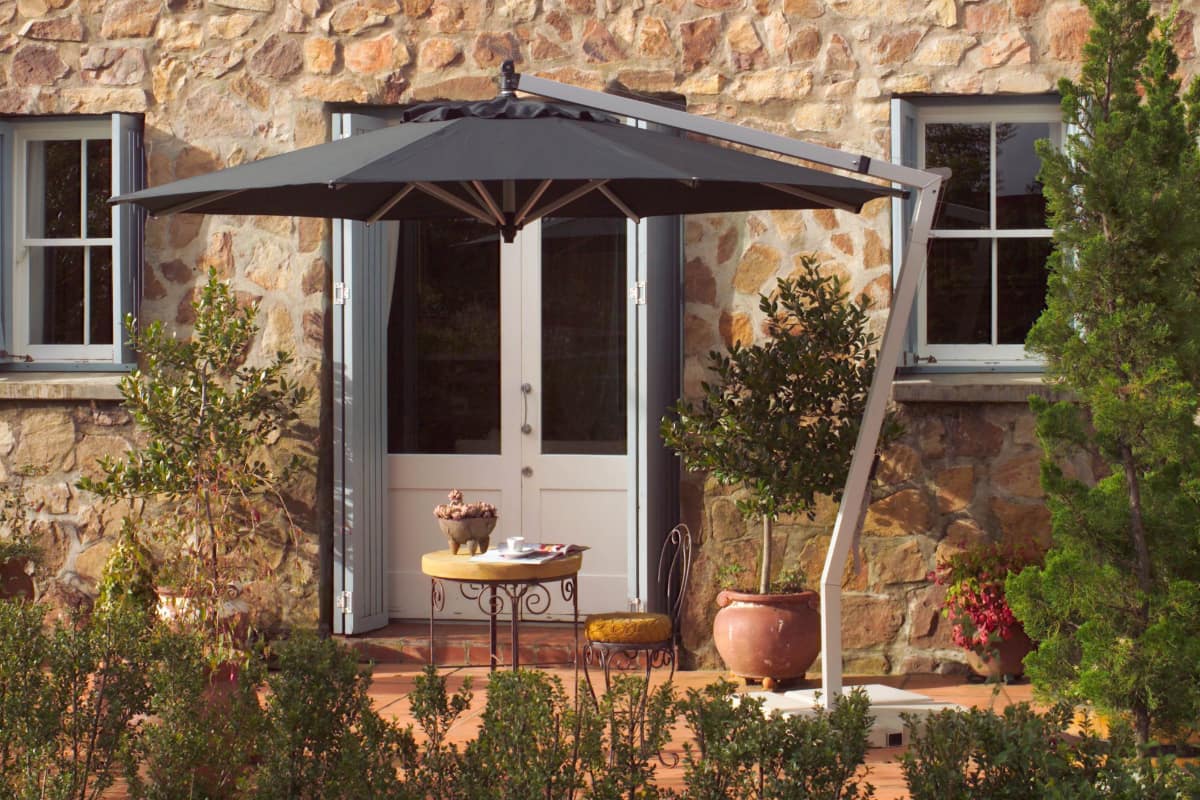 Otherwise, if you're more focused on aesthetics, green and yellow are excellent choices, especially if you have lots of greenery in your yard. White's also very versatile, so you can switch up your yard's appearance without worrying that the umbrella won't fit in anymore.
Furniture
There are so many pieces of outdoor furniture that the purchasing process can be overwhelming. Not only do you need to decide on which pieces to get, but you also need to figure out what style you like and what color scheme works too.
Take a deep breath and start with the table, as it's the largest item. Once you've chosen one, you can then move on to the seats.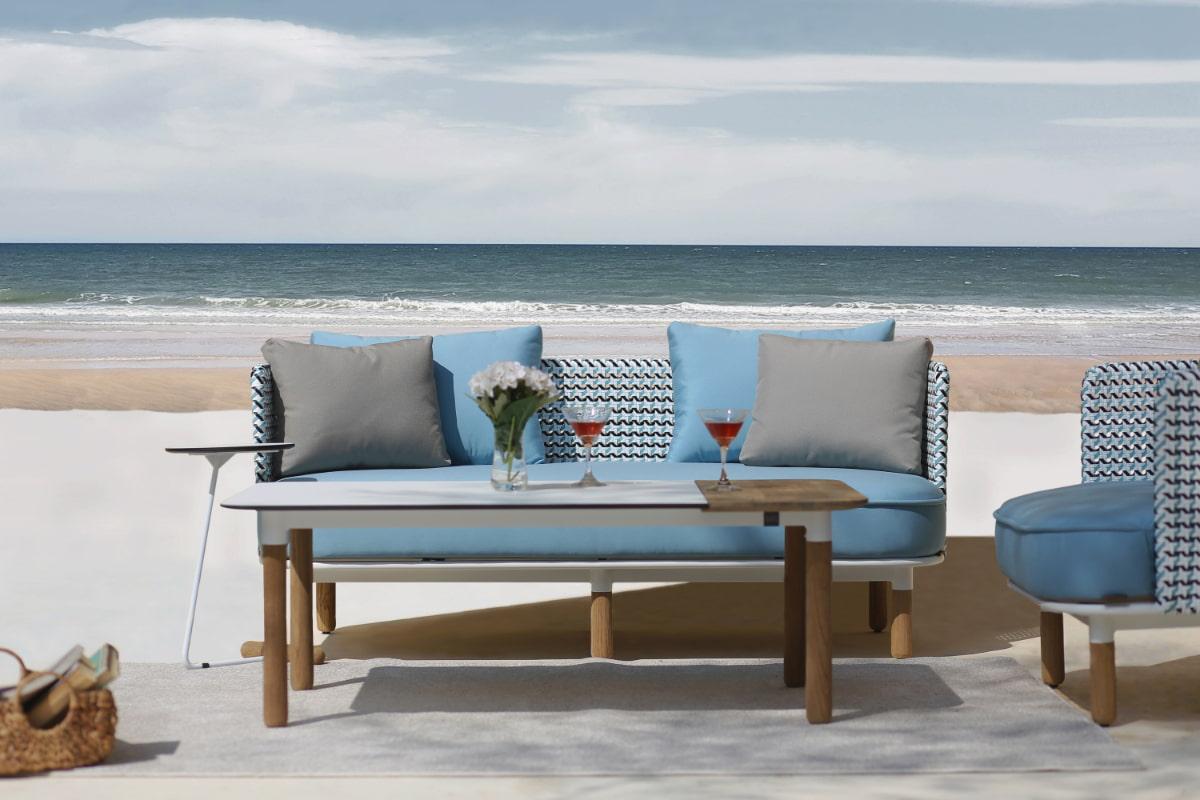 Generally, you'll want to have at least two chairs that are the same color as your table. For a small set, stick to two colors max. You can push it to three for larger dining sets.
You can also add a pop of color by spreading an outdoor rug below your table or sofa.
Some Additional Tips
Maybe you're set on a color scheme after reading the above. But fully committing and painting your home's exterior would be a mistake.
Always get color samples and paint large swaths of your walls. Leave them to dry, then come back to look at the results at different hours of the day. Make sure you note how the paint looks in the sun vs the shadows too.
Also, when choosing furniture and other accessories, paint your walls afterward instead of before. It's much harder to find the perfect items, so once you've jumped over that hurdle, it'll be a piece of cake to decide on paint colors.
Choose Exterior Colors Like a Pro
A few splashes of color can be all it takes to make your home look new again. But instead of the drab ones you had before, why not try something new?
Picking out exterior colors that suit your landscaping and home features can instantly change things for the better. And with the new knowledge you have from reading this article, you can make those purchases with confidence!