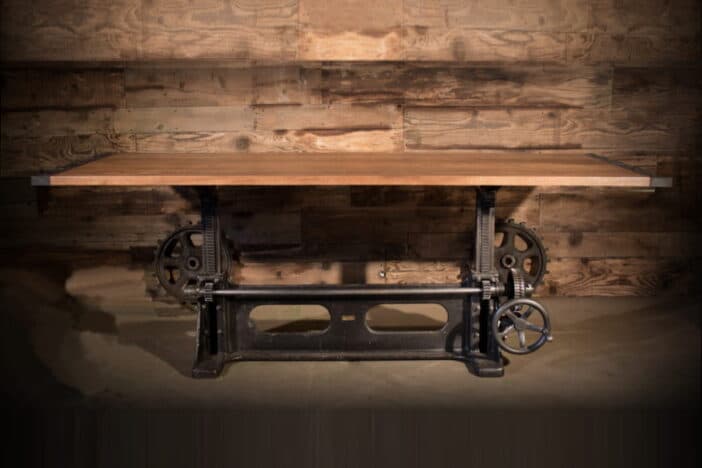 Art, interior design, and decor often influence each other, blending aesthetic and theme to reflect the notions of the day on style and artistic integrity. Industrial design is no exception, created to reflect the trend of putting engineering on a pedestal.
Industrial design styles – Celebrations of raw beauty
Industrial design draws attention to raw and building materials to celebrate their manmade beauty. Most of the materials featured in this style can be mass-produced and have a historical quality to them. Items may be created to look like they're from a factory or even repurposed from an industrial environment to accentuate the beauty of working machines and aspects of engineering. Where other interior design movements hide the components of a building's skeleton, industrial design celebrates them, revealing the beauty of exposed brick walls, metal piping, and other raw elements.
Features of industrial decor
Because industrial design honors human engineering and building materials, most of the rooms created in this style will have certain key identifiers, including:
Exposed brick or stone walls
Exposed beams, pipes and ducts
Exposed rafters
Frequent use of metal, wood and stone
Vintage accessories
Distressed finishes
Building-themed accessories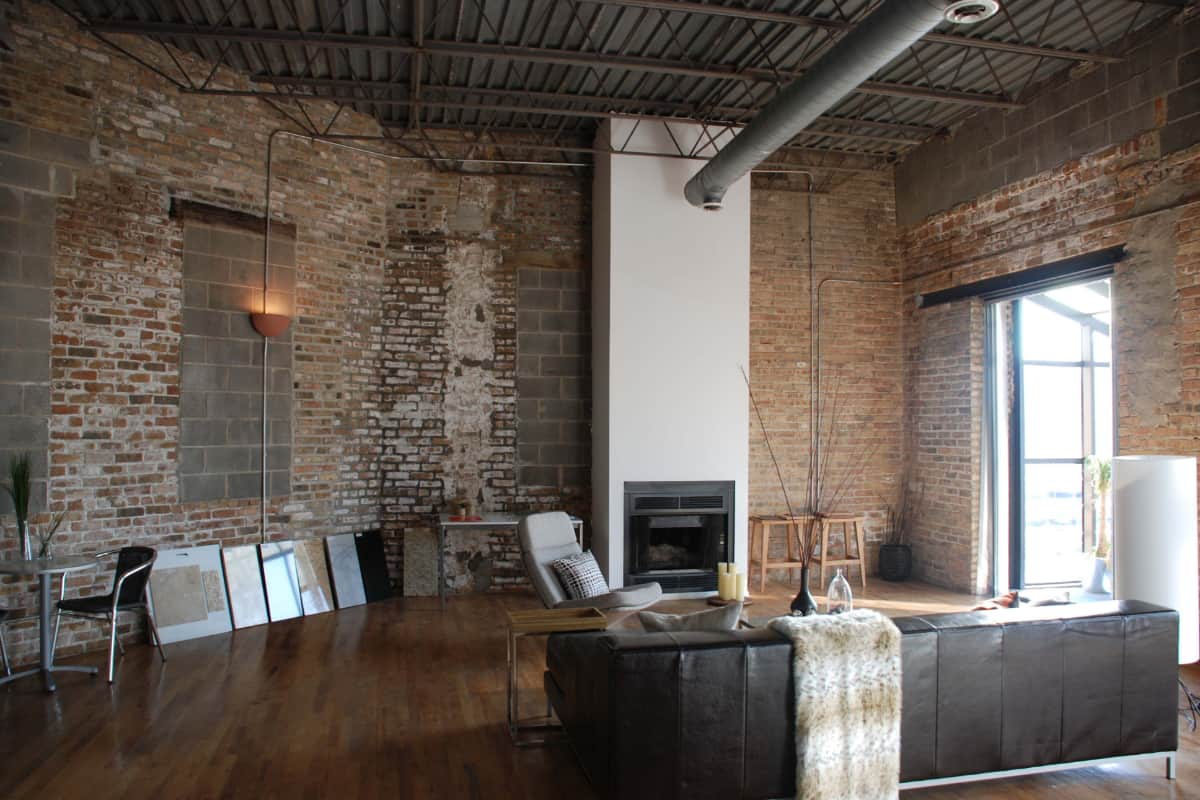 What's really interesting is that industrial design also refers to the conception of products (like appliances or fixtures). The drawing and creation of goods and the design of industrial interiors go hand in hand.
A history of industrial design
With modern construction's ability to create a finished and pristine look in any living space, you may wonder why industrial design seems to turn back the clock and reveal the messier skeleton of your home – in the past, exposed pipes may not have been touted as a good decor choice, but now they are featured centerpieces in the home. We'll explore how the trend began and become the popular style it is today. Knowing the history and development of this movement could shed light on its philosophies and design choices.
The early days
As the name suggests, the industrial design movement was born of the Industrial Revolution, which took place between the late 1700s and mid-1800s. As Europe began mass-producing goods and constructing bigger and sturdier buildings, its citizens admired the capabilities of mankind. Nowadays, owning a handmade item can be luxurious, but in the days of the Industrial Revolution, machine-made goods were in vogue. Not only that, but according to The New York Times, many people even thought of the mechanized culture as a "new divinity."
By the late 1920s, the world had entered the Machine Age, so named for the boom of industrial construction and innovation. In this time, society transitioned from being dominated by rural communities to one ruled by urban centers.
Entering art and design
As the Machine Age caused people to admire their new, technological era, art and design began to produce works that shared the same mindset. Modern industry created international unity, as countries around the world could all build skyscrapers and mass-produce home goods.
All those products and buildings needed to have a form, and many creators used artistic designs in their products. From automobiles with a stylish exterior to chairs that made use of military-grade webbing, inventors and artists applied style to functional pieces.
Industrial design even became a job title, as used by such designers as German architect Peter Behrens, whose take on urban design included a mixture of beauty and function. Likewise, Louis Lozowick, a Russian painter and printmaker whose art follows the art deco and precisionist movements, drew heavily from the industrial, urban settings he observed.
Influenced throughout time
While art deco influenced industrial design in the '20s and '30s, other movements impacted the look. From the space-age imaginings of the '50s and '60s (think Walt Disney World's Tomorrowland) to the clean and smooth lines of modern tastes, the work of industrial designers has influenced contemporary interiors.
Subgenres of industrial interior design
Through visionary builders, artists and inventors, industrial interior design was born. Over time, it's branched off to form subgenres. Here's a look at a few of the design movements associated with industrial decorating:
Steampunk
Also called alternative history, the steampunk movement is inspired by the Industrial Revolution and fiction writers, including Jules Verne (and his classic "20,000 Leagues Under the Sea") and H.G. Wells (and his novel "Time Machine"). Steampunk creates a world in which steam is used to power modern innovations. As such, steampunk art features anachronistic technology like computers dressed up to look like they belong during the late nineteenth century. These retro-futuristic inventions are rich in texture and pique one's curiosity with their peculiar designs. What's more, the movement is inspired by the designs of Victorian England and the American West, when the Industrial Revolution was in its heyday. Many avante garde filmmakers incorporate this rustic industrial style in movies set in this era. Films such as "City of Lost Children" and "Wild Wild West" celebrate the mechanical wonder of steampunk.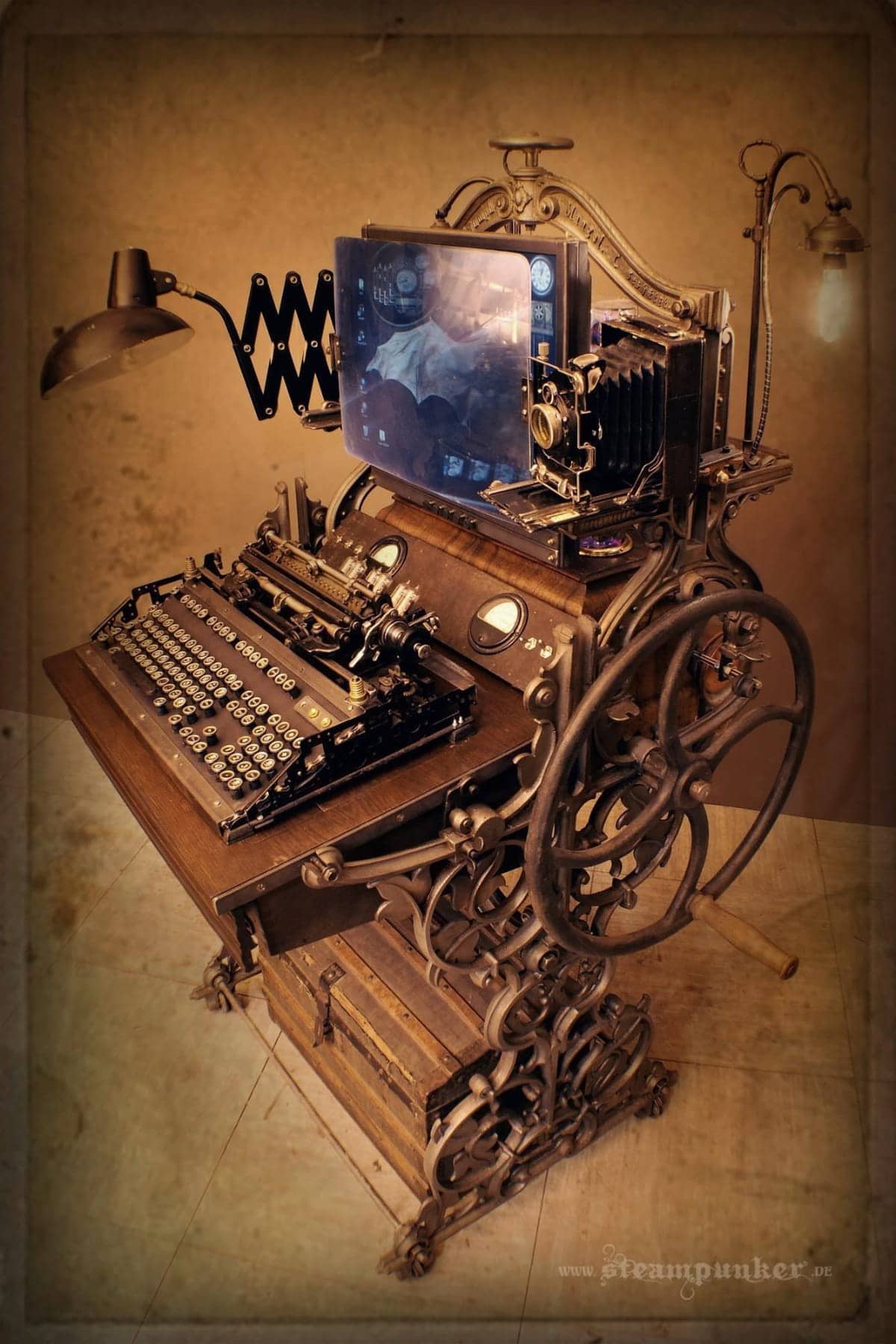 Common steampunk motifs
Cogs, wheels and gears
Metal
Victorian design and dress
Rust-like color schemes
Mechanized versions of natural life
Urban
While steampunk takes industrial design back to the Victorian era, urban interiors are more modern. Imagine loft apartments with exposed ductwork or upgraded factories used for a trendy new restaurant. Urban design brings together the beauty of industry with the convenience and energy of a metropolitan area. That concept is something we're familiar with today, as popular urban buildings include loft spaces and other such industrial features.
Things in an urban interior
Reclaimed wood furniture, light fixtures, etc.
Exposed elements such as light bulbs, ducts, pipes and rafters
A mix of vintage and modern design
Machine Age
Also called vintage industrial, the Machine Age refers to an older style of industrial design. The movement picked up just before the 1920s (when art deco became popular) and was an influential design style into the 1940s. During this time, advertising boomed as well, as producers wanted to drum up demand that met production speed. Machine Age interiors sometimes even feature advertising art, as well as other elements.
Features of machine age decor
Vintage furniture, lighting and art
Mass-produced items, like lamps, chairs and accessories
Art deco pieces
Exposed brick walls
Reclaimed wood
While industrial design has some offshoots, they certainly share similarities, such as vintage and reclaimed pieces and an emphasis on building materials.
Influential figures
The work of architects and designers helped define industrial design. Their buildings and furniture celebrated the might of human engineering, and their early influence can still be seen in interiors today. Here are some of the big names in industrial design:
Peter Behrens
Born in 1868 in Germany, this architect and painter is known for his industrial concepts. When he first began his career, he mainly created designs that were definitive of the art nouveau movement. However, as he progressed, he moved toward industrial concepts and was later recognized as the father of modern objective industrial architecture and design.
Charles Sheeler
This American painter and designer was born in 1883. Throughout his life, Sheeler traveled through Europe and attended several design schools, including the School of Industrial Art in Philadelphia. Much of his work featured modern buildings and industrial production. He even famously photographed Ford Motor Company's River Road plant.
Iconic pieces of industrial design
From automobiles to furniture to electric home appliances, the items that have influenced industrial design certainly run the gamut. Here are some important innovations that changed the way interior designers look at building materials:
MT 8 Table Lamp
While it's not as big or unmistakable as the Home Insurance Building, the MT 8 Table Lamp is the first true example of furniture influenced by industrial design. The simple lamp features a metal stand, perfectly straight neck and a large orb at the top, which houses the bulb. The lamp's simple, raw look and use of modern construction materials makes it a perfect example of vintage industrial design. Timeless in popularity, this piece still remains industrial chic in the current era.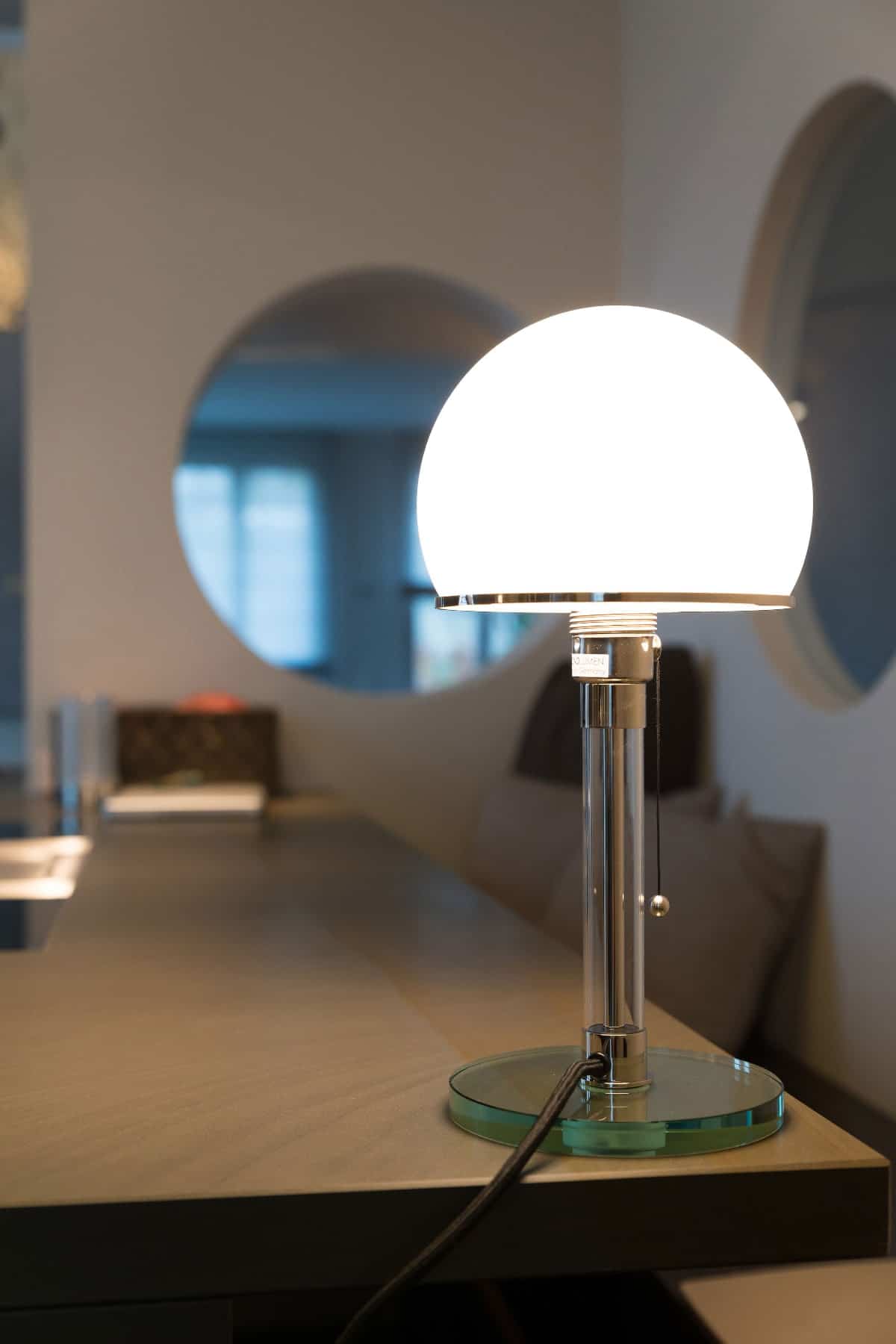 Home Insurance Building
Constructed in 1885 in Chicago, the Home Insurance Building is the world's first-ever skyscraper. Architect William LeBaron Jenney used an innovative combination of columns and steel bars to construct the 10-story building – quite industrious, might we add. The use of steel is now prevalent in the construction of skyscrapers and is a staple in industrial interiors.
Examples of modern industrial style furniture & architecture
While the Machine Age might be over, industrial designers still have a huge impact on modern interiors. We're moving away from heavy lines and clunky materials to more sleek looks that cut out any excess. Here are some noteworthy modern products:
Sine Chair
Simple in design but bold in innovation, the Sine Chair was created by famous industrial designer Marc Newton. The back and seat of the chair are each shaped like guitar picks and are utterly smooth. With two bending metal bars acting as the legs, the Sine Chair sits at the height of minimalism. Newton is considered one of the great industrial designers of the 21st century. Additionally, he has been hired by famous companies like Apple and Ikepod​ to design the look of products.
Swiss Re headquarters
Located in London, the Swiss Re headquarters building is an industrial architectural marvel. Norman Foster designed the bullet-shaped building, which features spiraling, diamond-shaped windows and frames. The entire exterior is coated in glass, and the building's diamonds create a sense of movement.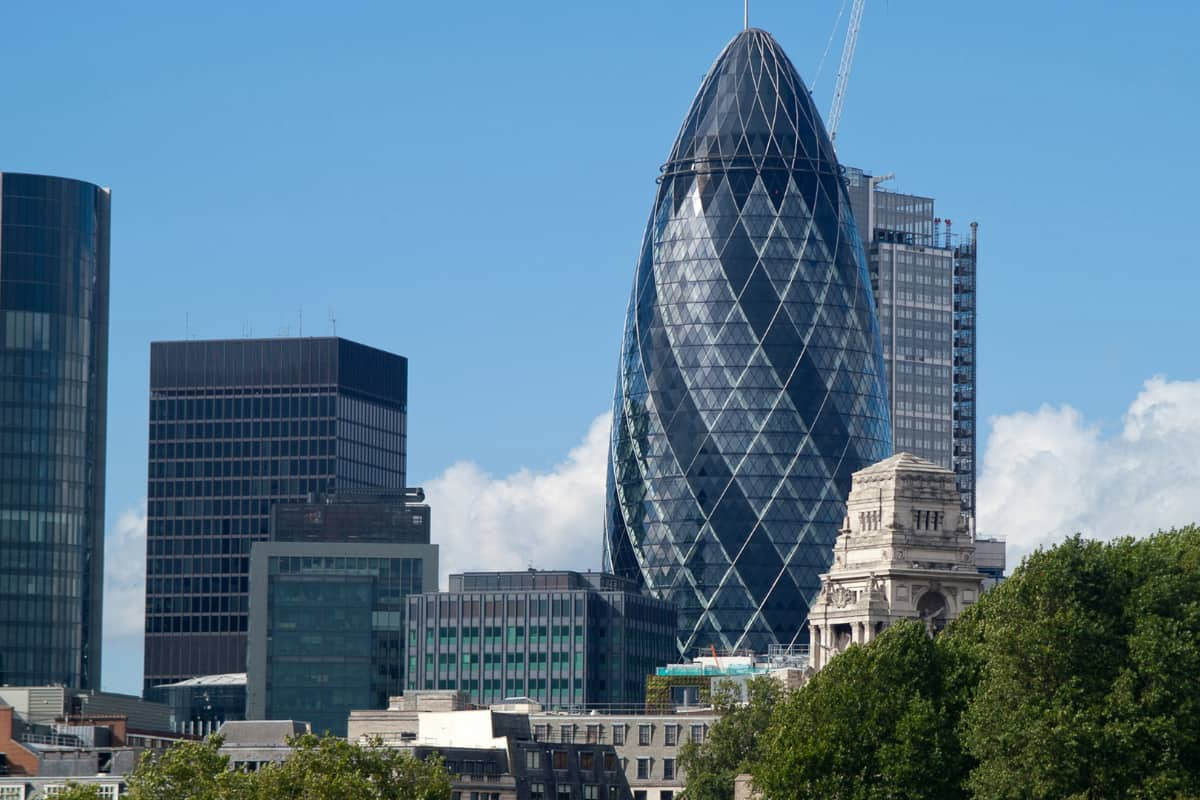 From the rough designs of the Industrial Revolution to the slick and clean lines of modern works, industrial design is ever​-changing. Interiors that follow the industrial look mirror older industrial styles, with exposed beams and pipes, but what of future iterations? Will industrial design gain another subgenre that's simpler and looks more like the Swiss Re headquarters, or will we always hang on to the charm and nostalgia of brick walls and steel beams? Either way, industrial interior design will always celebrate the might of human engineering by showing off the components that make it possible.
---
Photo Credits