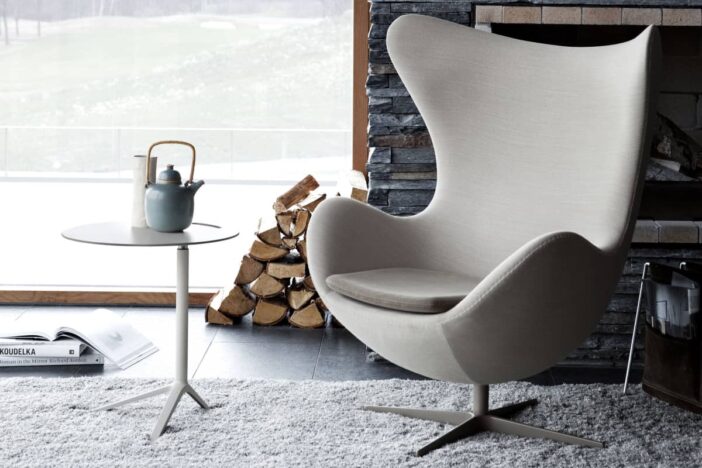 Popular design styles can be anything from elaborate and ornate to simple and polished. However, one of the most popular decorating styles in modern times celebrates the clean lines and gentle curves on the simple end of that spectrum: mid-century modern. As its name suggests, mid-century modern came into existence during the 1940s and '50s. However, take a quick glance through any interior design magazine and you'll notice how prevalent this iconic style still is. There are countless images of chairs with seamlessly molded seats and straight wooden legs, sofas with plain upholstery and stark geometric silhouettes and curving light fixtures made of metal and white plastic. Modern designs are a true meld of simplicity and functionality.
Streamlined and elegant
What's perhaps most distinctive about mid-century modern designs is their clean and refined look. Whether you're studying architectural designs or furniture and lighting fixtures, you'll notice a simple blend of straight lines, natural curves and smooth planes. All of which work together to create something that's organic, graceful and unembellished.
Features of mid-century modern design
Geometric lines: Imagine tables with straight legs and a perfectly round top, or a home with a flat roof.
Common materials: Mid-century modern architecture and furniture designs focus on organic materials, including wood (usually teak and other light varieties), metal and plastic. These materials are often molded into rounded shapes to create furniture pieces with curving, natural silhouettes.
Simple colors: The design style is known for using mostly neutrals like white, beige or gray, and incorporating accents in saturated pops of color.
Walls of glass: One of the main marks of mid-century modern architecture is that its windows are huge, often spanning an entire wall from floor to ceiling.
A connection with the outdoors: One reason designers began to enlarge windows for mid-century modern homes and buildings was to create a connection between their architecture and the nature surrounding it. Mid-century architectural designs also often use materials that blend with their surroundings.
Open floor plans: In mid-century modern buildings, rooms flow into one another naturally, with walls and other dividers used sparingly.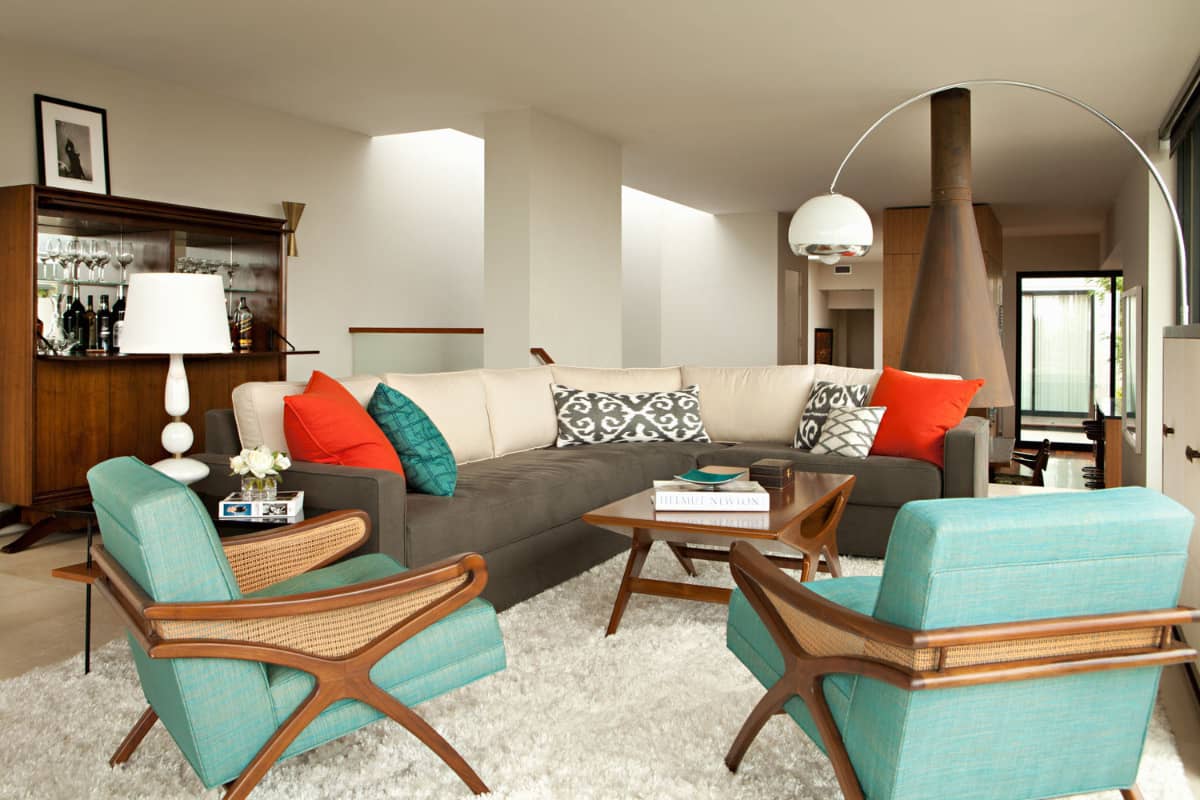 The rise of modernity
The history of mid-century modern is partly transparent in the design style's name: Mid-century refers to the years between around 1937 and 1965. Although, many designers and architects hold that the mid-century movement lasted well into the '70s. Here's how it came about:
After the war
The conclusion of World War II was instrumental in the beginning of the mid-century design era in the U.S. The end of the war brought immigrants from all over the world into the country, including architects from Scandinavia. Their organic, minimalist designs influenced modernism greatly. Also, because various new materials were created during wartime, the end of the conflict precipitated an era of creativity. Designers began to mold those new materials, including lucite, fiberglass and plastic into the organic curved and scoop shapes of the mid-century style. During the economic boom after the war, sales for everything from furniture to home goods took off and the unembellished and sophisticated mid-century modern designs became the status quo.
Mid-century modern now
After the 1950s, mid-century modern styles never fell out of popularity completely. However, the designs have seen a huge resurgence in recent years. This is largely attributed to an increase in popularity in the 1980s and '90s. During this era, several manufacturers, including Knoll (a major manufacturer of mid-century modern furniture) began recreating original mid-century furniture, lighting and decor designs. These days, the simple silhouettes and organic shapes of the designs are still just as popular.
Influential figures of the modernist movement
There are countless influential architects and designers who molded the mid-century modern style into what it is today, but a few stand out. Some examples of the design style's top influencers include:
Frank Lloyd Wright
Frank Lloyd Wright's architecture is considered prairie style, and his heyday was a little before the middle of the century. However, his nature-centric designs using wood and glass are said to have been major influences for many mid-century modern designers. Also, the horizontal lines and planes that define the prairie style are pervasive in mid-century architecture.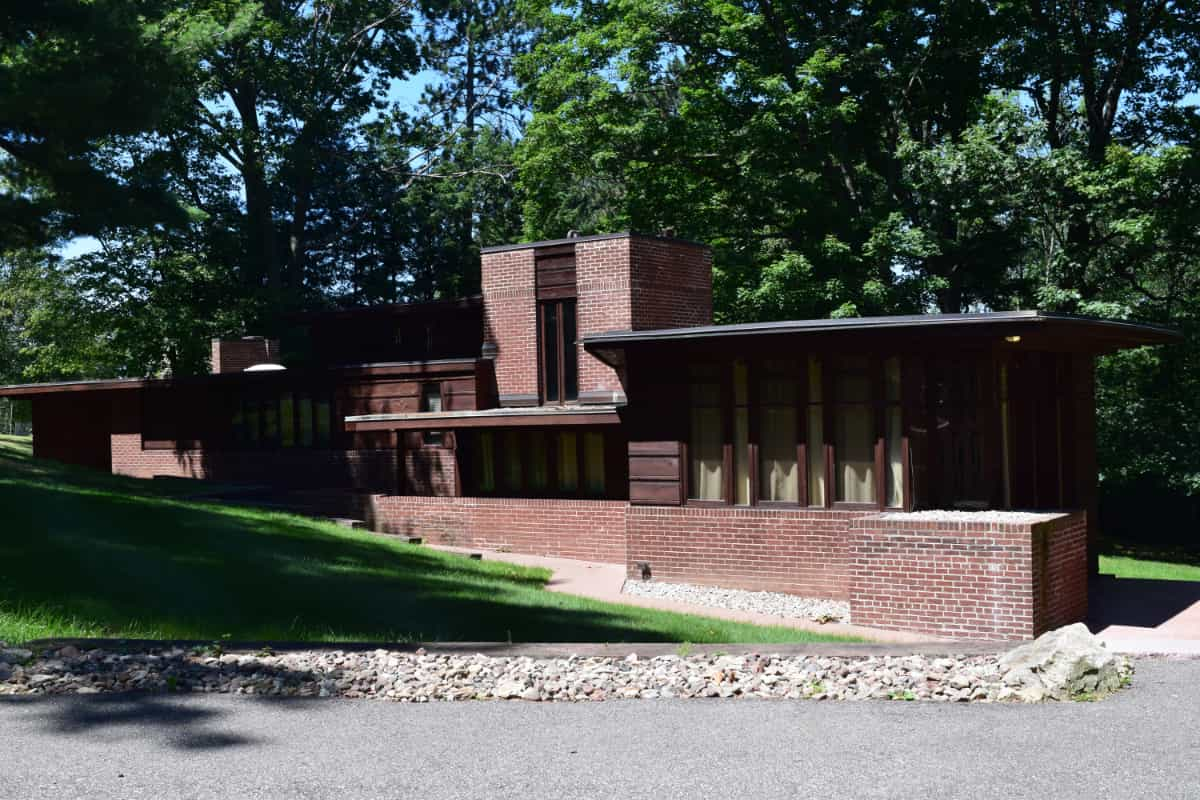 Le Corbusier
Like Wright, Le Corbusier was an early influencer of the modern movement. His career as an architect and painter spanned the beginning of the 20th century. Le Corbusier's stark architecture used open floor plans, plain facades and large windows that let in as much natural light as possible. All of these later became hallmarks of modernist buildings. Le Corbusier is also well-known for his mid-century modern furniture designs, including chrome-plated tubular steel chairs in his trademark style.
Charles and Ray Eames
Perhaps the most well-known designers of mid-century modern furniture are Charles and Ray Eames. Charles, an architect, and Ray, an artist, married each other before the war. They began to work together on furniture designs that molded plywood and fiberglass into streamlined modern scoop seating. After the war, their furniture designs took off with the help of their partnership with office furniture design company Herman Miller.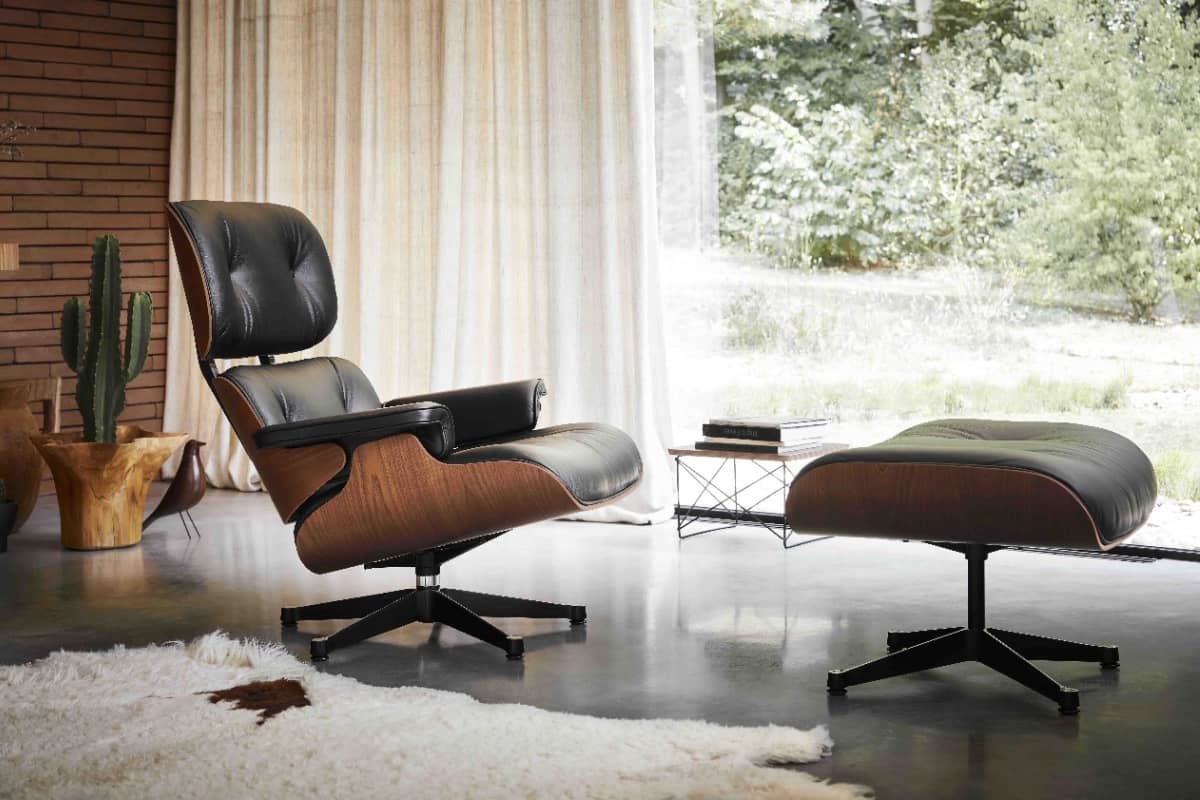 Harry Bertoia
Harry Bertoia was a student of Charles and Ray Eames who went on to become a prominent sculptor. He's responsible for an iconic modern furniture piece: the diamond chair. The chair is made of a lattice of woven steel that's molded into a curving, elegant basket shape.
Arne Jacobsen
Both an architect and a designer, Arne Jacobsen's furniture designs were some of the most prevalent during the modernist movement. He's perhaps best known for the Egg Chair, which he designed for the Royal Hotel in Copenhagen. It's an upholstered armchair made using a frame molded into a fluid egg-like shape. The curved armrests and the high, dramatically sweeping back make the design unforgettable.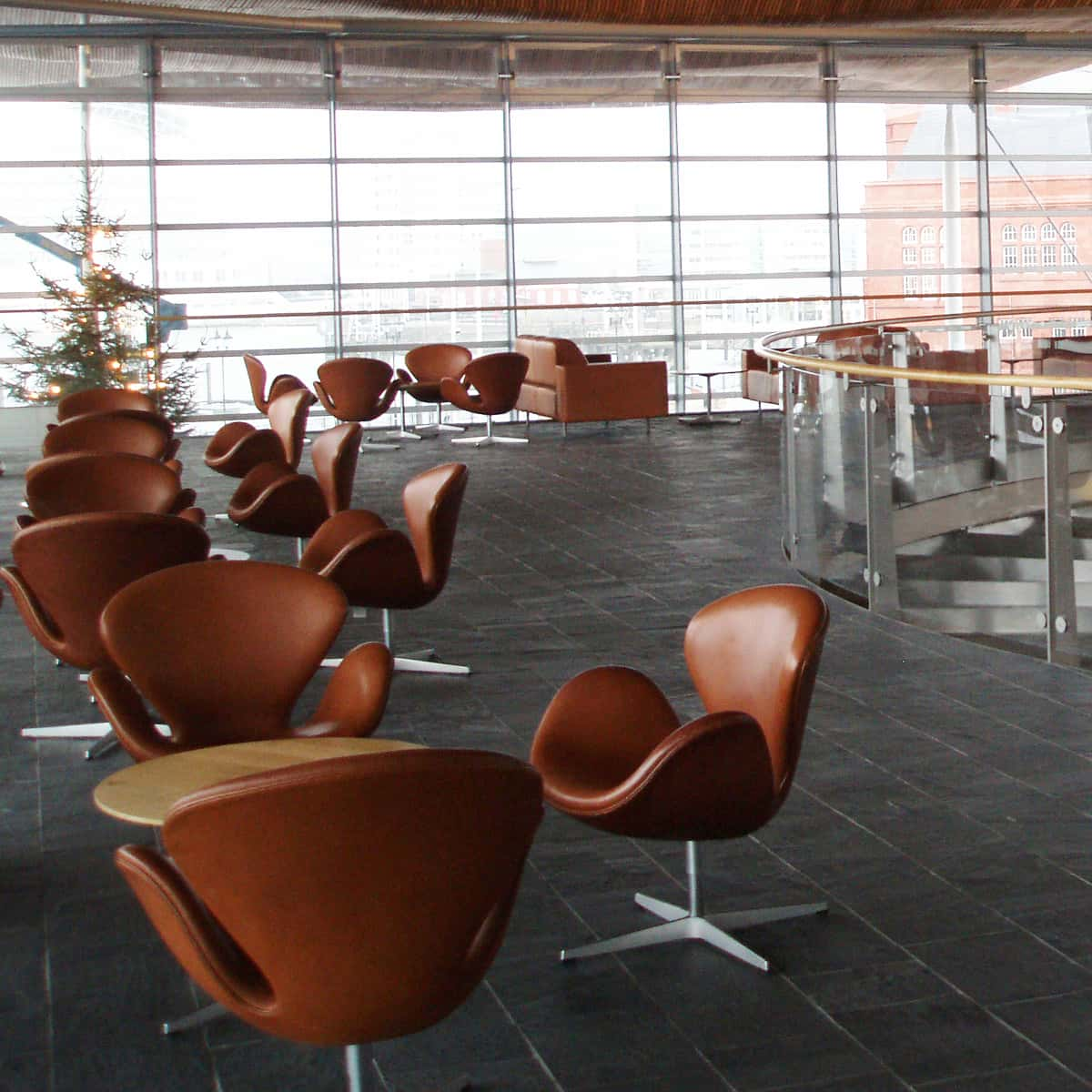 Eero Saarinen
Like Jacobsen, Eero Saarinen was also both an architect and designer. His architectural designs, including the Gateway Arch in St. Louis and Dulles International Airport in Virginia, often included the use of catenary (or U-like) curves and one-piece concrete or metallic shells.
An era of iconic designs
Even if you didn't know what they were called, you've no doubt seen many iconic mid-century furniture and lighting styles in stores and design magazines. Here are a few of the most memorable furniture and lighting designs:
Herman Miller's Noguchi table
In 1947, Herman Miller introduced the Noguchi coffee table as "sculpture for use". Designed by Japanese American industrial engineer Isamu Noguchi, the table was comprised of a two-piece freeform base with a rounded triangular plate glass top. The sculptured solid walnut base consisted of mirrored parts connected by a pivot rod and angled at 52° for both aesthetic appeal and maximum stability for the heavy biomorphic glass tabletop. The Noguchi table remains one of the company's most successful designs and is a signature piece of mid-century modern furniture.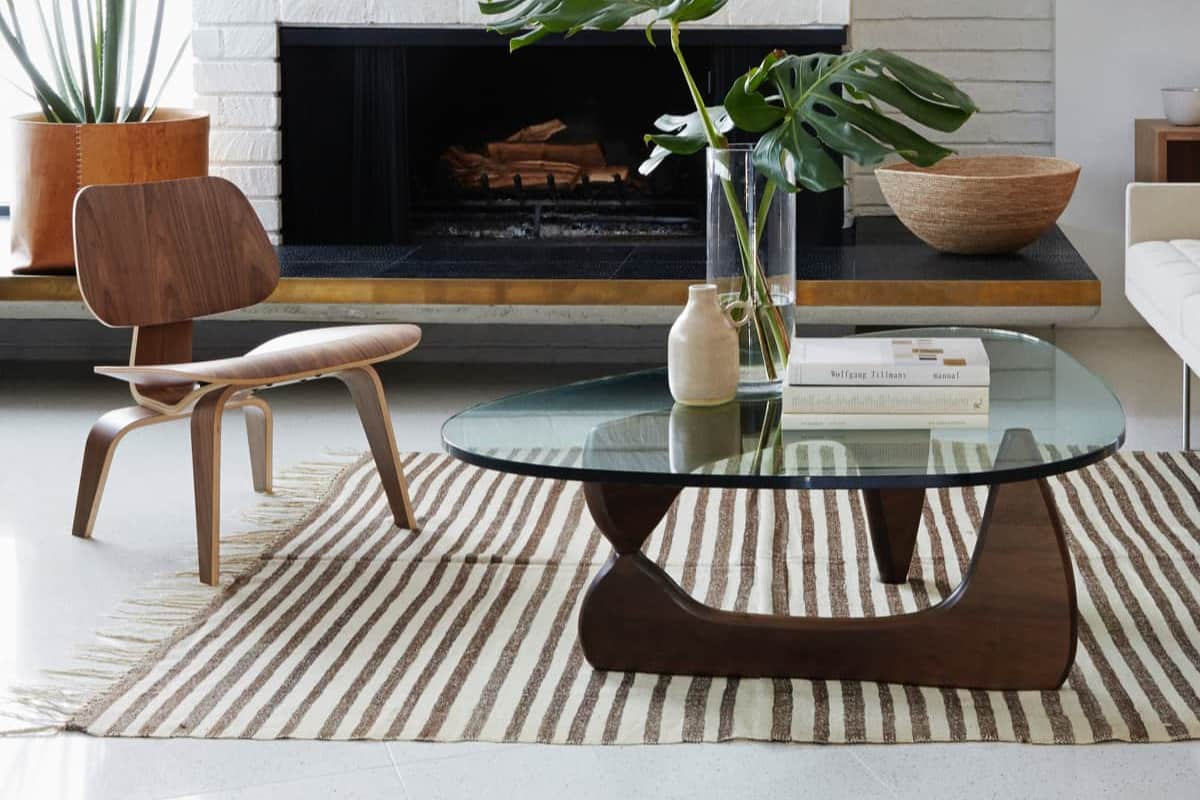 Eames molded plywood chair – The chair of the century
One of the most distinctive pieces of furniture to come out of the mid-century modern era (and one that's still widely used today) is the molded plywood chair created by Charles and Ray Eames. The seat itself is comprised of a gently rounded seat back, an ergonomic seat and a curving strip of wood connecting the two. The seat rests on legs made of two molded wooden arches. The minimalist design became a staple in 1960s and '70s homes, and is still recognizable today.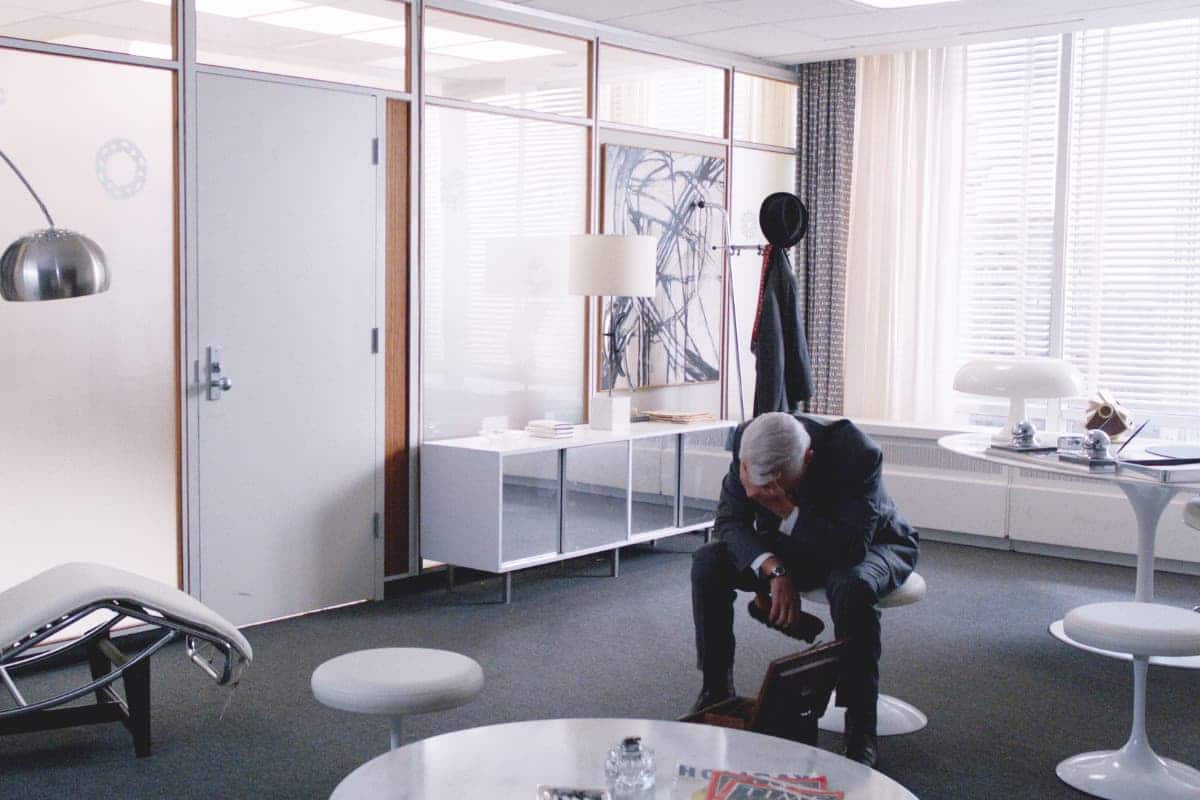 Tulip chairs and tables
Eero Saarinen's furniture designs were as memorable as his architecture. Most especially significant were his tulip chairs and tables. The chairs are made of a one-piece fiberglass seat, molded into a scoop shape, and set atop a thin pedestal that curves into a base at the bottom. The tables are made of round tabletops with similar pedestal bases. The reason for the pedestal design? Saarinen disliked the messy look of multiple legs underneath tables and chairs.
The Barcelona chair
Ludwig Mies van der Rohe was one of the designers who contributed most to the modernist movement through both architecture and furniture designs. Perhaps his most well-known piece is the Barcelona Chair. It was originally designed to be included in the International Exposition of 1929. The chair is made of a curved steel frame topped with geometric rectangular cushions upholstered in leather.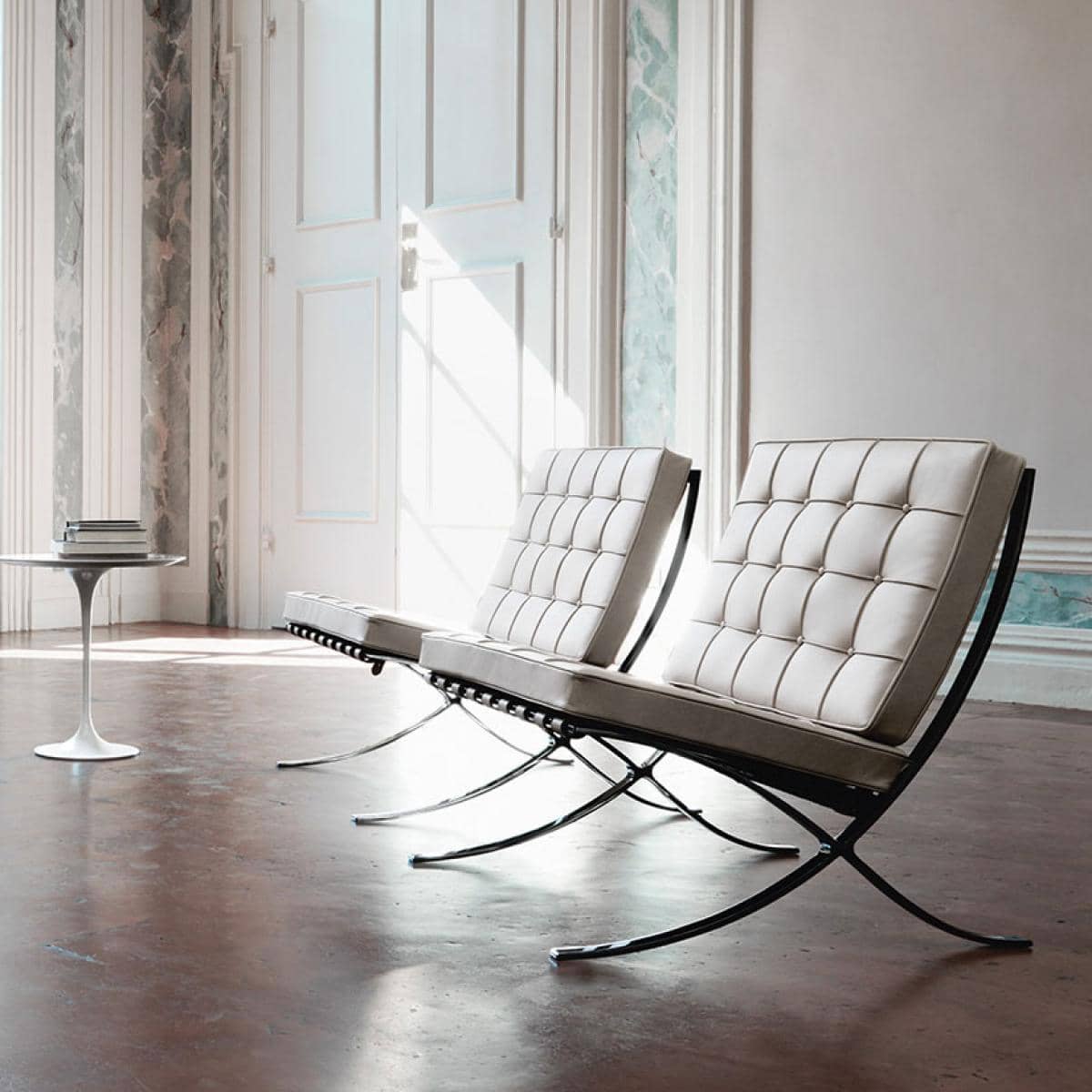 The bubble lamp
Many mid-century modern designers used molded plastic to make light fixtures, but none were as iconic as George Nelson's Bubble Lamp. The fixture is made of white ribbed plastic, curved into a round shape reminiscent of a bubble.
How the design style is used today
Mid-century modern has seen a major resurgence in popularity over the last several years. Believe it or not, this is partly attributed to its use on AMC's TV show "Mad Men." In the show, Don Draper's mid-century home and office furnishings are both elegant and sophisticated.
The increase in popularity is also likely related to its use in offices. This is especially true in startups and the Silicon Valley. Companies like Google and Facebook pair the unembellished furniture and lighting designs with sleek technology to create an impressive, trendy and inviting atmosphere.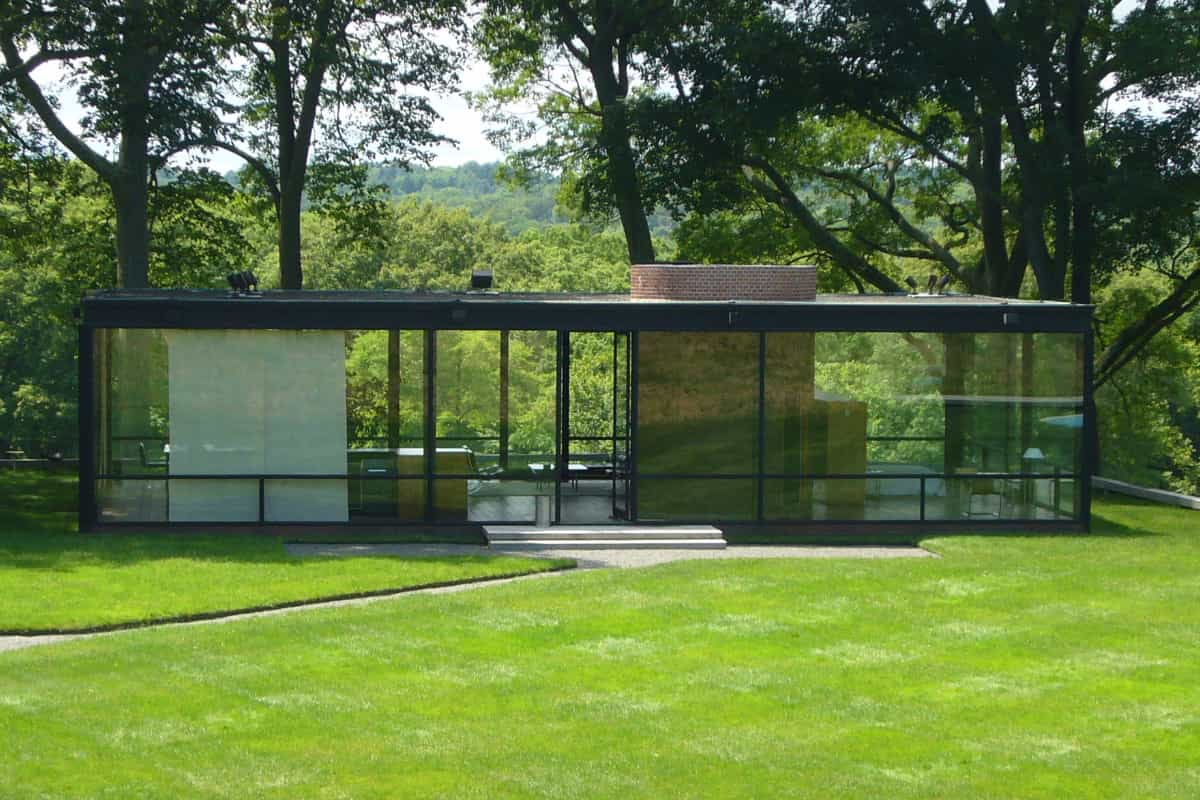 Mid-century furniture and lighting fixtures are perfect for providing an interesting accent in homes with more contemporary or traditional furnishings. A geometric light fixture made of metal, or an armchair with simple upholstery and streamlined wooden legs can act as an interesting signature piece.
Modernism is also still apparent in architecture today. The Gateway Arch in St. Louis is one of the most striking and artistic examples of mid-century modern architecture still standing. But, there are many other buildings and homes still in use. These include Philip Johnson's minimal and geometric Glass House in New Canaan, Connecticut, as well as Marcel Breuer's Hooper House II, a home made of glass and flagstone in Baltimore, Maryland.
From its beginnings in post-war America to its recent resurgence, mid-century modern has become one of the most ubiquitous and exciting design styles for interior designers and upscale home decor enthusiasts alike.
Photo Credits
Frank Lloyd Wright – TheCatalyst31 / CC0
Eames Lounge Chair – Herman Miller
Arne Jacobsen – Swan Chair – PhotoEverywhere.co.uk website / CC BY
Noguchi Table & Eames Molded Plywood Chair – Herman Miller
Mad Men – AMC
Mies van der Rohe – Barcelona Chair – Knoll