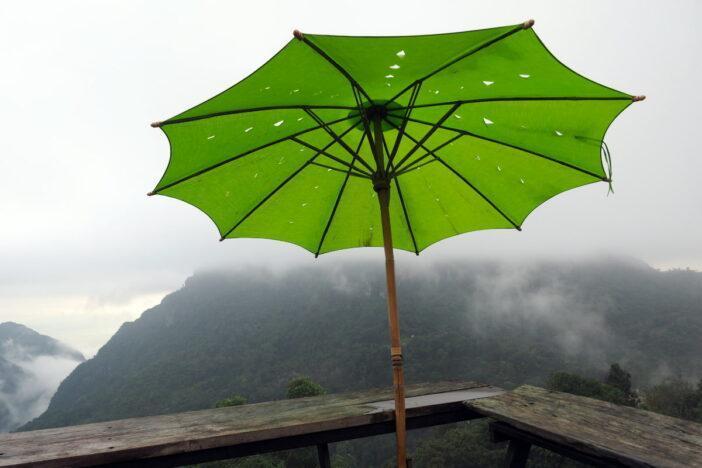 Is your patio umbrella looking a little worse for wear? Can you remember the last time it shielded you faithfully from the sun or stood defiant against a downpour? It's time to pay attention to those unsung heroes of our outdoor spaces. Ignoring the signs that your outdoor umbrella canopy needs replacement won't do any good and it might just ruin your perfect outdoor soiree surprise! So, before you find yourself under an umbrella that's lost its will to weather storms with you or take the heat off, continue reading to learn about the definitive signs screaming: "Replace Your Patio Umbrella Canopy Now!"
Quick Summary
There are several signs that may indicate it's time to replace your patio umbrella canopy. These include:
Perforations or holes in the top cover
Loss of color and luster
Visible damage or wear and tear on the umbrella pole and ribs
Difficulty operating the crank mechanism
Stubborn stains that can't be removed
Leaning or tilted positioning
Mismatched style with your garden or patio decor
If you notice any of these signs, it's time to consider replacing your outdoor umbrella canopy for optimal comfort and protection from the sun.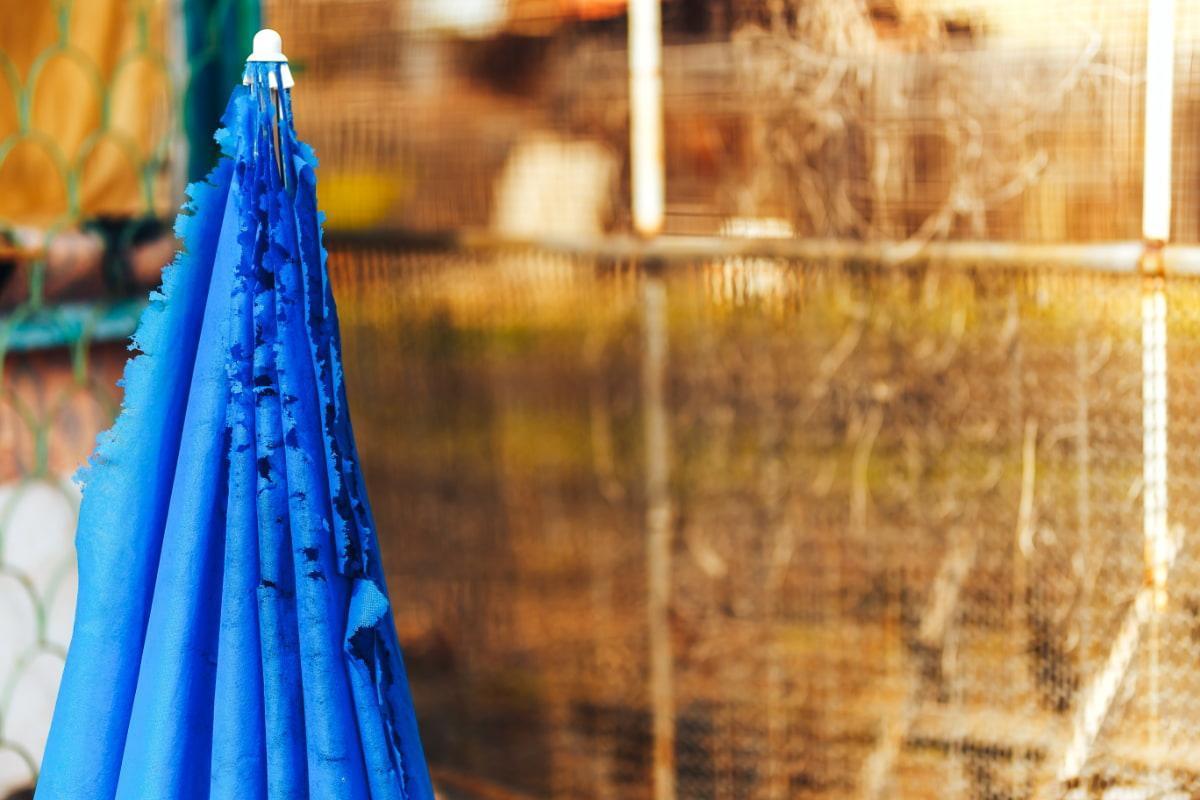 Signs Your Patio Umbrella Canopy Needs Replacement
Your sun umbrella canopy is a crucial and visible element of your outdoor space. Not only does it provide shade during hot sunny days, but it also adds aesthetic value to your decor. But like anything under the sun, your canopy will eventually show signs of wear and tear that indicate it's time to replace it.
One of the most obvious indications is the appearance of holes or tears in the fabric. A ripped and tattered canopy detracts from the beauty of your outdoor umbrella and can also pose safety risks if left unaddressed.
Another sign that it's time to replace your shade umbrella canopy is when it starts to become faded or discolored. The constant exposure to sunlight may cause the color to become muted or even turn into a completely different hue. Besides, UV radiation from sunlight weakens the fibers in the fabric, making it vulnerable to tearing and ripping.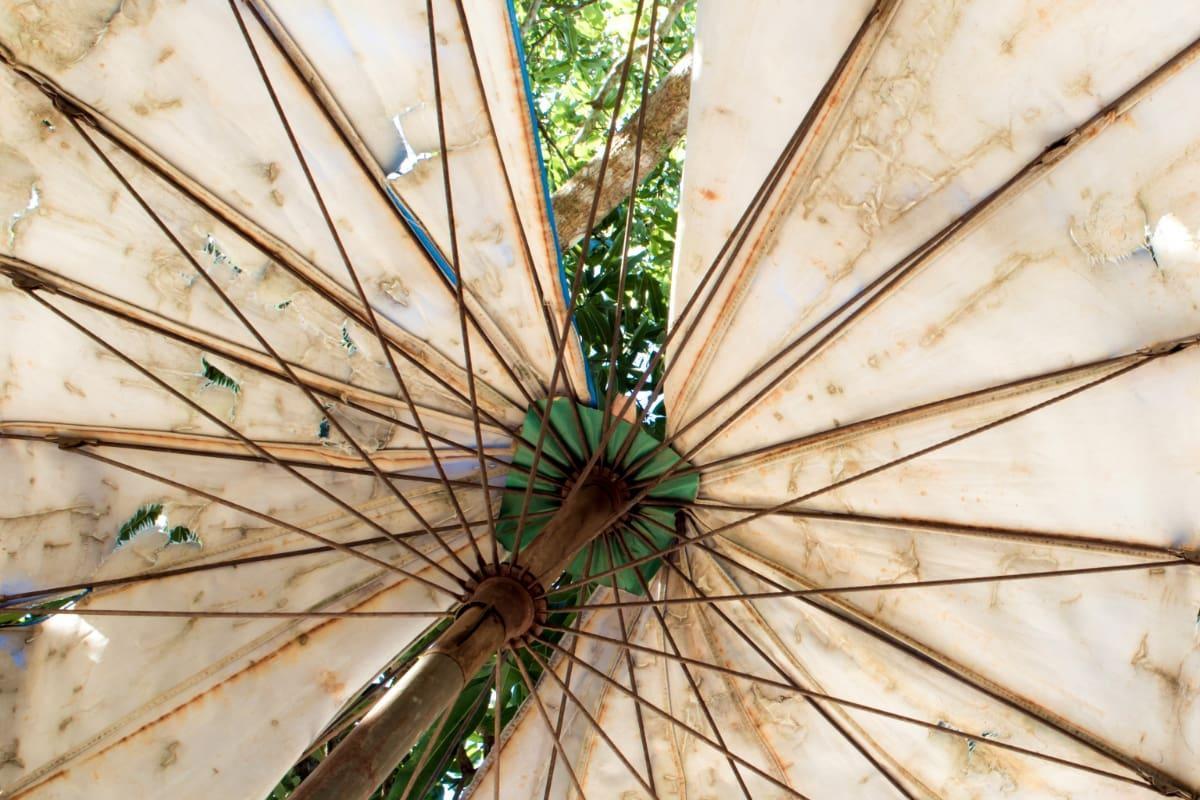 Think about your deck umbrella canopy as you would a car. Regular use, environmental factors and maintenance all impact its longevity. A car that's been sitting outside for years without proper care will show signs of age and have less value than a well-maintained one kept in a garage.
Of course, some people may consider repairing a torn or faded canopy instead of replacing it altogether. However, this option may not be as cost-effective as you might think. It's unlikely that repairs will restore the look and functionality of an old canopy and keep up with changing design trends in modern patio furniture.
In short, replacing your canopy can prolong your patio umbrella's lifespan and give you confidence that you can enjoy outdoor activities without sudden malfunction or risk.
Wear and Tear: Fabric Conditions
While we've already established that fabric damage is a clear indication of the need for a new outdoor umbrella canopy, let us now discuss what specifically constitutes wear and tear.
Mildew is a common culprit and can take hold if your pool umbrella is in a damp or humid environment. Regular cleaning and drying can help reduce the risk, but it may be time to consider a patio umbrella replacement canopy if this persists.
Sun exposure also poses a significant risk to the integrity of your canopy fabric. Soiling and chemical treatments can contribute to the discoloration and degradation of the fibers. Over time, you may notice that the fabric has become thin or brittle, making it more susceptible to tearing in even mild winds.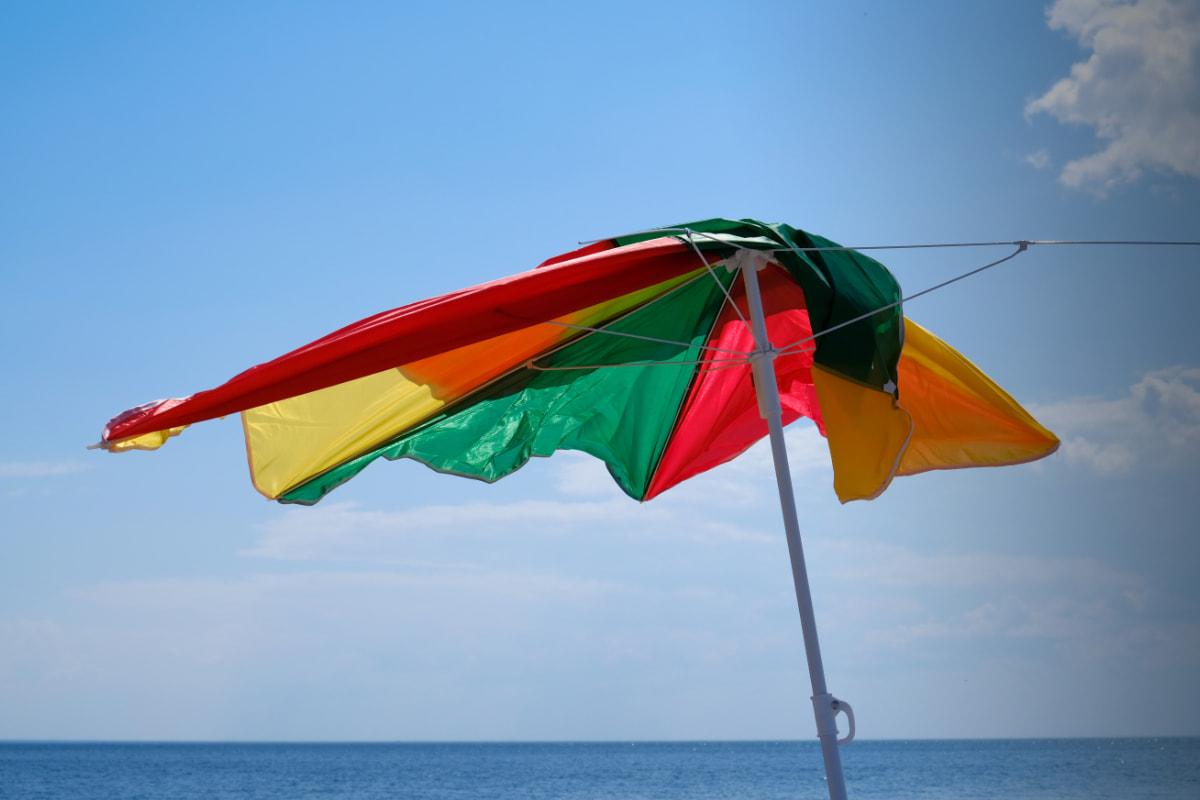 It's not unlike wearing your clothes out in the sun all day long for months on end. The colors fade, they start to wear thin and eventually holes appear.
Even though canvas awning cleaner or other similar solutions can help prolong the life of your canopy, there comes a point where it's no longer worth trying to keep up with repair efforts. Moreover, dirty, soiled, stained or aged fabric won't reflect natural light as well, which reduces visibility under your parasol.
Wear and tear is inevitable when it comes to your shade umbrella canopy. Understanding the potential damage caused by different environmental factors helps you make an informed decision about whether it's time to replace your weathered canopy with fresh new material that'll provide you with many more years of use and enjoyment.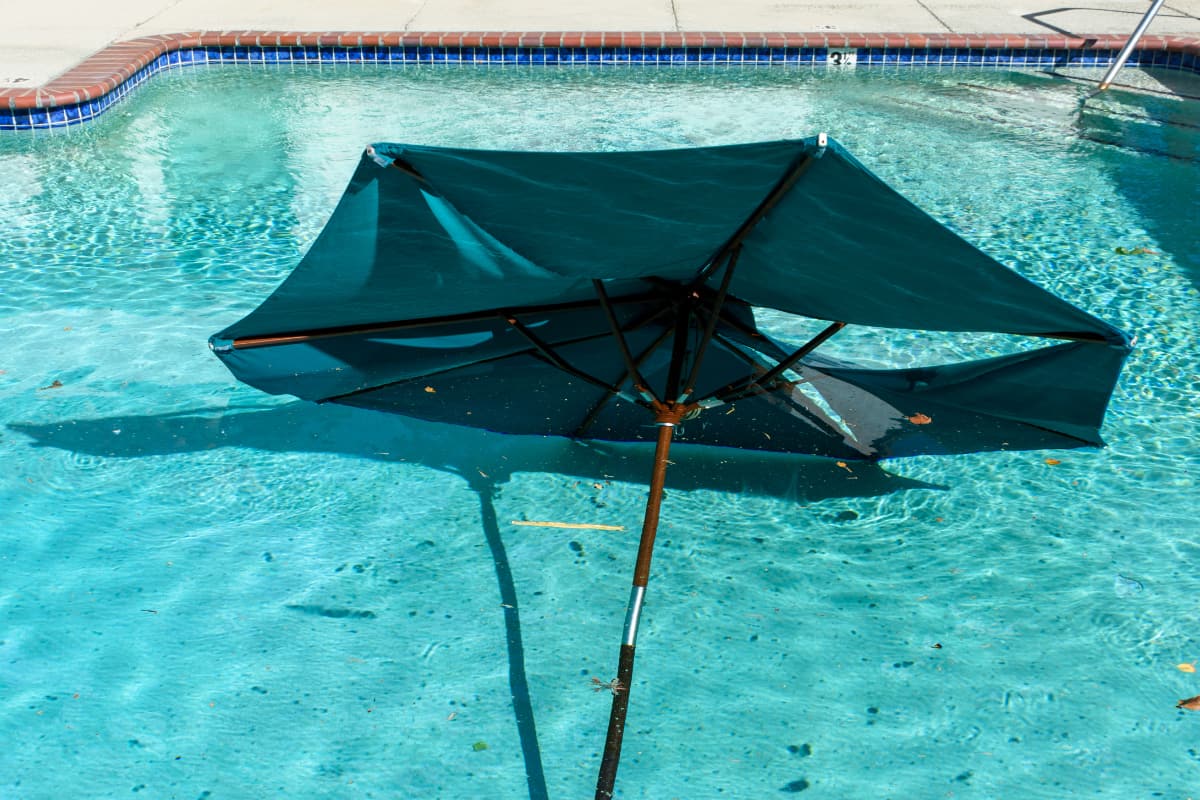 Canopy Damage from Extreme Weather
Homeowners with outdoor umbrellas should take proper precautions to protect their outdoor space from the elements. Extreme weather conditions such as gusty winds, heavy rain and strong sunlight can cause damage to canopies that may require replacement umbrella canopies if not properly addressed. Leaving a wet patio umbrella open for prolonged periods or repeatedly exposing it to flood-like situations can also cause damage.
When Hurricane Harvey hit the Gulf Coast in 2017, many Texas homes were seriously damaged by its high winds and heavy rain. More than one homeowner had to replace their entire deck umbrella because of the severe damage caused by the storm. This highlights just how vulnerable our outdoor spaces are to nature's elements and the importance of taking proper precautions to protect them.
Rainwater can cause significant damage to an outdoor umbrella canopy if it remains stretched out for too long. The weight of the water causes tension on the fabric which can lead to stretching, sagging or even tearing. If you leave your wet patio umbrellas open for a prolonged period or repeatedly expose them to flood-like situations, then replacement canopies may be necessary sooner than expected.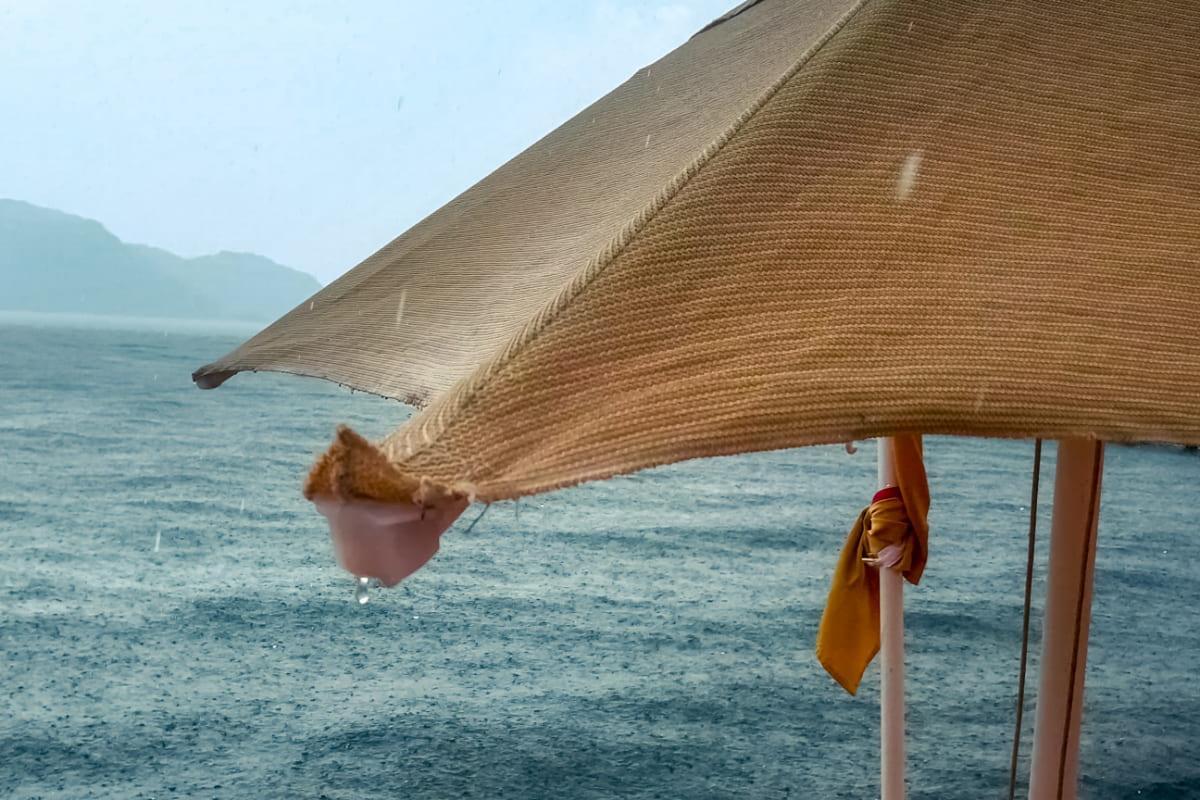 Investing in an expensive cantilever patio umbrella canopy made from top-of-the-line material does not guarantee its durability. Proper maintenance over time is crucial get the most bang for your buck. Homeowners should monitor the condition of their outdoor canopy and framework on a regular basis for signs of damage. Catching issues early can prevent bigger problems down the line and determine whether a new canopy is necessary.
Lifespan of a Patio Umbrella Canopy
Center pole and cantilever patio umbrellas are designed to provide shade and protection over outdoor areas like gardens, decks and patios. But because they are exposed to weather conditions all year round, their lifespan can be significantly shortened. How long your parasol umbrella is going to last is determined by factors such as the quality of its fabric, frame construction and how well you maintain it.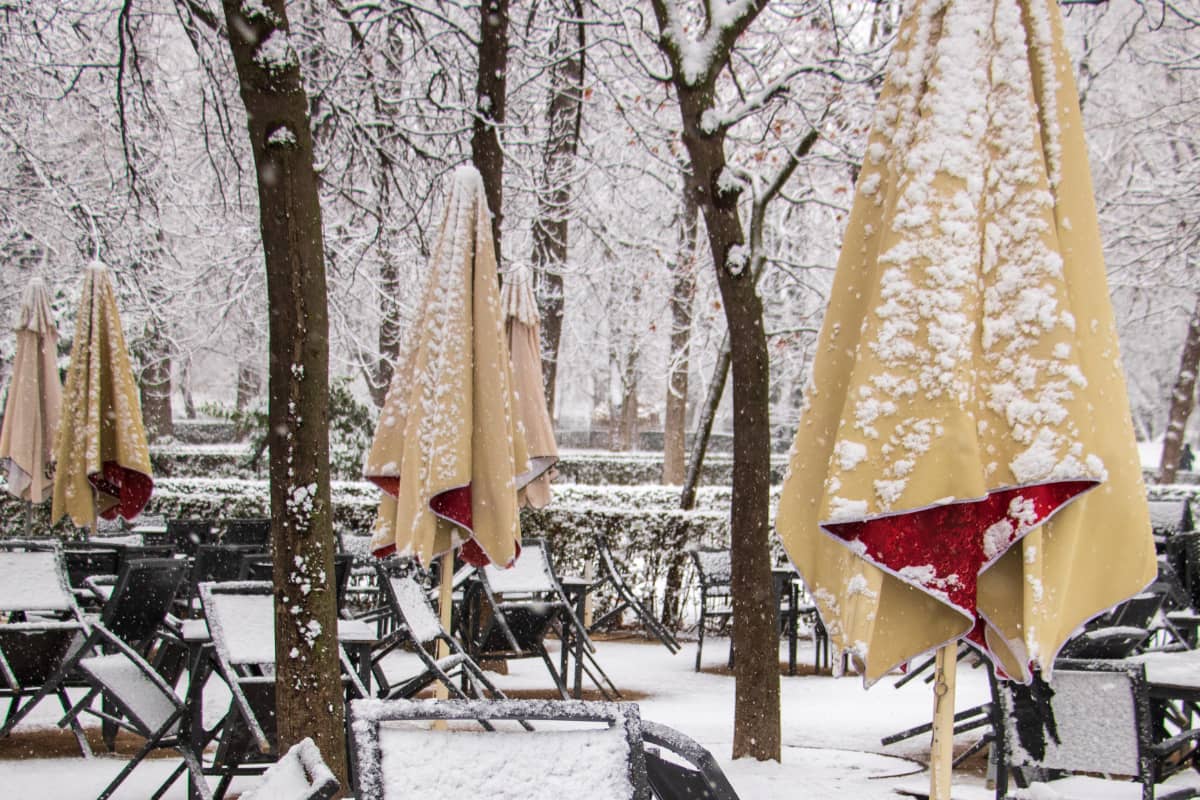 Let's say you have a standard outdoor umbrella with a polyester canopy. According to industry standards, a typical canopy lasts between two to five years depending on the level of maintenance it receives. However, if you expose it to strong sunlight or frequent cleaning with harsh chemicals, its lifespan could drop substantially.
In addition to weather conditions and maintenance, other factors like usage frequency also play a role in the umbrella's durability. If you use your beach umbrella daily throughout summer months when sunlight is most intense for extended hours during each day and not store it away during off-seasons or winter time; then your canopy's lifespan would likely suffer from wear and tear.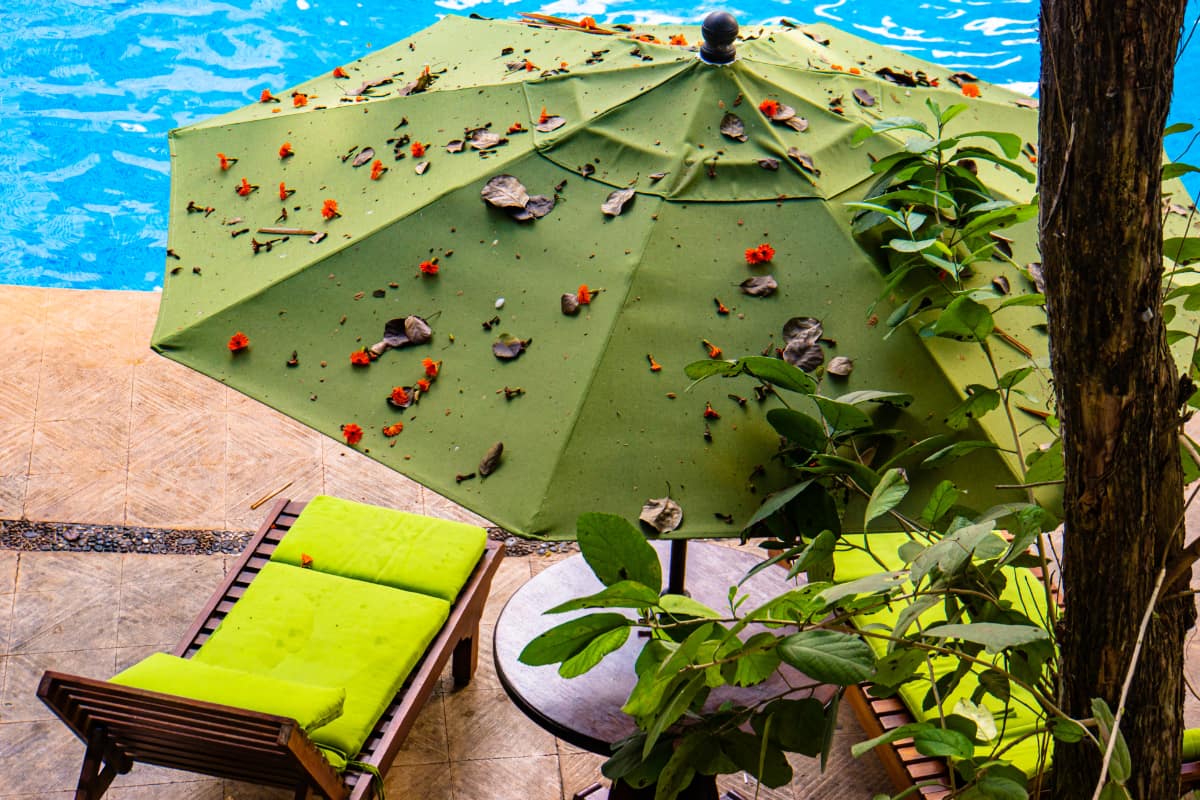 It's like having anything that is frequently exposed to elements without maintenance — eventually, it wears out. The same applies to shade umbrellas. When you neglect proper care and their need for protection from extreme heat or cold temperatures outdoors during off seasons; then expect the quality of life span to decline drastically. Additionally, dirt, tree sap, bird droppings and other organic debris, if not cleaned off quickly, can lead to grime build-up that can decrease the life of your canopy fabric.
Understanding the lifespan of a sun umbrella's canopy allows homeowners to manage their expectations in terms of cost and maintenance down the road.
Outdoor Umbrella Canopy Lifespan Facts
A study by the National Outdoor Furniture Association in 2022 found that on average, homeowners replaced their patio umbrella canopies every 5 years due to wear and tear.
Research from Kingston University in 2023 shows that continuous exposure to the sun can cause pool umbrella canopies to lose up to 50% of their color and strength over a span of three years, depending on the quality of fabric used.
According to an industry report, UV degradation – where the fabric becomes brittle or weak – affects approximately 70% of sun umbrellas within their first five years, depending on geography and usage patterns.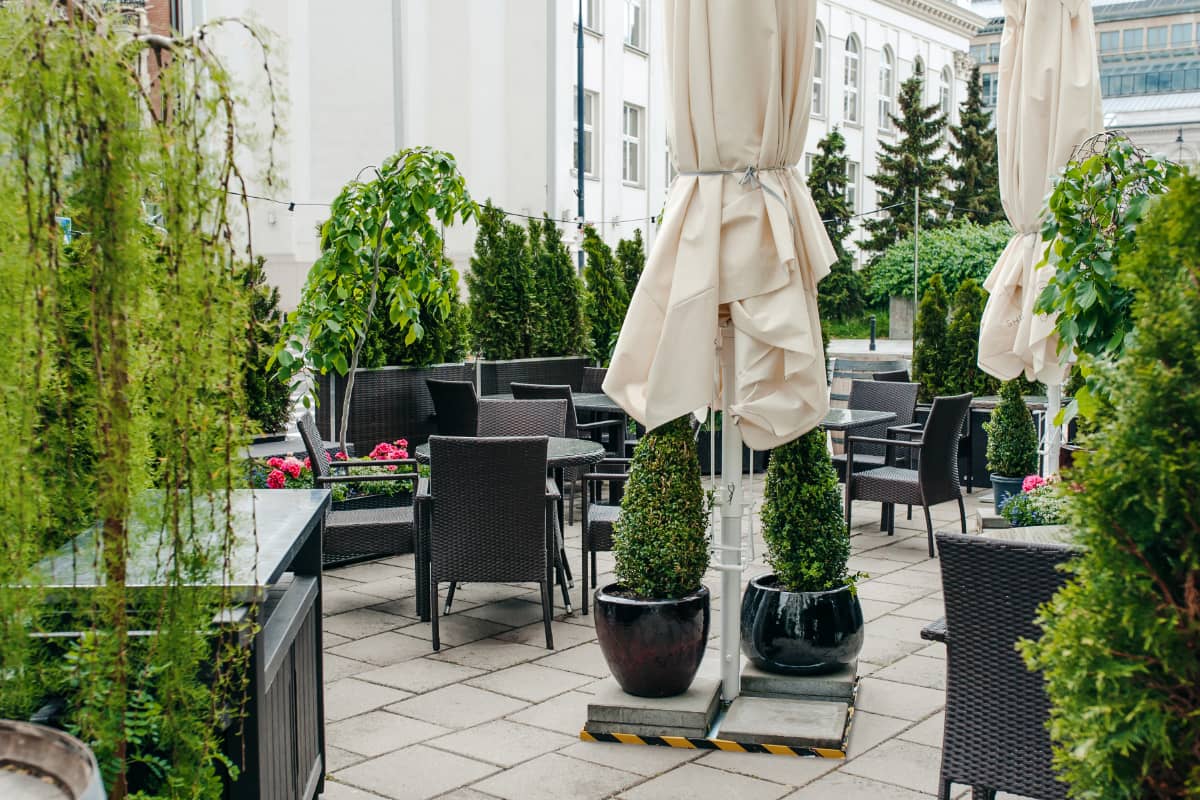 Common Lifespan and Factors That Affect It
When it comes to market and offset umbrella canopies, their lifespan can vary depending on several factors. On average, a high-quality patio umbrella canopy can last for around five years with regular use, but this duration can decrease or increase based on various circumstances.
For instance, if you regularly live in an area with continuous sunshine and hot temperatures, your canopy may decrease its lifespan by 20-30% due to the ultraviolet (UV) rays breaking down the fabric's fibers. On the other hand, a canopy that has been mostly indoors or stored away during off seasons may last longer than expected.
Another factor that plays a significant role in determining your canopy's life is the quality of materials used in manufacturing it. High-end fabrics like Sunbrella® and Outdura® are usually sturdy and weather-resistant, so they may last longer than low-cost polyester materials that not only fade quickly but also often develop holes and tears more easily.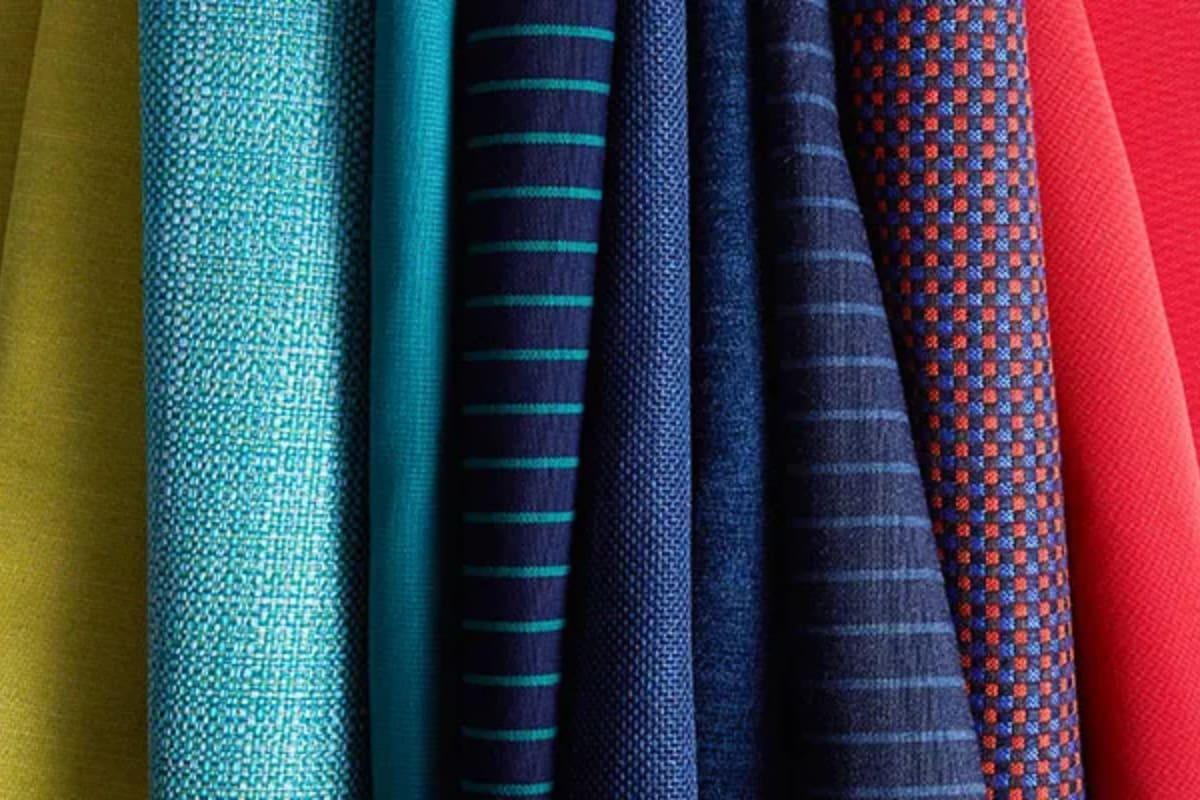 However, investing in a higher-quality canopy isn't always enough to guarantee an extended lifespan. Even top-of-the-line materials won't stand up against harsh elements like wind, rain or hail. When facing such situations, make sure to close your cantilever or market umbrella and secure it properly to avoid subjecting it to any unnecessary stress.
To put it into perspective: imagine an athlete maintaining optimal health habits but still getting injured due to external factors like accidents or bad performance conditions.
Now that we've covered common causes affecting canopy lifespan let's take a look at detecting mechanical issues.
Identifying Mechanical Failures
No matter how durable your outdoor umbrella canopy is, its mechanical components are vulnerable to wear and tear over time. Understanding how to identify some common mechanical failures before they escalate will save you money and ensure safety while using your shade.
One sign of a damaged market or cantilever umbrella frame is wobbly or leaning, which can pose dangerous situations. If your pole or frame seems crooked or unstable, check if any screws or nuts are loose and tighten them if necessary. If the wobbling continues, it could indicate more severe structural damage.
Similarly, when you start experiencing resistance opening or closing the patio umbrella, it could be indicative of a faulty crank, pulley or other lift mechanism. You may need to replace a handle, wheel, axle or more.
It's also common for aluminum ribs to bend during heavy winds or storms. In some cases, bent ribs can be bent back into shape manually and you can keep using the outdoor umbrella. However, if they snap off entirely, it's safest to replace them entirely. Fiberglass ribs are more flexible than metal or wooden ones, but they can't support larger canopies.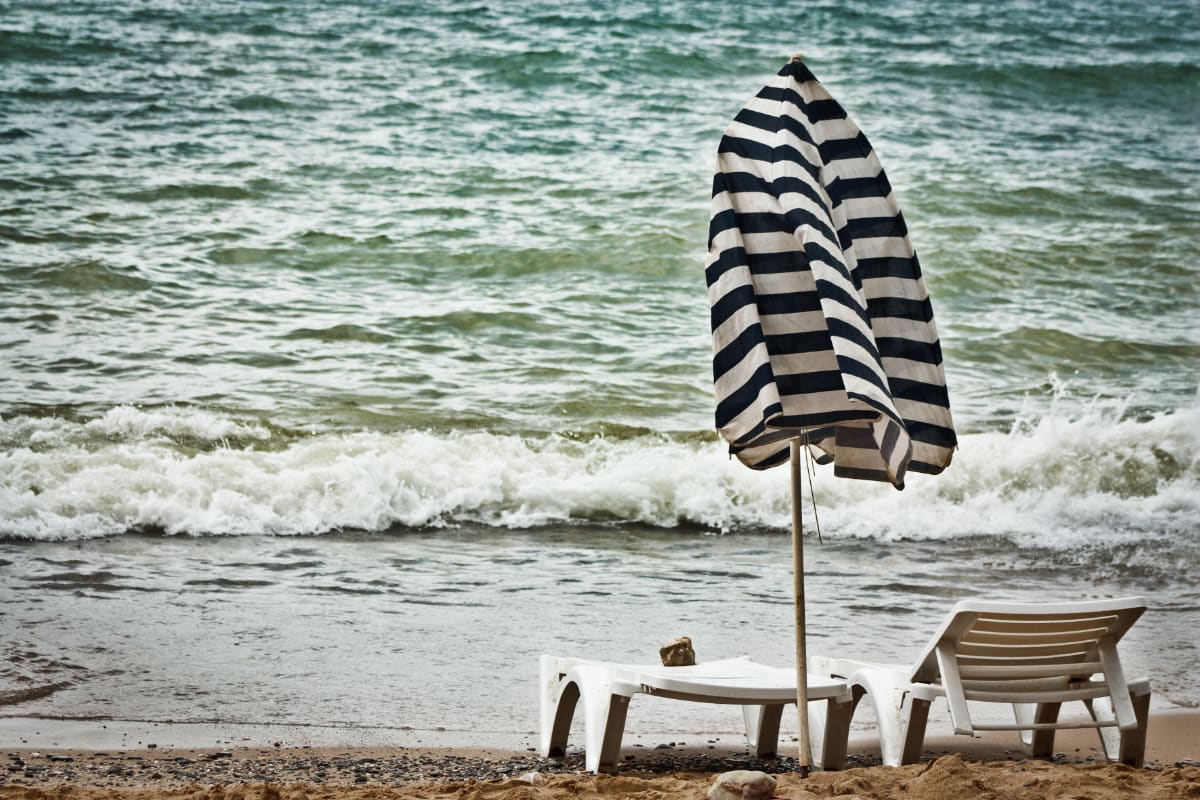 Damaged Framework or Faulty Lift Mechanism
When it comes to identifying signs that you need to replace your sun umbrella canopy, one of the most important factors to consider is the condition of the frame (pole, ribs and hubs) and the lift mechanism (usually a crank or pulley system). These two elements are crucial for maintaining the stability and functionality of your shade and any damage or wear and tear to them can greatly affect your ability to use it. Here are some common issues to keep an eye out for:
Damaged Frames – The pole and ribs of your patio umbrella are essential support structures and, if they become bent or broken, it can cause a number of problems. Not only will this make it difficult to set up and take down your parasol, but it can also be a safety hazard if the structure collapses unexpectedly.
Broken Lift Mechanism – On the other hand, a faulty crank or pulley system can make using your outdoor umbrella frustrating and time-consuming. If the crank gets stuck or won't turn smoothly, it can take much longer to open or close your sun shade, which defeats the purpose of having one in the first place. Pulley wheels and axles can also break or be impaired by debris that has worked its way into the mechanics. A frayed rope can make it tougher for a pulley and pin lift to work properly.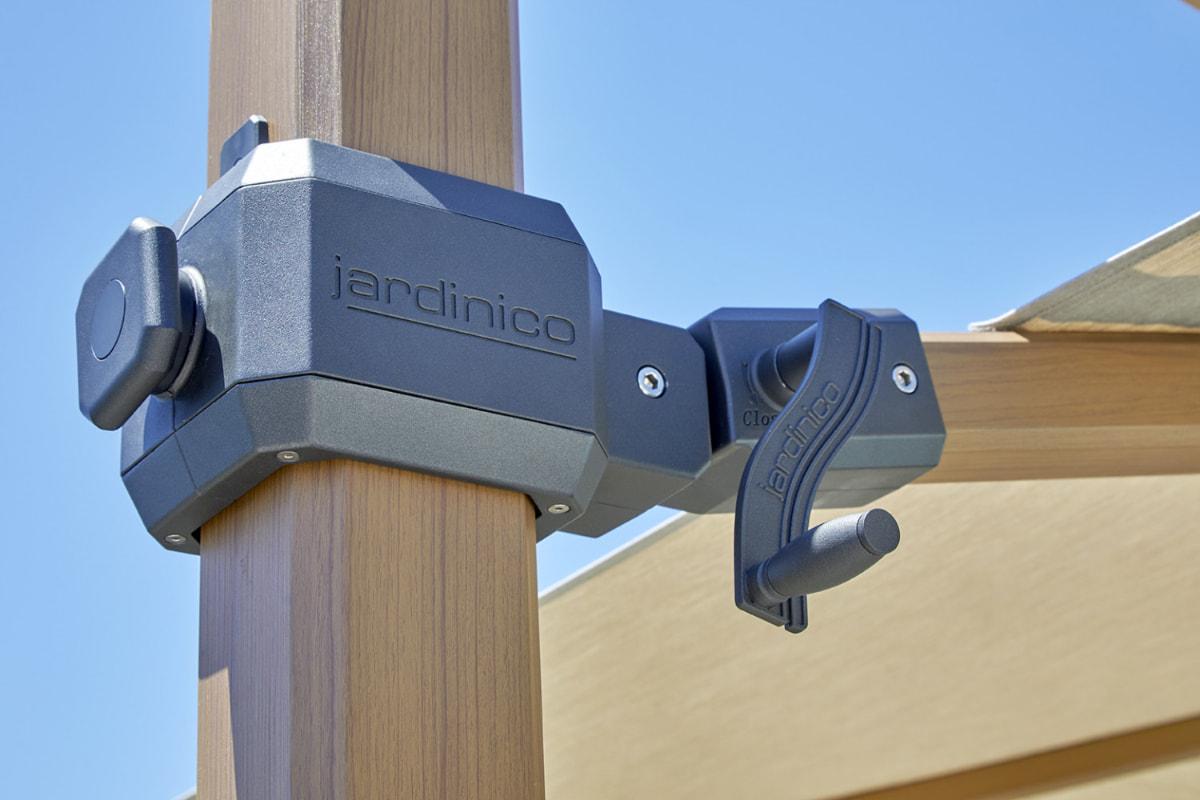 While some minor damage may be repairable, in most cases it's better to err on the side of caution and replace your canopy, framework or the sun umbrella entirely. This ensures that you have a stable and functional structure that will last for years to come. Think of it like tires – you can patch up little punctures if they occur, but if they burst, driving on them will only create more harm than good.
Now that we have discussed mechanical failures in detail let's move on to select your new canopy.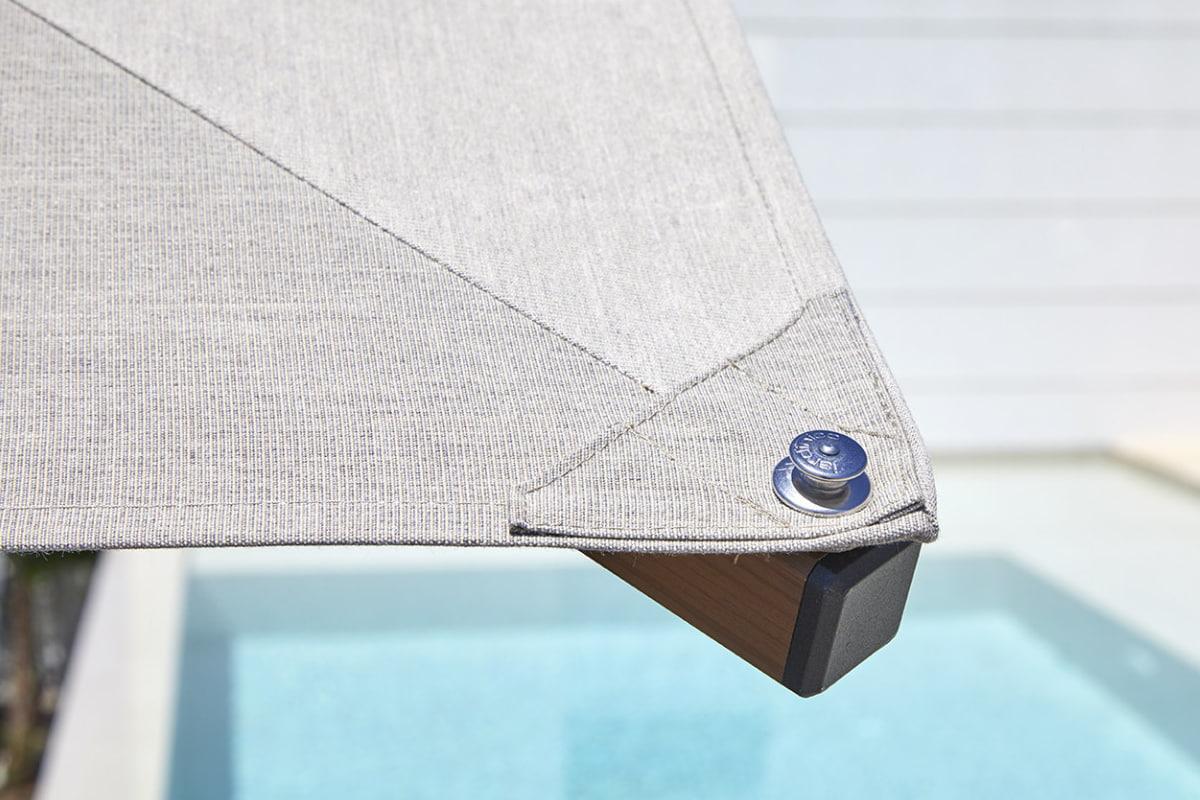 Selecting Your New Canopy
If you've decided that it's time for a new patio umbrella canopy, there are a few factors you should keep in mind when selecting your replacement. Here are some key considerations:
Material quality – The type of fabric used for your canopy can greatly affect its lifespan and durability. Look for high-quality materials that are resistant to fading, tearing and other forms of wear and tear.
Sun resistance – If you live in a sunny area, it's important to choose a canopy that provides adequate UV protection. Look for canopies with a high UPF rating and materials that have been treated with UV inhibitors.
Size and design – While functionality is important, you also want your deck umbrella to look good and fit in with your outdoor decor. Consider the size and shape of your new canopy to ensure that it provides ample coverage while also complementing your existing furniture.
Think of it like buying a new piece of clothing – you want something that's both functional and stylish. When choosing your new canopy, look for options that check both boxes so that you can enjoy your outdoor space to the fullest.
Material Quality and Sun Resistance Factors
When it comes to selecting a pool umbrella canopy, choosing the right material quality is crucial. Not all materials are created equal and some may be more resistant to damage caused by sunlight than others. In this section, we will explore the different types of canopy materials available and their resistance to sun exposure.
Polyester – Water-Resistant & Affordable
One type of material commonly used for patio umbrella canopies is polyester. Polyester canopies have the advantage of being budget-friendly and come in a variety of colors and patterns to match your decor. However, while they are water-resistant and durable, they may not be the best option when it comes to resisting UV rays from the sun. Over time, sun exposure can cause fading and discoloration, as well as weakening the fibers of the fabric.
Solution-Dyed Acrylic – Durable, Colorfast, UV-Resistant & More Costly
To combat this issue, many manufacturers offer canopies made from solution-dyed acrylic fabrics. Acrylic patio umbrella canopies have superior durability against ultraviolet radiation due to the pigments being added during the manufacturing process rather than just on top of the fabric's surface. This results in a longer lifespan for your canopy compared to other materials. Although these heavy duty fabrics may be costlier initially, they do not require frequent replacement like polyester options would.
Think of it this way: investing in a higher quality solution-dyed acrylic fabric is similar to purchasing a high-quality winter coat for extreme temperatures. The coat may cost more upfront, but it will last longer over time instead of needing constant replacements as one would with cheaper alternatives.
Natural Fibers – Eco-Friendly & Lightweight but Not Water-Resistant
However, some homeowners prefer natural fibers like cotton or linen for their pool umbrellas. These materials are lightweight, breathable and blend well with outdoor furniture pieces that have neutral tones and natural textures. While natural fiber fabrics have less UV protection than synthetic alternatives, there are specialized natural dyes that offer better resistance from the sun. It's worth noting that natural fibers have little to no resistance against water, so they may not fare well in rainier climates.
PVC-Coated Polyester – Long-Lasting & Waterproof but Fades
Lastly, PVC-coated polyester canopies are an option for those who require robust waterproof and weather-resistant fabric. They offer an excellent blend of durability and affordability while maintaining a high-level of water resistance. However, like polyester-only canopies, extended sun exposure will damage the material's colors—consider opting for a lighter color canopy to combat this issue.
Overall, choosing the right material quality is crucial when it comes to patio umbrella canopy replacement. While some homeowners prefer budget-friendly options such as polyester, those willing to invest in better-quality materials with superior UV resistance will reap long-term benefits in the form of a longer-lasting and better-looking outdoor umbrella canopy.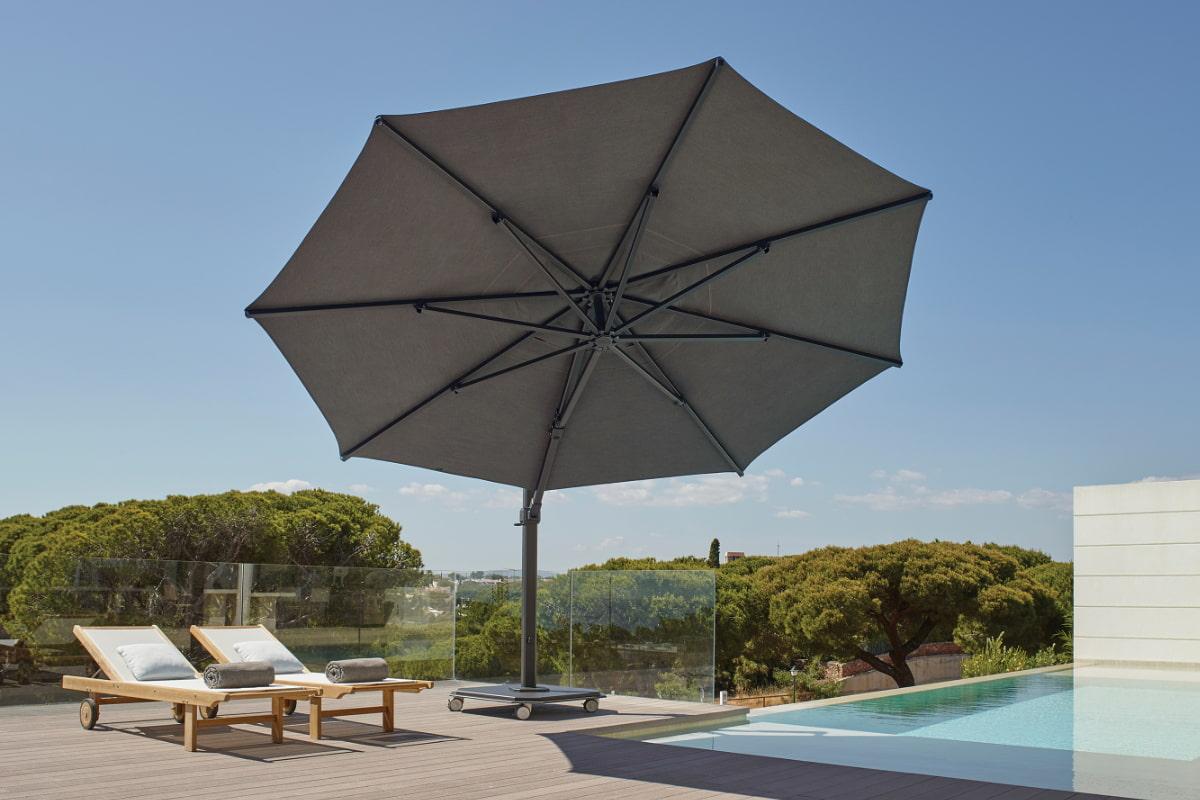 Replacing a Worn Out Patio Umbrella Canopy – Final Thoughts
We've laid out many conditions that warrant a replacement umbrella canopy. And, regardless of whether it's a small round table umbrella or a spacious square cantilever shade, it's critical that any canopy protects against harmful UV rays. Damaged fabric or faulty lift mechanisms prevent sun umbrellas from performing their primary function. Rather than attempt to mend the textile or MacGyver the ribs, pulley or crank lift systems, we recommend ordering new components from the manufacturer. Not only does that ensure that parts are compatible and your canopy looks brand new, but you'll also receive a warranty that guarantees performance in the near future. Finally, since you aren't buying a whole new shade umbrella, your upgrade will be economical.