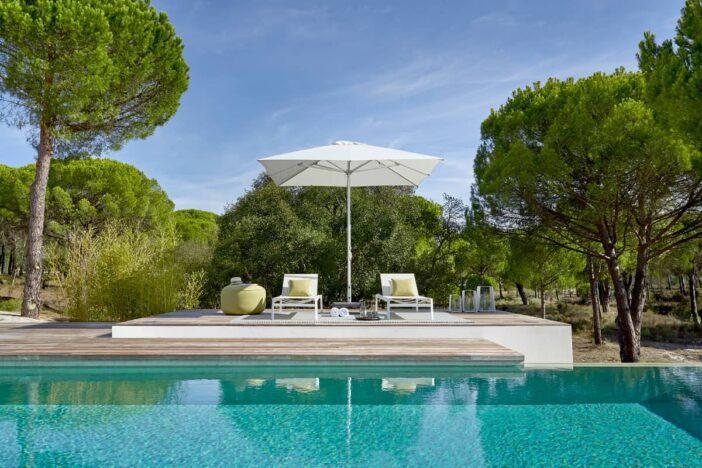 Swimming is the fifth most popular activity in the US, but only a little over 17% of Americans between 18 to 29 own a hot tub, pool, or spa. If you're like most people, then you're probably jealous of these homeowners.
But if you save up enough and have the room for a pool, why not get one? Sure, it'll take a lot of work and money, but in the end, it'll be worth it when you can take a dip whenever you wish. Plus, it'll add value to your house.
What pool designs are available in 2023 though? You want to ensure you've got the best pool around, after all.
Read on for more information so you can determine which pool is right for your needs and budget.
Pool Types
First, you should know the types of pools available. Each has its own pros and cons, as well as price points, so weigh them up after learning more about them.
In-Ground Pool
This is the most popular type of residential pool; 59% of them are in-ground ones. There's a reason for this: they're very easy to customize.
As a result, they can fit in almost any shape or size yard. Plus, you can add many accessories and features, which can truly make your pool unique from your neighbor's.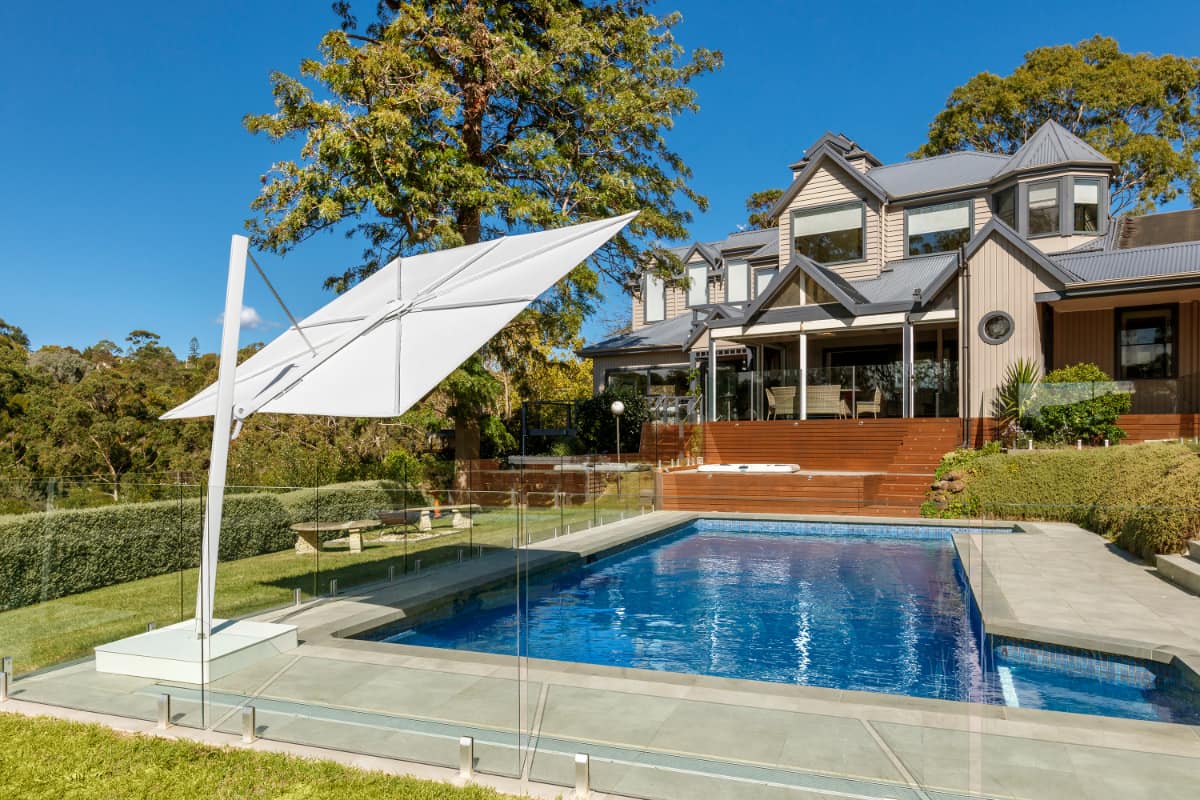 These pools also won't stick out and block your landscaping, which you've worked hard on. In fact, they blend in effortlessly, so you won't have to worry about yours sticking out like a sore thumb.
However, the downside to in-ground pools is the massive amount of work involved. You'll have to excavate your yard, which takes a lot of money and time to do.
Also, if you have young children or pets, it's easier for them to fall into the pool. So there's a higher risk of injuries and drowning.
As for maintenance, there's a moderate amount of work that goes into keeping your pool clean.
Above-Ground Pool
Above-ground pools are probably the cheapest option if you're worried about pool costs. They can make a strong focal point, whether you put it in your yard or elevate it on a deck or patio.
There are no expensive and time-consuming processes to excavate your property. You just need to assemble them, which is easy and fast.
Some are even temporary. That means you can break down your pool in colder weather so you have more space in your yard. There will be room for patio heaters, allowing you to enjoy your outdoor space without turning into a popsicle.
Above-ground pools are also available in various shapes and sizes. This makes them great for small yards!
The caveat is that they don't have as long a lifespan; for example, if you get vinyl lining, you'll need to replace it every five years or so. Plus, it can be tough to blend one into your existing landscape.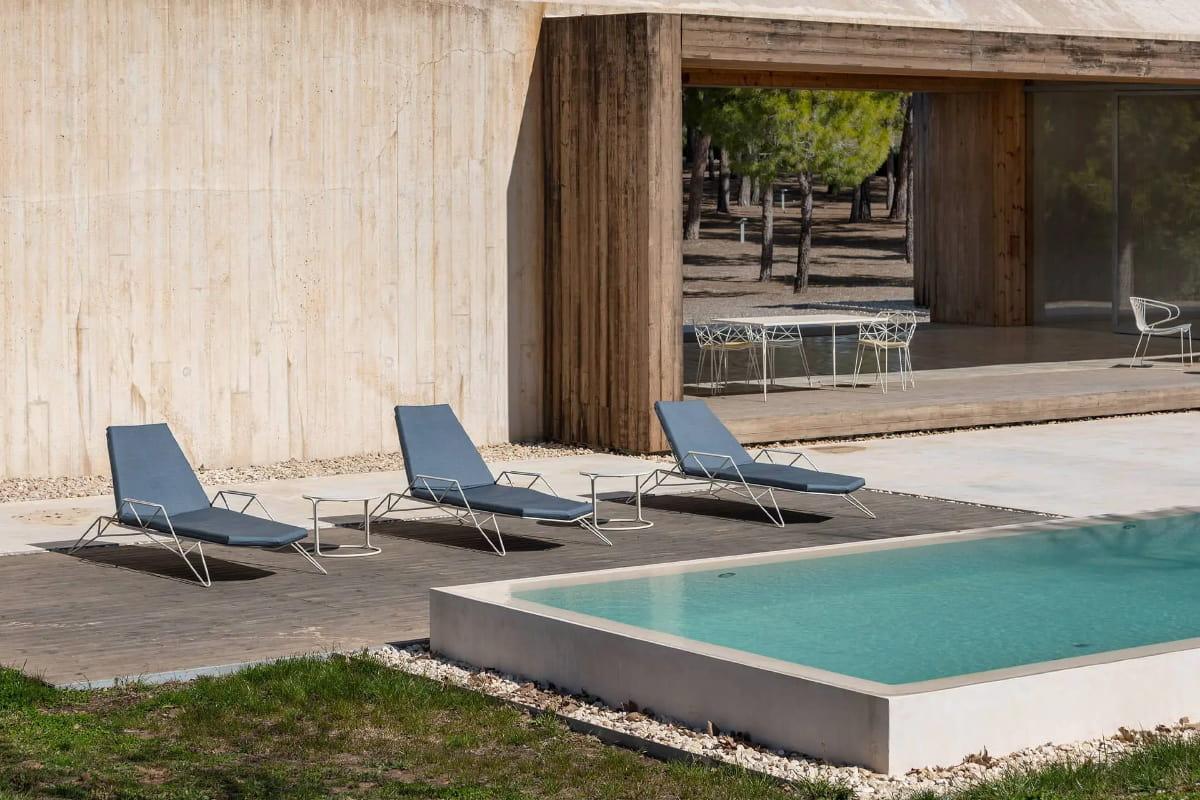 There's the same amount of work involved for above-ground pools as for in-ground ones for maintenance.
Lap Pool
If the main purpose of getting a pool is to get fit, then a lap pool is a good choice. It's a type of in-ground pool, but before you groan about the work involved, hear us out.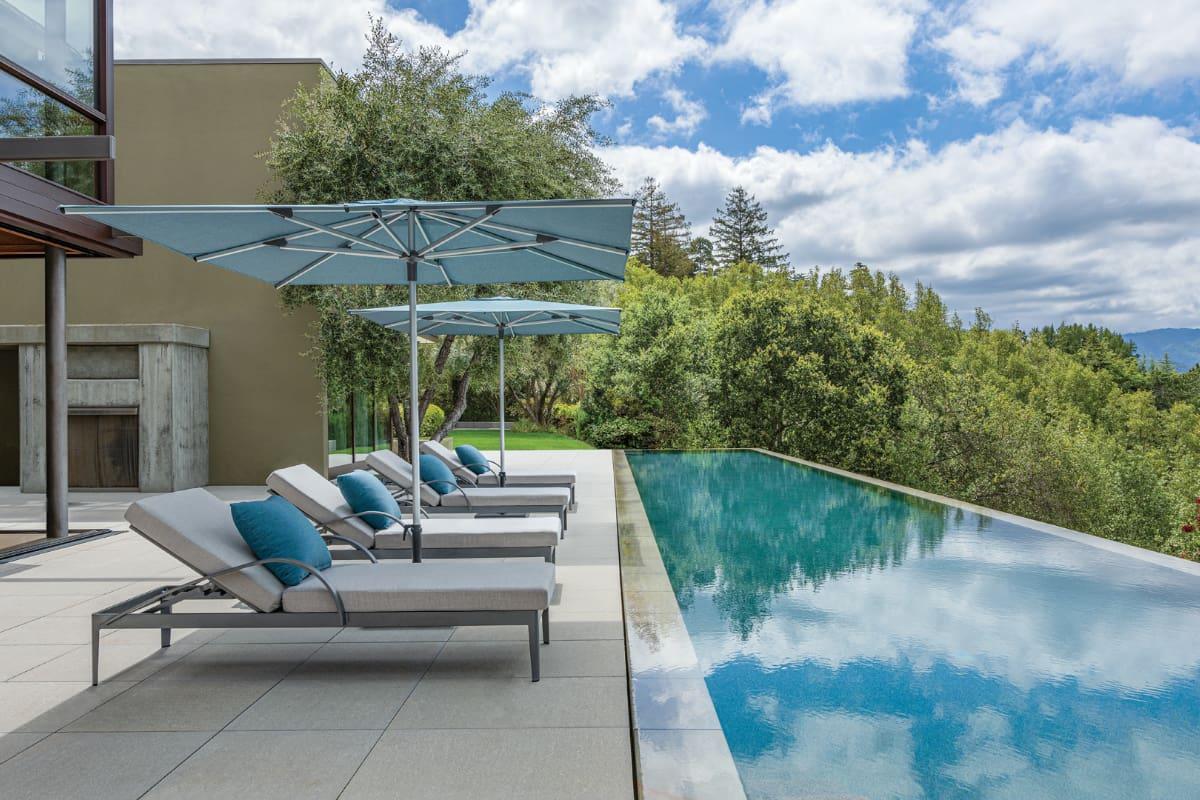 As the name suggests, all you need is enough space to swim laps. At its bare minimum, it can be eight feet wide and 40 feet long.
So your lap pool won't take much labor to construct, nor will it take up much space. It's another type of pool that's ideal for small yards.
Saltwater Pool
Are you sensitive to chlorine and wish to swim in water that's softer and gentler? Then consider getting a saltwater pool.
With this type of pool, you won't have to deal with harsh chemicals. And even better is, there's less maintenance involved. This is thanks to the saltwater system only producing chlorine as needed!
Infinity Pool
If luxury is what you're after, then the infinity pool is what you need. These have at least one wall with a vanishing-edge design, and they're below water level. This is what gives the illusion that the pool stretches as far as the eye can see, as the water flows over these walls.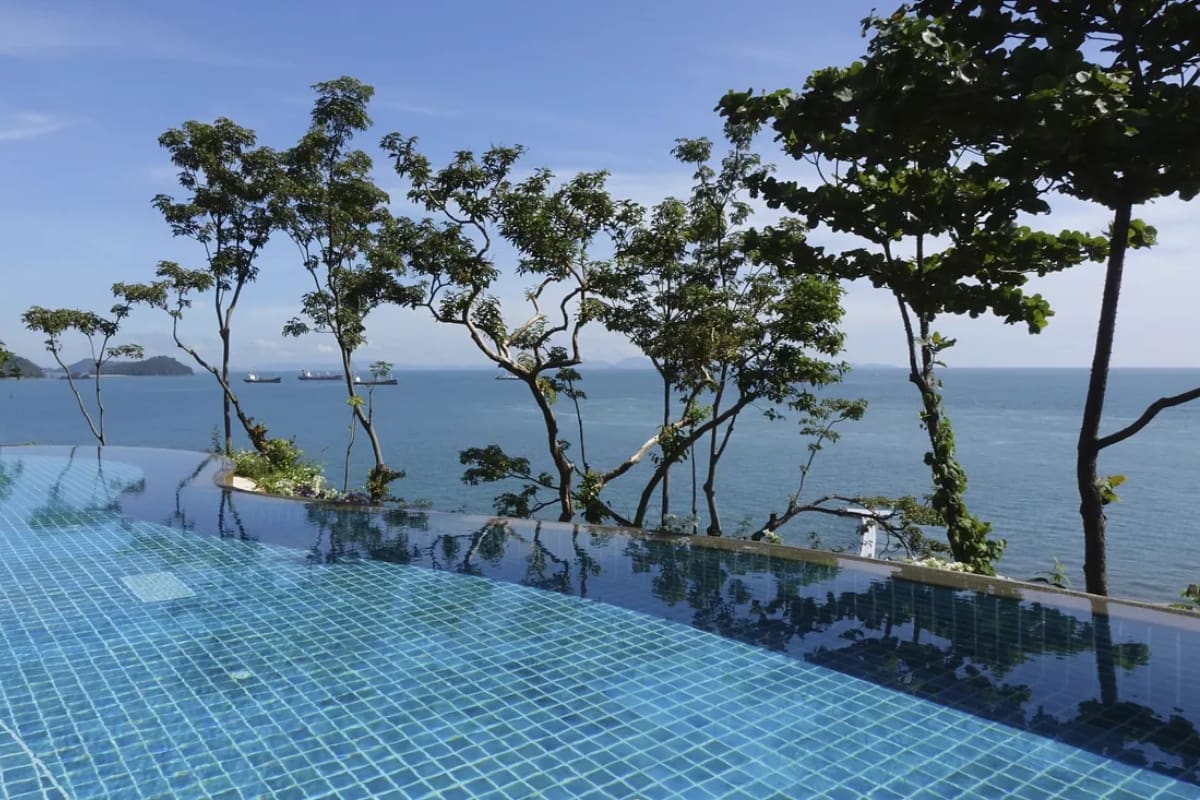 As you can imagine, infinity pools are expensive to build. Not only that, but they're costly to maintain too.
However, if you have a fantastic view in your yard that you'd like to show off, then an infinity pool will complement it perfectly.
Pool Shapes
Choosing a pool shape can be fun and exciting since it adds some visual interest to your yard. More importantly though, it'll optimize your space so you and your guests can lie down on your sunloungers without feeling cramped.
Here are some shapes to consider.
Rectangle/Square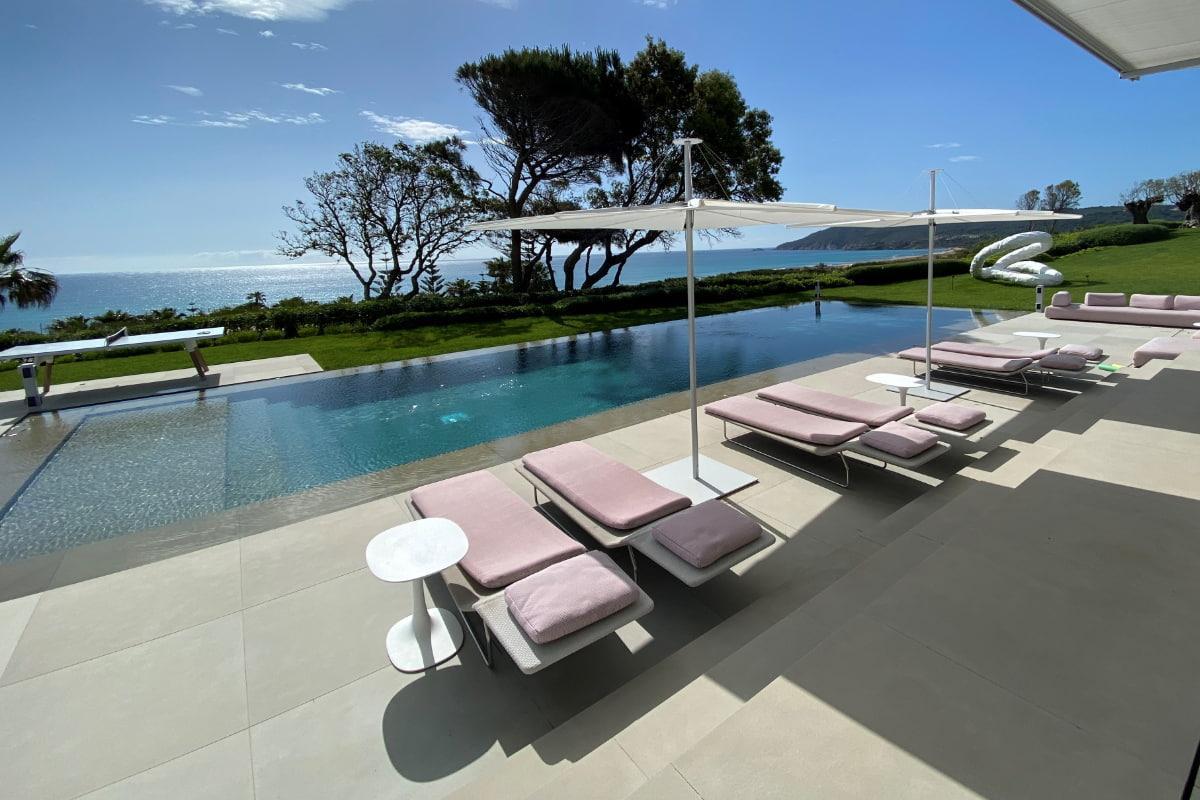 Rectangle and square pools are the most common pool shapes. The straight lines make these pools practical and versatile. You can swim laps, play games, or just socialize while submerged.
The right angles also give the pool a modern and sleek appearance.
L-Shaped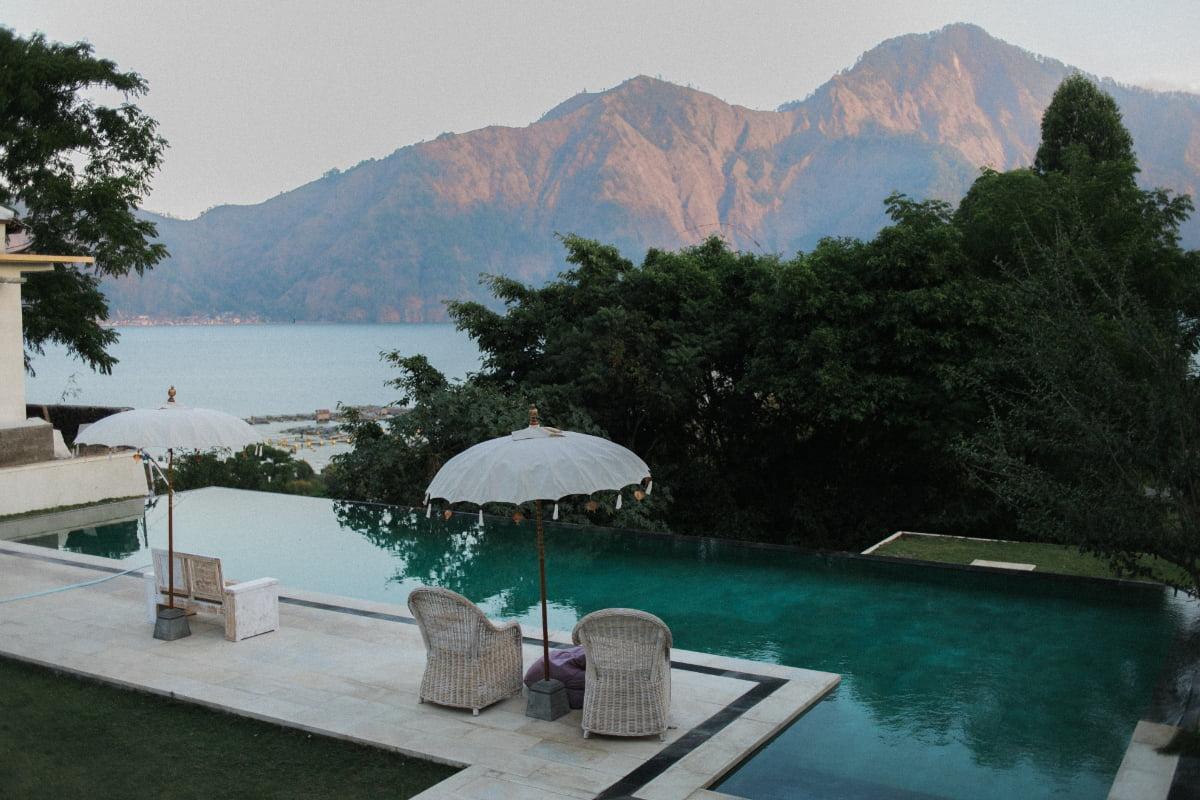 An L-shaped pool is similar to a rectangular pool. However, it definitely has more character!
Since there are two distinct areas, you can use one part for swimming and the other for lounging. It's ideal if you love entertaining guests.
Circular
Circular pools are excellent for creating a bold focal point in your yard.
In addition, it's optimal for small yards since there aren't corners. This gives you just a bit of extra room.
Freeform
Take the rectangle pool, think of the complete opposite of it, and you'll get the freeform pool. There are no straight edges, giving them a more creative and artistic appearance.
If you're trying to create a natural aesthetic in your yard, then freeform is the best shape to pick. Its wavy form mimics lagoons and ponds. And if you add things like rocks and waterfalls, it'll seem like you've got your own homegrown oasis.
Roman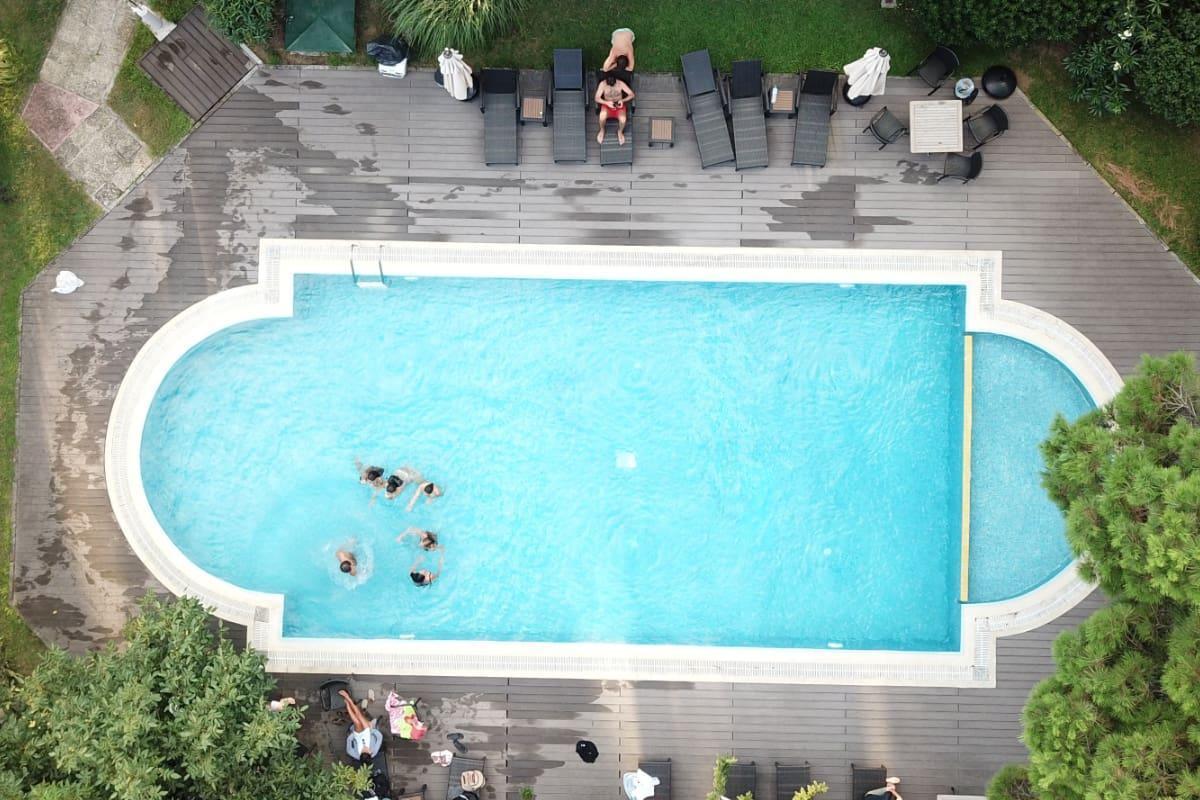 The Roman pool blends the rectangular and freeform pools together. It has vertical edges, but also rounded ends. This results in a classy look if that's what you're aiming for.
Custom
The possibilities are endless for pool shapes, so if you don't like the above choices, you can always come up with your own ideas. Whether you want a pool shaped like a rubber ducky or a coffee cup, they can make it happen!
Pool Locations
So far, we've made the assumption that your pool will go in the backyard. This is where you'll find most pools, as there's lots of room to work with.
But where else can you put your pool?
Rooftop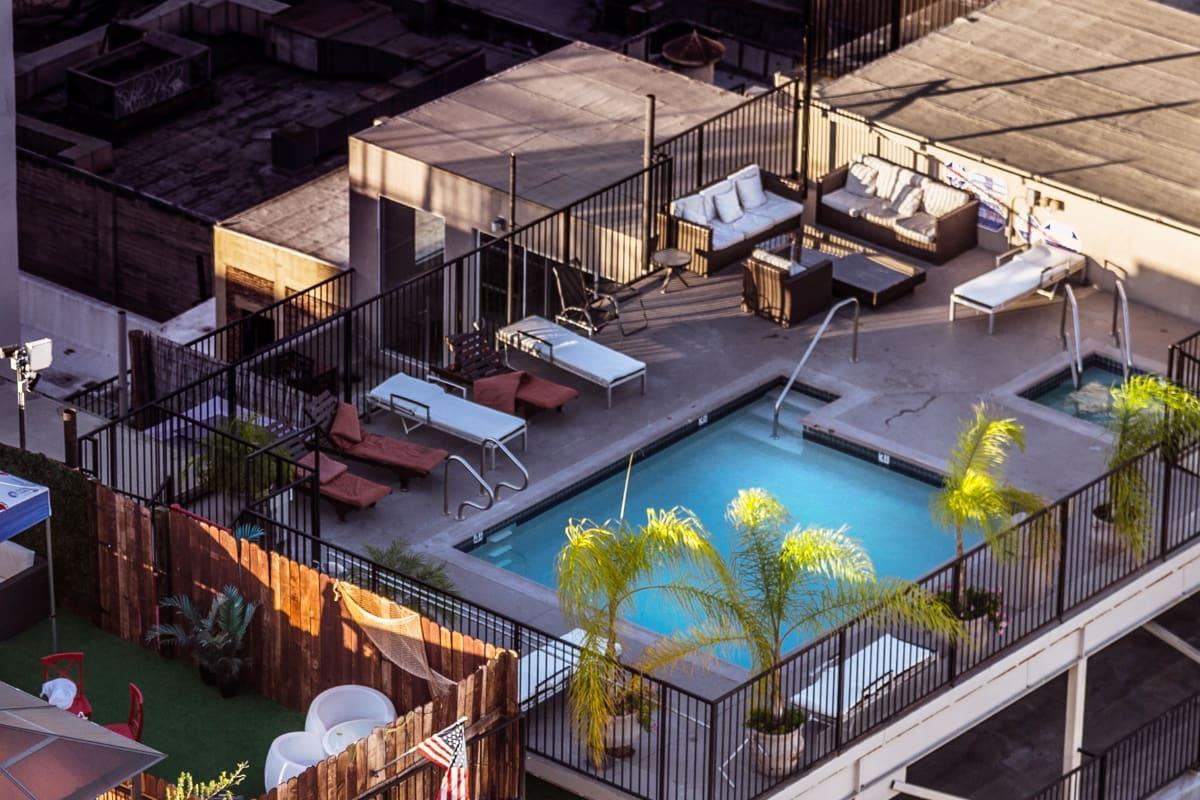 You can put up privacy screens and fences on the ground floor. However, nosy neighbors will probably still be able to spy on you while you're taking a dip.
Placing your pool on the rooftop will put you away from any prying eyes. And the bonus? You'll get stunning views, especially if you're up there during sunset or sunrise.
Indoor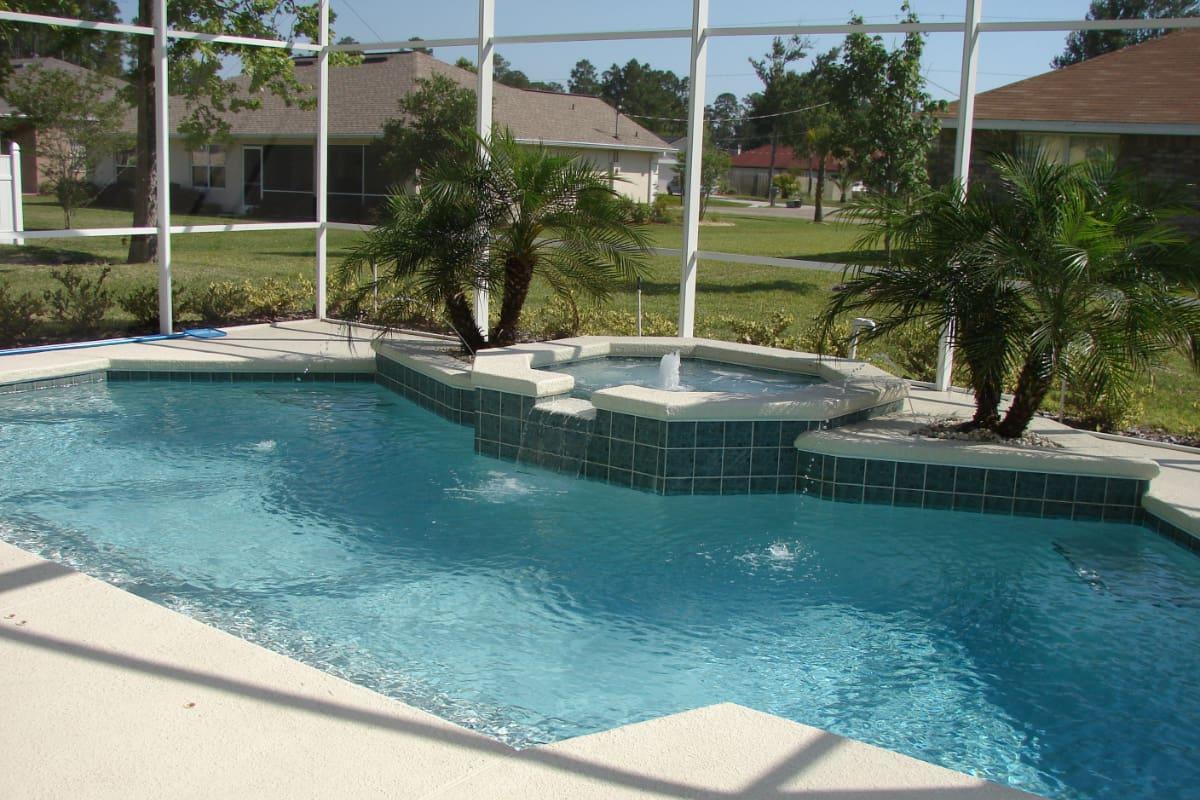 If you feel like you're a mermaid at heart, then you probably can't bear to leave your pool unused for half the year while it's freezing outside. However, it's just too cold to swim laps, even if you're passionate about them.
Why not put your pool indoors? If you're lucky enough to have a solarium or sunroom, then you can put a pool for year-round dips and laps.
Pool Materials
In addition to the types, shapes, and locations, you'll need to think about the materials used too. Some aren't available with certain pool types, so it's best to learn about this beforehand, so you're not disappointed.
Concrete
Concrete is used in the majority of pools since it's highly customizable. It's also durable; if you've got kids and pets, you won't have to worry about them destroying your pool.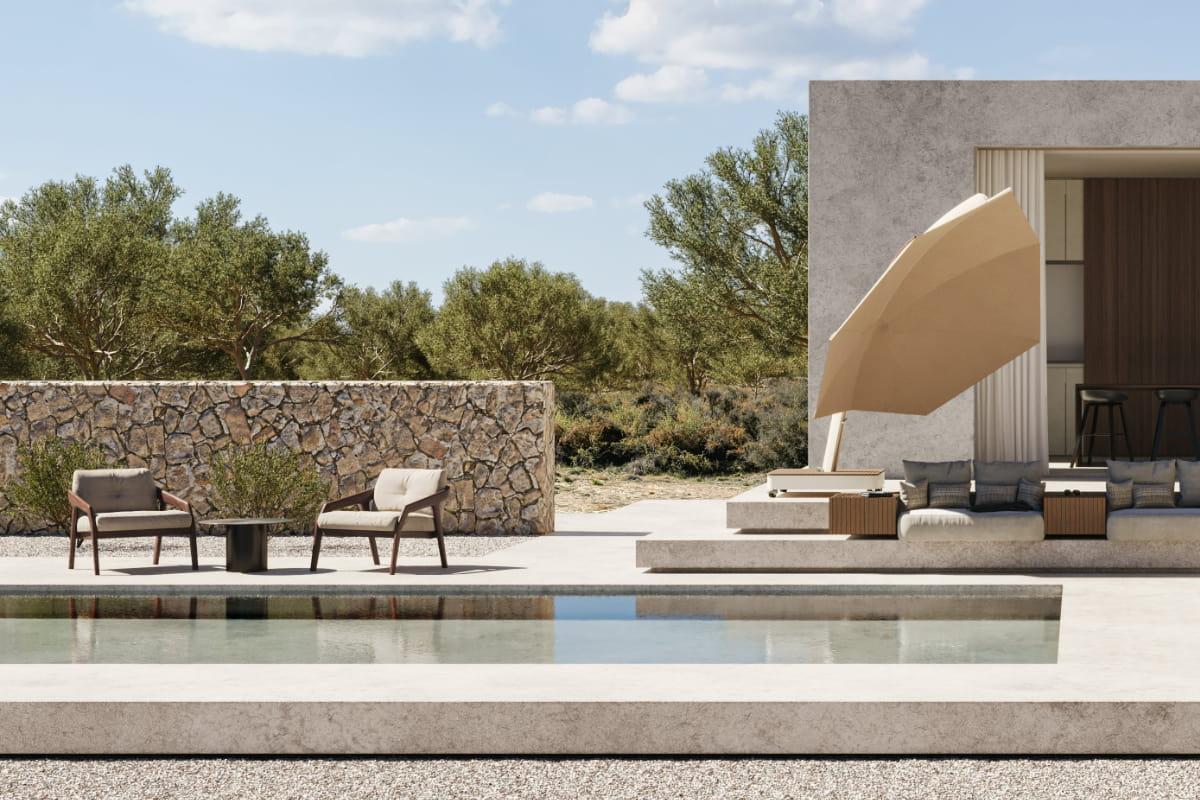 Concrete is expensive though, and it requires a lot of maintenance. You can't have a saltwater pool with concrete either, as the salt will ruin the interior finish. Plus, its texture is rough, so it's not great for kids and those with sensitive skin.
Also, if you're in a rush, concrete's not a good material to choose. It'll take up to six months or longer to complete your pool!
Fiberglass
Fiberglass is an excellent material, despite its initial priciness. It has a low lifetime cost of ownership and outstanding resale value.
Better yet, fiberglass is non-porous, meaning it's low-maintenance and durable. It looks amazing and is compatible with saltwater too.
The fiberglass pool shell is manufactured off-site, so you won't have to deal with a messy and dirty construction zone on your property. And once it arrives, it only takes two days to install.
However, if you're after customization, then you're out of luck here. What you see is what you get.
Vinyl Liner
Vinyl liners are great for homeowners who have a tighter budget. There's a lower initial cost that makes in-ground pools more accessible.
It's a more affordable choice for customizations too. It'll hike the price, but it'll still be cheaper than custom fiberglass or concrete pools.
As we mentioned before though, you'll need to replace the liner every five years or so. The cost of the replacements and labor can add up. In addition, while vinyl's a non-porous material, it can sometimes harbor algae growth.
Natural
For an eco-friendly option, create a natural pool. Instead of relying on chemicals to maintain the water, you'll use plant life and gravel.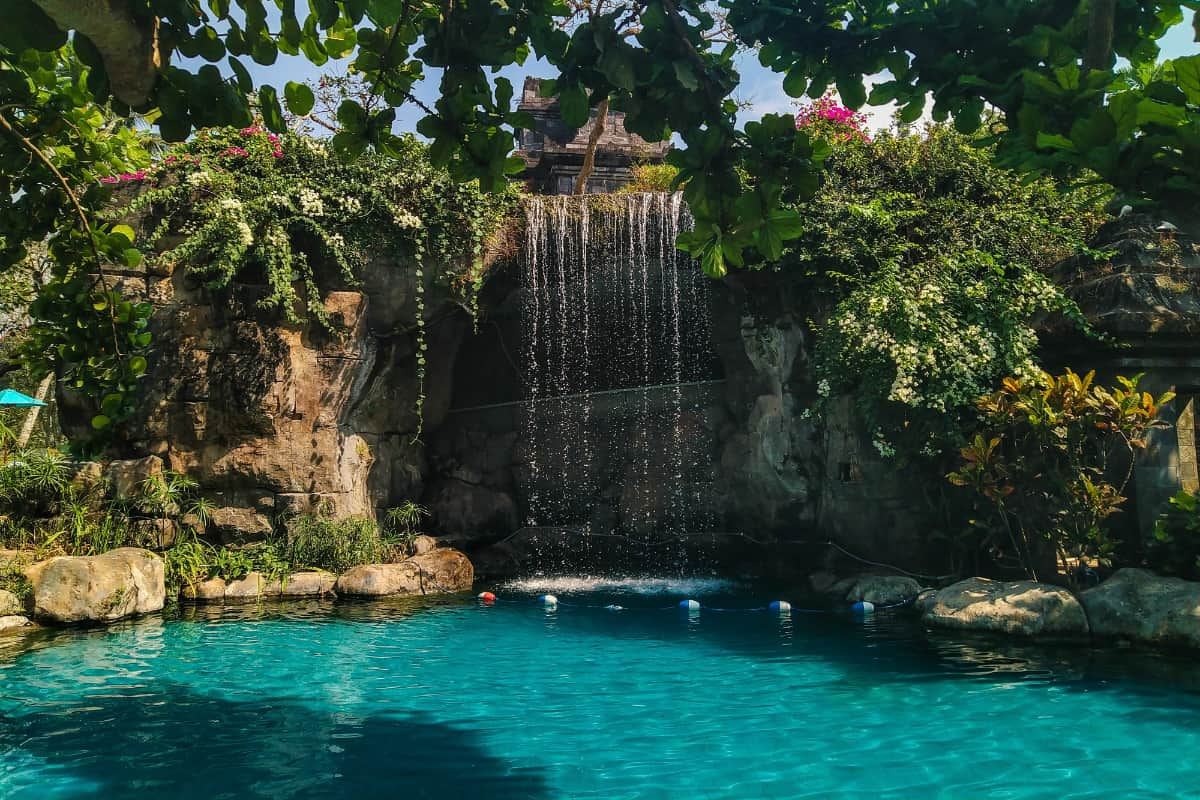 Natural pools cost more to install since there's intricate plant life involved. However, if you maintain your pool properly, it'll cost less to operate your pool in the long run.
Not only will the water be gentler on your skin, but you'll also attract local wildlife, such as frogs!
Pool Features and Accessories
A pool wouldn't be complete without some cool features and accessories. Below are some to consider.
Waterfalls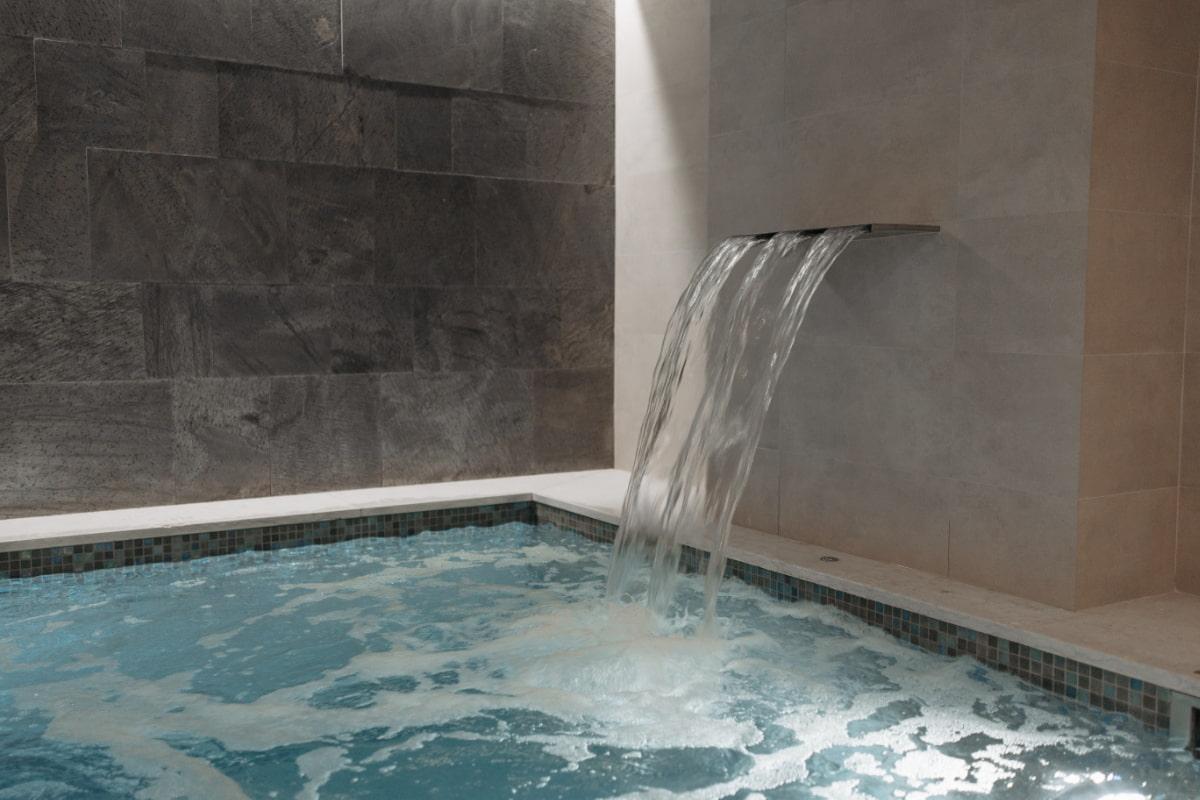 Waterfalls are a majestic sight in nature; recreating that look on your property will no doubt be epic.
This doesn't just give your outdoor space a focal point. It also enhances the overall aesthetic and provides a relaxing sound that'll make you want to stay in the water until you become a prune.
Pool Lights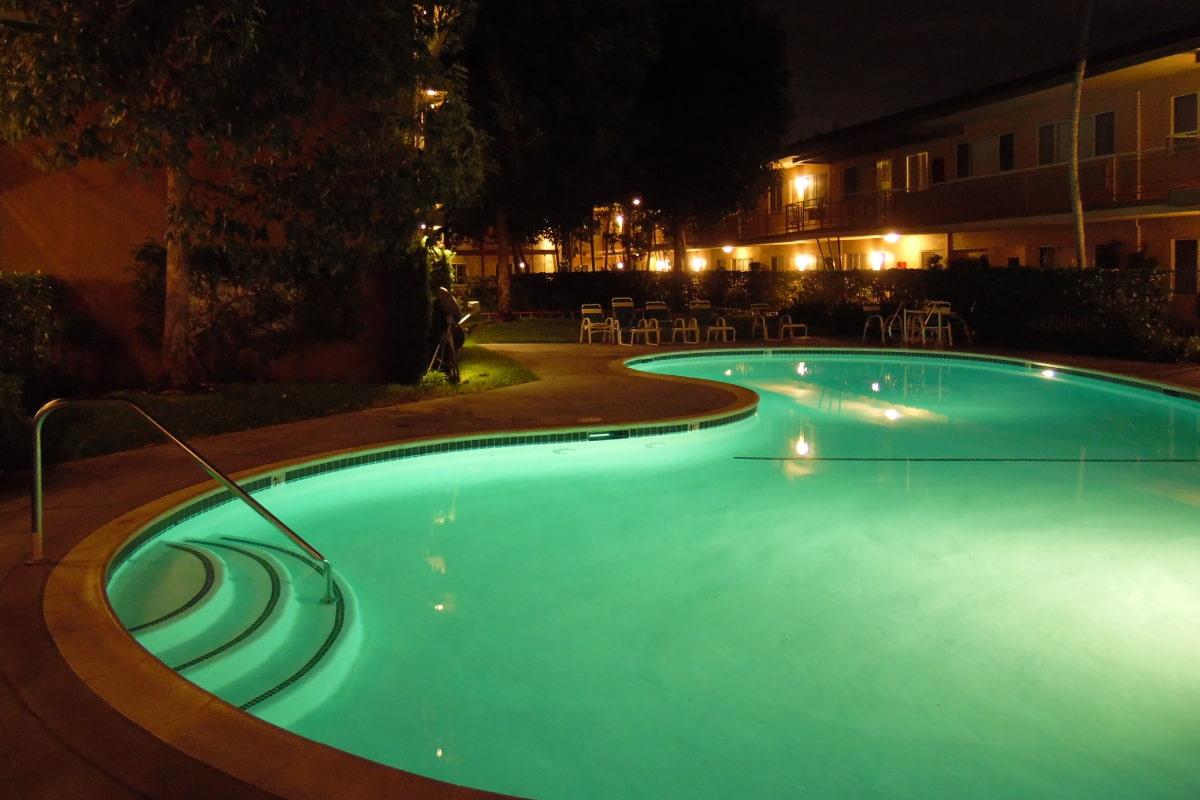 Pool lights are a must if you want to have nighttime swims. They'll light the way, so you won't have nasty surprises.
You can spice things up and opt for non-white lights. Going for colors such as red, blue, green, or yellow will give your pool a fun pop of color.
Diving Boards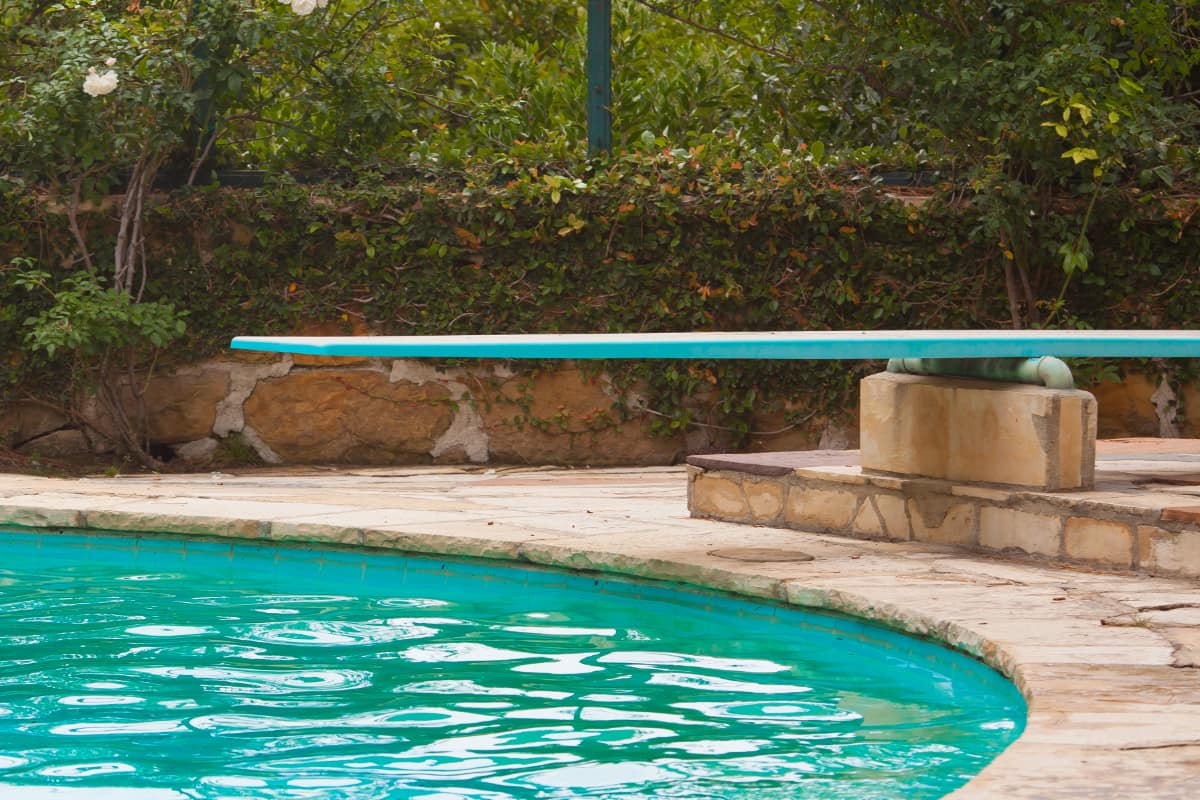 Add a splash of daring and danger to your pool by installing a diving board.
If you've got little ones, then stick to a low board. Otherwise, a high dive will have all your friends clamoring to show off their skills.
Pool Cover
This might be a boring accessory, but it's an important one. It'll keep debris out of your pool when you're not using it. As a result, it'll reduce the need for maintenance, and it can also help you maintain the water temperature.
Consider These Pool Designs
Having a pool a few steps away is a luxury not many homeowners have. If you're fortunate enough to have the space and money for one, then consider these pool designs carefully.
With the many combinations of sizes, shapes, materials, locations, features, and accessories, you can come up with something special that caters to your needs. As a result, you'll have a relaxing amenity you can enjoy for many years.
After selecting an ideal pool design, browse our outside lounging furniture to complete your yard's look.
Photo Credits
L-Shaped – Evgenia Basyrova on Pexels
Roman – Kaan Kosemen on Unsplash
Rooftop – Vladimir Kudinov on Pexels
Indoor – Gregory Beaty on Pixabay
Waterfall – Pavel Danilyuk on Pexels
Diving Board – Thomas Hawk on Flickr