Who makes the finest premium quality outdoor patio furniture?
The most effective architectural design creates a seamless harmony between indoor and outdoor spaces. Screened-in porches, covered decks, pergolas and other transitional areas blur the lines between what is considered inside and out. Consequently, interior designers now take a more holistic approach when planning for upscale clientele who want to incorporate both.
In the US, the outdoor furniture market is expected to grow at a compound annual growth rate (CAGR) of 5.2% from 2020 to 2027. (Source: Grand View Research)
High-end indoor furniture manufacturers typically don't have outdoor lines, so it's often difficult to find equivalent quality in garden or poolside furnishings. We've compiled a growing list of the best luxury outdoor furniture brands on the market for discerning clients unwilling to sacrifice style for durability [Robinson (2014)].
These companies combine artistic design with premium materials and best-in-class production techniques to create luxurious lounge and dining sets. They demonstrate a commitment to excellent service, attention to detail and a focus on environmental responsibility. These types of traits make a big difference in how outdoor furnishings looks and lasts, as well as the stores that are allowed to carry them. They may be more expensive, but these brands are worth it.
Point – Artisan craftsmanship for luxurious outdoor living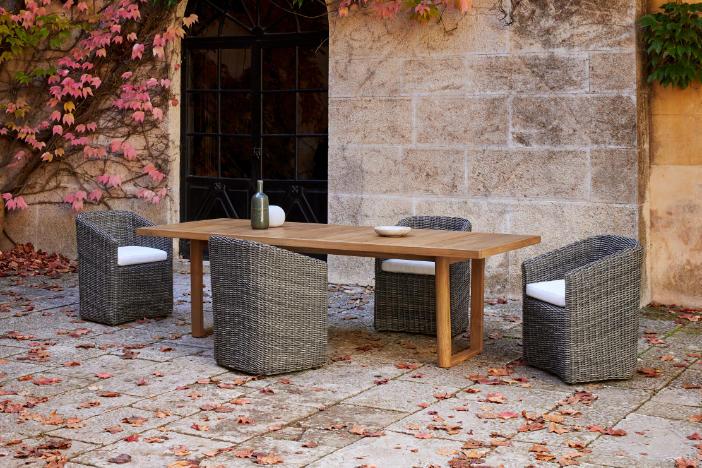 Point has created furnishings that fuse innovation with elegance, beauty and luxury for over a century. Born from a love of handcrafted wicker weaving, this Spanish company has artisanal pride in its meticulously manufactured outdoor furniture lines. Their commitment to craftsmanship blended with an investment in the finest raw materials, international design talent and openness to evolve and innovate has helped Point grow into a global brand. Point's high-quality outdoor furniture ranges from laid-back and pleasant al fresco dining sets for distinguished restaurants to sophisticated lounge seating and tables for the most discriminating high-end residential installations.
The epitome of Point's embrace of the past and present can be seen in their iconic Heritage collection by renowned designer Mario Ruiz. This outdoor range gives a nod to the company's early wicker furniture while making a completely modern statement. Heritage blends the balanced geometries and linear look of traditional designs with softer contemporary contours. The resulting organic silhouette creates a harmonious informal piece that exudes a welcoming feeling. Each woven seat has a lacquered aluminum structure with a synthetic wicker shell of braided Shintotex® round fibre and weather-resistant upholstery. Heritage tables are crafted using eco-friendly Grade-A teak with optional tabletops in porcelain or compact HPL.
Siebensee – Sophisticated yacht furnishings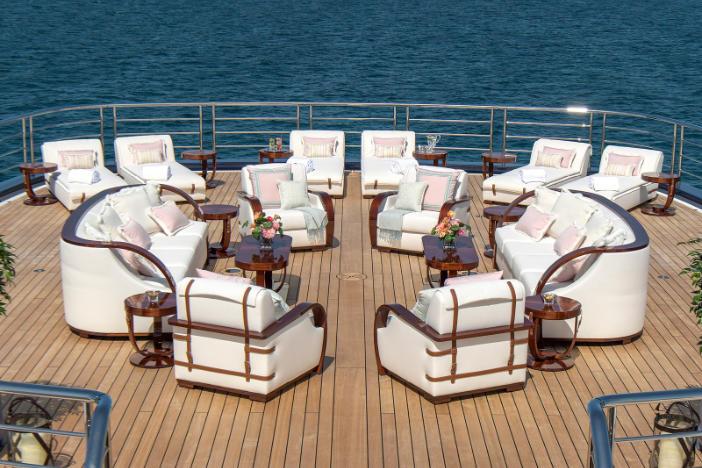 Siebensee is a premium brand of outdoor furniture for superyachts. This collaboration between German luxury furniture manufacturer Finkeldei and exterior fitted furnishings expert Stükerjürgen is an eye-catching line of customizable and bespoke furniture. Siebensee products begin with innovative concepts from renowned designers, incorporate premium class materials such as teak, stainless steel, thermo ash and high-tech carbon, utilize state-of-the-art construction techniques and end with handcrafted finishing to ensure each piece is perfect. Their collections include loose and fixed upholstered seating and tables, while their one-of-a-kind commissions also feature built-in furnishings, cabinetry and even fire pits.
Siebensee's extra comfortable Celtic collection of outdoor lounge and bar furniture has an aerodynamic swayback design and luxurious marine appeal. The warm woodgrain of the solid oiled teak frames provides a stunning contrast to the lacquered shells of the chairs, sofas and adjustable stools and sun loungers. Gently rounded corners and plush upholstery add to the relaxed, yet sophisticated, feel of this line of high-end outdoor furniture. Polished marine-grade stainless steel swivel bases on fixed pieces ensure that they can stand up to the elements at sea.
Unopiu – Elegant garden furniture, structures & shades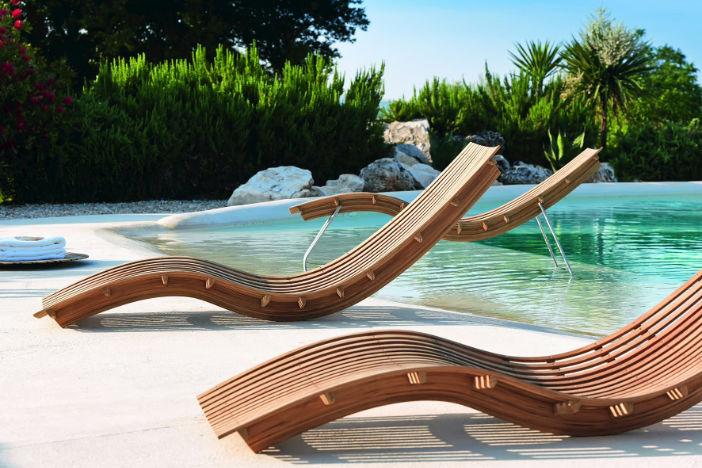 Italian exterior designer Unopiu conceives and creates elegant and functional furniture that is a fusion of indoor and outdoor styles. Their master artisans work with premium raw materials, selected for their ability to withstand extreme climatic conditions, and applies innovative production techniques. The company not only uses FSC® certified teak but promotes sustainability through a reforestation collaboration with Treedom too. Products range from relaxing weatherproof garden dining and lounge furniture to romantic scrolled iron pergolas and gazebos, as well as patio umbrellas and shade sails.
Utopia's refined C'est la Vie collection is reminiscent of classic sophisticated English furniture. Its broad slatted frame is constructed of polished mahogany with decorative stainless steel feet. The gloss finish and ample tufted upholstery give the modular seating and adjustable sunloungers unique nautical sophistication. Designed by architect and interior designer Michele Bönan, C'est la Vie has timeless style and innovative features, such as tables and chaises with extractable tabletops.
iSiMAR – Mediterranean style meets industrial design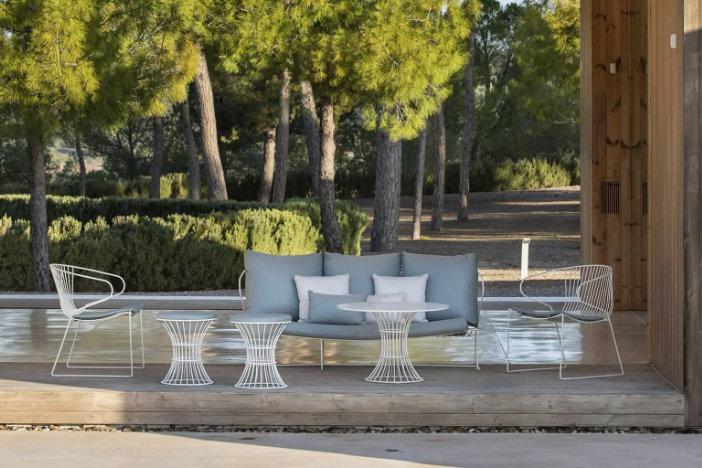 Spanish manufacturer iSiMAR took decades of experience fabricating metal structures for industrial applications and joined forces with the eclectic art direction of Il Mio Design to create an avant-garde outdoor furniture line. Their award winning collections feature galvanized steel rods, tubes and sheets – powder-coated, corrosion-resistant metals that are 100% recyclable. The light and airy ergonomic designs give iSiMAR's sunbeds, seating and tables a relaxed contemporary feel that complements a variety of casual outdoor settings.
Their sophisticated Arena collection is inspired by the Mediterranean landscape and blends modernist and retro styles. Its galvanized steel wireframe and shells are lacquered in polyester powder to increase durability and provide a broad color palette. The graceful lines of the perforated wraparound backrests and table bases give the outdoor furnishings a subtle elegance that elevates them above mere minimalist utilitarian design.
Sutherland – High-performance heirloom quality patio furniture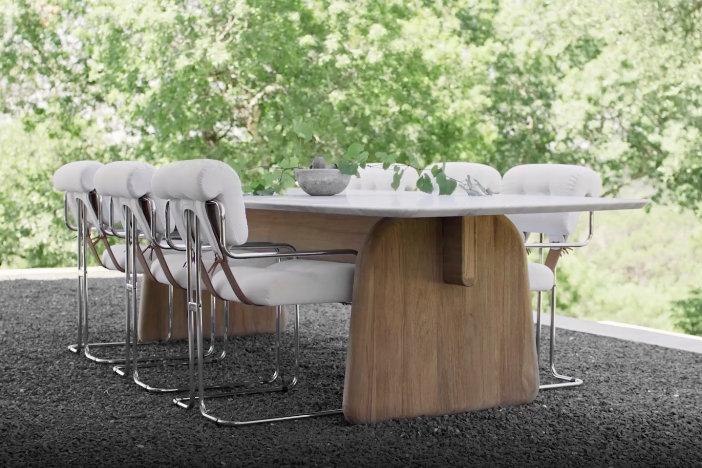 Dallas-based Sutherland Furniture is recognized worldwide for elegant proportions, impeccable craftsmanship and unparalleled comfort. The company partners with internationally renowned designers such as 4Mariani and Jean-Pierre Geelen to create outdoor furniture that stands the test of time visually and structurally. Sutherland's portfolio ranges from slender organic forms to block-like minimalist structures. Their collections use premium teak, marine-grade stainless steel and performance synthetic weaves. Many tabletops are hewn from Belgian blue stone from Hainaut quarry. Cushions are wrapped in solution-dyed acrylic textiles from sister company Perennials. Sutherland's hospitality-grade outdoor furniture grace luxury residential settings to high-end resorts, hotels, restaurants and yachts.
Their impressive Plateau collection by Bonetti-Kozerski has an ultra modern minimalist design with a low profile sectional sofa that is the hallmark of the range. The squared lines and sturdy form of the teak platforms are matched by stout lounge and dining chairs with plush upholstered seats and wooden backrests. Plateau's massive dining table is topped with elegant Carrara Marble.
Summit – Handcrafted sustainable teak outdoor furniture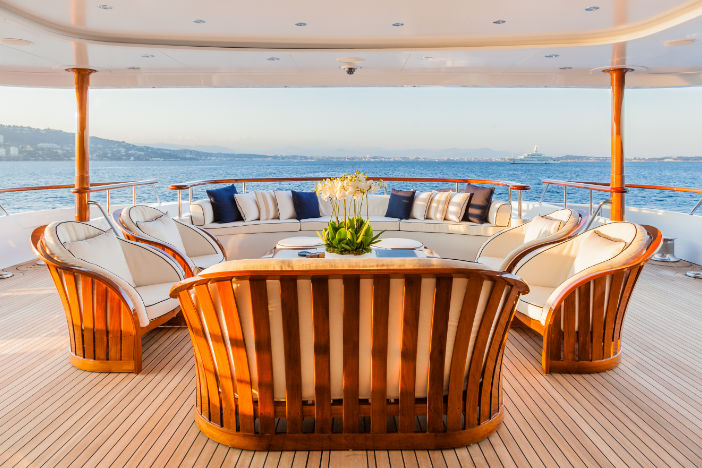 Summit Furniture is internationally recognized for excellence in design, materials and craftsmanship. Their distinguished, handcrafted, sustainable teak furnishings are informally elegant and durable – making them an ideal choice for luxury resorts, villas, estates and superyachts throughout the world. Summit's diverse design team brings decades of experience crafting formal English garden benches, relaxed rustic Californian lounge seating and versatile sleek marine furniture.
The impeccable quality of Summit's lounge and dining collections relies on award-winning designs and the finest materials. Designers such as Andrew Winch and Kipp Stewart utilize solid plantation-grown teak, marine-grade stainless steel, Dri-fast™ foam and high-performance solution-dyed acrylic fabrics to create their memorable outdoor furniture lines. The clean lines and minimalist feel of Summit tables, chairs and sofas draw inspiration from a wide variety of sources: British campaign furniture, Californian lifescapes, the Art Moderne movement, boomerangs and the sea. As a result, their furnishings range from exquisitely sleek folding directors' chairs to angular retro dining tables to sumptuous loungers with generous proportions and ample back and seat cushions.
McKinnon & Harris – High-performance aluminum outdoor furniture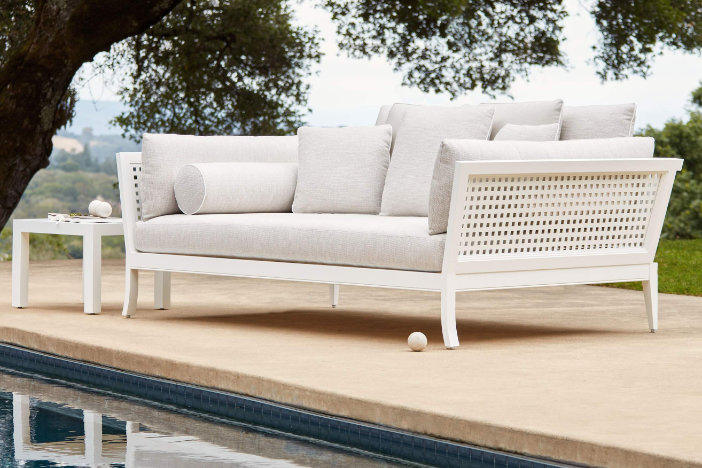 Virginia-based McKinnon & Harris handcrafts original outdoor furniture designs for gardens, estates and yachts. The company was founded, in part, on the idea that the most interesting outdoor spaces are furnished in eclectic layers like interiors. Their collections are inspired by unforgettable family memories of moments shared outdoors.
McKinnon & Harris' talented craftsmen design and build each item of furniture with the goal of creating artistic heirloom pieces that last a lifetime. Every table and seat is handcrafted using high-performance aluminum with dual coating to protect the frames in even the harshest saltwater environments. The metal has an undercoat of Bonderite® EC² Technology from the Henkel Corporation and an architectural-grade powder-coating that is weather and fade-resistant.
Their collections have generous proportions, understated elegance and welcoming familiarity. They feature clean lines, subtle styling and endearing accents that are both aesthetically pleasing and functionally relevant. McKinnon & Harris' stunning sunroom lounge seating and alfresco patio dining sets can be found in upscale residences and luxurious commercial locations worldwide. Their club chairs, curved sofas and parsons tables deserve special acknowledgment.
Henry Hall Designs – Fine outdoor furniture for gardens & patios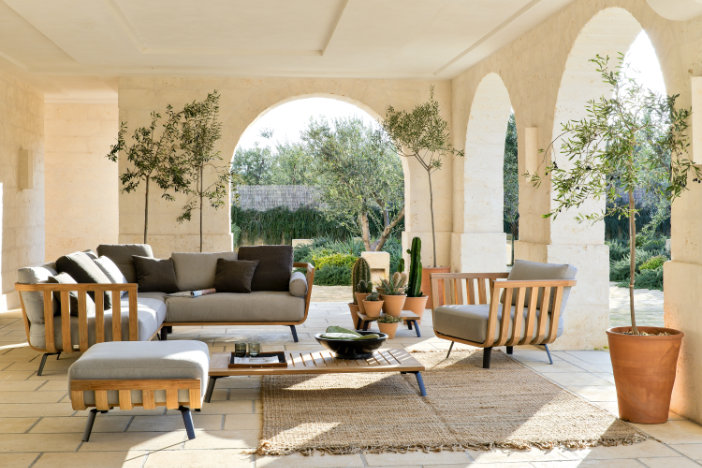 The refreshingly diverse designs of Henry Hall draw upon an array of international influences in architecture and art, and reflect diligent attention to how people socialize and relax. Each outdoor furniture collection is imbued with its own unique style and attention to detail in materials and construction, and appeals to the most discriminating taste of upscale clientele.
Henry Hall's growing line of teak lounge chairs, woven seating and eye-catching outdoor tables is the result of their award-winning design team. Internationally recognized designers Ted Boerner and Karim Rashid bring decades of experience with impressive clients such as Conde Nast, Celebrity Cruise Lines, Prada, Alessi and Issey Miyake. Acclaimed English designer and Elle Decoration Future Classic Award winner John Reeves also contributes a passion for the environment that is captured in his graceful river stone-inspired Flow collection.
Zachary A Design – Functional art with refined durability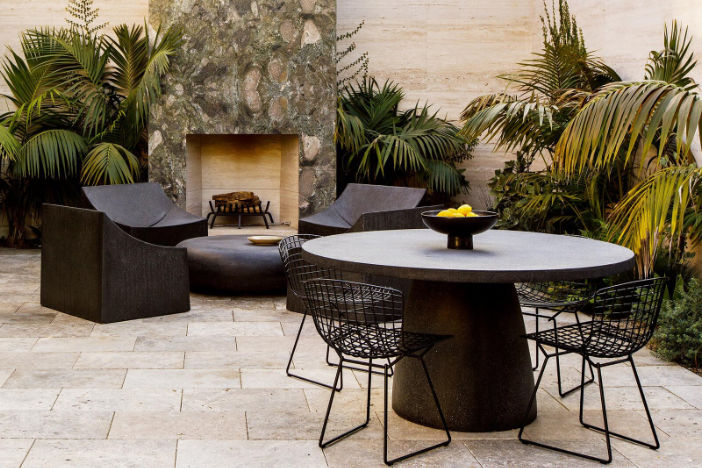 "Unexpectedly light. Unexpectedly functional." This mantra perfectly encapsulates the artistic furnishings created by Chicago-based Zachary A Design. Each minimalist modern piece of furniture is hand cast using a unique blend of durable composites and concrete to create natural or geometric forms that are lightweight, strong and functional. Consequently, the objects have the look and texture of heavy stone or concrete but are easy to install and re-position. An integrated water drainage system allows these innovative works of functional art to be used outdoors in all seasons, although their timeless look make them appealing additions indoors as well.
Zachary A Design's industrial artisans combine the structured discipline of furniture design, casting and mold-making with the artistic freedom of sculpting and painting to develop innovative collections of all-weather, low-maintenance outdoor furnishings. Their iconic commercial-grade seating ranges from curved organic lounge chairs to block benches to angular sectional sofas in a variety of natural and colored finishes. The unique characteristics of the modern material allow Zachary A Design to fabricate narrow dining tables, slender bistro tables that resemble mid-century modern Tulip Tables and broad cocktail tables in an array of shapes. Like the enduring materials they resemble, these sculpted pieces will stand the test of time.
Talenti – Sophisticated Italian garden furniture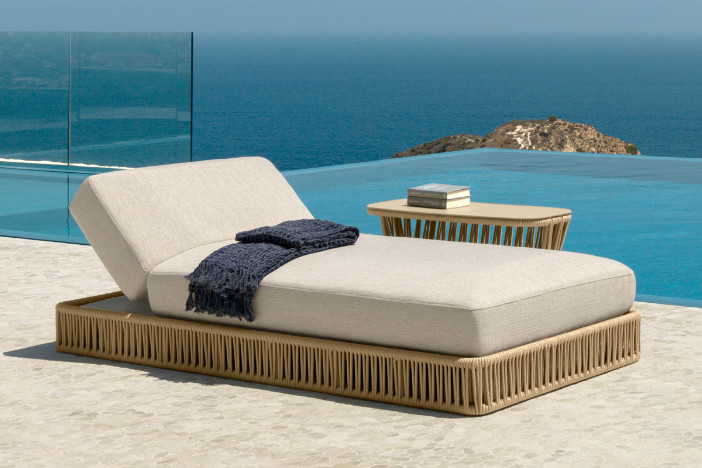 Talenti interprets contemporary trends, engages internationally renowned designers and utilizes innovative materials and technologies to produce furnishings that redraw the line between indoor charm and outdoor ease. Each piece in the Italian company's product line is original, versatile, elegant and resistant to the elements. This holistic approach to design ensures that Talenti's refined furniture can adapt to any environment with minimalist style and unparalleled performance over time.
The company blends diverse visions, cultures and sensibilities through collaborations with esteemed design names from across the globe. Over the years, notable designers such as Jean Philippe Nuel, Ramon Esteve, Ludovica Palomba and Roberto Palomba have redefined outdoor living through Talenti. United in their pursuit of high-quality, timeless appeal and ergonomic comfort, these designers continue to produce outdoor furniture collections that resonate across a broad spectrum of clientele. Talenti's sophisticated all-weather furnishings grace posh residential estates, exclusive resorts, Michelin-rated restaurants and luxury yachts throughout Europe, the Americas and Middle East. Their products range from the intimate nautically-inspired lounge seating of the George collection to the sleek stylish lines of the alfresco dining set of the Moon line and everything in between.
Shadowspec – Precision engineered designer patio umbrellas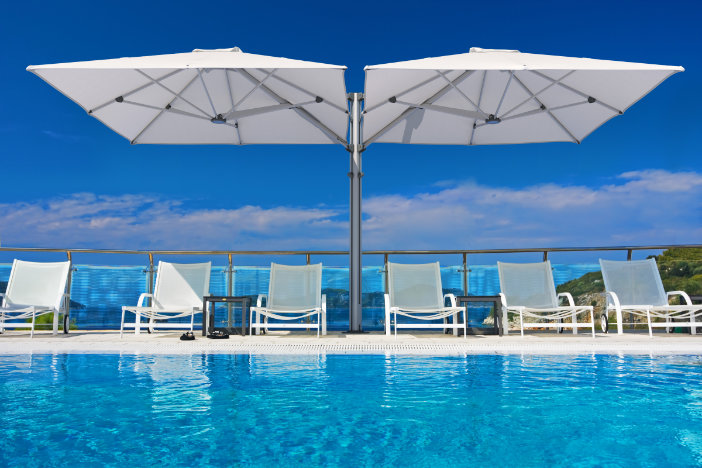 For over 25 years, Shadowspec has developed unparalleled outdoor umbrellas for hospitality and residential installations worldwide. The New Zealand company focuses on each umbrella's ease of use, design aesthetics and resistance to the elements. This holistic approach has resulted in groundbreaking advances in shade technology.
Their gas-assisted ShadowLift™ and smooth ShadowGlide™ mechanisms ensure that canopies effortlessly open and close in 3 seconds. This makes it easy for almost anyone to use their spacious luxury shades. Shadowspec's latest models include their chic Serenity and cool modular Unity Cantilever Umbrellas, which rotate 360° in set increments and have mobile app-controlled LED lights integrated into the hub. Their patio umbrellas have clean minimalist modern designs and are constructed using marine-grade aluminum, stainless steel and premium Sunbrella acrylic fabric to ensure their performance and appearance are lasting.
BUY SHADOWSPEC PATIO UMBRELLAS
B & B Italia – Distinctive high-end modern outdoor furniture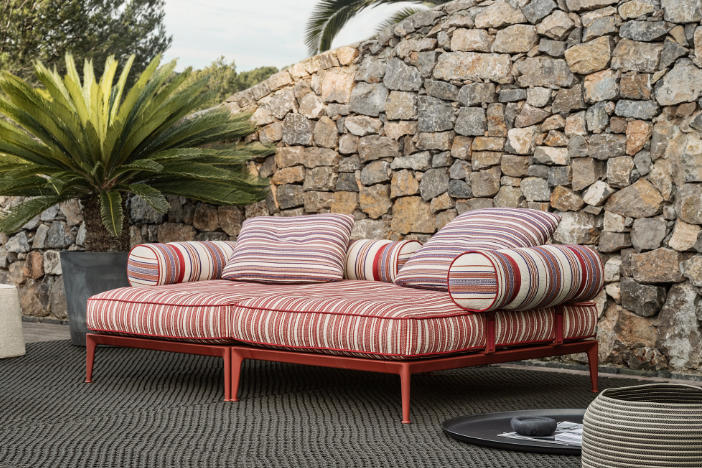 Contemporary international design and quality that stand the test of time. That concept drives product development at B & B Italia along with an embrace of innovative industrial manufacturing and the unique creativity of its design team. Notable designers such as Philippe Starck, Patricia Urquiola and Naoto Fukasaw have all contributed to the company's exceptional balcony furniture, alfresco dining sets and terrace lounge seating.
B & B Italia's responsiveness to living trends and artful adaptations of traditional furnishings have put it at the vanguard of modern outdoor design. The exceptional quality and timeless elegance of their furniture is due, in large part, to the company's history of research and commitment to technology. It has been recognized with multiple "Compasso d'Oro" awards – most notably for their efforts to "combine the values of technical and scientific research with those required for product function and expression."
Exteta – Inventive furnishings for hybrid indoor/outdoor spaces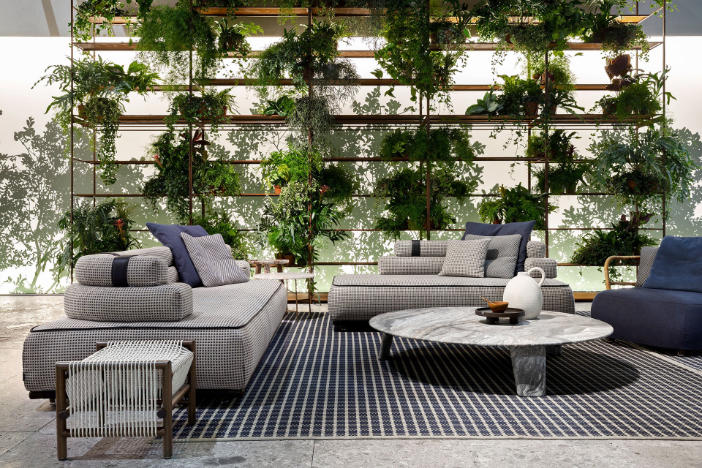 Luxury patio furniture designer Exteta is celebrated for its "inventive designs, beautifully crafted into a space that is meant to be dwelled in." The Italian company's philosophy recognizes the importance of utility in addition to aesthetics for furnishings that enable people to escape the stress of modern life to an oasis in a setting they have made their own. Their contemporary seating and tables are at home indoors, outdoors or spaces in between.
Exteta invests in advanced production technology, sophisticated materials and talented designers to create enduring elegant pieces that imbue a setting with a sense of fluidity and harmony with architectural or natural elements around them [Felappi (2019)]. Frames are often made from sturdy hardwoods like sapelli or finished metals such as iron or brass. Italian marble tops provide lasting style to their tables, while Sunbrella and other premium outdoor textiles wrap their upholstered patio chairs and sofas. They maintain the highest quality standards and are certified ISO 9001.
Umbrosa – Unique shade designs for contemporary outdoor settings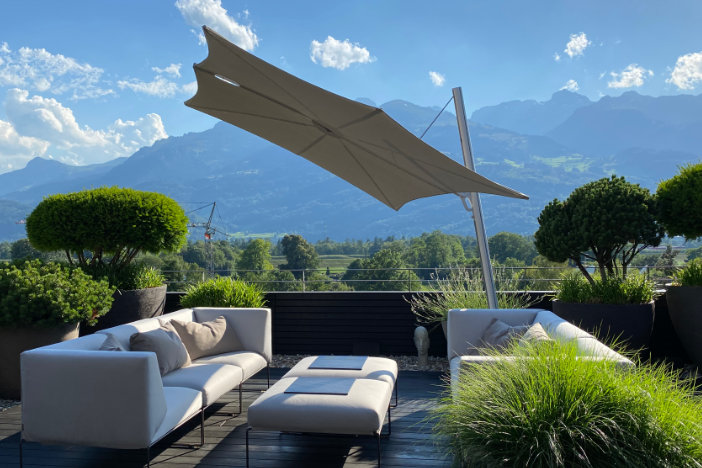 Umbrosa patio umbrellas and shade solutions are a blend of elegance, understated simplicity and ergonomic ease. Their flexible outdoor parasols and shade sails are inspired by plants and trees and designed with usability and durability in mind. The Belgian company integrates ingenious natural forms with the highest quality materials and the latest technology to produce their signature luxury umbrellas.
Their renowned international designers have taken traditional patio umbrellas and adapted them in innovative ways to the needs of modern outdoor spaces. Whether it's the articulating arm and polyvalent capability of the amazing Paraflex collection or the razor-thin profiles of Spectra or Eclipsum, Umbrosa's shades distinguish themselves visually and functionally. Carefully constructed of durable anodized aluminum and premium UV and weather-resistant materials and textiles, their high-end shades are long-lasting. This durability and aesthetic grace enable Umbrosa umbrellas to be used in both upscale residential and commercial settings. Their shades currently adorn the terraces, decks and poolsides of the most beautiful resorts, restaurants and estates around the world.
BUY UMBROSA OUTDOOR UMBRELLAS
Coco Wolf – Bespoke luxury outdoor furniture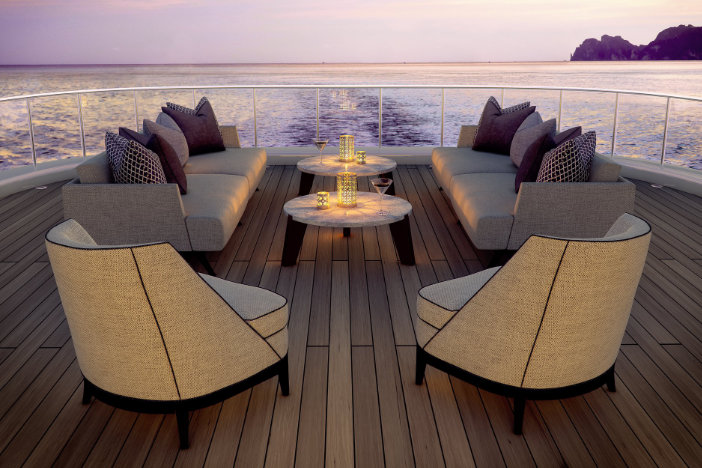 Sophisticated creations that withstand the test of time and the elements. That is at the core of Coco Wolf's founding vision. Their exclusive and made-to-order outdoor collections strike a balance between design and resilience by incorporating exceptional craftsmanship with carefully chosen raw materials sourced from the marine industry. The resulting hand-finished lounge and alfresco dining sets are exquisitely styled, finely detailed and made to live outdoors year-round.
Based in the U.K., Coco Wolf has quickly established a reputation for uncompromising quality and maintenance-free products. Their stunning outdoor seating lines grace courtyards and terraces across Europe in both upscale residential and high-use commercial locations. Coco Wolf's quick-drying chic upholstered sofas, ottomans and loungers also create a seamless flow from indoor to outdoor spaces without sacrificing style or comfort.
Gandiablasco – Sensual outdoor furniture with Mediterranean flavor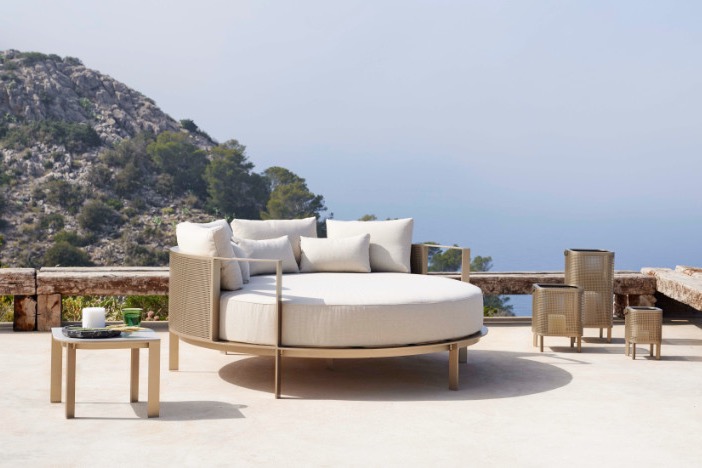 Spanish brand Gandiablasco designs exquisite outdoor furniture whose architectural character is inspired by its Mediterranean heritage. Their luxury patio furniture features clean lines and a purity of form that focuses on what is essential rather than omitted. While steeped in the historical-cultural influences of Ibiza, Gandiablasco embraces modernity with thermo-coated aluminum frames and high-tech Dekton® surfaces. This marriage results in sophisticated outdoor furnishings that are durable and low maintenance.
Since its founding in 1941, Gandiablasco's attention to rich and expressive colors has been one of the company's hallmark characteristics. Their elegant palette embodies distinction, serenity, glamour and sensuality. This can be seen in collections like Solanas whose warm colors and flowing curves create a feeling of harmony and intimacy. The softness of the seamless perforated aluminum panels of Solanas contrast with the clean linear silhouette of Saler Teak. This understated line of patio lounge furniture features precision-cut hardwood slats with a deep chestnut woodgrain finish and minimalist profile. Gandiablasco's iconic collections can be found on terraces of resorts and residences around the world.
Jardinico – Luxury patio umbrellas as a statement of style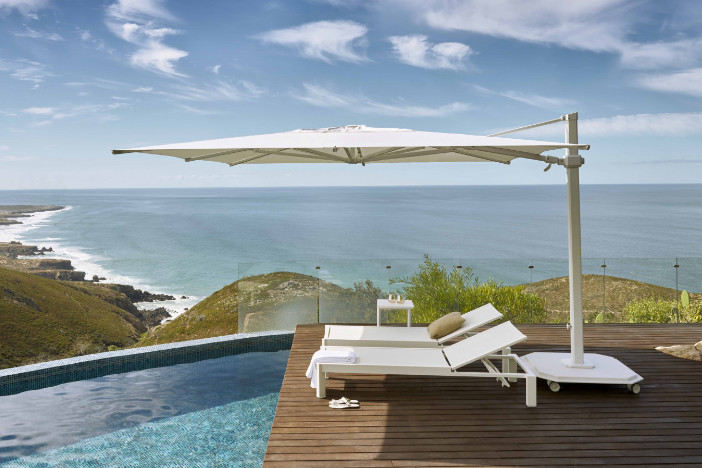 Innovative Belgian design and an impeccable eye for detail are at the heart of every Jardinico outdoor parasol. Creating the perfect exterior space requires a harmonious blend of landscaping, architecture and furnishings. Jardinico recognizes that premium outdoor umbrellas serve as beautiful finishing touches in addition to sun protection. Their elegant shades are defined by flawless construction, sleek lines and a wide selection of canopy colors and finish options to complement other outdoor palettes.
Their exclusive Caractere collection features both market and cantilever umbrellas with commercial-grade durability, superior functionality and chic design. These characteristics enable Jardinico umbrellas to be used in private residences and contract installations worldwide. The rotating parasols open with a simple twist of the hand and can be mounted on portable bases with locking wheels – making them easy to move to where they're needed and completing your ideal outdoor setting.
BUY JARDINICO PATIO UMBRELLAS
Roda – Sophisticated Italian design blending indoor & outdoor living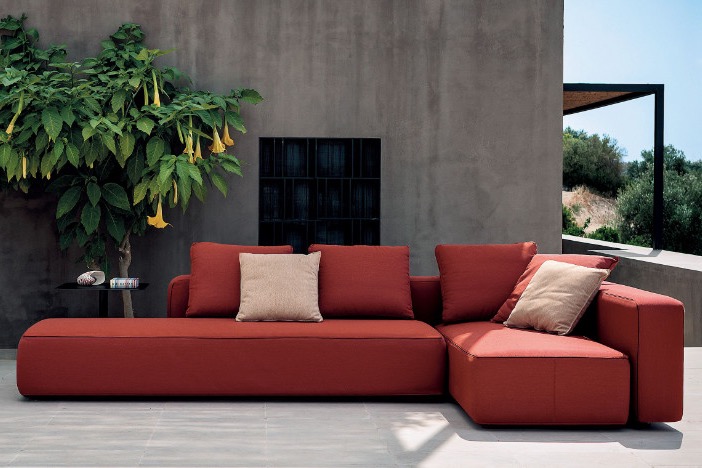 The cosmopolitan style of Roda's collections embodies the philosophy of its found Roberto Pompa that it's possible to enjoy the spontaneity of living alfresco without sacrificing the aesthetics of interior design. Roda furniture seamlessly bridges the transition from indoors to outdoors with a harmonic union of shapes, colors and materials. The versatility of the Mediterranean-influenced pieces allows them to adapt to the environment – creating a unique expression of personality for each commercial or residential installation.
Roda designers create each line with attention to durability and comfort as well as style. They utilize carefully selected natural materials such as solid teak and stone and marry them with advanced polyester weaves and electrostatic-coated metal frames to ensure each table, chair and ottoman retains its aesthetic beauty and structural integrity for years. Their outdoor sets range from the plush upholstered Dandy line of modular sofa units to the sleek and sinuous ergonomic seating of the Laze collection. Roda luxury outdoor furniture can be found in estates, courtyards and terraces from Monte Carlo to the Maldives.
AK47 – Rugged fire pits in harmony with outdoor landscapes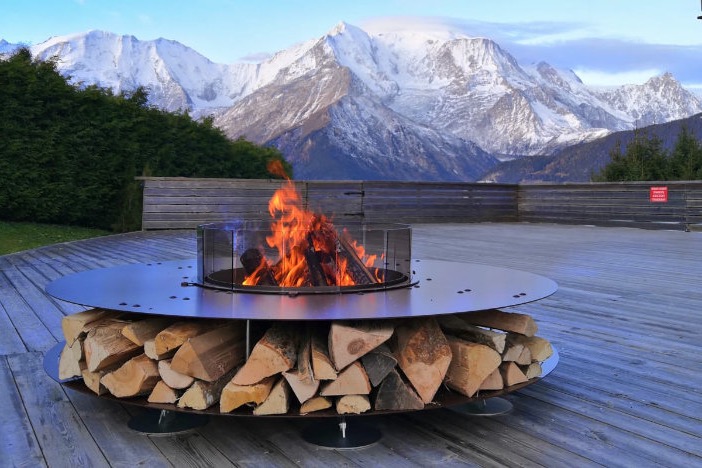 Furniture can help create a welcoming environment, but it relies on people to bring energy. The fire of a hearth, however, creates its own life and can delight the eye as well as comfort the spirit. AK47 designs outdoor fire pits that synthesize utility and informal Italian design. Their statuesque wood-burning fireplaces incorporate durable materials, rustic finishes and simple shapes to celebrate elements found in nature.
AK47's team of artisans crafts each fire pit to be a dynamic multi-functional piece and not simply a decorative object. Their timeless designs often feature compartments to store firewood and barbecue grilling options in addition to a safe receptacle for burning logs and tinder. Oxidized steel, heat-treated antique Chestnut wood and handcrafted concrete are a few of the high-quality materials that give AK47 fire pits their strong character and distinctive rugged style. These sculpturesque fire furnishings create convivial outdoor focal points that enliven both residential and commercial open spaces. It's the reason AK47 fire pits leave an indelible impression on guests and gives them something to talk about after they leave.
EGO Paris – Bold elegant furniture for enjoyable outdoor moments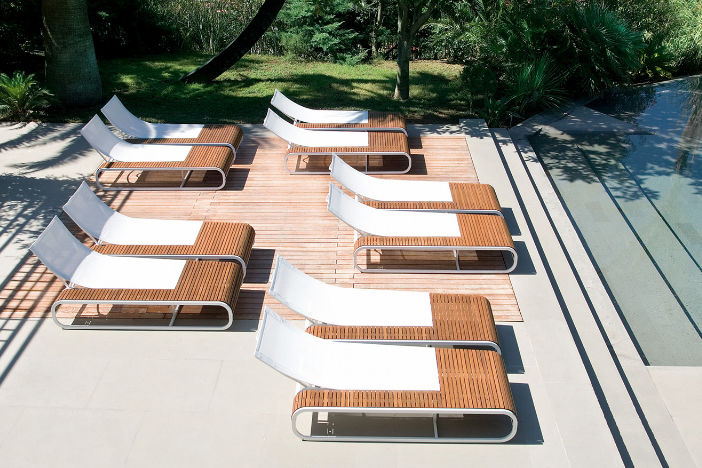 "Ingenuity, modularity, conviviality" is the motto of French outdoor furniture designer EGO Paris. These words permeate every elegant product the company designs. Their well-thought-out patio furniture collections include dynamic coffee tables with raiseable trays for laptop use, configurable seating that conforms to your space and an array of furnishings made from pleasant materials in soft subtle colors to create inviting outdoor spaces.
EGO Paris' contemporary designs have achieved international acclaim for their ingenuity in blending form and function. Designer Thomas Sauvage's striking Tandem collection was recognized for its sunlounger and awarded a REDDOT design award. The iconic line integrates powder-coated aluminum frames, teak slatted decks and Batyline® slings in asymmetrical formations and undulating silhouettes. EGO Paris' bold outdoor furniture collections adorn the most prestigious hotels from Dubai to Buenos Aires and other majestic open-air spaces worldwide.
Paola Lenti – Timeless woven design landscapes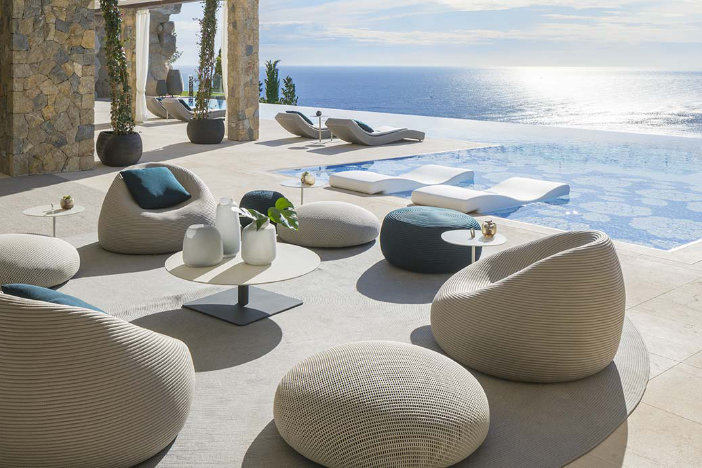 Paola Lenti is internationally renowned for its original furniture designs. The Italian furniture company blends architectural structures, material characteristics, nuanced colors and natural forms to create their coherent indoor and outdoor collections. This harmony of form and function gives each piece an understated sense of elegance. Paola Lenti also balances research and experimentation to find complements in the seemingly opposite. Traditional hand-crochets are enhanced by high-tech weaves, while iconic textures and lines from the past bleed into sleek modern surfaces and profiles.
They pay particular attention to the in-depth study of yarns, their quality and performance. Their continuous research has yielded proprietary rope, fibers and Aquatech yarns that are enduring and resistant to sun and water damage. Consequently, Paola Lenti's colorful outdoor seating and rug collections stand out for their unique woven upholstery fabrics and synthetic textiles.
Kettal – Expressive modern outdoor furniture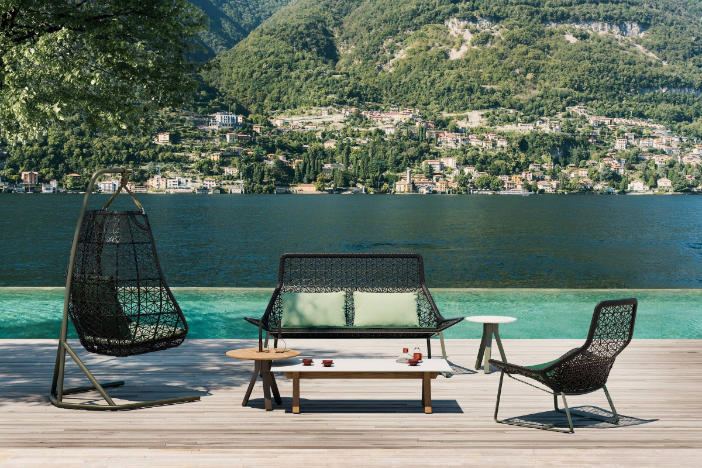 The innovative patio furniture collections from the Kettal Group are the result of long-standing relationships with important international designers such as Patricia Urquiola, Jasper Morrison and design teams from acquired brands Hugonet and Triconfort. The Barcelona-based Spanish company creates timeless high-end outdoor furniture for modern lifestyles. Its blend of creative design, customization and contemporary production techniques gives each piece unique and exclusive cache.
Kettal incorporates a wide variety of high-quality materials and creative ideas in its range of upscale outdoor furnishings. Hole-punched metal sheets are used to create calyx-shaped chair shells, while weather-resistant plastic wicker and woven cords form seats of ergonomic comfort. The company's eye toward novel design is complemented by its philosophy of environmental respect. Most of Kettal's furniture paints are recyclable and their wood is certified under Perhutani standards of sustainable forestry management.
Ethimo – Sophisticated outdoor settings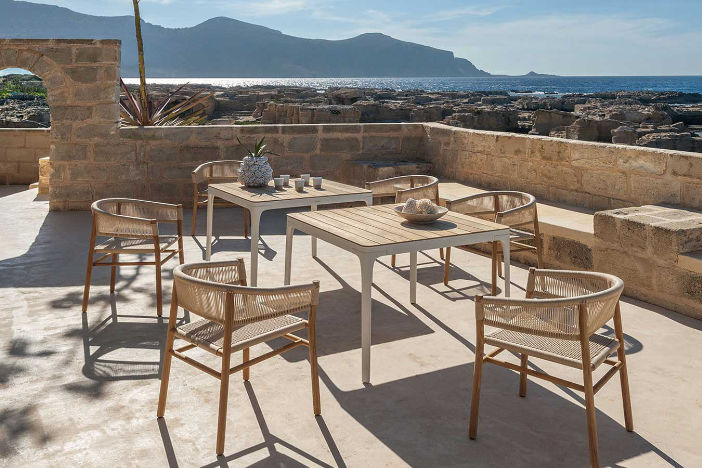 Ethimo specializes in designer outdoor furniture infused with Mediterranean color and the charm of authentic humble places. The Italian company is guided by a passion for nature, discriminating taste for premium materials and attention to detail. Their elegant designs enhance the decor of terraces of exclusive hotels, sophisticated resorts and private botanical gardens around the world.
From organic agave leaves to classic Roman architectural elements, Ethimo is inspired by the world around us throughout time. Their prestigious award-winning lines cover a spectrum of materials and styles. The dual metal and teak framework of the Swing lounge furniture collection creates a striking silhouette and unique tactile intrigue. In contrast, the refined woven rope shells of their Knit range of chairs provide an idyllic synthesis of aesthetic appeal and functional ergonomics. Ethimo produces tapered designs for small urban environments, well-proportioned upholstered pieces for open relaxed settings and everything in between.
Manutti – Luxurious outdoor daybeds, sunloungers & comfy chairs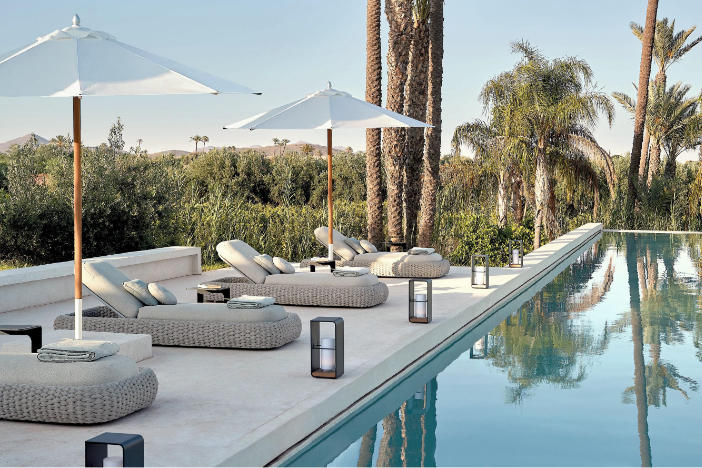 Belgian designer Manutti manufactures luxurious patio furniture for both residential and commercial installations with an emphasis on creating a feeling of exclusivity, relaxation and enjoyment. They take a 360° approach to design that results in broad and diverse collections of spacious outdoor couches, plush patio lounge chairs, weather-resistant rugs and even deck lighting. This holistic view of exclusive outdoor furniture extends to the designers and renowned brands with whom they collaborate (e.g. Villeroy & Boch), production techniques and materials they use.
Manutti is a pioneer in the research and development of imitation leathers, finishes and stitching details specifically for use in outdoor environments. Their creative curiosity has yielded well-thought-out designs that appeal to the sense of touch as well as sight. Their outdoor furniture collections include rounded forms with thick woven synthetic rope covers, precision metal frames with Trespa® HPL tabletops and tapered upholstery wrapped in premium Sunbrella® fabrics. Manutti is also environmentally conscious and partners with Trees4Trees to promote the responsible reforestation of teak and other woods used in production.
Oasiq – Outdoor contemporary furniture inspired by nature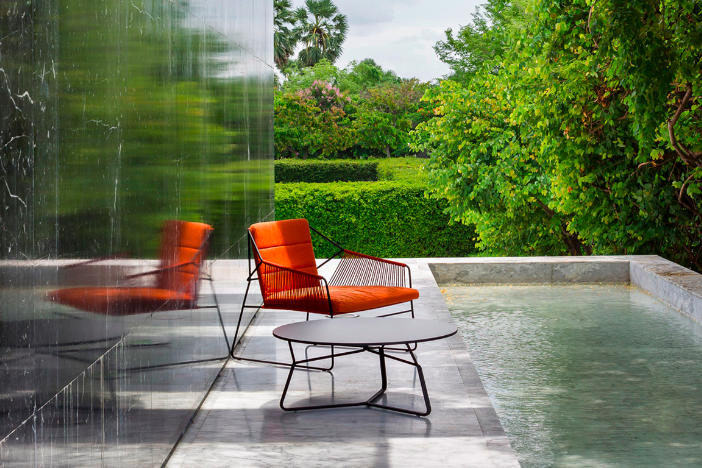 "Inspired by nature. Crafted for people." This mantra is the driving force behind every Oasiq design. Aesthetic beauty and symmetry found in nature are often attributed to the alluring qualities of the "golden ratio" (a.k.a. golden mean). Oasiq reinforces this natural form with simply elegant outdoor furniture that contributes to the feeling of well-being and connects people to the beauty of their surroundings.
Oasiq combines traditional craftsmanship with state-of-the-art technology to create premium outdoor furniture that satisfies even the most discerning customer. Their commitment to excellence can be traced back to their development of fine leathers, sturdy metal components and durable textiles for equestrian sports. The Belgian designer produces everything in-house – ensuring that meticulous attention to detail is paid to every cut of steel, joint of teak, hand-weave of synthetic wicker and powder-coated finish. Consequently, each chair, table and couch produced is both pleasing to the eye and up to the physical demands expected of luxury outdoor furniture. Oasiq collections have helped create harmonious settings in gardens, on terraces and beachfront decks worldwide.
Brown Jordan – Iconic outdoor designs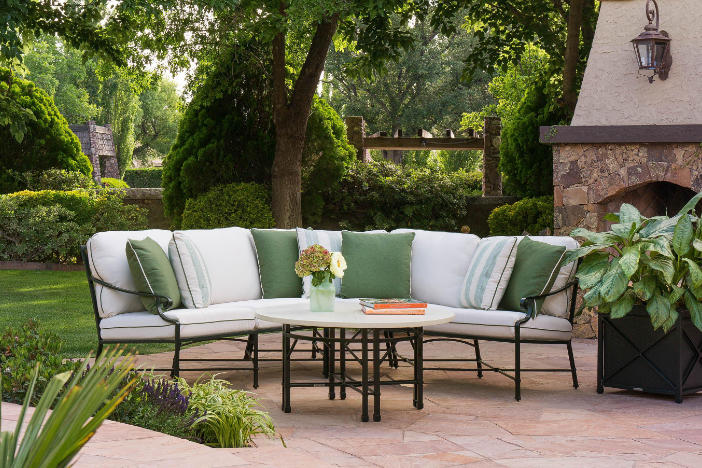 Brown Jordan is consistently recognized as one of the premier manufacturers of outdoor furnishings. Their iconic award-winning designs infuse innovative modern ideas with premium materials and traditional production techniques to create high-end patio furniture. Each hand-made cast aluminum table and chair undergoes a rigorous finishing process to ensure that they not only look beautiful but can withstand the elements for years to come. Brown Jordan has a wide variety of styles and product categories from which you can furnish your deck, poolside or garden. Their portfolio of luxury lifestyle brands for residential and hospitality markets includes Castelle, Charter, Texacraft, Tropitone and Winston.
Gloster – Premier teak furniture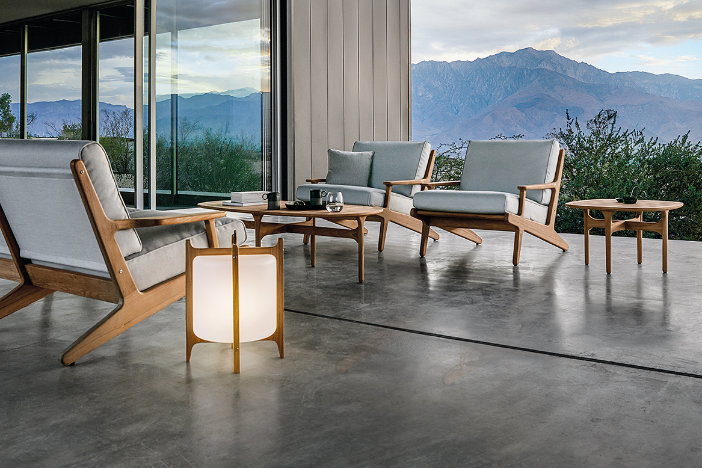 Designing and building the finest luxury outdoor furniture is what Gloster is all about. They specialize in the production of premium teak furnishings, but also have collections that are made from rattan, resin wicker and powder-coated aluminum. Their teak is harvested from carefully managed plantations to ensure high quality and environmental responsibility. Each sofa, chaise lounge and coffee table is shaped and finished by dedicated craftsmen who take great pride in their work so you can enjoy years of relaxation in the sun.
Sifas – Luxury in-outdoor furnishings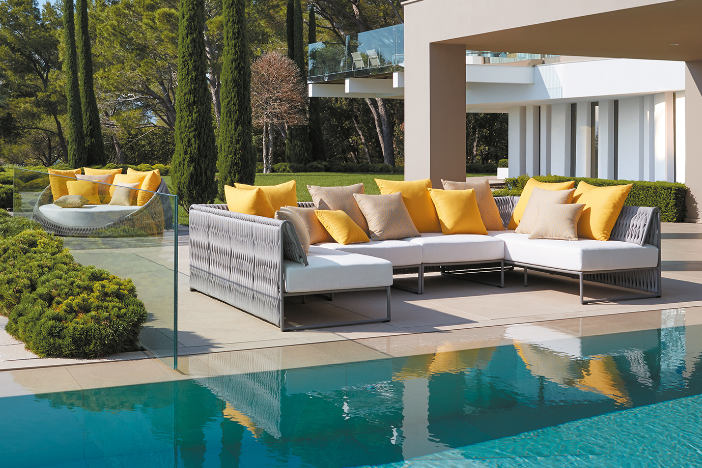 If you're looking for luxury indoor-outdoor furniture that is durable, Sifas is the brand for you. Their collections are among the most expensive on the market, but they use the finest materials and modern manufacturing processes and back them with an unprecedented 10-year warranty. Each piece of high-end patio furniture is crafted from lacquered aluminum, marine-grade stainless steel, tempered glass and PVC coated polyester to ensure that it looks great with very little maintenance. Upholstered sofas and lounge chairs are covered in colorfast Sunbrella® fabric. Sifas is long-lasting, but it's stylish too. Agatha Ruiz De La Prada lent her unique colorful style to a special line of chairs and tables, and the Kwadra collection has won international awards for its contemporary eco-friendly design. Their timeless Kross collection has a Tuscan style with the look of wrought iron.
BUY SIFAS OUTDOOR FURNITURE
Barlow Tyrie – Most experienced patio furniture manufacturer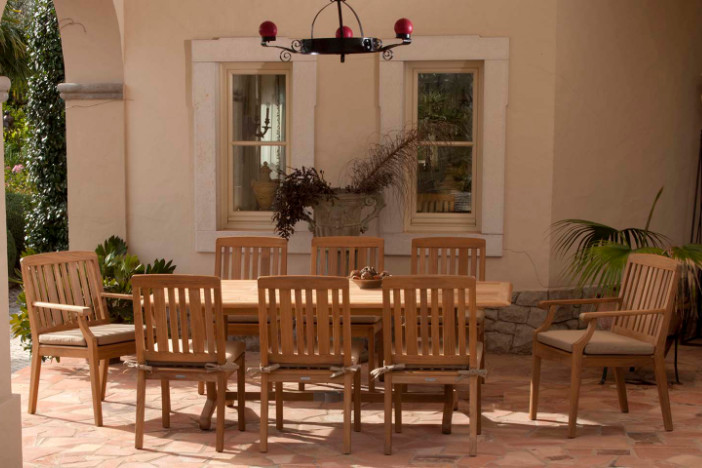 Renowned worldwide as the oldest manufacturer of luxury outdoor leisure furniture, Barlow Tyrie has been designing and producing high-quality teak furnishings for nearly one hundred years. This British company harvests its plantation teak from environmentally responsible hardwood forests, but their stylish patio furnishings also incorporate steel, aluminum and synthetic fibers. Teak is strong, durable and weather-resistant for years, so Barlow Tyrie's designers and craftsmen are committed to creating timeless classic benches, dining tables and seating that will never go out of style. Their signature garden collections have won multiple international design awards over the years.
Dedon – Revolutionary woven designs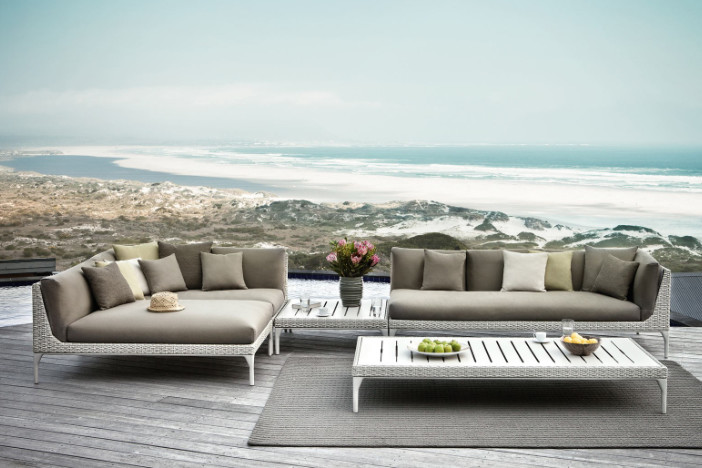 Dedon revolutionized the market for high-end woven outdoor furniture by being the first manufacturer to utilize durable, weather-resistant, synthetic fiber in their designs. Master craftsmen combine this environmentally friendly fiber with the finest teak, aluminum, glass and ceramics to create some of the most unique contemporary designs in the patio furniture industry. They use Ferrari Batyline® fabric upholstery to ensure that cushions and pillows meet their high-quality standards. Their diverse collections can be found poolside at the most luxurious resorts, spas and hotels around the world so you can be confident they'll meet or exceed your expectations.
Mamagreen – Modern & eco-friendly outdoor furniture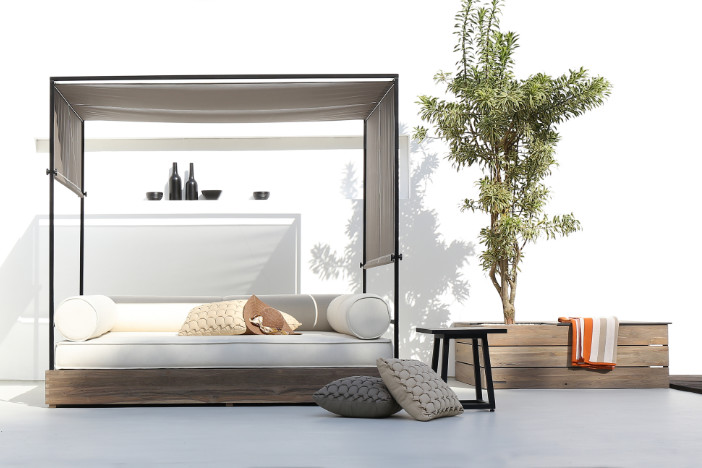 For those of you searching for modern luxury outdoor furniture that is both stunning and environmentally sustainable, Mamagreen is a perfect choice. This innovative organization takes a holistic approach to designing its patio sets and deck lines. Eco-friendly materials, including reclaimed teak, and contemporary manufacturing processes are used to create hundreds of beautiful lounge chairs, sectional sofas and tables that last for years. Their award-winning premium collections range from traditional solid wood designs to sleek metallic modern styles with vibrant batyline colored upholstery and accents. These high-end furnishings are durable enough for both residential and hospitality use.
BUY MAMAGREEN PATIO FURNITURE
Fermob – Innovative & fun high quality garden furniture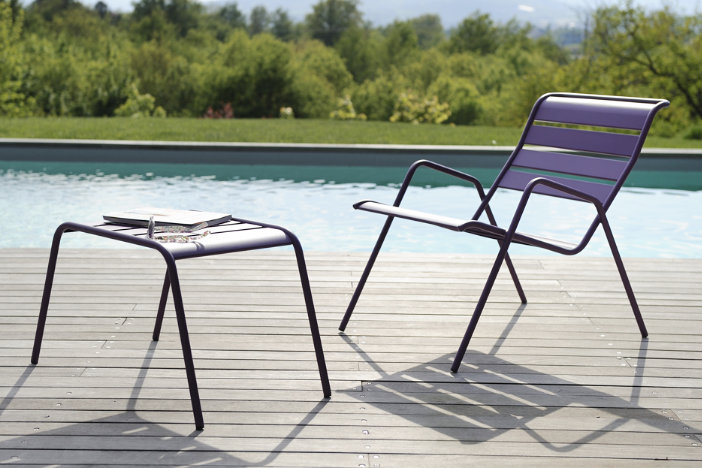 Innovative, fun, colorful and eco-friendly – that's how to describe the high end garden furniture manufacturer Fermob. This French brand stays fresh by collaborating with seasoned and up-and-coming designers, who provide the inspiration for Fermob's distinctive aluminum and steel outdoor collections. Though the styles vary from provincial to sophisticated, clean lines and vibrant colors with a hint of whimsy are characteristics that imbue virtually every armchair, dining table and bench. The company is also ISO 14001 certified, which recognizes a corporate commitment to environmental responsibility.
Tuuci – Chic & luxurious umbrellas & shades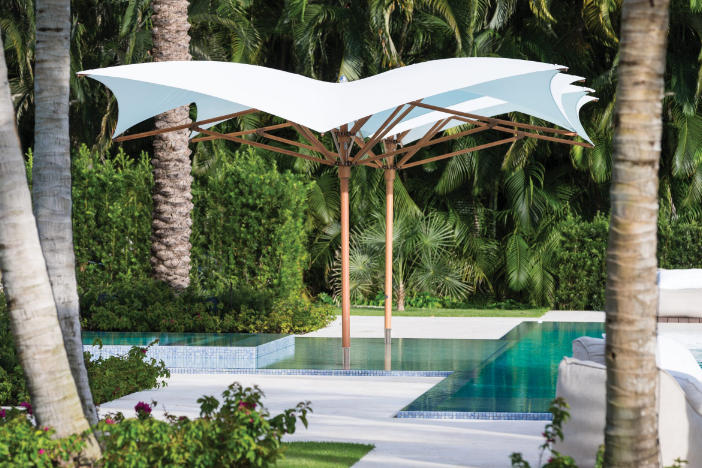 Tuuci is the premier manufacturer of luxury outdoor umbrellas, parasols and shades in the world. Its eco-friendly modern designs are innovative, memorable and chic. For over two decades, the company has developed stylish high-end shades that not only capture the imagination but withstand the demands of any environment too. They continually push the limits of refined design, and never settle for ideas that cannot withstand extreme conditions or require a sacrifice of form for function. Tucci frames are constructed from weather-resistant marine-grade materials: sustainable hardwood, fiberglass, aluminum and composites. Their upscale parasols and shades are available in a wide variety of colors and grades and can be found poolside at some of the most elegant resorts and clubs across the globe.
Skagerak – Classic wooden garden tables, chairs & benches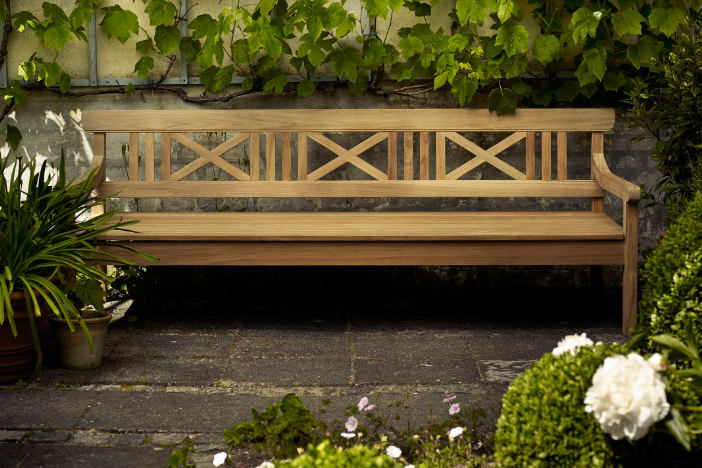 Quality and sustainability are signatures of Skagerak luxury outside furniture, and serve as the foundation of their mantra "Design for Generations." Their premium teak patio line is FSC certified and has a classic design that is built to last decades. From traditional benches and dining sets to minimalist bookshelves and desks, Skagerak's high-end Danish collections have clean lines that look great in gardens, on decks or even in a living room or bedroom. The simplicity of their form, texture and finishing gives each piece a welcoming feel. Even the aromatic smell of their wood is inviting. Their award-winning designs can be found in commercial and residential environments around the world.
Janus et Cie – Elegant designs using marine-grade materials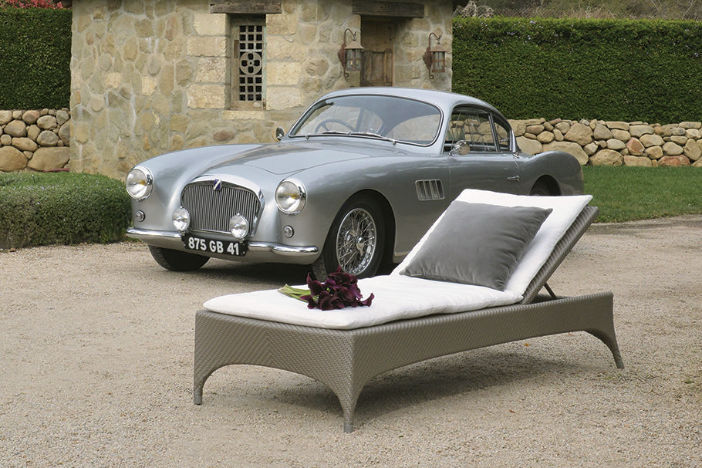 Janus et Cie has been one of the most innovative manufacturers of luxurious casual outdoor and garden furniture for over thirty-five years. They believe that environmental sustainability begins with quality raw materials and ends with durable designs that remain stylish and functional for years. Janus et Cie utilizes both natural hardwood and eco-friendly synthetic wood (made from recycled dairy containers). They also incorporate marine-grade stainless steel and weaves of kraft paper and rattan. Their high-end pool and patio collections range from classic angular styles to modern and organic designs with flowing lines. Elegant installations can be found in the most stylish resorts, hotels and residences from the U.S. to Europe and South America.
Lloyd Flanders – Heirloom quality outdoor furnishings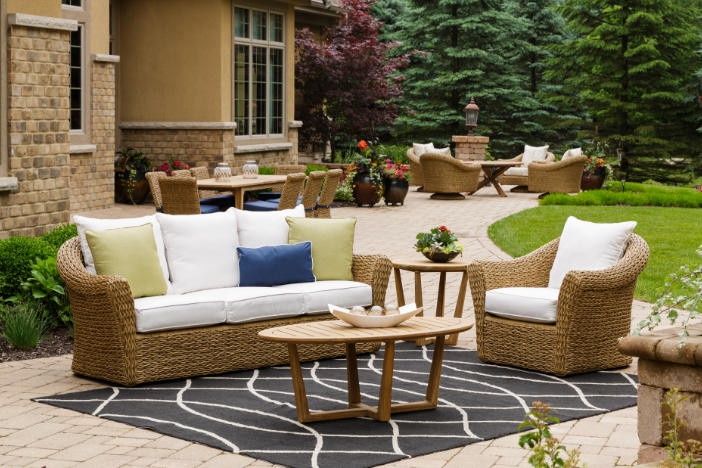 For over one hundred years, Lloyd Flanders has been producing high-end heirloom quality woven furniture from their facility in Upper Michigan. Their patented weaving process is used to create timeless upscale outdoor furnishings from natural fiber wicker and UV weather-protected vinyl weaves. The company has built a strong reputation for manufacturing high-quality patio furniture in classic, vintage styles that complement traditional decor. Their wicker loveseats, rocking chairs and lounge chairs grace the porches of a number of historical landmarks and hotels across the state and have been featured in both movies and on television.
Skargaarden – Simple, relaxing & elegant teak deck furniture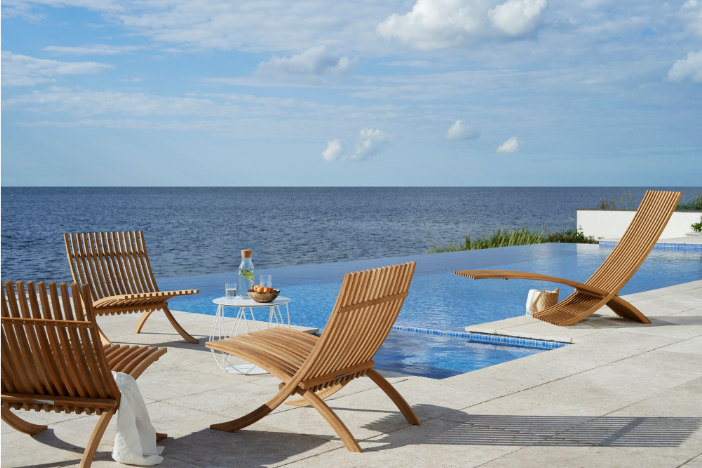 Less is more. That is one of the guiding design principles of Skargaarden. Their collections of luxury teak outdoor furniture are designed with simplicity and relaxed elegance in mind. Only the best teak, from FSC certified foresters, is used to create their high-end sun loungers, sofas and chaises. Luxurious resorts, spas and hotels feature Skargaarden lounge pieces around their pools and on verandas and balconies. This contract grade level of quality ensures that Skargaarden's premium furnishings are durable and weather-resistant. The furniture may be Scandinavian, but their designers find inspiration from American Shaker to Bauhaus and even minimalist modern styles.
BUY SKARGAARDEN OUTDOOR FURNITURE
Shademaker – Contemporary commercial-grade patio umbrellas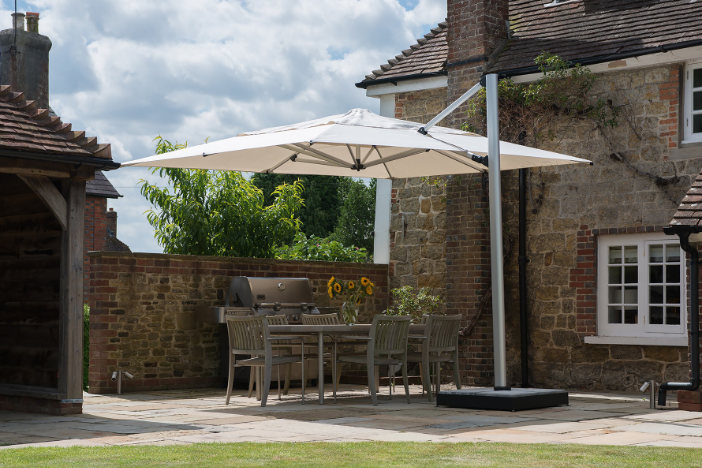 Extraordinary outdoor spaces demand all the creature comforts of indoor environments and more. Luxury outdoor furniture is not enough. Shademaker combines cutting edge manufacturing techniques with clean nautically-influenced designs to create unparalleled architectural grade outdoor umbrellas. The cantilever and market umbrellas are available in a variety of shapes and sizes. These premium shades may be expensive, but they're built to last. They're constructed from durable anodized aluminum, galvanized and stainless steel with high-performance nylon hub and rib assemblies. The canopies are covered with weather-resistant Sunbrella® fabric in multiple fade-resistant colors. This premium brand of umbrellas is a favorite at country clubs, resorts and restaurants across the country.
BUY SHADEMAKER PATIO UMBRELLAS
Vondom – Glamorous & artistic poolside lounge furniture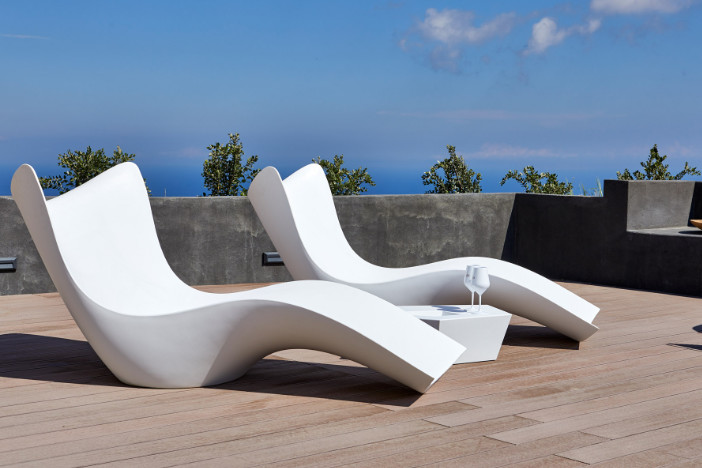 Vondom seeks to transform the simplest outdoor space into a harmonious blend of form, function and nature. They are at the vanguard of design for luxury indoor-outdoor furnishings and travel the globe in search of designers and architects who share their passion for shape and atmospheres of beauty. Fluid expressive lines, geometric shapes and captivating abstract minimalism are hallmarks of Vondom's glamorous poolside collections of sunbeds, sectional sofas and loungers. Their distinctive high-end outdoor furniture is an elegant artistic expression that is realized in concert with innovative engineering and profound respect for the environment. Ergonomics, durability and recyclability are always infused in their designs, which help them exceed the high expectations set for this expensive premium brand.
EcoSmart Fire – Premium modern ethanol fireplaces & firepits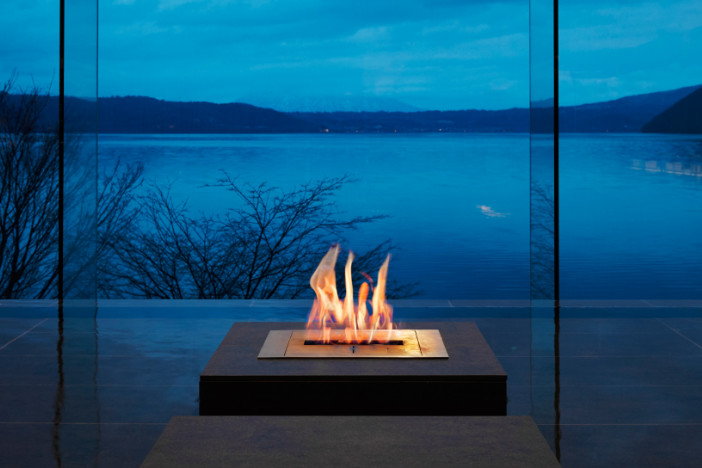 Outdoor fireplaces are functional pieces of furniture that enhance the ambiance and enjoyment of your deck or patio. EcoSmart Fire is the premier manufacturer of premium ethanol fireplaces for outdoor and indoor living areas. Burning eco-friendly ethanol, instead of wood or propane, has many benefits: no mess, no smoke and no smell. You don't even need additional equipment to fuel the fire, so each fireplace is self-contained. But function without form is not acceptable, and EcoSmart Fire has stylish contemporary designs that range from charming freestanding fireplaces and fire pits to sleek wall units that make a dramatic statement. But their innovation and aesthetic appeal don't stop there. Their e-NRG bioethanol produces a mesmerizing orange flame that can burn for up to twelve hours. They use cutting-edge design and only premium materials to ensure that your fireplace not only looks great but lasts through many seasons as well. Their stunning installations can be seen in the finest hotels and resorts around the world.
BUY ECOSMART FIRE FIRE PITS
Seora – Award-winning yachting style patio furniture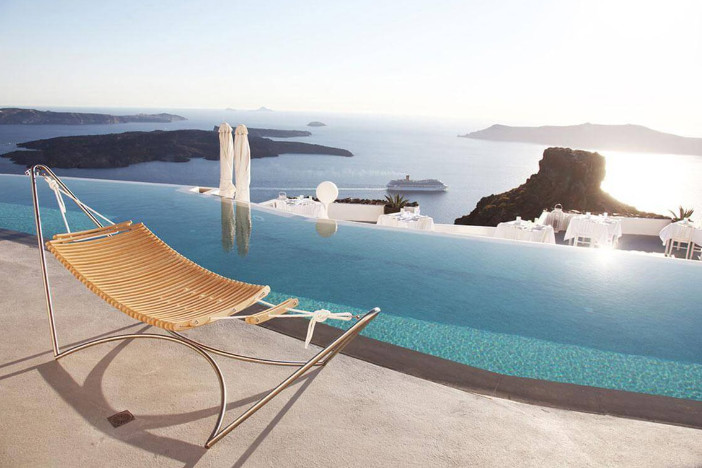 Seora's award-winning designs are inspired by the glamorous lifestyles of the affluent jet-setting elite. Their exclusive beach and yachting style outdoor patio furniture combines premium materials with refined Italian handcrafted artisanship. Artistically curved solid mahogany frames, Loro Piana fabric covered cushions, inset marble side tables and stainless steel canopies with Ferrari Batyline shades are just a few of the lavish appointments available on Seora daybeds. Their luxury sun loungers, outdoor chaises and lounge tables have an exquisite sculptural essence that encapsulates the opulent, leisure lifestyle of the rich and famous.
Seora's refined outdoor furniture embodies classic aristocratic tastes and embraces the convenient benefits of modern technology. The company has partnered with Smartbrella Technology to develop a fully integrated solar-powered device to recharge your computer tablet or smartphone, while you enjoy the day on one of their elegant sunbeds. This commitment to refined excellence has been rewarded with partnerships with some of the most luxurious commercial establishments in the world. In 2016, the renowned restaurant Nammos (listed on Conde Nast Traveller's prestigious 2017 Gold List) renovated their luxurious Mykonos beachside establishment. The new luxury superyacht theme included Seora sunloungers, Tuuci parasols, Designers Guild towels and Alessi ice buckets.
Weatherend – Timeless top-of-the-line outdoor estate furniture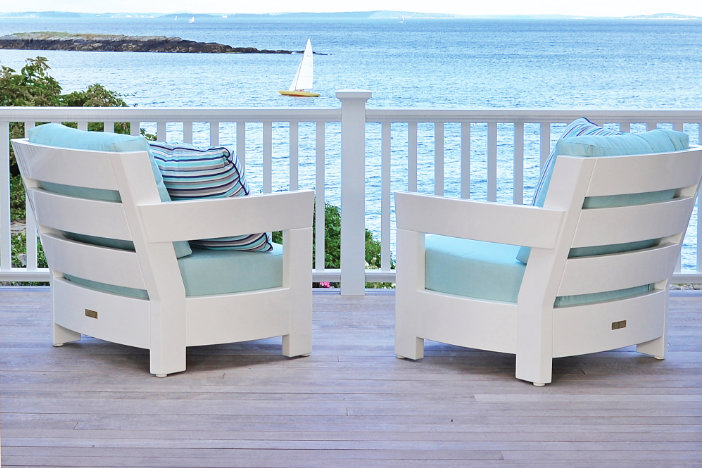 This esteemed American manufacturer blends a century of landscape architecture experience with world-class yacht building expertise to produce the most elegant and durable outdoor estate furniture in the world. Weatherend utilizes state-of-the-art boatbuilding techniques to handcraft magnificently curved garden benches, outdoor chairs and patio dining tables that work in harmony with their environment. Mortise and tenon joints, reinforced with Gougeon marine epoxy and yacht finishes make their designer outdoor furniture nearly impervious to the elements and minimize the maintenance and upkeep required. This makes Weatherend casual seating a preferred choice of many universities, parks, hotels, resorts and commercial properties where outdoor furniture must stand up to constant use and exposure to nature.
While many of Weatherend's customizable collections are imbued with a timeless traditional style, the company does infuse modern inspiration into some classic furniture pieces. For example, their chic award-winning Weatherondack Lounge Chair puts a fresh spin on the iconic Adirondack chair with graceful curves and proprietary minimalist design.
Cane-line – Beautiful all-weather woven furniture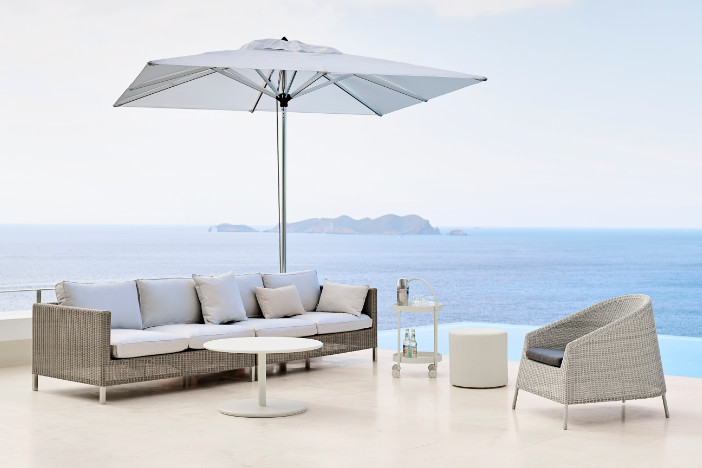 "Life made comfortable" is the essence of what Cane-line is all about. Initially focused on producing high-end rattan indoor furnishings, the company expanded to premium outdoor furniture to address the growing trend of in-outdoor living. Blurred lines of life inside and outside have led to an increased need for beautiful high-quality furniture that can weather the sun, wind and rain. Cane-line meets this demand with vibrant collections that begin with distinct Danish design, incorporate the finest quality natural and synthetic materials and use unique technologies to create aesthetically pleasing pieces that last for many years.
Cane-line is at the forefront of innovation in the luxury outdoor furniture industry and has developed a proprietary QuickDry system, its own synthetic weave and other special fabrics. Their high-end all-weather woven lounge chairs, sofas and outdoor dining sets grace the decks of luxury cruise lines and exclusive hotels, as well as estate verandas, vineyards and picturesque restaurant terraces.
BUY CANE-LINE OUTDOOR FURNITURE
Royal Botania – Innovative minimalist outdoor designs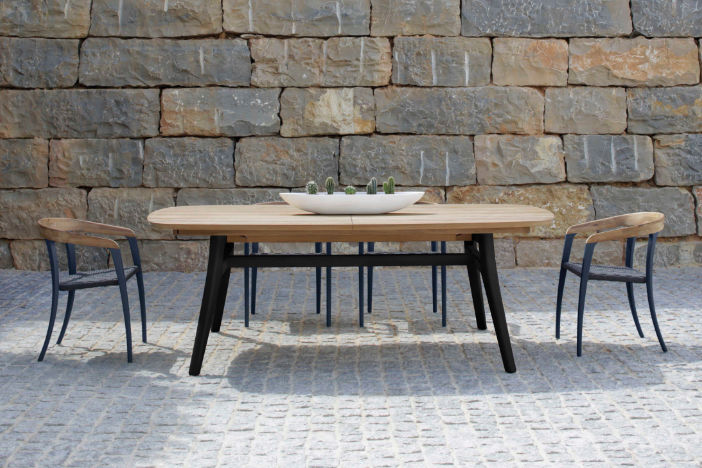 Royal Botania has earned an international reputation as a trendsetter and design innovator in the world of deluxe outdoor furniture. Their exceptional products are a successful blend of elegant minimalist design, carefully selected materials and precision manufacturing processes. The aesthetic and functional balance, coupled with their dedication to using eco-friendly woods and recyclable metals and synthetics, has led to numerous prestigious design awards. In compliance with the sustainable forest policies promoted by the World Wildlife Fund (WWF), Royal Botania uses only mature teakwood from certified plantations.
The Belgian company believes that attention to detail transcends simple product design and comfort, extending to environmental and social responsibility as well. This mindset permeates the development and production of every weather-resistant woven sunlounger, stainless steel dining table and teak framed patio sofa. Royal Botania's sophisticated outdoor lounge furniture can be found enhancing villa terraces and luxurious hotel poolsides from Abu Dhabi to Geneva.
Kingsley Bate – Eco-friendly & elegant outdoor patio furniture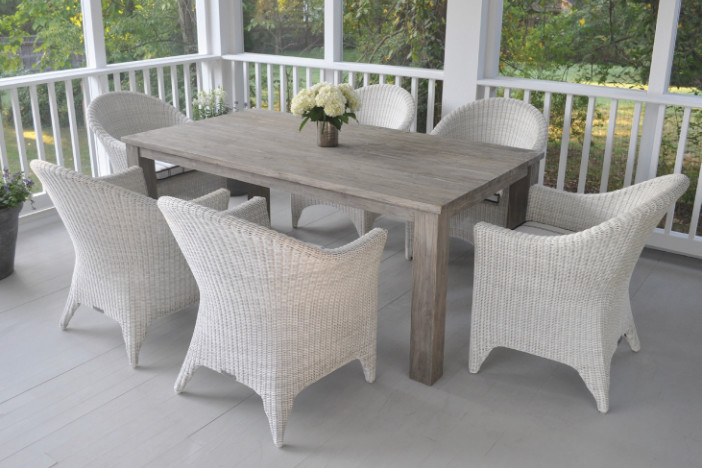 For centuries, craftsmen have known that teak possesses unique qualities that make it the unparalleled choice for wooden outdoor furniture. In this tradition, Kingsley Bate uses only premium quality Grade-A teak wood from sustainably harvested forests in Java and Burma. The hardwood is kiln-dried to ensure stability, machined for precision joinery and finely sanded to a luxuriously smooth finish. The same care and attention to detail are paid to the heavy gauge #304 stainless steel frames and hand-woven all-weather HDPE wicker furniture.
The dedication to high-quality eco-friendly construction is reinforced with beautiful designs in styles ranging from simple, rustic and traditional to exotic, sleek and contemporary. Kingsley Bate is a highly sought-after premier brand of elegant patio furniture and is consistently recognized by Casual Living magazine as a leading seller in the outdoor furnishings industry. Their timeless sunroom lounge seating sets, classic lawn and porch benches, relaxing pub and bar stools and quaint bistro sets are found in fashionable commercial establishments and upscale residential locations across the globe. Kingsley Bate furniture epitomizes sophistication, durability and unsurpassed quality in outdoor leisure furnishings.
What should be considered when buying luxury outdoor furniture?
There are many factors to consider when shopping for high-end outdoor furniture. The type of outdoor space you have is important (e.g. hardwood deck, cement pool, covered patio, screened-in porch), as is how you plan to use the area. Do you host a lot of dinner parties, or are you more likely to just lounge in the sun? Each type of furniture has its own plusses and minuses for each situation. Likewise, the climate is a critical thing to think about if you want your expensive exterior furnishings to last. Some materials do better than others in wet or hot environments. Additionally, patio furniture manufacturers each have their own specific criteria for optimizing the use of their products. Take a look at our insightful resource guides to help you evaluate your outdoor needs and options, as well as provide additional pointers to keep your furniture looking great and maintaining peak performance for years.
Frequently Asked Questions – Luxury Outdoor Furniture
---
References
ROBINSON, T. (2014). HOMES.