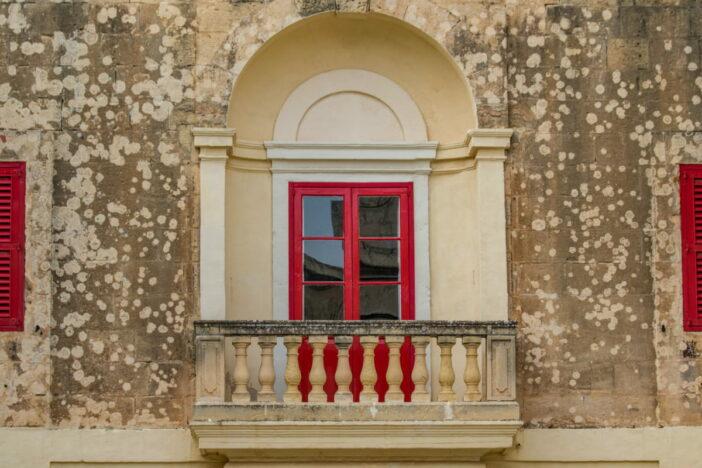 The landscape design market is worth $7 billion in the US, which shows how much we enjoy our outdoor space. After all, it's like having a personal park, where we can sit, socialize, relax, and admire Mother Nature's beauty. And all it takes is a few steps to get to it!
If the exterior of your home is lackluster, then you might be considering some major changes. A key to having a truly excellent outdoors is architecture, so you need to know what the elements are before you can take the plunge.
Ready for a quick course on exterior architecture? Then read on for the different types you should know about!
Balcony
A balcony is a platform that can be either covered or uncovered. It's specifically located on the second floor or higher, and extends from the house, so it's easy to get from the inside to the outside.
Typically, there's only one access point (for example, from your bedroom to the balcony), and it's not a very big space. Its main purpose is to give you a small area to go outside and get some fresh air. For smokers, it's a godsend since they don't have to go downstairs and into the yard to take some puffs.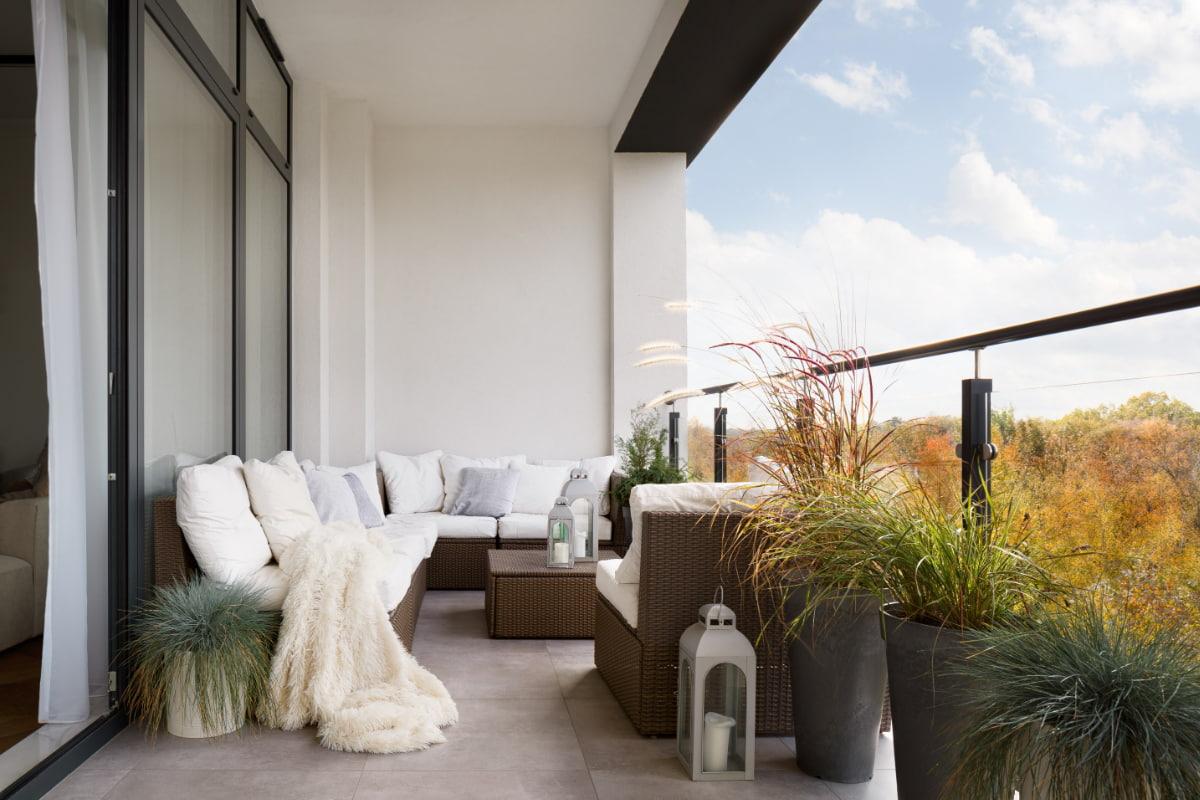 However, some balconies are big enough for a small table and two chairs. This creates an intimate space that's fantastic for romantic dinners!
To keep you safe, railings are placed on the perimeter of a balcony. You can pick some fancier railing styles to complement your house's current architecture.
Terrace
Some people may think "balcony" and "terrace" are synonyms. While the two seem identical, some key differences make one piece of architecture a balcony while it makes another a terrace.
The first difference is that terraces are located on the ground floor (fun fact: "terrace" comes from the Latin word for "earth!"). The exception is the rooftop terrace; it's pretty much the same thing as one found on the ground floor, except it's on top of the highest floor.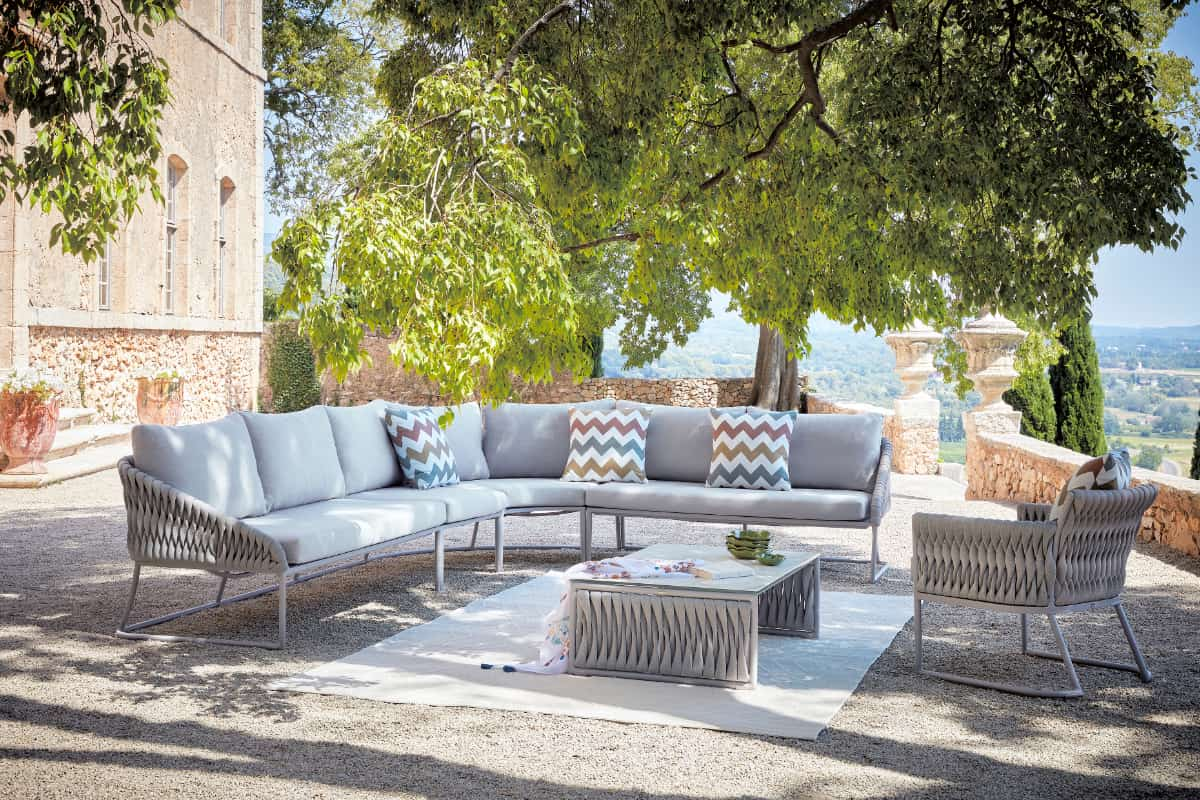 Because terraces are on the ground floor and aren't elevated, they're much larger than balconies. In fact, they're big enough for you to host parties and fill with patio furniture, such as dining sets!
Terraces aren't necessarily attached to homes, although they typically are. Regardless, terraces can have multiple access points, which makes things very convenient.
Terraces aren't covered and also have railings. This means you can select gorgeous railings to set your terrace apart from others.
Terraces are often mistaken for patios, but the key difference is that terraces are usually located at the edge of hills or cliffs, while patios are on flat grounds.
Porch
"Porch" is a generic term for any outdoor space that's covered and attached to a house.
There's some flexibility here, as you'll find the porch in the front, back, or side of a property (most are in the front though, complete with cozy rocking chairs). Also, its foundation can be made of a wood plank or a concrete slab. Homeowners can also choose to have their porches screened or unscreened.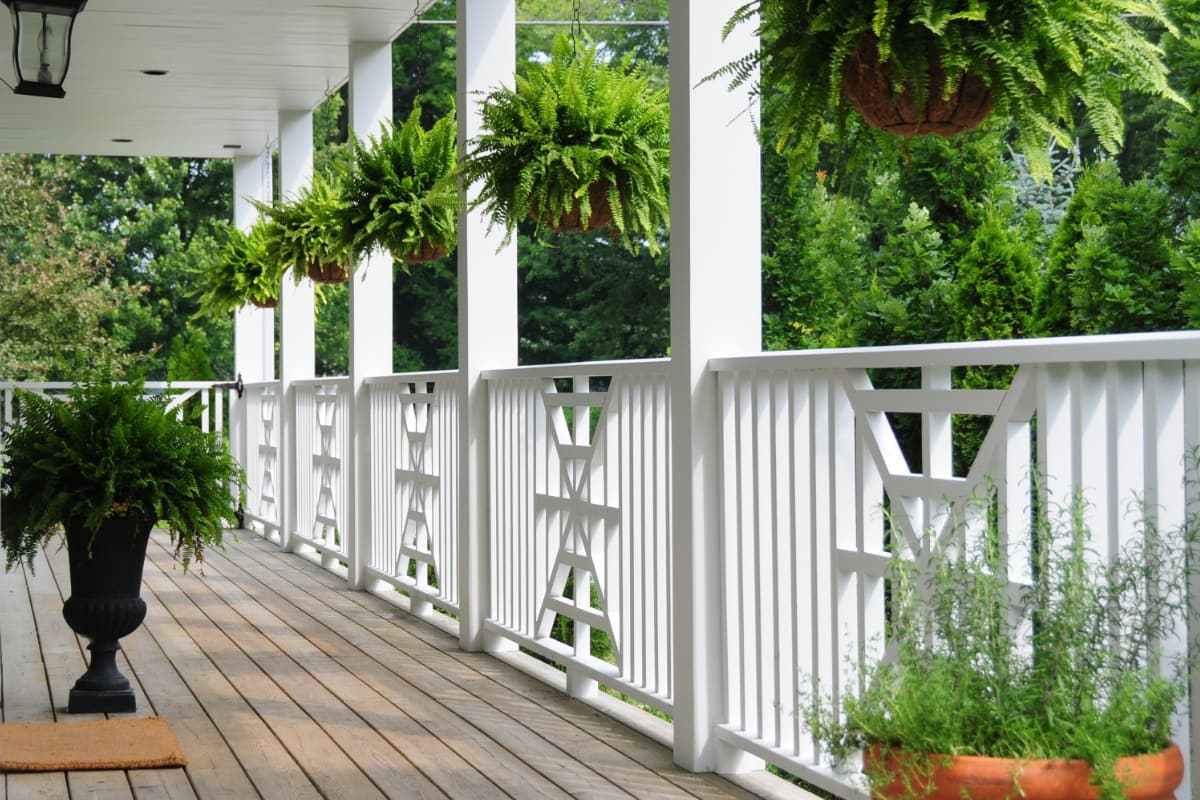 Porches have built-in roofs or coverings, so you can use this outdoor space in practically all types of weather.
Compared to the home, a porch is a decent size, especially on larger properties. You'll have enough space to entertain, and can put in all-weather wicker chairs and dining sets. You can even build an outdoor kitchen and bar on some porches!
Patio
A patio (the word's origin is from Spain) is a paved outdoor space for a house, made for entertaining. They're usually bigger than porches, and the flooring is made out of stone, brick, concrete, or pavers.
Some patios are put in after the fact, while others are made from the same slab. In the former case, they might be in a courtyard; in the latter, they'd be an extension of your house.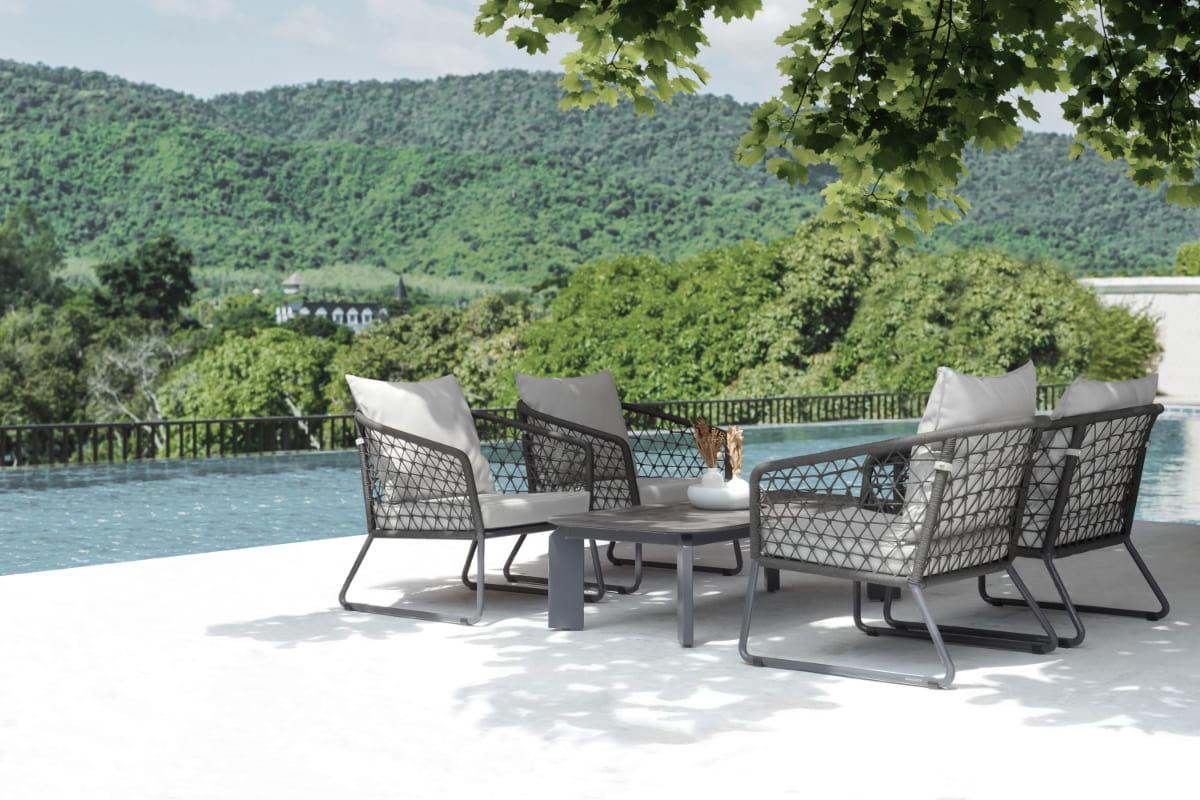 In most cases, patios aren't covered. However, you can get covered ones with shade sails, pergolas, and awnings that give you shelter underneath. But in places with temperate climates, you can get away with zero coverings.
Homeowners treat their patios like outdoor living rooms, especially since the indoor one is just a sliding door away. Again, they're made for entertaining, so it's not unusual to find things like outdoor sofas, lounge chairs, coffee tables, and end tables on patios.
Lanai
A lanai is a type of enclosed porch; the word originates from Hawaii, so unsurprisingly, you'll find many lanais in the state! Lanais are also popular in other tropical states, like Florida.
They're similar to sunrooms, but what makes them different is their flooring. Usually made of concrete, lanais can also have foundations made of pavers or stone. They're also located on the ground floor, right next to the house, in the rear.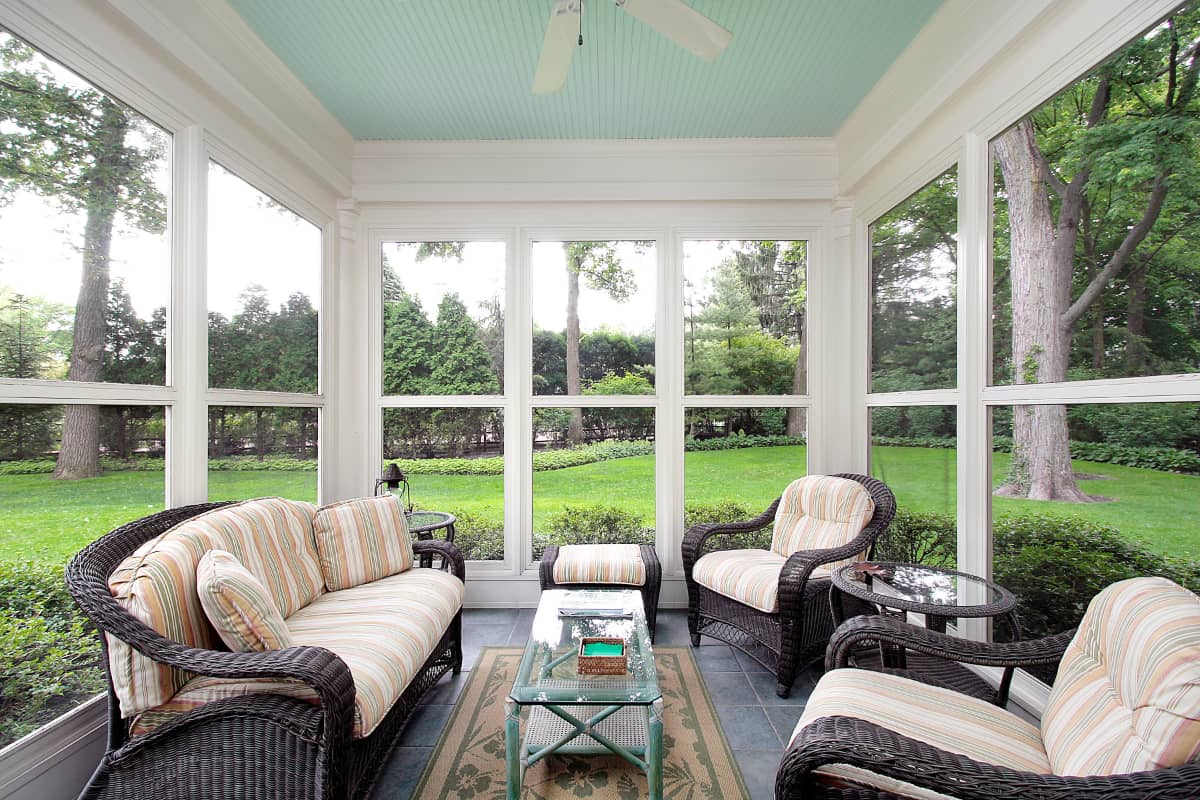 The beauty of having a lanai is you can make it as simple or as complicated as you want. Some homeowners have barely anything in their lanais, while others deck theirs out with an outdoor kitchen, bar, and fire pits.
If you're worried about bugs and other pests, then lanais are favorable over traditional porches. They typically have windows and/or screens, so you can be outdoors without having to suffer through painful bug bites and additional "protein" in your food.
Lanais also have sliding doors, screen panels, or glass to separate the outdoors from indoors. For a more sophisticated appearance, consider putting in double French doors.
Veranda
"Veranda" is just a fancy word for "large porch." It's a regional term used in the South, so understandably, you'll find verandas in states like Alabama, Kentucky, Louisiana, Mississippi, Texas, Tennessee, and Virginia. If you've been to New Orleans, or have lived there, then the veranda will look familiar, as it's prominent in Creole townhouses.
Like regular porches, verandas are on the ground floor and have roofs. But instead of spanning only the front of a house, it'll wrap around the sides too.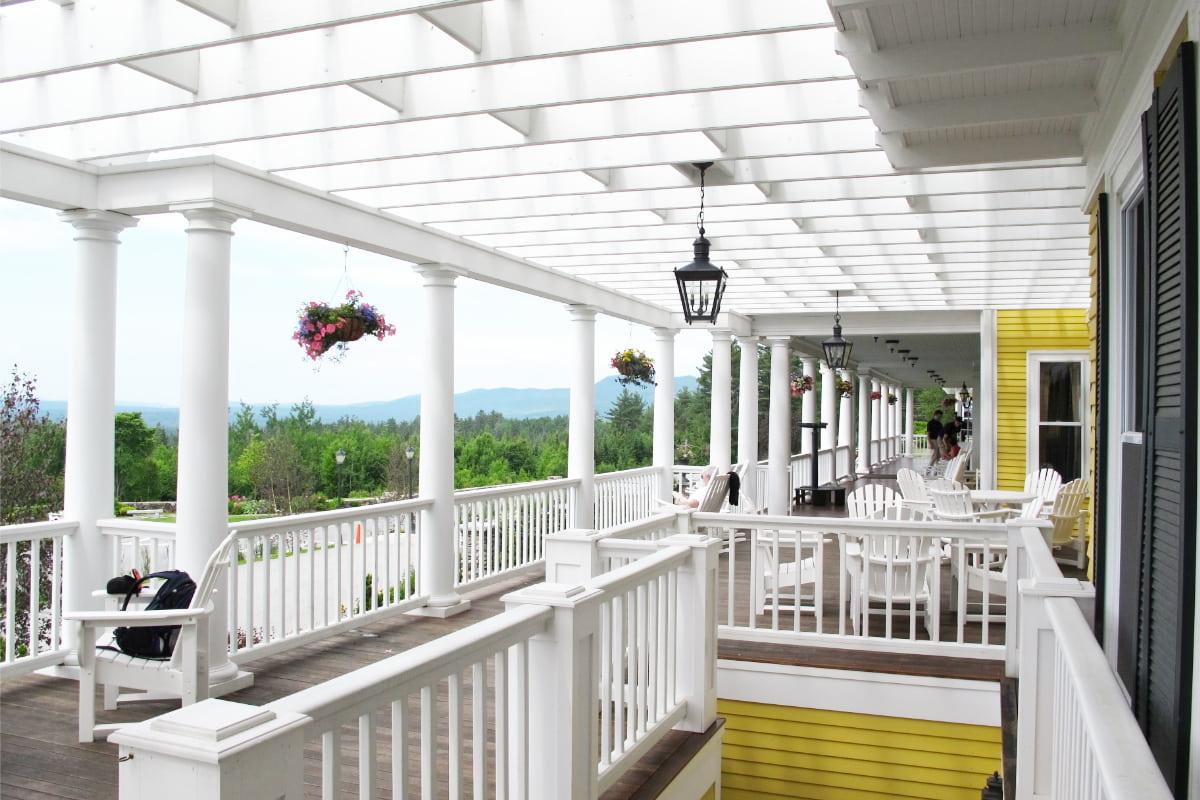 Verandas have railings that make them look like balconies. But they're super-sized in comparison, and you'll find them on the ground floor (fun fact: "veranda" means "lengthy balcony" in Portuguese).
Homeowners like to use their verandas to entertain and show off their artwork, as they double as gallery rooms. In fact, verandas were first used as outdoor galleries!
Verandas are commonly used as a receiving area, so it's not really somewhere you'd hang out with your friends. For this reason, patio furniture will be sparse; you might find a few rocking chairs and perhaps an end table. You're better off decorating with plants and artwork to fill up this space.
Deck
As you might've already guessed, the word "deck" has nautical origins. It describes the flat surface that spans across ships.
But now, imagine it sprawling across your outdoor living space. Most decks are made of wood, composite wood, or vinyl, giving them that shiplike appearance.
You'll typically find this elevated structure in the backs of homes, and it's an uncovered area made of either a wood plank or concrete slab. More lavish houses have decks extending from a lanai or porch, and their decks may be multi-leveled too.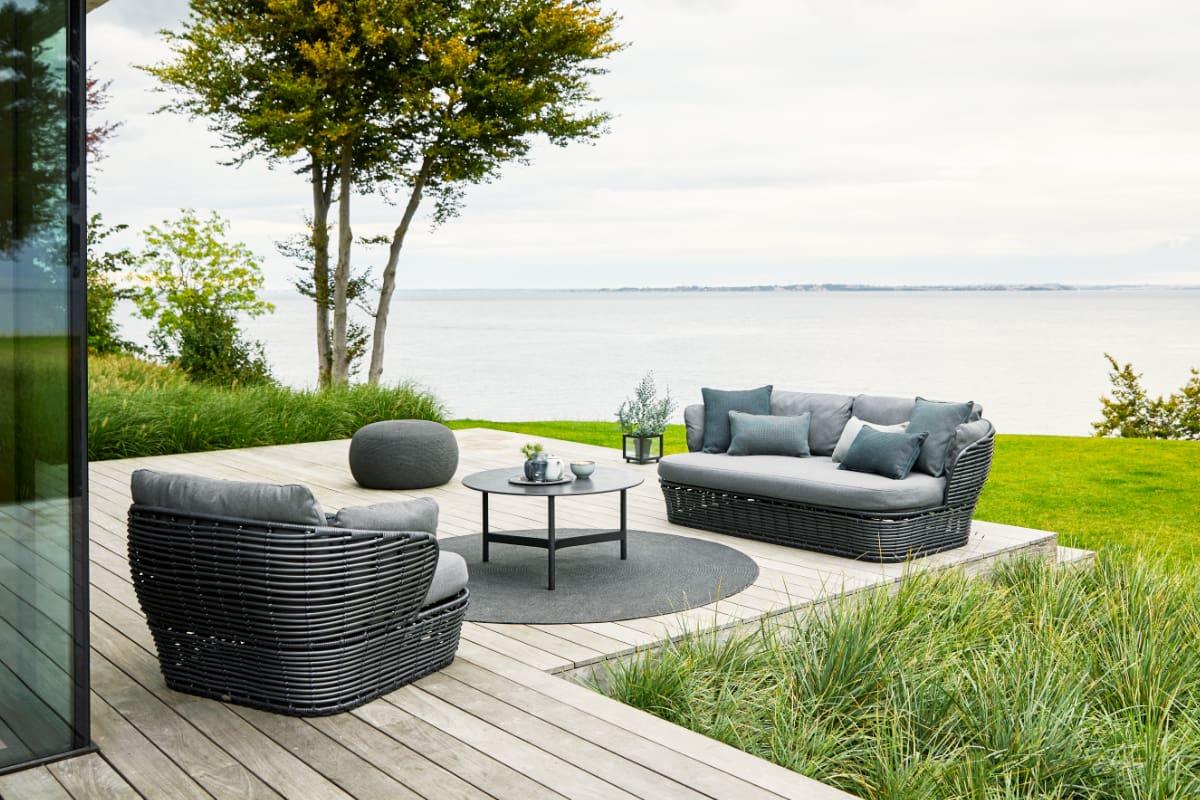 Usually, you can access the deck through the living room, family room, or kitchen. For safety, decks have railings and staircases leading to the various levels and the yard.
The size will depend on the home's size, but it'll be built proportionately. Most are large enough for patio furniture, umbrellas and shades, grills, and other accessories. It's a wonderful structure to take in nature's sights and spend quality time with your loved ones.
Courtyard
A courtyard is an outdoor space that's uncovered by a roof. Typically, it has walls that are attached to your house.
You might think of large lavish areas when you think of the word "courtyard," but you can have tiny ones in the middle of your floorplan. This lets you get some sunlight, fresh air, and even some greenery.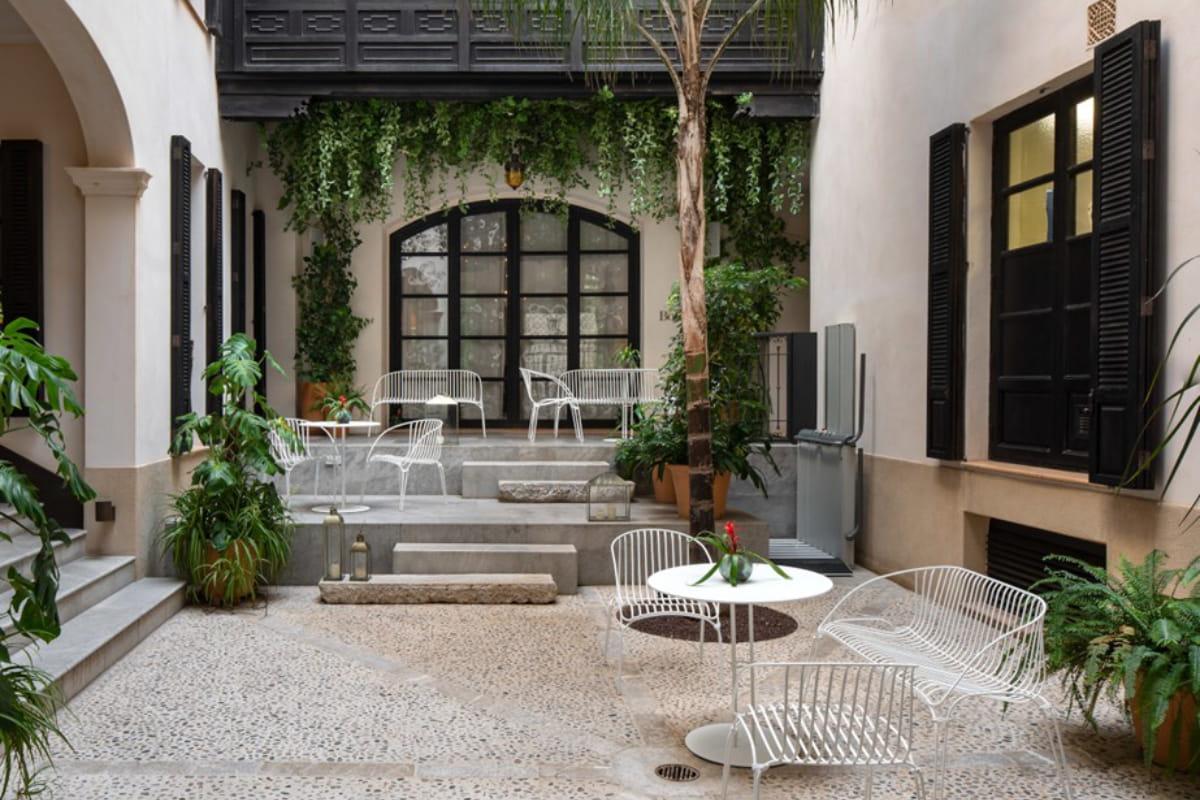 On the other hand, you can also get larger courtyards in more extravagant properties. In that case, whether it's a grill, Ekka sectional seating from Mamagreen, a dining table, or sunloungers, there are plenty of things to fill your courtyard with!
Portico
A portico is a covered area in a home's front entry area. Columns line the area, which gives you room for anything from uncomplicated designs to intricate and extravagant ones. Porticos also have roofs.
Porticos may sound a lot like porches, but they're more functional. While you'd spend time with loved ones on your porch, you'll only pass through a portico. This is because it's made to shield you from the elements while going from inside to outside, and vice versa.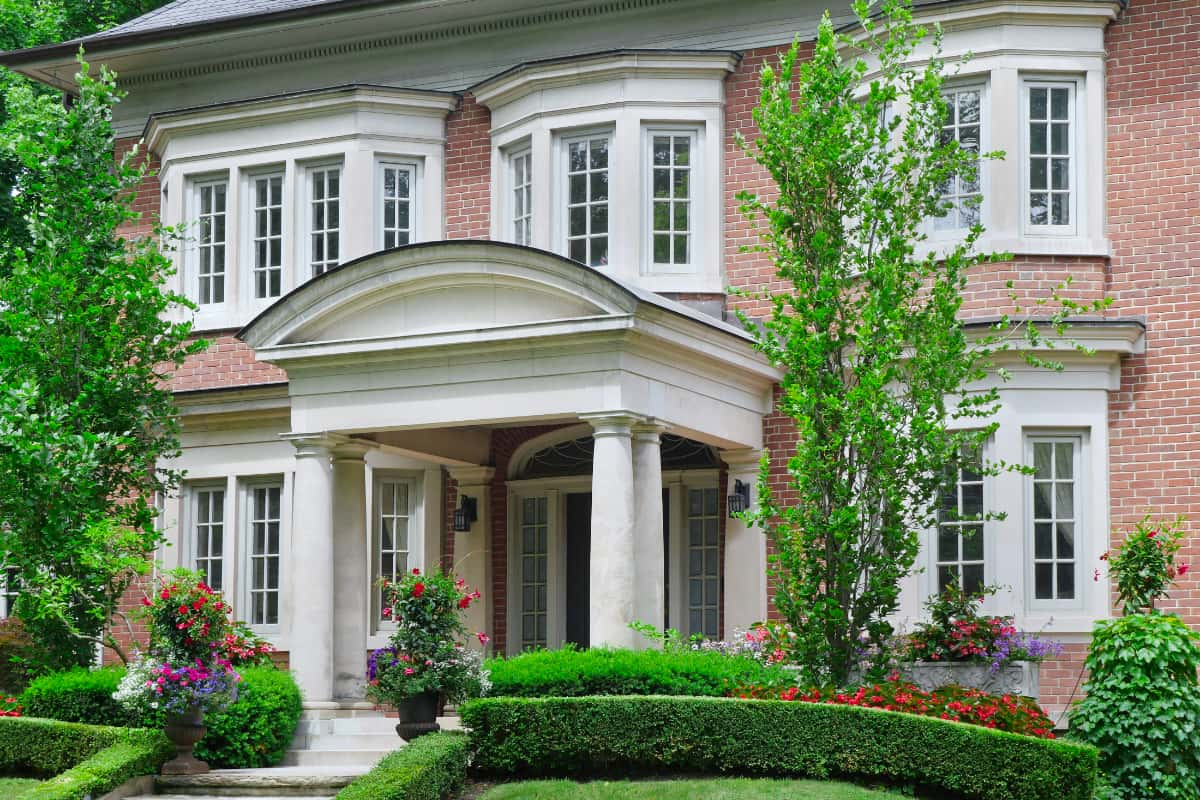 Because porticos are so small, there's not much room for nice patio furniture. You may be able to fit a few vases or planters, but typically, you won't have space for even a chair.
However, you can take advantage of this walkway to upgrade the look of your home. Various column textures and even colors can instantly perk things up!
Porte-Cochere
Porticos are often mistaken for porte-cocheres. They're similar, but porticos are for humans to pass through, while porte-cocheres are for vehicles. Your next fun fact: "porte-cochere" is French for "coach door."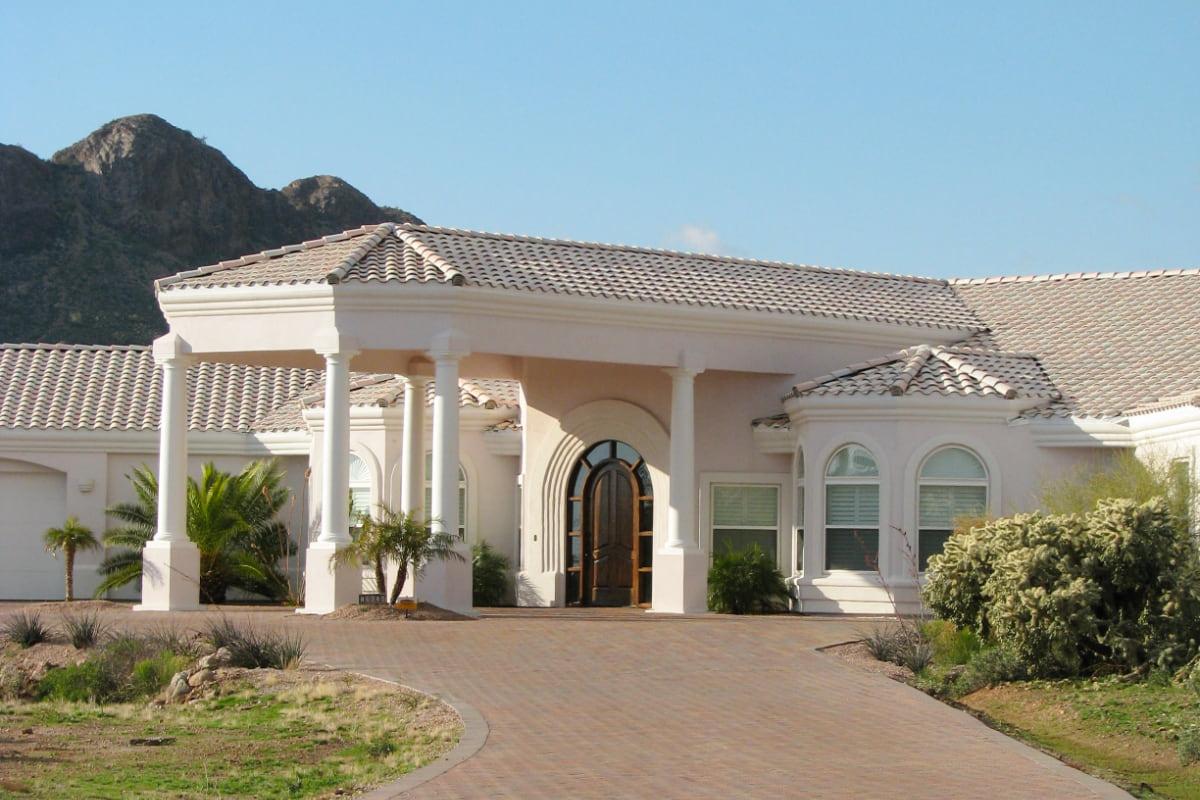 Like porticos, porte-cocheres are covered structures supported by columns and arches. They connect to the house, so you can drive up, park, and get out of the car without getting wet from the rain or blinded by the sun. You can also wait in the car there, and people inside the house can come out and get in while staying safe from the elements.
Because porte-cocheres have columns, this is another opportunity to make your home shine in the neighborhood. Homeowners usually pick materials such as wood, stone, or masonry, as they're sturdy and beautiful at the same time.
Loggia
"Loggia" is the Italian word for "lodge." It's a sophisticated type of architecture, as it's been used throughout European countries in the past. For example, Greece, Italy, and Spain all have loggias that are thousands of years old, and they're found in museums, palaces, and other grandiose buildings.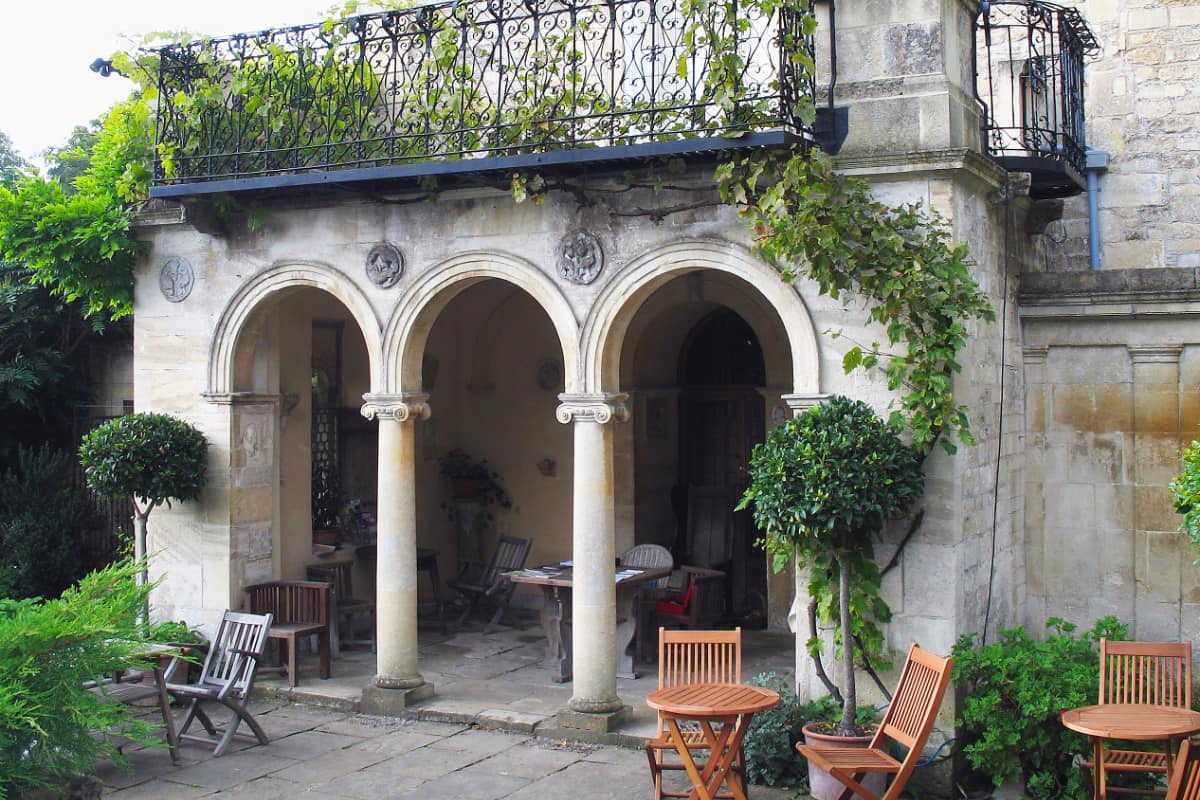 Today, loggias are still mainly used in gigantic public buildings. But if you have a flair for the grandiose, then it's acceptable to use loggias for residential purposes too. They're a great alternative to porches and patios.
Loggias are small covered corridors or galleries that aren't fenced in. They're supported by luxurious arches and columns. For a more Mediterranean feel, you can build a lanai or porch, then add arches and columns on top.
What's excellent about loggias is they offer protection from the elements. Underneath, you won't need a patio umbrella, so you can fill up the space with more functional things, such as chairs and small dining tables. You'll be able to dine al fresco in the summer without the sun's rays beating down on your skin.
Know Your Exterior Architecture
If you're itching for a renovation, then knowing the different types of exterior architecture is beneficial, especially since some can be confused for another (for instance, porticos vs porte-cocheres). Not only will you be able to distinguish between the structures, but you'll also communicate with your architect better.
As a result, you'll end up with an exterior you're truly happy with. And from there, you can furnish it with quality pieces that'll complement the aesthetics perfectly.
Now that you're an exterior architecture expert, why not browse our selection of patio furniture? You'll be able to transform your outdoor living space with our beautiful pieces!
---
Photo Credits
Featured – Duncan McNab on Unsplash
Porte-Cochere – James Day on Unsplash
Loggia – Neosnaps on Flickr