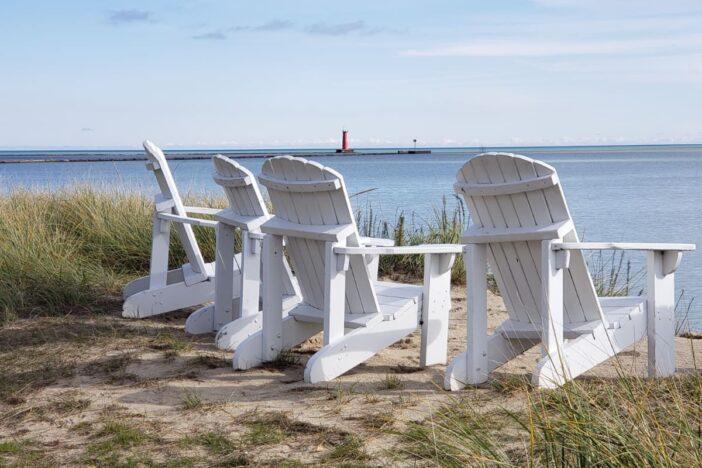 When someone says "lounge chair," what do you think of? If you envision a wooden chair with wide slats (including the armrests), a sloped backrest, and a slightly tilted seat, then you're probably thinking of the Adirondack chair.
This chair is so iconic that when you search for pictures of tranquil scenes by the water, chances are, you'll find this chair in them. They look good and are cozy; what more could you want?
So needless to say, if you need new outdoor furniture, then head straight to the Adirondack chairs. They're the best, and we're here to tell you why!
Adirondack Chairs: The Origins
Adirondack chairs were first called the Westport chair. They were invented by Massachusetts designer Thomas Lee, who needed great pieces of furniture to spend quality time with his family while vacationing in their summer home in Westport, New York. They were staying near Lake Champlain, and Lee wanted to create something that'd allow everyone to admire the view comfortably for hours while being stable enough to handle the rugged terrain.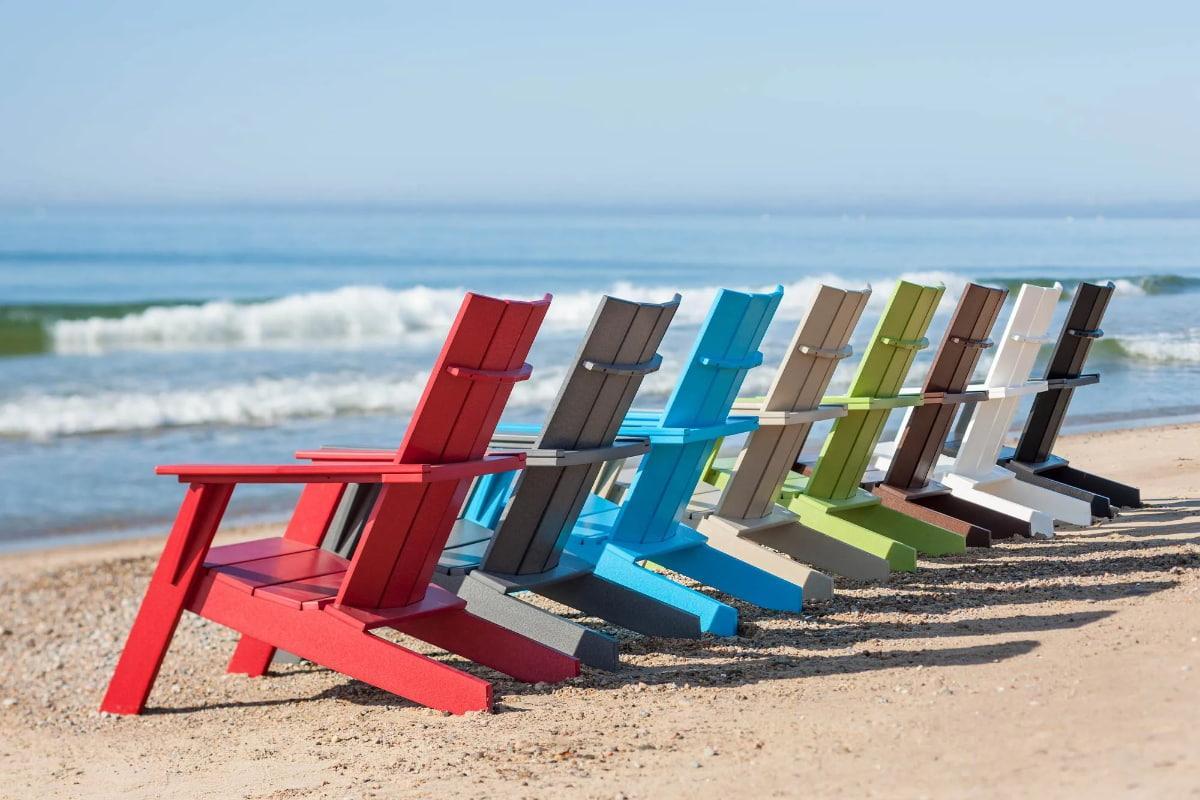 Between 1900 and 1903, he was on a mission to make this happen. He experimented with not only different types of wood, but also numerous board shapes and sizes. To take it a step further, he played around with various configurations, testing them out on his own family members.
And that hard work paid off.
The end result was this formula:
11 total boards
9 1/2-inch wide armrests
Solid-plank backset
90-degree angle between the back set and seat
The chair was made from entire pieces of wood, and they were all cut from the same plank.
The Evolution of the Adirondack Chair
At first, Lee made Adirondack chairs for just his family and friends. But when his hunting friend Harry C. Bunnell didn't have a winter income in 1904, Lee gave him the chair's plans so he could make them in his carpentry shop.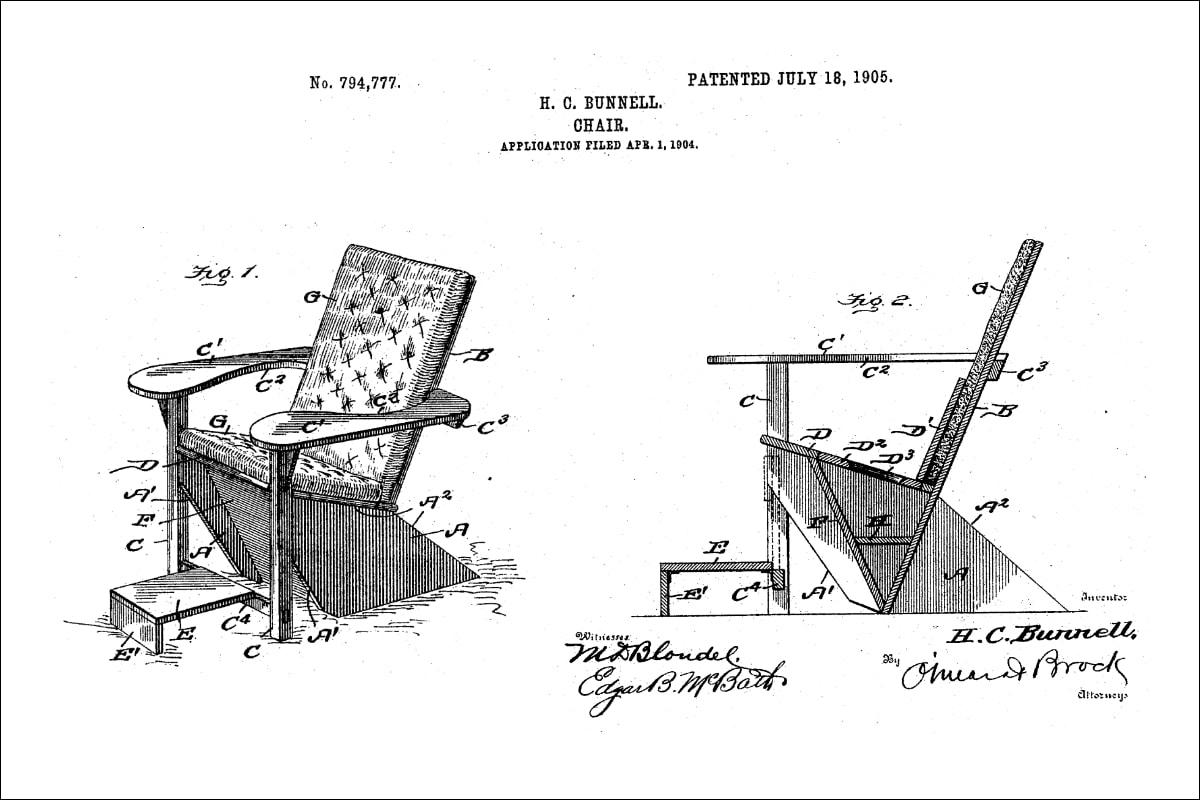 Bunnell sold a large number of Adirondack chairs to the local community, and knew he was onto something. He made some tweaks to the design; mainly, he made the chair narrower and added a drop-down footrest, cushion, and bedpan capabilities. Then, he applied for and received a patent in April of that year.
Bunnell went on to be immensely successful due to fantastic timing. Americans were dying of tuberculosis at this time, and time spent in the mountains breathing fresh air was touted as a cure. The name changed to "Adirondack chair" to appeal to the public more.
Design Changes
Later, in 1912, the Adirondack bungalow chair was sold in W.C. Leonard's department store in Saranac Lake. From there, many copycat versions arose, as it was also popular with the public.
Many other versions of the Adirondack chair arose in the next two decades, including ones that converted to rocking chairs and tete-a-tete ones.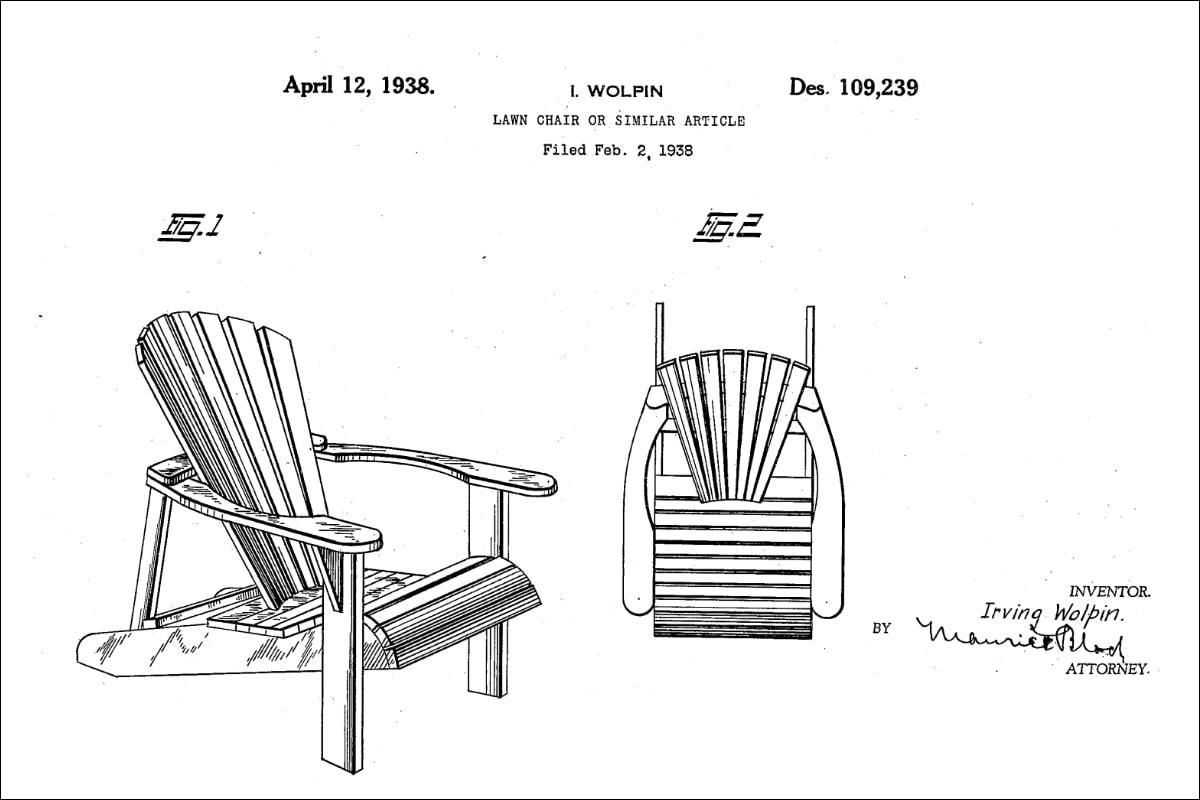 Bunnell died of pneumonia in March 1933, and in 1938, Irving Wolphin from New Jersey applied for a patent to change the chair. It had smaller slats, a contoured seat, and a rounded back; this design is what most people know as the Adirondack chair, as it's the most commonly replicated version.
Its most noticeable change was from using a single plank for construction to multiple slats, as it made it easier to produce high quantities. It was marketed as a lawn chair, and thus, Adinorack chairs became an essential part of backyard furniture.
A Shift in Use
In the 1950s, the antibiotic isoniazid helped end the tuberculosis epidemic. As a result, the demand for sanatoriums and cure chairs dissipated.
From then on, the Adirondack chair became something solely used for leisure and relaxation.
Cool Versions of the Adirondack Chair
As you've seen, the Adirondack chair has gone through several transformations throughout the past century. Here are some of our favorite versions.
Bondi Adirondack Chair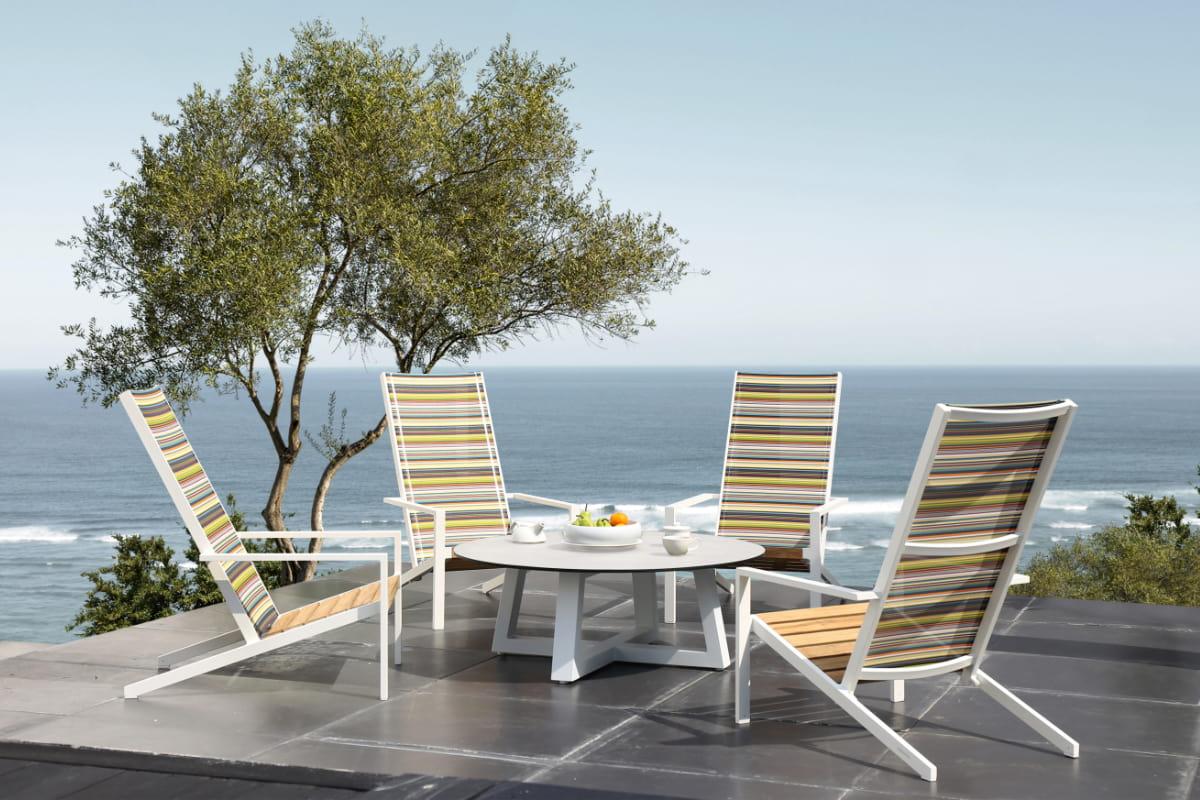 The Bondi Adirondack chair is a sleek and chic version of the classic chair.
While its seat is still made of wood slats (teak), the rest is constructed of powder-coated aluminum. In addition, the back is made of Batyline or Textilene sling, so there's some flexibility when you lean back.
This chair gives you the perfect blend between traditional and modern with its various materials.
Lollygagger Adirondack Swing Chair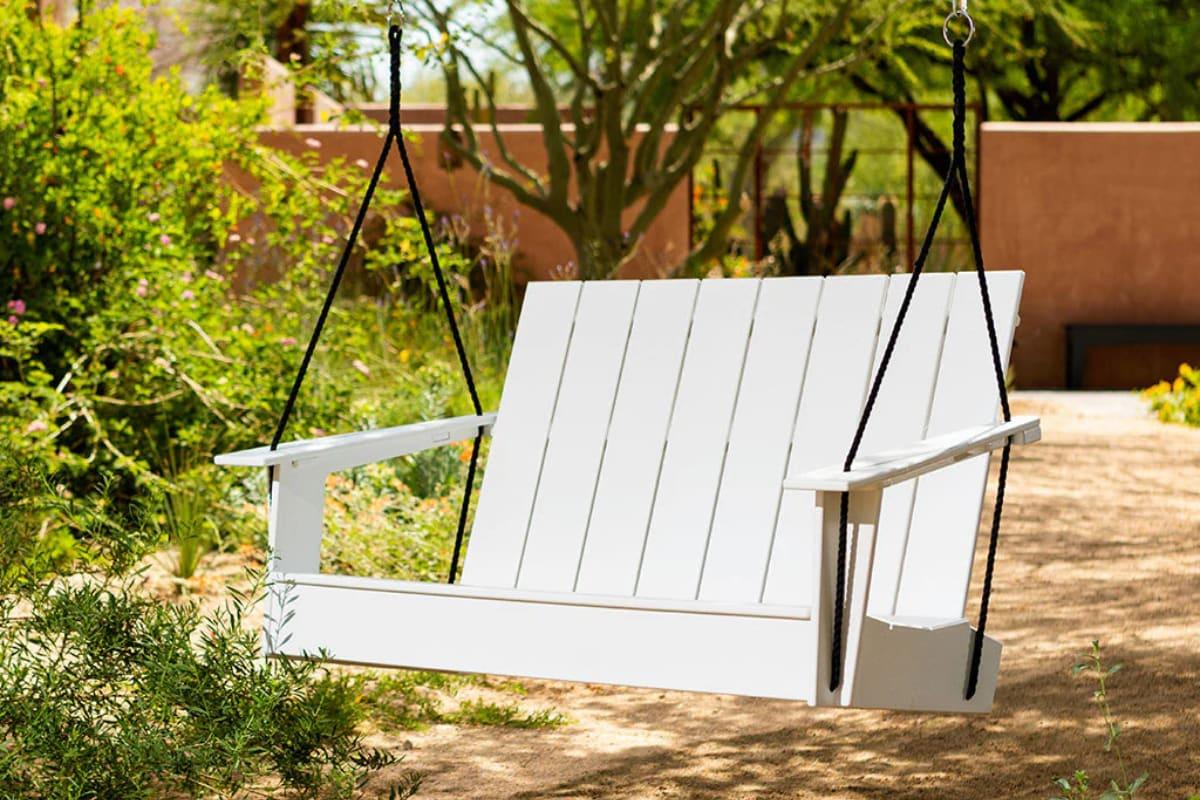 Converting the Adirondack chair into a swing type eliminates its reclining abilities, but it's still a cool concept. The Lollygagger chair goes back to the roots by using large planks of wood instead of smaller ones.
The end result is a comfy chair you can lazily swing in on your porch.
Rocking Adirondack Chair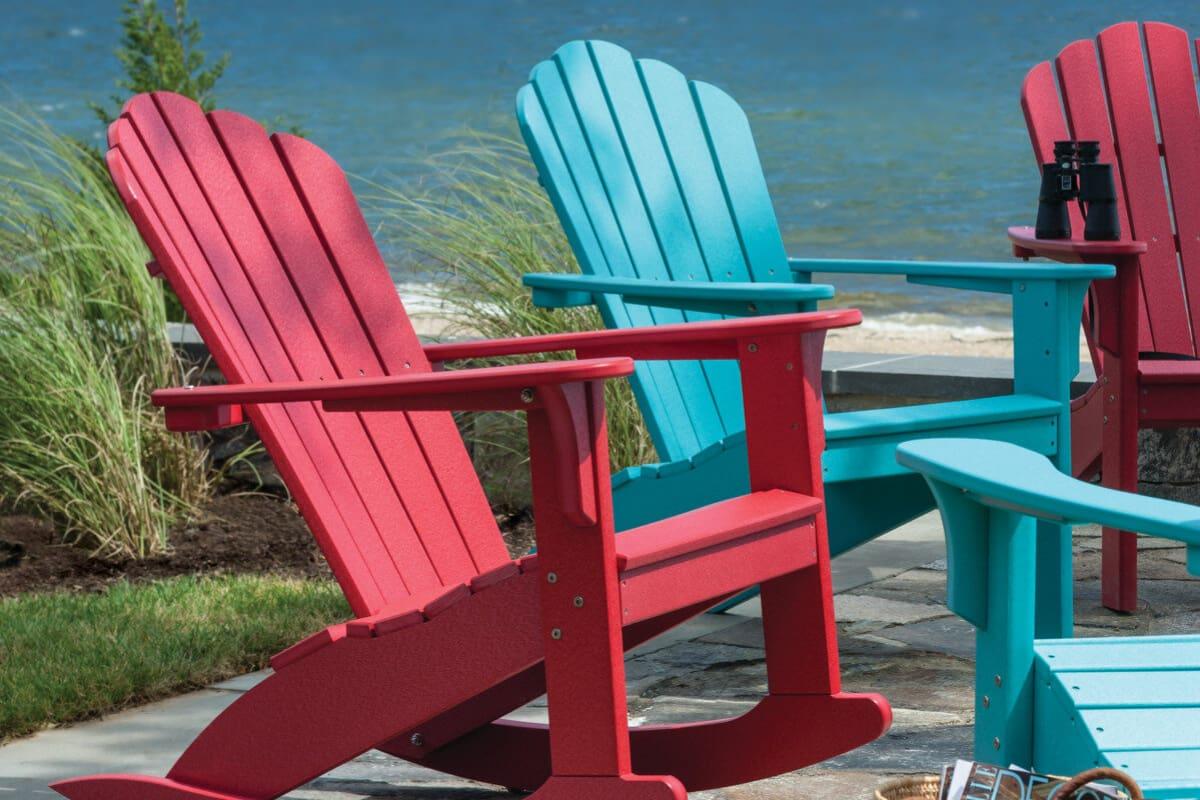 One of the versions we mentioned earlier is the rocking Adirondack chair. Get yourself two, and you'll have an excellent time rocking away with your partner in the yard or on the porch.
These are also perfect if you've got an infant but need to keep an eye on your other kids. Simply park yourself in one in the yard, and you'll watch little Timmy run around while ensuring baby Suzy stays asleep and content.
Adirondack Chairs with Table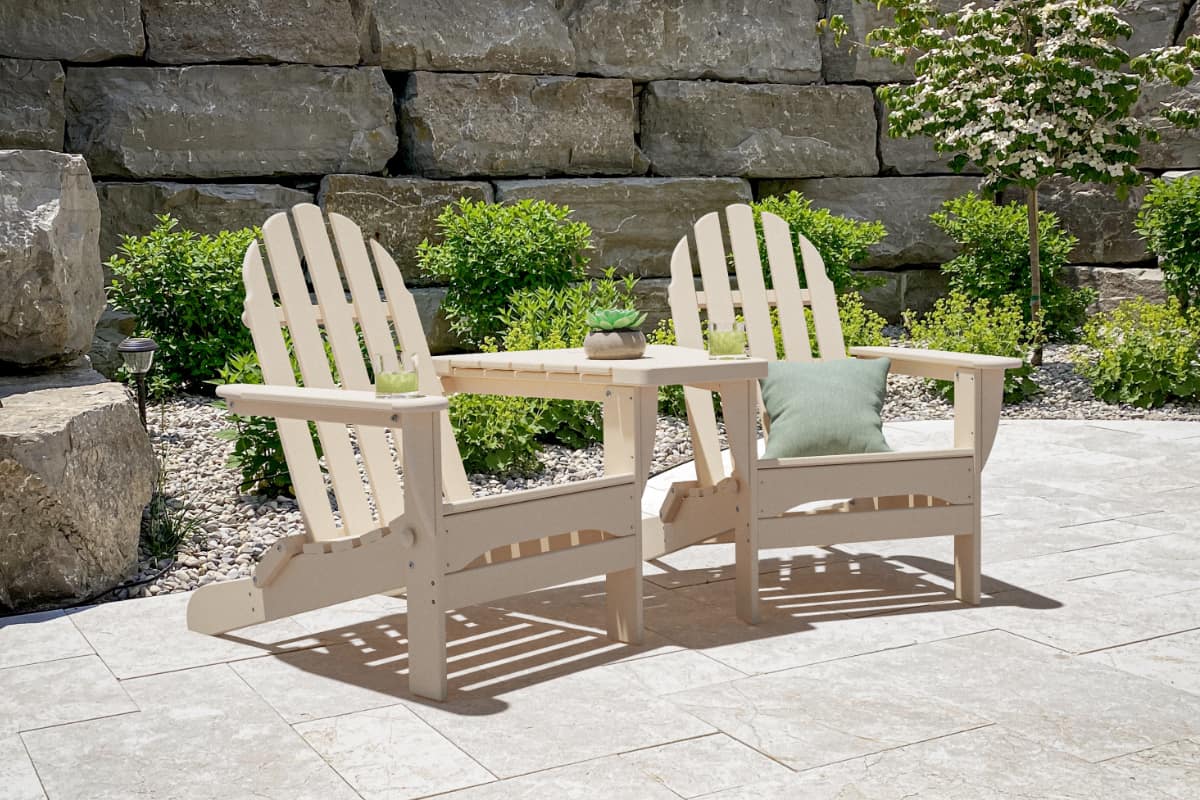 Can't bear to spend a second away from your sweetheart? Then two Adirondack Chairs with an adjoining table is perfect for you!
What you'll get is two solid wood chairs with a small table in between. You can also opt for a simple removable tabletop for greater flexibility. Whether you put down your drinks or enjoy a board game, there are endless possibilities to get some romantic moments in with your significant other.
Get Some Adirondack Chairs for Your Patio
Adirondack chairs are an amazing invention from the early 1900s. Thanks to designer Thomas Lee's careful thinking and experimenting, we have patio chairs that are extremely comfortable and stylish too!
So when you need new furniture, these wooden chairs definitely won't disappoint. Not only will you have beautiful pieces, but you'll also sit cozily while making unforgettable memories with your loved ones.
If you need more patio furniture, we've got you covered. Check out our selection now!