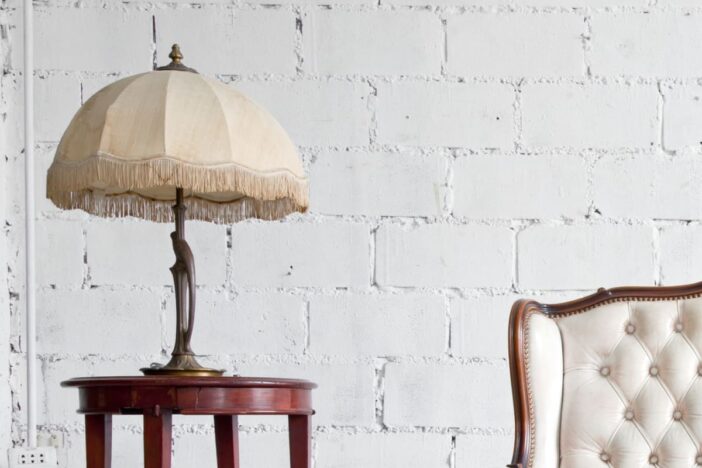 How do you pick the right lamp?
Decorating your house or apartment is exciting, but it can be a challenge too. There are so many decisions to make: design style, color and price point for everything from furniture, rugs and accents to lighting. Choosing a lamp is an important step in creating a beautiful and livable home. But, which lamps should you buy? There are so many options. This guide was created to help you navigate some of the lamp choices and give insight into things important factors to think about.
Considering the form and function of your lamp
One way to streamline the number of choices is to determine the function and form of your lamp. What kind of lighting do you need? Will it sit on the floor or a table, or will it be mounted on the wall? Do you intend to use it only inside or will you need to consider weather-resistant outdoor lamps as well? Once you have answers to these questions, picking the correct lamp will be easier.
Five basic types of lighting
Natural lighting – This is the light that occurs naturally in space during daylight hours. It can have a positive mental and emotional effect by improving attitude and reducing stress. It also reveals the truest colors.
Ambient lighting – This form of lighting is often referred to as "general lighting" and is intended to provide uniform overall illumination in a room. Typically, it's what we think of when we flip on a light switch as we enter a space. Ambient lights are often ceiling fixtures or sconces, but they can be portable lamps or wall lamps as well.
Task lighting – This kind of lighting can be thought of as illumination specific to performing a particular activity. For example, reading in a living room, doing paperwork in a home office or preparing food over a kitchen counter are all activities that benefit from additional brightness via task lighting.
Accent lighting (a.k.a. focal lighting) – This sort of light creates an atmosphere or is used to draw your attention to a particular object or aspect of your home's architecture or landscape. Maybe you have a particular piece of sculpture or artwork that you want to highlight. Perhaps it's an antique china cabinet or Zen garden bonsai tree. Some accent lighting precisely focuses the light on whatever you want to visually celebrate indoors or outdoors. Other accent lights set the mood and tone with warm or cool colors, depending on the ambiance you want to create.
Decorative lighting – This lighting is for purely aesthetic purposes. Think of it as jewelry for architecture – ornamental lighting to catch the eye and reflect personal style or affluence. These lights typically do not emit light well, but simply add to the overall illumination in a minor way.
[M Karlen, C Spangler, JR Benya 2017]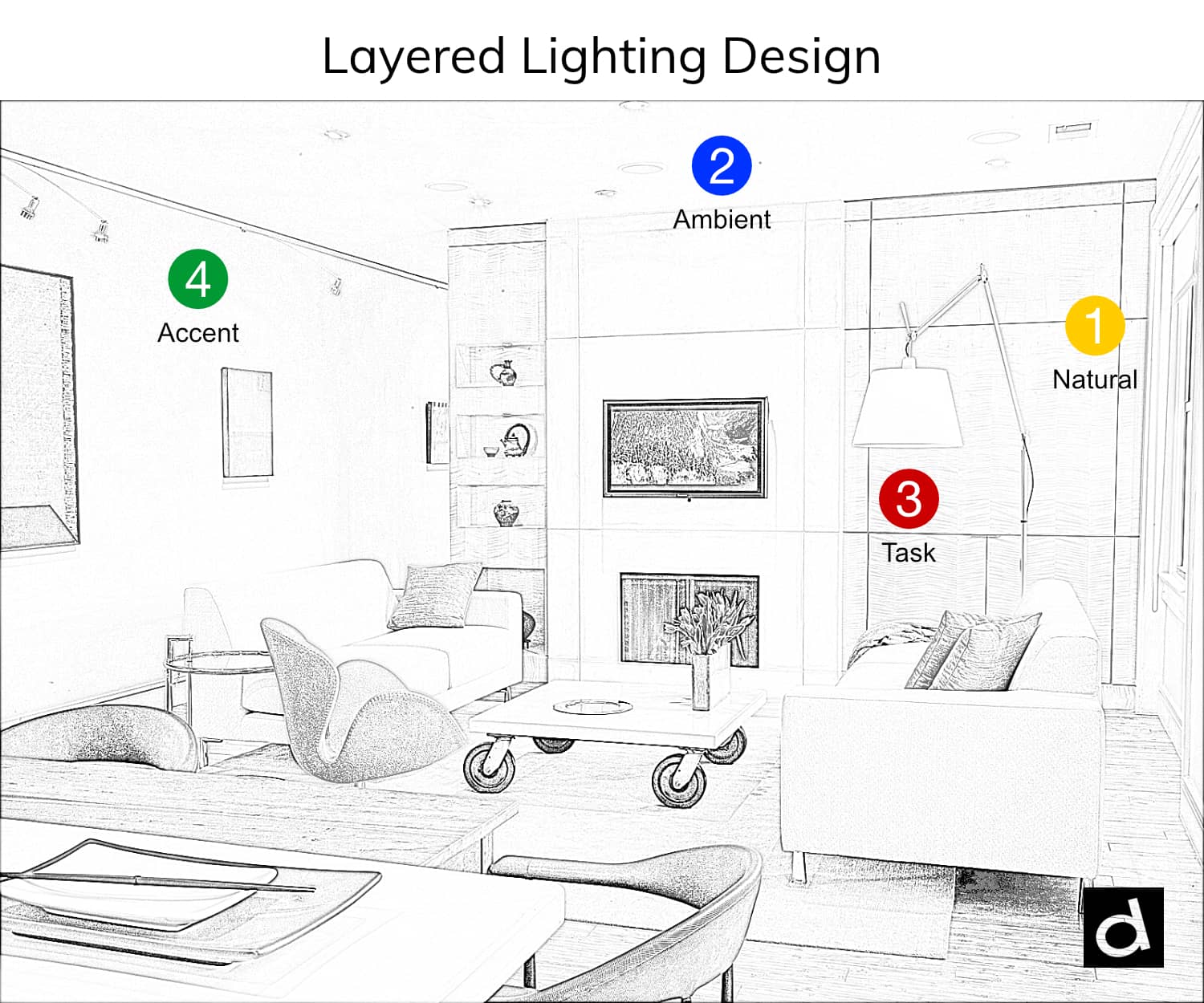 What is layered lighting?
Most rooms require some combination of the three lighting types. There's always a need to easily move about. Usually, there's a specific activity that's commonly done in the room. Finally, most rooms call for a certain mood or contain a decorative accent that you want to call out. A library, for example, requires ambient light to allow you to walk freely between tables and bookcases. It also needs task lighting to read the books and accent lighting to show off your Rothko print.
Proper layering ensures that the light is balanced and there are no unwanted shadows and minimal glare. When planning the layers of lighting, it's usually a good idea to start with the general and move to the specific. However, you should prioritize your lighting based on the particular purpose of the space and adapt as needed.
Types of lamps
Once you've determined where your lamp will go and how it will be used, you still have many choices from which to select. There are essentially three primary categories of lamps: table lamps, floor lamps and wall lamps.
Table lamps – Setting your task and ambient lighting
These mid-sized lamps are the most common portable light used in homes today. Based on where they're placed, table lamps can improve activity performance or simply enhance the ambiance of a room. Modern lamps of this variety may include USB charging for small electronic devices.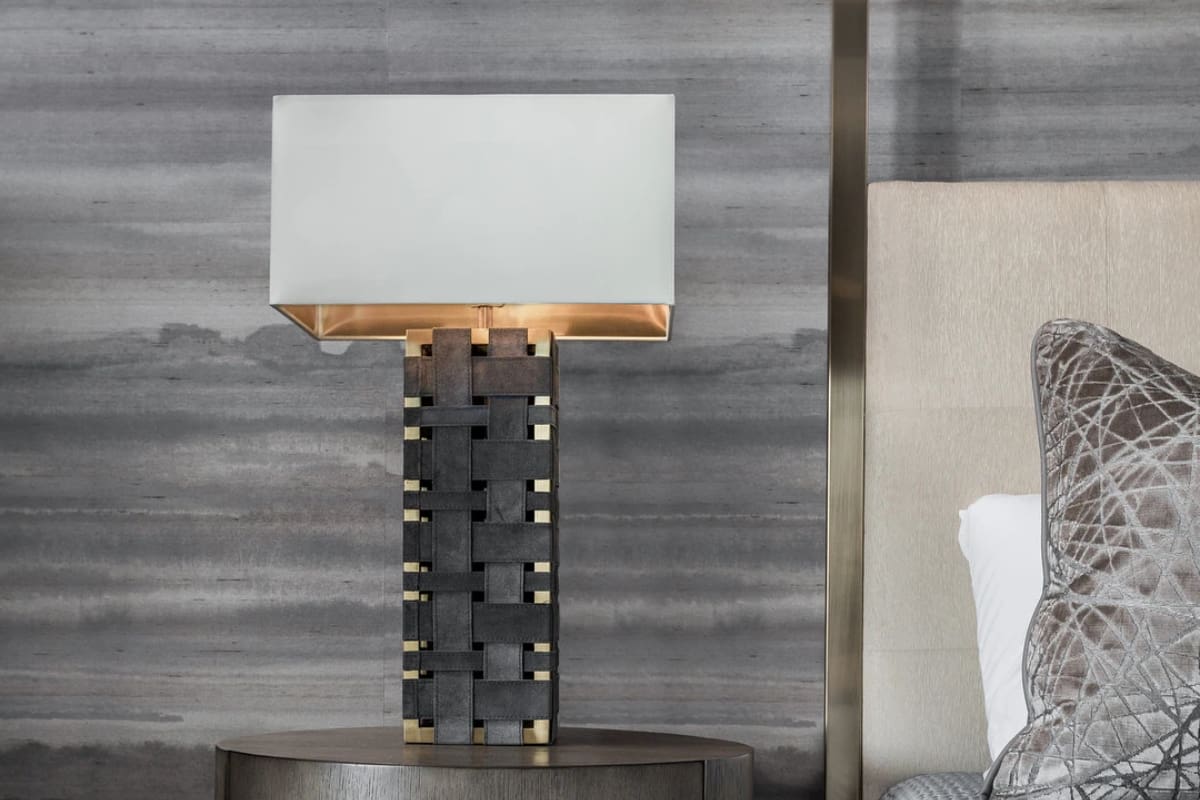 Accent lamps – Reinforcing design style
These lamps typically provide ambient light and make a personal statement of style. While functional, their primary purpose is often to reinforce the interior design theme of a room or simply add a whimsical decorative touch. Accent lamps have a wide variety of characteristics and finding the right one really depends on the aesthetics that matter most to you. They're an easy way to infuse a room with some vibrant color, add some curves and texture, or celebrate a theme that speaks to you.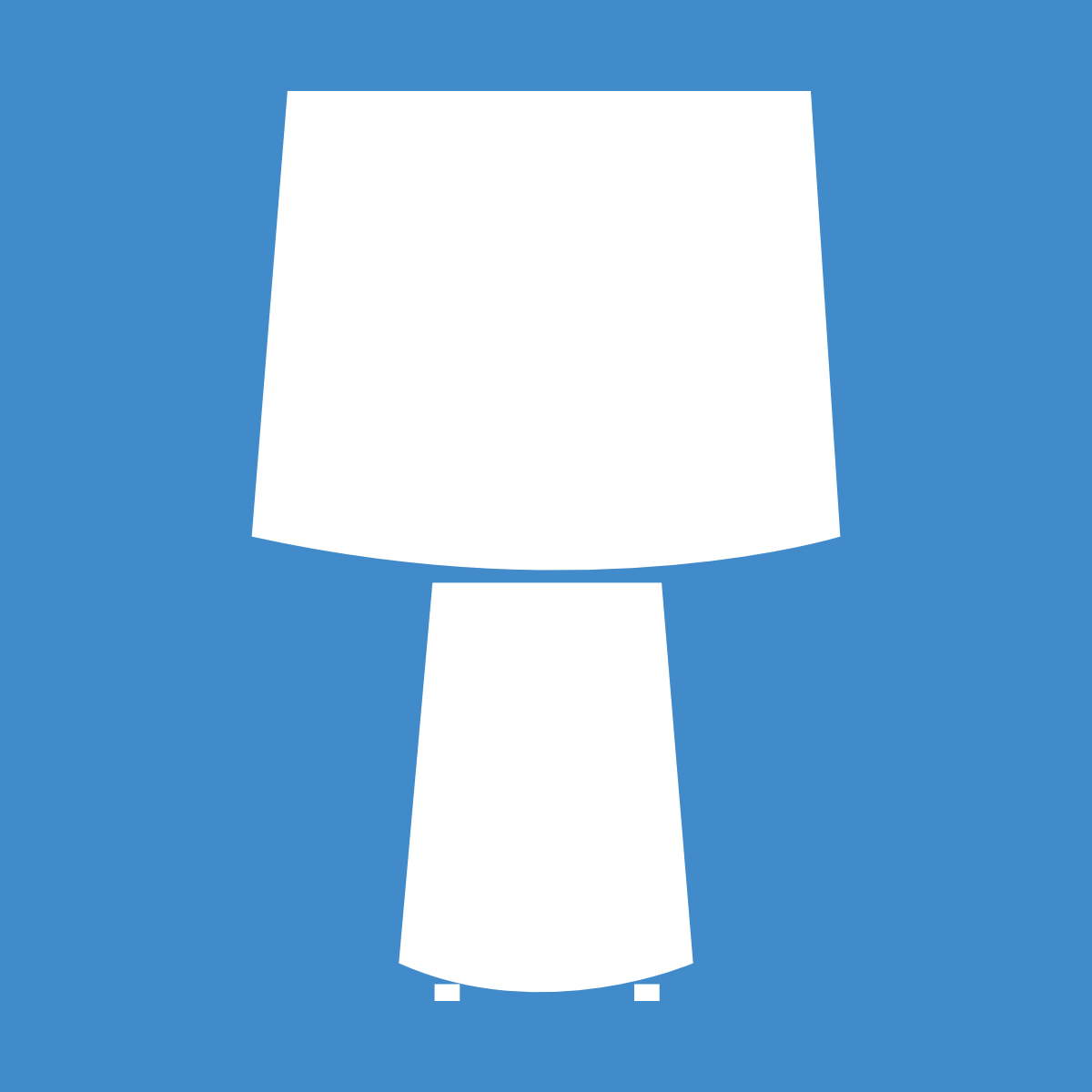 Reading lamps – Lighting by the book
Ever found yourself moving a magazine closer or felt eye strain after finishing a chapter in your favorite novel? If so, it may be the result of insufficient lighting (or you could just be getting old). Even in a decently-lit room, it can be a challenge to scan text. Reading lamps provide a brightly focused light and can adapt to changing conditions. Dimmers are valuable features in living room lamps if you read throughout the day or bedside lamps at night. They should also allow you to direct the light toward your reading material, regardless of your height or book position.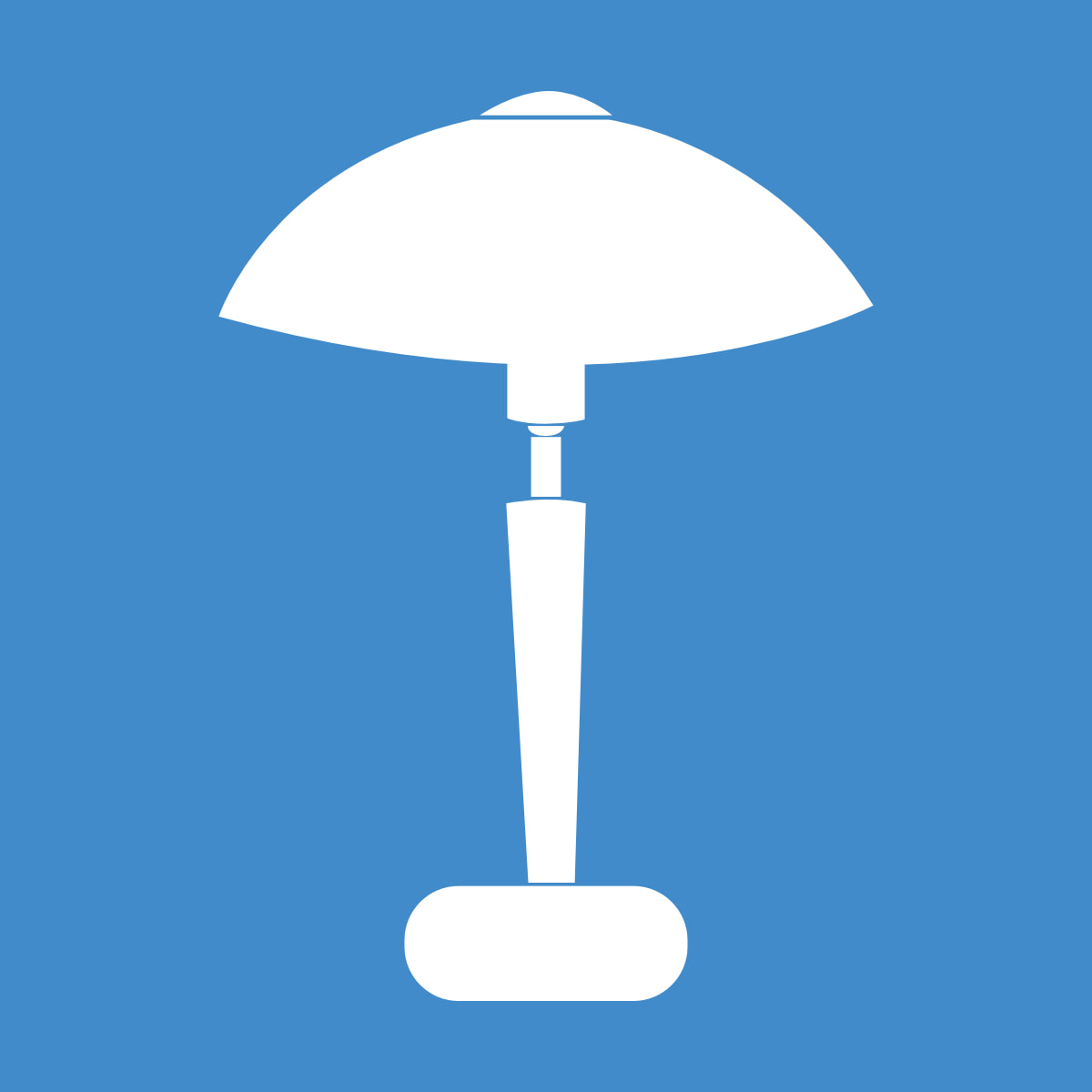 Desk lamps – Adapting to your home work environment
Whether you have a spacious partner's desk or a small mobile workstation, having a great desk lamp is critical to lighting a home office. You perform a variety of tasks at your desk: typing on a computer, paying bills, making to do lists, etc. Your desk lamp must provide reading light and be able to accommodate items across the tabletop. Most have tilting shades that redirect light onto paperwork across your desk or away from computer screens. Many have adjustable arms and necks that can rotate or extend to cover surface areas all over the desktop.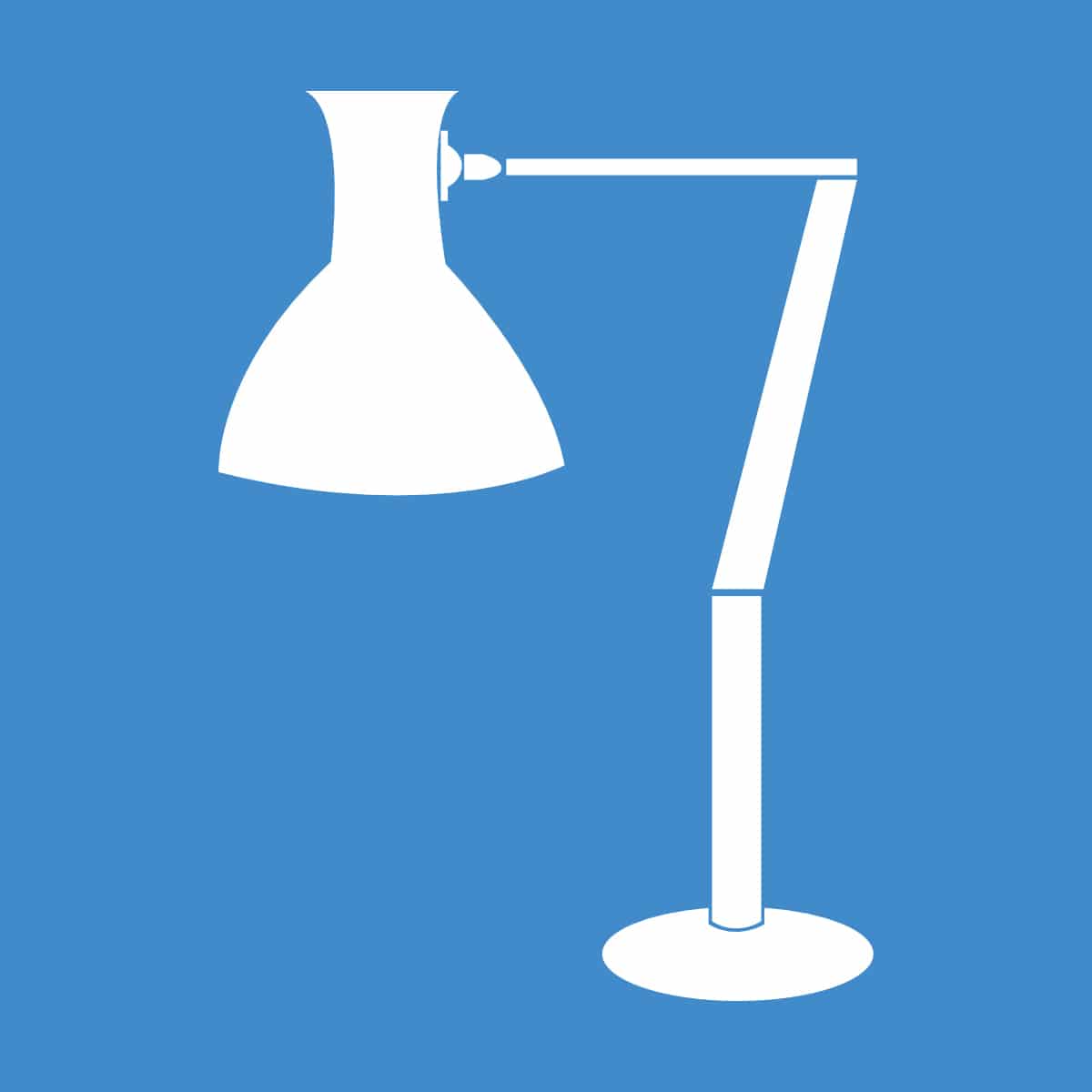 Varieties of desk lamps
Adjustable or swing arm lamp – This highly adaptable lamp can rotate, bend in multiple directions and swing upward or downward to direct light as needed across a large area (think Pixar lamp logo)
Gooseneck lamp – The neck of this lamp is flexible (like a goose's), which enables you to maneuver the light in virtually any direction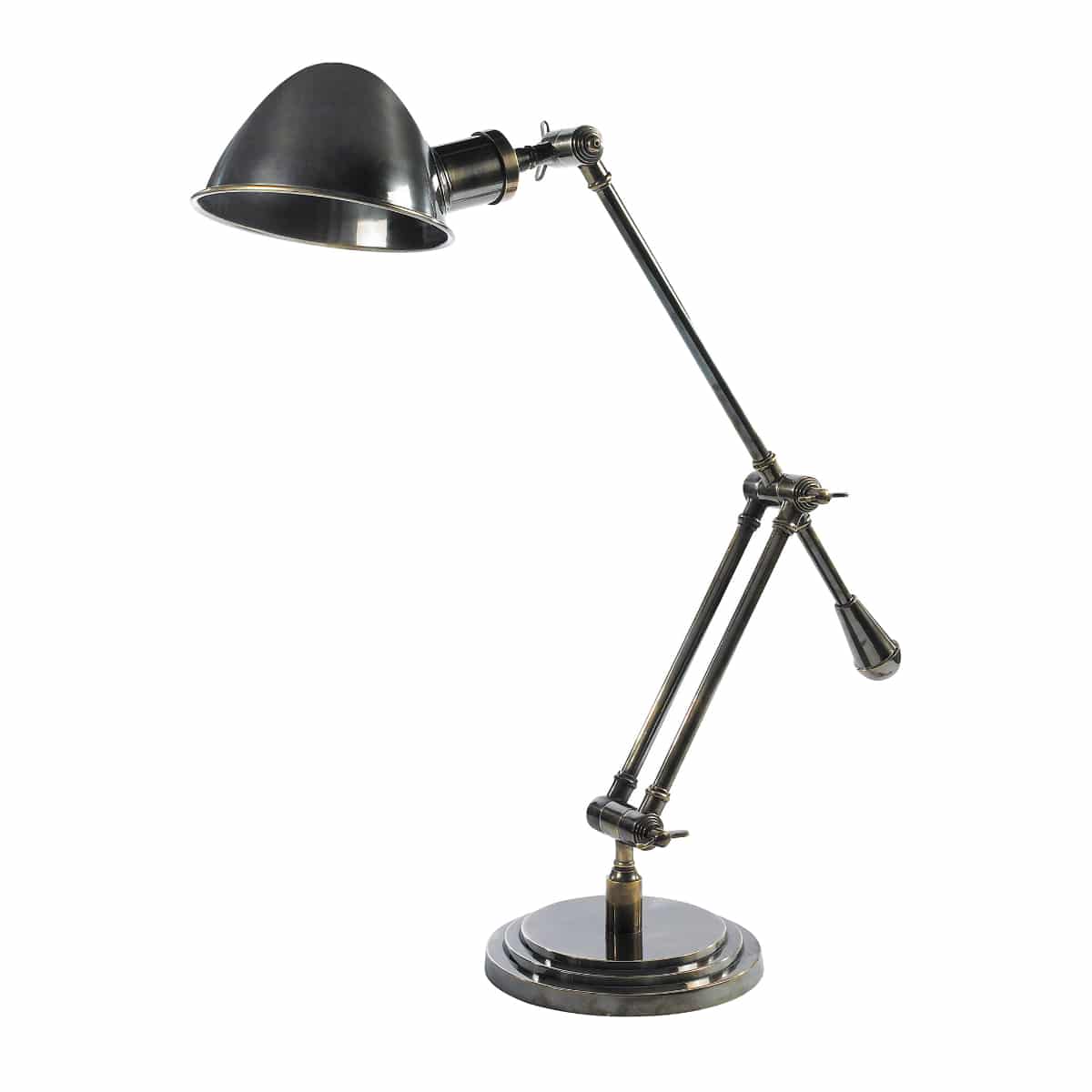 Clamp-on lamp – The base of this lamp is made up of a large clip or vise-like mechanism that slides and secures over the edge of the tabletop, vertical plane or post and can save desktop space
Banker or piano lamp – This iconic light is recognized by its typically green glass horizontal cylinder shade, pull chain and brass stand, which shines light downward
Magnifier lamp – This specialized lamp incorporates a magnifying glass in the middle of the lighting fixture and is often used when precision assembly and inspection of small components is required
Organizer lamp – The base of this lamp incorporates storage compartments for everything from post-it notes, pens and paperclips to smartphones and other electronic devices, saving valuable desk space and keeping things organized
Buffet lamps – Thin lights in the thick of things
If you host dinner parties and take pride in the presentation, buffet lamps are a great touch. Not only do they raise the elegance factor of your dining room, they also serve a practical purpose – they help people see the food that they're about to enjoy. Typically, they're used in pairs and placed on the ends of sideboards, consoles or other serving tables. Buffet lamps tend to be tall and thin to prevent the bases and shades from getting in the way of hands and arms. Their light is usually softer and focused downward to create a welcoming ambiance and mood.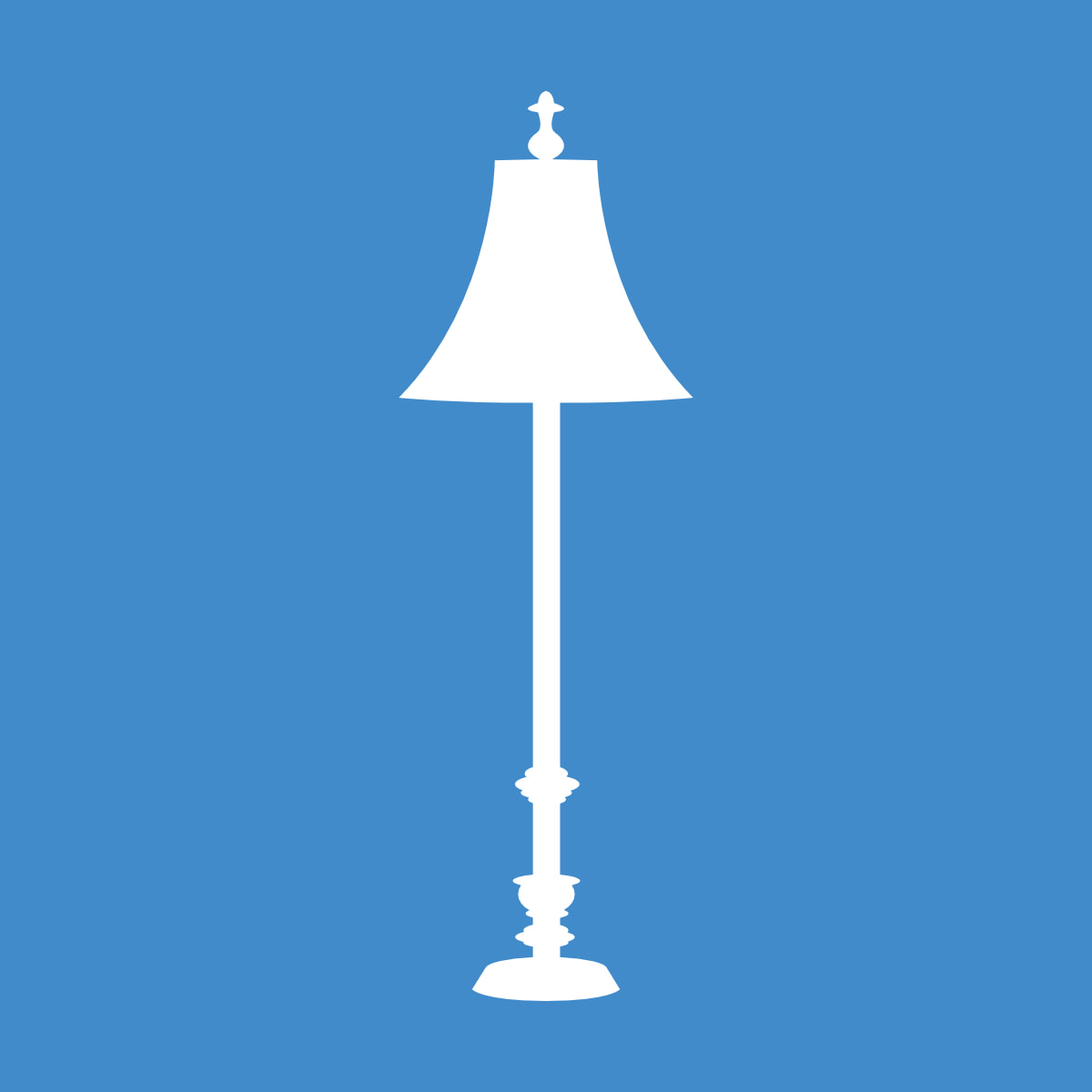 Additional things to consider when evaluating table lamps
Line of Sight – Height
It's important that the bottoms of table lamp shades are roughly at eye level when you're seated, whether it's in an office chair, sofa or bed. This enables you to work, read or socialize with others without the glare of an exposed light bulb blinding you. At the same time, the direct light is close enough to brightly illuminate the pages of a book.
Relative Proportion – Size
Table lamps should be no more than 1 ½ times the height of the furnishing it sits on and the shade should never overlap the edge of the tabletop. Measure the height and circumference of your table, rather than rely on eyeball guesses – it's better to be safe than sorry. Conversely, your table should not dwarf your lamp either. For end tables, the diameter of the shade should be at least half the width of the table. Long consoles and sideboards can work with smaller lamps if used in pairs since it creates a pleasing visual symmetry. Desk lamp size should vary based on the size of the desk, although the functional benefits are usually more important than the aesthetics.
Traffic Flow & Activity – Weight
If your room has a heavy traffic flow (i.e. people frequently walk through it), you need to be sure that your table lamps are stable and don't tip over easily. Height plays a part, but the weight and base design are probably more important factors. Similarly, if you expect to be active on or around a table or desk, the heavier the lamp the better.
Floor lamps – Grounding your ambient and task light
These tall lamps are extremely versatile and may be used to light the entire room, augment overhead lighting or provide much-needed reading light. Due to their large scale, they're often placed in the corner or behind sofas and lounge chairs. Some modern floor lamps include touch controls, USB ports and storage compartments.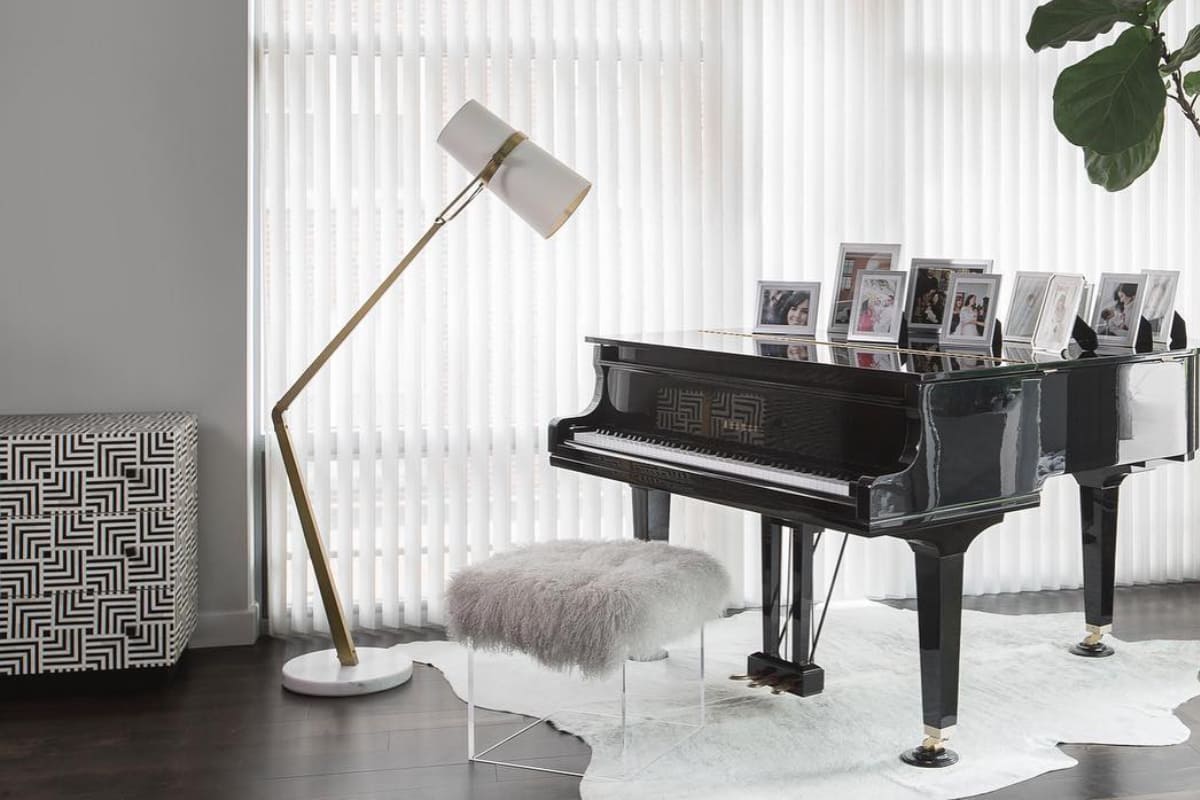 Console or shaded floor lamps – Traditional downward lighting
These large standing lamps are what you typically picture in your mind when you think of floor lamps – a tall body with some sort of shade. Their statuesque bodies are often straight pole-like spindles, but they can be more decorative or even have a tripod design. The bases are usually wide or heavy to provide stability. Most console floor lamps have standard drum shades and are used for general ambient light. However, pharmacy-style shades and swing arm floor lamps can adjust to provide ample direct light for reading.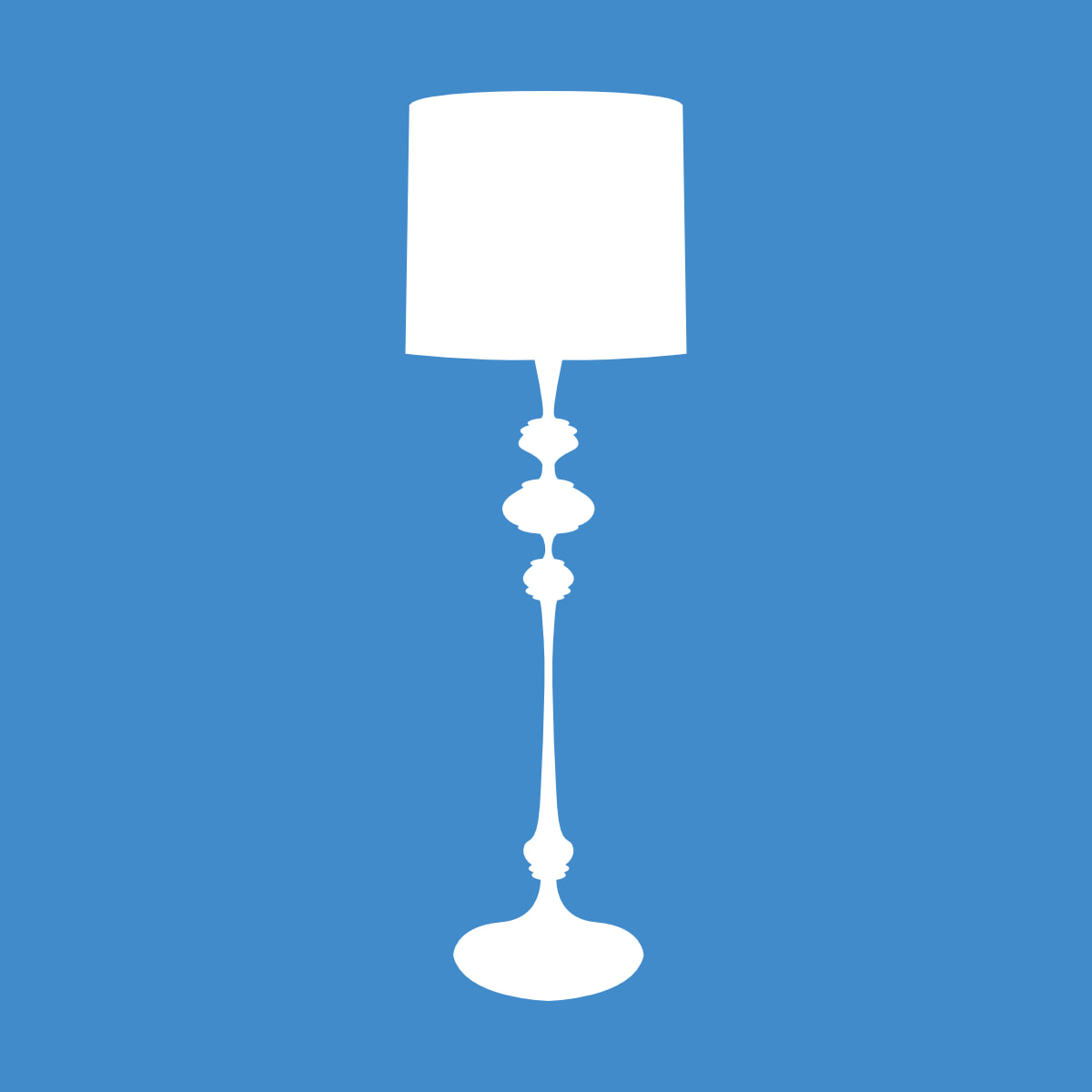 Torchiere floor lamps – Uplifting illumination
These stylish floor lamps are similar to console lamps. The main difference is that they have inverted shades that direct light toward the ceiling, where it reflects and provides ambient light. Torchiere lamps generally resemble torches (hence the name), although the shade may take on a variety of shapes. Because their light is indirect, torchiere floor lamps are not particularly good for reading. They're often placed at the edges or corners of the room, instead of to the side of chairs or sofas. On the plus side, they don't have the glare that can occur with some downward shades.
Arc floor lamps – Lighting that's ahead of the curve
These sleek modern floor lamps feature a long curving arm that gracefully arches up and out from a heavy base. They're often used in living rooms to provide general overhead lighting for wide lounge areas with multiple chairs, sofas or even a sectional. Typically, they're positioned behind a couch or table, so that the shade hangs over the center of the seating area. The most iconic example of this type of light is Achille Castiglioni's Arco Floor Lamp, which is one of the most recognizable pieces of mid-century modern lighting.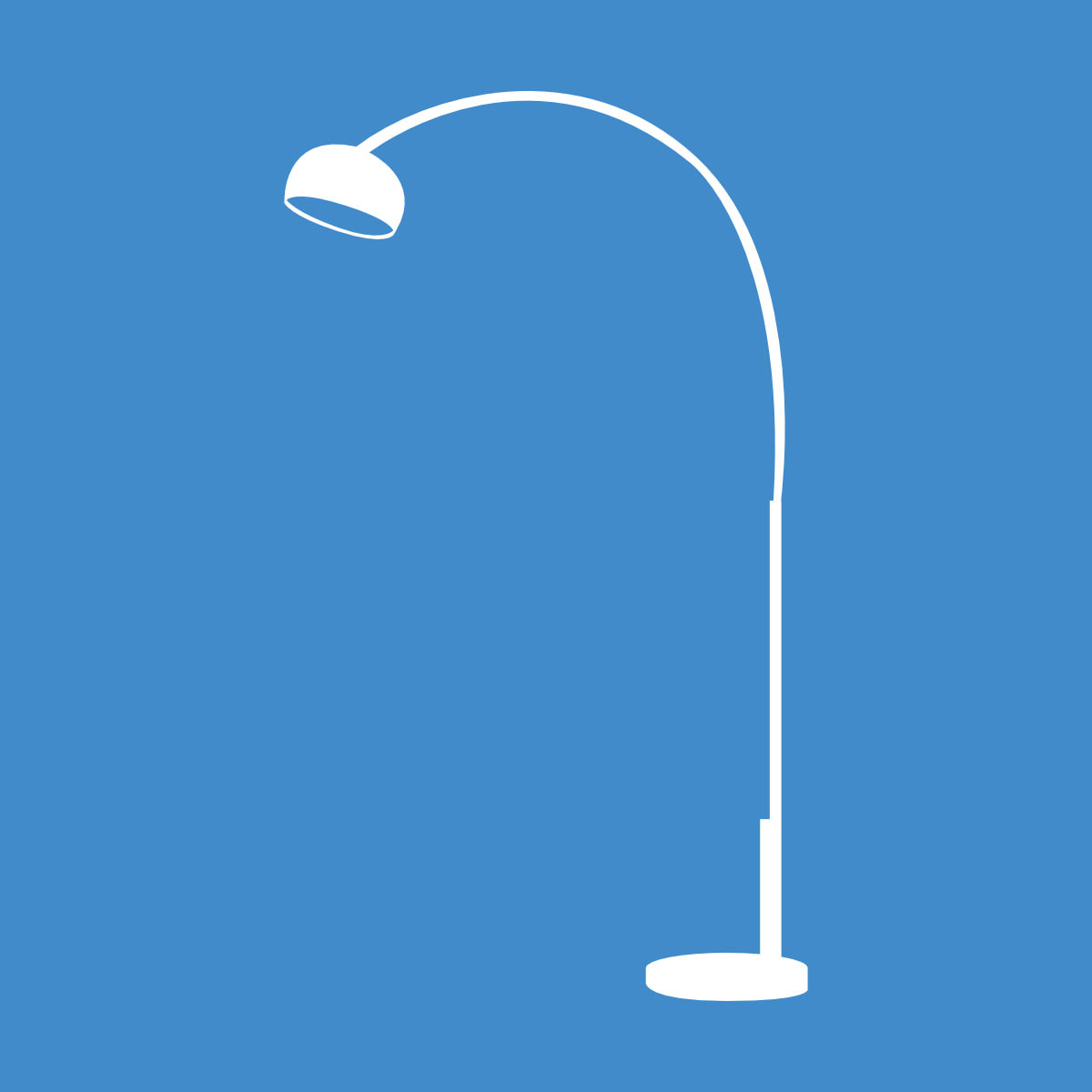 Track tree floor lamps – Branching out in new lighting directions
These dynamic floor lamps feature a main body that branches into three or more arms. These appendages can adjust to focus light in any number of directions. Track tree floor lights often include rotating and tilting shade heads, whose height can be adjusted individually. They can be used to accent multiple decorative elements or provide direct light to an entire book club seated around the area. Variations are also known as octopus, spider and multi-arm floor lamps and are typically placed alongside seating.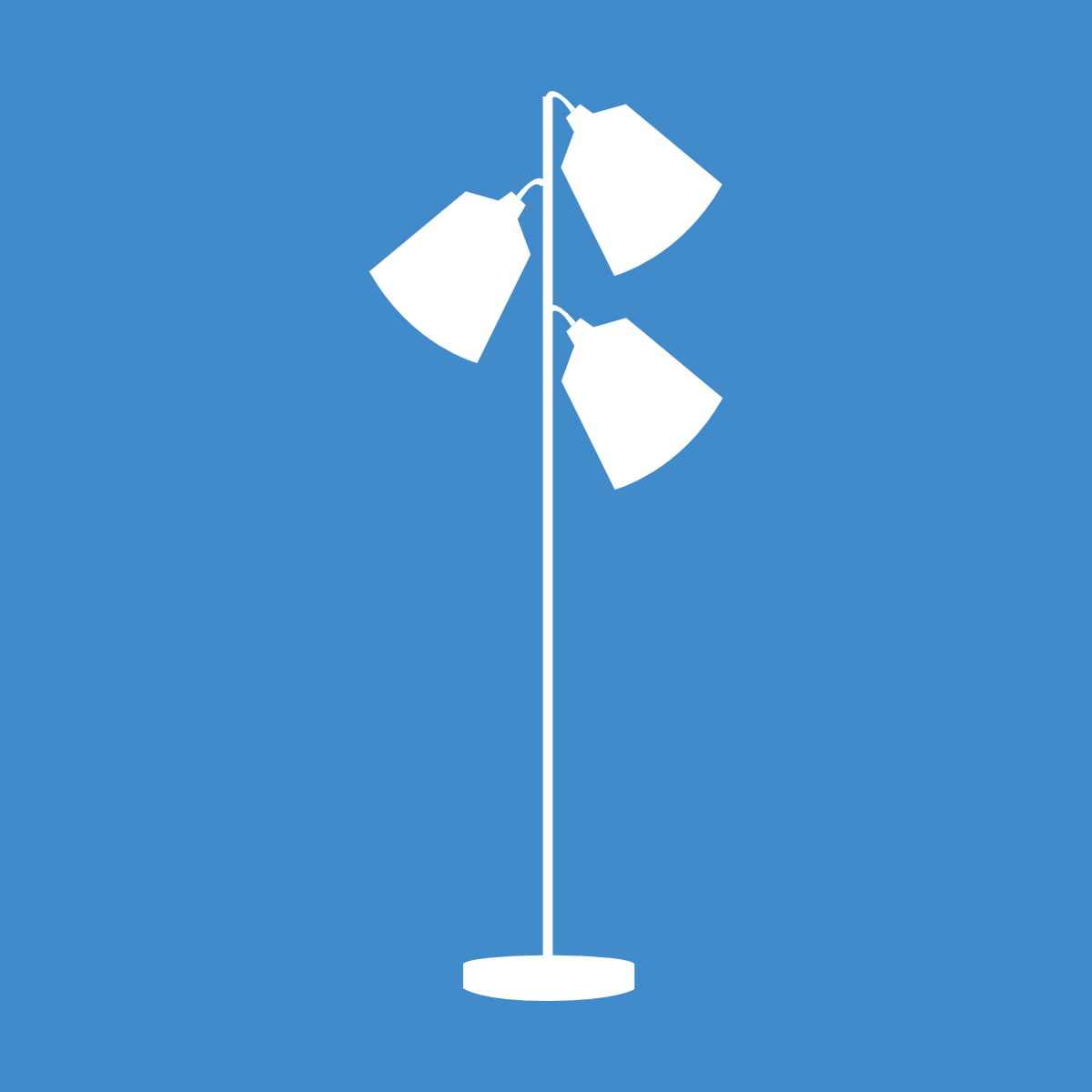 Additional things to consider when evaluating floor lamps
Line of Sight – Height
The same rule of thumb used for table lamps should be applied to floor versions. The lower edge of the shade should be at eye-level when seated, if you are using a console floor lamp. Torchieres, arc lamps and track trees can be taller, but be mindful that they don't obstruct your view of artwork or other decor. If you're using a combination of table and floor lamps in the room, it's a good idea to try to keep the tops within a few inches of each other.
Relative Proportion – Size
No shocker here – don't get a massive lamp if you have a tiny room. Most floor lamps are narrow, so they can easily fit behind furniture and conserve space. However, if you're using an adjustable swing arm or arc floor lamp, be sure that the arm can easily clear sofa and chair backs.
Traffic Flow & Activity – Weight & Design
If your floor lamp is placed out in the open, make certain that it doesn't obstruct the line of sight between spots where people might sit. Lighting should enhance the communal experience, not interrupt it. Be especially careful in high-traffic areas. An industrial tripod floor lamp might look amazing, but not if people are continually tripping on its legs. You might also want a lamp with a heavier base that can survive the brush of a stray knee or elbow.
Wall lamps – Hanging on for dear light
I can guess what you're thinking – don't you mean "sconces" or "vanities?" If we're going to be nitpicky, then yes, wall lamps, sconces and vanities are all technically wall lights. However, sconces and vanities tend to illuminate a limited area. Wall lamps, for our purposes, provide both task and ambient light, and are much more substantial in design and function. They may or may not have shades, but most can be used around seating areas or tables where you need direct light. They're also effective when horizontal space is at a premium and you can't use a desk lamp.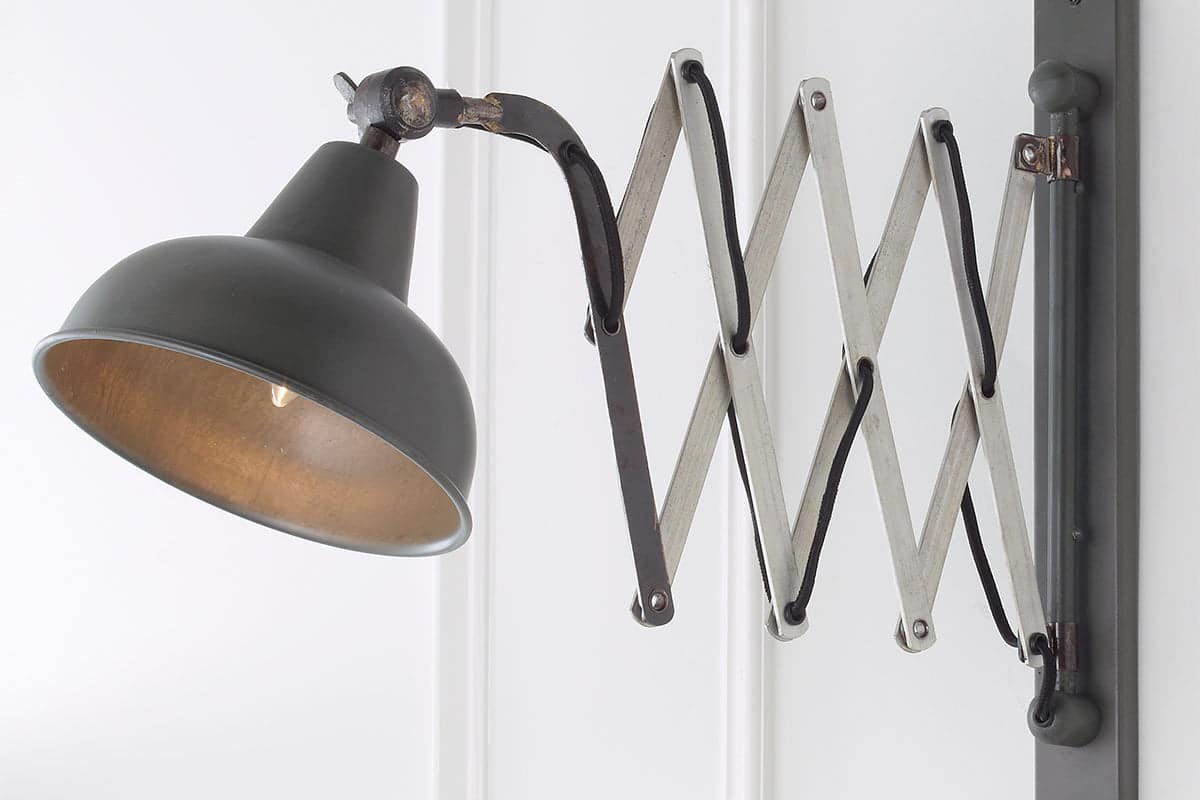 Swing arm wall lamps – Lighting up the joint
These handy wall lights have adjustable arms which can pivot and swing into a variety of positions. They make it easy for you to move the lighting source. Some have multiple joints and adjustable shades that enable you to manipulate the light angle even further. This adaptability makes swing arm lamps ideal for reading or performing other precision tasks that need close-up direct light. Position them between seats, so you can take advantage of their mobility in both spots. Later, you can fold it up and out of the way when it's not in use.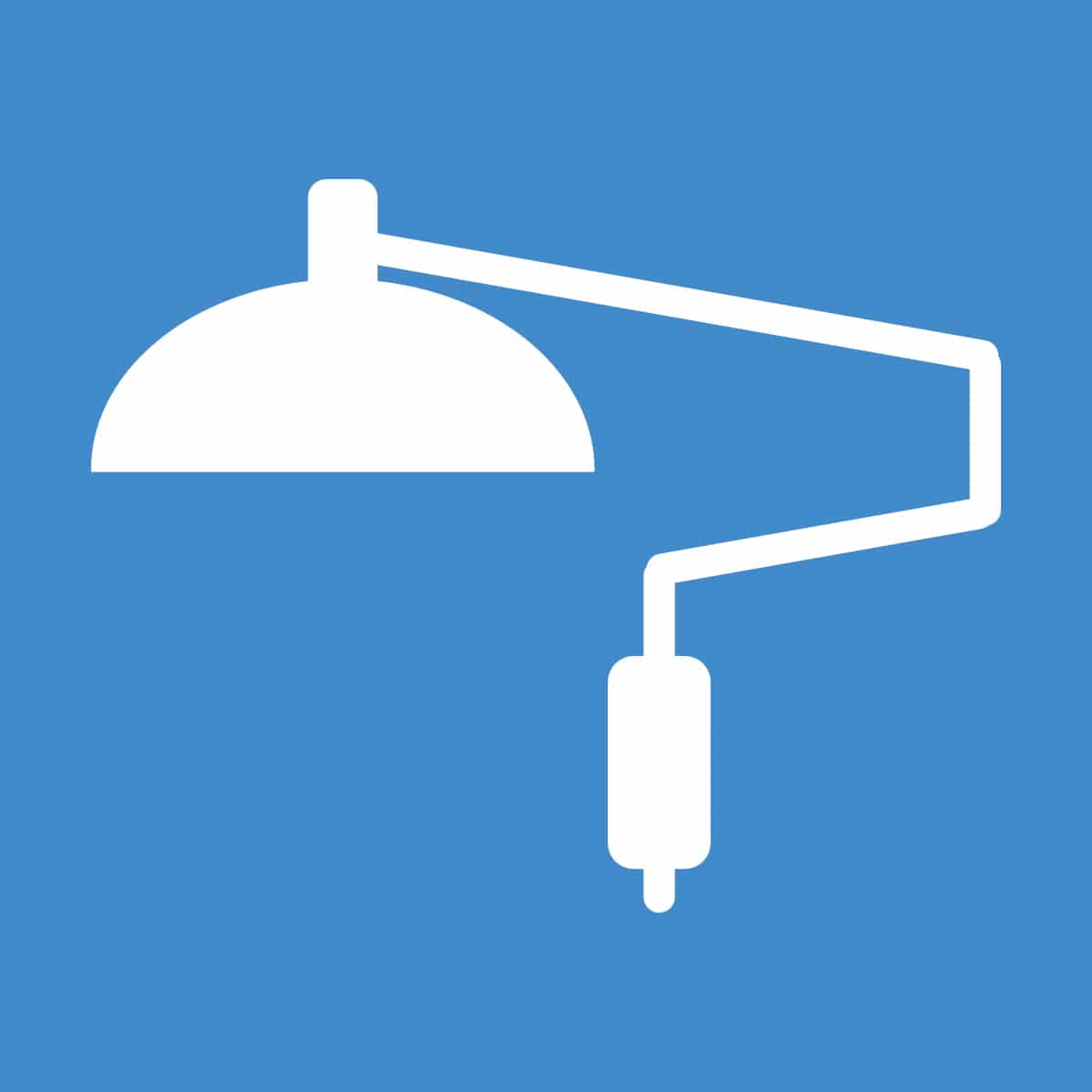 Accordion arm wall lamps – Extending your lighting capability
These dynamic wall lights offer many of the same advantages as swing arm varieties, although they are usually a bit more limited in the degree to which they can adjust. They often have a rotating hinge near the wall mount that gives you some left and right movement. The key feature is a multi-jointed accordion-like arm that extends and retracts in one direction. The shade is moved manually or by means of a small lever. Typically, these wall lamps have an industrial steampunk look, which makes them as much an aesthetic choice as a functional one.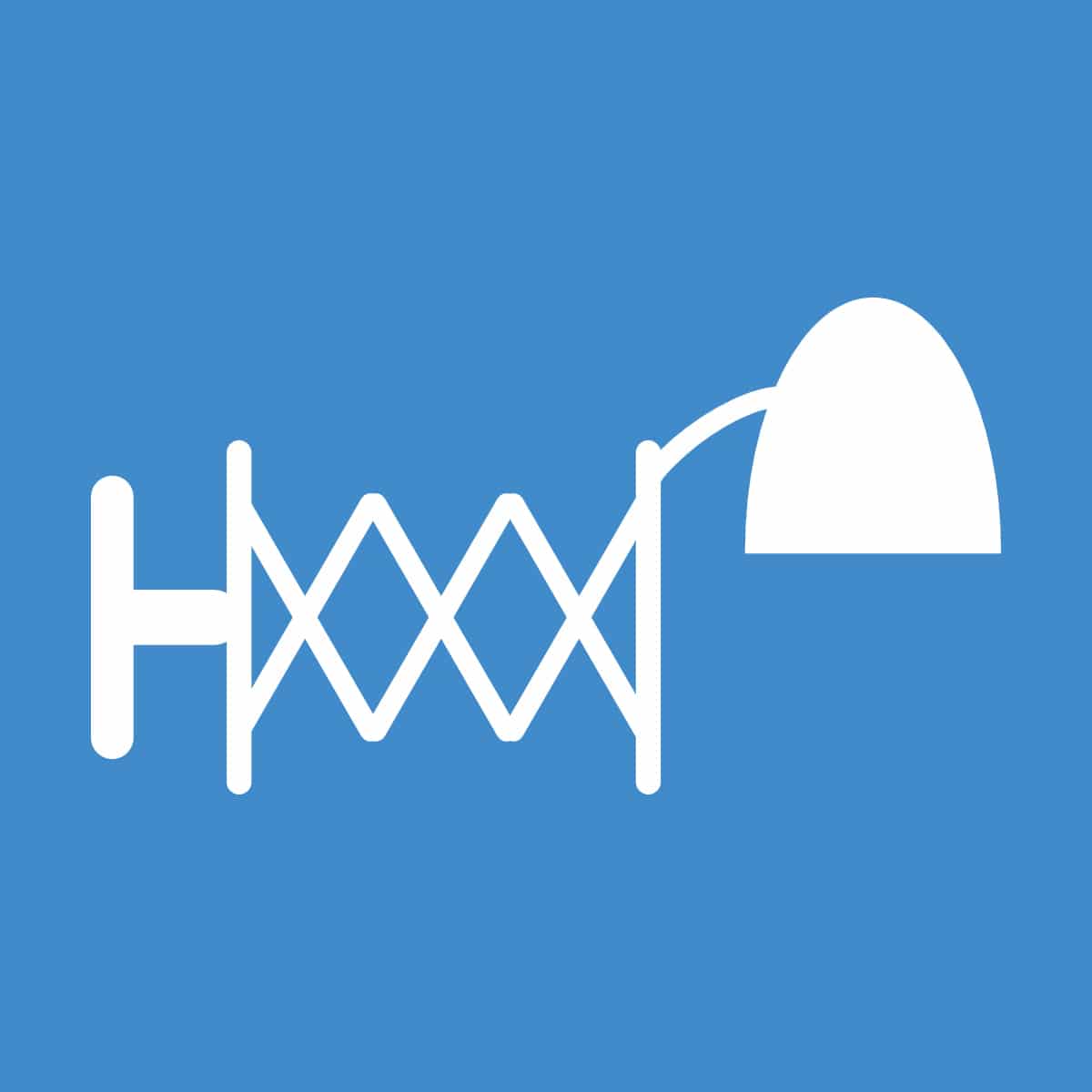 Additional things to consider when evaluating wall lamps
Line of Sight – Height
Wall lamps adhere to the same "eye level when seated" guideline as table and floor lamps. Depending on the vertical adjustment capabilities of your lamp arm, you may have more leeway in how high you can mount the back plate.
Relative Proportion – Size
These lights are usually not too big to begin with and are great at conserving horizontal space.
Traffic Flow & Activity – Weight & Design
Their ability to rotate and retract allows them to fold up and tuck out of the way when not in use. Be wary of positioning them in high traffic areas, since they don't fit as snuggly to the wall as a traditional sconce.
How do you pick the right lamp shade?
Alright, you figured out what kind of lamp to get, but you still have other options to consider. For example, what kind of lampshade should you get? Shades have functional responsibilities, but they also add character and can reinforce the decor style and create a cohesive look. Lamps often come with coordinating shades, but you may have an option to swap them out. Other times, shades are sold separately. The most important characteristics to consider when evaluating lamp shades include shape, size, material, color/pattern and safety.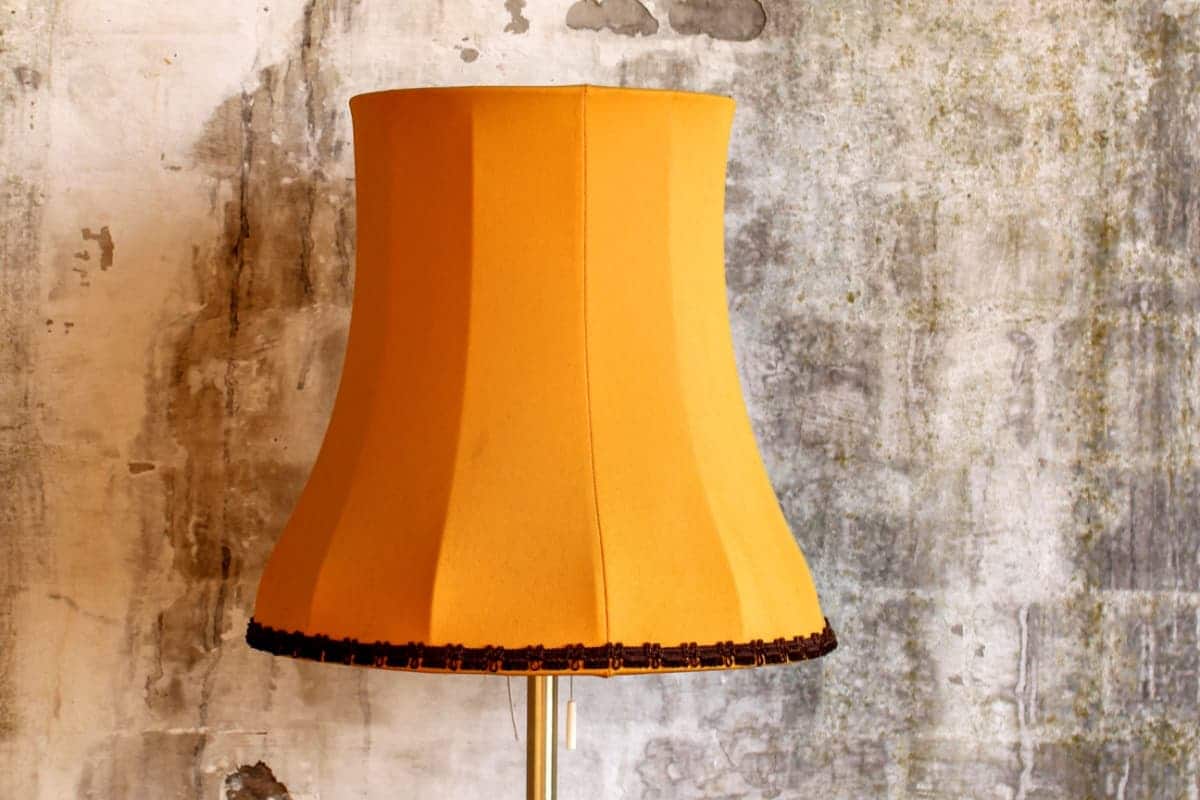 What is the right shape for a lamp shade?
There are no hard and fast rules when it comes to the shape of lamp shades since aesthetics are subjective. However, in general, it's a good idea for the lamp base and shade to have a similar contour. If the lamp base is curved, a rounded shade is likely to look better than one with sharp angles. The same goes for straight-edged bases and squared shades. Mixing and matching shapes might appease your eclectic spirit, but it can lead to cognitive dissonance – something just feels off.
The angle of the sides of the shade is another thing to think about. Virtually all shades have tapered or vertical sides, which may be straight or slightly concave. Shade corners may be sharp, rounded or cut at 45° angles. Finally, the bottom edge of the shade may be straight or scalloped (rounded sections). Much of the decision is really just personal preference.
Most popular shapes for lamp shades
Drum shade
This simple cylinder shade has round openings with vertical sides. It disperses light equally up and down and complements transitional and contemporary style lamps.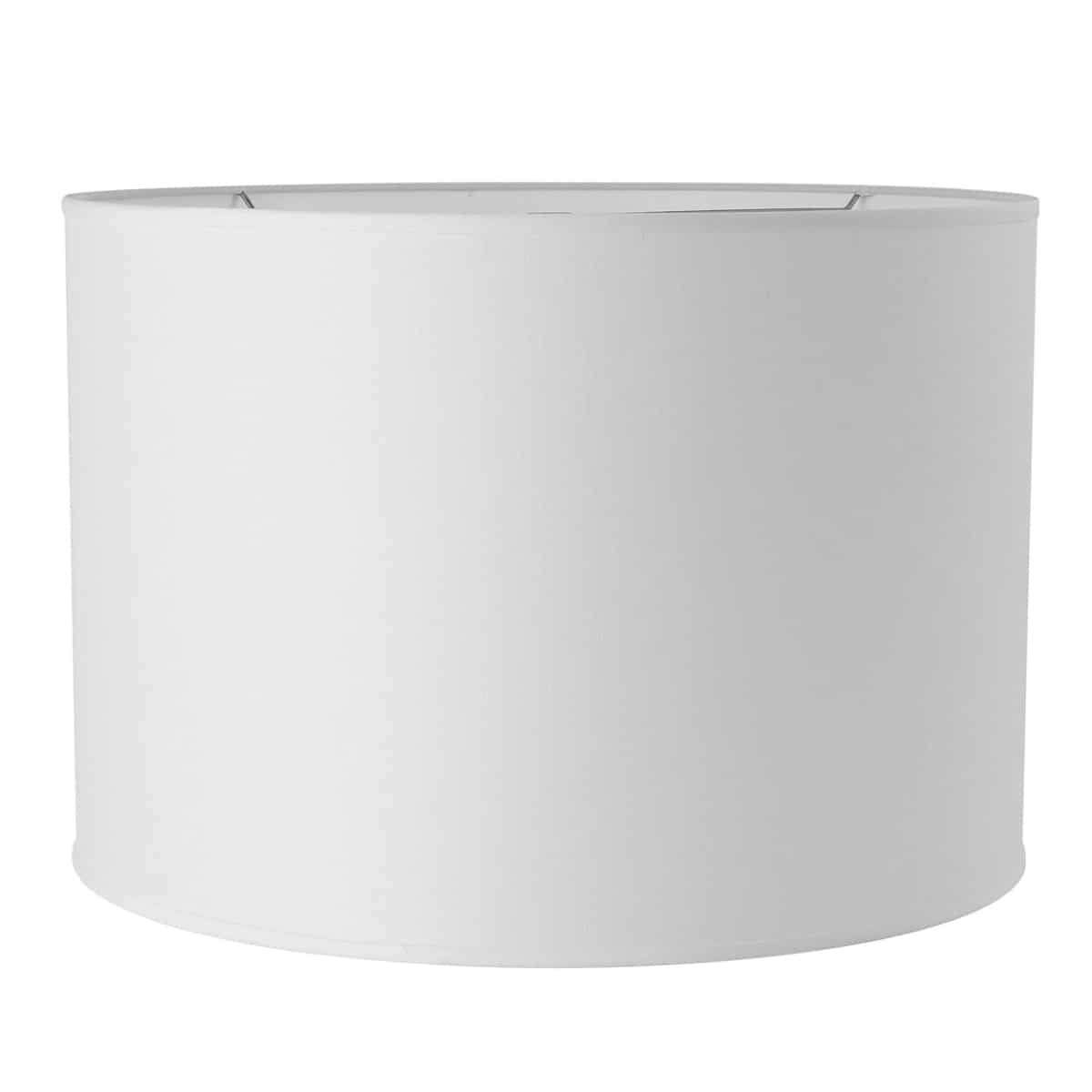 Oval shade
This elliptical shade is essentially an elongated version of the standard drum shade. Its rounded ends give it a softer feel than sharper geometric shades.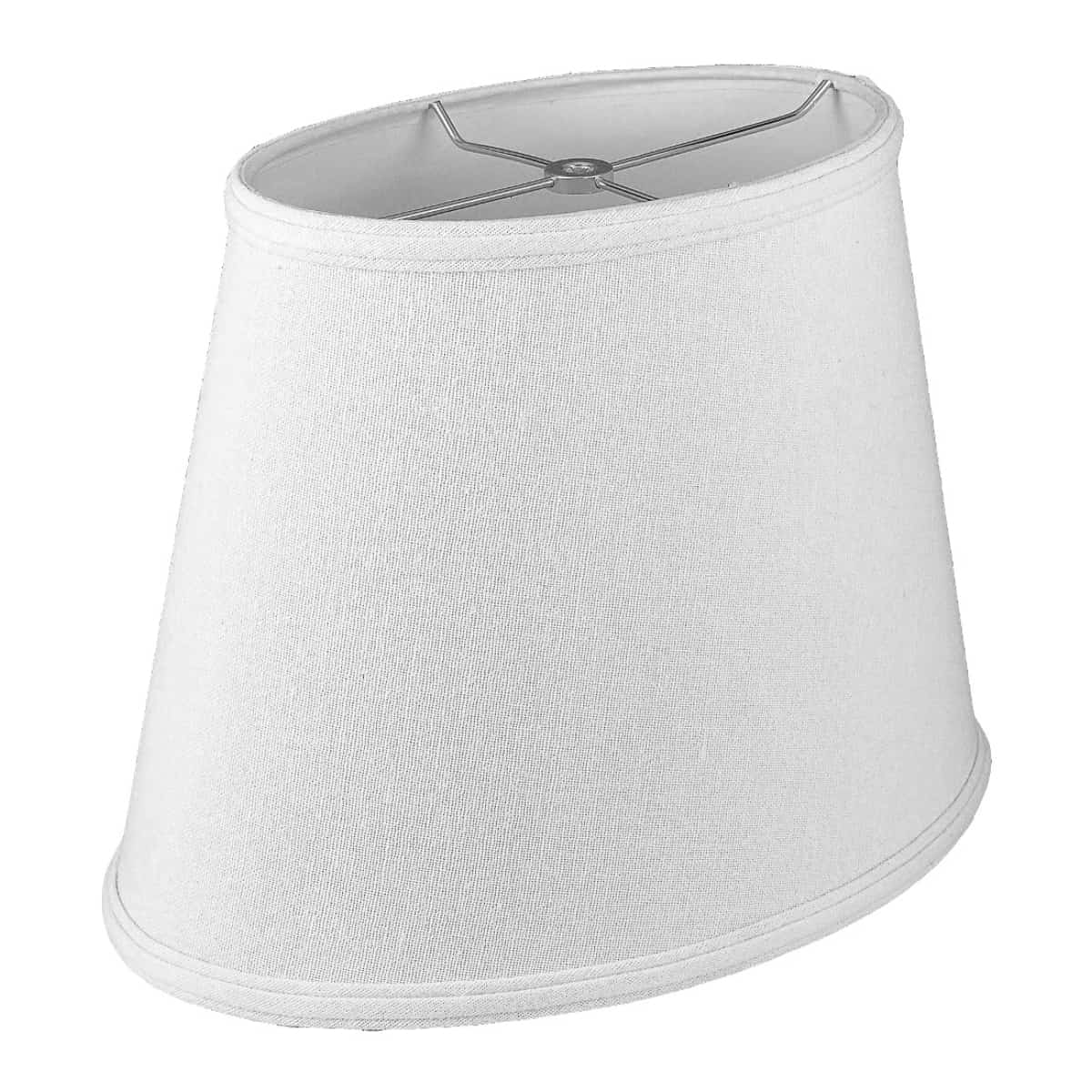 Geometric shade
These square, rectangular, hexagon or octagon shaped shades usually have vertical sides, but may be tapered. They go well with lamps that have a modern designs.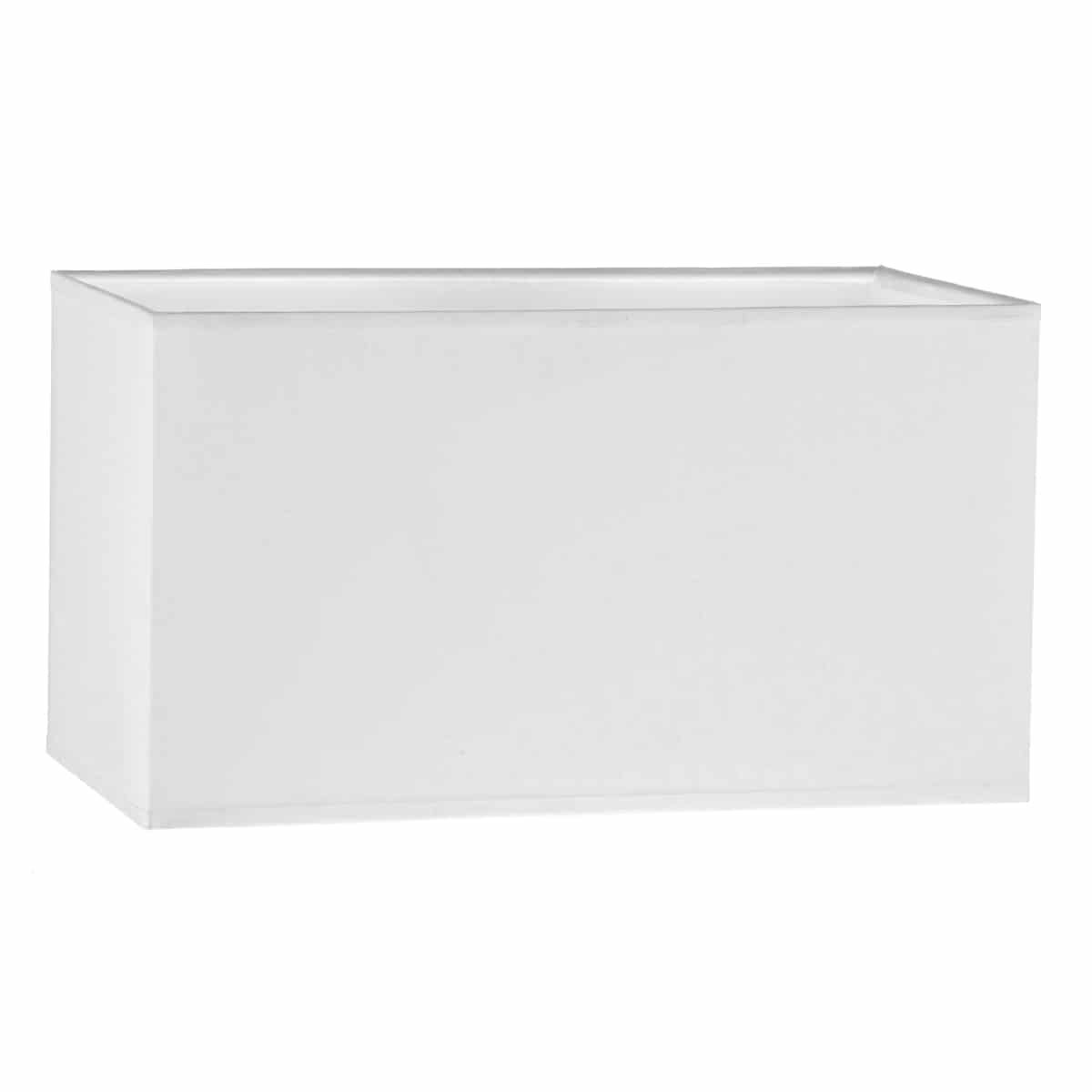 Empire shade
This classic cone or "frustum" shaped shade has a slightly smaller top diameter. It distributes more light downward than up. You'll see this shade on many traditional styled lamps.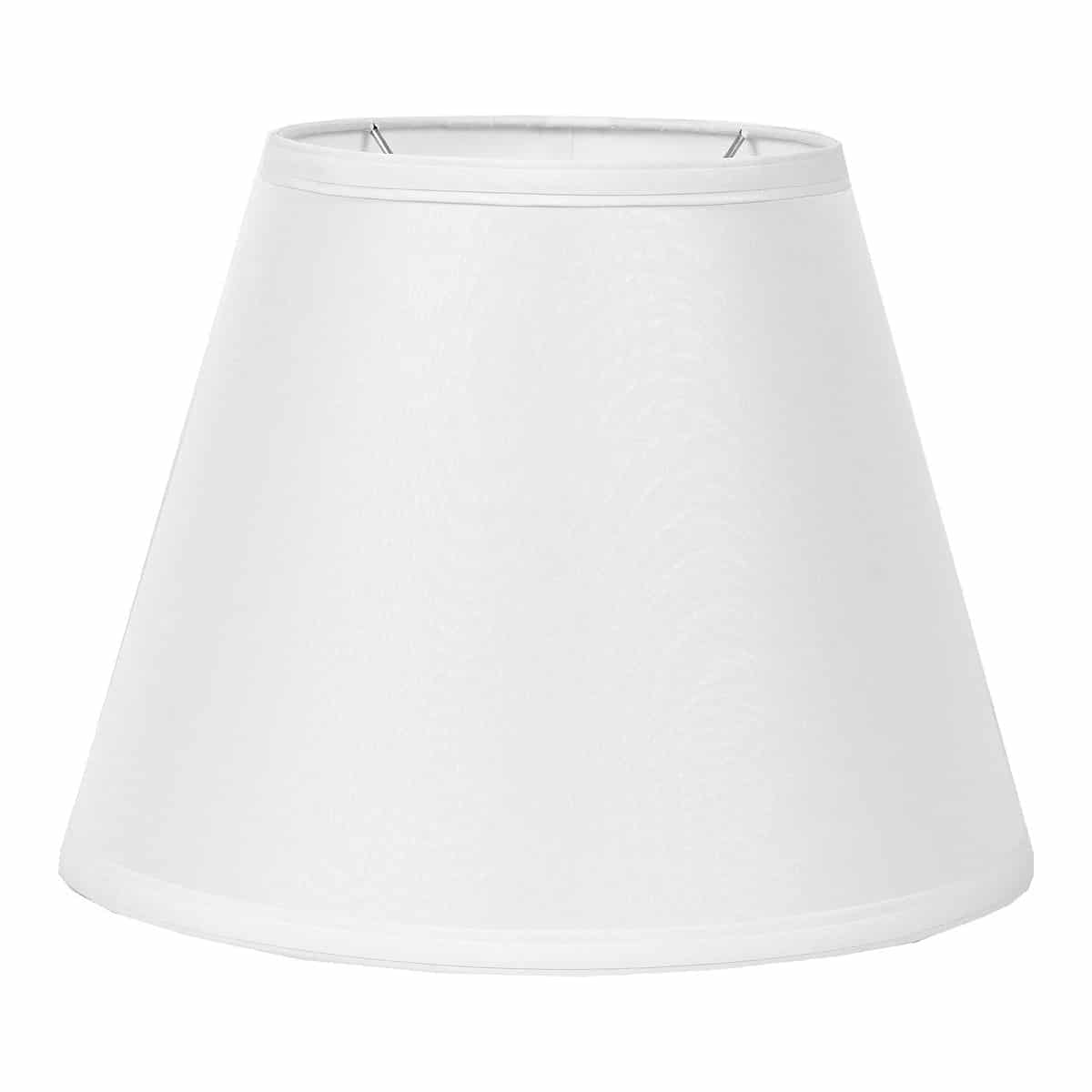 Coolie shade
This extreme cone-shaped shade has a significantly larger bottom diameter. It brightly lights below, while emitting a softer light above. They create a striking profile on contemporary lamps.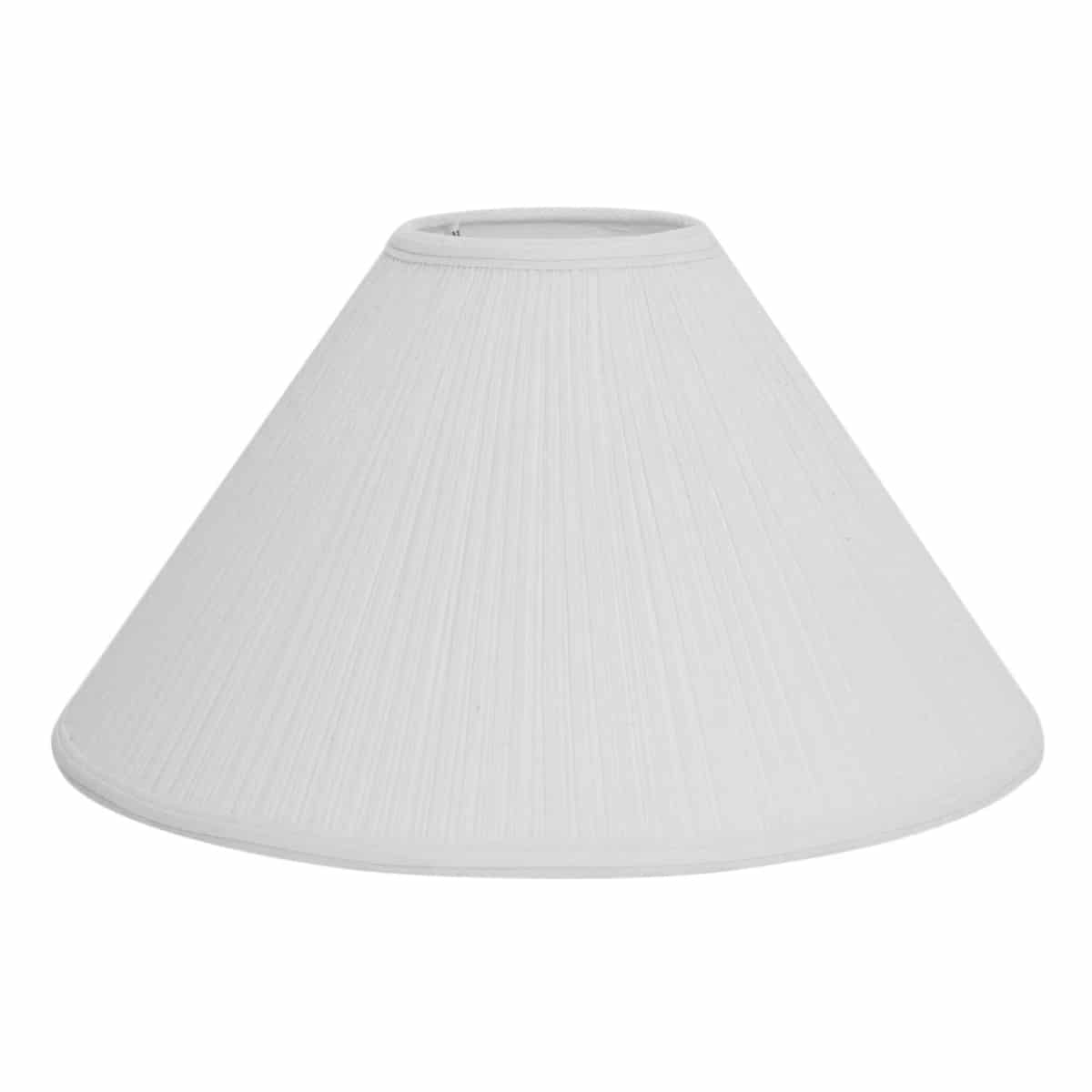 Bell shade
This graceful cone-like shade has concave sides and usually emits ambient light through soft shade material. Usually, this sort of shade is used for lamps with a vintage traditional look.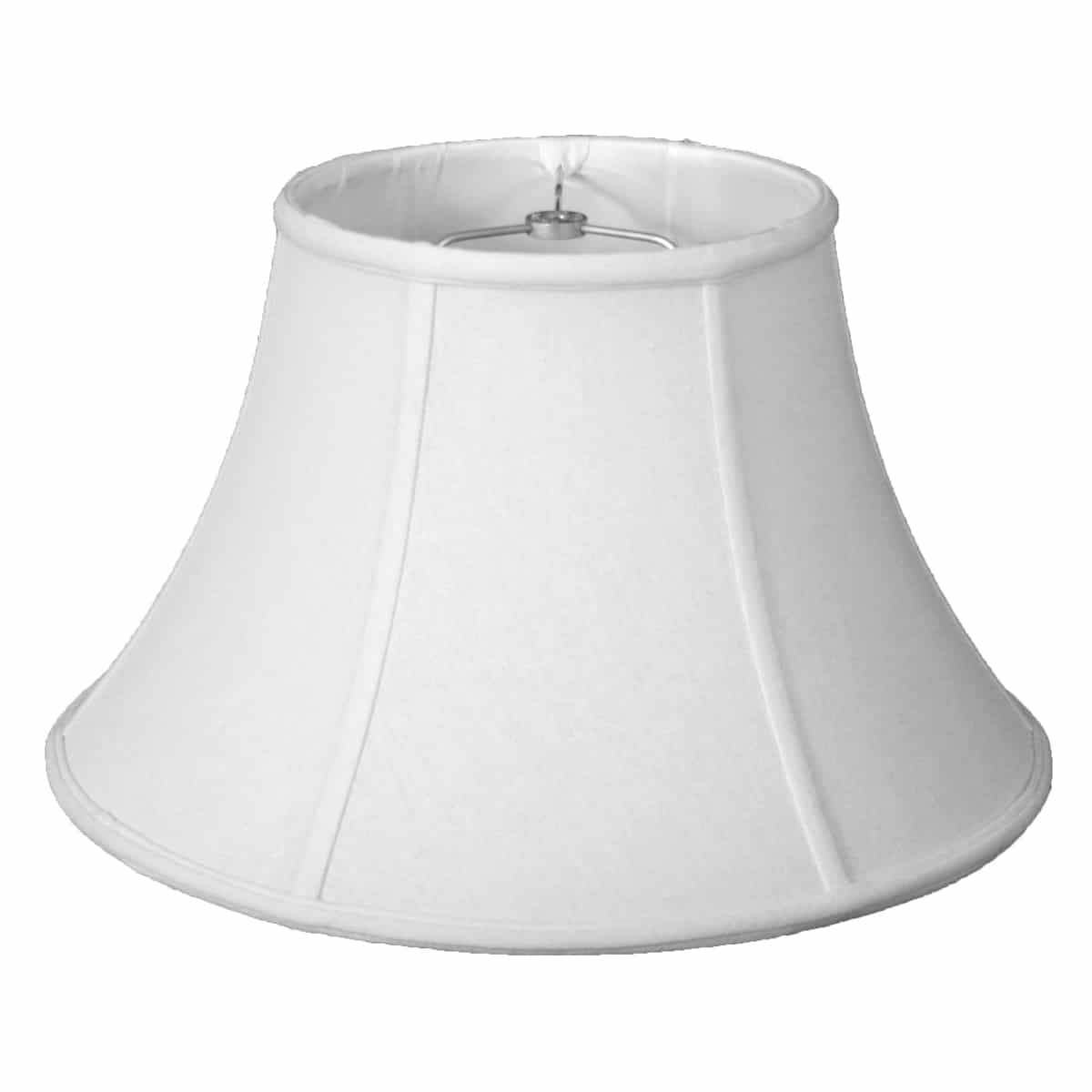 What is the right size for a lamp shade?
Are you replacing an old shade and want something different? Or, are you buying a new lamp that doesn't come with one? Either way, it can be difficult figuring out the proper size to get. There are aesthetic and functional factors to consider. It's also important to take a couple key measurements of the lamp base: the height from the bottom to just below the socket fixture and the diameter or width at the bottom.
Diameter/width – Table lamp shades are roughly as wide as the base is tall. They should be half an inch wider than the base on each side. Floor lamp shades are at least 18″ in diameter or larger.
Height – Table lamp shades should be approximately ¾ the height of the base.
Position – All shades should cover the top of the lamp fitter, socket and bulb. This ensures that you cannot see any of the hardware from the side.
Proportion – Table lamp shades should not be wider than the table. Floor lamp shades should be a size commensurate with the free space in the room (use common sense).
What is the best material for lamp shades?
The primary function of a lamp is a key determinant of the ideal shade material. For instance, if the main purpose of a floor lamp is to provide bright ambient light, then a translucent fabric shade is appropriate. On the other hand, a table lamp meant for reading would be better off with a darker shade made from denser material. The backing also plays an important part in how the lamp shade performs.
Lampshade interior lining types
Hard-backed shade – This shade may have a metal framework and is lined with plastic or another firm material. It reflects light away from the interior surface (usually gold or white) and out the top and bottom. This makes the light seem brighter.
Soft-backed shade – Shades of this kind usually have a metal framework with vertical supports between the top and bottom. They may have a flexible lining (paper or linen) that allows light to pass through the walls.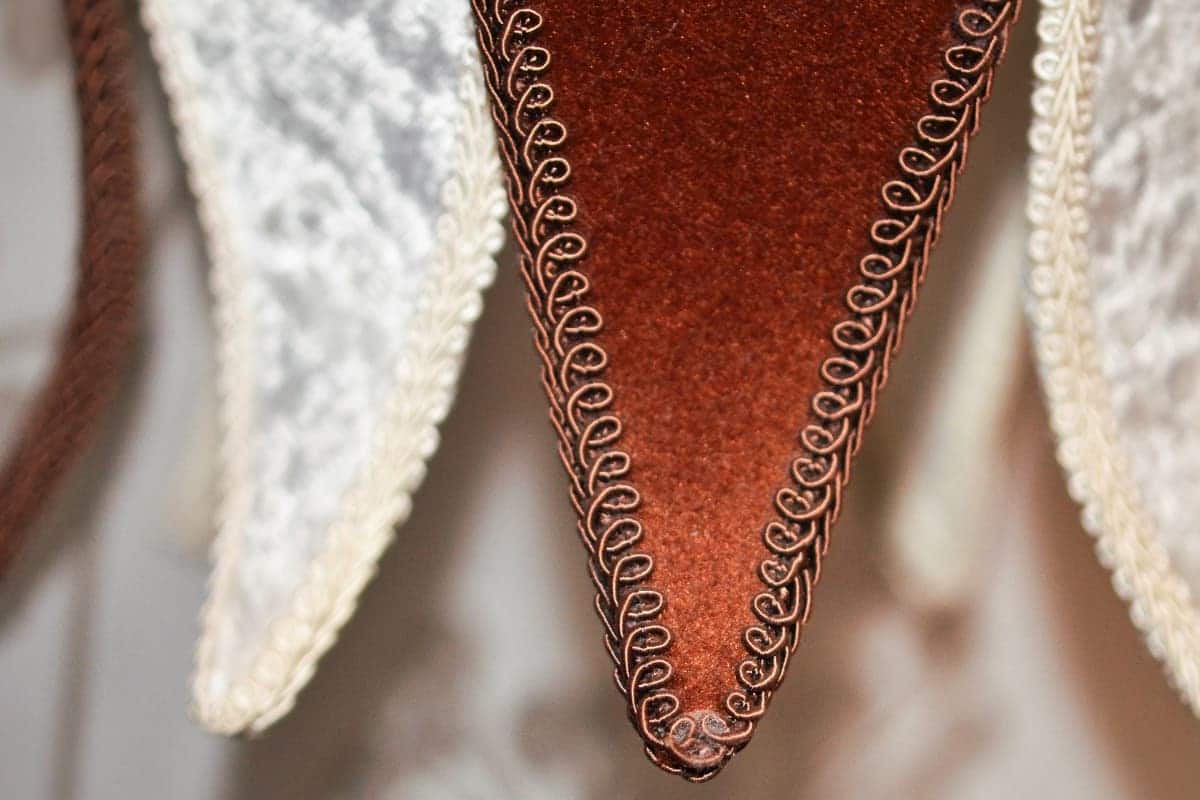 Lampshade exterior surface materials
Lamp shades can be made from a number of materials with distinct characteristics, benefits and drawbacks.
Silk – Elegant smooth fabric whose fibers act as tiny prisms to scatter light with a unique luster, filters light effectively and absorbs dyes easily [S Nivedita & PK Mishra 2016]
Linen – Long-lasting laid back textile that has a beautiful natural color and provides a subtle textured look
Cotton – Inexpensive fabric option that can absorb bold colors and be rolled smooth or gathered in a pleated design
Parchment – Lightweight paper with clean contemporary look that holds bold colors and vivid printed designs
Glass – Opaque white glass works well for kitchens and bathrooms, where you need bright light, while art glass and Tiffany lamps have vintage appeal in any room
Plastic – Similar to glass, but you have unlimited modern color choices and varied opacity, although it is more susceptible to scratches
Metal – Great directional lighting material with an urban industrial look, but it can get a bit heavy and hot to the touch
How do you choose a lamp shade color or pattern?
Are we to the fun part yet? Yes and no. Like most things, there are tradeoffs based on various shade choices. The darker the shade (and thicker), the less light will filter through. So, a matte black drum shade might look ultra-chic on your minimalist modern table lamp, but it will provide less ambient light than a white one of the same material. You have to consider the implications and make a decision based on your priorities.
The good news is that there are many stylish options within each color palette. If your lamp base is multi-colored, you might want to consider a solid colored shade that closely matches one of the accent colors. Otherwise, neutral hues are your safest bet. Bright solids and vibrant patterns make lively contrasts to lamp bases with more subdued tones. Think of them like you would a tie with a suit – a little fun is not just accepted, it's appreciated.
Lamp shades are great for picking up colors used in other areas of the room. They can also provide a complementary accent to break up a monochromatic room. If you want to create a calm environment, neutral colors provide soothing light and coordinate with virtually any color scheme. Don't forget about textures – visual appeal can come from understated tactile patterns as well.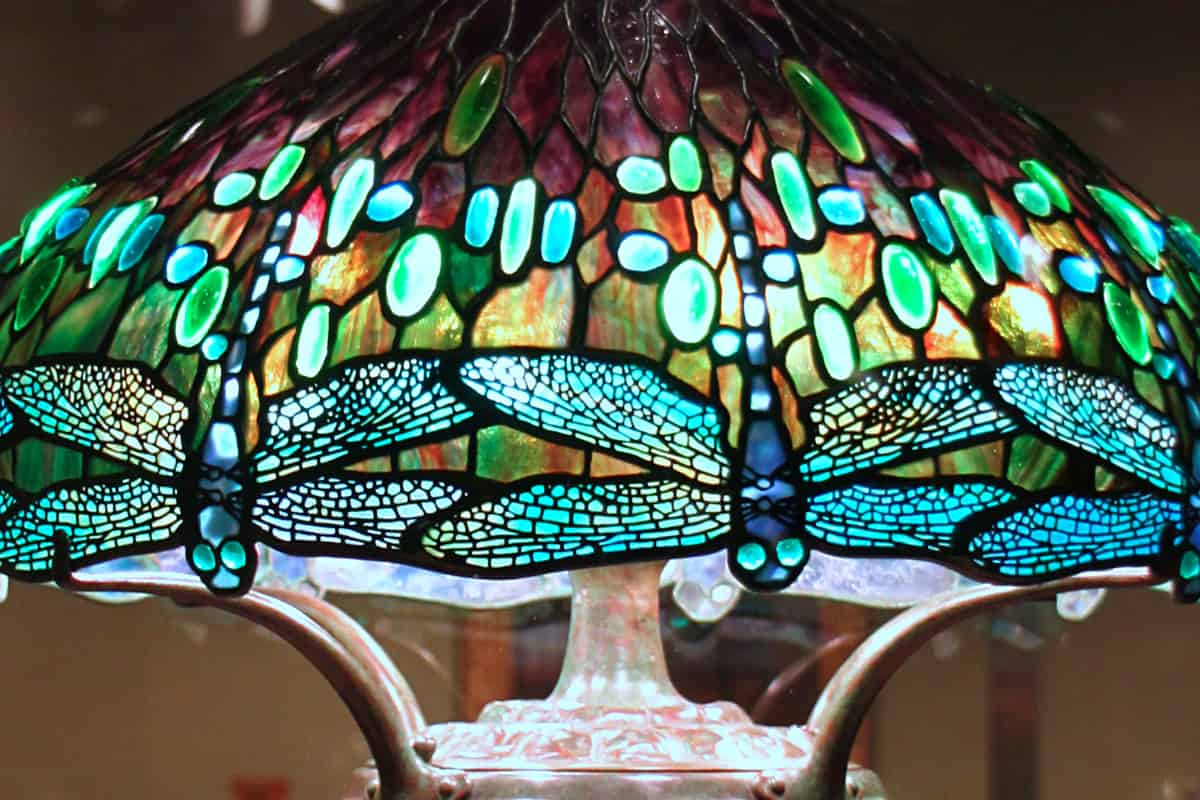 What are potential safety concerns with lamp shades?
An oft-overlooked aspect of choosing a lamp shade is safety. Confused? To put it simply – the greater the amount of heat generated by a light bulb, the more ventilation is required. The wider or larger the shade, the greater the amount of ventilation. With incandescent bulbs, the higher the wattage of the bulb used, the greater the heat generated. In general, 2-3 a 2-3 inch separation between the center of the bulb and the inside edge of the lamp shade wall (i.e. "critical radius") is sufficient. However, you may want to consult the table below from Underwriters Laboratories (UL) for more detailed insight. Cooler burning bulbs like LEDs and compact fluorescents (CFLs) don't emit as much heat. But, they are often larger than hotter burning incandescent bulbs and may require a wide shade.
Underwriters Laboratories Heat Ventilation Recommendations

Wattage
Critical Radius
0-25 Watts
1 ⅝"
26-40 Watts
2″
41-60 Watts
2 ½"
61-75 Watts
2 ⅞"
76-100 Watts
3 ½"
101-150 Watts
4 ¾"
Light bulbs
So, you found the perfect lamp and selected a great shade. You're done, right? Well, not quite. What about the light bulb? Just like lamps and shades, bulbs are available in many varieties. Your lamp should come with some restrictive bulb guidelines, such as plug/base type and maximum wattage. You still have many choices to make regarding performance and appearance.
For a deep dive into light bulbs, take a look at our in-depth article: Lighting Guide – How to choose the right light bulb.
Factors to consider when choosing light bulbs
Lumens (brightness) – The higher the number of lumens, the brighter the bulb is. This is critical for task lighting or when the bulb needs to provide ambient light for a large area.
Color rendering index (color accuracy) – The greater the number more accurately the light source reveals the true colors of the illuminated object. LEDs emit a broader spectrum of color than fluorescent bulbs, so they render colors better and have a higher CRI [R Lenk, C Lenk 2017]
Kelvins (color temperature) – The higher the number of kelvins, the "cooler" the light temperature. This blue light is preferred for task lighting. Bulbs with a low kelvin rating emit a warmer light.
Wattage – The higher the number of watts, the more electrical energy the bulb consumes to generate light.
Size – You may have limitations on how big your bulb can be to stay within the critical radius of the shade.
Rated life – Different bulb types have longer or shorter life expectancies with LEDs being the longest
Eco-friendliness – Some bulbs are more energy-efficient than others (LEDs then CFLs then incandescent bulbs). CFLs need special disposal and cannot simply be thrown in the trash.
Cost – There are always trade-offs for brightness, energy-efficiency, long life and eco-friendliness. LEDs are much more expensive than CFLs or incandescent light bulbs.
Miscellaneous lamp features
Some lamps offer additional subtle accents and unique functional capabilities that are not available on most lamps.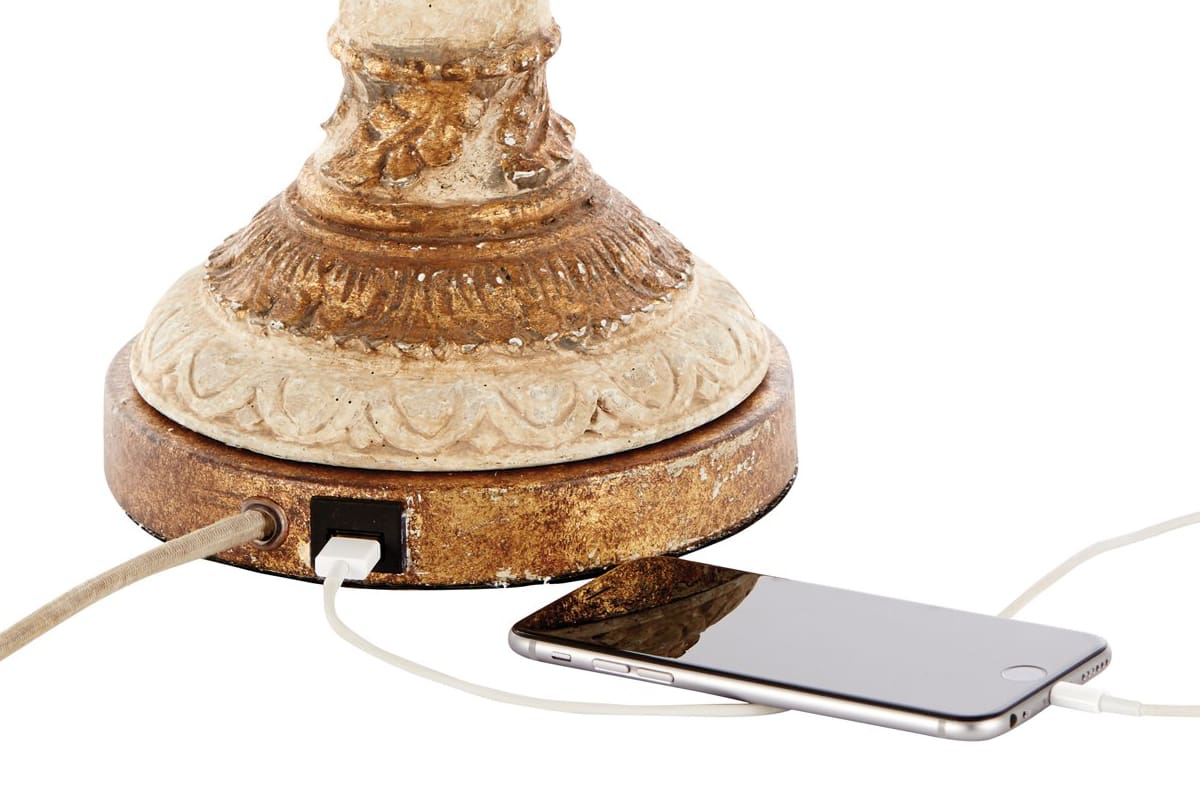 Finials – These decorative accents screw into the top of a lamp and securing the shade to the base.
Dimmers – Certain bulbs permit a manual switch to dim or brighten the illumination.
USB ports – Modern lamps are increasingly outfitted with USB ports for charging smartphones, tablets and laptop computers.
Double pull chains – Lamps with multiple bulbs often include two chains for controlling the sockets individually.
Storage & shelves – Some table lamps have storage compartments for pens and other small items. Floor lamps may include fixed or rotating tabletops for setting books and magazines.
Touch control – Some lamps offer touch controls for power or dimming, rather than switches or knobs.
Cool lamps – Novelty lighting for the fun of it
Sometimes, you want something for no logical reason. It's not practical and doesn't serve a necessary purpose, but you still want it. It's whimsical, fun, spiritual or just plain cool. Whatever your reason, novelty lamps are a great expression of the inner you, whether that's a child, a dreamer or a total geek. Remember the fishnet stocking leg lamp from "A Christmas Story?" It's totally impractical but unforgettable. Sometimes, you just have to have fun decorating, regardless of whether others think it's cool or not.
Himalayan salt lamps
One of the most popular specialty lights these days are Himalayan salt lamps. These granular blocks are made from pink salt crystals harvested from the Pakistani Khewra salt mine. They're hollowed out and fitted with bulbs to produce light and generate heat. The glow ranges from light pink to bold orange, depending on the concentration of the mineral. In addition to their natural aesthetic appeal, salt lamps are said to possess health and wellness benefits, because they're "natural ionizers." Air ionizers produce negatively charged ions, which neutralize pollutants in the air. Himalayan salt lamps are believed to improve air quality, mood and sleep. While they do have a soothing pinkish glow that creates a relaxing atmosphere, there is no scientific evidence to support these claims. The benefits of salt lamps may be psychosomatic, but the mind is a powerful thing, so…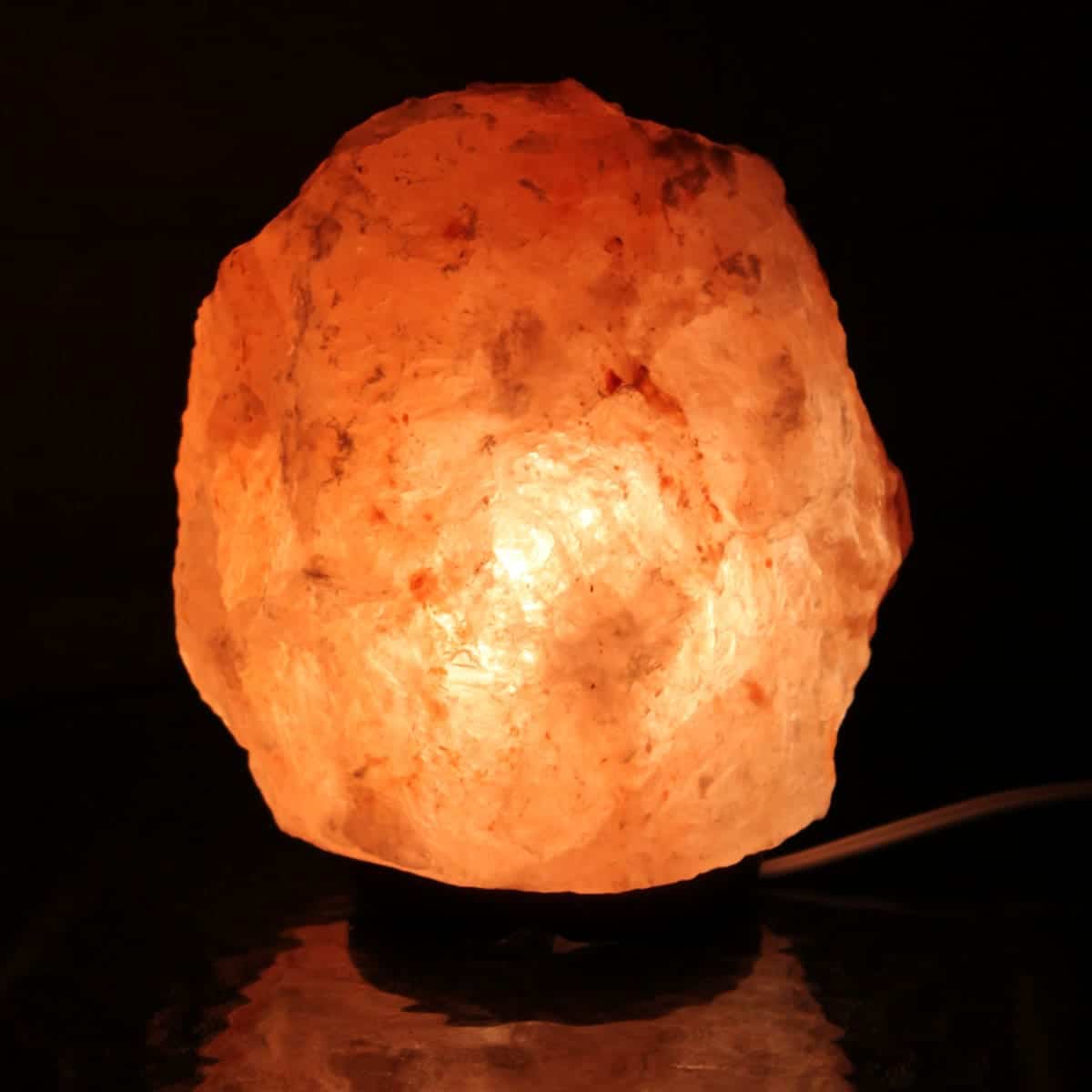 Lava lamps
These dynamic colorful lamps are iconic symbols of the psychedelic hippie movement of the 60's and have become popular kitsch items. The original lava lamp was invented in 1963, by Edward Craven Walker and it was called the Astro. Lava lamps consist of a simple base and glass cone filled with clear liquid and a special colored wax. An internal light bulb heats the wax, which causes it to rise through the liquid and then cool. At this point, the wax loses its buoyancy and falls to the bottom of the cone, where it begins the process all over again. The viscous cycle is reminiscent of pahoehoe lava flows and if you're not careful, you can quickly become entranced in the mesmerizing undulations of the wax. Lava lamps come in a wide variety of styles and colors, and massive floor versions can be seen in trendy bars and restaurants.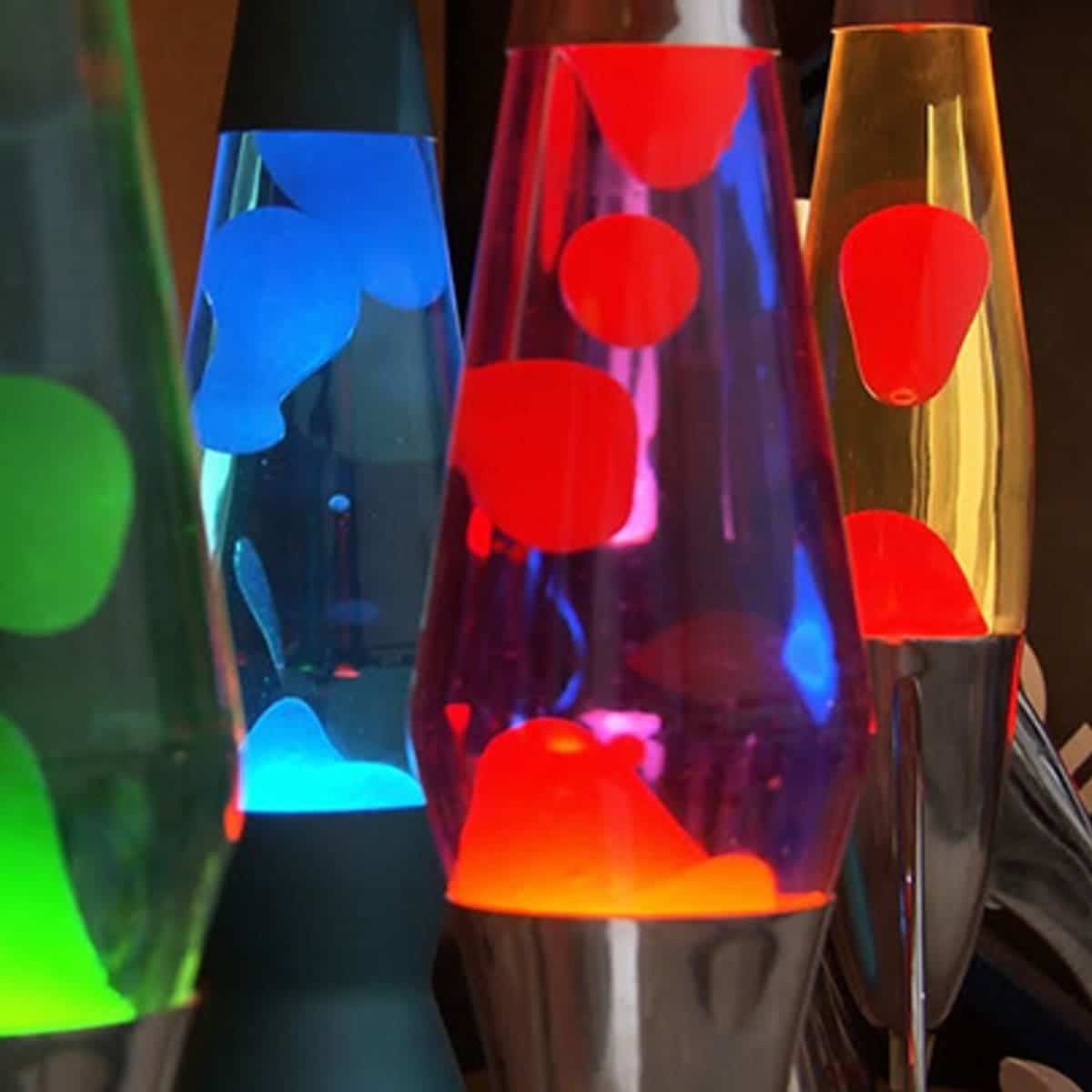 Moon lamps
There's something truly magical about a full moon in the night's sky. It has been a symbol of the divine and mystical power throughout time immemorial. Moon lamps capture that timeless sense of wonderment and create a serene and calming ambiance. These unique spherical lamps are made from high-grade plastic, sit in a cradle and emit a gentle glowing light. The cradles can vary from the simplest angular holder to a graceful and artistically sculpted hand. There are even contemporary stands that can suspend and rotate the globe in the air. The best moon lamps are created using high tech 3D printing techniques to capture a realistic rendering of the lunar surface. Most versions provide some sort of color adjustment capability and dimming options. Moon lamps are great as nightlights or decorative accents for bookshelves and tabletops.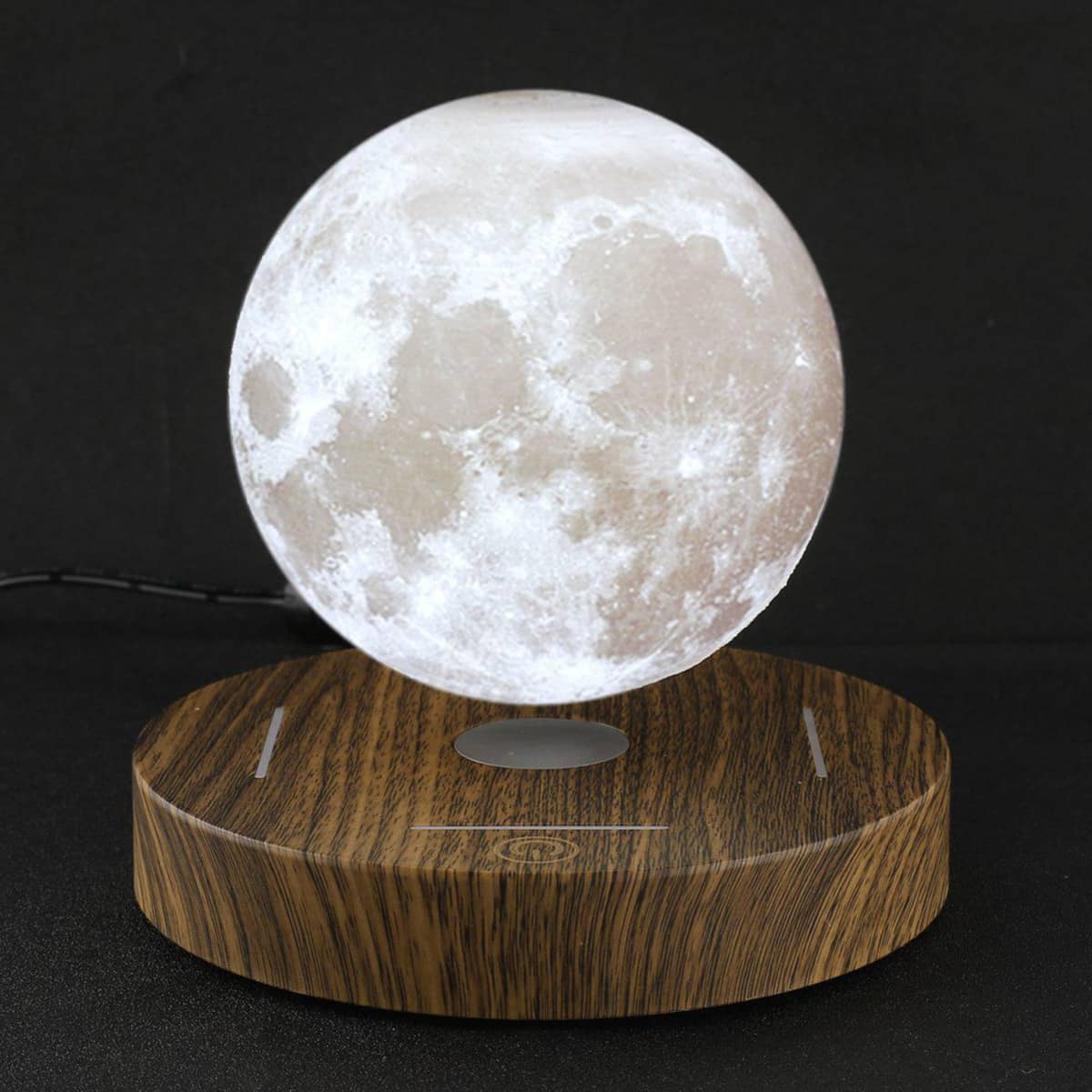 Cloud lamps
What is it about rain and gentle thunderstorms that soothe restless minds and make it easier to drift off to sleep? Is it the faint, but perpetual sound of the raindrops coming down or the soft rumblings that calm our subconscious? Cloud lamps look and sound like actual thunderclouds, creating a relaxing environment. Polyester fiber is often used to create the fluffy cloud-like appearance of the outside of these lamps. Lightweight plastic is used to protect the internal speaker and LED lighting systems. Some interactive models are Bluetooth® compatible and have motion sensor technology. So, you can control the sound and illumination remotely or through simple movement. They also enable you to control the color and they can be synced with music or set to nightlight modes. How great is that? Most versions hang from the ceiling, but there are also tabletop models.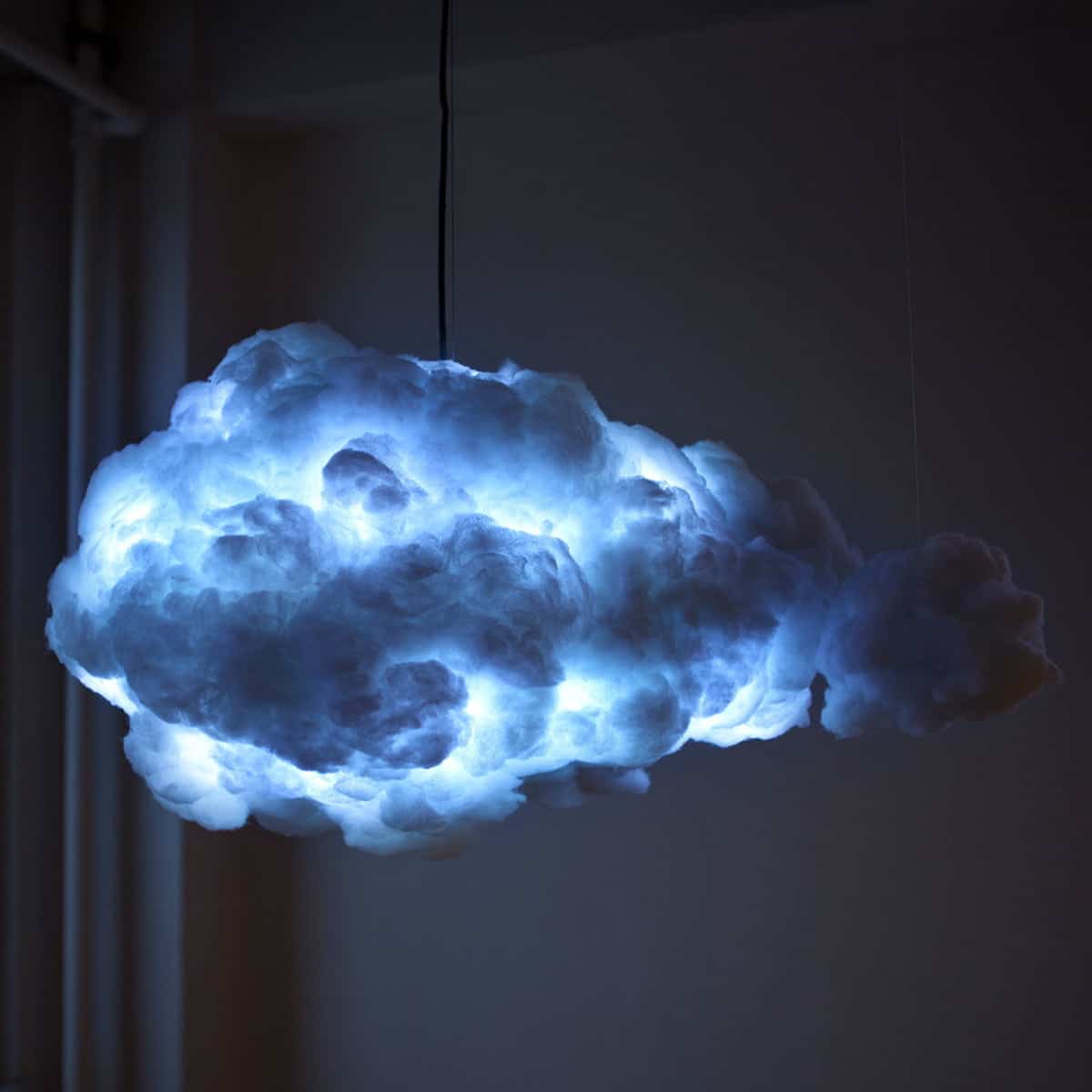 Frequently Asked Questions – Lamps
Most new lamp shades list three to four measurements. If you want a direct replacement for your old shade, it's important that you know what to measure. You'll need a measuring tape (or yardstick), along with a pen or pencil to accurately document the specifications:
Top diameter - If it's a round shade, hold the tape on one edge of the circular top and pull it across the open shade to the direct opposite side. For square shades, simply measure from one flat edge to the opposite one.
Bottom diameter - Not a shocker here. Just repeat the same steps, but do it on the bottom of the shade.
Slant or slope - Hold the tape at the bottom edge and measure along the side to the top edge. Make sure that you are holding it straight and not tilted to the left or right. This is an important measurement for tapered lamp shades.
Height - Set the shade on a flat surface and lower the tape through the opening from the top. Place one end on the tabletop and measure the distance to the top edge. Make sure that the tape is perfectly vertical. For drum or cube-shaped shades, the height can be taken by simply measuring the side.
Here are a few "rules of thumb" if you want something different than your current shade:
Shades should be roughly 2/3 the height of the visible portion of the lamp base.
Lamp shades should have a width that is roughly equal to the height of the visible lamp base.
Shades should be wider than the widest part of the base, but narrower than the table on which it sits.
Over time, your lamp may start to cast a yellowish glow. Sometimes, it's due to discoloration of the shade from heat emitted the bulb. If that's the case, there's not much to do except buy a new shade. If it's the result of stains or dirt build-up, there are ways to safely clean your shade. Cleaning fabric lamp shades:
Wipe your shade with a soft microfiber cloth or use a feather duster to remove loose dirt.
Fill a large basin or bathtub with mildly warm water. Add a teaspoon of liquid laundry detergent and swish it around until the water is filled with suds.
Dip a sponge, soft-bristled brush or toothbrush into the soapy water and lightly scrub any clearly visible spots or stains. Be gentle and scrub in a circular motion.
Grasp the shade by the metal fitting and submerge the fabric shade in the water. Move it around until all areas are damp. Soak the shade for 10-15 minutes, depending on how dirty it is.
Remove the shade from the water and wipe with a clean cloth. Shake any excess soap from the shade.
Empty the basin or tub and refill it with warm water. Dip the lampshade up and down in the water to remove any remaining soap. You can also rinse it under straight tap water at low pressure.
Use a soft hand towel to blot the shade and remove excess water. Place the shade in front of a fan outdoors to speed up drying.
Cleaning shades made from other materials:
Use a feather duster or clean cloth to remove loose dirt that may have accumulated on your shade.
Pour 1/4 cup of liquid laundry detergent (for delicates) into a small container or bowl.
Add a couple of tablespoons of warm water and beat it with a hand whisk or electric mixer. Continue until the suds have the consistency of whipped cream.
Dip a clean rag or sponge into the soapy mixture and gently wipe the shade. Be sure to address both the inside and outside of the shade. Try to avoid getting too much soap on any glued seams.
Rinse out the sponge or rag and wipe down the lampshade, until all of the soapy build-up is gone.
Dab and blot the shade carefully with a clean towel to dry. Set it in front of a fan to dry any remaining moisture.
Brass has a shiny rich color that complements a variety of palettes and brings warmth to a home. It's an alloy comprised of zinc and copper that tarnishes quickly when exposed to air. To minimize oxidation, some brass lamps have a lacquer coating. However, even when lacquered, brass eventually tarnishes over time. Cleaning tarnished brass lamps takes some work, but it's worth the effort.
Fill your bucket or sink with warm water and a squirt or two of dishwashing liquid. Soak a clean microfiber cloth and wring it until it is damp.
Unplug your lamp and remove the light bulb and shade. Using the damp cloth, wipe and scrub the brass surface to remove loose dirt and dust.
Clean nooks, crannies and other hard to reach areas with a soapy toothbrush.
Dry the brass lamp with a soft hand towel.
Take a clean cloth and apply the brass cleaner. Follow the manufacturer's directions. Rub the cleaner into the brass using circular and back and forth motions, following the direction of the grain. Work in small areas, reapply the cleaner as needed. Continue working until the entire lamp is cleaned.
Let the cleaner dry. Often times, it will turn into a light white film on the lamp's surface. Wipe away the film with a soft cloth.
Replace the shade and plug in your lamp - you're done!
If the brass is lacquered, you will need to remove the coating before you can clean the tarnish. After the fourth step listed above:
Go to a well-ventilated room and put on a pair of rubber gloves. Soak a cotton ball in ammonia or nail polish remover and wipe the lamp to remove the lacquer. Rewash the brass with soapy water and dry.
After you've applied the cleaner, return to your ventilated area and spray the brass with a light coating of polyurethane or lacquer. Hold the spray can 6-8 inches from the metal and apply 2-3 light coats to ensure full coverage.
Once the lacquer is completely dry, you can replace the bulb and shade. Plug the brass lamp back in and dust it lightly to keep it looking shiny and new.
Lamps can be tricky items to pack, whether you're moving across town or across the country. They come in odd shapes and sizes, and are more delicate than other household items. With a little planning and preparation, however, you can safely protect your lamps from being damaged in transit.
Get your materials - Buy or find sturdy cardboard boxes that will accommodate your lamp base and shade individually. Be sure to accurately measure each piece to ensure that the boxes are large enough to fit them comfortably. You should also get plain newsprint paper, bubble wrap or packing peanuts. Lastly, you'll need packing tape and a permanent marker.
Separate the pieces of the lamp - First, unplug your lamp (of course). Unscrew the light bulb and remove the lamp shade before you pack anything. Even if you wrap everything up tightly, lamps can get jostled around and cause harps to bend, shades to dent and bulbs to shatter. It's better to separate each piece at the beginning. Wrap the cord around the base and tuck the plug in to prevent it from unraveling.
Wrap them up - If you bought newsprint or bubble wrap, spread a large sheet on a clean flat surface. Lay the lamp on its side in the middle, so that the protective material extends beyond the ends. Roll it up and secure the seam and ends with tape. If the base is particularly fragile (e.g. glass or ceramic), you might want to give it a second wrapping t make sure it's adequately protected. Wrap the bulb and harp in newsprint and tape them closed.
Box and label the base - Set the lamp in the box base down. If there's room, you might want to tape the wrapped bulb and harp to the sides. Otherwise, you can pack them with the shade. Fill in any gaps between the base and box with packing material to prevent it from shifting during transport. Close the box and seal it shut with packing tape. Label the box with the marker and include the words "fragile" and "this end up" on all sides. To avoid confusion on the back end, you might also indicate in which room the lamp belongs.
Box the shade - Place the shade in the other box. If it's a paper or fabric shade, make sure your hands are clean, so you don't leave dirty fingerprints. Gently cover the shade with packing material, but leave some room at the top. You don't want it to be crushed, once you close and tape the box shut. If you have a Tiffany or glass lamp shade, you can be a bit more liberal with the bubble wrap or other material. Cover it completely and then fill in gaps like you did with the base.
If your lamp has a harp (the wire that attaches to the lamp and goes over and around the light bulb), you will need a spider lamp shade. The term "spider" refers to how the shade attaches to the lamp, which is known as the fitting. Spider lamp shades have the most common type of fitting for both floor and table lamps.
Spider lamp shades are easily identified. Look at the metal fitting inside the shade. If you see at least three spider-like arms radiating from a central ring toward the top, it's a spider shade. The ring fits over the top of the harp and is secured with a screw-on cap. These caps are called finials and they are often decorative and may match the lamp base.
If the ring is lower (toward the middle of the shade), it's probably an UNO fitter. UNO fitters secure to the socket at the base of the bulb, rather than over the harp. If you see a couple wire loops at the center of the fitting, you're likely looking at clip-on fitter. These fitters are handy if you lose a harp or don't have an UNO shade. They simply slip over the light bulb, so you should avoid clip-on fittings for heavy shades.
---
References
Photo Credits
Elis Lamp from the Windsor Smith Collection – Arteriors
Concorde Desk Lamp – Authentic Models
Yasmin Floor Lamp – Arteriors
Accordion Wall Lamp – Shades of Light
Lamp Shades – Peggy_Marco on Pixabay
Lamp Shade Materials – Public Domain
Lamp Shade Color & Patterns – Mr.TinDC on Flickr
Bridgewater Table Lamp with USB Port – Aidan Gray
Himalayan Salt Lamp – Public Domain
Lava Lamp – Mathmos
Moon Lamp – The Original Moon Lamp
Cloud Lamp – Richard Clarkson Studio