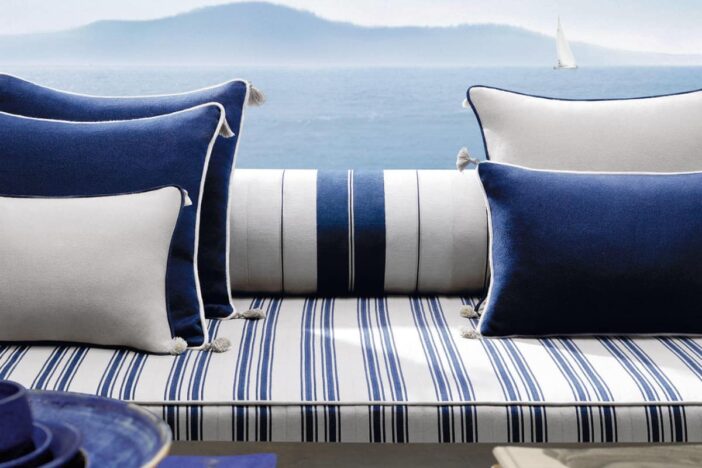 There's something so relaxing and serene about living near the water. The good news is, even if you don't have a house on the coast, you can still dress up your dwelling to channel a nautical style.
Use a nautical color palette
Keep your home on-theme with a navy blue and white color palette. These shades are automatically associated with seaside living. You can, however, introduce other bright hues to break up the color palette. Consider a vibrant coral, subdued seafoam green or bright red to complement your navy and white palette. Incorporate these shades sparingly using pillows, rugs and other subtle accessories.
If you're not big on vibrant hues, an all-white color palette will also work for a nautical home design. The crisp shade brings the freshness, simplicity and serene environment of the beach right into your home. Create visual interest using a variety of textures and shades of white. Warm up your white home with weathered wooden floors. The natural woodgrain and textured surface adds visual and tactile variety to plain white walls.
Add nautical-themed lighting
It's amazing what a few choice light fixtures can do to establish a marine aesthetic. Add a couple of steamer cabin sconces on the walls or a main hold pendant light above an island counter to set the scene. Or, you can opt for a stunning (and popular) nautical style tripod floor lamp to give your room a truly unique floor lamp that's sure to capture your guests' attention.
Decorate with beachy knick knacks
Fill bookshelves, fireplace mantels or open shelving with fun beach-themed accessories like driftwood, seashells and sea glass. The different textures will create depth and dimension in your home. Your coffee table is another great place to store these items – show off your collection of seashells by displaying them on a tray on your table.
Infuse your home with ocean scents
Trick all of your senses into thinking that you're at the beach by placing candles throughout your home. Look for tropical scents like fresh breeze, lime or coconut – whatever reminds you of the beach!
Jazz up your home with stripes
Striped patterns can help give some nautical personality to your home. Paint your walls with bold navy blue and white stripes or opt for a thin pinstriped rug. When you do decorate with stripes, however, think about whether you want the stripes to run vertically or horizontally. Vertical stripes can draw the eye up while horizontal stripes elongate your walls.
Photo credit
Loro Piana