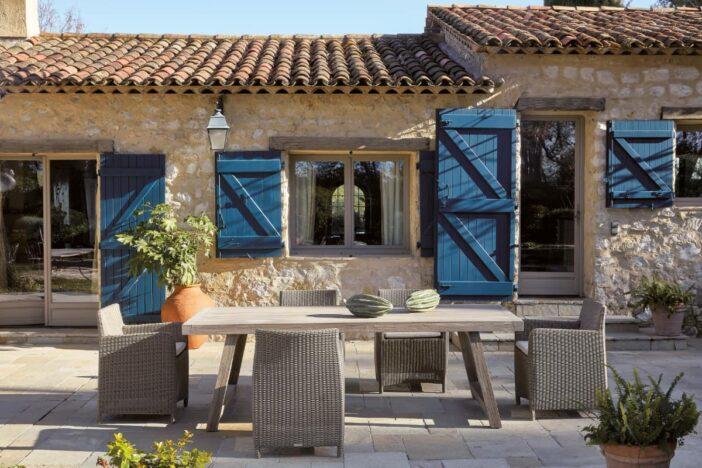 The average American spends five hours a week in their gardens. It takes a lot of hard work to weed, plant, water, and nurture our plants, and some of them reward us with gorgeous blooms, as well as delicious fruits and veggies.
Considering that we spend so much time in these spaces, you deserve to have beautiful outdoor flooring that won't just look nice, but will also endure the tests of time. That way, whether you're gardening or kicking back and enjoying a cold beverage, you can honestly say that you're proud of your yard.
There are numerous choices out there though, so it can be difficult picking one. Here are a few quality outdoor flooring options you should consider, along with their pros and cons.
Concrete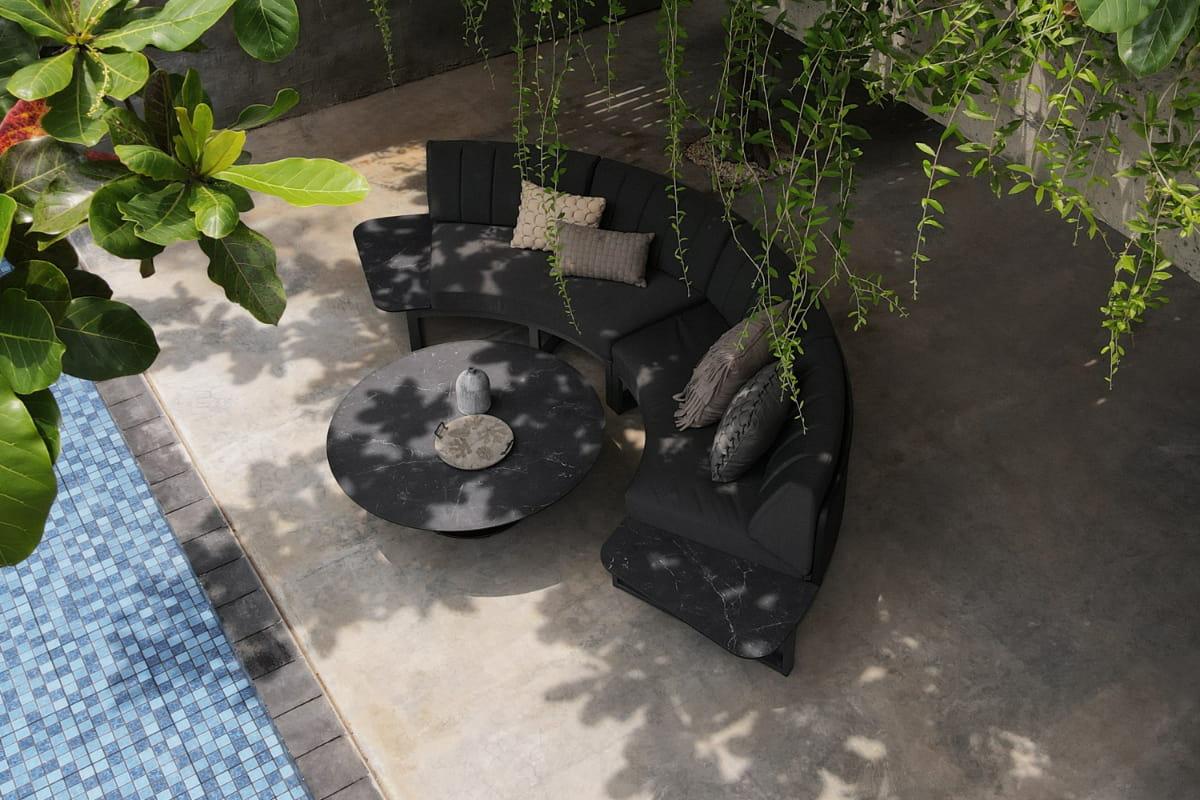 Concrete is a popular material used outdoors; you might've already had a clue since sidewalks are made of it. It's a very cost-effective type of outdoor flooring, which makes it great for all homeowners.
In addition, it's a low-maintenance flooring option. All you need is to clean it with soap and water every once in a while.
Pro: It's Durable
Concrete is made of cement, sand, gravel, crushed stone, and other aggregates that give it its sturdiness. It's resistant to cracking and fading from UV rays and can withstand harsh weather conditions, as well as heavy foot traffic.
If you take good care of it, concrete can last you a lifetime.
Pro: It's Versatile
You can get concrete in a wide variety of colors, stains, and patterns. You can even stamp or texture it, so it mimics more expensive materials, such as brick or stone. Get the look without spending the money for it!
Con: It Can Be Dangerous in Some Weather
If you don't treat your concrete floor properly, it can become slick when wet or icy.
Even if you've treated it, your flooring can become cracked as a result of the ground settling or shifting beneath it. And this can be difficult and expensive to repair (not to mention, unsightly too).
Brick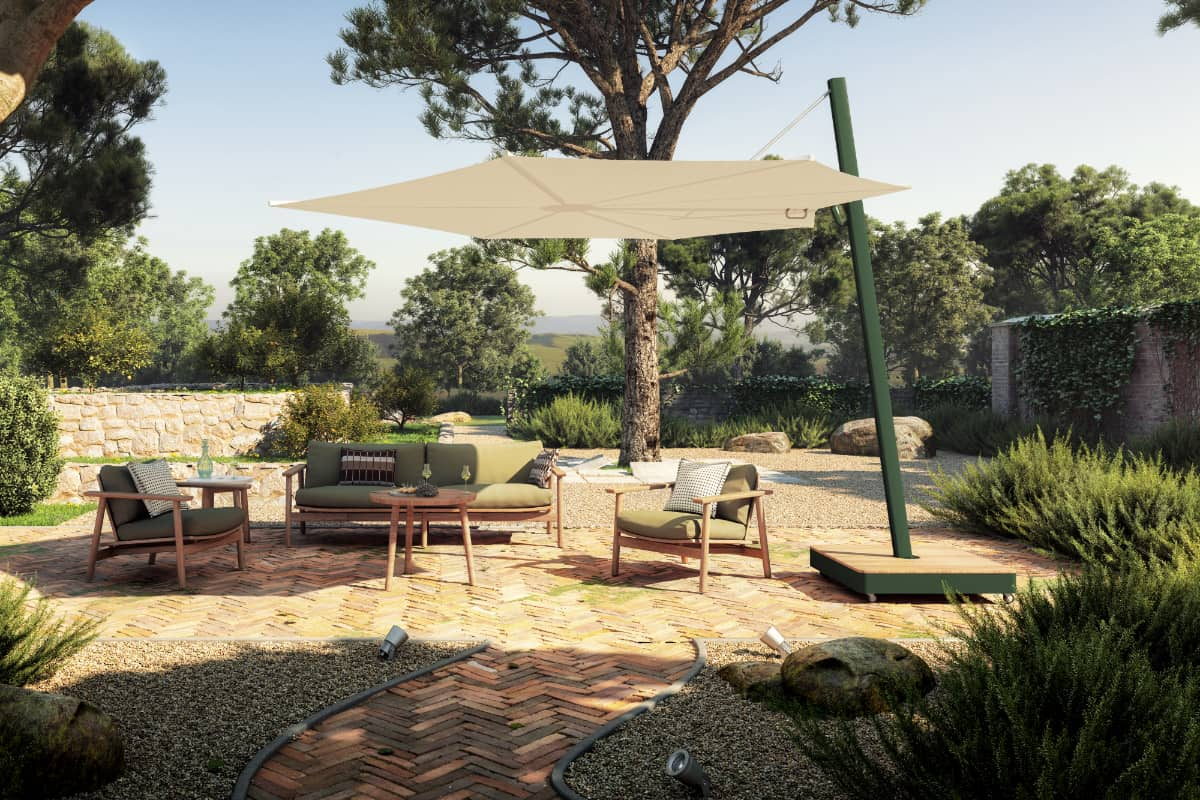 For something more aesthetically pleasing, consider brick flooring. This material is made from clay or shale that's fired at high temperatures and has been used throughout history. As a result, you can count on brick to give your outdoor flooring a classic and rustic appearance.
This is another low-maintenance patio floor that only requires a little bit of occasional cleaning with water and soap.
Pro: It's Durable
Like cement, brick is durable; its properties make it resistant to UV rays and harsh weather too. But the biggest difference is that it won't crack, meaning it's excellent for heavy foot traffic.
Because it's non-combustible, brick is a safe choice for your outdoor cooking areas. You can also use it to surround your fire pit to bring that indoor fireplace aesthetic outside.
Pro: It's Slip-Resistant
This is where brick completely outshines cement. Its textured surface gives it good traction, so you won't have to worry about you and your guests slipping and falling.
This makes it fantastic to have near your pool (if you have one!).
Pro: It's Versatile
There are several ways you can arrange brick in your outdoor space. Patterns include basketweave, herringbone, and running bond. The possibilities are endless to get a unique look!
You can also pair it with concrete, stone, or other materials for something truly custom and special.
Con: It's Expensive
Brick can be a pricey pick, so it might not be feasible for some homeowners. But do note that it's cost-effective, as it can last you a lifetime.
Even worse is, if you want to save money by DIYing the installation, that might not be possible either. Brick's challenging to install, so you'll probably need the help of a professional contractor.
Stone

Natural stone flooring cannot be matched for its unique look but it comes at a high cost – literally
Stone's one of the best outdoor flooring options if you want nature and elegance wrapped up into one. It consists of materials like slate, limestone, sandstone, and granite, making it environmentally friendly.
Like the other two choices above, stone is durable and low-maintenance in the same ways. It's slip-resistant and non-combustible too, which makes it a top contender against brick.
However, there are some other factors that make stone shine.
Pro: Custom Looks
Stone is "manufactured" by Mother Nature, so every piece will look different. There are different colors and styles, meaning you can mix and match them for any style you want, from traditional to modern.
With the individual pieces, you can also arrange them in various patterns. Whether it's random or modular, you're sure to get custom results.
Con: It's Expensive
Stone is another expensive outdoor flooring option. And unfortunately, it's not a simple DIY job either.
If you have your heart set on stone flooring, then be prepared to shell out the big bucks.
Traditional Wood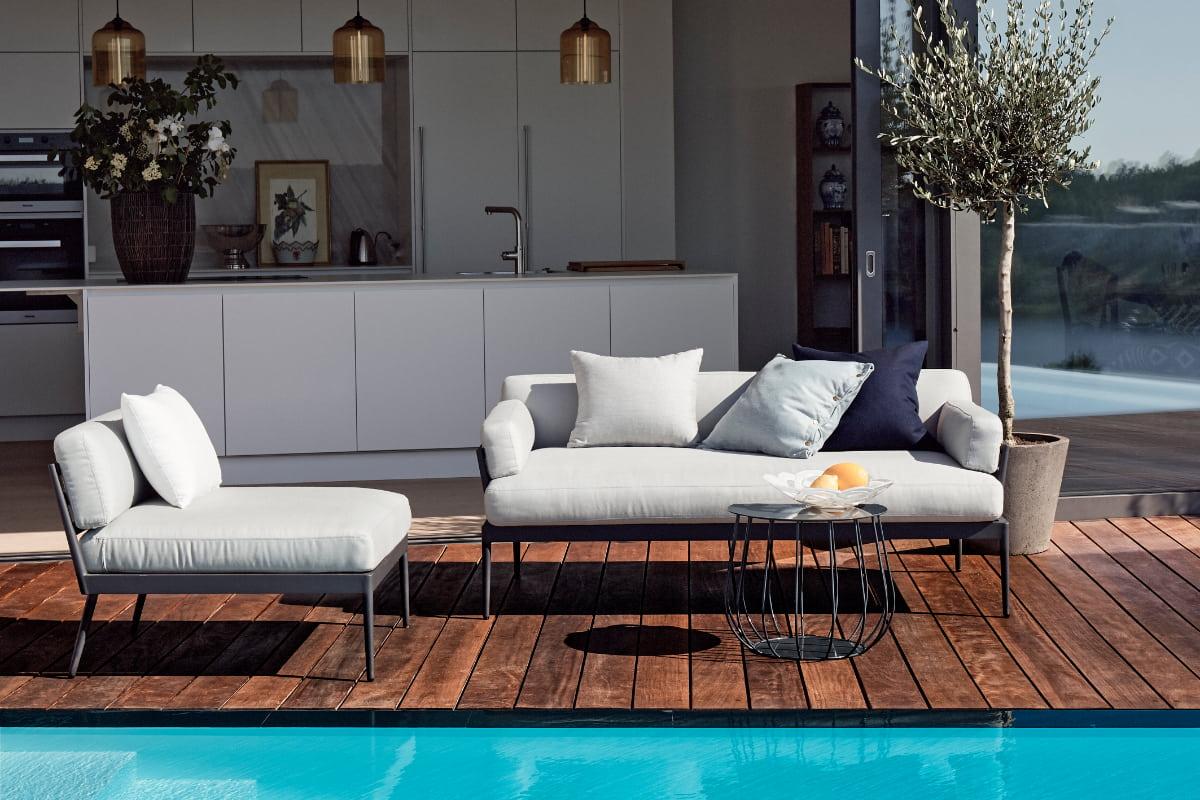 Picture any deck, and you'll probably think of stunning natural wood stretching across the space. Another material found in nature, these planks add warmth in an effortless way.
Commonly used woods include pine, cedar, redwood, ipe, and teak. If you go with the last choice, then you can get matching teak patio furniture to complete the look.
Pro: Customizations
Wood suits any type of design style, from rustic to modern. You can also customize it with stains and paints to match your home's existing architecture so it won't feel out of place at all.
Pro: It's Comfortable
Most of the other flooring types we've listed are hard and cold on your feet. This requires you to wear shoes outdoors, which can detract from the natural feel.
When you use wood for your deck or patio, it'll be easier on your feet. Not only is it softer, but it's warmer to the touch too.
Pro: It's Affordable
The price will depend on what type of wood you pick, but it'll most likely be affordable (go with pine if you're on a budget). In addition, it's simple to install, so you might be able to DIY this project.
Although wood's not a very durable material, the good news is, it's easy and affordable to replace!
Con: It's Not Very Durable and High-Maintenance
Because it's an organic material, wood is susceptible to things like weathering, insect infestations, and rot. You'll need to keep up with hardcore maintenance to ensure it's still pristine, as well as beautiful and safe.
Despite your best efforts, it's undeniable that wood flooring is slippery when wet. This makes it not an ideal choice if you're accident-prone, or have children and/or pets, especially if you live somewhere that rains or snows often.
Composite Wood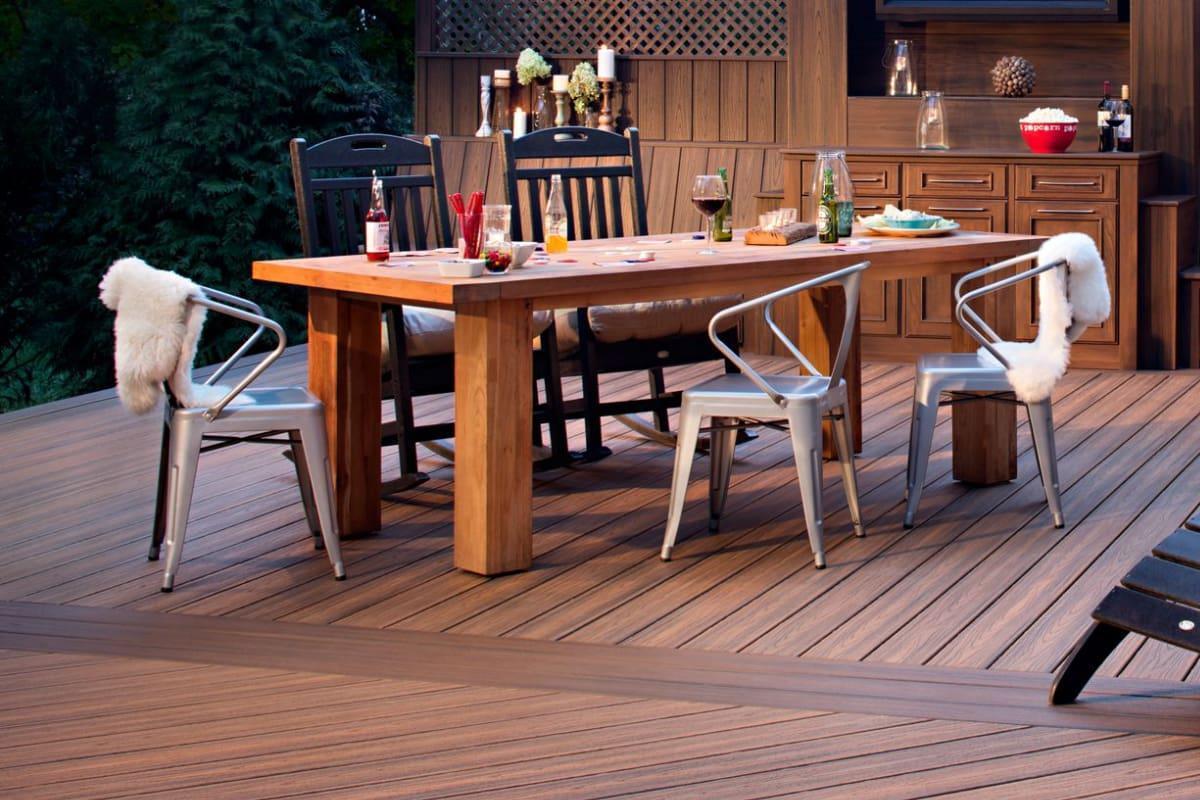 Love the idea of wood, but are hesitant about it as outdoor flooring in practice? Then you need to consider composite wood.
This type of wood is a combination of wood fibers and recycled plastic. Together, they imitate the look and feel of natural wood.
Pro: It's Durable
Everything that makes the other floor types durable is applicable here. You can trust composite wood to handle heavy foot traffic and all types of weather conditions, and it won't fade or crack. It won't mold, rot, or splinter like natural wood either.
Plus, it's slip-resistant. This means that composite wood is a great choice for active households.
Pro: It's Low-Maintenance
You guessed it: you only need soap and water to keep your composite wood flooring in outstanding condition.
What's even better is you won't have to stain or seal it like you would with natural wood. This will save you time and money.
Pro: It's Versatile
You'll have many color options for composite wood flooring. Add in the fact that you can arrange it in a variety of patterns, and it's easy to get custom flooring done.
Pro: It's Eco-Friendly
It's surprising, but natural wood isn't always eco-friendly. You can stick to the most sustainable hardwoods; however, composite wood is the winner here.
This flooring is made from recycled materials, making it definitely a sustainable option.
Con: It's Pricier
Composite wood is significantly more expensive than its natural cousin. This might be enough to put you off this choice.
However, if you look past the upfront costs, you'll actually save in the long run. Because composite wood is more durable and easier to maintain, you'll see less money fly out of your pockets over the years.
Rubber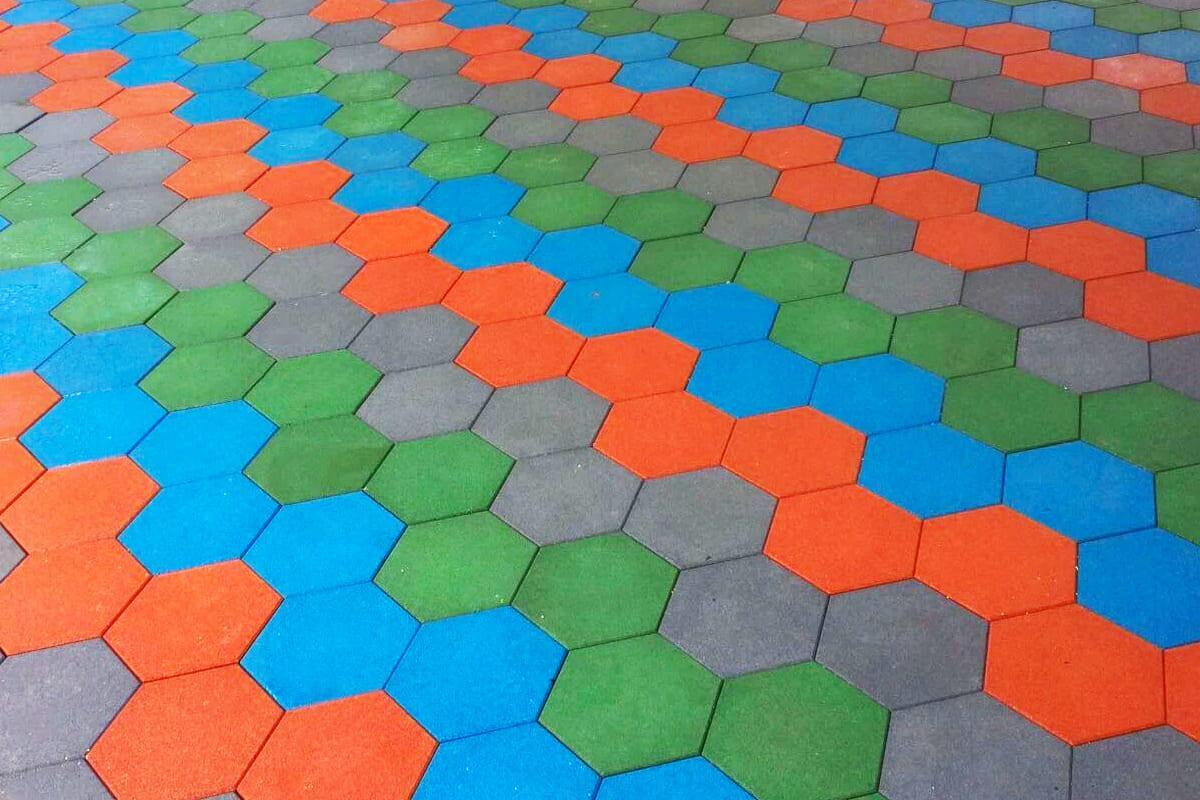 Rubber sounds like an odd pick, but hear us out. After you hear about its benefits, you'll probably be putting it at the top of your list.
Pro: It's Durable
Rubber can be just as durable as all the other outdoor flooring in this list. It's resistant to water and heat. You can put it anywhere you like outside!
Pro: It's Eco-Friendly
Rubber is made from recycled materials; more specifically, old tires. This can ease your guilt about your carbon footprint.
Pro: It's Soft
Rubber flooring is soft and gentle, plus it's slip-resistant. If you've got toddlers or you just want some softness under your feet, then rubber will feel dreamy!
This is especially true in the summer. Rubber will stay cooler than concrete, so it won't burn your bare feet.
Con: It's Expensive
This type of outdoor flooring isn't cheap to buy. It's more expensive than natural wood and concrete.
However, if any of your tiles get damaged, it's easy to replace since the flooring's installed in pieces.
Con: It's Not as Attractive
Admittedly, rubber is tough to match to your home's architecture and existing decor. It doesn't look natural, so it may look out of place next to your garden and classy wicker furniture.
It also doesn't have that refined and elegant look you'd get with, say stone or wood. In fact, it's not uncommon for homeowners to find it tacky.
Gravel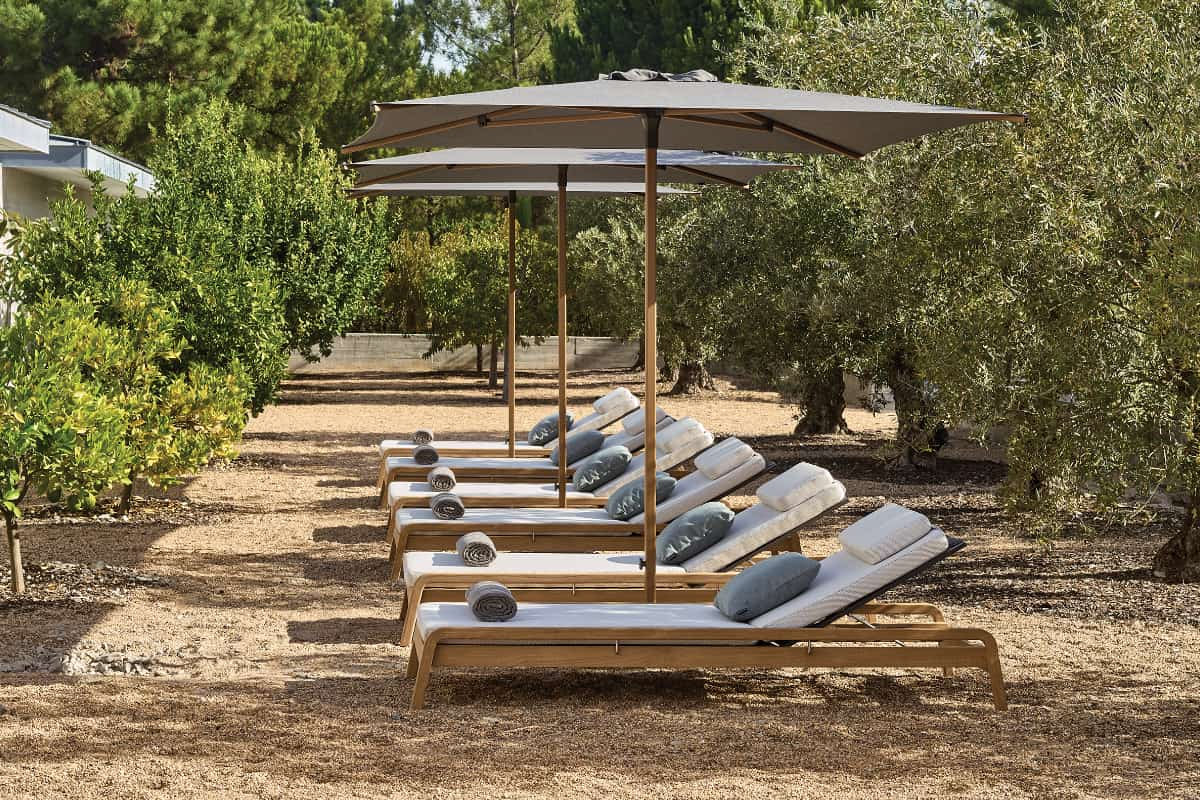 If you like natural stone but don't want the too-organized look of pavers, then gravel is a fantastic alternative. It's made of crushed rock, and you can scatter it anywhere, meaning it's easy to "install." And that crunch underneath your feet is nice too!
Pro: It's Affordable
Gravel is one of the most inexpensive options available. If you have a tight budget, then this won't break the bank. Plus, you can install it yourself, saving time and money.
Pro: It's Low-Maintenance
You'll only need to rake and level the gravel from time to time. This is necessary to keep the flooring even and looking good.
Pro: It's Versatile
Gravel comes in many colors, sizes, and shapes. You can purchase the ones you find interesting, then mix and match them for cool designs.
Con: It's Messy
Because gravel is loose, it makes an excellent slip-resistant surface. However, it's inevitable that it'll shift and spread. You'll have to keep up with raking and leveling.
You can mitigate this by installing proper edging or a border around the area.
Con: Not Great for Wheeled Items
If you've got sunloungers, grills, or any other wheeled items, then gravel is a terrible pick. You'll just get stuck, so you might as well count those pieces as permanent installations if you go with gravel.
Choose the Optimal Outdoor Flooring for Your Needs
There are numerous choices for outdoor flooring, and they're all amazing in their own ways.
If you're having a tough time whittling it down to one choice, then don't force it. After all, who says you need to stick with a single option? Using a wide variety of materials for your outdoor flooring can make it vibrant and intriguing, so let your imagination go wild!
Once you've picked the right flooring for your patio, you'll need furniture. Browse our selection now to get an idea of what would look good in your outdoor space!