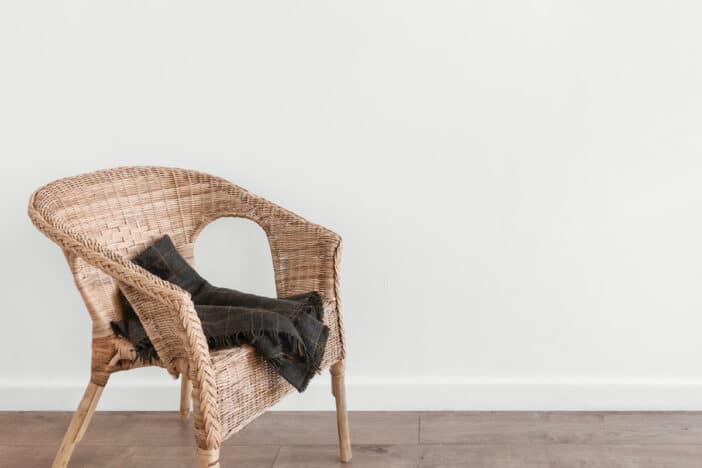 Minimalist aesthetic eliminates clutter
Minimalist homes are focused around the idea that less is more. In fact, these interiors are free of any clutter and intricate detailing, letting natural materials and textures take over the spotlight. Countertops are cleared off, and walls typically only feature one to two decorative pieces. Lines on furniture are sleek and straight, boasting a simple elegance. Color is used sparingly throughout minimalist homes, as a monochromatic color palette is most commonly used. A combination of grays, whites, beiges and creams keep the focus on the architecture and structural elements of the home.
There's no doubt that minimalist interiors are beautiful, modern and sophisticated. However, reducing all of that clutter can often be easier said than done, especially if you have a big family. The good news is, with a few tricks, you can adopt a minimalist style in your home. Here's how:
Minimalize furnishings – Choose items that double as storage
Storage chests are obvious solutions, but it's important to get creative when searching for ways to protect and conceal small items. Look for storage ottomans that open up to reveal space for TV remotes and magazines. Opt for a subtle storage bench in your entryway that can be opened to store shoes, boots, umbrellas and bags. These sneaky organizational strategies will keep all of your essentials easy to find, but out of sight.
Create a truly minimalist house – Purge your home
Work through one room at a time, creating three separate piles: keep, donate and throw away. Achieving a minimalist home style means getting rid of the things you no longer use, need or like. Ask yourself if you've used a particular item in the last year or two. If not, it may be better off donated or thrown away. Recruit a friend to come over and help you get organized – this is probably a job best suited for a few people.
DIY organization – Make your own KonMari Method checklist
Japanese organizing consultant Marie Kondo has elevated the discipline of organization to an art form. On her Netflix TV show "Tidying Up with Marie Kondo," she lays out strategies and steps to eliminate clutter and celebrate what is most meaningful to you in your home. Her comprehensive program is daunting to many, so maybe start by outlining a personal "to do" list to tidy up your home. Her process recommends that you tidy by category, not place and for each item ask, "does this spark joy?"
Marie Kondo checklist categories
Clothing
Books
Papers
Komono (Miscellaneous Items)
Sentimental Items
Evaluate utility – What do you use every day?
When you're cleaning out your kitchen, bathroom and bedroom, ask yourself what items you use every single day. For example, you may want to keep your toaster or teapot out in your kitchen so you don't have to keep taking them out of cabinets and putting them back. Anything else should be stowed away in cabinets, drawers or on shelving.
Keep decorations simple – What's most meaningful?
Narrow down the artwork on your walls to one or two pieces, such as a canvas or a decorative clock. You could hang a painting above your fireplace and then place a plain white vase of flowers on your coffee table for the perfect accent of color and texture. The focus of the room should be on furniture, so be sure to install plenty of lighting fixtures to highlight chairs and sofas. Store extra artwork in a nearby closet so you can frequently switch out the pieces throughout the year.
Maintain minimalist living – Follow the buy then toss rule
If you're out at the store and buy a new accessory, piece of furniture or decoration for a room in your home, throw something out. This prevents you from building up clutter and makes it much easier to stay organized.
Prevent build-up – Set a weekly cleaning schedule
Having a minimalist home means keeping things clean all the time. After all, your countertops, floors, tables and walls will all be in the spotlight. Create a weekly cleaning checklist, then laminate it so you can use a dry erase marker to cross of the tasks you've completed. Monday could be designated to vacuuming the carpets and common area floors, while Tuesday may be for dusting, wiping down the master bathroom, and Wednesday is designated to cleaning the guest rooms and doing laundry – you get the idea. Soon enough, this schedule will become secondhand, and you'll get your chores done in no time.
---
Photo Credits
Photo by Katsia Jazwinska on Unsplash