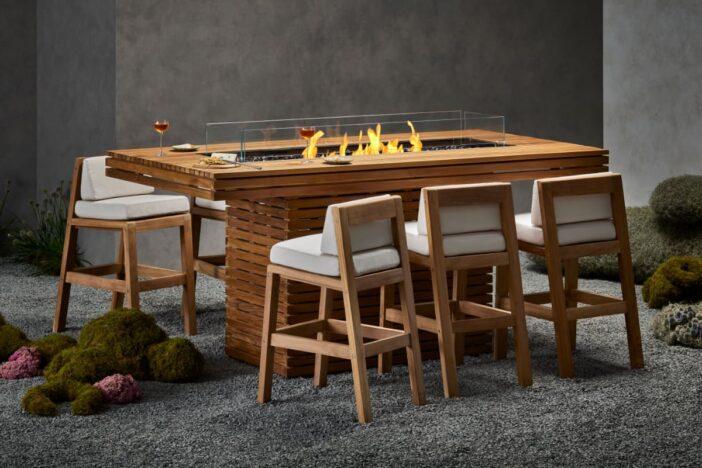 Can you imagine the joy of gathering around a warm, crackling fire on a chilly evening, right at your own patio? Or, better yet, on a tabletop fire pit installed on your balcony? With a fire pit table, this cozy scenario becomes an everyday reality. These fireplaces, fashioned from materials like corten steel and composite concrete with various stylish finishes, are the ultimate game-changer for any outdoor space, blending functionality with an undeniable allure.
They're not just about warmth – each includes a burner for easy ignition or recess for raw materials and, with their lawn-friendly design, these tables can set the mood, create an ambiance and become the focal point of your patio. In this guide, we will uncover everything you need to know to choose the perfect fire pit table that will transform your patio into a magical outdoor lounge. Because let's face it: your patio deserves to be more than just "nice." So get ready for some serious backyard envy!
Choosing the right material and design for your fire pit table is crucial in not only making it aesthetically pleasing but also ensuring its durability, functionality and maintenance. When it comes to materials, there are various options available in the market that offer different features, looks and drawbacks. Each of these items may also come with different price tags and shipping conditions.
Fire Pit Table Statistics
As per a recent survey published in 2023, roughly 72% of homeowners consider a fire pit table as an essential feature in their outdoor living space.
The Outdoor Furniture Retail Association reports that sales for outdoor fire pit tables have increased by more than 45% from the year 2020 to 2023.
Data from an online retail analytics firm shows that propane gas fire pit tables hold the highest market share at around 60%, followed by wood-burning fire tables and dual heat models.
Benefits of Fire Pit Tables
As the temperatures drop and the nights get colder, there is nothing more inviting than the warm glow of a fire, a scene normally associated with indoor fireplaces. But, by adding a fire pit table to your patio or balcony, you can transform it into a cozy space that you can enjoy all year round. Fire pit tables offer a range of benefits, from providing warmth on cool nights to creating an inviting ambiance for outdoor gatherings. Poolside fire tables are especially mesmerizing as the flickering flames reflect off the water.
Use Your Firepit Table Year-Round
One major benefit of having a fire pit table on your patio is that it extends the use of your outdoor space well beyond the summer months. With an easy-to-use burner for ignition and the beauty of corten steel, your fire pit table will serve as a major focal point. The warmth emanating from the fire will bring family and friends together for hours-long conversations around the fire.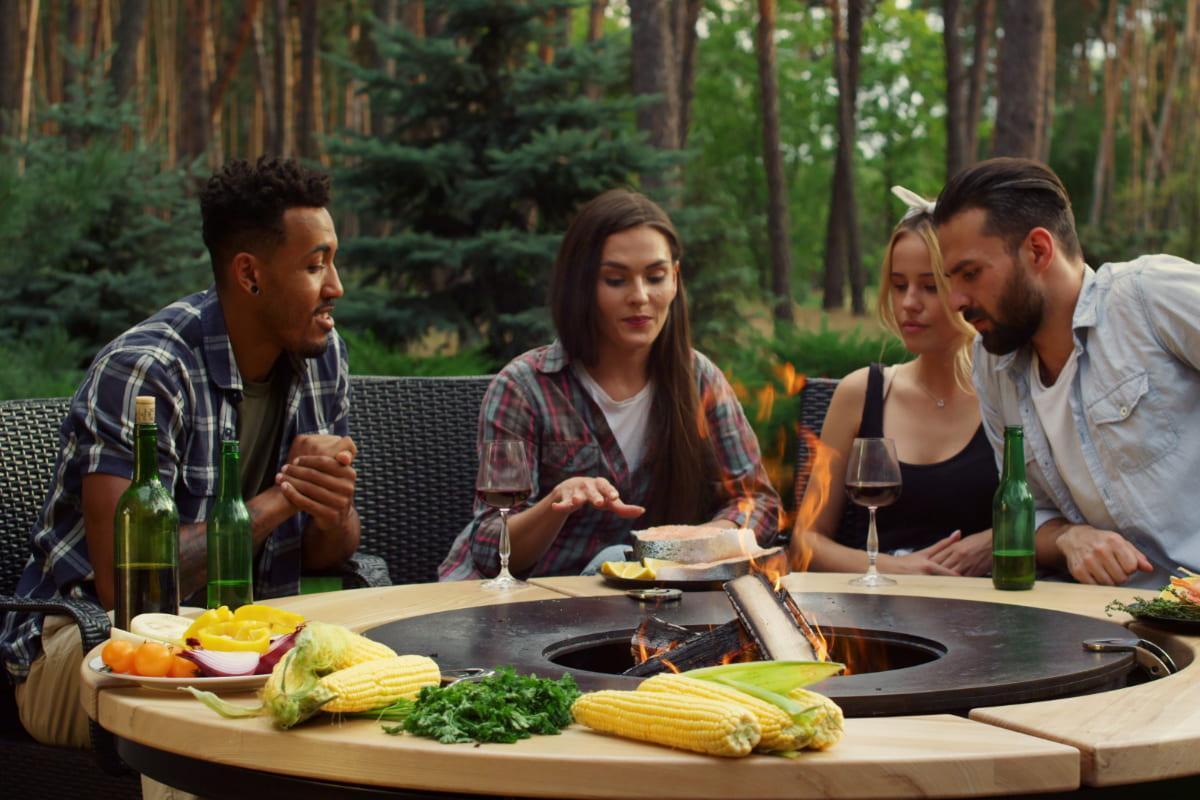 Enjoy More Fresh Air with a Fire Table
Furthermore, since most people spend their days inside at work or school, they often miss out on the beauty of nature that surrounds them. Adding a fire pit table means that they can spend time outdoors relaxing while enjoying fresh air and natural light. Your garden or lawn will become the perfect spot for this outdoor touch of warmth.
Dancing Flames Create Ambiance
Think about how mesmerizing an indoor fireplace is during winter evenings. A tabletop fire pit provides the same captivating atmosphere outdoors where everyone can gather around it, connect with one another and bond over great conversations. This is essentially transferring the charm of indoor fireplaces to an outdoor setting.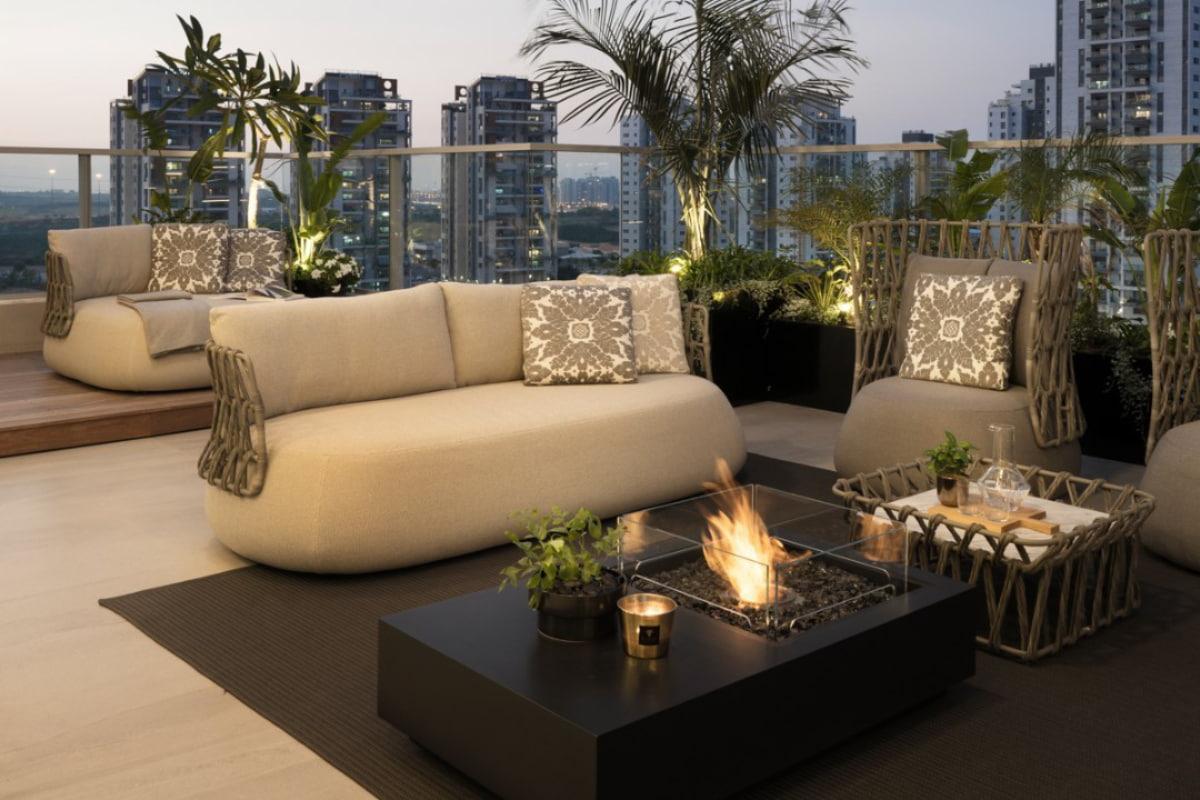 Understanding the benefits of fire pit tables can make it easier to see why investing in one is an excellent idea. So let's continue by exploring why specifically a fire pit table, with a range of materials and finishes to choose from and easy ignition for your convenience, should be part of your outdoor living design.
Fire Pit Table Functionality
For homeowners looking to add functional yet attractive outdoor elements to their patios, installing a fire pit table is one way to achieve both goals. Especially if made from robust and visually pleasing corten steel, there are many reasons why incorporating this element into your patio's layout is essential. Let us take a seat and have a look at some reasons why fire pit tables are such desirable options, adding not just warmth, but also height and decor to your outdoor living space:
Conveniently Elevated Flames
First, unlike traditional fire pits that are positioned directly on the ground, fire pit tables elevate the experience, quite literally, in height and provide great seating options for small groups while enjoying the warmth of a fire. You can group a few chairs or a bench around the fire pit table giving it a deck party feel. Moreover, they often function like coffee tables within an outdoor living area, where people can place their snacks, drinks, or even a cozy blanket when gathering.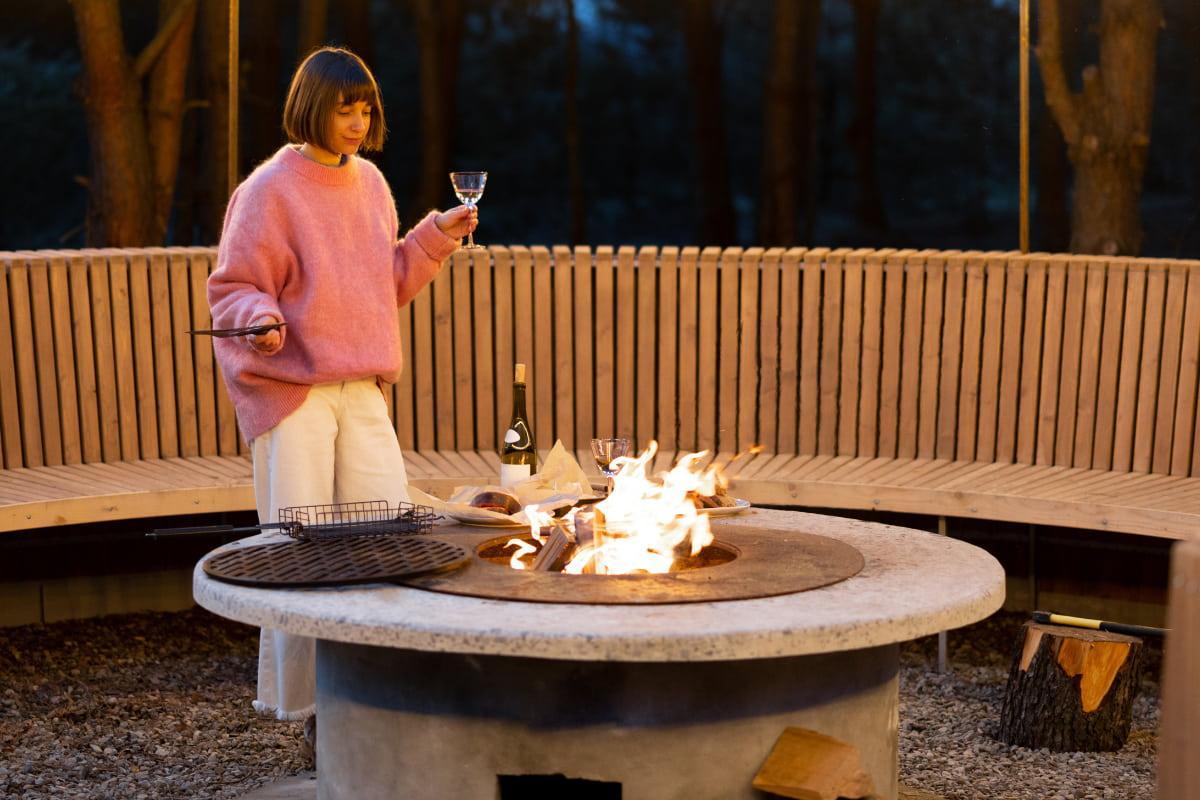 Greater Fire Control
Additionally, fire pit tables provide more control over their fires. As part of their decor, safety features such as glass wind guards ensure that sparks do not get to fly out, making it safe for children and pets to be around. Moreover, most models have adjustable flames, enabling you to increase or decrease the level of heat produced to suit your guests' comfort during a party.
Smokeless Fires Available
Some may argue that they would prefer the traditional wood burning fire pit for an authentic atmosphere opposed to a manufactured propane table. The smell of wood burning is unquestionably pleasant but also risky and getting smoke in your eyes is no picnic. By contrast, propane gas burns cleanly without any smoke, which is better for our environment. Besides, they produce the same kind of heat and light for everyone's party enjoyment but with a reduced risk of accidents.
What Are You Going to Use Your Fire Table For?
Many of the decisions you need to make about a firepit table depend on how you plan to use it. What's its purpose?
Warmth – Fire pit tables can be used to heat the area so you can spend more time comfortable outside in cooler weather.
Cooking – Tabletop fires provide an open flame for roasting or grilling meat, fish, poultry and vegetables.
Aesthetics – The glow of flickering flames creates a welcoming ambiance and decorative appeal.
Propane to Wood Burning – Understanding Fuel Types
One of the key decisions when choosing a fire pit table is determining which fuel type to use and you have several options from which to choose. Each fuel carries its own distinct features, advantages and disadvantages, which depend on what you need.
Liquid Propane – Tanks for the Memories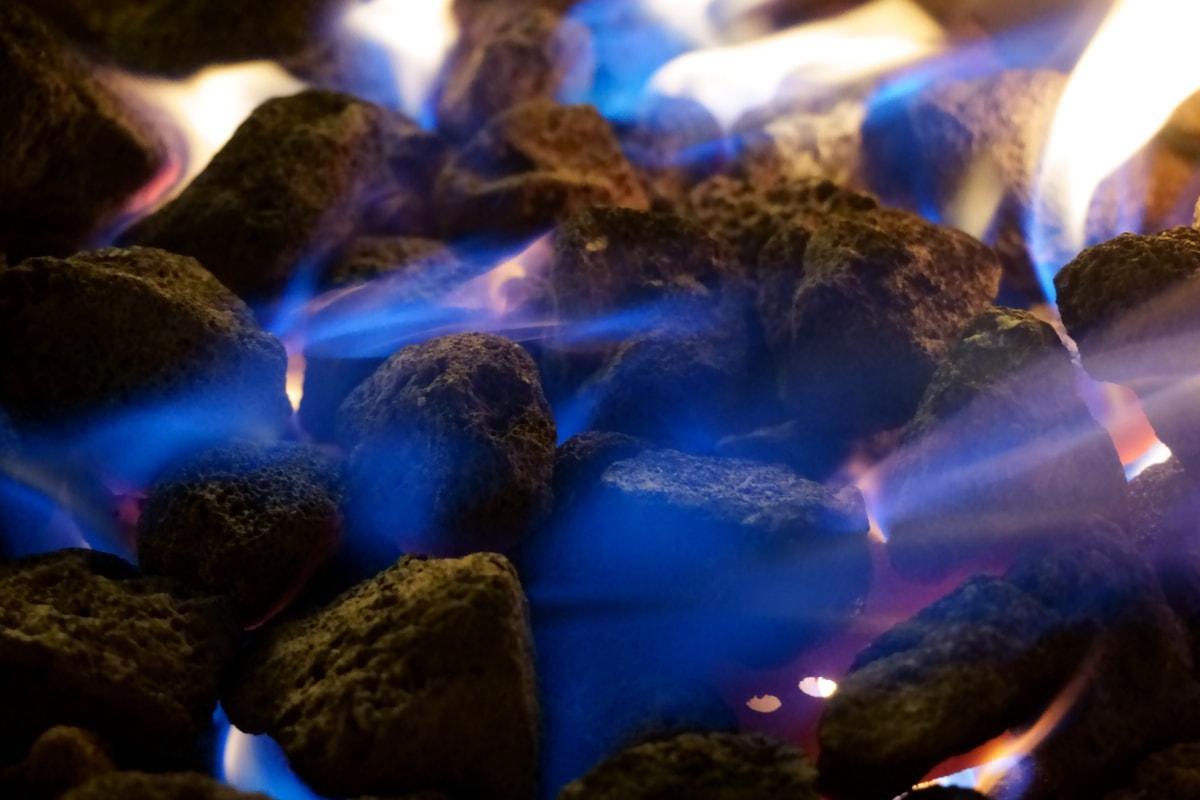 Propane gas-powered fire tables are right for everyone looking for convenience. These tables are safe because their enclosed burners eliminate many of the risks associated with an open flame. Propane fire pit tables are incredibly easy to use and ignite instantly when turned on, much like turning up room temperature with a thermostat. They provide clean heat and are simple to maintain, as there is no ash or embers to clean up afterward. The fuel used in these tables is as essential an ingredient as flour in baking. Additionally, propane fire pits are portable and can be moved around easily because they don't require permanent gas line like a natural gas option would.
On the other hand, propane does have a few downsides to consider. It can be quite expensive compared to using wood as fuel, but this cost may be worth it if you prioritize convenience. Another downside is that you'll need to keep your tank filled with enough propane to keep the fire going for any extended period of time. Fortunately, propane tanks of all sizes are readily available at home supply, hardware and large grocery stores.
Natural Gas – Call a Plumber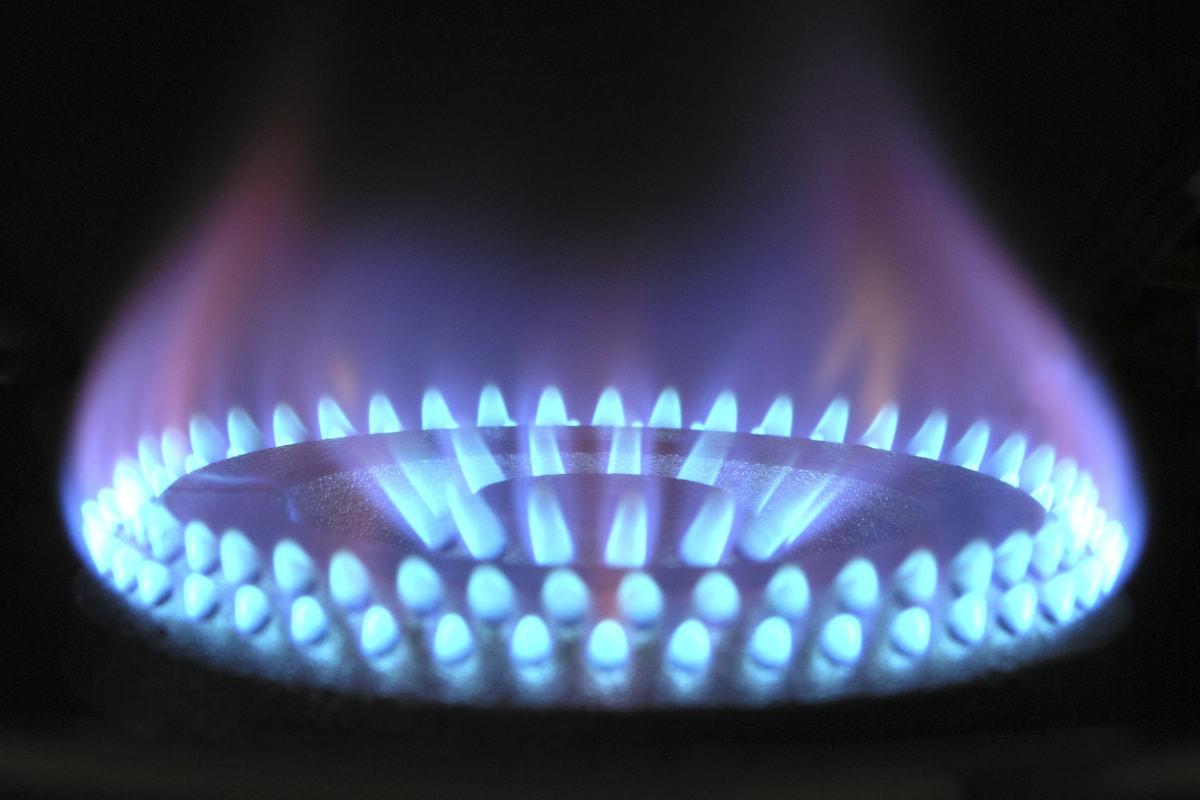 Another gas used for firepit tables is natural gas. Like propane, natural gas is easy to light, is virtually smokeless and leaves little if any soot. A major advantage of natural gas is that it's much cheaper than propane and tends to burn cleaner due to fewer emissions. However, natural gas fire pit tables generally require installation by a professional and access to natural gas lines. This means a potentially substantial upfront cost to install plumbed gas or extend an existing line to your patio or deck. However, the long-run cost benefit of cheaper fuel costs makes natural gas a great choice. Another thing to consider is that you may be limited in where you can place a natural gas fire table, due to the logistics of connecting fixed piping to a tank.
Bio-Ethanol – "Green" with Envy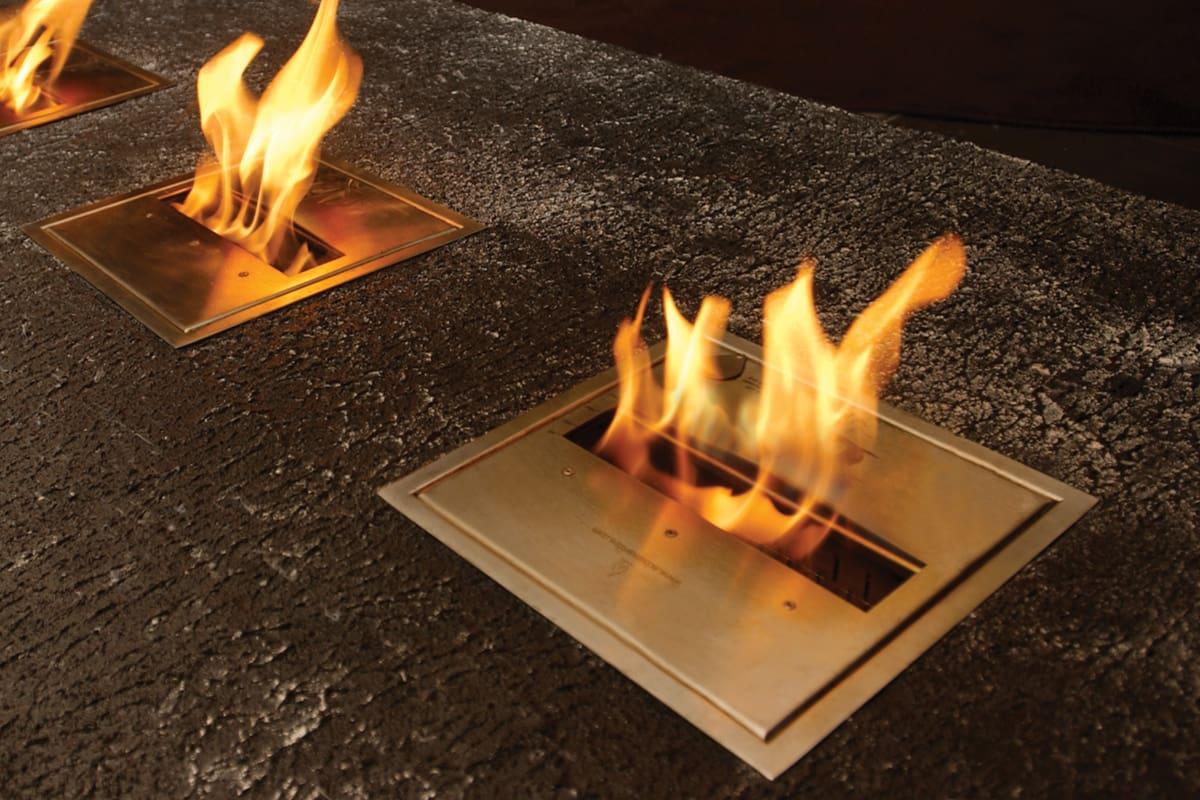 Ethanol-fueled firepit tables is eco-friendly plant-based alcohol that also burns cleanly. Since it's smokeless, bio-ethanol is ideal for windy environments where unpleasant odors and eye-irritating smoke can ruin a pleasant outdoor affair. Additionally, because they don't produce the fumes that other gas choices do, bio-ethanol fire pit tables are good options for people with respiratory conditions or who are especially sensitive to smoke. Unlike propane and natural gas versions, they don't require much ventilation and can be used both indoors and outdoors.
However, renewable bio-ethanol can be more expensive and produces less heat output than other fuels. These fire tables have burner reservoirs that need to be filled with the liquid fuel, which can be more challenging than simply turning on a gas valve. Small burners may require frequent refilling and lighting bio-ethanol fires may take a little more effort to safely light. Fortunately, most bio-ethanol fire pit tables come with the necessary fuel transfer and flame ignition supplies. To avoid running out during the colder months, set up a recurring order with an online retailer that sells bio-fuels. Whether it's e-NRG or another brand, most bio-ethanol products are available for home delivery – you don't even have to take a step out the door.
Wood – Up in Smoke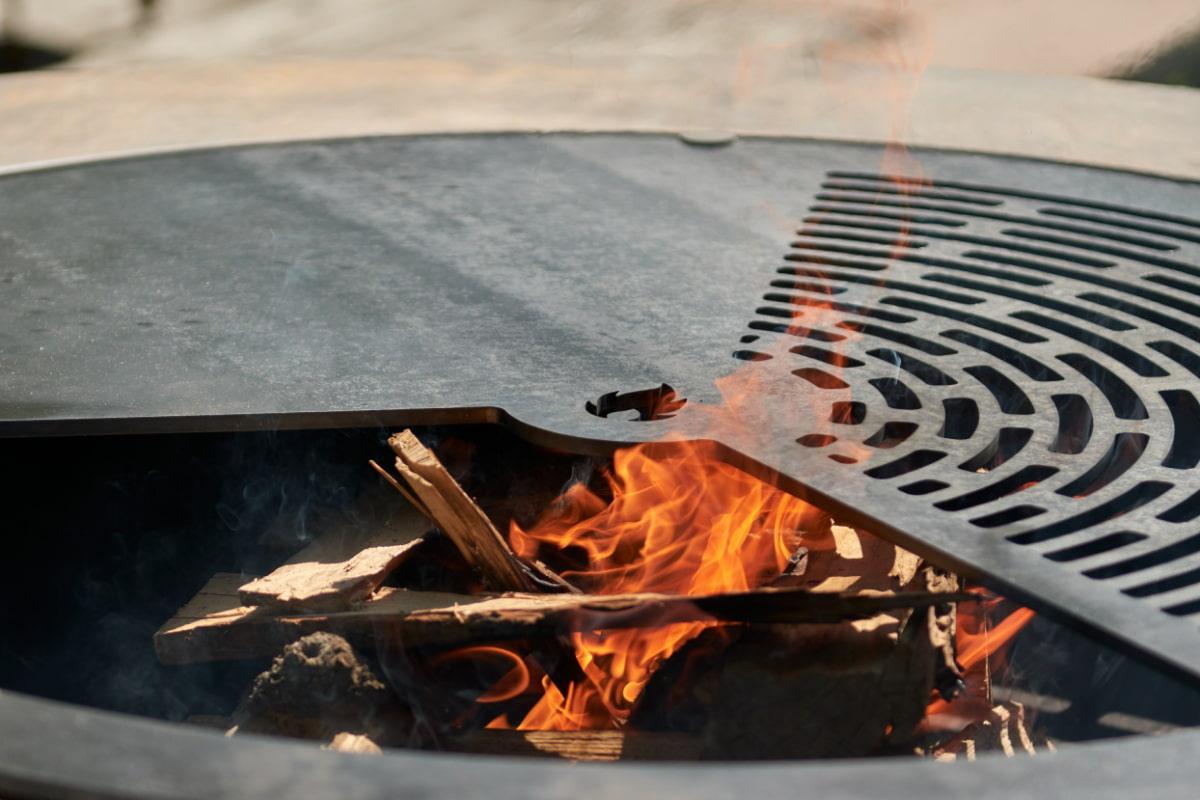 While both propane and natural gas offer a level of convenience in terms of cleanliness and ease-of-use, the smell of burning wood during an outdoor gathering can't be beaten. If you tend to value ambiance over convenience, then a wood-burning fire pit table may be preferable for your outdoor space. Its availability can't be beat either.
Wood-burning fire tables are perfect for those looking for the classic bonfire experience but in a controlled environment. These are great if you're throwing a casual party, where guests can huddle around the table, warm their hands and enjoy the crackling log. Whether you choose to set up chairs or prefer a cozy blanket on the bench, it will surely create an unforgettable night for you and your guests.
When choosing a wood-burning fire table, be sure that it has a screen cover as sparks can fly and cause damage or harm. These types of fire tables require dry wood, regular maintenance and have highly visible flames compared to propane models. Pay attention to the size of the table and the temperature it can reach to ensure that it suits your needs and environment. Wood-burning fire pit tables also need more maintenance as you'll have to dispose of ashes, keep track of your stored items and regularly clean over time to ensure optimal performance.
Firewood
Fire pit tables that burn traditional firewood create a more authentic campfire experience with the crackling of logs, rustic ambiance and smell of woodsmoke. Plus, firewood is typically less expensive than gas and can be found at most home improvement stores. Imagine if shopping for firewood is the same as a trip to the food shop; you would choose the best piece for your needs. However, with firewood-burning tables comes the need for a supply of cut and seasoned firewood. It also needs to be stored properly in a sheltered space off the ground to minimize water absorption. Firewood may burn unevenly from log to log due to differences in moisture and wood density.
Wood Pellets
If you want to generate hotter temperatures, then wood pellets are great alternative to firewood. Comprised of compressed lumber mill by-products, these small cylinders (typically 1″ or less) burn more consistently and are easier to control than logs, which may move around in the recess of a tabletop fire. Flavored grilling hardwood pellets are available at various stores to add a little spice to outdoor cooking.
Gel Fuel – No Mousse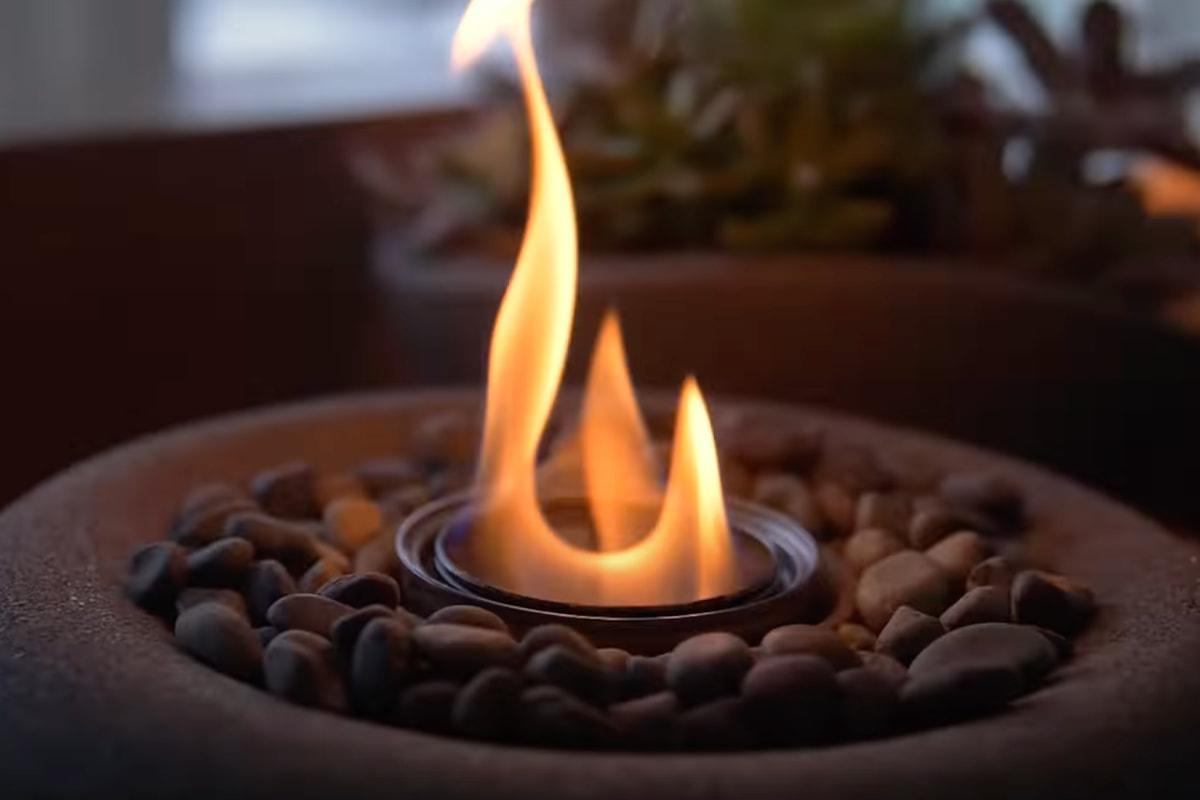 A convenient modern alternative to gas and wood is gel fuel. The semi-viscous fuel burns cleanly like bio-ethanol with no odor or smoke, although it produces very little actual heat. Consequently, gel-fueled firepit tables are best-suited for setting a mood and enhancing the ambiance of an outdoor setting. Gel fuel is packaged in small canisters, which light easily, burn quickly and are easy to swap out. Think of them like single serving coffee capsules or pods – they're great for a quick fix but won't last long. Small tins of gel fuel are often used to keep food in metal pans warm (i.e. chafing fuel).
Charcoal – Ember the Alamo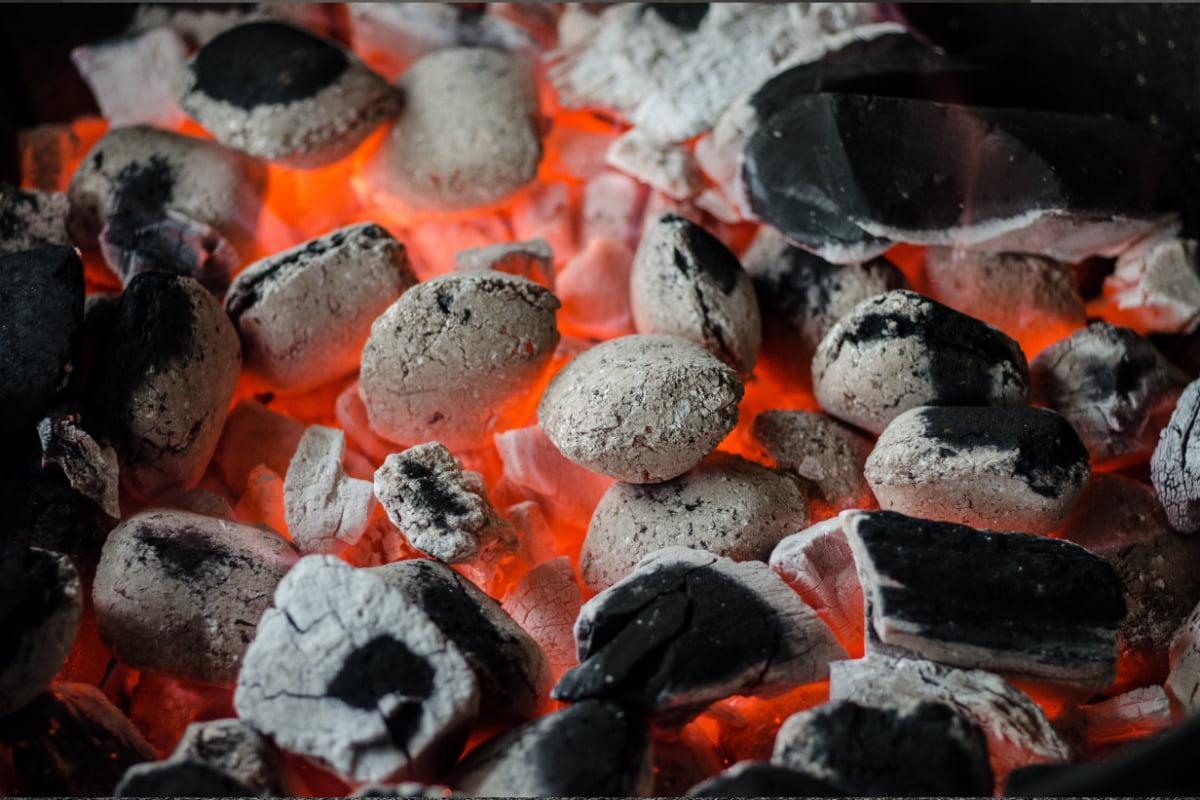 If you're looking for great cooking fuel, then charcoal is certainly something you should definitely consider. It generates even, high heat with a low flame that is ideal for grilling. It's also inexpensive, easy to store and available everywhere. However, charcoal's utility and cost-effectiveness does have major drawbacks. First, it doesn't really produce an inviting flame. Second, it does create a lot of smoke. So, while you might enjoy the fruits of a charcoal fire pit table's labors, you probably can't eat too closely (especially in winds) or place it near your home. Finally, charcoal leaves quite a mess when all is said and done. Consequently, you'll need heavy duty clean-up tools
SHOP FIRE PIT TABLES
Identifying the Perfect Location
Once you've decided which fuel type suits your needs best, the next step is to determine where your fire table should go. The placement of your fire pit table makes a substantial difference regarding it safety, functionality and aesthetics. Before you start setting anything up or buying a unit, it's important to take stock of the following factors.
Safety Concerns
First off, placing your fire pit table in an appropriate location is crucial from a safety standpoint. The chosen site should also be away from overhanging branches, curtains or other flammable items that could fall or blow into the fire. Find a level surface like concrete, pavement or a hardwood deck, before opting for a more uneven one on grass or dirt.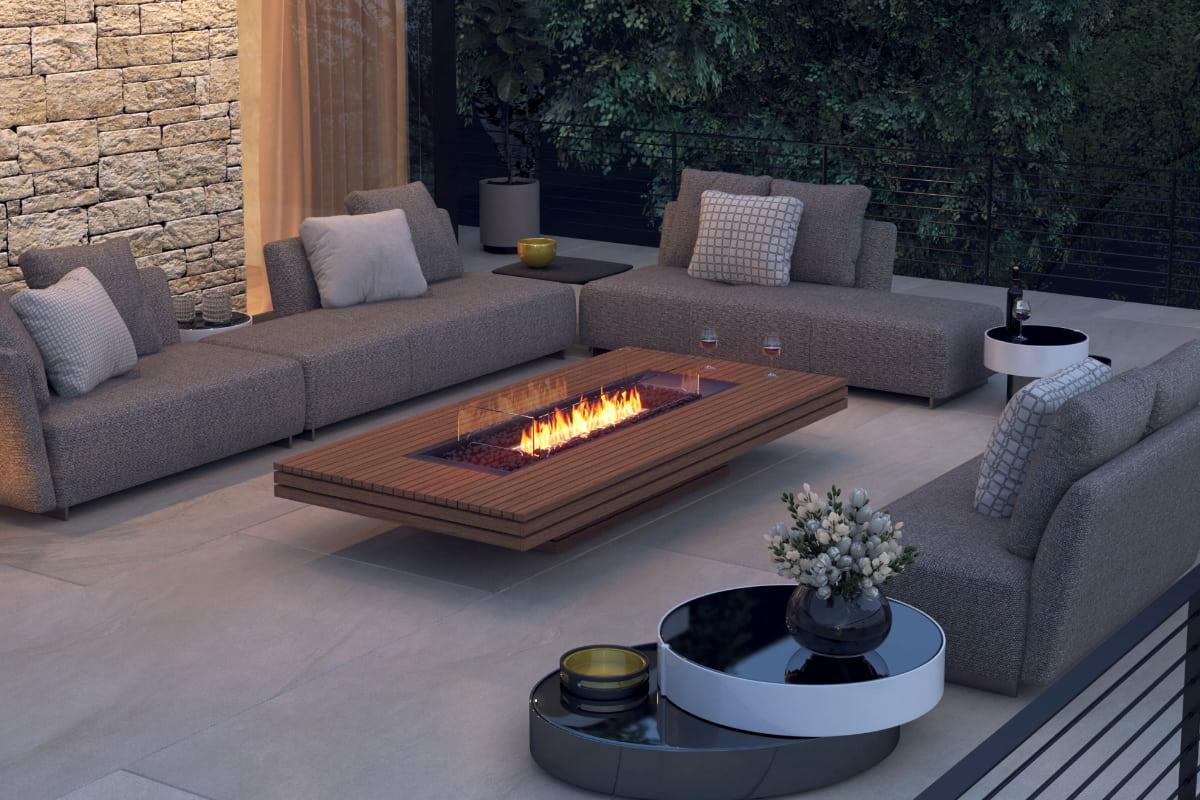 Functional Use
Next, you should also factor functionality into where you place your fire table. A fire pit table set too far from seating areas would be inconvenient as people will want to gather around it while they're socializing outside. Consider where you usually sit during BBQs and decide whether this might work there or if you need to move furniture. Arranging seating around the table is always an alternative – sofas can be positioned around a low set fire pit just like they would around a cocktail table. For propane and natural gas fire pit tables, you have to be mindful of where tanks can be stored and the positioning of gas lines.
Aesthetic Appeal
Finally, it's important to think about how your fire pit table looks in the overall layout and organization of your outdoor space. Do you want something that's going to make a dramatic visual impact? If so, consider placing the unit in a central location as this will help draw notice. Prefer a more seamless integration with the existing outdoor decor, landscape and architecture? Place the table out of high traffic areas where it's less prominent. Similarly, smaller patio areas can easily get cramped if a fire table is centrally located, so see how it works to one side.
Permanent or Movable Fire Feature?
Once you've figured out the purpose, fuel and placement of your fire pit table, you've got an important decision to make. Do you want to make a big commitment (and investment) to install a fire table that is permanently built-in to your outdoor setting, or is a heavy but portable model more to your liking?
Fixed fire tables are safer, since they cannot be jarred by children or animals and can be customized to match your existing outdoor architectural style and materials. Unless you're Bob Vila, you will likely need to hire a contractor or mason to construct a permanent fire pit table or install a pre-made one that mounts to the surface.
Portable firepit tables are typically smaller and less expensive, but gives you flexibility to move the around. This is advantageous if you periodically like to rearrange furnishings or need to for various events. You can choose a design, color and material that complements or contrasts what you have in place.
Material Considerations
Now you're ready to choose what your ideal fire pit table is made of. If you landed on a permanent fixture, your decision is narrowed to the materials used to construct your patio, deck or other architectural elements you want to blend with. Freestanding fire features, on the other hand, open you up to a world of possibilities, each with their own plusses and minuses. Also, the tabletop and base materials don't necessarily have to be the same and often aren't.
When making your material selection, consider the weather conditions of your area as well as the aesthetic ambiance you plan on creating. Extreme heat or cold, dramatic temperature shifts and precipitation affect the performance and longevity of different materials. But how a fire table looks and feels is important too. While you might not want one to stick out like a sore thumb, creating an eye-catching focal point is an option. Materials can reinforce or contrast with your existing palette and outdoor decor style.
Another important consideration when selecting the material is its heat conductivity. Fire pit tables need to dissipate heat efficiently; otherwise, they could break or become a danger. Unlike traditional fire pits where people are hands off, tabletop fires are intended to be interacted with – reaching for drinks, eating food or setting small items. This shouldn't be a major concern for manufactured models that need to pass safety tests before going to market. However, if you're attempting an adventurous DIY project, you need to be keenly aware of how material dissipate or absorb heat. Many fire tables use one material for the top surface that comes in contact with the heating area (as well as hands and arms) and another for the base or pedestal.
Metallic Options
Since metal absorbs and conducts heat (i.e. it gets hot and will burn you), it's only used on the top for cooking (i.e. convertible grill) or areas away from the fire. These may be accents or banding around the tabletop but metal is also used for the framework beneath it. Most metals are durable, can be shaped easily and are relatively weather-resistant with varying degrees of vulnerability to corrosion.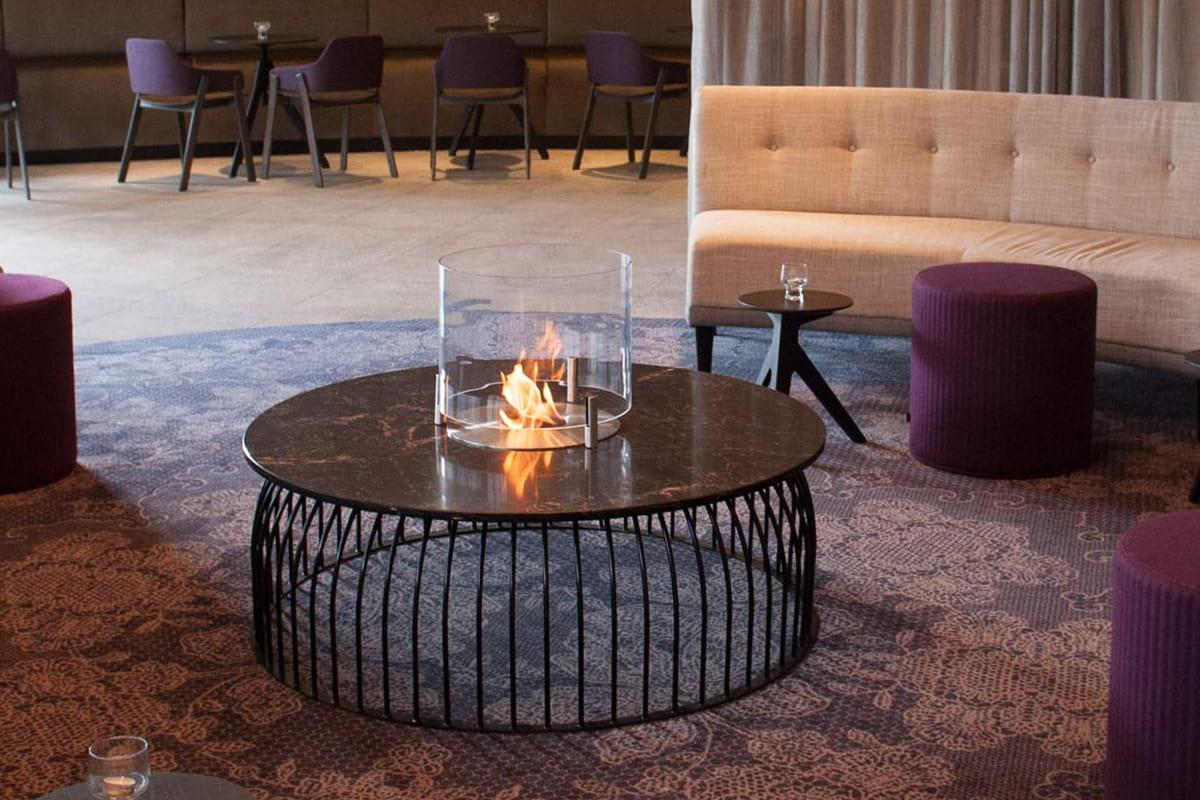 Stainless Steel
This metal is stronger but also more expensive than other options. Stainless steel includes Nickel and Chromium, which can improve its resistance to rusting even in harsh marine environments. In its raw form, it has a shiny silvery finish. However, a powder-coating is often applied to improve stainless steel's durability and complement existing patio furnishings. It's also easy to maintain, although "tea staining" may occur if not cleaned regularly.
Cast Iron
If you want a heavy duty metal base, then cast iron is a great choice. It's extremely heavy, so even if it's technically freestanding, a firepit table sitting on a cast iron frame isn't going anywhere. This relatively inexpensive black metal resists corrosion but will discolor when exposed to moisture and left untreated.
Aluminum
This lightweight rust-resistant metal is very affordable but can get scratched or dented easily. Make sure to have a heavy tabletop or bolt the frame to the flooring to ensure the fire table can't get knocked over. Naturally silver aluminum often has a stylish "hairline" finish or a powder-coating to enhance its corrosion resistance, improve its durability and coordinate with outdoor palettes.
Bronze
This copper-based alloy has a rustic appearance and has some corrosion-resistant properties. Due to the presence of copper, however, it does oxidize and change color from dark reddish brown to more of a green. Its surface can be hammered for a more industrial look but bronze is a handsome metal that tends to complement a wide variety of design styles. Bronze finishes are very common on the metal frames of patio furniture and umbrellas.
Mineral Choices
Many common mineral substances are relatively heat-resistant and make excellent bases and tops for firepit tables. They are very sturdy with a rugged and natural appearance. Their heavy weight is a benefit for stability but a problem if you're hoping for mobility.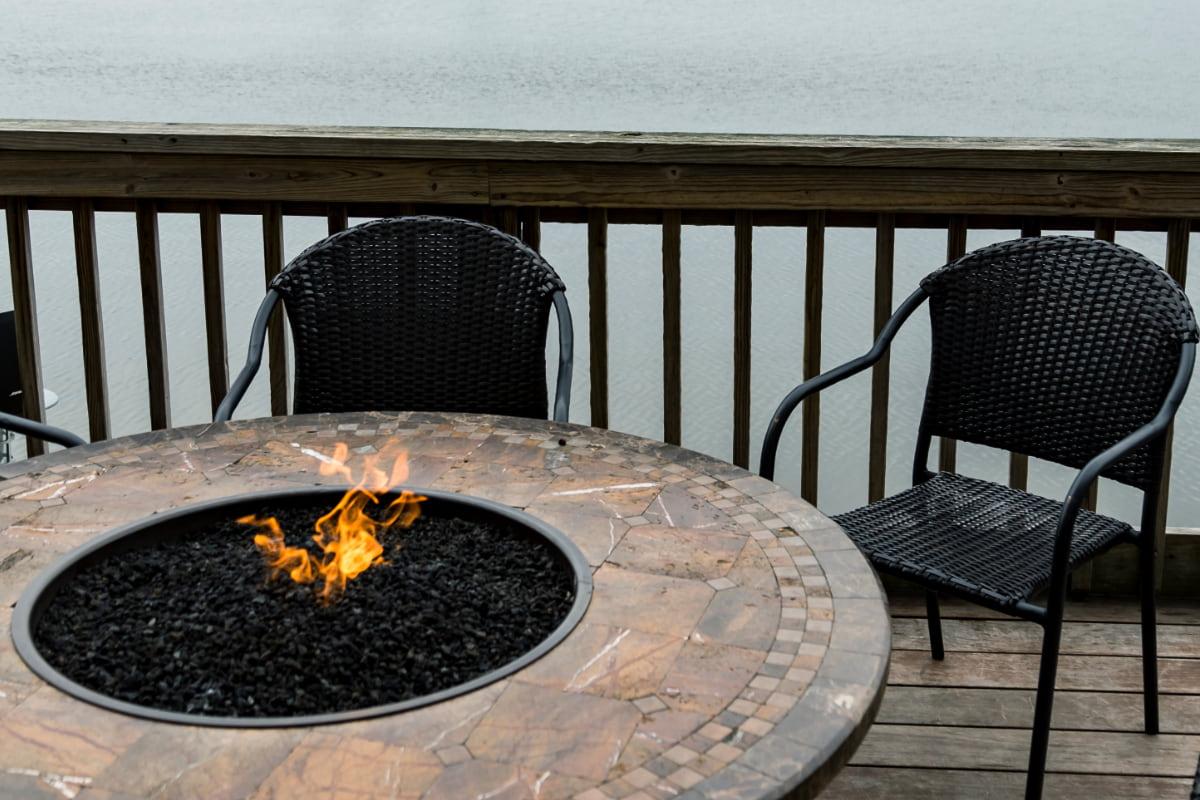 Marble & Granite
These natural stones are heat-resistant and long-lasting. Even when containing a roaring fire, these minerals remain relatively cool to the touch. Unlike cast or extruded metal, each slab of granite or marble has a unique grain that varies from piece to piece. So, even the same style fire table will look different. A tiled marble top adds additional texture and visual appeal.
Concrete
This poured mineral mix of sand, gravel and cement can be cast in virtually any shape, making it a great option for firepit tables. It's a natural insulator of heat so it's extremely safe as well durable. Concrete fire tables have a minimalist look that goes well with modern or rustic settings. One drawback of concrete is that it will accumulate soot stains over time and needs to be clean and sealed periodically.
Wooden You Know It
Although it may sound strange, some firepit tables are made of wood. Most of the time, it's the lower frame or pedestal that's constructed using a hardwood with a non-conductive tabletop around the flame area. However, there are teak fire pit tables that use wood throughout. The woodgrain adds natural beauty and has a welcoming feel. Because the wood is lighter weight, these fire features often have metal interior structures with the wood as an aesthetic facade. While teak is oil rich and very weather-resistant, it does require on-going maintenance to retain its honey color and prevent heat damage.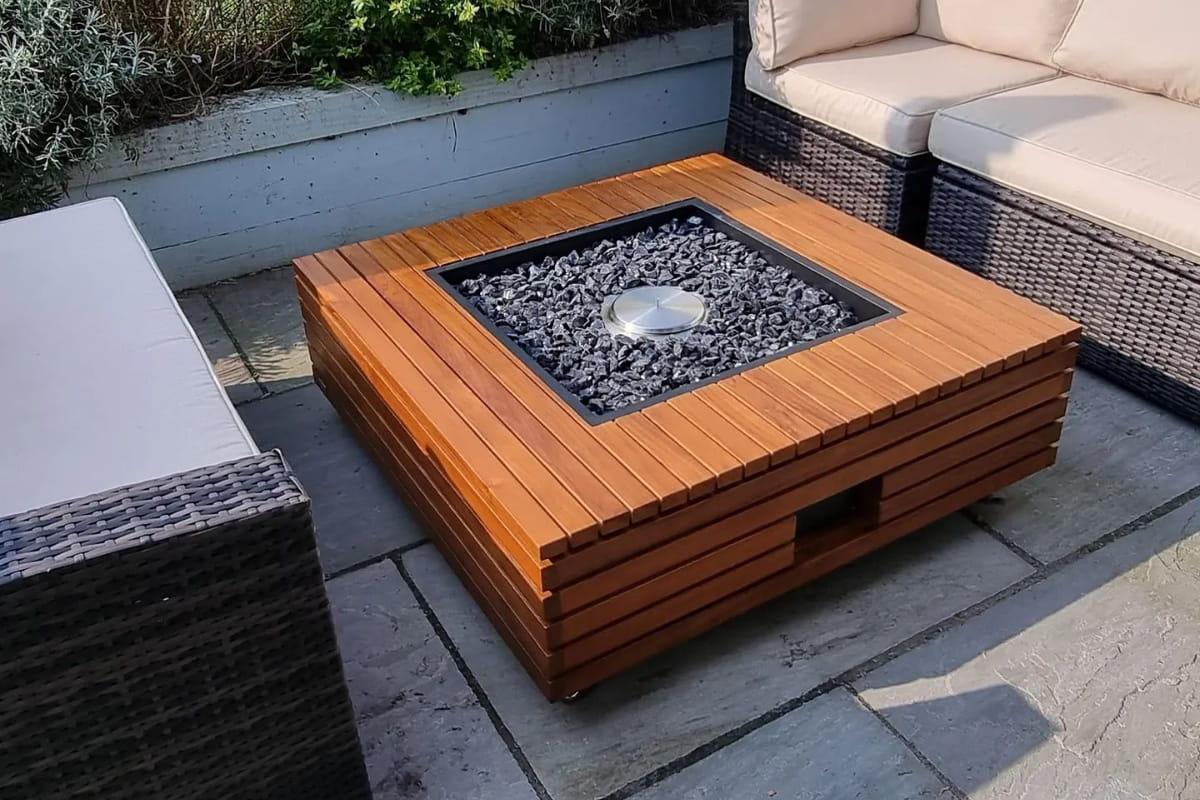 Synthetic Material Alternatives
In addition to natural options, there are also a number of man-made substances that can work well for firepit tables. Improved strength, lighter weight and greater design capabilities give these synthetic materials some advantages over Mother Nature's offerings.
Faux Concrete
In response to growing demand for outdoor furnishings with non-traditional shapes, concrete composites have been developed and improved upon. These polymer concretes utilize cement, resin and fiberglass to create compounds that can be customized like concrete but with more advantageous properties. Blinde Design's Fluid™ Concrete has a tensile strength 8 times that of regular concrete and weighs less. Equally as important, it's non-porous, so it resists scratches, impact, stains and cracking due to dramatic temperature changes. So, you can get the look and feel of stone or concrete in multiple colors and still be able to move fiber concrete fire tables.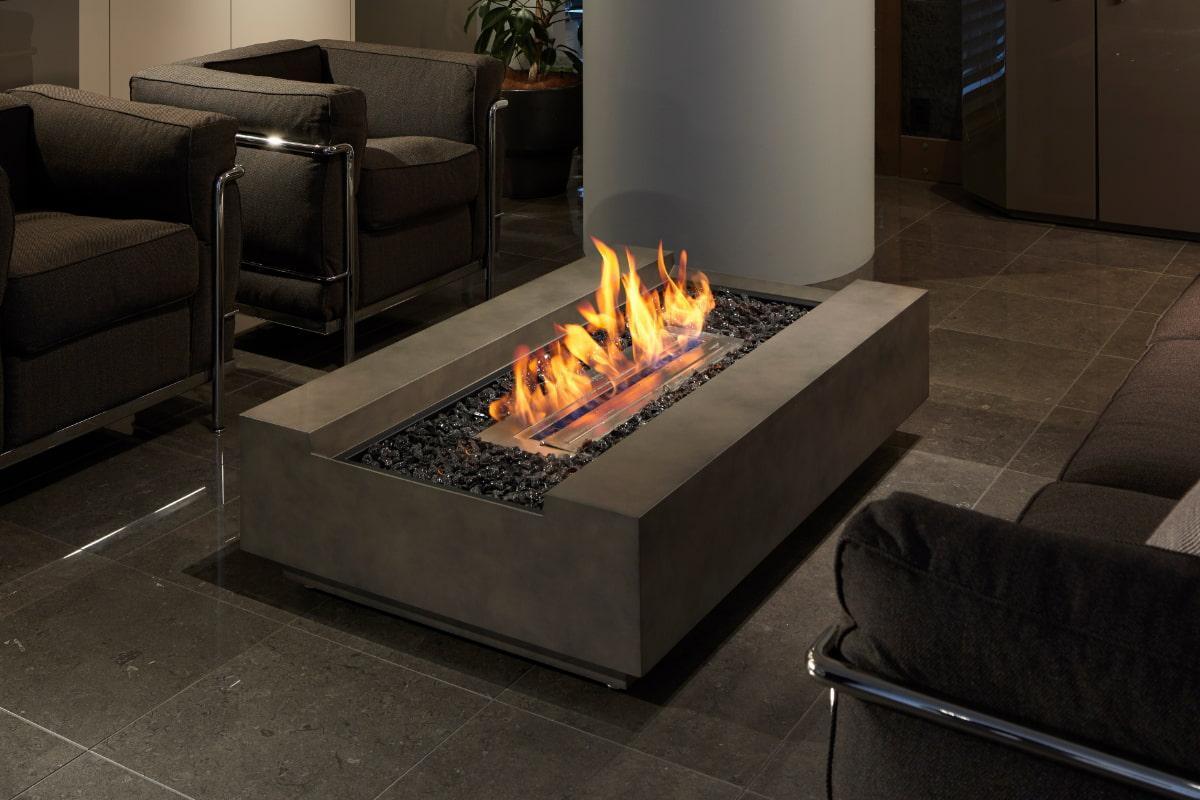 All-Weather Wicker
Another option for fire table bodies is long-lasting synthetic wicker. This fade-resistant woven material is made from HDPE or another durable plastic resin. Lower quality PVC-based wickers are also available but they crack over time. Synthetic wickers come in natural colors or vibrant ones. Due to its light weight, it's usually wrapped around a metal frame. All-weather wicker fire pit tables have a homespun look that can work well in traditional outdoor settings or even more modern ones, depending on the style of the table's construction and the type of weave. However, resin wicker tends to be expensive and can be harder to clean and fix, should it become damaged.
Finalizing Your Fire Pit Table's Design
You're almost there, just a few more decisions before you're ready to get the perfect fire table.
Choose the Right Shape
The shape of a firepit table is really determined by the available space and seating, as well as the purpose of the fire feature itself.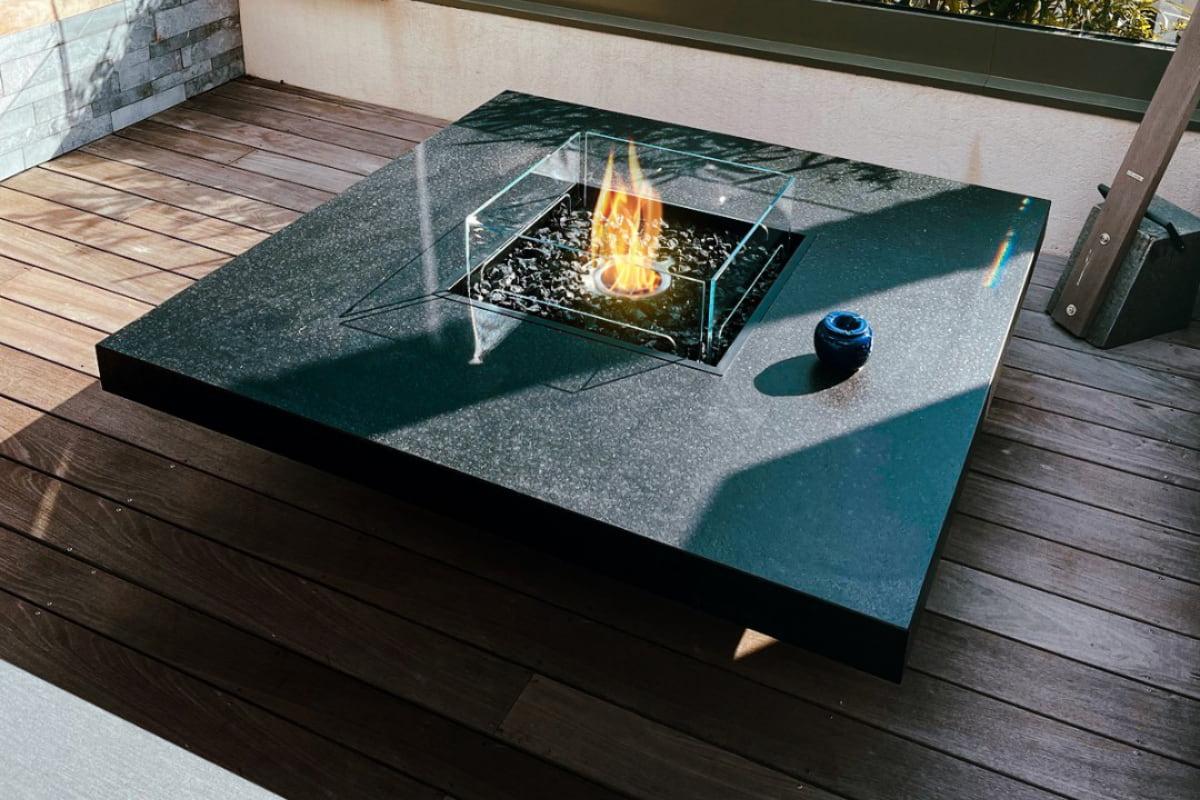 Round – Circular fire tables are perfect for the smallest spaces and make it easy to gather around the flame, whether it's for warmth or to roast marshmallows.
Square – Firepit tables with square tops also work in small outdoor settings and provide more surface space than round ones. But, the corners can be a nuisance and restrict seating arrangements.
Rectangular – Long rectangular fire pit tables have the largest footprint and require more space. Short versions make excellent coffee tables, while tall ones can serve as memorable dining tables for al fresco meals on a chilly night.
Custom – Irregularly shaped fire features are typically installed when there is an atypic commercial or residential space (and a decent budget). They're often meant to serve a more aesthetic than functional purpose.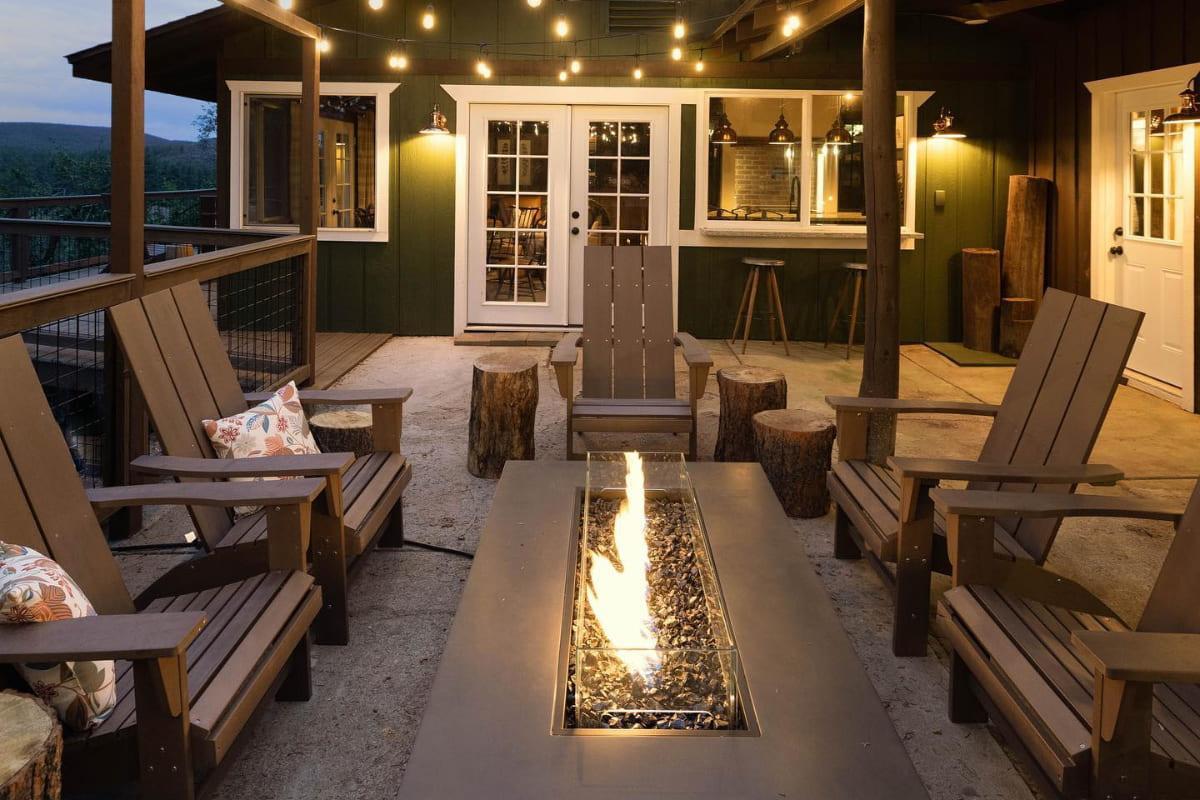 Determine the Height of Your Fire Pit Table
How tall your fire table should be is dependent on its purpose and placement. Think about convenience and the sort of seating you plan to use (or not) around it.
Low (12-18 inches) – These tables are best-suited for lounging in an informal and relaxed atmosphere. Low-profile sectionals or a corner sofa and well-spaced lounge chairs work well with fire pit tables in this height range. While they're easy to gather around and are great for children, they may be a bit uncomfortable for eating and more difficult for some people with back issue to access.
Chat (19-24 inches) – These multi-functional tables are a bit of a hybrid between low and dining heights. They work with lounge seating in smaller spaces. Their mid-range height makes them easier for eating than lower versions, while maintaining a more relaxed feel than dining styles.
Dining (24-32 inches) – These fire tables are appropriate for casual dining and larger gatherings. Combine them with patio dining side and armchairs to create an alfresco dining setting that's perfect for sharing a meal and good conversation with family and friends. Since there will likely be a lot of reaching going on, it's important that there is ample tabletop space and appropriate flame guards. You might want to forego using that lacy tablecloth though.
Bar (35-42 inches) – These firepit tables are a bit taller to accommodate barstools or standing access. They don't require as much surface area, since they need only manage drinks and small plates or bowls. They're ideal for cocktail parties and mingling, or to share an intimate moment for two. Bar height and counter height fire tables are less suited for relaxing and may not be great for shorter adults or children.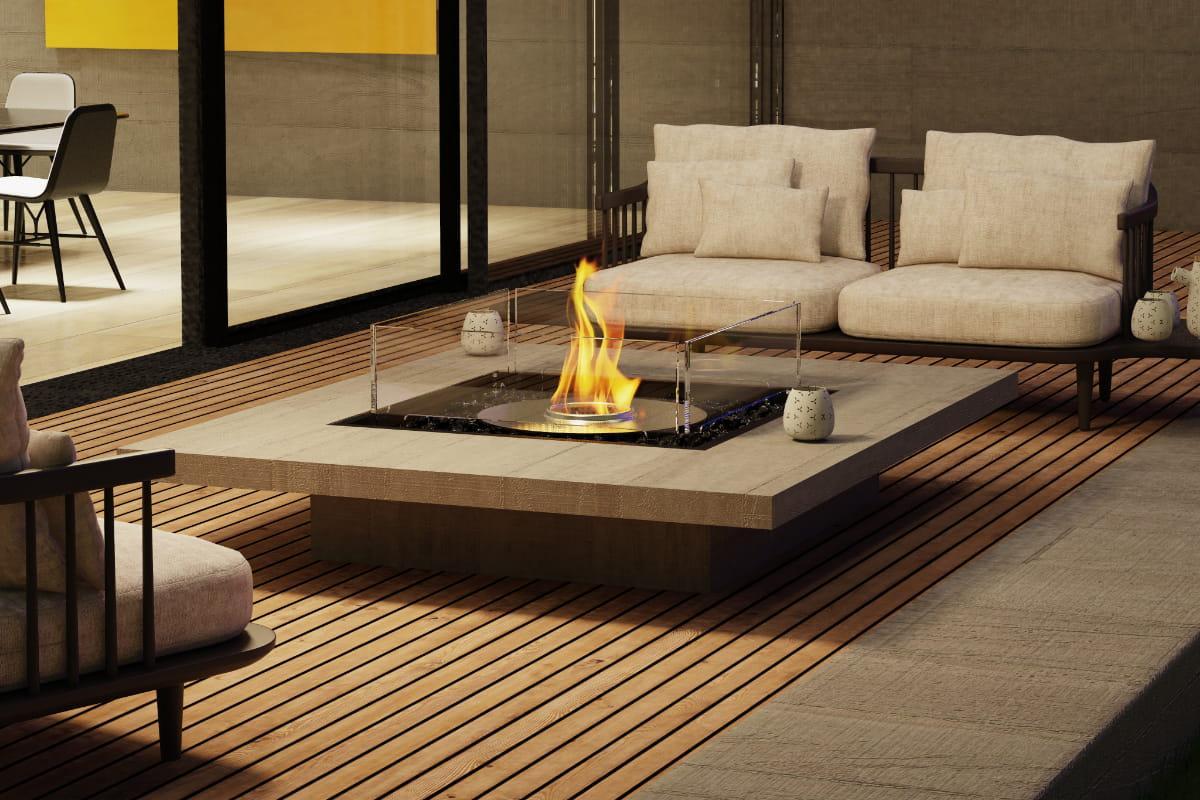 Consider Style
Design style is another critical aspect to keep in mind when choosing a fire pit table for your outdoor space. Your choice can seamlessly complement your overall decor, provide a dramatic and appealing focal point or both. It also makes a difference if it's going to be a permanent installation or freestanding fire table.
If you plan to hire a mason or contractor to design and build one, then you might want to go with a style that closely matches that of your existing patio or home's architecture. Unless you also intend to overhaul your entire backyard area, it's safer to stay consistent with a look you're familiar with. It may also help you if or when you decide to sell your home – it has curb appeal.
Portable versions come in many styles and allow you to venture outside of your comfort zone versus the permanence that comes with built-in models. Minimalist designs have clean lines that can work with a variety of decor. The more ornate the design, the greater the chance that a firepit table clashes with your patio furniture.
Much like art, style is a very personal thing. Despite popular opinion, traditional designs are not always "timeless classics" and modern styles are not necessarily "trendy." Find a look that appeals to you and allows you to update furnishings and landscape without the fear that it won't go together.
Small Accents
While you absolutely want to keep flammable items away from the open flame of your firepit table, non-flammable accents can put a finishing touch on things. Burners of gas-powered or bio-ethanol fire tables are often partially covered or surrounded by decorative fireproof materials, such as tempered glass beads or faux charcoal. Volcanic lava rock is another favorite to scatter around the recessed firebox.
Safety Features to Check
It's the home stretch with just a couple of safety concerns to make note of before you're done.
Having a fire pit table on your patio or deck is an excellent way to add warmth and coziness during chilly evenings while entertaining guests or spending a quiet night with family. Its heat, light and the chair-seating arrangement make it the favorite spot for everyone. However, it's crucial to prioritize safety when using one. You don't want to compromise the aesthetic and decor value of your patio with injuries or damage-related incidents.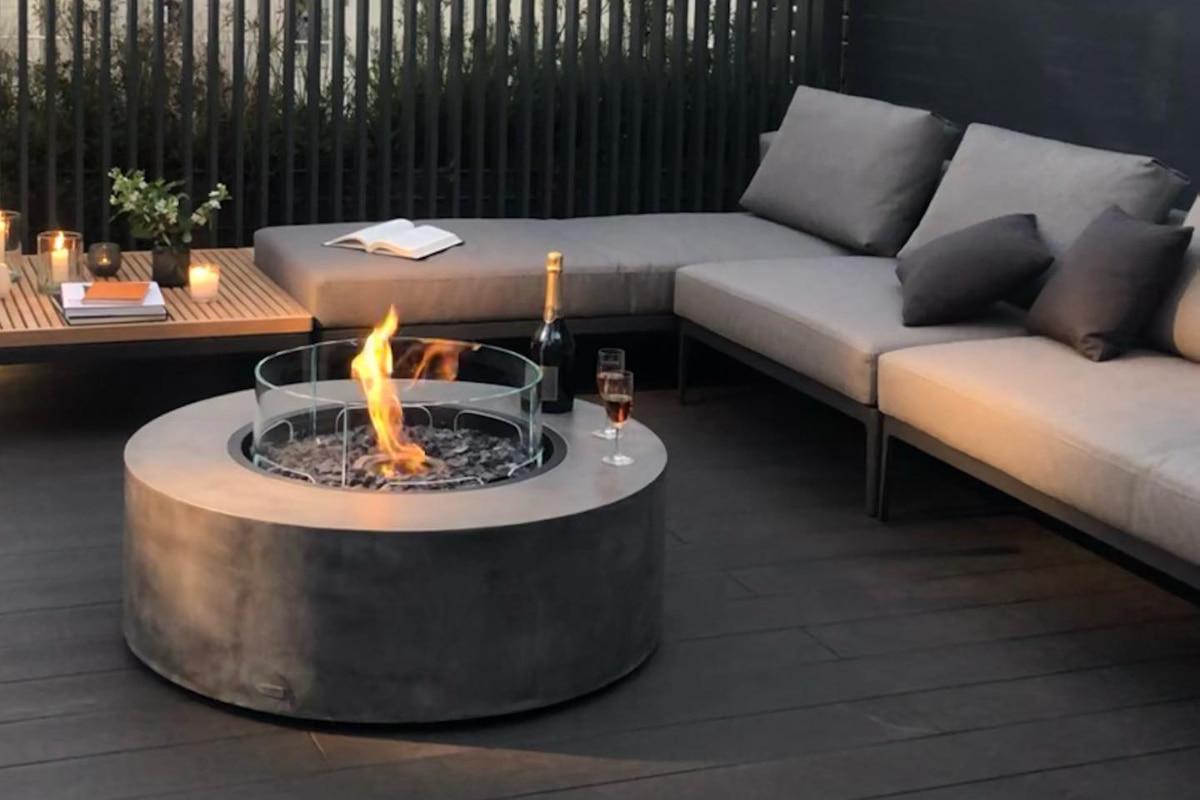 Wind Shield & Spark Guard
One way to ensure that your fire pit table is safe is by checking for safety features. Look for models with a tempered glass wind guard or protective lid, which will prevent sparks from flying out and causing damage or harm. If you have children or pets, consider getting a model with a safety mesh cover that blocks access to the fire area.
Instructions
It sounds silly, but it's vital that you really understand how to set up, operate and maintain your new firepit table. Additionally, make sure that you take proper location precautions when installing your fire pit table. It will be the centerpiece of your deck seating arrangements so the area must be properly prepared.
Familiarize yourself with the instructions provided by the manufacturer before installation so that you're comfortable with handling it safely. Gas-powered versions ignite and shut off differently than bio-ethanol or gel fuels. Know the differences in advance, so there are no surprises. Wood-burning models require extra attention, since embers need to be completely out before the table can be left unattended. If instructions are incomplete, consult local fire ordinances and Fire Marshal recommendations and tips.
Concluding Thoughts on Fire Pit Tables
Tabletop fire features can greatly enhance the ambiance and functionality of an outdoor space. Choosing the best one for your setting can be challenging, given all of the available options. However, careful consideration of its purpose, placement and your preferred fuel, material and style can point you in the right direction.
Frequently Asked Questions – Fire Pit Tables
A fire pit table is a type of fire pit that is designed to be used as a table as well as a fire pit. This type of fire pit is typically larger than a regular fire pit and is designed to be used as a centerpiece for outdoor entertaining. It usually features a table-like surface around the fire pit, which is used to hold food, drinks, and other items.
While some firepits may have edges that are wide enough to accommodate glasses and bottles, that's not the main purpose of the design. Fire tables have wider surfaces and typically have glass wind shields that also prevent stray hands from accidentally venturing into the flames. Firepit tables frequently have covers that allow you to utilize the entire top when the flame is not ignited.
Most traditional fire pits are relatively low to the ground. Fire pit tables can be used as coffee tables but many models raise the flames to dining or even bar height. This is one of the characteristics that make them ideal for outdoor eating.
A fire pit table is an excellent addition to any outdoor living space. Not only does it provide a warm and inviting atmosphere, but it also has a number of practical benefits. Here are some of the advantages of having a fire table:
Heat - Most fire pit tables generate sufficient heat to warm you up when the temperature drops.
Ambiance - A firepit table creates a cozy and inviting atmosphere for outdoor gatherings. The glow of the flames draws attention and bathes your space in warm light.
Versatility - You can use a fire table's surface area to set food and drinks, warm your hands by its fire and use its light to illuminate your outdoor space. Taller versions may be used for dining, while many integrate grates and cooking surfaces for barbecuing.
Eco-Friendly - Some fire pit tables burn environmentally friendly fuels, such as bio-ethanol or natural gas. Seasoned firewood is always an eco-friendly option too.
Ease of Use - Gas-powered fire tables are a breeze to operate once the gas lines have been safely connected. Ignition switches take away the hassle and minimize the risk of lighting the flame.
Enhanced Property Value - Adding a fire pit table to your backyard or patio can increase the appeal and value of your home. Since the pandemic, people have a new appreciation for their outdoor living areas and home buyers are increasingly seeking outdoor amenities. Demand for built-in and portable fire tables, pools and spas has increased - boosting home values.