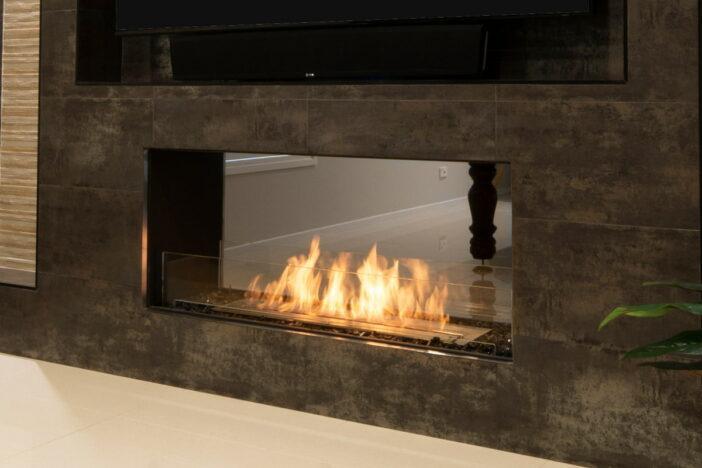 As the leaves start to fall and the crisp, cool air of autumn begins to seep in, the allure of a warm, crackling fire becomes undeniable. Nestling up on cool evenings with a hot mug of cocoa, reading your favorite book by a brilliant built-in fireplace isn't just found in idyllic country living magazines. You too can bring this quintessential hallmark of cozy relaxation into your home with the right fireplace insert.
Whether you're considering an energy-efficient electric fireplace, eco-friendly bioethanol fireplace or seeking to enhance your space's ambiance, our comprehensive Fireplace Insert Buying Guide is here to light up the pathway to your perfect purchase. Just as a well-roasted marshmallow is crucial for a swoon-worthy s'more, find out why choosing the right fireplace insert is key to creating an unforgettable atmosphere inside your home. Get ready for more than just sparks to fly as we dive deep into everything you need to know!
Our comprehensive Fireplace Insert Buying Guide provides helpful information and tips for selecting the best built-in fireplace or insert for your home heating needs. Topics covered include fuel type (including electric and bioethanol options), installation considerations, efficiency ratings and more. This guide is designed to help you make an informed decision when selecting a fireplace insert that will not only provide warmth and comfort but also complement the aesthetics of your home. Consult manufacturer installation and user manuals for specific details and instructions.
Advantages of Fireplace Inserts over Traditional Fireplaces
If you live in a home with an empty fireplace, installing a fireplace insert is one of the best decisions you can make. There are countless advantages to using an insert or built-in unit instead of relying on traditional wood-burning fireplaces.
Energy Efficiency of Built-In Fireplaces
One of the most significant advantages of fireplace inserts and built-in fireplaces is energy efficiency. Traditional fireplaces are notorious for letting out heat, causing wasted energy and driving up heating bills. On the other hand, fireplace inserts are designed to trap and recirculate heat throughout your home efficiently. With these built-in fireplaces, homeowners can expect to save hundreds of dollars per year on their heating bills.
Fireplace Inserts are Safer
In addition to being more energy-efficient, insert fireplaces are also much safer than wood fireplaces that produce sparks and embers that can accidentally cause fires or leave burn marks on carpets and floors. Fireplace inserts come equipped with top-quality screens to prevent sparks from escaping while also improving air quality by ensuring smoke and fumes are released through your chimney effectively.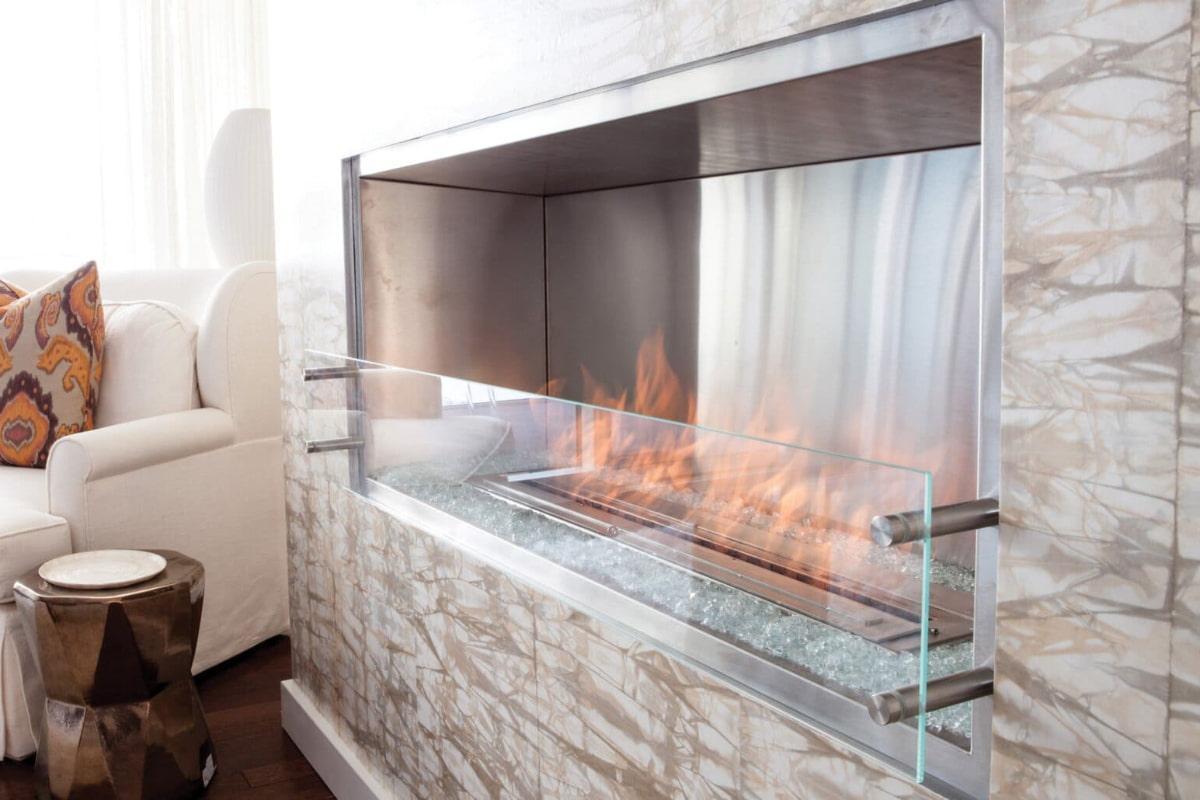 Built-In Units have a Wide Range of Styles
Some people argue that traditional wood-burning fireplaces add aesthetic value to their home that insert models just cannot replicate. While it's true that there's something special about lounging by a crackling fire on winter nights, many inserts have been designed with aesthetics in mind and feature beautiful finishes that cater to a broad spectrum of design styles.
Easier Maintenance with Firebox Inserts
Furthermore, traditional fireplaces require more maintenance than fireplace inserts do. The chimneys must be swept regularly to keep debris and creosote buildup from starting dangerous chimney fires. In contrast, running a few air-cleaning filters through your built-in fireplace insert is all it takes to keep it functioning smoothly.
When comparing traditional fireplaces and fireplace inserts, it's clear that built-in units are the better investment for homeowners. They offer a number of benefits over their traditional counterparts such as energy-efficient heating, improved air quality and safety without compromising on style or aesthetics. They're much easier to clean too.
Choosing the Right Built-In Fireplace Insert
In order to determine your optimal built-in firebox, you have to consider where it will be located, existing ventilation, space and fuel types. Style and decorative accents may impact your final choice, but logistical and functional characteristics should be the main drivers of your decision.
Location is Everything…Well, Almost
The old real estate adage "location, location, location" conveys the importance of where something exists. When it comes to determining your fireplace insert options, where you are installing it establishes parameters for the acceptable size, positioning and fuel types.
Installing an Insert in an Existing Fireplace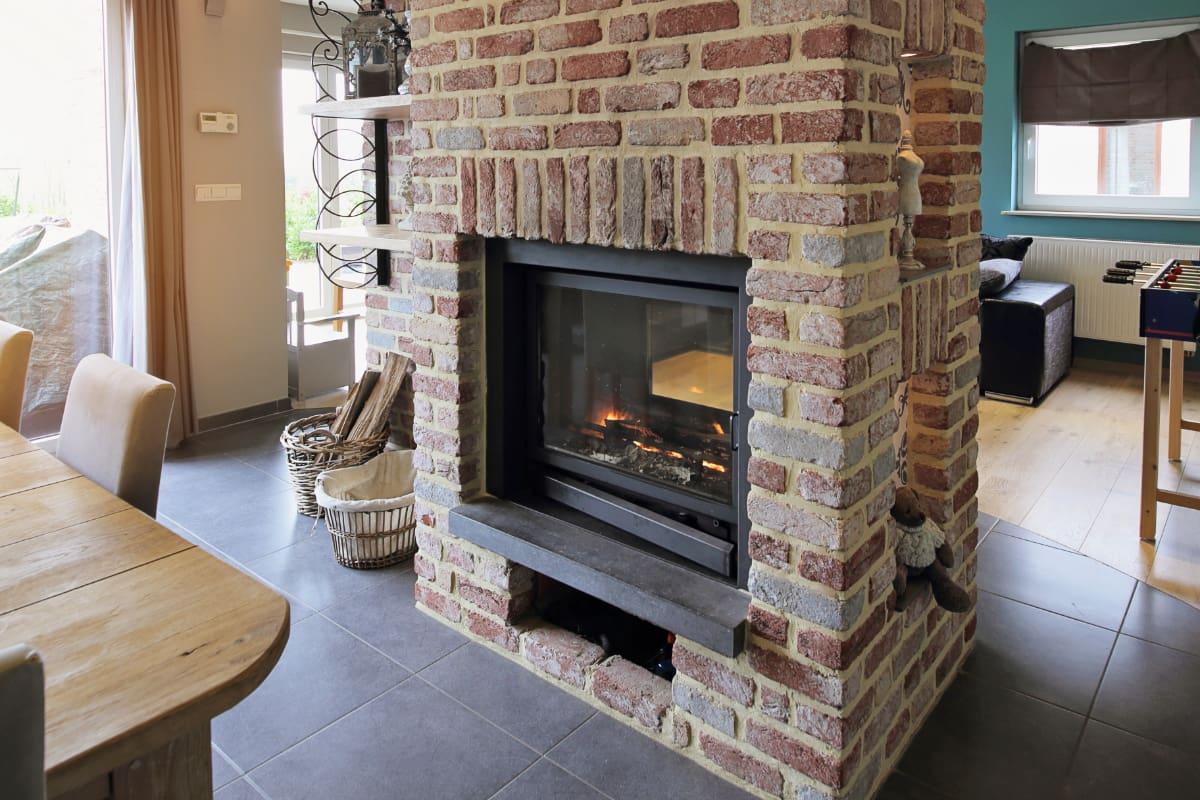 If you have an existing fireplace, then you can literally insert a metal firebox into the open space. Of course, you'll need to fill in the gaps around the unit to secure it in place and match the surrounding hearth material. Since there's already ample ventilation via the chimney and flue, you can install a fireplace insert that burns any type of fuel.
Placing a Built-In Fireplace in a Wall
If you're starting from scratch on a bare wall, you'll either need to hire a mason to construct a chimney (very expensive), add wall vents or install a ventless fireplace. Built-in fireplaces that don't need ventilation usually burn bio-ethanol fuel or are electric.
Outdoor Fireplace Inserts have Natural Ventilation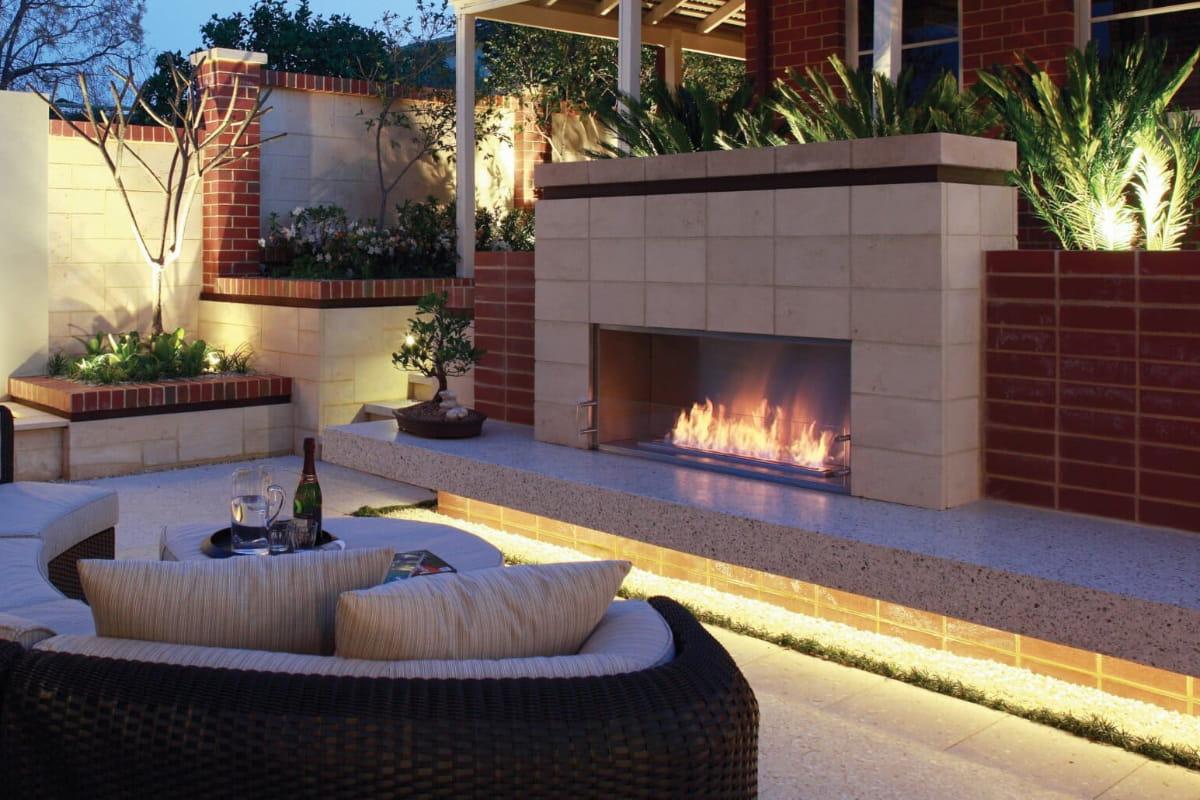 Installing a fireplace insert outdoors gives you a little more leeway on physical ventilation requirements (especially for gas). However, wind patterns can play havoc with wood-burning units that generate a lot of irritating smoke. Ideally, wood fireplace inserts are placed on the alee side of outdoor settings.
Surrounding Items and Clearances Matter
Proximity to flammable materials, seating and overhead covering also impacts the placement, size and recommended fuels. Each built-in fireplace insert has its own clearance requirements to ensure safe operation. Fuels burn at different temperatures and inserts vary in their likelihood of igniting nearby items. Additionally, larger units demand greater structural support than smaller ones, which may limit where they can be installed.
Fuel Types for Firebox Inserts
Built-in fireplace inserts typically burn one of five main fuels, each with its own set of advantages and disadvantages.
Wood
Gas (Liquid Propane or Natural Gas)
Bio-Ethanol
Pellets
Electric
Ideally, you want a fuel and fireplace insert that will fit your needs and preferences, while providing optimal performance and heating efficiency. Due to the nature and requirements of each fuel, different types of built-in fireplace inserts will be more appropriate for some circumstances and less for others.
Wood Burning Fireplace Inserts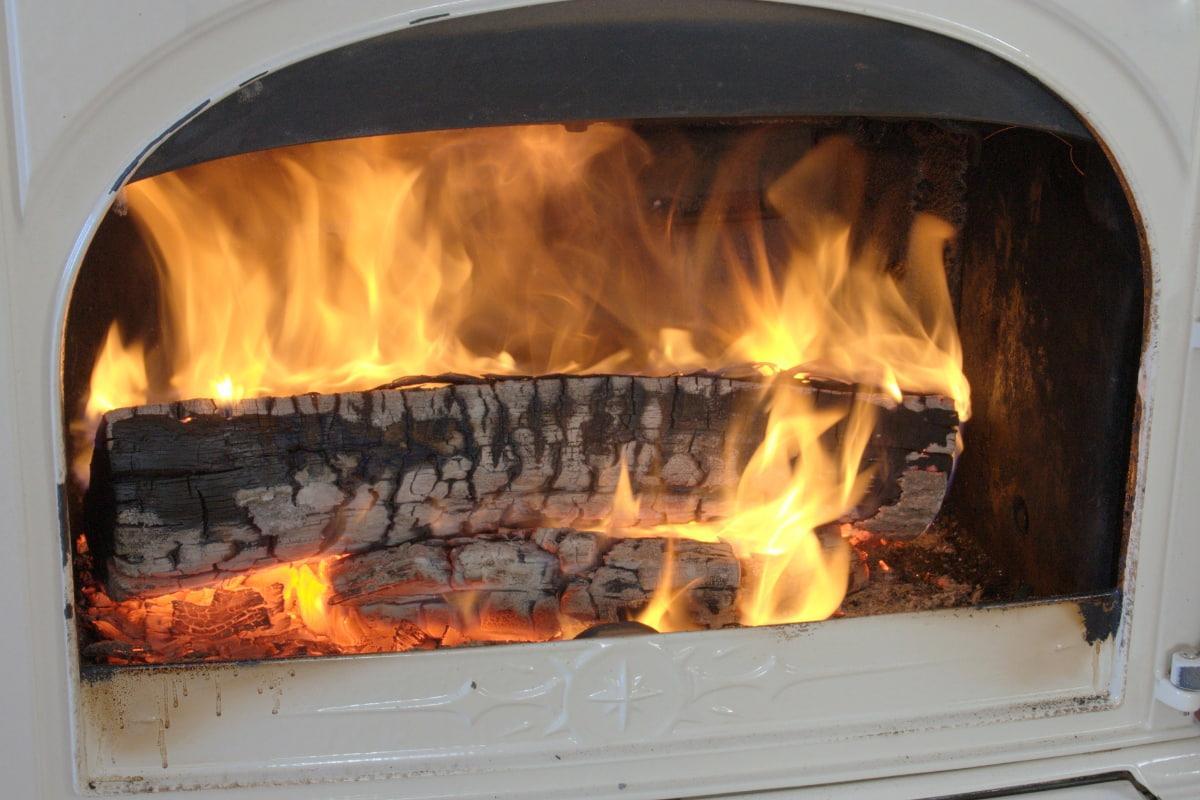 As the name suggests, wood-burning inserts use wood as fuel to generate heat. These inserts are designed to burn more efficiently and produce less smoke than traditional fireplaces with open hearths. Some models feature thermostats that can be programmed to maintain a consistent room temperature, while others have adjustable blowers that can help circulate warm air throughout your room. Wood-burning inserts, in particular, could be a great built-in fireplace option.
Wood-burning fireplace inserts can be fitted into a firebox and framed neatly within the existing hearth. They provide an eco-friendly alternative to traditional fireplaces by converting them into efficient heating systems that can reduce your overall heating costs. These inserts are designed to fit into most existing masonry fireplaces and come in a variety of sizes and styles to suit your preferences and maximize heating efficiency.
EPA Certified
Most wood burning fireplace inserts are EPA-certified, meaning they have been tested and approved to meet strict emission standards set by the Environmental Protection Agency. This results in efficient and responsible wood burning that produces less pollution than traditional fireplaces, similar to bio-ethanol inserts that also boast high heating efficiencies.
Three-Stage Combustion Burn Technology
Many wood-burning inserts feature three-stage combustion burn technology, which uses a series of air intakes to optimize combustion for a hotter and more complete burn. This innovative framing of the burn process results in higher temperatures and limited emissions that are better for the environment.
Regular Maintenance Needed
While wood burning inserts do require regular cleaning and maintenance, especially if used regularly, they can provide a cost-effective alternative to traditional heating methods in the long run. Like the bio-ethanol counterparts, with proper care and attention, they can last for generations while providing unmatched performance and style within their sturdy framework.
Wood-Burning Insert Sustainability
Wood-burning inserts are one of the most sustainable options since wood is renewable and carbon-neutral when sustainably harvested. Three-stage combustion burn technology in wood inserts results in a higher-temperature burn and limited emissions.
Think of it like this: burning wood that was sustainably harvested is like eating a piece of fruit from your own tree. It's satisfying and has a low environmental impact. In contrast, burning non-renewable resources like natural gas or propane is like eating fast food every day – it may be convenient, but it's not sustainable in the long run.
Gas Fireplace Inserts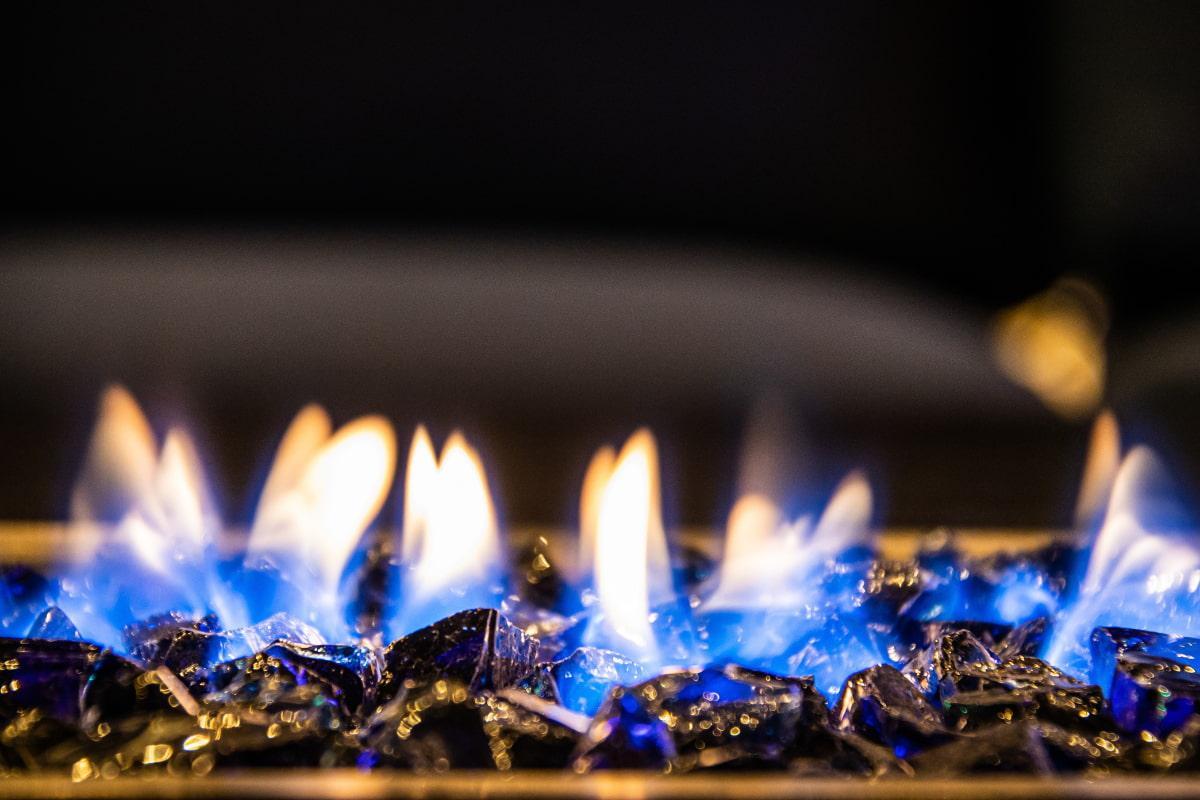 Fireplace inserts that burn natural gas or liquid propane are great, customized alternatives for homeowners who want efficient and low maintenance heating options. They provide the warmth and cozy ambiance of a traditional wood-burning fireplace without the hassle of chopping, storing and hauling firewood. An architect of warmth and comfort, these inserts blend seamlessly with your existing architecture.
Direct Vent vs. Vent-Free Gas Inserts
Gas fireplace inserts are easy to use and require little maintenance. They come in two types: direct vent and vent-free. Direct vent gas fireplace inserts draw air from outside the home for combustion and expel exhaust outside through a small vent pipe. Vent-free gas fireplace inserts utilize a catalytic converter system that burns off any remaining carbon monoxide before it can enter the room. They can be an excellent zero clearance solution due to their flexible installation options. Gas fireplace inserts without these mechanisms need to be ventilated to prevent harmful pollutants from filling the indoor air [2001 Dutton, Hannigan & Miller].
Gas Fireplace Inserts are Easy to Use
Consider a family living in the Northern part of the United States. The temperature dips to below zero during the winter season and they dread having to spend hours gathering wood, starting fires or cleaning the hearth every time they need for heat. However, with a gas insert they can simply press a button on their remote control or thermostat and enjoy instant warmth.
Efficient Heaters
Direct vent gas inserts are energy-efficient products that use sealed glass fronts and doors, with co-linear vent systems to bring all combustion air into the fireplace through a combustion air vent. Designed with the precision of an architect and the practicality of a builder, they ensure maximum heating efficiency. This setup ensures optimal heat transfer and 65%-75% heat efficiency in the room it's installed in. Unlike traditional fireplaces or gas logs, direct vent gas inserts have adjustable thermostats that control room temperature settings and blowers that help circulate warm air throughout large spaces. In contrast to their wood fireplace inserts counterparts, they offer controlled heating that doesn't require dealing with logs or ashes.
Environmental Consideration of Gas Fireplace Inserts
Some homeowners may be hesitant to install gas inserts because of the potential environmental impact of natural gas as a fuel. However, some manufacturers offer high-efficiency direct vent gas inserts with green technology features such as cool-to-the-touch surfaces, LED accent lighting options and eco-friendly fans that utilize energy from low-wattage motors. These efficient versions, designed by the skilled architects of builder technology, make a solid argument against conventional wood fireplace inserts which somewhat lack in green tech features.
While they are cleaner-burning than wood-burning inserts, propane and natural gas are still fossil fuels and have an impact on the environment. However, if you live in an area where natural gas is abundant and there are no other clean energy alternatives available, a gas insert may be the best choice for you.
Bio-Ethanol Built-In Fireplaces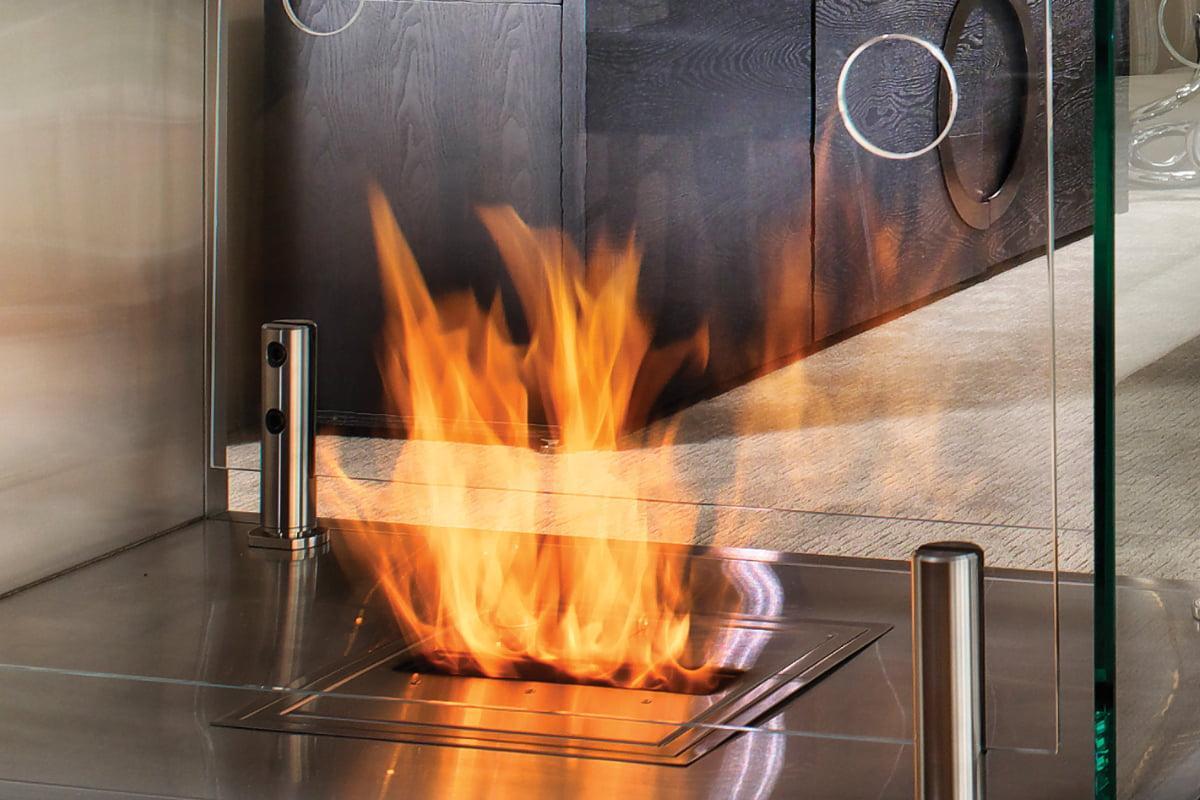 Eco-friendly bioethanol fireplace inserts burn liquid ethanol, which is a clean-burning fuel source that doesn't generate fumes or smoke. This sort of self-contained fireplace is becoming increasingly popular due to its convenience and efficiency. Ethanol fireplaces are easy to install and they don't require a chimney, venting system or utility connection lines. They're also relatively inexpensive to operate, as liquid ethanol is a much more affordable fuel source than propane (up to 35% cheaper) and doesn't have the huge upfront installation cost of natural gas.
Ventless Fireplace Inserts for Indoor or Outdoor Use
Since bioethanol doesn't produce toxic fumes or smoke that need to be vented, these self-contained fireplaces can be installed both inside and outside of your home. Ethanol fuels like e-NRG are low odor too, so you don't have the strong smell that comes with many gas models. Built-in bio ethanol fireplaces are smokeless, which gives you unlimited freedom to install them wherever you want on your porch or deck regardless of wind patterns. This makes them a smart alternative to wood burning inserts in windy environments.
Zero Clearance Means Construction Freedom
Bio-ethanol fireplace inserts are an ideal solution when there's no flue or chimney, perfect for those homes where an architect and builder have determined that neither gas nor wood fireplace inserts can be accommodated. Because there are no gas lines or electrical wiring, bio-ethanol built-in fireplaces are as simple to install in a wall as a new window. Many models are designed with zero clearance requirements, which gives builders and architects greater flexibility. Flush-mount, peninsula, island, double sided and other configurations add to the flexibility of some commercial-grade bio-ethanol fireplace inserts. Add decorative black glass charcoal or stones around burners for a stylish final touch.
Bio-Ethanol is a Heat-Efficient Eco-Friendly Fuel
Unlike other fuels that generate harmful emissions and smoke when burned, bio-ethanol releases only heat, steam and relatively low CO2. The efficiency of this green fuel is also increased by the fact that none of its heat is lost up a chimney, flue or other ventilation system. Bio-ethanol is a renewable fuel that is a by-product of a variety of plant sources which are easily replenished – making it a much more sustainable energy source than fossil fuels.
Pleasing Flames but Less Heat
While bioethanol has many benefits versus alternative fuels, it generates less heat when burned. Bio-ethanol built-in fireplaces produce an attractive orange flame that burns at a lower temperature than wood or gas. They provide some warmth on a chilly evening but don't radiate the heat of a roaring wood bonfire or gas fueled fireplace. The aesthetic qualities and ease of installation are bigger selling points for bio-ethanol fireplace inserts than the temperature of their flames [2010 Storesund, Mai & Sesseng].
Look for Certified Ethanol Fireplaces
If you're considering a bio-ethanol fireplace insert for your home, it's essential to choose only EPA or ISO-certified models since this ensures that your unit will burn with less pollution than uncertified models. Additionally, ethanol burners should be UL Listed, which guarantees that they have undergone rigorous testing by Underwriters Laboratories to meet the highest standards for sustainability and safety.
Pellet Fireplace Inserts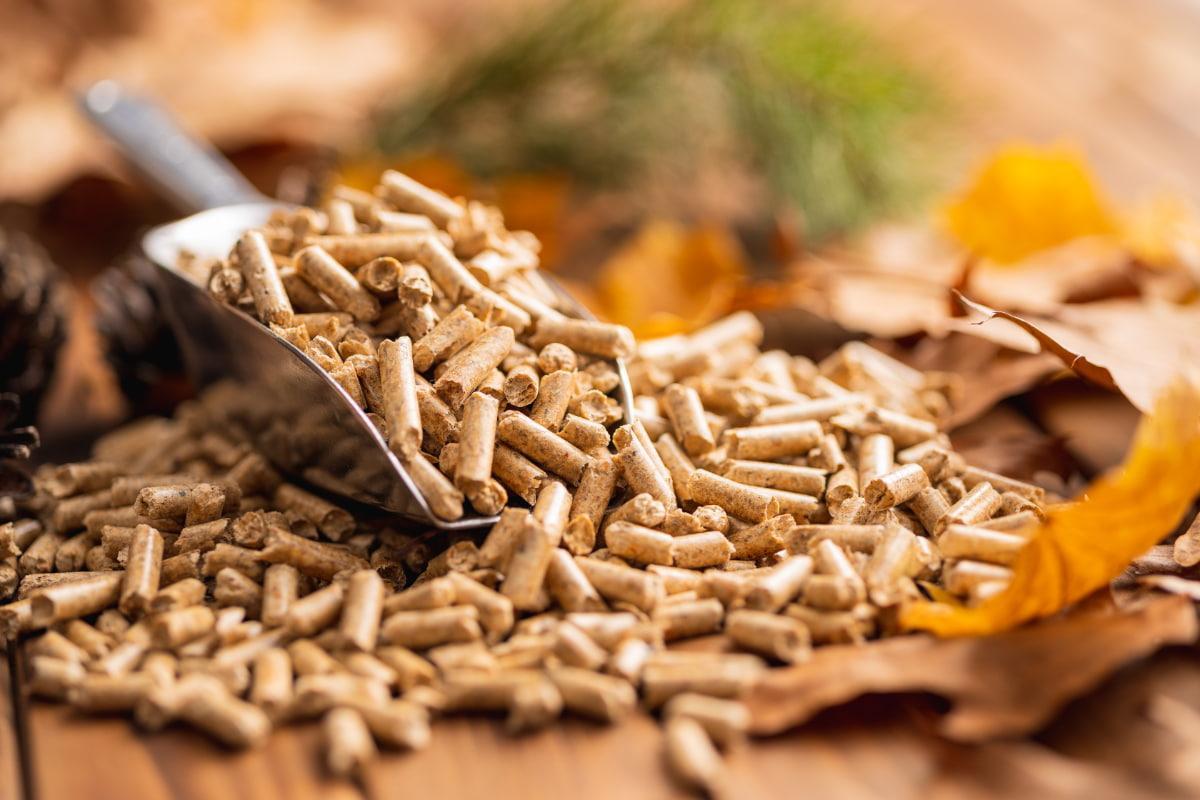 A fireplace insert that burns pellets creates a cozy ambiance and efficiently generates even heat whether it's placed in an existing fireplace or built into a wall. They're environmentally friendly and cost-effective solutions that offer many of the aesthetic qualities of wood-burning fires and the convenience of gas-burning versions. Though less messy than traditional fireplaces, pellet fireplace inserts require regular attention to keep them working properly. They also require an electrical connection to ignite.
Eco-Friendly Fuel Source
These modern fireplaces burn pellets made from compressed sawdust and wood waste, which are renewable and carbon-neutral. Unlike typical firewood, blended wood by-product pellets have a consistent moisture content more akin to seasoned wood and are as dense as hardwoods. These characteristics allow pellet fires to burn more evenly at higher temperatures and produce significantly less CO2 emissions [2013 Pa, Bi & Sokhansanj]. Recycled wood scrap pellets are available at some home supply stores in 40-pound bags or more and may come scented or flavored for pellet stove inserts.
Convection Heating Technology
In addition to the efficiency of the fuel source itself, pellet fireplace inserts incorporate advanced convection heating technology to improve heat distribution and control emissions. A fuel feeding system regulates the amount of pellets used per hour, while fans, acting as a blower, distribute heat evenly throughout the room. What little emissions are produced can be vented through a pipe in the wall without the need for a chimney. Pellet fireplaces have an average efficiency rating of 75%-90%, making them one of the most efficient heating options available.
So, instead of paying for expensive gas or electricity bills to heat a home during winter, homeowners can choose to install a pellet insert that's environmentally friendly and cost-efficient! The blower system is convenient, in part, because its compact dimensions allow it to easily fit into existing or even ventless fireplaces.
However, one disadvantage of pellet inserts is that they require some electricity to operate. If your power goes out during a winter storm, you'll be left without heat unless you have backup power or another heating source.
Maintenance of Pellet Burning Fireplaces
Although pellet fireplace inserts are much less of a hassle than traditional wood-burning fires, the ash from burning pellets must be removed regularly. Each pellet insert, especially the blower, needs to be cleaned every few months to prevent clogs and malfunctioning. Additionally, you should consult the manufacturer's user guides for how to maintain any pellet feeder systems.
Electric Built-In Fireplace Inserts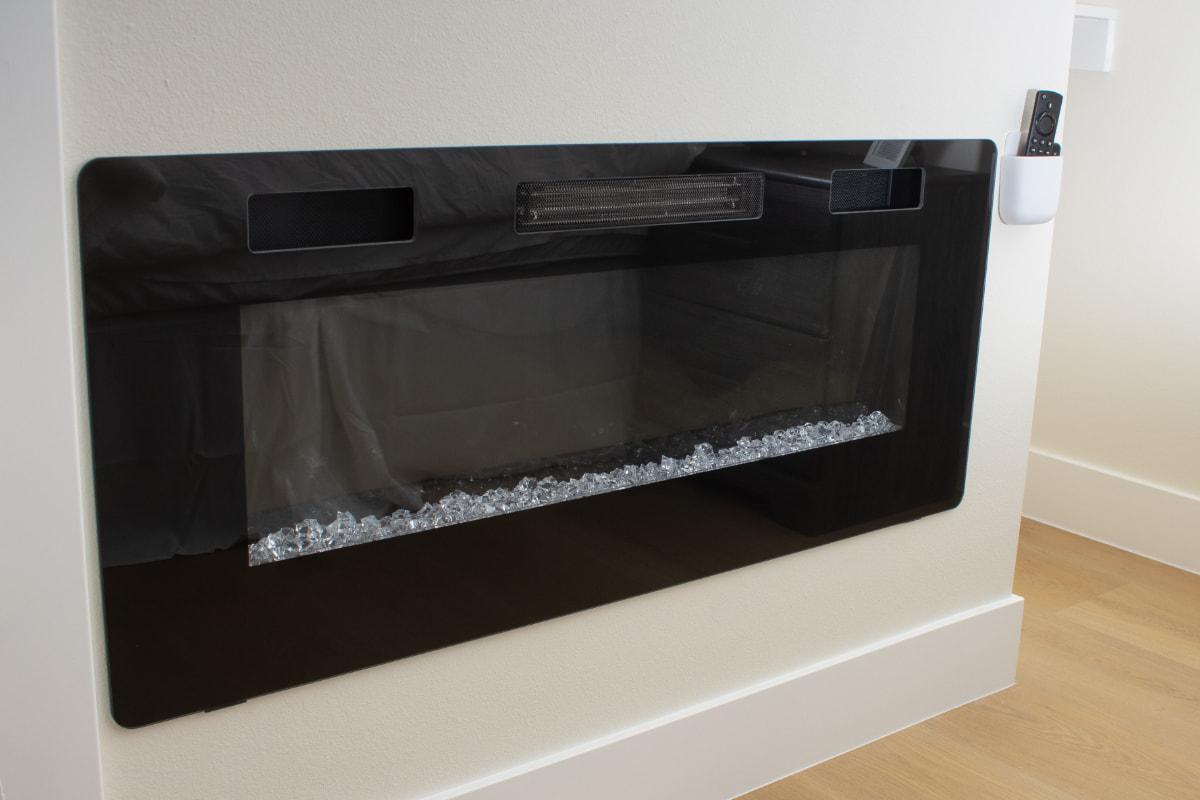 Electric fireplace inserts, the last but certainly not least attractive built-in option, offer a sense of coziness and warmth without the need for wood, gas or liquid fuel at all. These inserts use electricity to generate heat, making them an excellent selection for those who desire an easy-to-use, low maintenance heat source. However, like any appliance, they do require regular cleaning and maintenance to ensure proper functionality and optimal heating efficiency.
Electric Inserts are Easy to Install
These electrical units can be placed in an existing fireplace, framed in a firebox or wall-mounted like a TV. They come in a variety of styles to complement any home decor and coordinate with the architecture of your indoor living space or covered outdoor setting. Built-in electric fireplaces may be plugged into standard outlets or connected through power cables in the wall like flatscreen TVs. Their compact design and minimal clearance requirements give builders a lot of leeway in where these inserts can be safely installed.
Realistic Flame Without the Mess
Electric fireplace inserts generate adjustable heat and recreate the look of real flames via an LED screen. Some versions allow you to change the flame colors, flame brightness and even the size for an even more customized experience. Electric fireplaces are a great way to add a cozy and inviting atmosphere to any room. Small versions can be used to provide ambient and accent lighting to enhance the overall look of your space. These faux fires also have no residual ash or soot to clean – bonus!
Controlled Heat for Year-Round Use
Linear electric fireplace inserts have adjustable heat settings, so you can enjoy the warmth of a real fire without the hassle of a traditional fireplace all year long. Settings are typically managed via a remote control or a touch screen panel set into a nearby wall. You can even set a timer so units turn on automatically at designated times.
Safe and Energy-Efficent Heater
Contemporary electric built-in fireplaces efficiently convert energy into heat – some using only the equivalent power of a light bulb. While they generate heat, electric fireplace inserts have screens that are cool to the touch. They're great for crowded areas or where there are children with curious hands.
Which Fireplace Insert Fuel is Best for You?
Ultimately, it's important to determine which fuel type aligns with your preferences, meets the requirements of your setting and fits within budget constraints.
According to the National Fireplace Institute, an efficient wood-burning fireplace insert can heat up to 2,000 square feet of living space.
EPA-certified wood-burning fireplace inserts have been found to reduce wood use by up to 30% through variable-rate control models.
A study by the Hearth, Patio and Barbecue Association (HPBA) showed that approximately 70% of fireplace insert purchases in 2022 were either direct vent gas or high-efficiency pellet inserts.
Bio-ethanol and electric fireplace inserts are 100% energy-efficient (since no heat is lost to venting), while gas versions reach the low 80% range and wood-burning models only upper 70% at best (traditional wood fireplaces are only 10% efficient).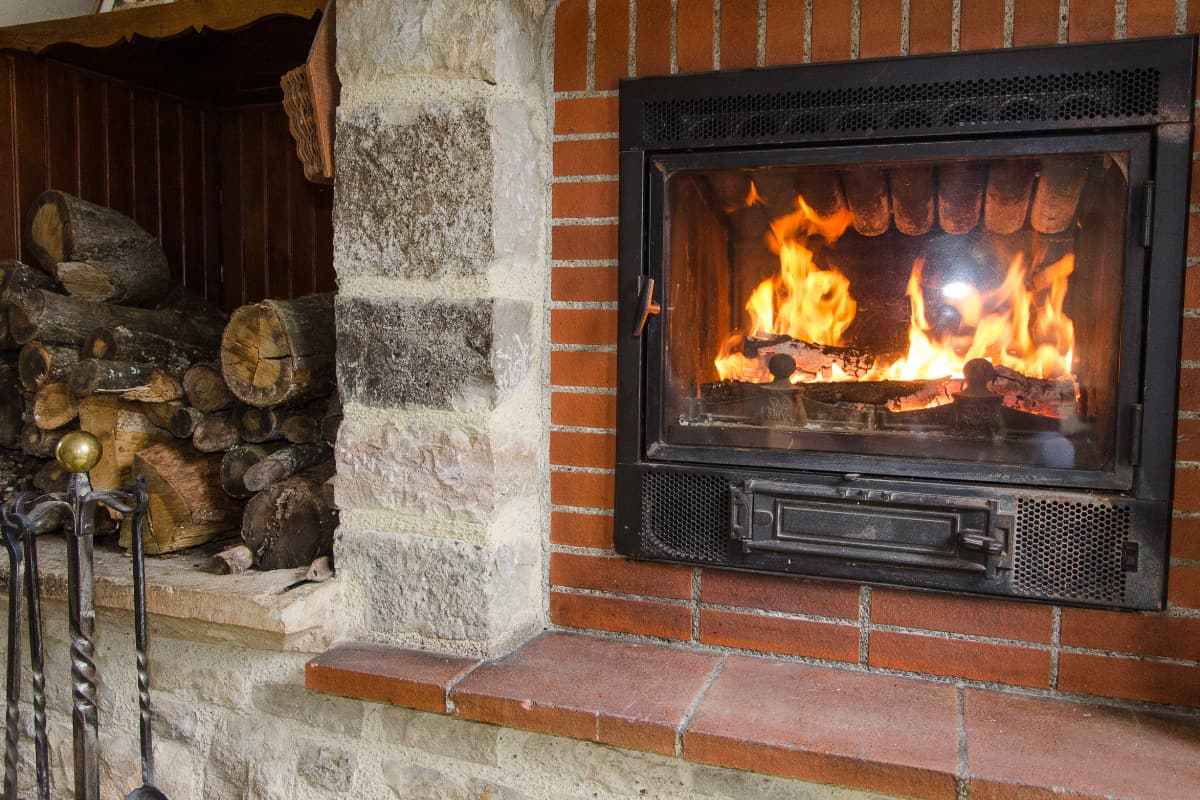 When to Choose Wood
If you're looking for a traditional feel and the crackling sound of logs burning, then a wood-burning insert may be right for you. These fireplace inserts use wood as fuel and offer a high level of heat output. One advantage of wood-burning inserts is that they can be a cost-effective heating option if you have access to free or low-cost firewood.
On the other hand, if you don't have easy access to firewood, it can be expensive to purchase in large quantities. Also on the downside, they produce smoke that needs to be vented and the residual ash and soot need to be cleaned up regularly. They're also harder to control and you have to watch out for sparks and flying embers.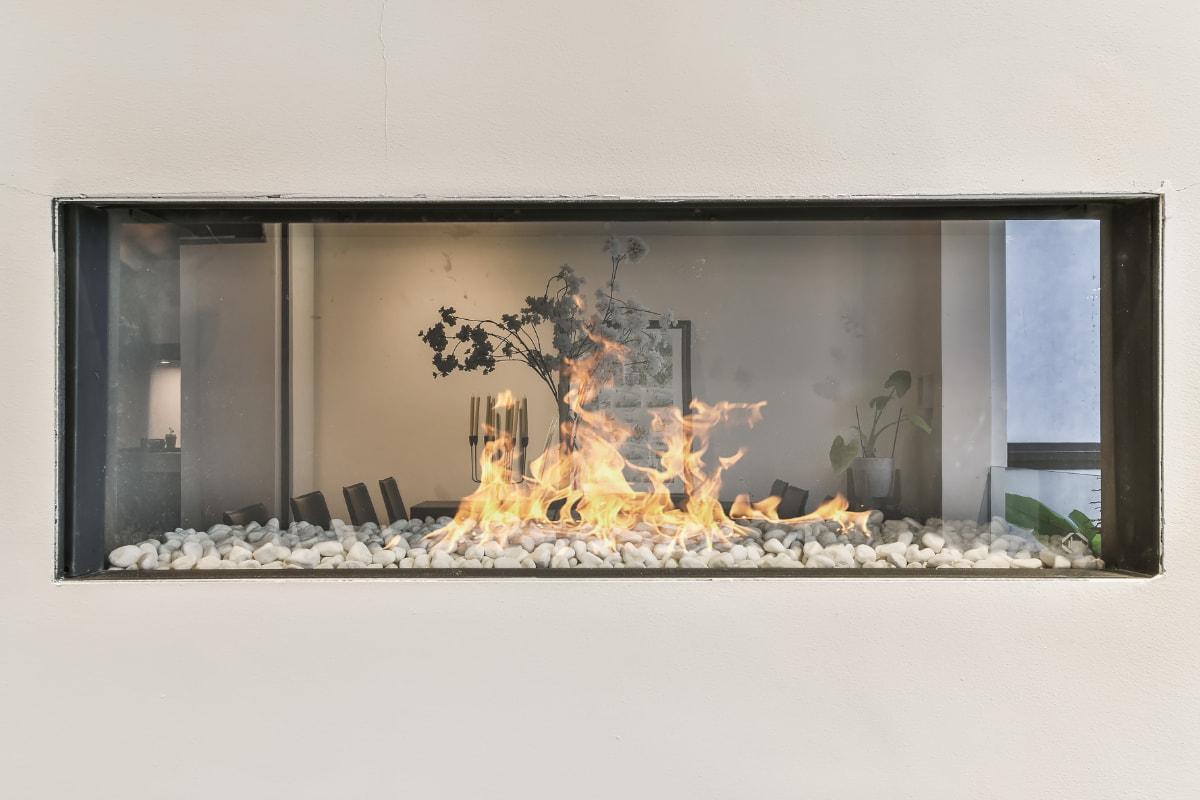 When to Opt for Gas
Gas inserts, on the other hand, offer convenience and ease of use. With just the flip of a switch or press of a button on a remote control, you can have instant adjustable heat with no mess or fuss. They also burn cleaner than wood-burning inserts and require less maintenance.
However, while the fuel may seem cost-effective compared to other options, many people forget about added yearly maintenance costs such as annual inspections and possible pilot light issues. If you don't already have a line to natural gas or propane, you'll also incur heavy upfront costs to hire a plumber to install the tanks and make the connections. Gas versions also produce an odor that may be noticeable.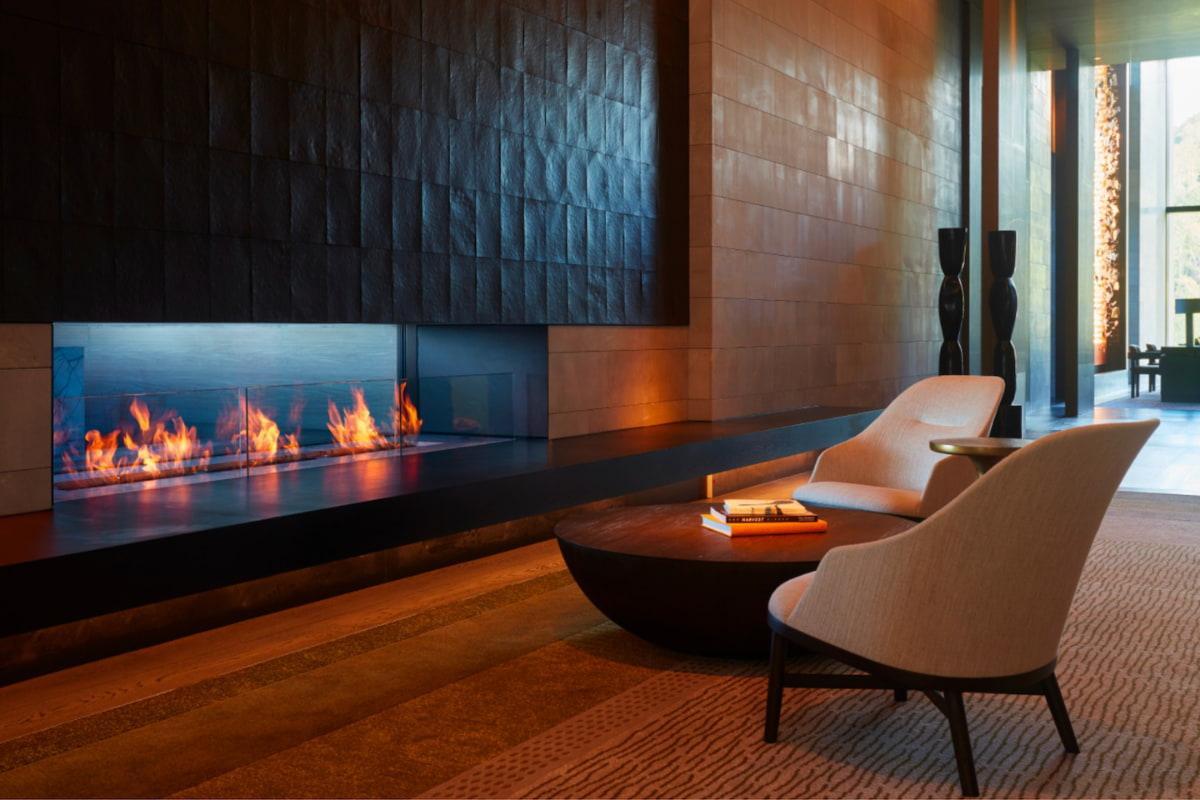 When Bio-Ethanol is Best
If you want to create a mesmerizing ambiance and don't need the heat of a raging bonfire, bio-ethanol built-in fireplaces are ideal. You get the glow of controllable dancing flames without odors, fumes or smoke. They can be installed indoors or outdoors and you don't have any mess with these eco-friendly, clean-burning fireboxes.
They aren't as enticing when the weather turns frigid and bio-ethanol fuel can be expensive compared to other options.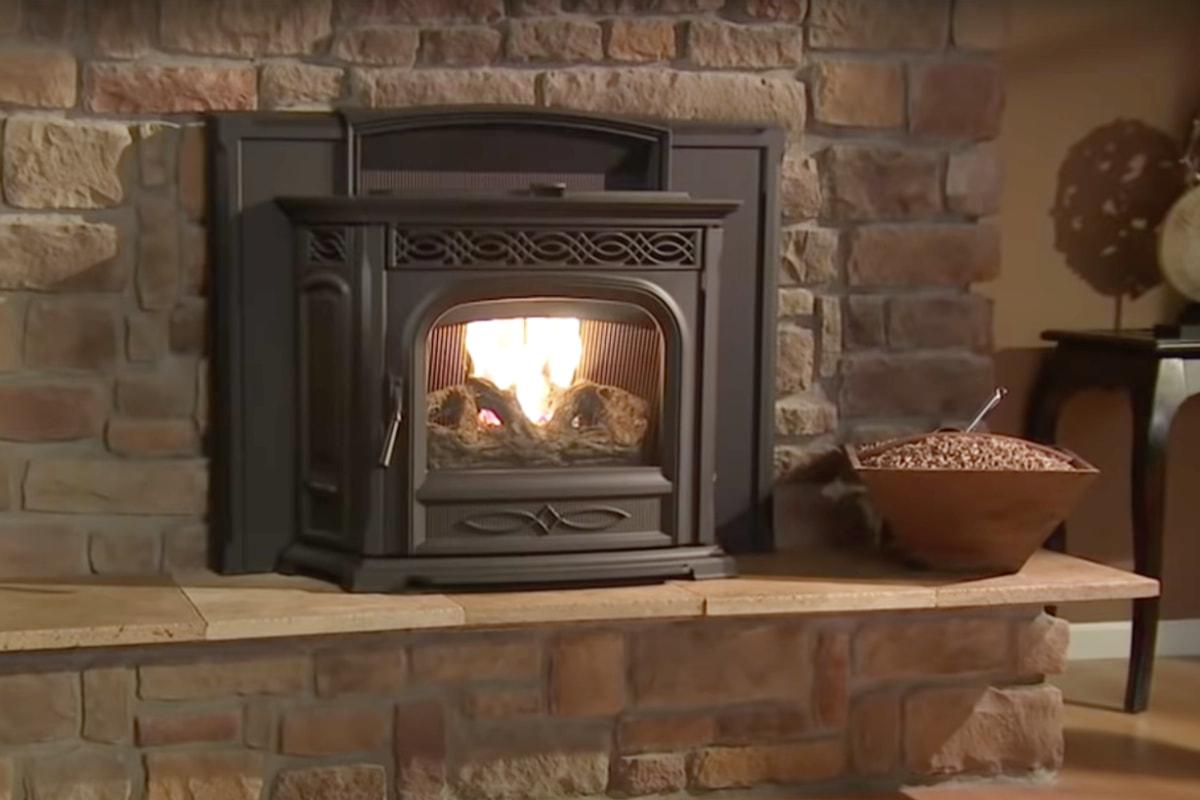 When to Select Pellets
Pellet inserts combine the convenience of gas with the traditional feel of burning wood. They burn cleaner, more consistently and hotter than regular firewood, while producing fewer emissions. Some people even consider pellet inserts to be more sustainable than wood-burning ones since pellets are made from sawdust and other recycled wood waste materials.
The availability of compressed wood pellets varies greatly by geography, so you may be forced to order them online to ensure you have a ready supply when winter hits.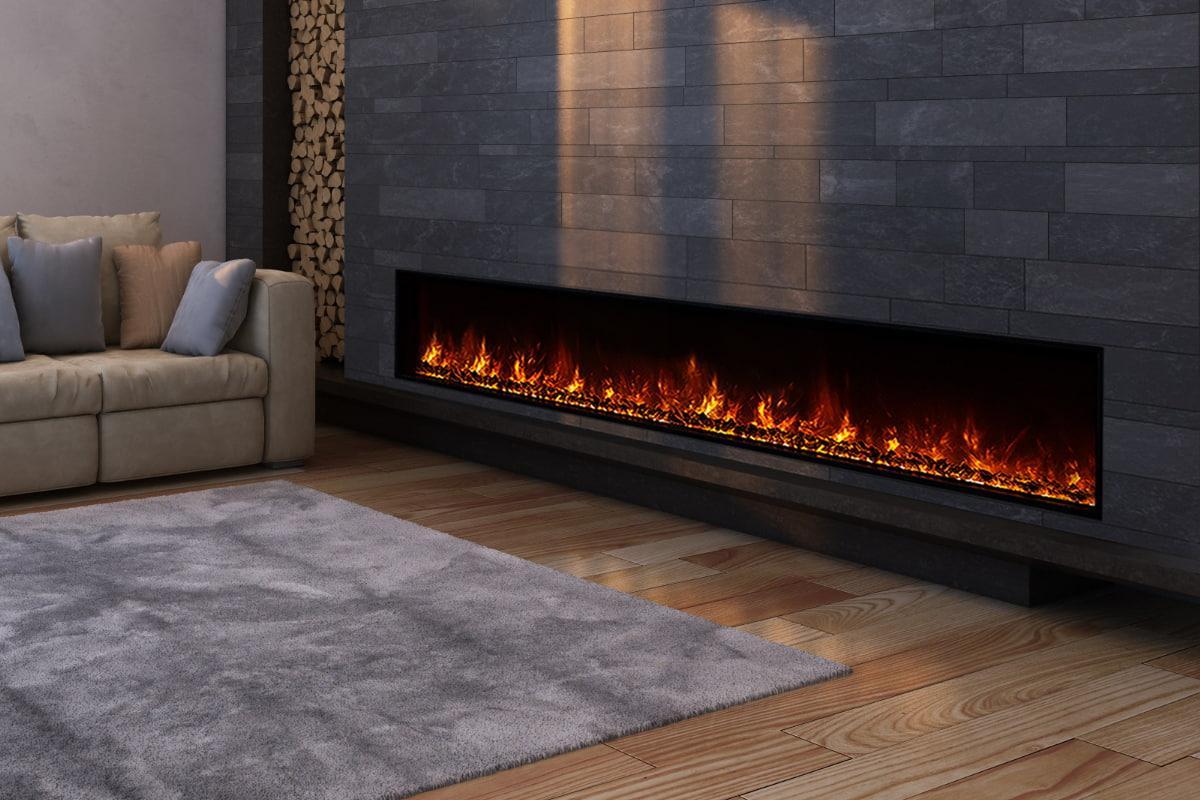 When Electric is Optimal
If you want the look of an open fire but without the hassle of buying fuel, igniting the flame, venting fumes or cleaning up afterward, then an electric fireplace insert might be for you. Electric fireplace inserts generate controlled heat safely, efficiently and without fumes. They're a great way to add warmth and ambiance to any room, without the hassle of a traditional fireplace.
The only drawbacks of an electric built-in fireplace are that you don't get that open wood fire aroma and your monthly bills vary greatly (like all major appliances) depending on the season.
What's the Appropriate Size Fireplace Insert for Your Space?
Once you've settled on a particular fuel, you're ready to figure out just how big an insert you need. Choosing the right size of a fireplace insert is crucial to ensure that it can efficiently heat your home without wasting energy. To determine the appropriate size, you need to consider several factors:
Dimensions of the room or setting you plan to heat
The room or area's insulation level
Dimensions of your existing fireplace or available wall space
Climate in your area
Determine the BTUs Needed to Heat Your Space
One useful metric to use when sizing a fireplace insert is its heating capacity, measured in British Thermal Units (BTUs). A rule of thumb is that for every square foot of space in the room, you need around 20-30 BTUs. For example, if you have a 1,000 square feet living room, you would need an insert with at least 20,000-30,000 BTU output.
The efficiency rating of an insert is related to its heat output. The higher the efficiency rating, the more heat it will produce using less fuel. Look for models certified by organizations such as the Environmental Protection Agency (EPA) or industry groups like the Hearth Patio Barbecue Association (HPBA).
Assess the Space's Ability to Hold Heat
Rooms with thin walls, lots of windows and little insulation will lose heat more quickly than those with the opposite characteristics. Similarly, outdoor settings (especially uncovered ones) will lose a lot of heat as it rises and spreads outside the main area. Consequently, you'll need inserts with higher capacities to maintain the temperature.
Measure Your Installation Site
Before purchasing a built-in fireplace or insert, it's crucial to measure your existing fireplace or available wall space correctly, so you can find an insert that fits properly. An estimate may be okay to start but, as you narrow your equipment options, you don't want to leave anything to chance.
Existing Fireplace
Start by measuring the height and width of the fireplace opening at its widest point (usually near the bottom). Then measure the depth from front to back inside the fireplace (the distance between the firebox itself and where it meets the front of the fireplace).
In addition to these measurements, you should measure your fireplace's back-wall, hearth and mantle height to get a sense of how much of a gap you may need to account for if you want to create a seamless look that blends with your existing decor style and color palette.
Usable Wall Area
Measuring your wall for ventless fireplace inserts or ones that don't need a chimney may seem like a no brainer. It's just a wall, right? How hard can that be? Actually, it's a lot more complicated than you think.
Sure, you may have a huge 8 by 5 foot space on drywall facing your living room or outdoor lounge but how thick is it and what's inside? You typically think of the facade of a fireplace insert but it has depth that needs to be accounted for and supported. What about electrical lines and piping in the walls? Where are the studs and framework that will need to form part of the framing support for the insert?
Understanding blueprints and design schematics is critical when planning a fireplace insert installation.
If you feel unsure of your measuring abilities, consider hiring a professional installer to come out and do it for you or guide you through the process. Incorrect measurements could cause irreversible damage during installation that can be costly in both time and money. Ask questions early to avoid a problem later on. Their business depends on an up-to-date knowledge of legal and safety requirements for a variety of residential and commercial properties, so lean on them.
Think of measuring your fireplace or wall like measuring yourself for clothes – the right measurements make all the difference in finding something that fits well and looks great. It may take some effort to get these measurements right, but doing so will make all the difference in choosing an insert that works perfectly for your patio or bedroom.
Consider Your Climate
If you live in a temperate zone where is gets cool but not too cold, then you probably don't need to raise the temperature much. Conversely, Northern areas as well as low and high altitudes can experience frigid winters and dramatic drops in temperature at night. These climates require more heat to stave off the cold.
Safety Codes and Installation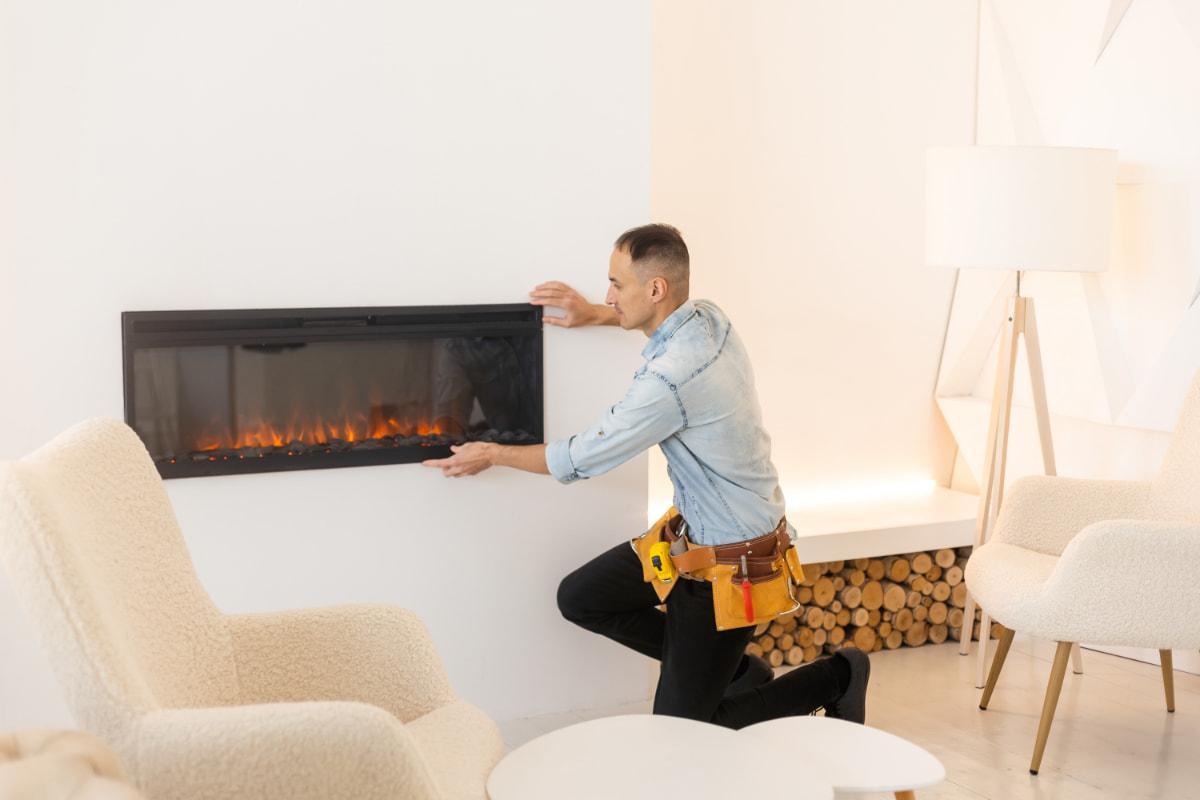 Lastly, even if you've diligently done your homework, there are always regulations, building codes and ordinances that govern home upgrades. They vary by locale and are continually updated. Once you're comfortable that you know what you want and need to meet your objectives for the setting, it's best to consult with a professional installer familiar with local codes and requirements. They can assess your home and confirm your choice or recommend a model that matches your heating needs and fits your budget.
Installing built-in or fireplace inserts is easier than building a traditional brick or stone fireplace from scratch but it's not for the casual DIY craftsman. An installation error that results in less than pleasing aesthetics is one thing. Improperly securing or connecting a fireplace that becomes a fire hazard that could destroy your property and put lives at risk is another. Play it safe and hire a professional or two to do the job right and safely.
Frequently Asked Questions – Fireplace Inserts
When it comes to selecting the perfect fireplace insert, there are a few common mistakes that many people make. Here are three key pitfalls to avoid:
Choosing the Wrong Size: One common mistake that homeowners make when selecting a fireplace insert is choosing one that is either too small or too large for their space. If your insert is too big, it can overheat the room, leading to discomfort and potential fire hazards. On the other hand, if your insert is too small, it may not be able to adequately heat the area you want it to. The best way to choose the right size insert is by measuring your fireplace and consulting with a professional.
Focusing Only on Aesthetics: While it's certainly important to choose a fireplace insert that matches the style of your home, make sure you're also considering factors like efficiency and safety. According to the U.S. Department of Energy, inefficient wood-burning fireplaces can lose up to 90% of their heat through the chimney! That's why it's essential to choose an insert that not only looks great but also performs optimally.
Ignoring Installation Requirements: Installing a fireplace insert isn't as simple as plugging it in and turning it on. You'll need to consider factors like proper ventilation, sizing and insulation for your particular model, and local building codes (which may require permits). Ignoring these requirements could result in a poorly functioning or even dangerous installation.
In summary, when selecting a fireplace insert, avoid mistakes such as choosing the wrong size, focusing only on aesthetics, and ignoring installation requirements. By taking into account these essential factors, you'll be sure to choose an efficient and safe option that will provide both warmth and visual appeal for years to come!
Yes, there are specific requirements and regulations for installing a fireplace insert. In the US, the Environmental Protection Agency (EPA) has established emission limits for wood-burning appliances, including fireplace inserts. These emission limits vary by state but generally require that new wood-burning appliances emit no more than 4.5 grams of particulate matter per hour.
In addition to EPA regulations, local building codes often have specific requirements for chimney and venting systems, clearances to walls and ceilings, and fuel storage. It is important to consult with a licensed professional to ensure compliance with these regulations and avoid any safety hazards.
According to a study by the National Fire Protection Association, heating equipment is the second-leading cause of home fires in the US, accounting for 15% of all reported home fires from 2014-2018. Proper installation of a fireplace insert can reduce the risk of fire and improve indoor air quality.
In summary, when considering purchasing a fireplace insert, it is essential to consult with a licensed professional who can guide you through the specific requirements and regulations in your area. By doing so, you can ensure compliance with regulations, reduce the risk of fire, and enjoy the benefits of an efficient heating source.
Proper maintenance is key to ensuring the longevity of your fireplace insert. Here are a few tips you can follow:
Clean the Insert Regularly: Regular cleaning of the fireplace insert helps prevent the build-up of creosote, which can be a fire hazard. Use a vacuum or brush to clean the insert, and don't forget to remove the ash at least once a week.
Have it Inspected Annually: It's essential to have a professional inspect your fireplace insert every year, especially if it is a gas-powered insert. An annual inspection will ensure that everything is functioning correctly and detect any potential problems.
Check the Chimney: A clogged or dirty chimney can cause airflow issues, leading to poor performance of your fireplace and potentially hazardous carbon monoxide buildup. Check that your chimney is clear before starting up your insert.
Use Only Wood or Fuel Recommended for Your Insert: Some fireplace inserts are designed to burn certain types of wood or fuel. Make sure you follow manufacturer recommendations when selecting what to burn in your insert.
By following these maintenance tips, you can ensure that your fireplace insert functions safely and efficiently for years to come.
According to the National Fire Protection Association (NFPA), there were an estimated 22,500 residential building fires involving fireplaces, chimneys, or chimney connectors annually in 2014-2018 in the US alone. Proper maintenance and upkeep can significantly reduce the risk of such fires occurring.
In conclusion, investing time and effort into maintaining your fireplace insert not only enhances its lifespan but also ensures your safety and well-being as well as that of others around you.
References
Dutton, S. J., Hannigan, M. P., & Miller, S. L. (2001). Indoor pollutant levels from the use of unvented natural gas fireplaces in Boulder, Colorado. Journal of the Air & Waste Management Association, 51(12), 1654-1661.
Storesund, K., Mai, T. T., & Sesseng, C. (2010). Ethanol-fuelled, flue-less fireplaces-An evaluation.
Pa, A., Bi, X. T., & Sokhansanj, S. (2013). Evaluation of wood pellet application for residential heating in British Columbia based on a streamlined life cycle analysis. Biomass and Bioenergy, 49, 109-122.