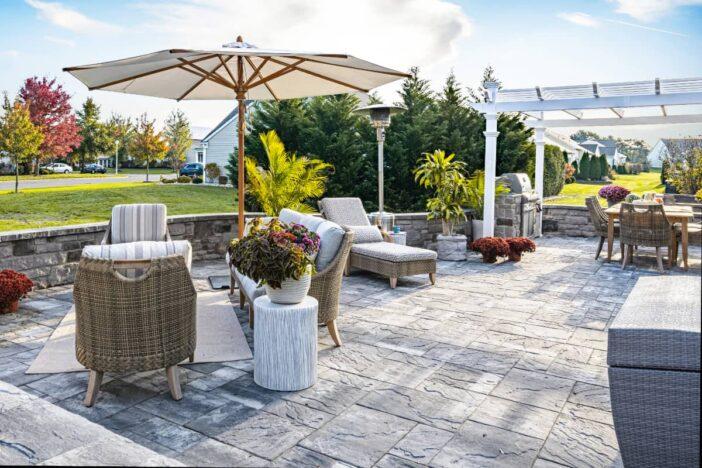 82% of home buyers want a patio on their property; this shows how much we value our outdoor space. So if you've got one, then count yourself lucky!
But just because you've got a patio doesn't necessarily mean you're utilizing the area to its full potential. Owning high-quality pieces is only one part of the equation.
If you don't know how to arrange patio furniture, then it'll look like a mess. Not only that, but it can even create a claustrophobic feeling if you're not positioning each element correctly.
Don't let that beautiful outdoor space go to waste. Read on to find out how you can put your patio furniture in the right configuration.
Know Your Patio's Dimensions
Let's face it: your outdoor space isn't as big as a celebrity's. And it probably doesn't have the same shape as your neighbor's.
What we're trying to say is that you shouldn't be ripping off other people's ideas, at least not completely.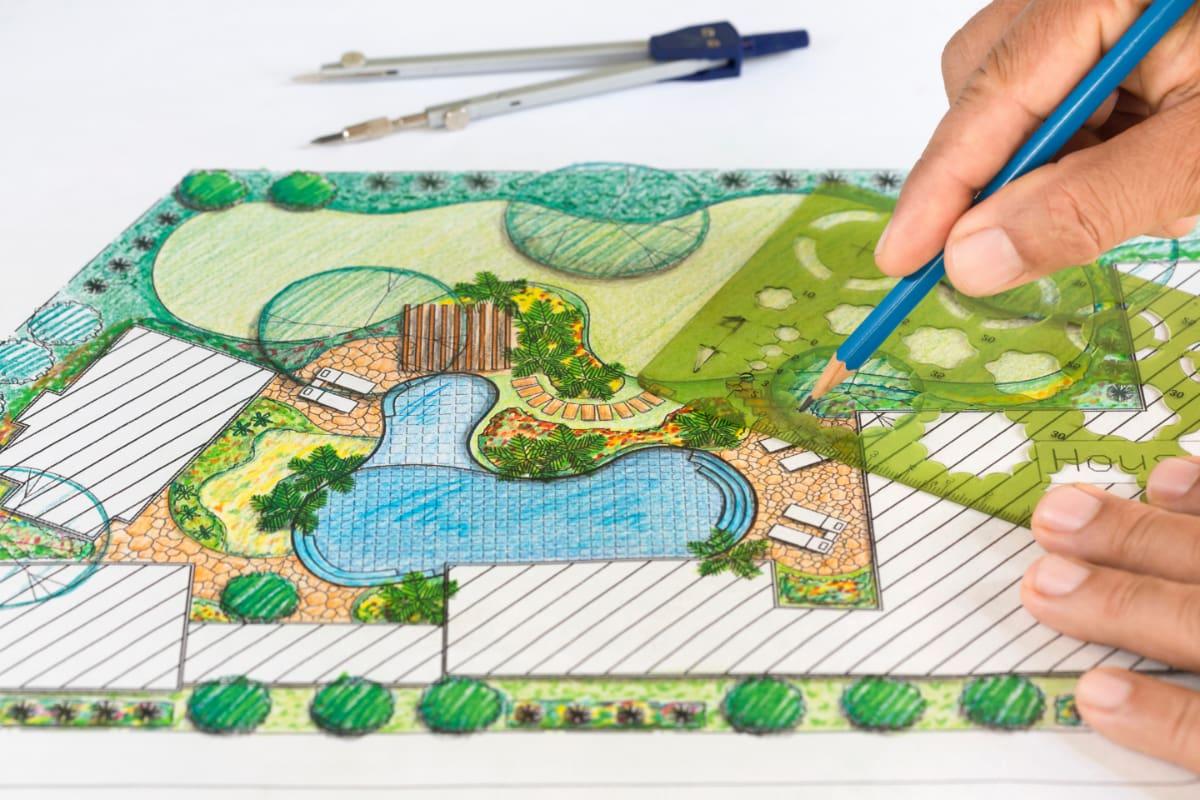 You need to first understand what size and shape your patio is. Don't forget to account for fixed features, such as grills, hot tubs, pools, walls, etc. This will ensure that you have enough room and that you can get to and from your patio without having to climb over a coffee table.
From there, you can get a rough estimate of how many furniture pieces you can fit, and how big they can be. Write these numbers down, since eyeballing the sizes won't do. You don't want to end up with oversized lounge chairs that you need to return!
Determine Your Patio's Purpose
This might seem like a deep question, but it really isn't. Essentially, there are three things you can use the space for: entertaining, lounging, and/or dining.
Each purpose will have its own specific needs, and not every piece you currently have may fit. So it might be time to say goodbye to them to make room for a more effective arrangement.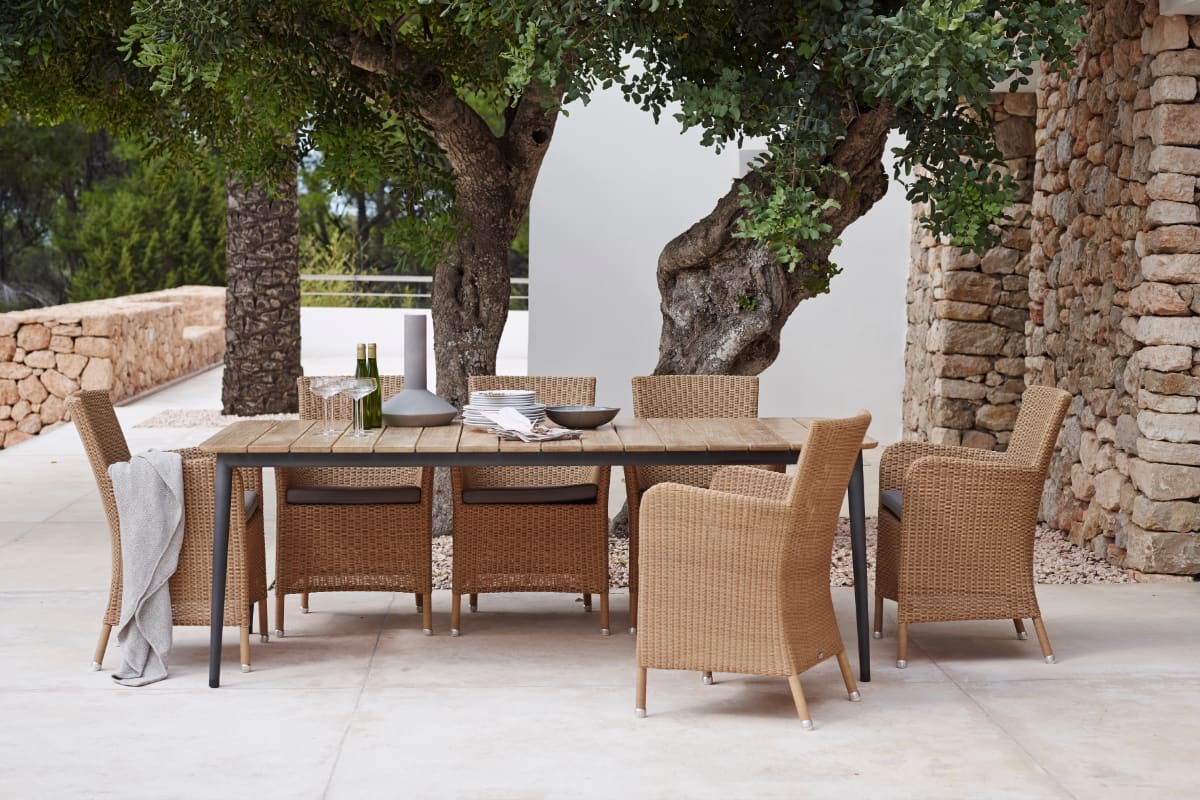 For entertaining, you'll want to focus on seats and sofas so your guests can be comfortable. Tables are useful too, so they can place their drinks and food conveniently. These should all be scattered around a focal point (more on this later) so people can mingle easily.
For lounging, you'll obviously need some luxurious and comfortable seating. If you want to get fancy, and have the room for it, then daybeds work too. A few side tables can be handy; you can place your drinks, books, magazines, and devices on them while sunbathing.
For dining, you'll need chairs and a large table to accommodate gatherings. Make things easier on yourself and put these next to the kitchen, so you're not running back and forth to get food on the table.
Get the Right Furniture (If Needed)
Now that you know how big your patio space is, and you've determined its purpose, it's time to go shopping. Even if you're not moving into a new home and aren't working with a blank canvas, there's a good chance you need replacements or additions.
Before you get started, keep these things in mind:
How many people you'll usually entertain
Your personal style
The local weather
Your answers will help point you toward the appropriate materials. For example, if you entertain large groups, like a bohemian look, and live by the beach, then wicker might be ideal for you.
Don't forget to pick up some accent pieces too. These can really spruce up your patio and tie everything together. And a bonus is they can provide some extra storage space too!
Pick a Focal Point
You've got all the ingredients. Now, it's time to create a masterpiece!
You'll want to arrange your patio furniture around a focal point, which is something that's the center of attention. Most people like using a coffee table, but it can be anything else, like a fire pit, grill area, pergola, fountain, or pond.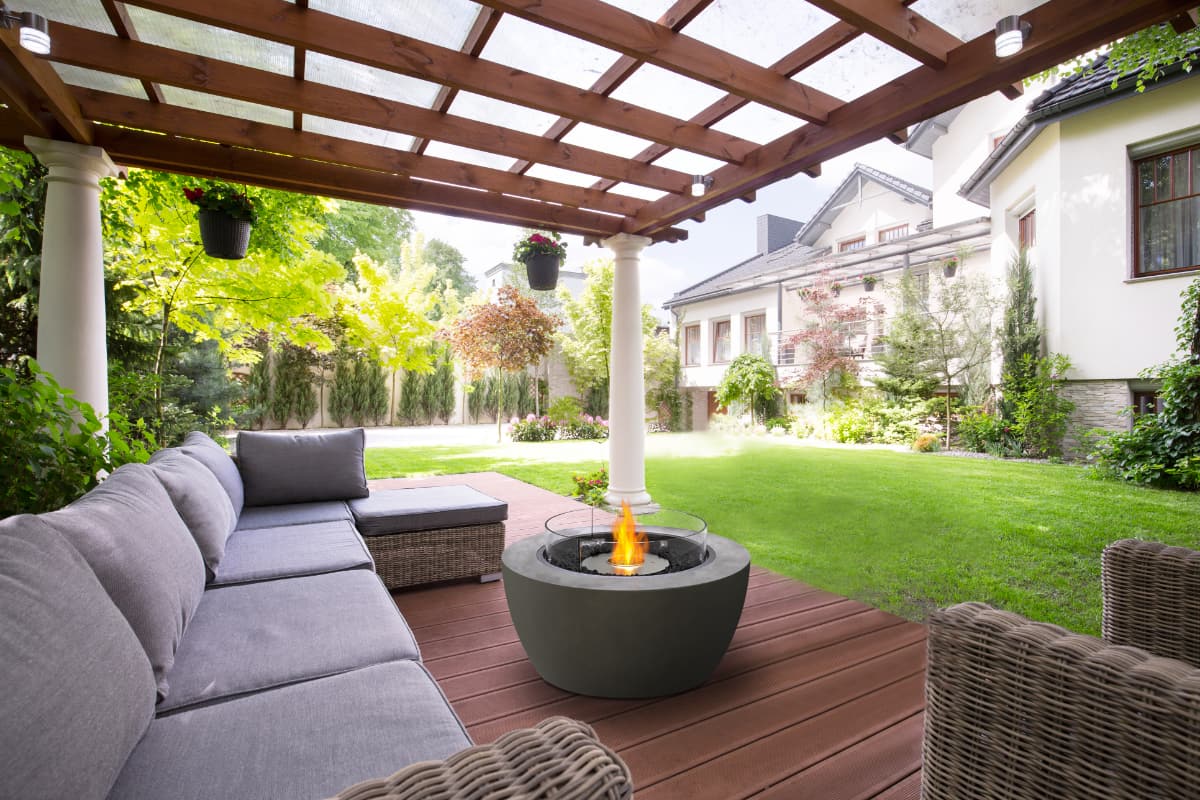 You can even get creative and arrange your pieces to highlight a mountain view in the distance! Just make sure that everyone can enjoy the same view from every position.
If you do this correctly, not only will the furniture look nicely placed, but it'll also have a natural flow of traffic.
Leave Enough Room for Traffic Flow
Speaking of traffic flow, you can't cram your patio furniture into all available space and call it a day. We're not playing The Sims; you and your guests can't walk on or through the coffee table, and getting off the chair to drop straight onto the lawn isn't pleasant.
This is where your prior measurements come in handy. Take advantage of your patio's natural dimensions to create intuitive walkways and gathering areas.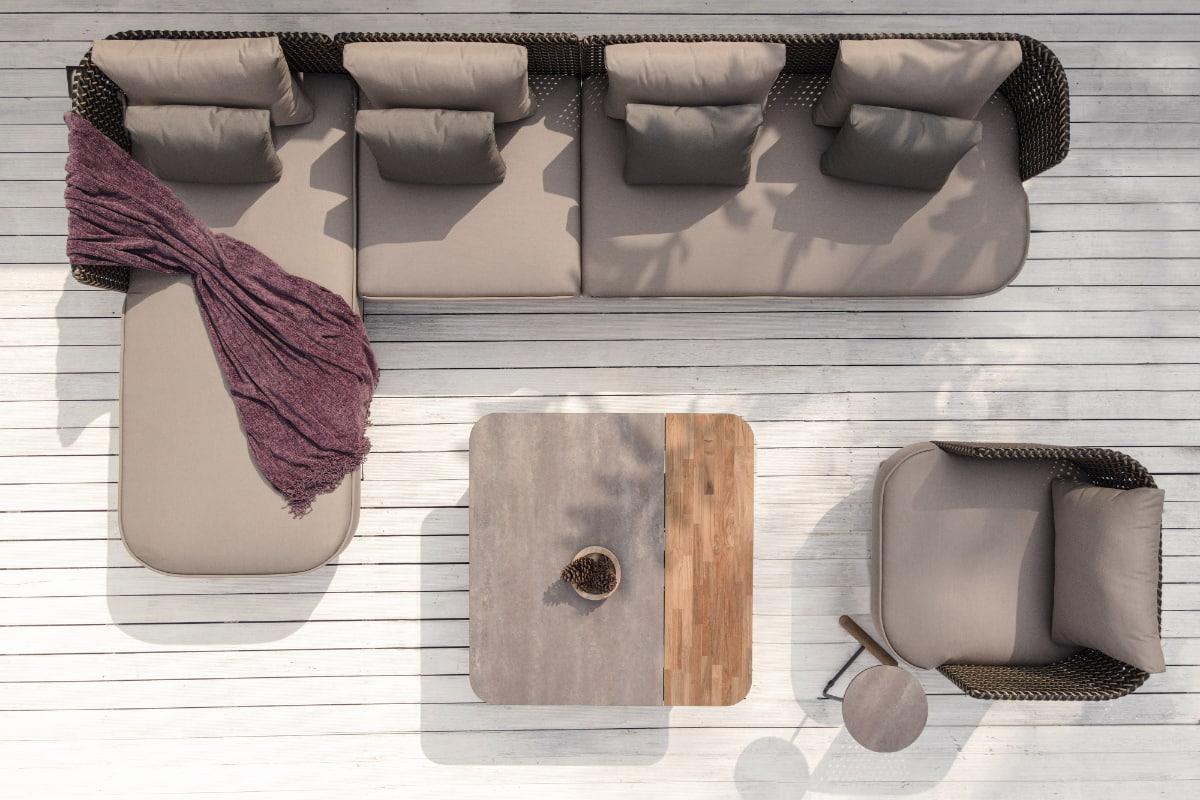 For instance, if your patio is circular, then position all the pieces around the perimeter. The result is a central gathering area where people can easily go and leave.
Do a small walkthrough after you've arranged everything and see how easily you can get by. You shouldn't have to squeeze through narrow spaces or snake through a maze of furniture.
Make Intimate Seating Areas
Whether you often spend time with your loved ones outside, or you enjoy having guests over, your patio is the perfect space for making intimate seating areas. These can encourage long and deep conversations.
One way to do this is to spread your sofa and chairs around the focal point (such as an ottoman, coffee table, or accent piece). The furniture should face one another to encourage conversations. As a result, you'll have a cozy space.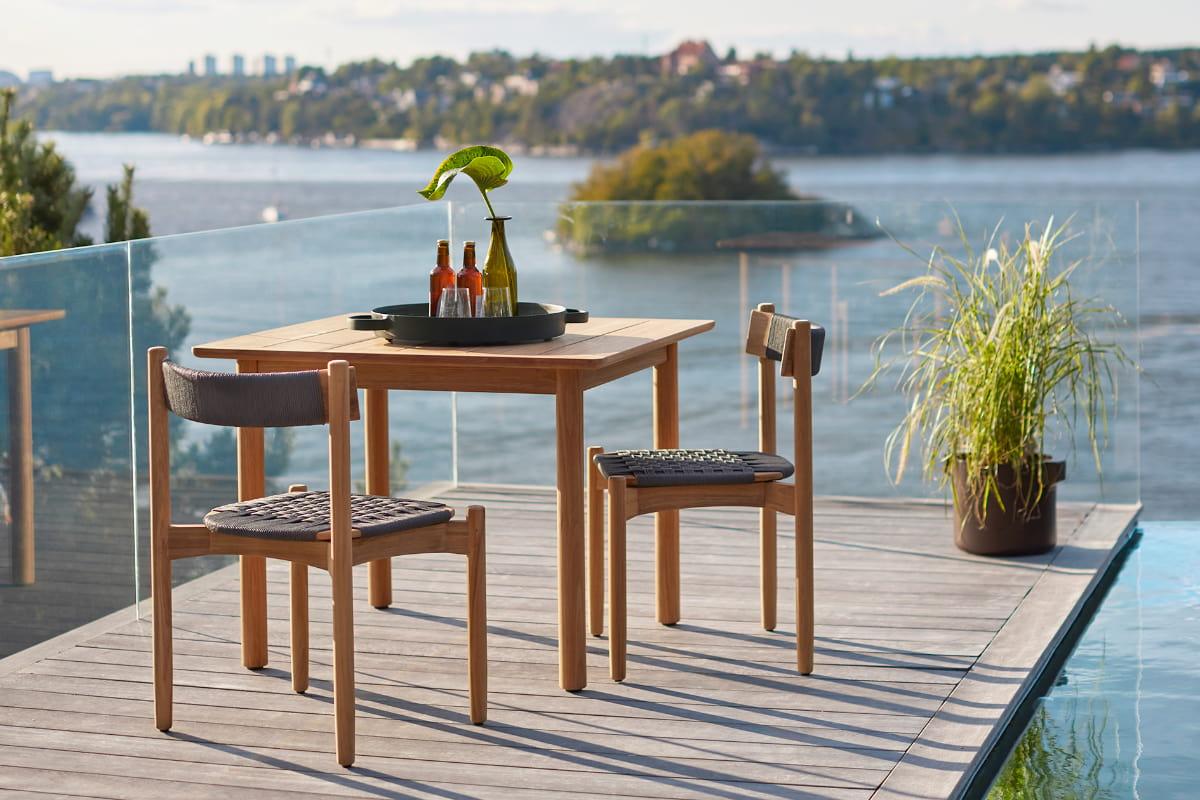 Additional Tips for Arranging Patio Furniture
We've given you a general direction of how to arrange your pieces so they look and feel great. But you can do even better.
Here are some more specific tips to take it from great to excellent!
Put the Longest Piece on the Longest Wall
Got a long and luxurious outdoor sofa? Then the best place for it is against the longest wall. Just make sure that it faces the focal point.
Forget about putting several individual chairs or side tables here, as they have better places to go. In fact, spreading them out alongside the sofa will highlight it as the main piece. And your guests can easily gather and have a good talk.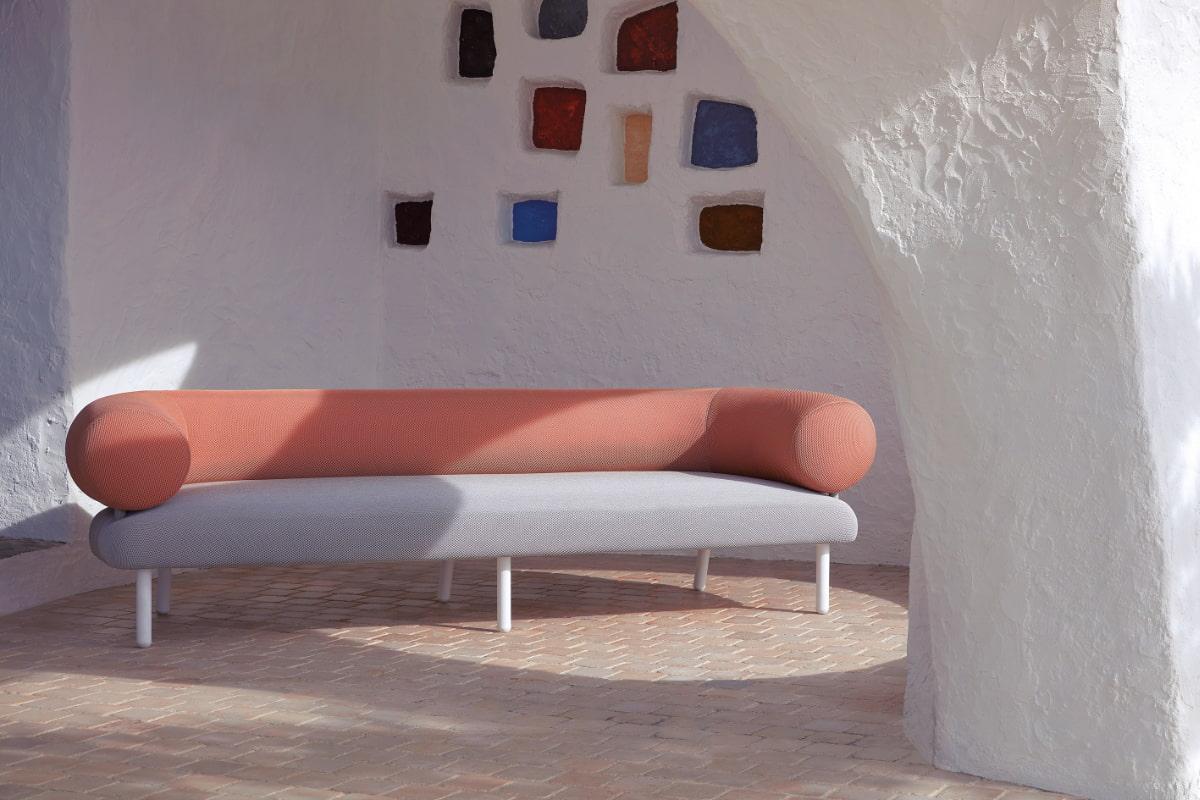 Get the Balance Right
Not only should you put the longest piece of furniture on the longest wall, but you shouldn't group all your larger pieces together either. Make sure to spread them out and put smaller pieces (such as accent chairs or side tables) in between.
When you step back, you'll see a balanced and harmonious composition that's soothing and welcoming.
Account for the Sun
Soaking up the sun's rays can be nice, but you don't want to spend hours roasting like a chicken. It's bad for your health and can quickly turn a delightful afternoon into a disastrous one.
The way you arrange your outdoor living space will depend on how much existing and natural shade you already have. For example, garden furniture can go directly under a large, full tree that shades part of your patio, or even in the yard. And a pergola gives you more flexibility, especially if you have lush vines growing across the top.
For even more flexibility in furniture arrangements, add a patio umbrella or two. An advantage of having patio umbrellas is they can help balance out your furniture for a more cohesive look.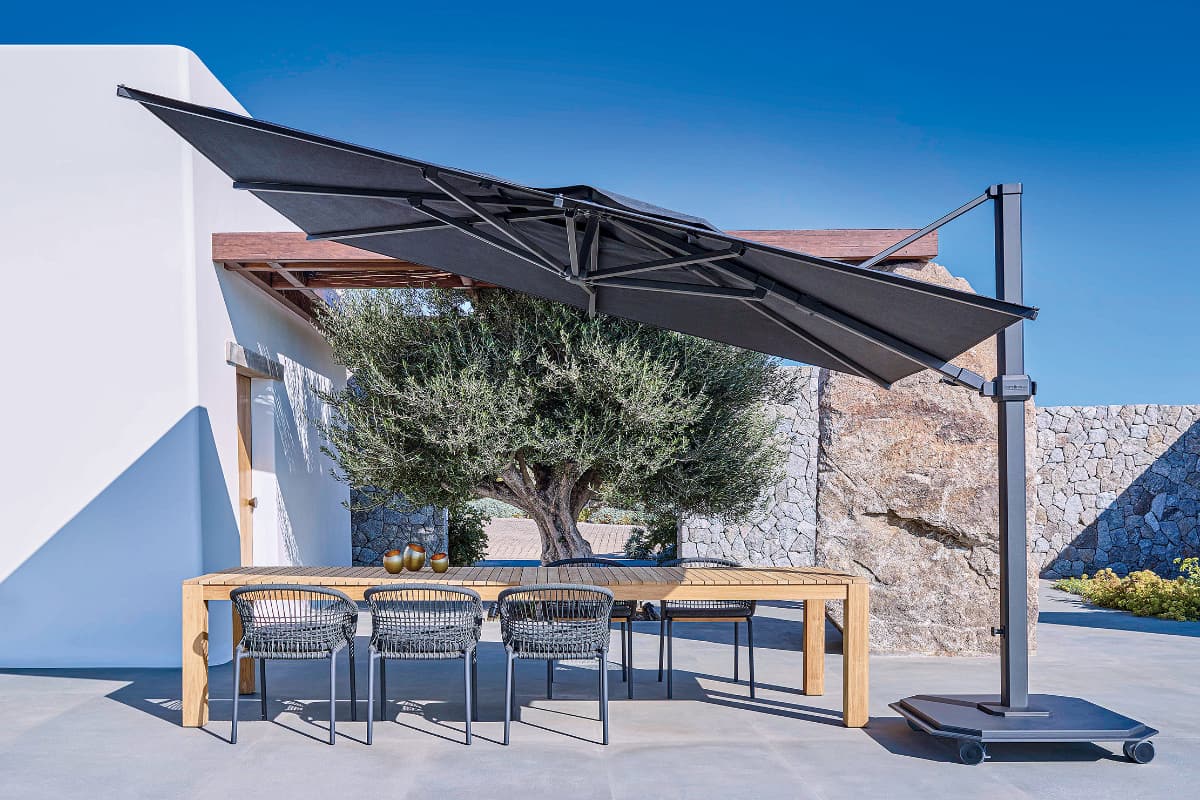 Account for the Darkness Too
The biggest mistake you can make is only accounting for daytime entertaining. So before you're set on a configuration, look at it after the sun sets first.
Maybe it's pitch black in certain places and people might crash into the furniture, especially in high-traffic areas. Depending on your current setup, you can either move the pieces under existing lighting or add some.
Using the circular patio example from earlier, you can make things safer by making the focal point a fire pit. That way, when it gets dark, you can light it up to prevent accidents and keep people warm too.
If you absolutely must have your patio furniture in darker places, then add a few free-standing lamps nearby. This allows you to shift them to where they're needed as the night goes on.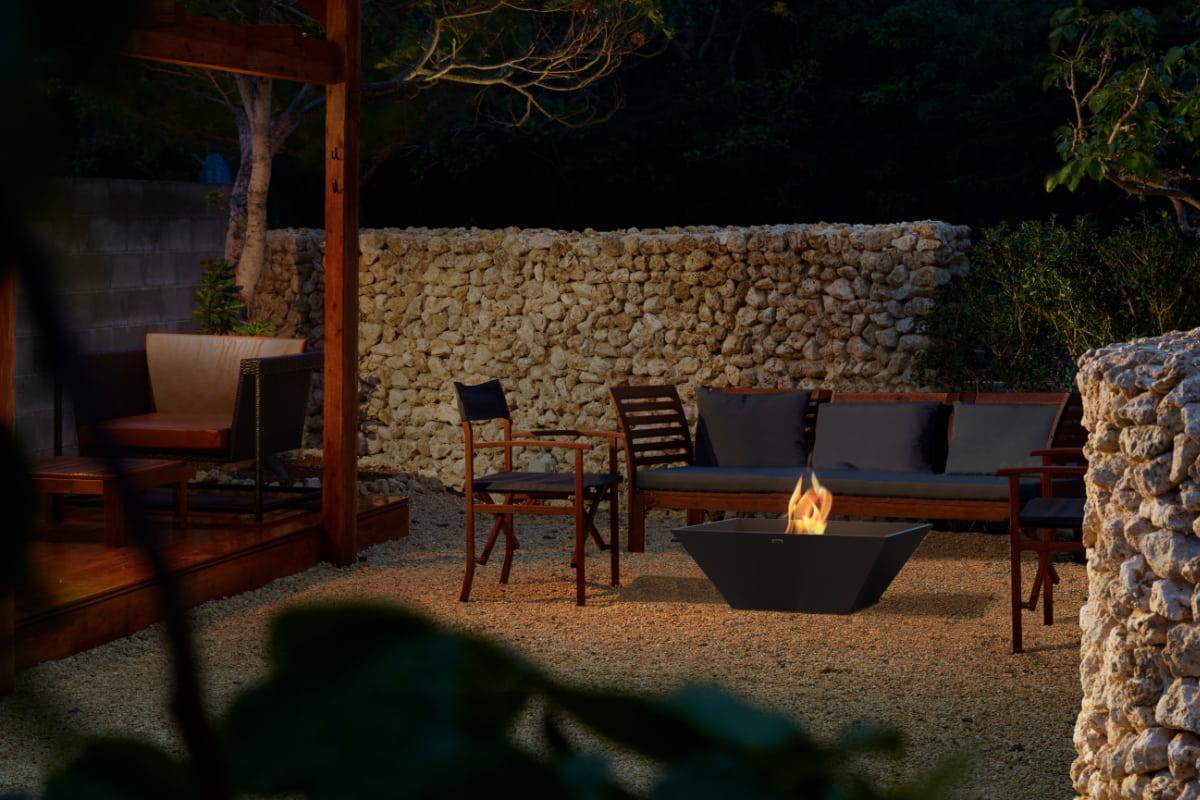 Pick Lightweight Pieces for Pool Seating
If you're one of the 10.4 million households that have a pool in the US, then you have the luxury of diving in whenever you want, and so do your family and friends! Luckily, pool seating is one of the easiest types to configure.
Before and after swimming some laps, you'll want to enjoy lounging on some relaxing furniture. You might want to get some shuteye, while the kids want to play with one another and your buddies want to drink and talk.
As you can see, poolside activities can vary, and people switch between them often too. Having light and modular pieces by the pool is a wise idea, as they'll arrange themselves.
So you don't need to think too much here. Get the pieces, spread them around the pool, and everyone will do the moving for you.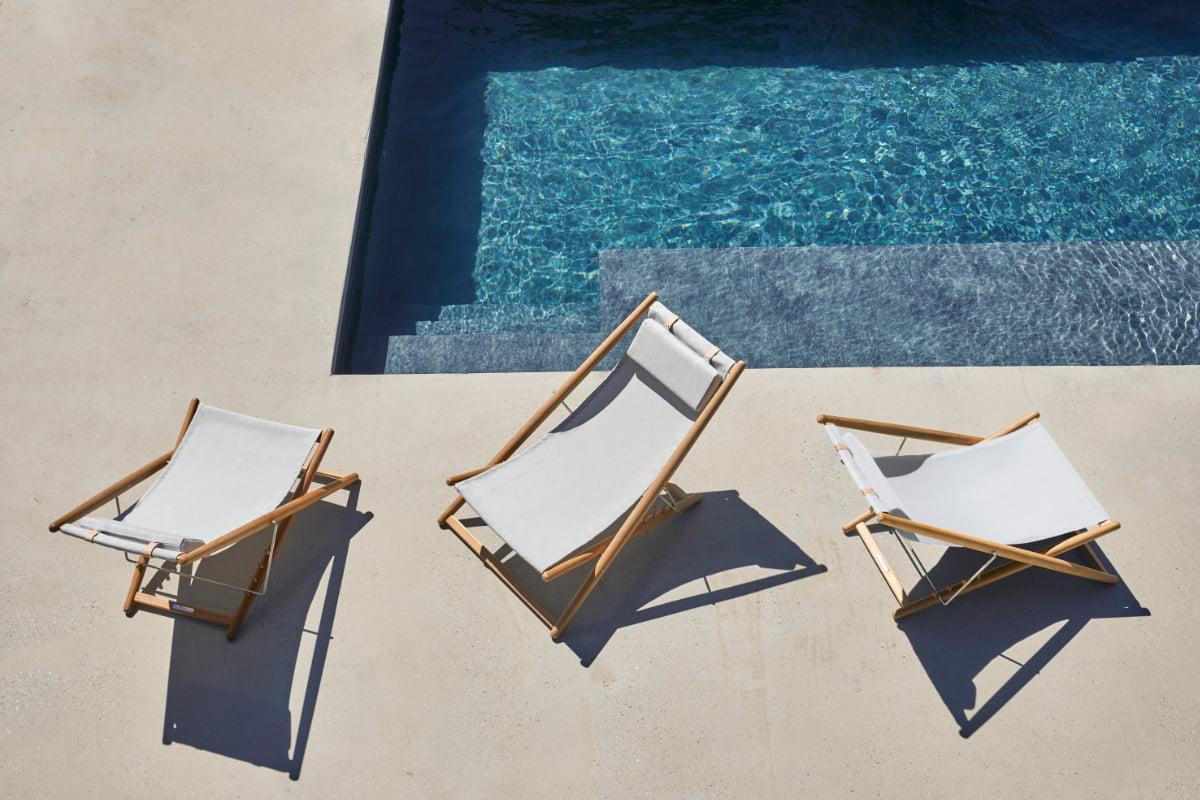 Smarten Up Your Outdoor Bar
Planning on spending hours in your personal outdoor bar? Then its furniture needs to be up to standard. There's nothing worse than sipping on a Mai Tai, dreaming of an island vacation, then having those thoughts spoiled by a shabby outlook.
Bar stools are a must; any other chairs, and it's not really a bar anymore. These can be neatly tucked under the counter to make room for foot traffic too.
You should have nothing else but bar stools for your outdoor bar. You might get away with a drink cart if you're working with a smaller bar, and an umbrella if there's no nearby shade, but that's it. It's best to keep it simple here and save the pieces for other places in your outdoor space.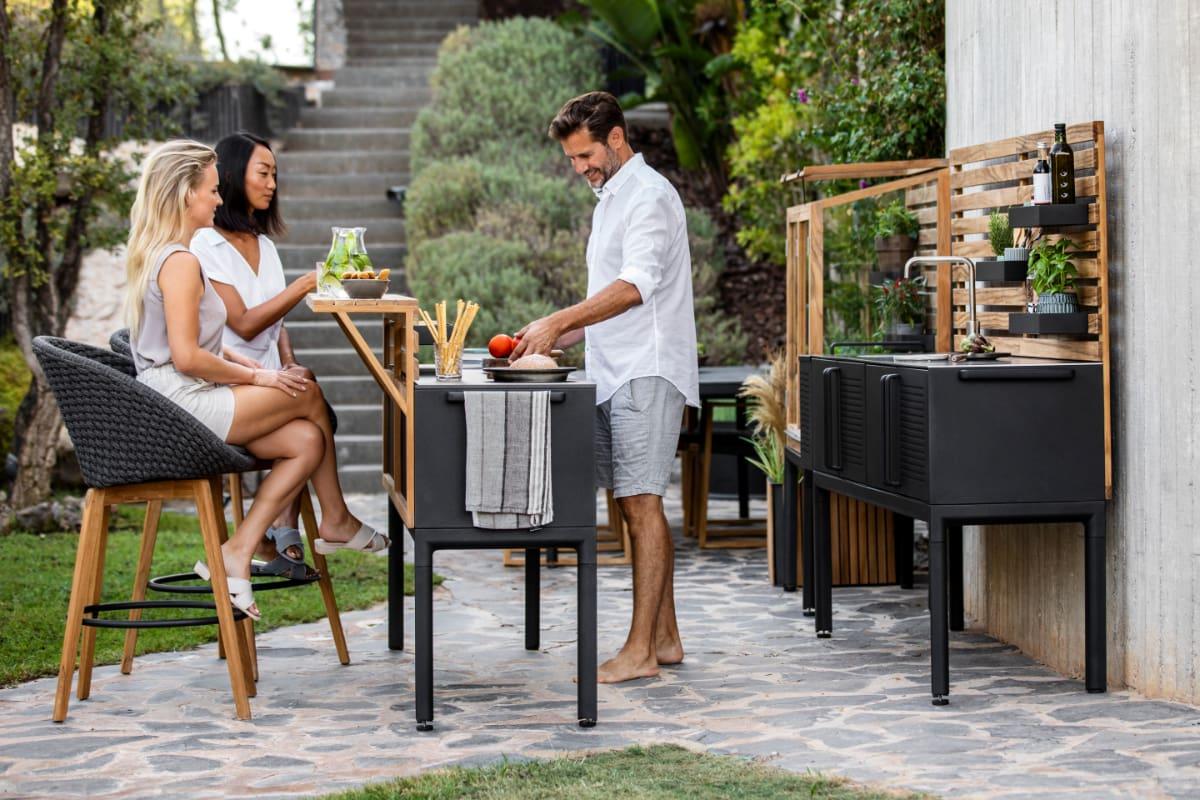 Patio Furniture Arrangements for Small Spaces
Don't have a large outdoor space? That doesn't mean you're limited in design choices. You just have to be smart about it!
Try these tips out to make your small patio feel just as welcoming as a spacious one.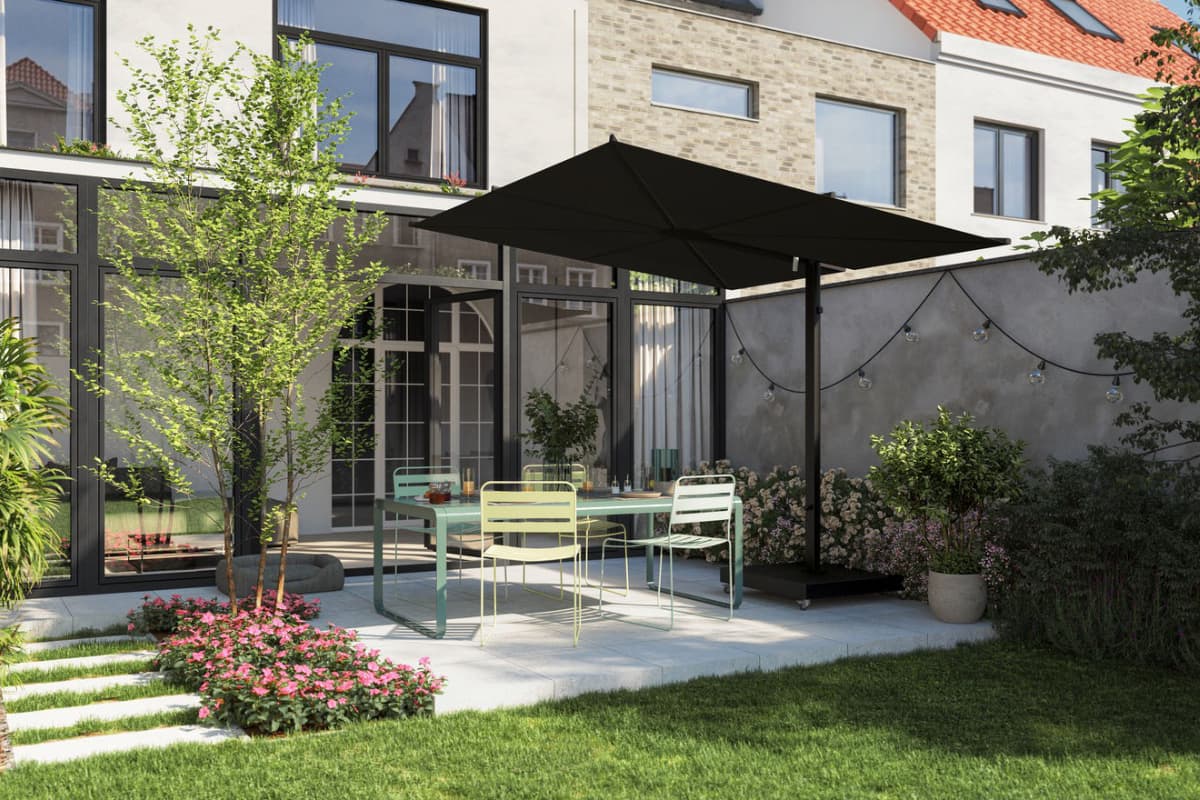 Use Smaller Pieces
An outdoor sofa might look amazing on a big patio, but it can swallow up space on a small one. As a result, it'll emphasize what a tiny space you have.
Opt for smaller types of furniture, such as bistro-style pieces.
Foldable furniture is a plus, as you can tuck the pieces away when not in use. This will free up more space on your patio (or your balcony if you don't even have a patio!).
Take Advantage of the Perimeter
Refrain from putting your furniture in the middle of your patio. It's distracting and will give it a congested feel. It's not easy for people to move around either.
Instead, place your pieces around the perimeter. This will leave the center nice and open, giving the illusion of a larger patio. Traffic flow will be better too.
Arrange Patio Furniture Like a Pro
You may not be an interior designer, but you'll certainly feel like one when you arrange patio furniture according to our tips.
The main thing is to know the size and shape of your patio. By having this knowledge, you won't go into things blindly, and can pick the right pieces that'll make things comfortable and balanced.
If you've realized that you need some extra pieces of furniture to make your patio shine, then browse our selection now.