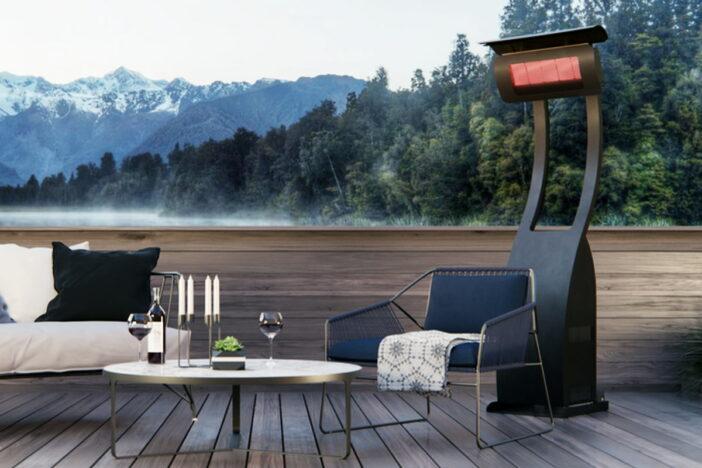 The weather may have turned colder but that doesn't mean you can't enjoy spending time on your screened-in porch or hardwood deck year-round. Adding a patio heater is a great way to warm the area so you don't have to go inside when the sun goes down or temperatures drop. Outdoor heated settings allow you to relax in the fresh air, soak in some vitamin D and sit comfortably for a cozy alfresco dinner despite the chill in the air elsewhere. Unlike the convection heating used indoors, such as furnaces, boilers and HVAC systems that warm the air and then circulate it, outdoor patio heaters utilize radiant heating that heats nearby objects and people more efficiently [Hitchings (2007)].
Choose the best patio heater
So, how do you pick the outdoor heater that's right for your backyard? There are many types of heaters from which to choose. Are they your only choices for heating your outside space? What about fire pits or fireplaces with open flames?
Advantages of outdoor heaters vs traditional fire pits & fireplaces
Ignition – Fireplaces that burn wood require kindling and attention while most patio heaters turn on via a switch or button
Temperature Control – Fires need rearranging or adding logs to change the temperature while outdoor heaters adjust easily and quickly
Heat Generation – A fire pit only heats the immediate area whereas a patio heater can efficiently accommodate a larger space
Air Quality – Wood-burning fire features, unlike heaters, generate a lot of smoke that can irritate eyes and affect people with allergies
Safety – Wind-blown ashes and sparks can be fire hazards and dangerous for small children and pets, while a deck heater can be hot to the touch
Aesthetics – Patio heaters tend to be industrial looking and favor function over form, whereas fireplaces and fire pit tables create welcoming focal points of dancing light that suggest coziness and warmth
Convenience – Firepits, in contrast to outdoor heaters, can take a lot of effort to light and clean up
Once you've established that one or more patio heaters make the most sense, you need to figure a few things out. This buying guide outlines a number of important criteria that you should understand when investing in these essential heating devices.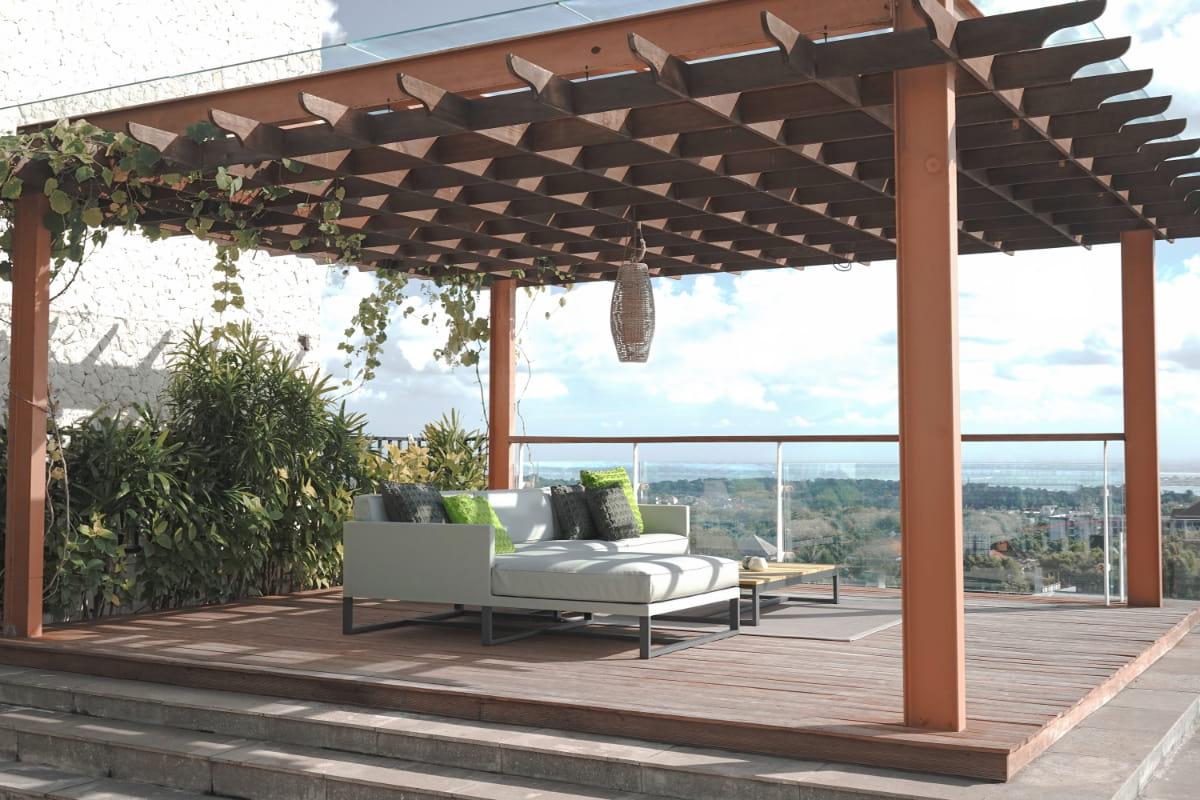 Determine heat requirements
Before you can evaluate patio heaters, you need to understand just how much heat you'll need in order to make your outdoor setting more comfortable. That's determined by the size of your space, whether it's covered or not and the climate. Uncovered settings in colder environments will require more heat to warm the same-sized covered area in more temperate zones.
BTU to Watts
Heat output is measured in British Thermal Units (a.k.a. BTUs). BTUs are typically referenced with gas outdoor heaters, while Watts are associated with electric heaters. For those who are curious, a BTU represents the thermal energy required to raise the temperature of one pound of water one degree Fahrenheit at sea level. A Watt, on the other hand, is a unit of power and for our purposes 1 Watt = 3.41 BTUs.
While there are a number of ways to estimate the amount of heat needed for an outdoor space, a simple rule of thumb is to multiply the number of square feet by twenty BTUs to calculate the BTUs required.
EXAMPLE – A 25 x 30-foot deck is 750 square feet. So, multiply that by 20 and you get 15,000 BTUs. To convert that into Watts, divide 15,000 by 3.41 and you get about 4,400 Watts. If you live in a warmer part of the country, you may need a little less or in the North a little more.
Estimated BTUs & Watts by outdoor space size
| Space in Square Feet | Estimated BTUs | Estimated Watts |
| --- | --- | --- |
| 100-150 ft2 | 2,000-3,000 BTUs | 600-900 Watts |
| 150-250 ft2 | 3,000-5,000 BTUs | 900-1,500 Watts |
| 250-500 ft2 | 5,000-10,000 BTUs | 1,500-3,000 Watts |
| 500-1,000 ft2 | 10,000-20,000 BTUs | 3,000-6000 Watts |
| 1,000-2,000 ft2 | 20,000-40,000 BTUs | 6,000-12,000 Watts |
| 2,000-4,000 ft2 | 40,000-80,000 BTUs | 12,000-24,000 Watts |
Evaluate fuel types
Next, you should figure out which type of porch heater fuel best meets your needs, budget and personal preference. Each option comes with its own set of benefits and drawbacks in the short and long term. Be sure to really think about how those characteristics will play in your specific environment before making a purchase decision.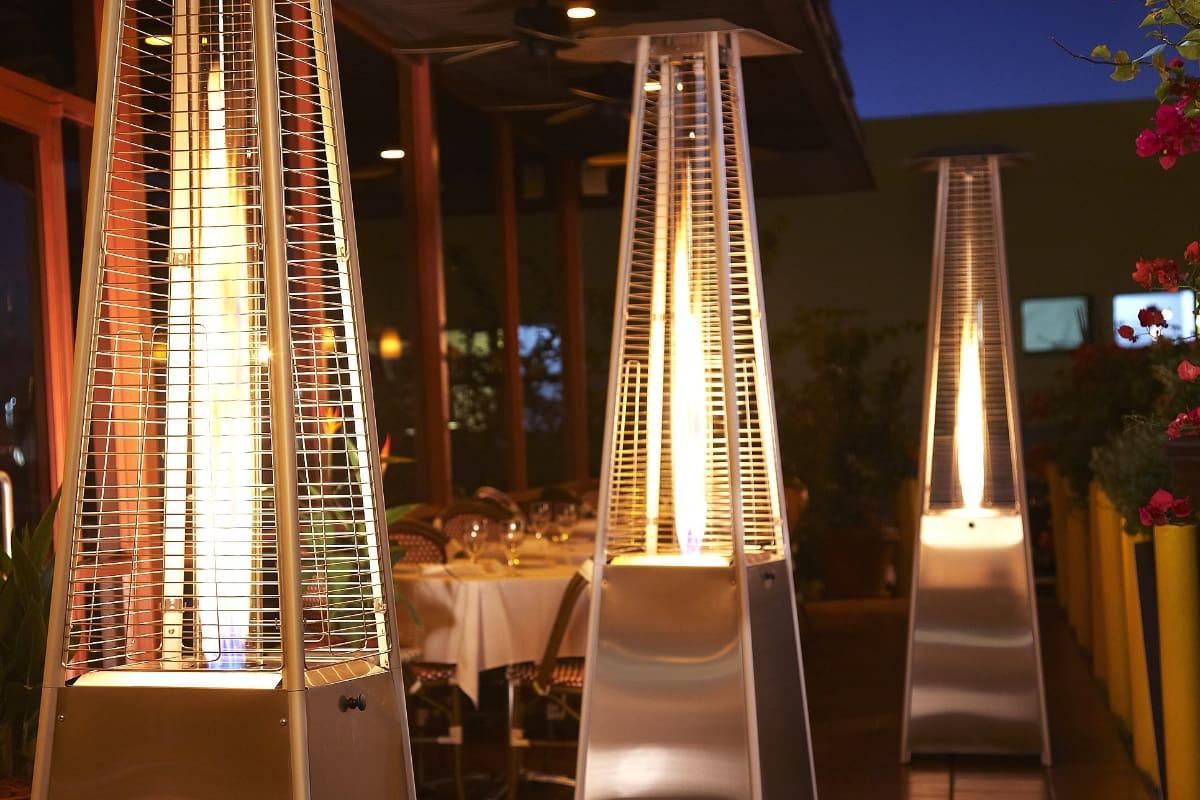 Outdoor Propane Heaters
Liquid propane tanks are familiar sights at backyard barbecues and connected to patio fire pit furniture but they can also be used to fuel gas patio heaters.
PROS – Low short-term cost; easy set-up; warms space quickly; portable options available
CONS – Tank storage required; frequent tank replacement (limited capacity); due to fumes, propane can't be used in covered areas (must be well-ventilated)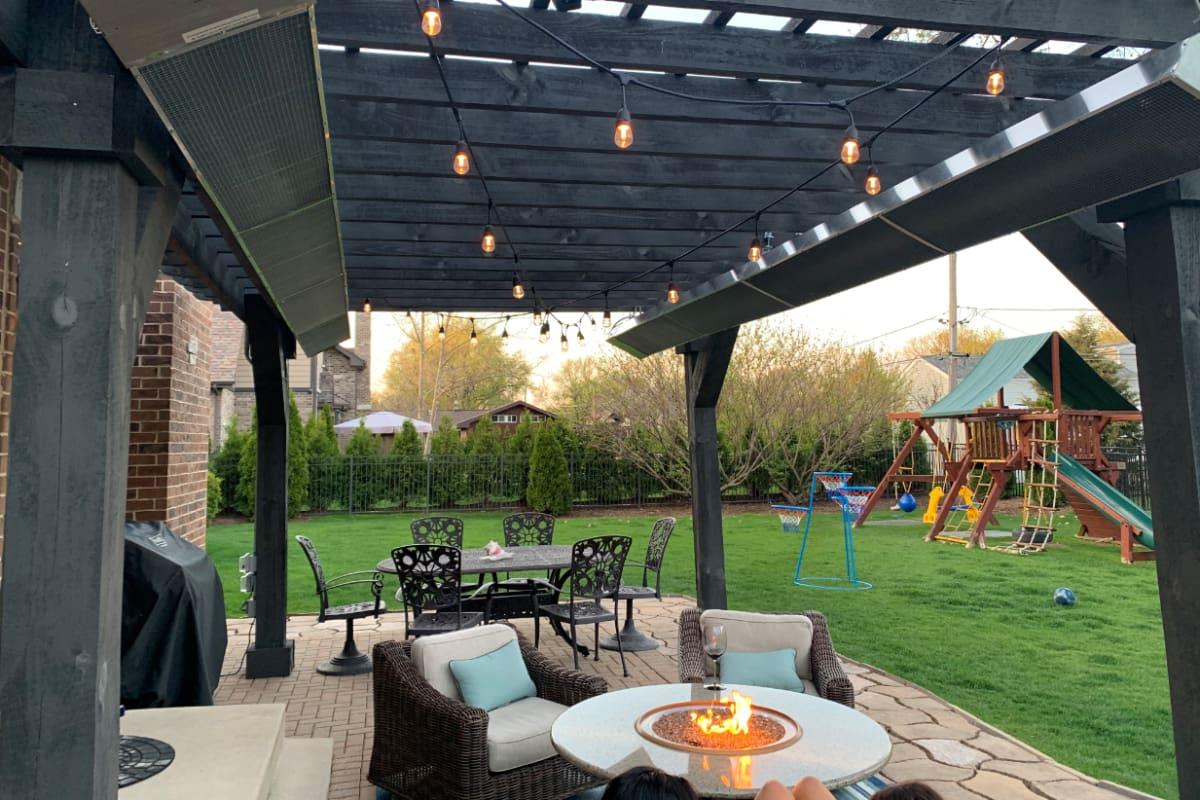 Natural Gas Patio Heaters
Plumbed natural gas often fuels fireplaces or other permanent fire features. It can also be employed as the energy source for outdoor patio heaters.
PROS – Lowest long-term cost; never runs out (unlimited capacity); easy to maintain; more sustainable than propane
CONS – High short-term cost for professional installation of gas line; not portable; strong fumes require ventilation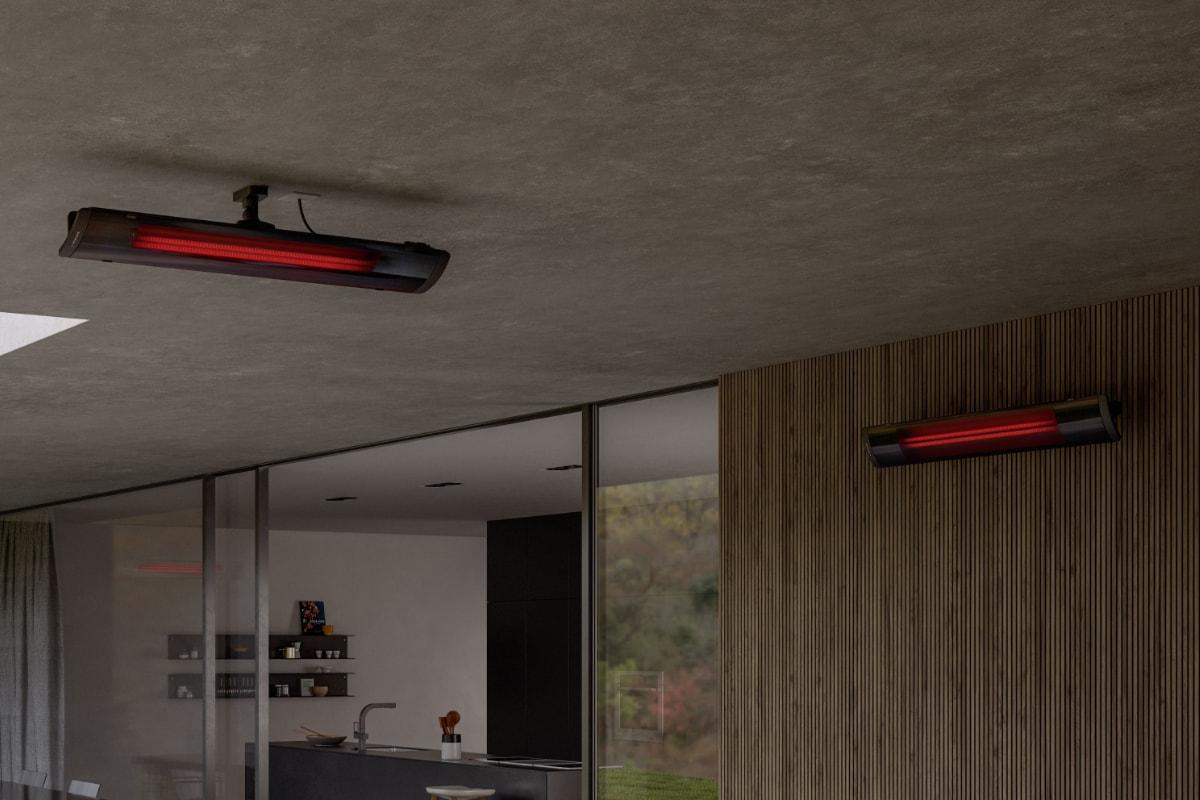 Electric Patio Heaters
Many household appliances are powered by electricity – indoor and outdoor space heaters can be too.
PROS – Easy installation; relatively portable; 98% energy efficiency; eco-friendly; no emissions so can use in enclosed spaces; safest option; low maintenance
CONS – Long-term electricity costs can be expensive if utilities high; must be near electrical outlet; takes time to warm up; generates less heat than alternatives; equipment may need to be replaced more frequently
BUY ELECTRIC PATIO HEATERS
Review different design styles of patio heaters
While you're considering different fuels, factor in how the characteristics of your outdoor setting might impact your design choices. Some outdoor patio lamp heaters work well in large spaces, while others are ideal in small ones. The location of your gas lines and electrical outlets definitely matters as well. From a design standpoint, outdoor heating appliances fall into one of two categories: those that can be moved and those that can't once they're installed.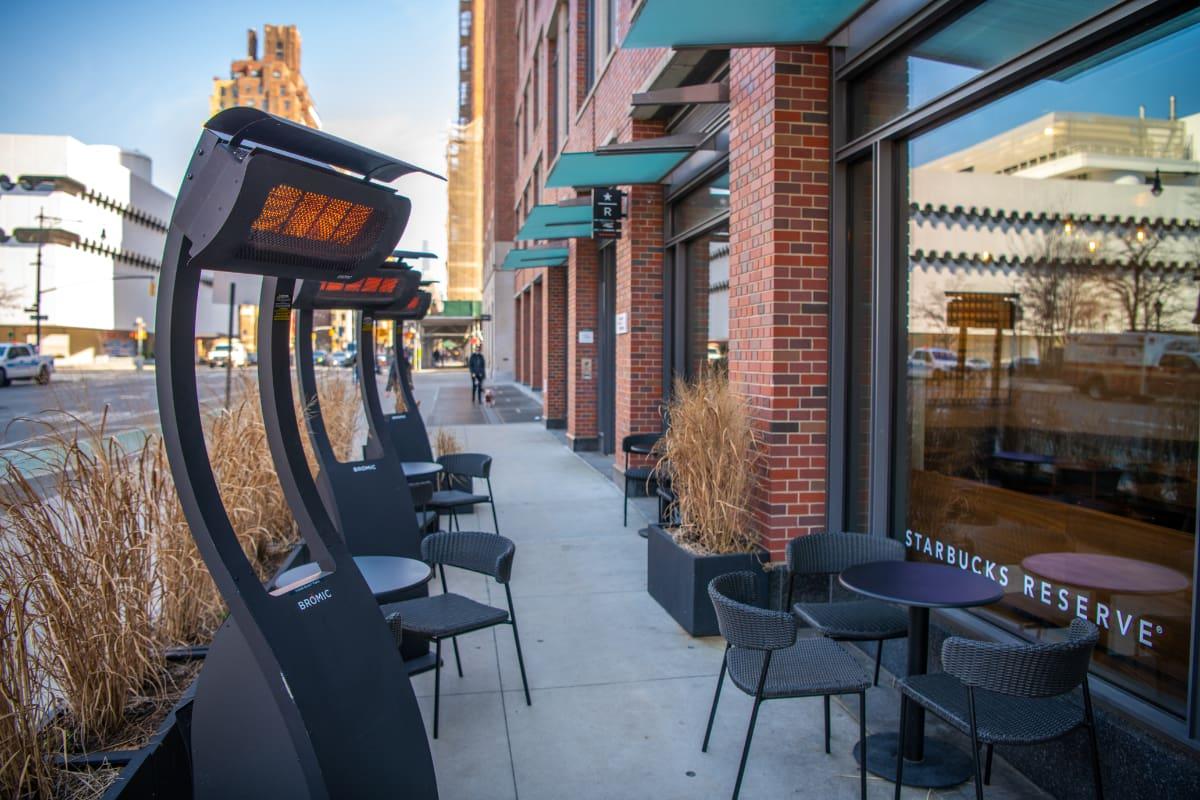 Freestanding – Portable outdoor heaters
Mobile heating units vary in their intended placement and degree of portability. Standalone propane patio heaters have enclosed compartments that store and conceal their gas tanks and can be placed anywhere. Outdoor electric heaters are limited in their mobility by the outlet position and cord length. A key benefit of these space heaters is the ease of set-up.
Floor or stand-up heaters
Most standing heaters are large (6-8 feet tall) and have wheels to move them around. These tower, mushroom or pyramid heaters are often used on restaurant decks and patios to provide warmth for diners within a 5 to 10-foot radius. Some small versions of this kind of outdoor heat lamp have squared designs and are meant to be placed under tables or to heat smaller spaces.
BUY PORTABLE OUTDOOR HEATERS
Table top heaters
As the name suggests, these diminutive heaters sit on tabletops and often mimic the look of their larger floor model counterparts. Typically 3 feet or shorter, they're easy to move and store when not in use.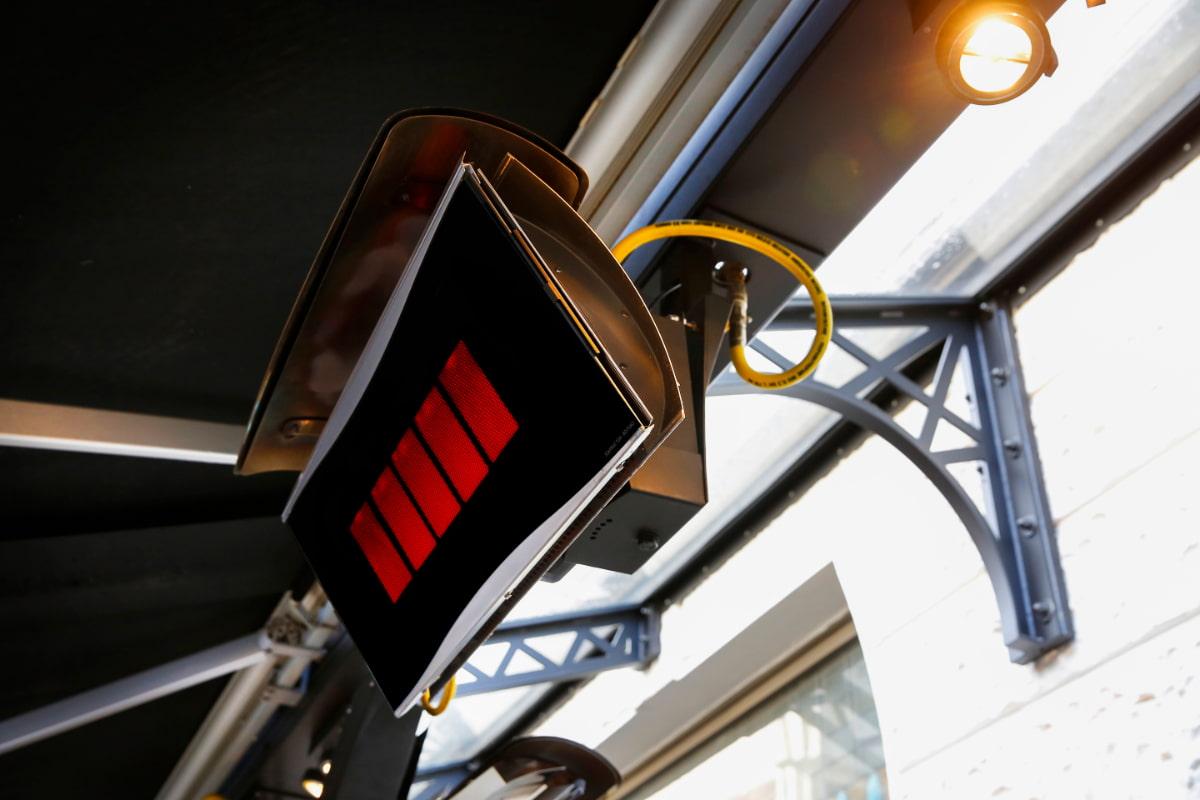 Fixed – Mounted or Hanging Heaters
Immobile outdoor space heaters are permanently attached to walls or ceilings and are perfect for settings where floor space is limited. Depending on the fuel source and existing infrastructure, a professional electrician or gas plumber may be required for the installation. Commercial or high-use residential locations often connect to existing propane or natural gas lines but most mounted heaters tend to be hardwired electrical units. The safest mounted set-ups are far enough away that people cannot burn their hands on hot metal. This type of heater is great when you have static seating and know you'll need to warm the same areas.
BUY MOUNTED PATIO HEATERS
Wall Mount Outside Heaters
Uncovered settings with limited floor space (or when you want inconspicuous heating) are perfect for wall-mounted heaters. Gas lines and electrical wiring can be hidden in walls, so you can have conveniently situated heat without visible connections ruining the ambiance. Cross beams of pergolas and gazebos also offer ideal surfaces for mounting as they are high up and less noticeable.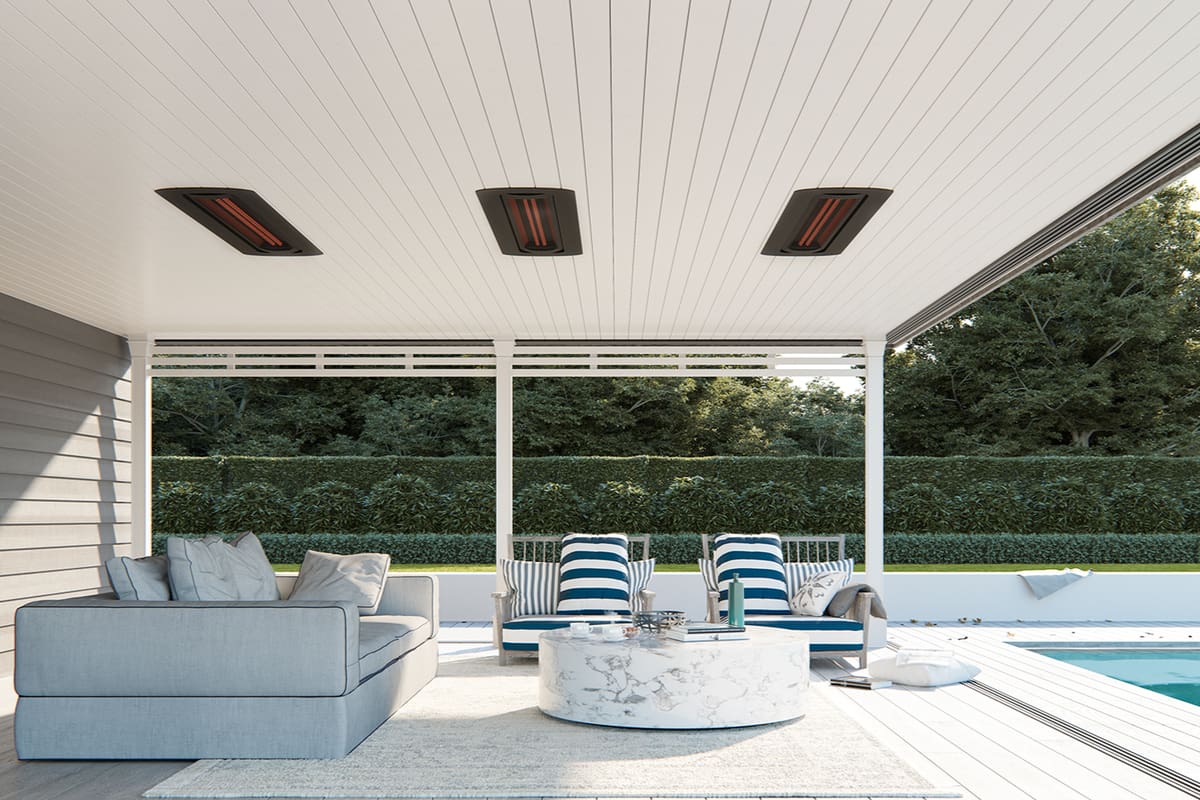 Ceiling Porch Heaters
Mounting an outdoor heater on the ceiling is a sensible decision when you have limited usable wall space – like a screened-in porch with mesh or glass walls. Some models affix to the surface while others are flush-mounted into the ceiling. The latter allows the mechanism to be less conspicuous, thereby directing attention to the decor. Only electric outdoor heaters can be recessed into ceilings. Radiant infrared heaters directed toward the floor are much more efficient than heating fans that blow warm air that rises to the ceiling and away from where it's needed [Roth, Dieckmann & Brodrick (2007)].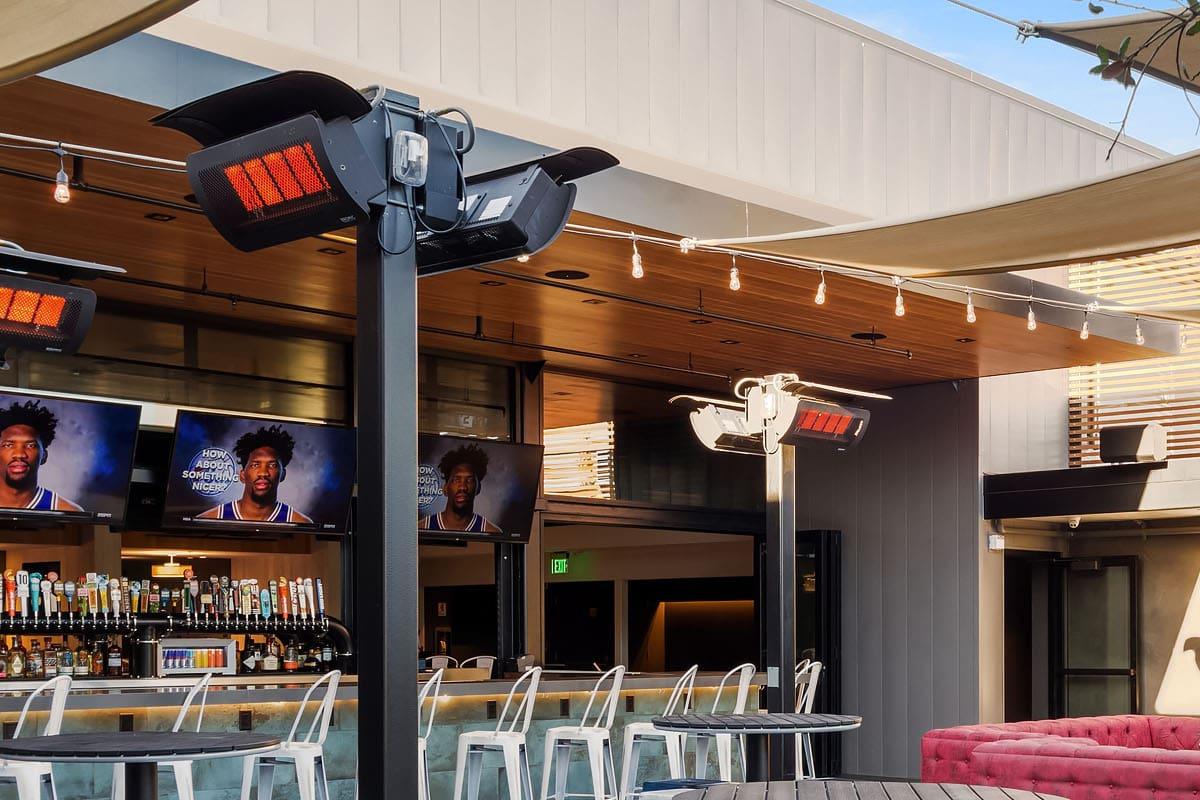 Pole Mount Heaters
In some large commercial spaces, mounting outdoor heaters on poles may be a good solution. This is especially true if there's high traffic, seating is tightly packed and it's an open-air setting without a ceiling. Portable heaters might be at risk of getting bumped into, so fixing the heat lamps high up on poles makes a lot of sense.
Hanging Patio Heaters
If you have a high or vaulted ceiling, a hanging heater might be your best bet. Whether dangling by a sturdy cord or held in place by chains or rigid metal tubing, these deck heaters bring warmth closer to where you need it. Because gas lines can be a bit unwieldly (and eyesores), most hanging outdoor heaters are electric-powered.
Safety – you can never be too careful
Keeping your deck or porch warm and cozy when the temperature drops allows you to enjoy outdoor dining and lounging year-round. However, it comes with great responsibility. If not properly managed, focused heat and gaseous emissions can be dangerous to people's health and can damage or destroy property.
Safe patio heater placement
Natural and propane gas heaters produce harmful carbon monoxide, so they can only be installed in uncovered or open spaces that are well-ventilated [Whitmyre & Pandian (2018)]. With the exception of infrared patio heaters, most heaters are hot to the touch. Place them away from flammable materials such as foliage, fabrics and furniture to minimize fire hazards (at least 3-feet on all sides). If at all possible, keep them more than an arm's length from where people (especially children) can reach. Avoid setting floor heaters on uneven surfaces or in high-traffic areas where they can be knocked over.
Outdoor heater safety features
The best outdoor heaters have a number of features to make them as safe as possible and qualify for CSA certification or UL approval.
Easily Accessible On/Off Switch or Remote Control – Turning the unit on and off or adjusting the temperature should not be difficult or put you at risk of touching a hot surface
Automatic Shutoff – The heater will turn off if it gets too hot or becomes a fire hazard
Tip-Over Switch – If the heater gets knocked over, the heating element will automatically turn off (very important for tall standing towers or tabletop designs)
Cool-Touch Glass – Many heaters have shielding glass tubes or screens that prevent someone from directly touching the heating element and are cooler to the touch
Protective Cover – Inclement weather, dust and critters can damage heating components and weaken connections if units are not covered when not in use
Maintenance – keep them working safely
Although patio heaters are built to handle the elements in mild conditions, they maintain performance and last longer if you protect them from harsh weather. Store portable heaters in dry spaces and cover fixed-mounted units when you're not using them to minimize exposure. Secure or weigh down tabletop and standing heaters if you reside in areas with windy conditions to prevent them from tipping over. Clean heaters at the beginning and end of every season and follow manufacturer guidelines for the proper process and types of cleaners that are appropriate for your specific unit. Replace damaged parts immediately and check electrical and gas connections regularly.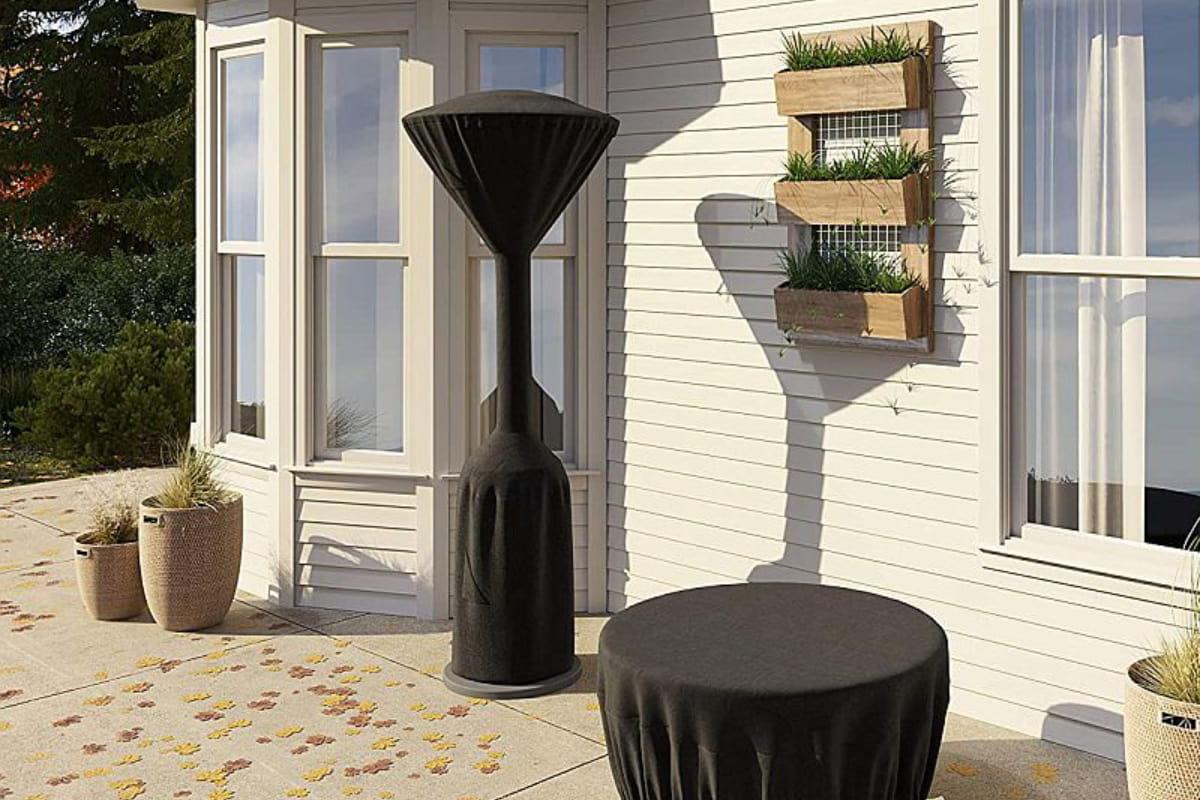 Accessories – enhance the performance
Some outdoor heaters have optional remote controls for turning them on, adjusting the temperature or setting their timing. If you have a commercial alfresco dining area with multiple heaters you may be able to customize the warmth base on each table's location or patron preference. Directional joints or deflector panels help focus the heat where it's needed.
---
Select your outdoor radiant heater
After you review these criteria and determine your needs and preferences, you can begin your patio heater search in earnest. The right selection will ensure your outdoor space is warm and welcoming throughout the year.
Frequently Asked Questions – Patio Heaters
Gas and electric patio heaters use different metrics to measure their heat potential. Propane and natural gas outdoor heaters use BTUs (British Thermal Units) while electric heaters use Watts of power. Relatively speaking, 1 Watt is equivalent to 3.41 BTUs.
One way to calculate the heat required to warm an outdoor area is to multiply the total square feet by 20 BTUs. Divide that number by 3.41 to determine the equivalent Watts. The table below shows estimates for various sized outdoor settings. If the area is covered, you may need less. If it's uncovered and unprotected from wind, you may need more.
Estimated BTUs & Watts by outdoor space size
| Space in Square Feet | Estimated BTUs | Estimated Watts |
| --- | --- | --- |
| 100-150 ft2 | 2,000-3,000 BTUs | 600-900 Watts |
| 150-250 ft2 | 3,000-5,000 BTUs | 900-1,500 Watts |
| 250-500 ft2 | 5,000-10,000 BTUs | 1,500-3,000 Watts |
| 500-1,000 ft2 | 10,000-20,000 BTUs | 3,000-6000 Watts |
| 1,000-2,000 ft2 | 20,000-40,000 BTUs | 6,000-12,000 Watts |
| 2,000-4,000 ft2 | 40,000-80,000 BTUs | 12,000-24,000 Watts |
Patio heaters vary greatly in price and quality, depending on their heat output, fuel/power source, design and aesthetics. High-performance outdoor heaters may have a sleek look for residential settings or more of an industrial one for commercial installations. Here are a few of the manufacturers of the best quality heaters in the industry:
Bromic
Infratech
Sunpak
Heatscope
Kindle Living
Solaira
RADtec
Lynx
Italkero
Calcana
Sunglo
IR Energy
---
Outdoor patio heater references
Hitchings, R. (2007). Geographies of embodied outdoor experience and the arrival of the patio heater. Area, 39(3), 340-348.
Roth, K., Dieckmann, J., & Brodrick, J. (2007). Infrared radiant heaters. Ashrae Journal, 49(6), 72.