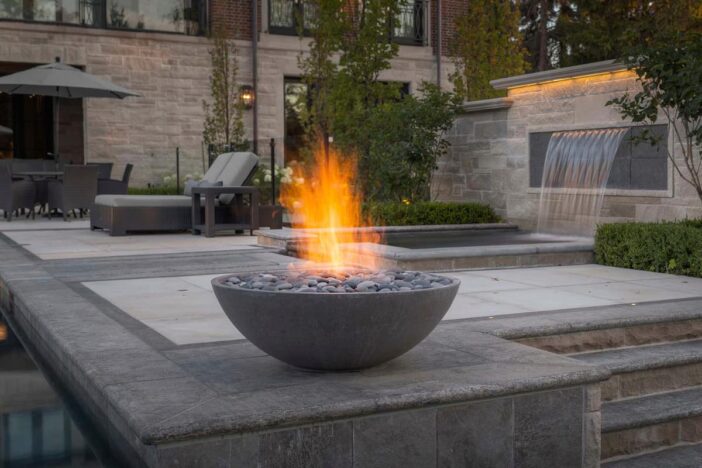 Man has been drawn to the allure of an open flame since time immemorial (or when Prometheus stole it from the Olympian gods). Fire has always been vital for life – heating, protecting, cooking and smelting. It also serves as a welcoming focal point for social gatherings. Dancing around festive bonfires, toasting marshmallows over a campfire or enjoying company in front of the crackling blaze of a fiery hearth. Regardless of the use, fire deserves respect and a thoughtful approach when adding it in and around your home. It's especially important given the growing appreciation for outdoor living, or what Norwegians call friluftsliv [Gelter 2000]. This guide serves as a comprehensive template for evaluating your needs, options and preparations when buying a fire pit or outdoor fireplace.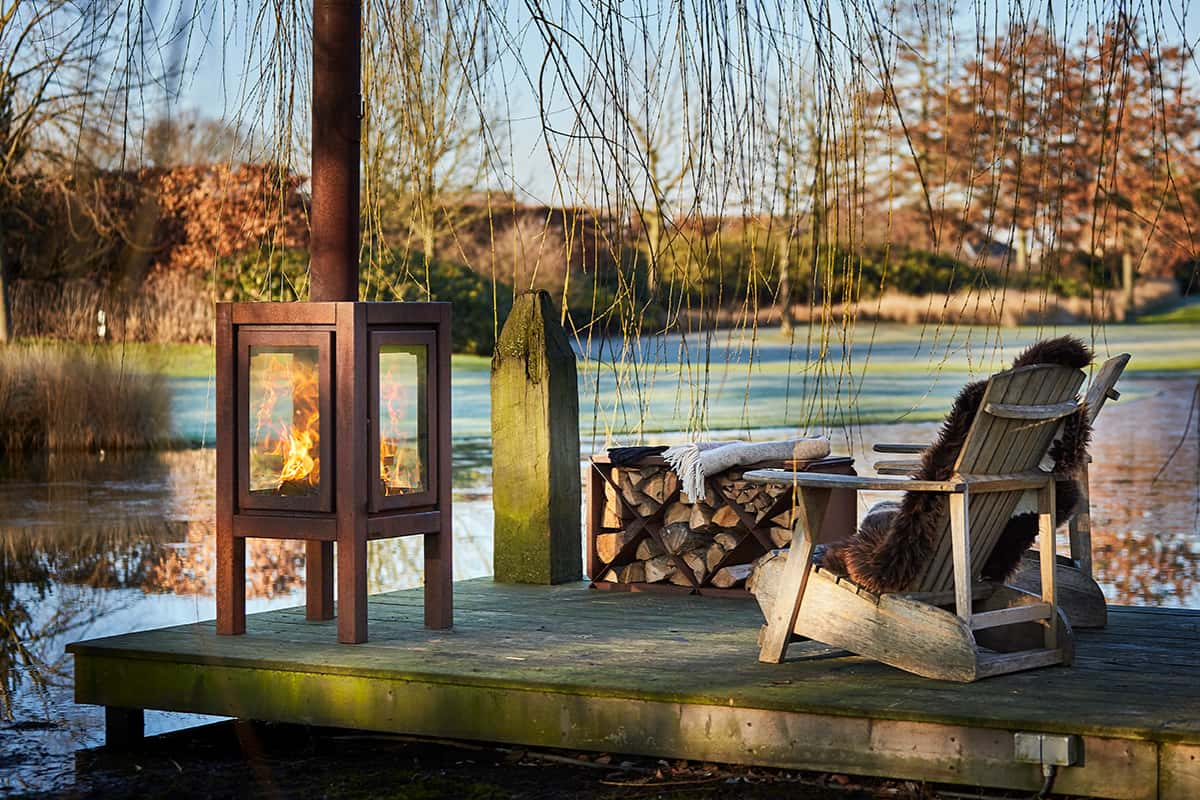 Considerations before buying an outdoor fireplace or firepit
There are many factors that can impact the type of fire furnishing you can or should purchase.
Legal – Are there local wood-burning laws, building restrictions or permits required? Most communities have local ordinances that restrict how close fires may be to homes, structures and trees. There may also be paperwork to file and approvals to get before you can do any major renovations or construction if you're building a permanent fixture. A certified contractor may be required if you're connecting to gas lines. Contact your Homeowners Association or local City Hall for more information.
Environmental – What size is your outdoor space? A charming backyard might not be able to handle a full-sized fireplace or spacious fire pit. It's important to have a fire that is proportional to the area. Also, the architecture or landscaping around your home may make it difficult to accommodate certain types of fires. Is your patio or deck combustible? If so, there may be restrictions on what you can install and how. Be sure to read through product manuals before making a purchase – clearance and installation requirements will dictate your options. What about overhanging branches, low-hanging plants, or awnings? Is it dry or windy? Be aware of how smoke and embers may blow about so guests and neighbors are not bothered and you're not at risk of setting the area ablaze. Windbreaks may be required or you might be limited to installations that are self-contained rather than open-air.
Budgetary – How much you're willing to spend certainly affects your alternatives. Is money tight or is the sky the limit? You can buy a small portable fire bowl for a few hundred dollars, but if you're building a substantial fireplace in which you can cook, it can run ten thousand or more. It really depends on what you're planning to use it for and how often. Do you only get outside occasionally or are you frequently spending the day and evening in the fresh air? Is this an investment to increase the value of your property? High-quality permanent fire installations are attractive to many potential buyers and can increase the appraised value of your home.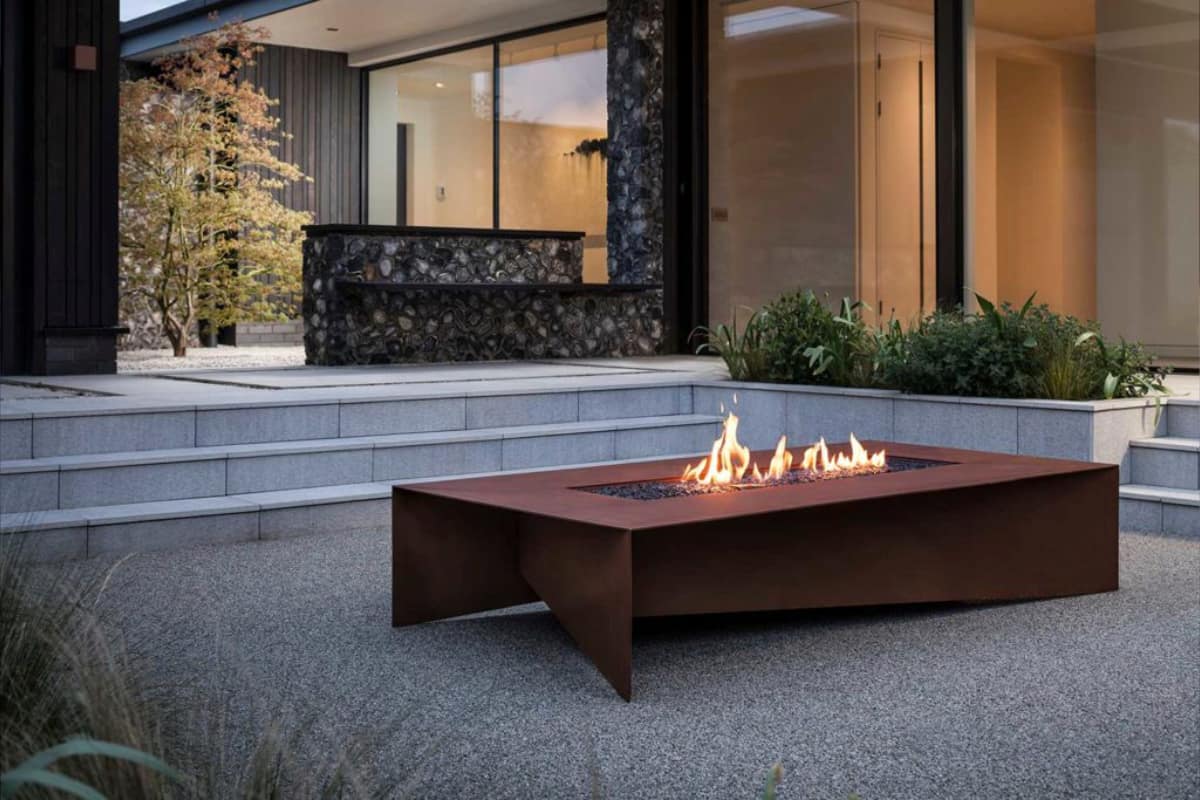 Placement – Where do you plan to put the fire?
The location of a fire has a strong social impact on your outdoor living space. They tend to attract people, so wherever you put one is likely to become a popular gathering place.
Away from your house – Placing a fire pit across the backyard on the grass or in a secluded clearing is sure to draw attention from the immediate vicinity around your home. If you have teenagers, you can bet that's where they'll congregate to chill and get away from the "rents." Just make sure to keep it in view from a window or porch for safety's sake.
Attached to or near your house – Keeping a fireplace on your deck or patio will centralize activity, lessening the chance people will stray. You have a bit more leeway here since existing architecture can be built upon for permanent fires. Large fire furnishings also work better nearby as they don't dominate the space like they would out in the open. However, you need to be mindful of the ceiling clearance and ventilation in covered patios and make sure that the space is in compliance with any minimum manufacturer requirements. An outdoor living room with a fire can be amazing if you plan ahead to avoid issues.
Along walkways and walls – If you have a spacious outdoor area, you might want to light up the path from the front to the backyard or pool area. Partial and low walls offer interesting opportunities for small decorative fires.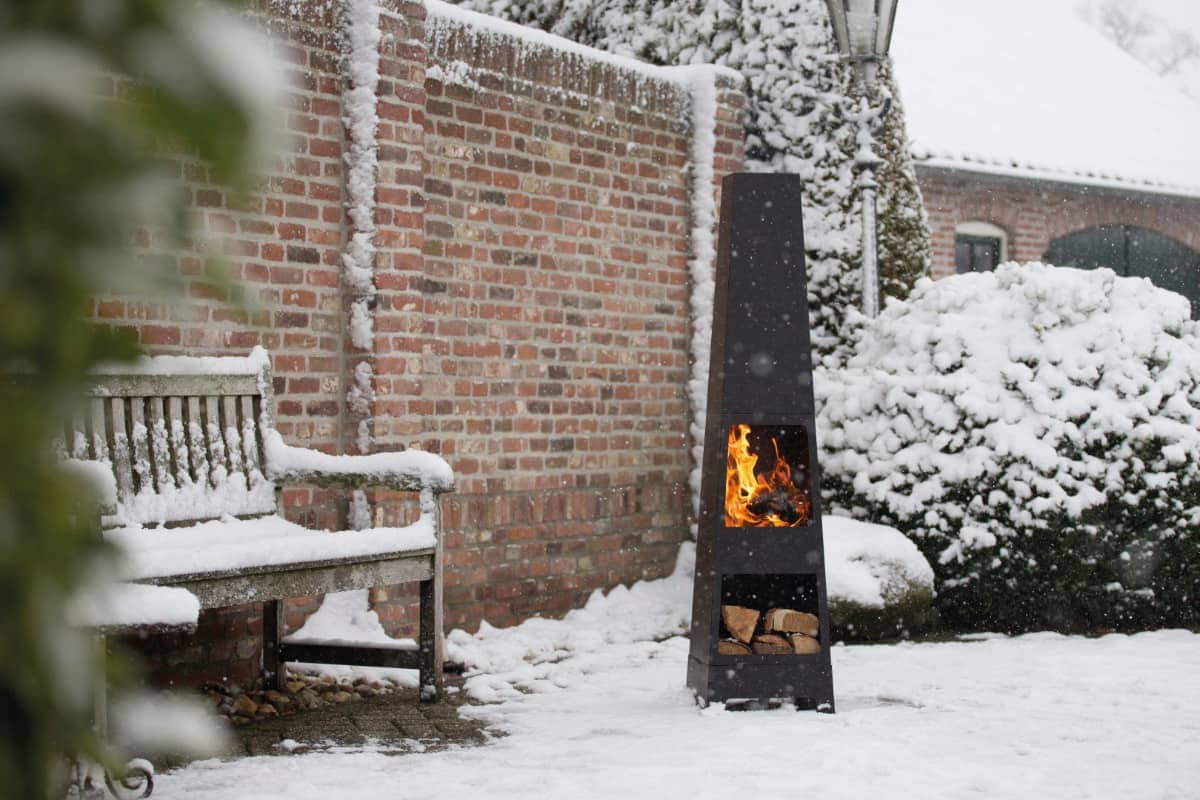 Function – What's the main purpose of the fire?
Before choosing a fireplace or fire pit, it's a good idea to think about how you plan to use it. Some models are multifunctional, while others are very specific in their application.
Heating – Fires provide warmth so you can spend time outside in the evenings or during winter months. However, wood-burning varieties tend to generate more heat than other fuels. Also, the size of your space determines the scale of the fire you may need. Must it work with an existing lounge set? If your seating is offset, a one-sided fire is a good choice for directional heat. Conversely, an open-air style works well when surrounded by seating.

Cooking – If you're simply roasting marshmallows or hotdogs, you can probably get by with any fire (except maybe a bonfire). Just impale the food on a skewer, hold it over the flame and you're good to go. But, if you want to grill burgers or shish kebabs for family and friends, you'll want a fireplace grate or the ability to add cooking accessories. Some fire pits can double as basic outdoor barbecues, while more elaborate fireplaces enable you to bake pizza or even smoke ribs.

Decorative – If you already have functional fires, perhaps you're interested in enhancing the ambiance of your outdoor setting. There are many styles of firepits, so you need to pick the aesthetic you want. Will it accent an architectural feature or landscape element, or will it be the focal point itself? Does it need to have appeal when it's unlit? A bright flame adds life, but there is plenty of downtime when a fire pit is idle.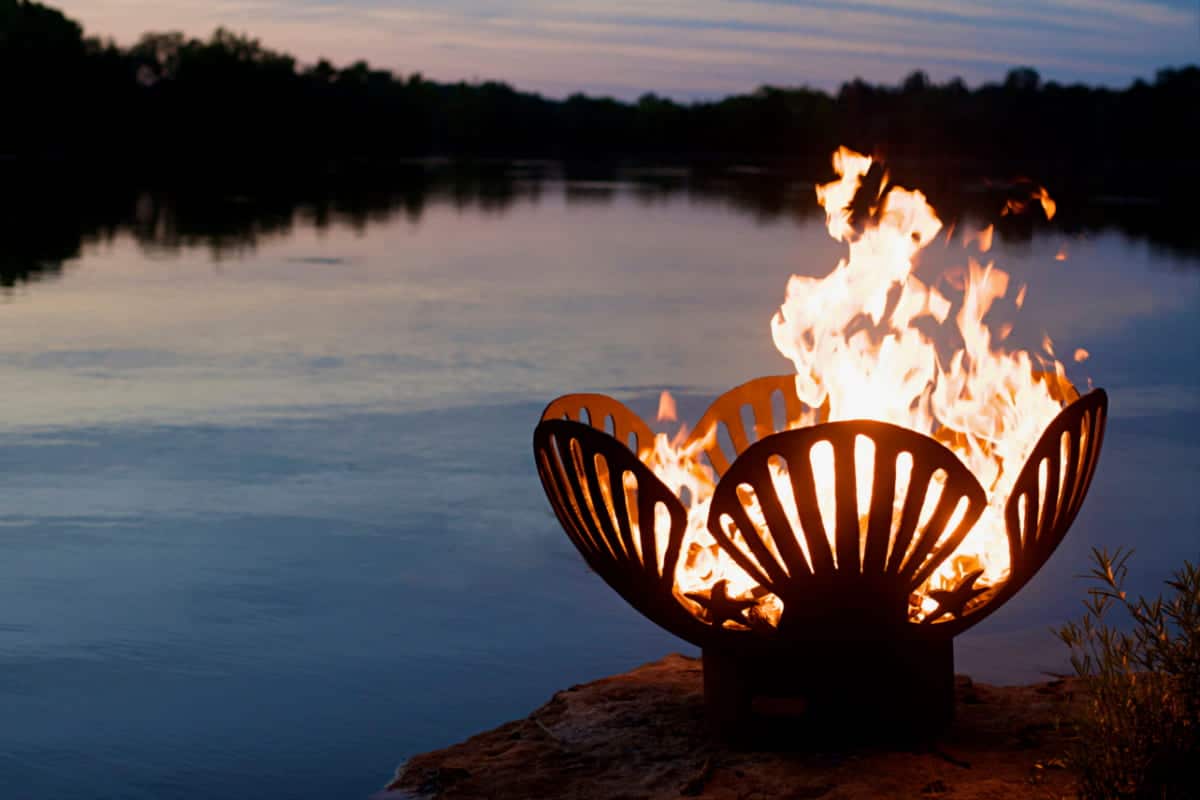 Type – What kind of fire design do you want?
Once you've determined if you can install a fire, where you want it and how you're going to use it, it's time for the fun part – choosing the best type for your setting.
Permanent fire pits – Above or below ground?
If you have the perfect spot and want to make a statement, installing a built-in fire pit fixture is a great option. They're safer than mobile alternatives since they can't be knocked over by pets or kids. You can spend very little with DIY kits or invest in a professional mason to build something that will increase the curb appeal of your property. Be sure to choose materials and decor styles that match or complement the rest of your yard or home.
In-ground firepits
These campfire-style installations can be pretty basic. All you really need to do is dig a pit in the open ground and line the bottom with bricks, concrete or a plain fire ring. Add a circular frame of large rocks around the perimeter for a traditional look. Since the sunken design is low-key, you can get by with a few tree stumps or folding camping chairs for seating.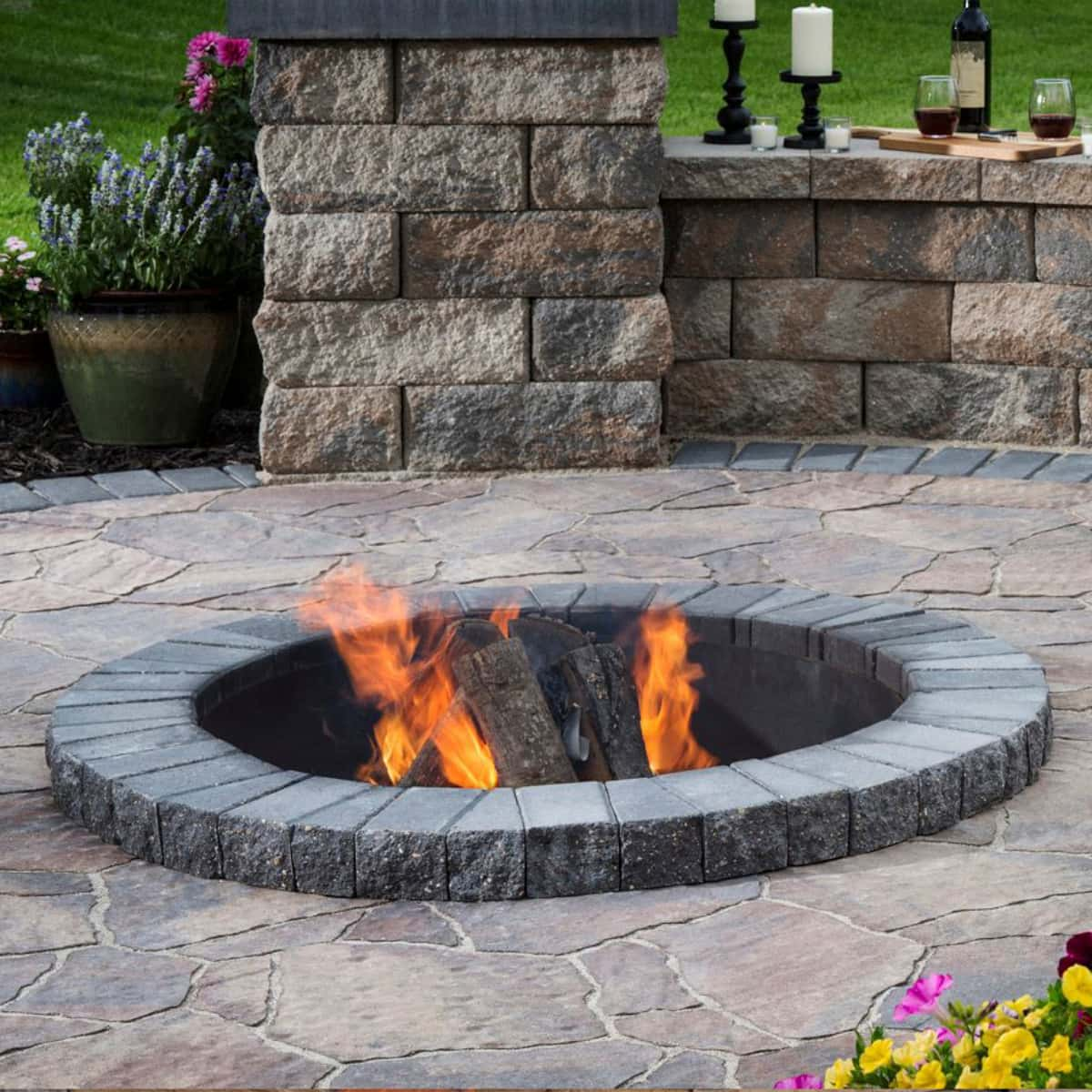 Above ground firepits
If you're looking for something a bit more substantial, you might consider building your permanent fire pit from the ground up. Kits are available for the Bob Vila crowd, but most people should hire a contractor to ensure that it complies with local fire and construction ordinances. These masonry structures typically work in concert with a matching floor and often incorporate a built-in wrap-around bench. The cohesive look and large scale create a lounge oasis when situated away from the main house. The National Fireplace Institute is a great resource to identify certified professionals and educate yourself on hearth safety.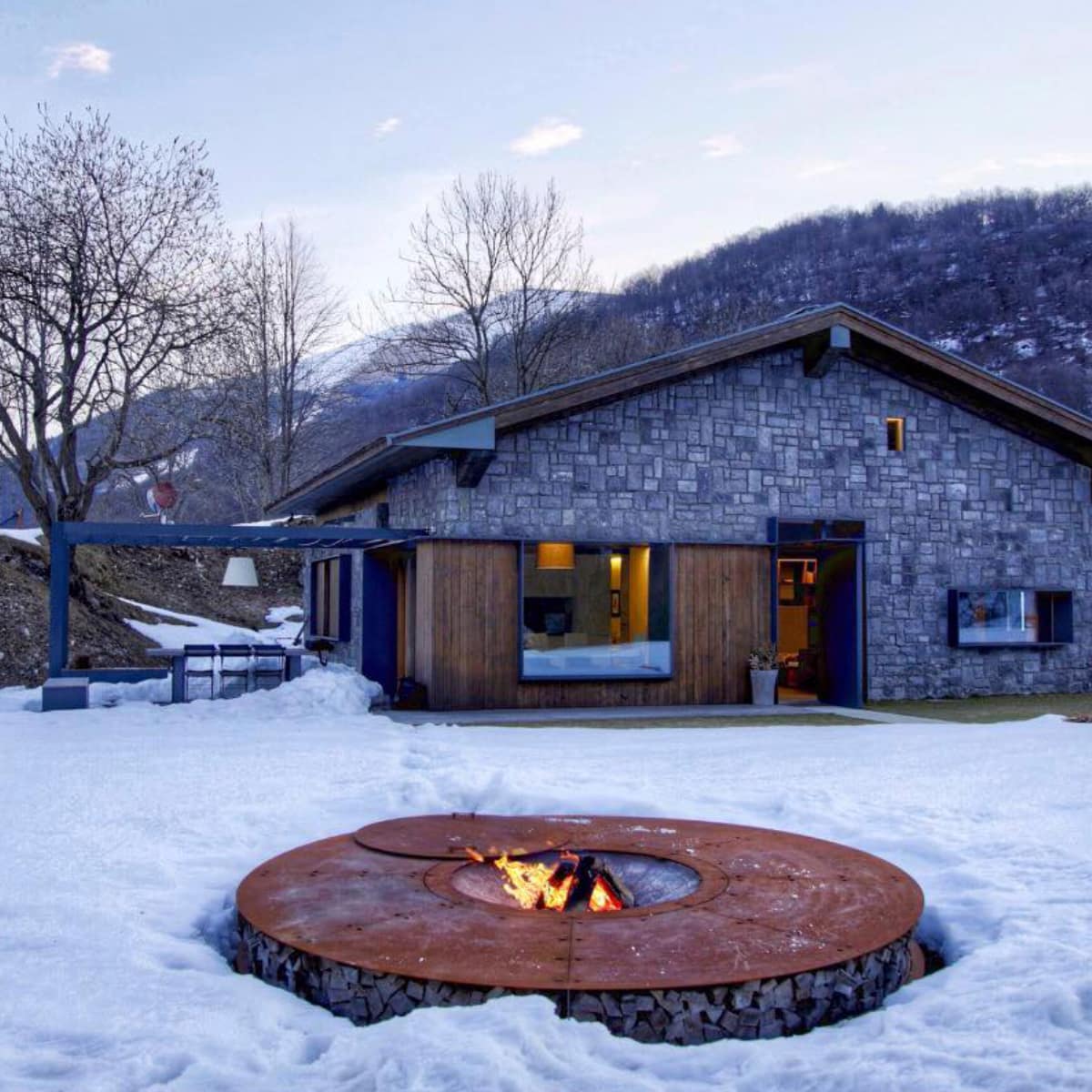 Portable fire pits – Heavy or lightweight and easily moved?
If you want the flexibility to periodically rearrange your outdoor setting, a mobile firepit might be a better choice. Though typically smaller than their anchored counterparts, portable fires have more styles from which to choose. They also work on patios, decks and poolside.
Fire Pit Rings
These are easily the most basic type of portable firepit with an extremely simple set-up. Usually, they're made from folding or detachable curved panels of metal that latch together to form a ring or square. Just set them on a fire-proof surface and set the wood inside. The enclosure keeps the coals and embers from spreading out and gives the fire form. Many fire rings have artistic designs stenciled into the sides, which glow from the flames within. When the fire is out, just unlatch the segments, wash them and the base surface and you're done. They also make a handy on-the-go campfire you can take to the beach.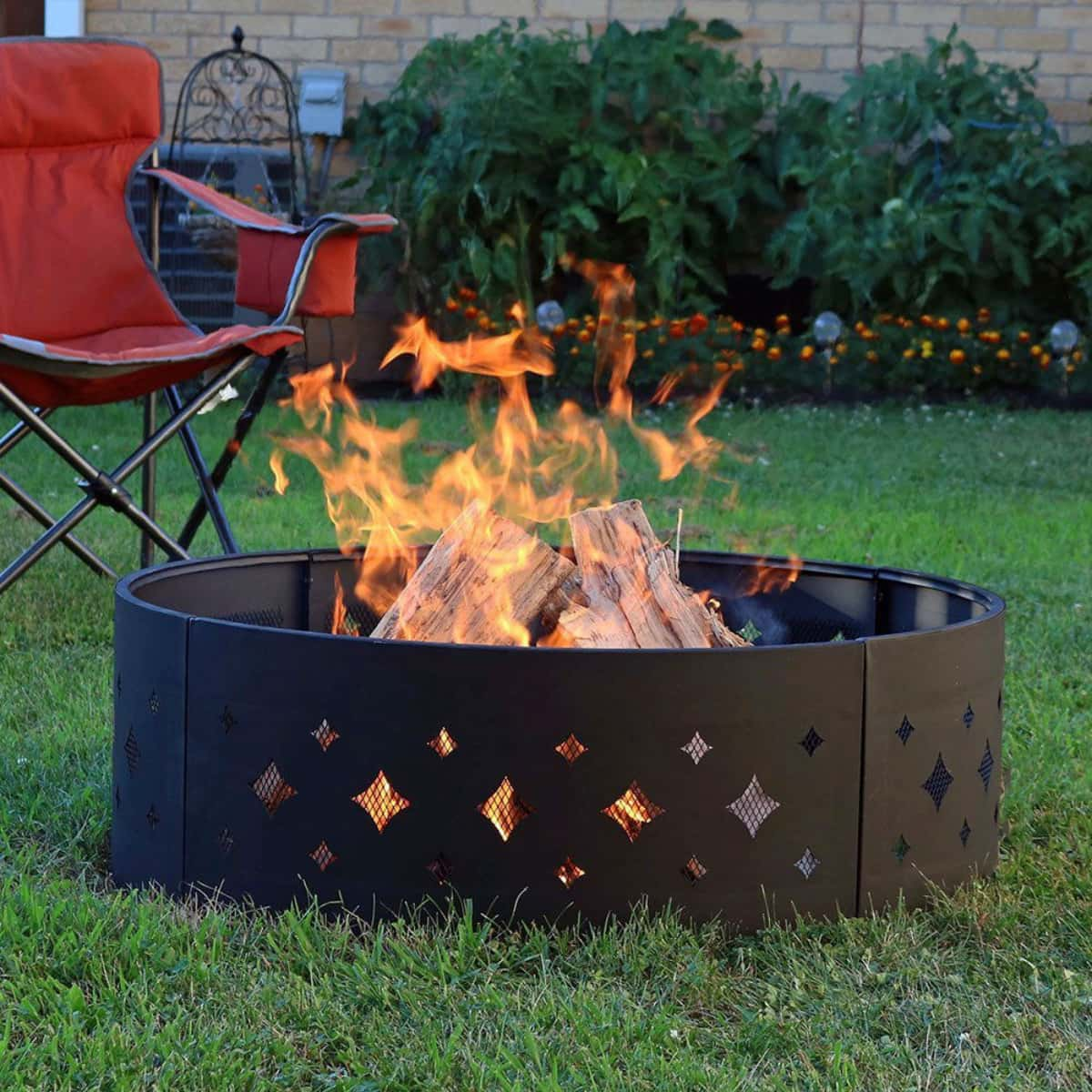 Fire Bowls
There's no confusion over what these are – bowls that contain fire. They come in many sizes and materials, and burn a variety of fuels. The bowls may be empty receptacles in which you place wood or they might contain smooth rocks or glass pieces that hide a burner. If they require a gas connection, fire bowls become less mobile, but they can be moved to wherever you need them. They're a great option for smaller spaces and their minimalist design blends seamlessly with virtually any decor.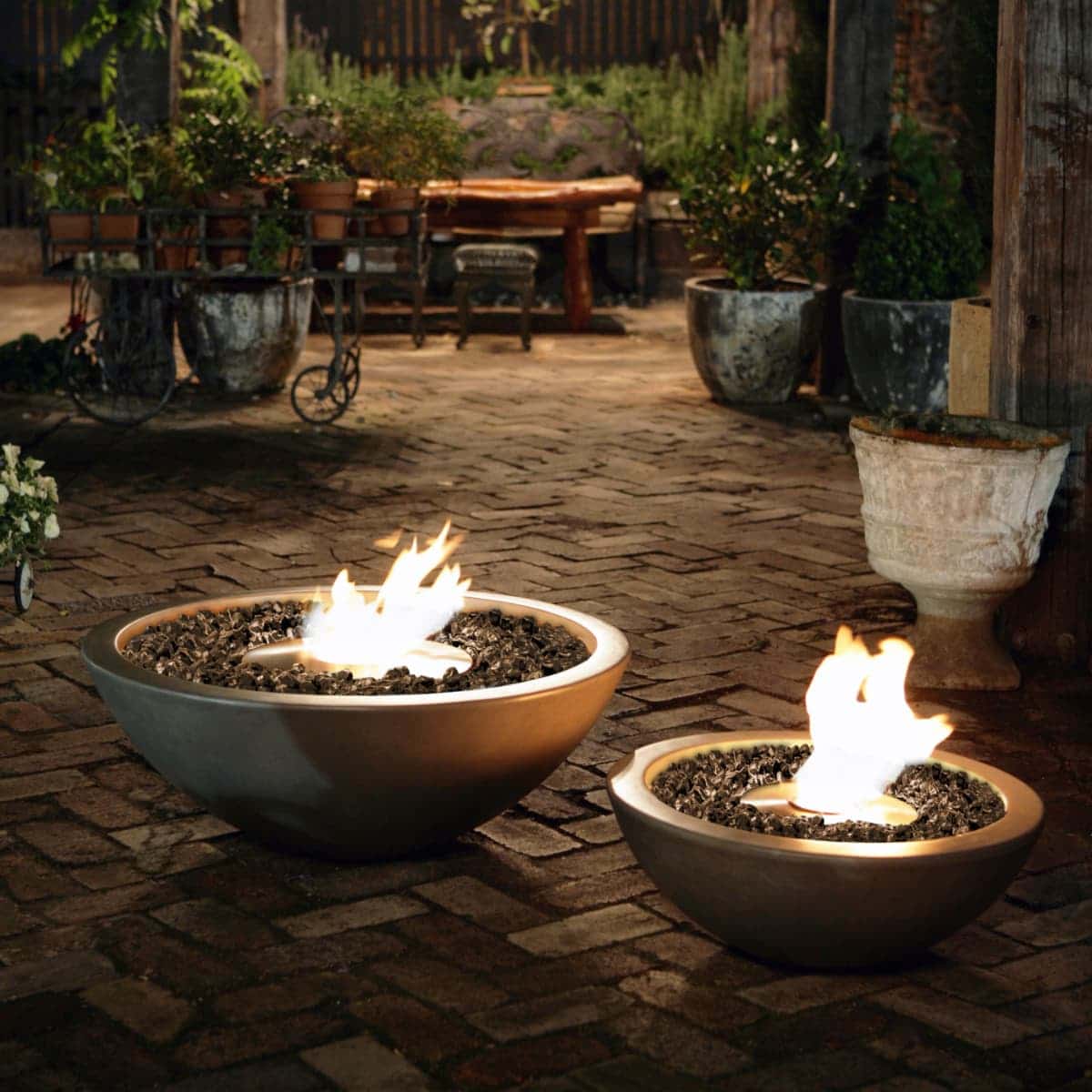 Fire Columns
These tall fire structures serve more as decorative lighting than sources of functional heat. Their slender design and elevated flame work well along walkways to light the path or mark the periphery of your yard. Fire columns also look spectacular when lined up around the edges of a pool at night and can elevate the look of common outdoor settings to the sublime.
Chimineas
If you're looking for a quick and easy firepit to warm up around, a chiminea (or chimenea) might be the right call for you. These fire pieces feature a wide opening on one side and a narrow chimney above to redirect smoke. They traditionally have a potbelly stove-like design, are made of terracotta and burn wood. However, more modern versions have sleek angular metal bodies and use ethanol or gas as fuel. Some chimineas have multiple openings for cooking or storage. While they are freestanding, many are heavy and are not meant to be moved frequently. While some may have a series of drainage holes in the bottom, most chimineas do not and can become water-logged if not tended to.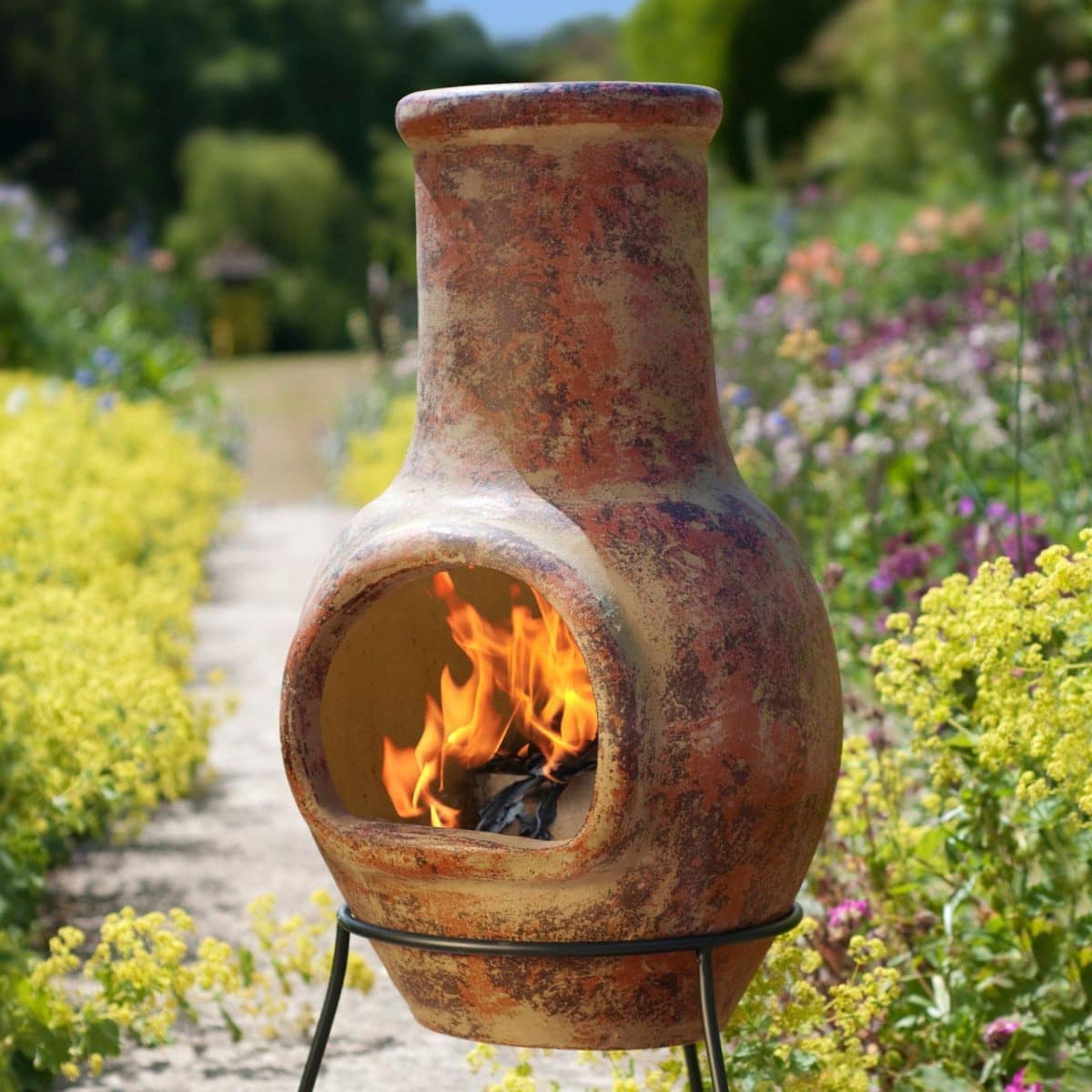 Fire Pit Tables
One of the hottest trends in outdoor fire furniture is firepit tables. These multi-purpose units feature an opening with a burner surrounded by a flat tabletop surface. The opening may be round, square or a long rectangular channel running down the middle of the table. Glass windscreens are often employed to protect both the flame and anything set on the surface (or stray hands). Tabletop fire pits range from low coffee tables to dining and bar height versions that make for memorable al fresco experiences. These mesmerizing centerpieces are typically placed in the middle of seating arrangements and help to create a welcoming social environment.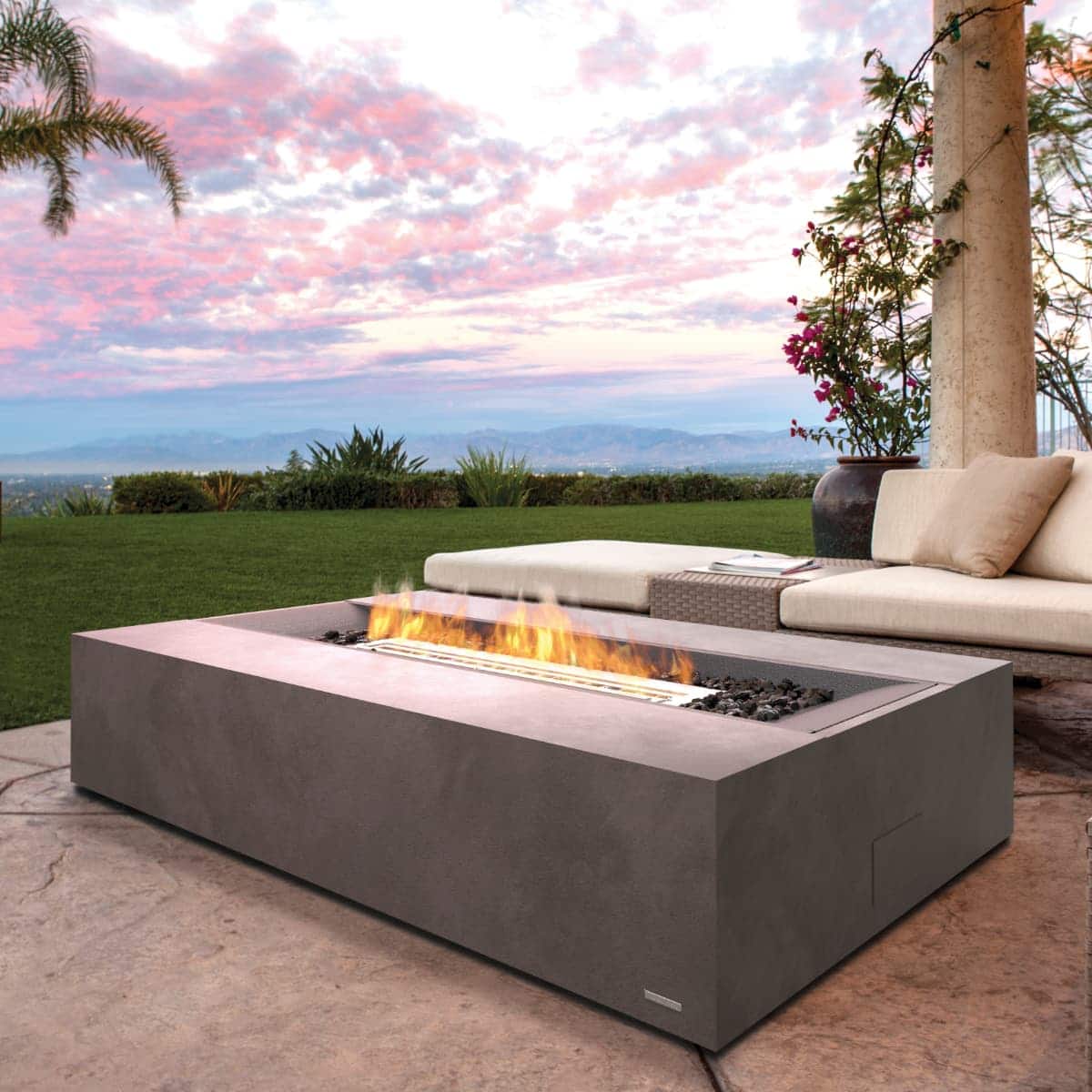 BUY FIRE PIT TABLES
Fireplaces – Standalone, wall-bound or movable?
If you want something substantial that will work well near your home, a directional fireplace might be the ticket. Depending on the fuel, you may need a flue for venting smoke and fumes.
Built-in Fireplaces
These large permanent structures are what most people envision when they think of a fireplace. They may be part of the back wall of a house or connected by an extending wall or roof. Traditional versions include a hearthstone, firebox or fireback and a mantel, along with a chimney. There are outdoor fireplace kits that come complete with everything you need for a DIY fireplace at a fraction of the cost of a professionally installed one. However, you may want to consider hiring a mason or contractor if your intention is to increase the valuation of your home. Masonry fireplaces are typically constructed using blocks of minerals or concrete.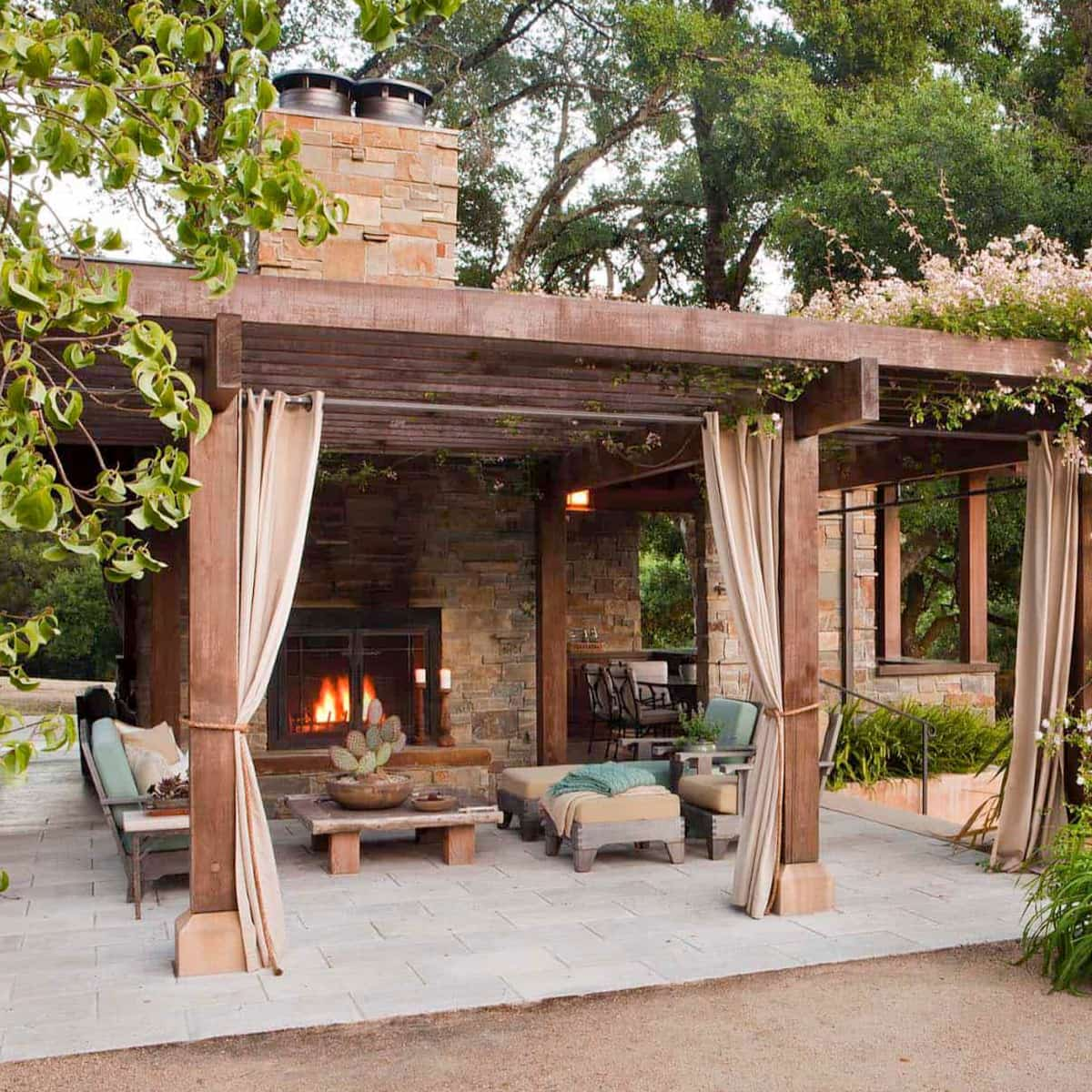 Fireplace Inserts
Zero clearance fireplace inserts are a great lower-cost option to standard wood burning fireplaces. These gas-fueled fireboxes are easily installed in the walls of most outdoor structures. Some are self-contained – no gas line connection or venting is required. Decorative logs or glass charcoal can also be added to conceal the burner and create a more natural look. Even though fireplace inserts can be used outdoors, it's advisable to have some overhead protection.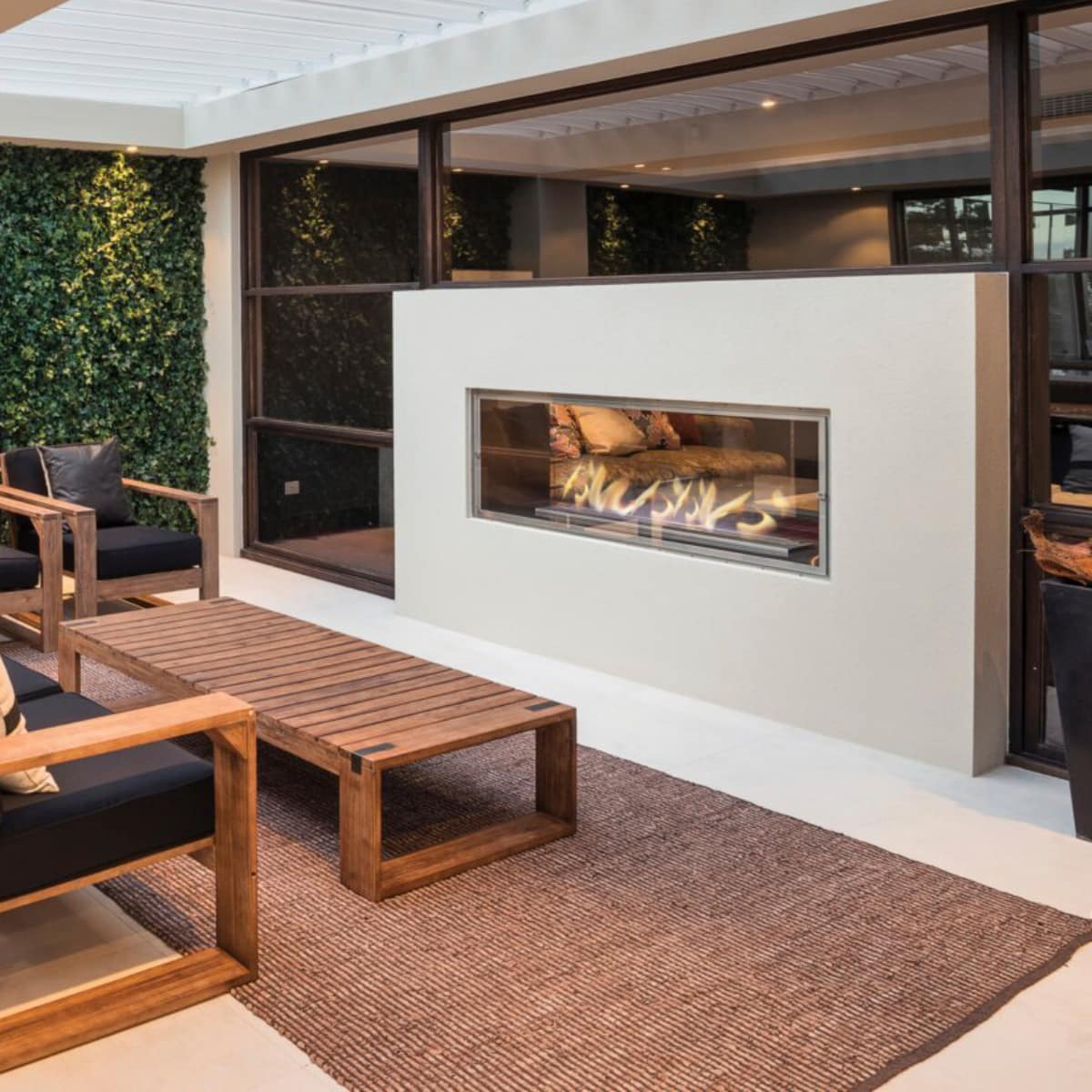 Portable Fireplaces
The most user-friendly fires are portable outdoor fireplaces. They're ready to use out of the box and are usually easy to maintain. Because they're self-enclosed, they provide more flame and fume control than fire pits. Portable fireplaces tend to have a contemporary minimalist design, which makes it easy to incorporate them into a variety of settings.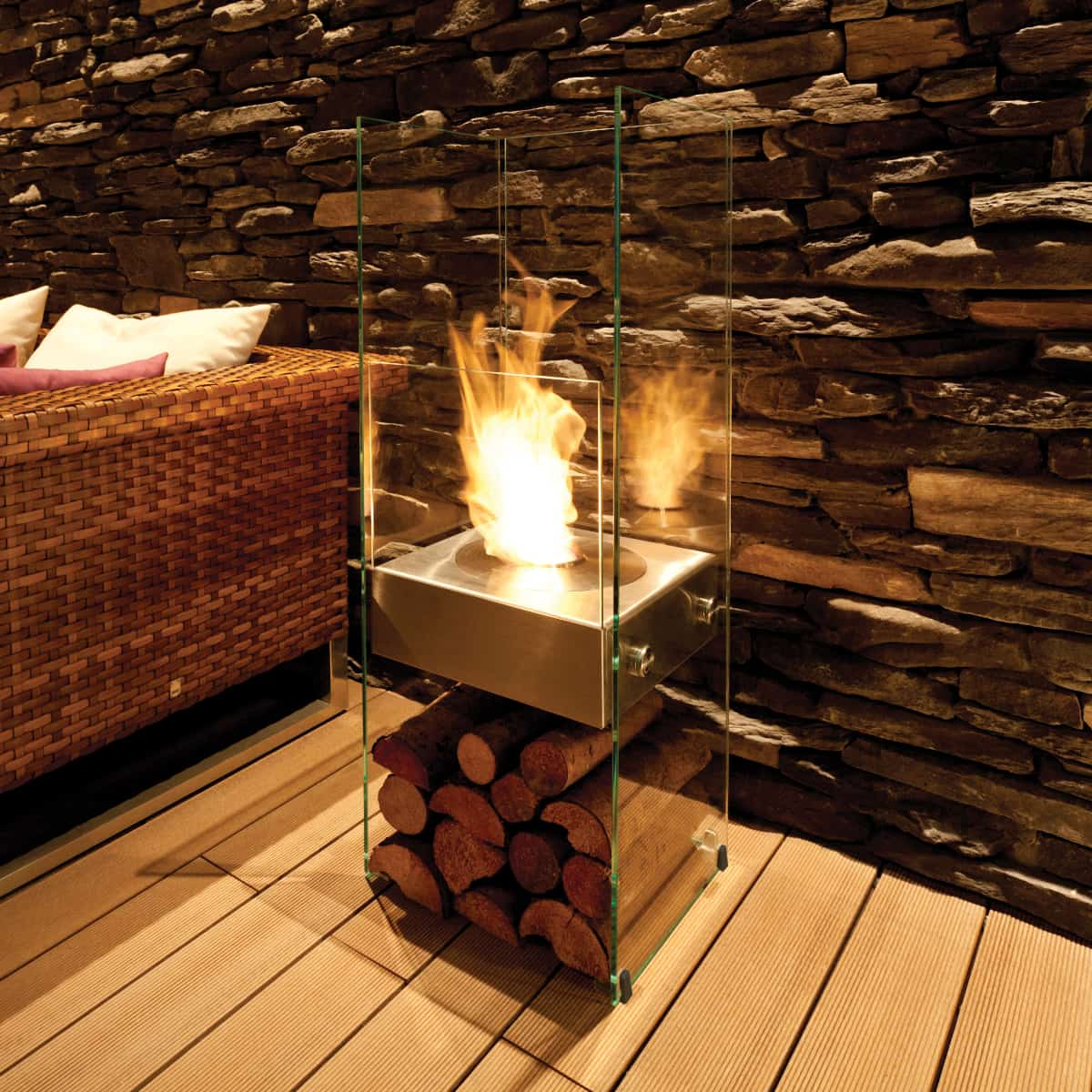 BUY PORTABLE FIREPLACES
Material – What physical properties are most important?
Now that you've chosen the type of fire structure you'd like, it's time to select which material best suits your needs and taste. There are a number of popular options, each with its own set of pros and cons to consider.
Metal – Corrosion-resistance & heat conductivity
Metal fire pits come in a wide variety of shapes, styles and aesthetic qualities.
Steel – This metallic alloy is strong, heavy and comparatively expensive. Untreated steel is susceptible to rust and needs to be powder-coated to protect it from the elements. Stainless steel fire pits, on the other hand, contain additional chromium which makes them corrosion-resistant. Stainless steel a great choice for harsh climates. It's also easy to clean and maintain. Unfinished steel has a sleek industrial look while powder-coating the metal with paint gives it a contemporary vibe. Oxidized iron finishes are often used to create a timeworn rustic feel.

Cast Iron – This metal is sturdy, quite heavy, relatively inexpensive and retains heat. Consequently, cast iron fire pits are extremely effective in cold weather and favorable to cooking applications. This black carbon alloy is resistant to corrosion but may become discolored if exposed to moisture unless treated regularly. It also heats quickly and can be dangerous if touched before cooling.

Aluminum – This lightweight metal is extremely affordable, rust-resistant and will last for years with very little upkeep. It's also a strong conductor of heat. Aluminum firepits won't crack or warp and have a brilliant silvery finish, unless powder-coated with paint. Its light weight makes aluminum a good choice for portable fire pits.

Copper – This popular element is durable, highly resistant to corrosion and the most thermally conductive common metal. If warmth is high on your list of priorities, copper is a wise choice. Its freshly exposed surface has a gorgeous pinkish-orange color, but it develops a greenish-brown patina as it is exposed to oxygen over time (think of the Statue of Liberty). Consequently, copper fire pits require frequent cleaning to maintain their original look. It's also among the more costly metals.
BUY METAL FIRE PITS
Mineral – Heat insulation & traditional style
Fire installations constructed from mineral substances vary in durability and aesthetic quality.
Stone – This natural form is long-lasting, affordable and has a distinct look and textural appeal. Stacked stone fireplaces and stone fire pits evoke pastoral images of farmhouses and gardens. They don't conduct heat well, so firepits should be open if warmth is paramount. Solid or stone veneer fireplaces are not hot to the touch, so they are perfect for outdoor settings where there is a lot of foot traffic or small children.

Concrete – This mixture of gravel, sand and cement can be cast in multiple shapes and acts as a natural insulator. This allows concrete fireplaces and cinder block fire pits to remain cool when lit. The smooth surface of poured concrete complements minimalist decor and the substance is often used for fire tables. It's durable but gets soot-stained over time, so it should be treated with sealant and cleaned periodically.

Clay – This moldable fine-grained substance weathers well but is somewhat fragile based on the form it takes. A painted brick fireplace, for example, is much stronger than a terracotta chiminea or ceramic fire bowl. Clay is heat-resistant, so it's not as hot to the touch as metal. The surface is often adorned with geometric designs or decorative organic motifs. It's also relatively inexpensive, so you're not out an arm and a leg if it chips or breaks.
Glass – Thermal strength & heat absorption
Outdoor fireplaces and fire pits may have transparent bodies, windscreens or doors made from strengthened glass.
Tempered Glass (a.k.a. Toughened Glass) – This safety glass is thermally and chemically treated to be 4-5 times stronger than standard annealed glass. When broken, it fractures into small harmless pieces, rather than shattering into dangerous shards. It's frequently used in cookware, sliding doors and the screens of computers and mobile phones. Tempered glass fireplaces are heat-resistant, so the surface gets warm, but it's cooler than other materials. It does the job for lower temperature fires where the flame is not too close to the glass.

Ceramic Glass – This substance is not actually glass, but a transparent polycrystalline ceramic material. It's about three times stronger than toughened glass but less heat-resistant, so ceramic glass fireplaces or oven door windows are dangerously hot and can easily burn your hands. Ceramic glass is best for situations when the flame is close to the surface or there's extreme heat (e.g. enclosed wood-burning stove or fireplace insert). It's also much more expensive than tempered glass.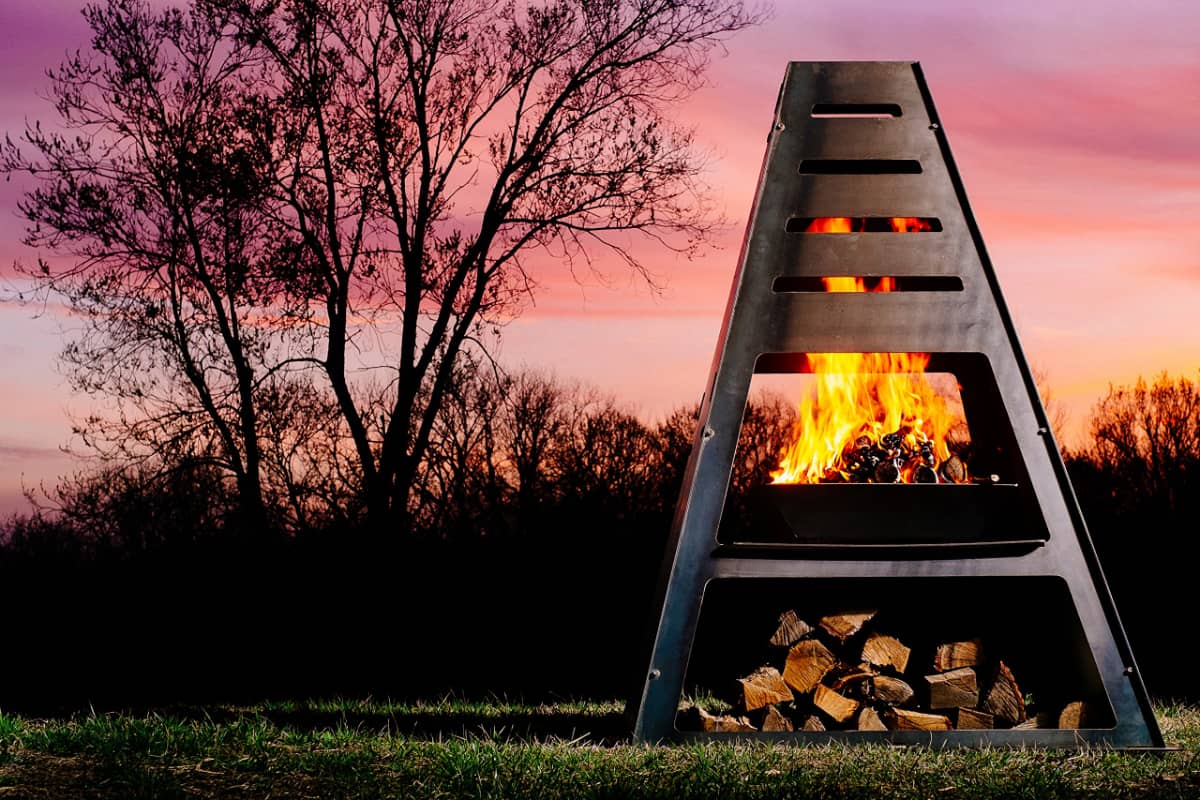 Fuel – Does smoke, smell, convenience or cost matter most?
All fires are not the same. The fuel used to generate a flame affects the heat emitted as well as the experience of those nearby. Some fuels are low priced and easy to work with, while others are more expensive and require effort.
Wood – Cheapest fire with other costs
There's nothing like sitting around a fire of burning logs. The crackling sound, glow of flames and aroma of burning wood create an appealing atmosphere. It's also inexpensive, readily available and adds flavor to grilled meats and vegetables. However, there are downsides to wood-burning fireplace inserts and fire pits. If the wind shifts, smoke can get in your eyes and the smell can linger on your clothes and hair. It can be a challenge to light and you have less control over the flame and embers, which can pose a fire hazard if not properly tended and extinguished. There are soot and ash to clean up, and you still need to store cords of wood and kindling.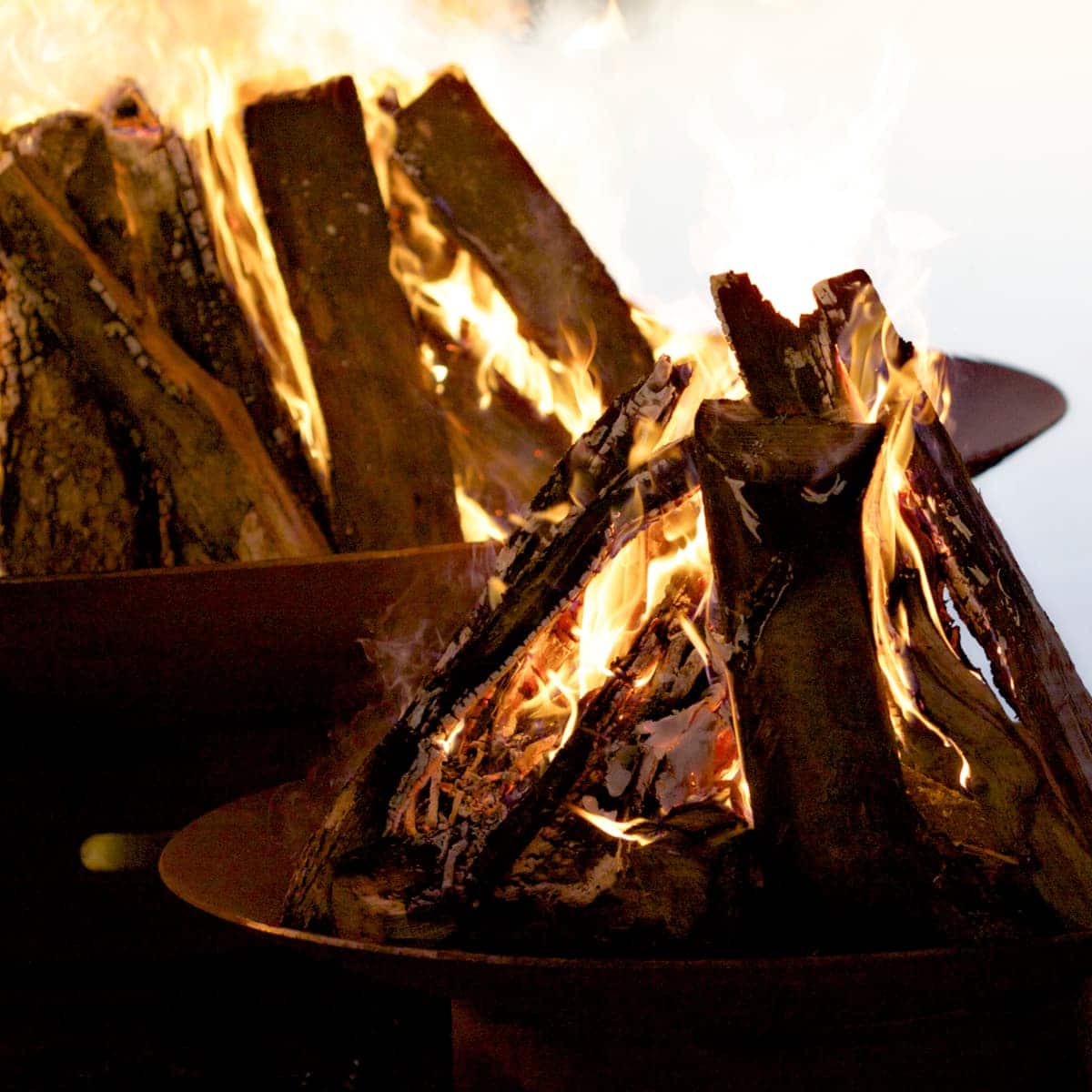 Gas – Clean burning with a hot flame
Outdoor gas fireplaces are more restrictive than those that use other fuels since they require a connection to a tank. But gas is inexpensive, ignites quickly and has an adjustable flame without smoke or residual debris to clean up. The heat generated can be used to warm or cook, but there is a certain odor that may be unpleasant to those with acute olfactory senses.
Propane – Liquid propane is the best heat source (i.e. burns the hottest), but you might run out of gas mid-barbecue if you don't monitor how much is left in your tank. Propane fire pit tables can go almost anywhere but you have to be mindful of the tanks. These storage containers are unsightly, so you may want to get a long hose to keep them out of view or buy a cover. You'll also want to properly store propane when not in use as the gas is highly flammable.

Natural Gas – Plumbed natural gas is the most cost-effective fuel once you get past the upfront installation expense. Natural gas fire pits and natural gas fireplace inserts are typically placed near the home in close proximity to existing gas lines. The fuel produces a whitish flame and you don't have to worry about it running out.
Liquid Bio-Ethanol – Attractive eco-friendly fire with no odor
This "green" plant-based fuel is becoming one of the most popular choices for commercial and upscale residential outdoor spaces. Ethanol fireplaces are smokeless, virtually odorless and self-contained, so you don't need a flue – making them even more appealing than ventless gas fireplaces. [Krzysztof & Paweł 2020] They're easy to install as fireplace inserts and table top fire pits using ethanol can be used both indoors and out. The burners need to be refilled and lit manually, but it's generally a simple process. This efficient long-burning fuel produces a pleasing orange flame and is relatively cost-effective. Its heat output, however, is less than alternative options and you cannot cook with ethanol.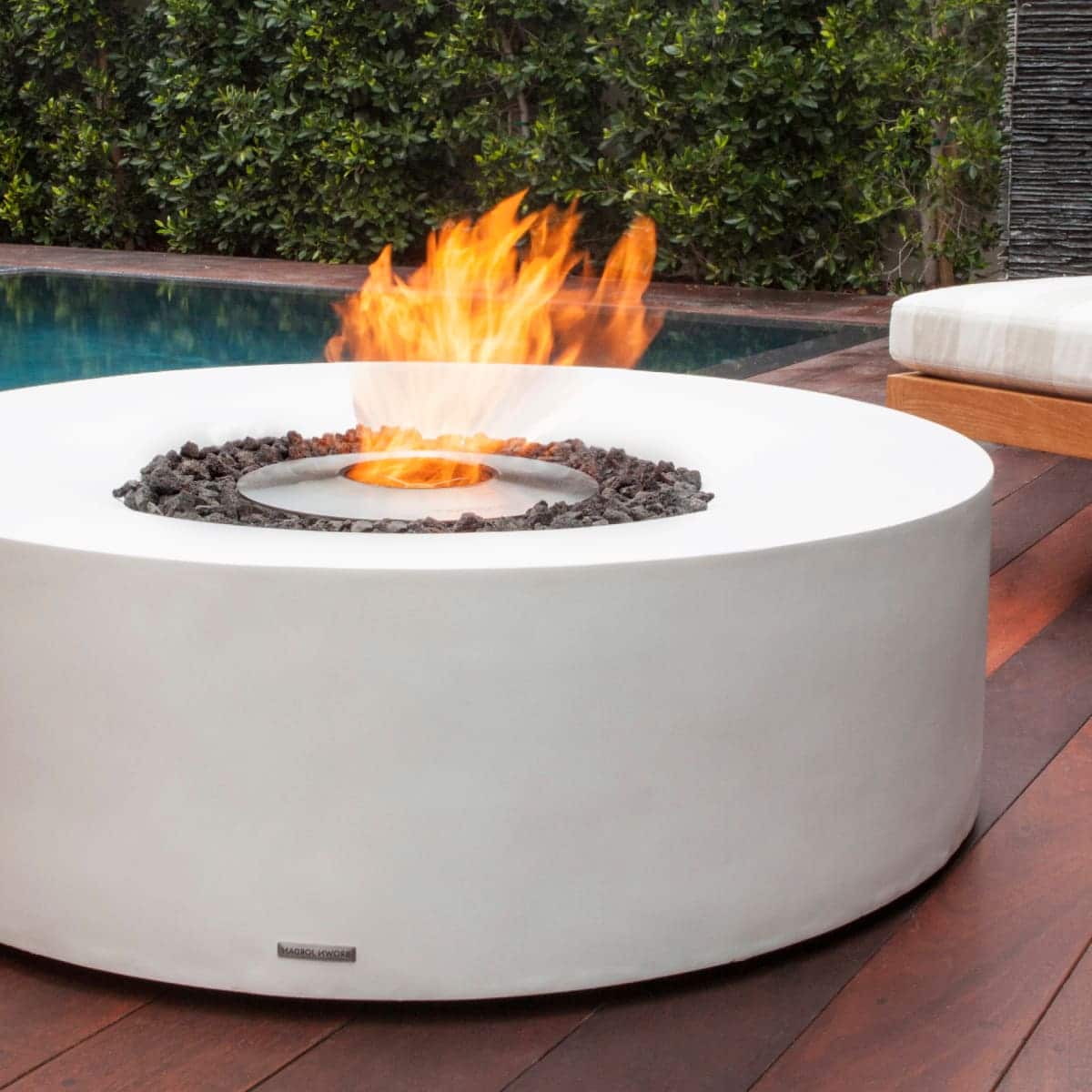 Other Fire Fuels – Aesthetics versus utility
Additional combustion materials have limited applications for outdoor fires, but they still have appeal for specific circumstances.
Gel Fuel – This semi-viscous chemical fuel is easy-to-use and emits no smoke or smell. It comes in small canisters that are quick to light and replace when exhausted. Gel fuel smokeless fire pits generate very little heat, so they're almost exclusively used for light and creating atmosphere. Gel is also the most expensive fuel with a short burn time.
Wood Pellets – These small wooden cylinders (usually less than 1″ long) are made up of compressed sawdust, lumber scraps and other saw mill by-products. They have greater temperature control, burn more consistently and retain a higher heat than standard firewood logs. The reason is that each pellet has a similar tree species and moisture content, while firewood may vary greatly from log to log. They can be used in a firepit, as well as a stove or pellet grill, which must be constructed of high-quality materials with reinforced welding that can handle the higher temperatures. You can even buy flavored hardwood grilling pellets for BBQ smokers at supply stores like Home Depot, Lowe's or Costco.

Charcoal – This utilitarian fuel doesn't do much for the eyes but it's a familiar friend that comes through when needed. Charcoal fires produce a low flame, but the long-burning coals generate high and even heat that's perfect for cooking. It's easy to picture a backyard barbecue with a Weber Grill cooking burgers over a bed of charcoal. There's a bit of a mess to clean up afterward and it may take a second to light, but a bag of charcoal is cheap and simple to store. It can be quite smoky so keep charcoal grills away from your house (or at least downwind).
Features & Accessories – How can you enhance your outdoor fire experience?
Once you get beyond the basic set-up, there are a number of options that can improve the performance, appearance and capabilities of your fire structure.
Flame Ignition – Lighting your fire
Ethanol or wood burning fireplaces must be lit by hand, but natural gas or propane fire pits often come with options.
Manual Light – Once the gas valve is opened, ignite the flame by hand with a long lighter or match.
Auto-light – The gas is turned on and the flame is lit automatically by means of a single switch or button.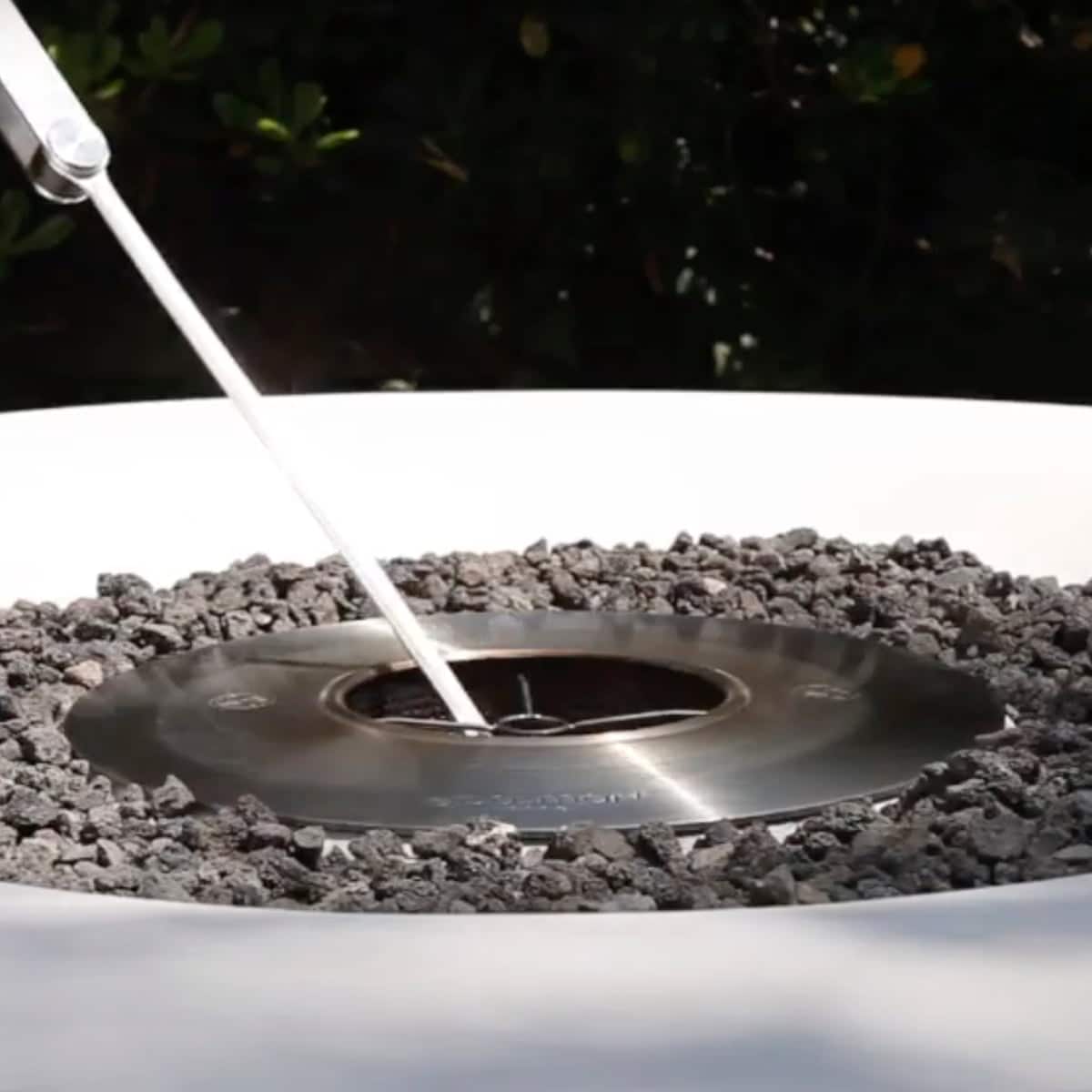 Decorative Media – Accenting your firepit or fireplace
If you opt for an ethanol or gas fire, you can still achieve the appearance of a natural wood fire pit or enhance its visual appeal.
Fire Glass – These smooth bits of tempered glass come in a variety of colors and are typically used to obscure gas and ethanol burners as well as control the flame.

Lava Rocks – These rugged pieces of porous rock protect burners from the elements, help maintain an even flame and provide a natural-looking aesthetic.

River Rocks – Despite the name, these are not really rocks at all. River rocks found in nature are porous and may explode when heated and cooled. Fire pit river rocks are typically made from volcanic basalt or ceramic material and can safely withstand high temperatures. They are colored and shaped to mimic the smooth rocks found in rivers and streams, and are used in gas fire bowls or to outline ethanol burners.

Faux Wood Logs – These artificial pieces range from realistic ceramic facsimiles to minimalist metal cylinders that may be set in the fire or alongside. Unlike the real thing, there is no smoking.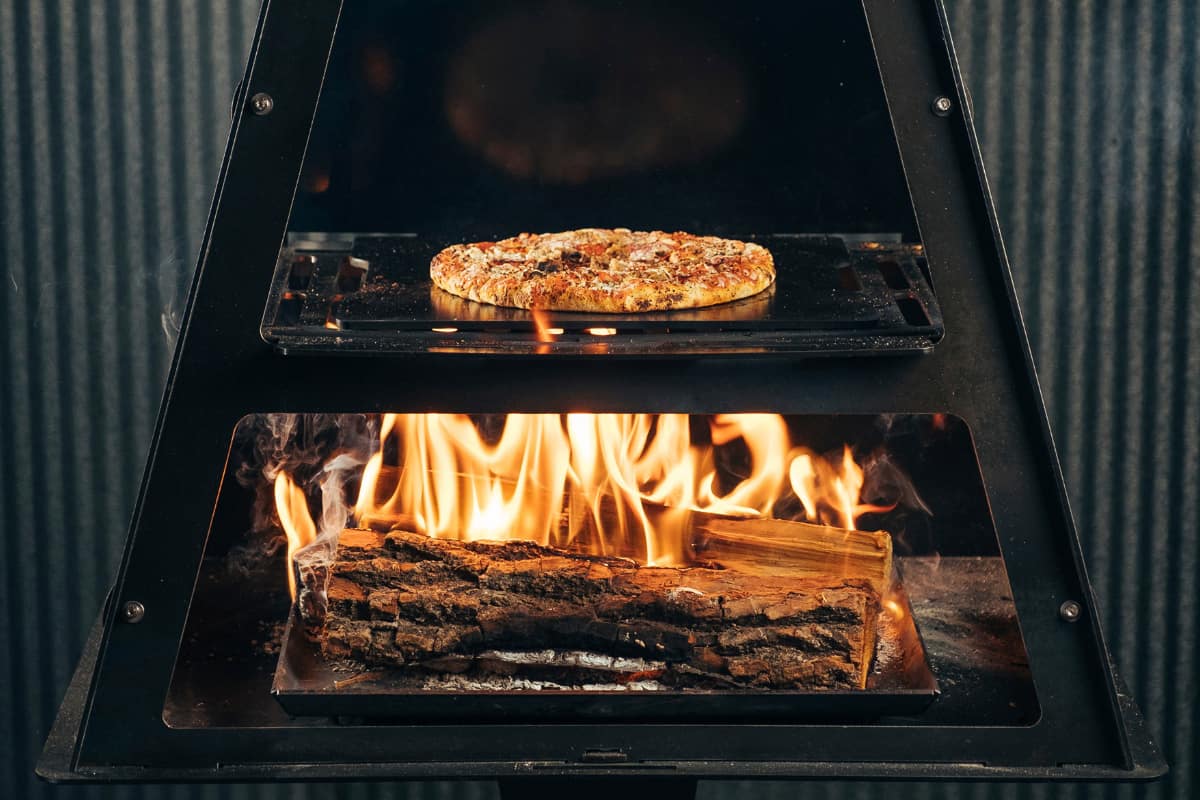 Cooking – Heating & serving your food for alfresco dining
Some fire pits and fireplaces can be outfitted with cooking accessories to serve as a makeshift outdoor kitchen.
Grills & Racks – Many gas and wood burning firepits have grill or rack attachments that sit above the flame.
Baking Pans – Specialized enclosed fireplaces and chimineas may be used as pizza ovens and include steel sheets for even heating.
Meat Hangers – Outdoor fires may be used to smoke meat, but they require you to suspend it above the flame so it can absorb the smoky flavor.
Other Fireplace Tools & Accessories – Managing the flame & protecting yourself
A few simple products can greatly improve the efficiency and safety of your fire.
Grates & Andirons – Grates are metal trays that sit beneath kindling and logs to improve the airflow needed to start and maintain a roaring fire. Built-in fireplaces may have substantial legged versions, while firepits or chimineas may simply have a thin slatted tray that sits on a ledge. An andiron is a metal support that helps to hold logs in place above the floor for airflow and they usually come in pairs. Some are very decorative and add subtle style to a hearth.

Pokers – These long metal rods (a.k.a. fire irons) are used to stoke the fire by moving wood and coals around. They often have a barbed side for hooking logs and rolling them over. You can usually purchase a fireplace tool set that includes a poker, scissored tongs for grasping logs, long-handled brush and a dustpan for ashes. It helps to have a rack for the set that either mounts to the fireplace or sits on the ground.

Wind Screens & Spark Screens – These toughened glass or metal barriers prevent embers and sparks from flying out and stray items from falling into the flames. Transparent tempered glass windscreens are ideal for fire pit tables and fireplace inserts where the ambiance of the flame is as important as the warmth it gives off.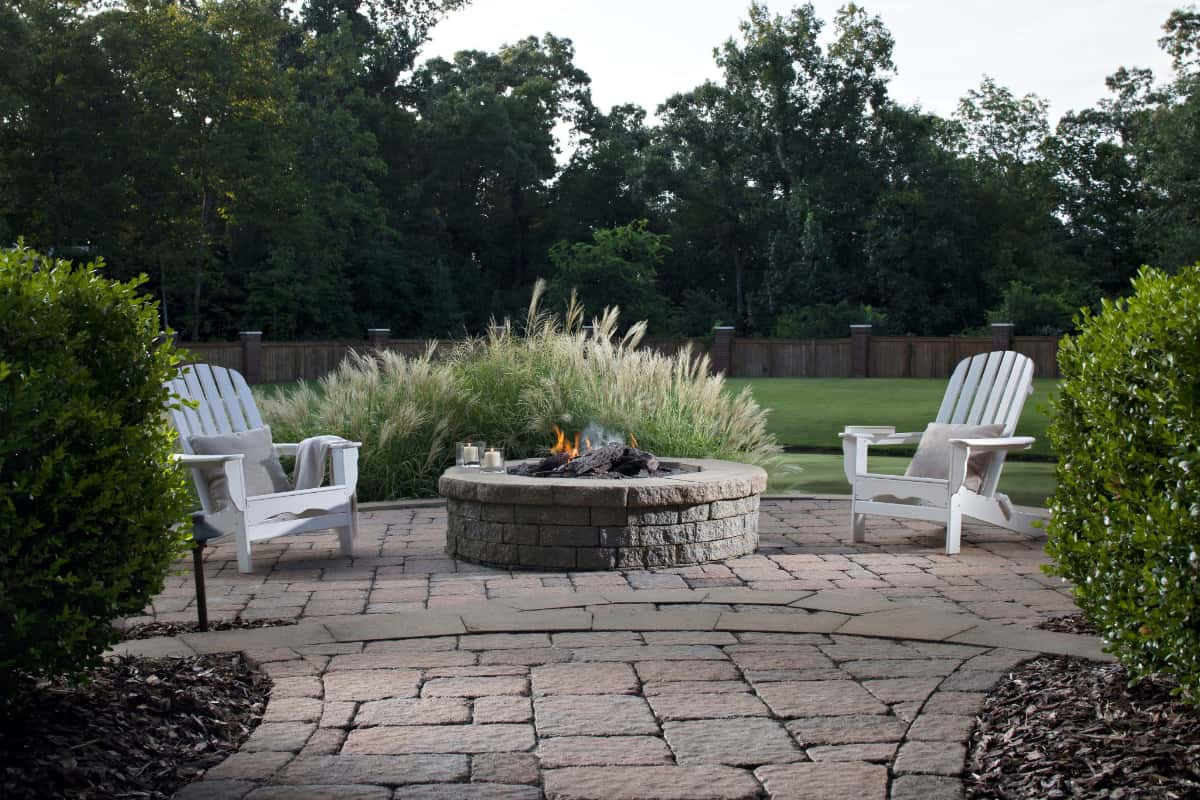 Preparation – Getting your space ready for a new fire
Once you've finalized your decision, you still need to make sure that your outdoor area can safely accommodate your fire structure. Regardless of whether it's a DIY fireplace or a portable firepit that is ready out-of-the-box, you have a few items on your "to-do" list.
Clearing Space – If you're adding fire to your backyard, make certain that all overhanging tree branches and nearby shrubbery are trimmed. Rake any dried leaves and fallen twigs safely out of the way. You might also want to check the ground with a level to ensure you have a flat surface and add filler where needed. Depending on your setting and fire of choice, it might make sense to pour cement or lay a fireproof mat. If you're placing the new fire on your deck or patio, clear out flammable materials and move any outdoor umbrellas or shade structures.
Gas Lines & Tanks – If you have plumbed natural gas in your home, it's critical to know where existing gas lines are located. You'll need to position your gas fire pit table where it can easily connect to the fuel line. You also don't want to accidentally dig into a pipe if you're building an in-ground firepit. Propane fireplaces will require a clear path to the tank and ample space for the tank itself.
Wind Resistance – If you have strong winds where you live, it's a good idea to see where the drafts are in your outdoor space. It's no fun to get smoke in your eyes and it's dangerous to risk something catching fire if embers or sparks can blow onto something combustible. Consider adding a small hedge or conveniently placed partition in the area to block excessive airflow and minimize a smoking problem.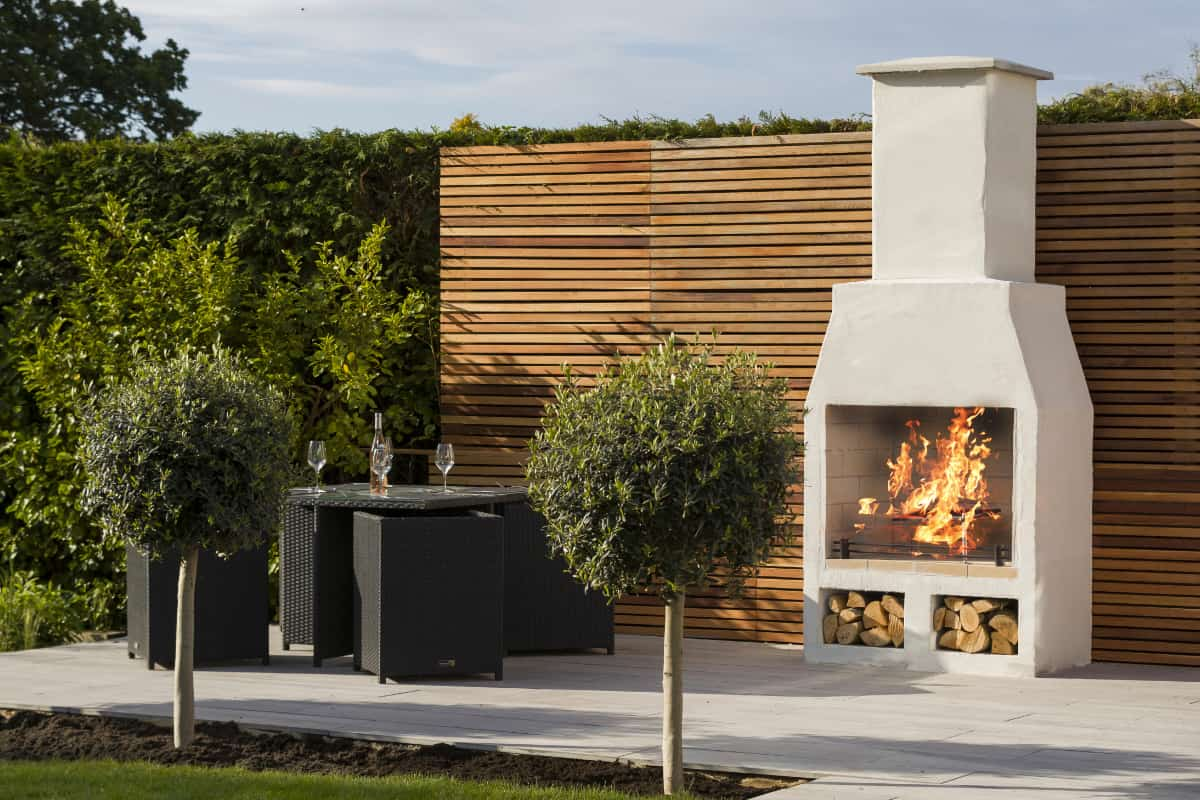 Installation – Constructing, connecting & readying your fire pit or fireplace for use
The most important lesson to remember when installing a new fire structure is to follow the manufacturer's instructions precisely.
Building & Setting Up – DIY fireplaces may save you a lot of money, but laying bricks and stone is not for the casual homeowner. A licensed mason or established contractor is probably a wise choice for substantial fire installations. Ethanol fireplace inserts don't require venting, so they're much easier for a do-it-yourself project. Fire pit tables and portable firepits may require minor assembly, so be sure to have the proper tools and keep track of nuts, bolts, screws and small hardware. You don't want to have to replace missing parts or jerry-rig a fix.
Connecting gas – Propane fire pits have fairly simple procedures for hooking up to fuel tanks. Typically, you just need to be sure your regulator hose is secured on both ends before opening up the gas valve on the propane tank. Check the directions from the manufacturer and on the tank for any specific steps or things to monitor. Connecting to your home's natural gas line is a bit more involved and should not be attempted without the involvement of a professional.
Storing fuel – Keep a supply of firewood under an overhang, awning or in a woodshed to prevent kindling and logs from getting wet. Liquid bio-ethanol usually comes in plastic bottles or jugs and they should be stored in a dry and cool place out of direct sunlight. Similarly, propane tanks must be kept cool and away from sparks and flames. They should never be stored indoors but may be camouflaged by decorative covers.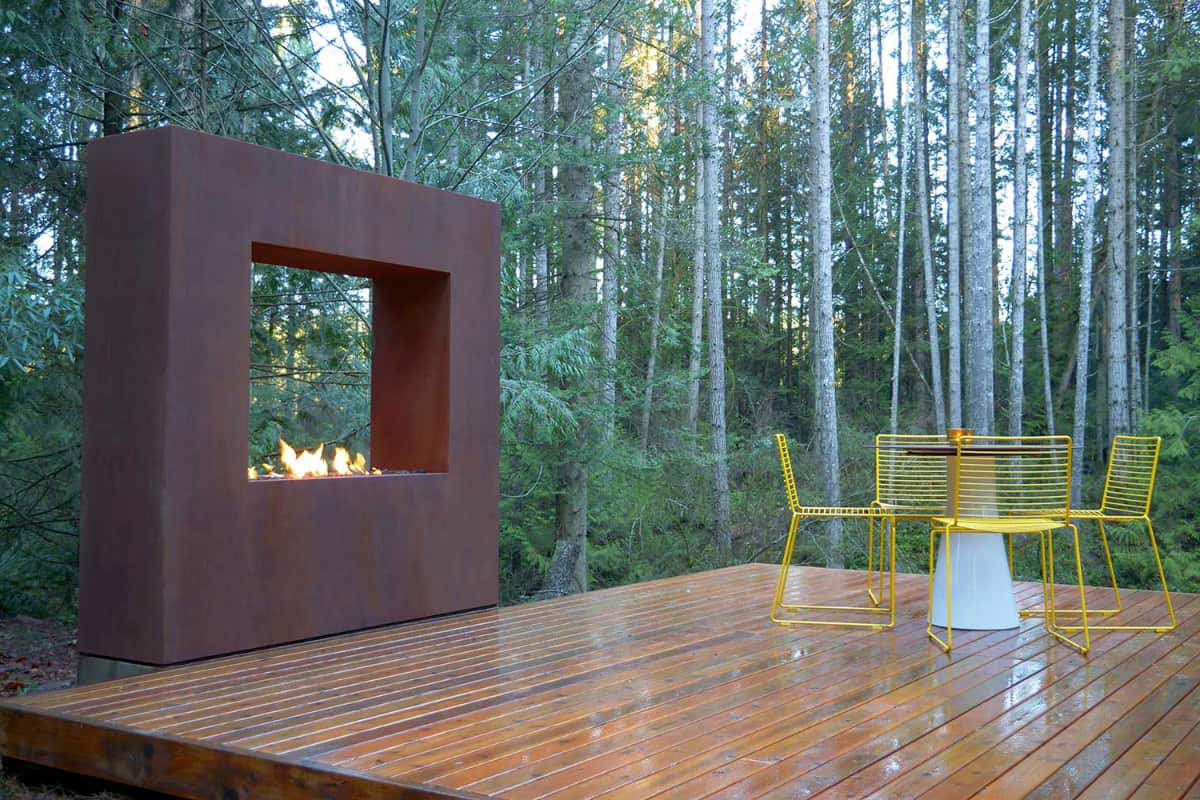 Safety – An open fire is a lot of responsibility
Before lighting an outdoor fireplace or fire pit, it's important to think about safety precautions and review all guidelines in the owner's manual. Brush fires can be extremely dangerous and cause loss of life and property, so take the time to familiarize yourself with the risks in the physical area and proper operation of your equipment.
Clearances – Make sure patio and lawn furniture is spaced far enough from the flames to be in compliance with manufacturer recommendations. Double-check that no outdoor umbrellas or awnings hang where they may singe or catch fire.
Environment – Clear the area of dry leaves or twigs that may have fallen in, on or around your firepit or fireplace. It's also smart to check out the area immediately downwind, as embers and sparks from wood-burning fires can blow out and spark brush or flammable debris.
Equipment – Verify gas connections, fittings and hoses are secure and clean, and that bioethanol burners are free from obstruction. Open up flues for vented fireplaces and clear them of any obstructions.
Behavior – Keep your distance when igniting a flame. Never use accelerants such as lighter fluid or gasoline – they are very dangerous and can cause damage to your equipment. Be wary of loose or highly flammable clothing around the fire. Needless to say, don't move a portable fire once the flame is lit. Avoid using plastic materials close to the fire. It's extremely difficult to remove melted plastic from furniture and fireplaces, and the fumes are toxic. Never leave a lit fire unattended and always be vigilant when children are around an active blaze. "Outdoor fire pits represent an increasing hazard to young children who are particularly susceptible to burn injuries from falls in or around lit recreational fires." [Flaherty & Sheridan 2019] Keep a fire extinguisher nearby or a water hose accessible in case of emergency.
Shutdown – For wood-burning fires, ensure that all embers are out when you're done. Avoid extinguishing the flame with water and use sand instead, if you're in a hurry. Spread the ashes thinly across the bed of the pit or fireplace and allow them to cool overnight. Safely dispose of them in the morning using a metal shovel and bucket. Ethanol or gel fires may require you to close the burners to extinguish the flame if you want to call it quits before the fuel burns out. Natural gas or propane fires are simpler – just turn the gas valve until the line is completely closed or set switches to the off position. In all situations, allow your firepit or fire table to cool completely before covering it or closing fireplace doors.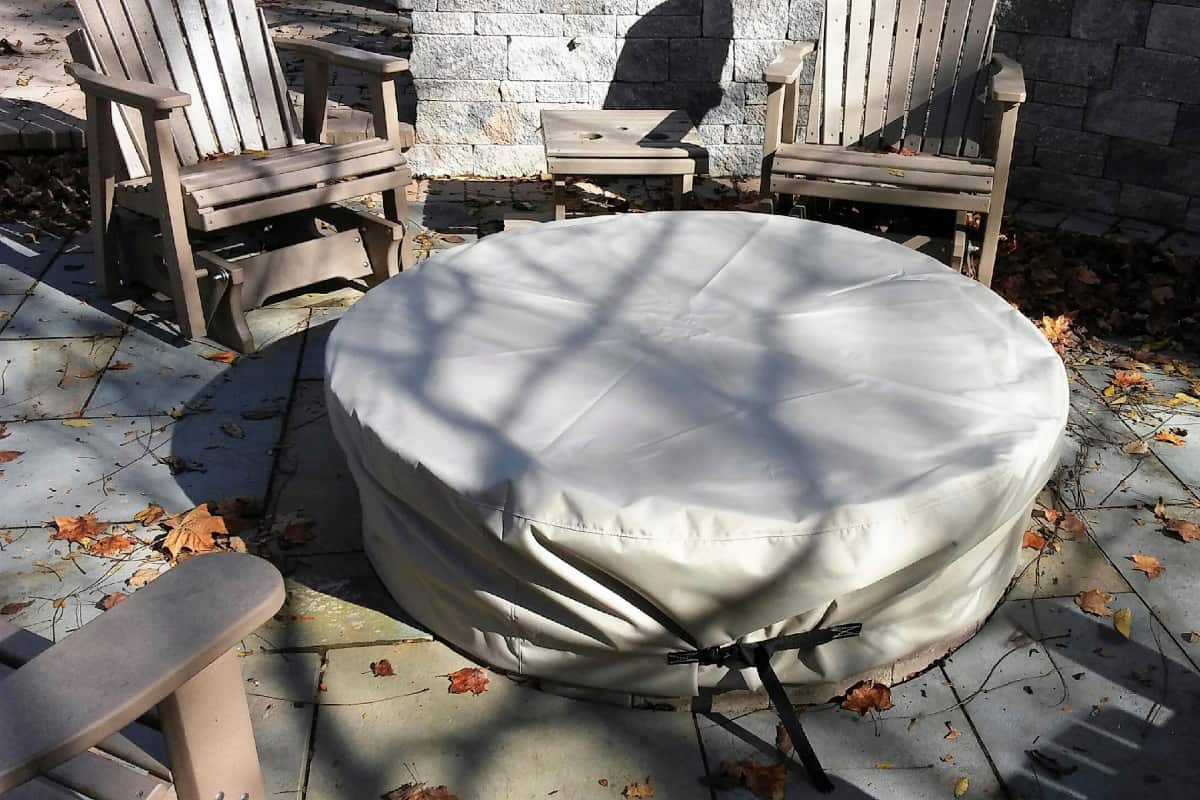 Maintenance – Keeping your fire functioning & looking good
It's important to properly maintain your fire features not only to ensure a safe and efficient flame but to extend the life of your investment. Schedule an annual inspection of gas lines by a licensed professional.
Cleaning – Remove all the ashes from wood fires after each use and clean fireplace screens to avoid build-up of soot and other particles. Mild soapy water and a whisk brush or broom should do the trick. For chimneys and flues, you should consult industry experts like the Chimney Safety Institute of America for advice and service references. Inspect burners for excess residue and wipe them clean with a soft cloth or cleaning materials approved by the manufacturer. Likewise, check decorative fire media for dirt and debris, and wash as needed.
Protecting – Weather-resistant protective fireplace covers and fire pit covers are essential to prevent water and debris from putting unnecessary wear and tear on your equipment. If the winter seasons are harsh where you live, store portable fire pits in a dry sheltered area. Drain firepits of standing water and let them dry before using again.
Frequently Asked Questions – Fire Pits & Outdoor Fireplaces
Before you do anything, contact your local government, homeowners' association or fire department to make sure that firepits are legal in your community. Find out if there are any restrictions on the size, placement, material or fuel type and be sure to comply with all regulations and obtain any required permits.
To make a low-cost firepit yourself, you need a variety of tools and materials.
TOOLS: Shovel, hand tamper, rubber mallet, trowel, level, marking paint
MATERIALS: Pre-cut blocks (trapezoidal for a round fire pit), metal fire bowl or ring (or fire bricks), granite gravel, landscape fabric, pavers, crushed stones or pea gravel, mortar or construction adhesive
STEPS:
Select the location of your firepit - Find a position 15-20 feet away from structures or flammable materials - Clear away brush and overhanging branches in the area
Mark and prep the area - Use marking paint to draw a circle slightly bigger than the circumference of the firepit (typically 3-4 feet across) - With a shovel, dig a hole roughly 7 inches deep - Pack the dirt down solidly with a tamper and make sure it's level
Build the fire pit foundation with gravel - Pour crushed paver gravel into the hole (about 5 inches) - Thoroughly wet the gravel and tamp it down until there's a compact layer approximately 2 inches below the surface - Check to make sure it's still level
Set the blocks in place - Place the first layer of blocks on the gravel base around the perimeter - Make sure the blocks are fitted tightly together - Use leveling sand and a long level at multiple spots around the circle to ensure everything is the same height (tap with a rubber mallet to make small adjustments) - Lay the second layer of blocks but stagger the joints with the first
Test the fit of your fire ring or firepit bowl - Set the metal ring within the block circle and ensure a snug fit - If it's a metal bowl, make sure the lip rests fully and securely on the top of the blocks - Adjust the blocks if necessary - Remove the ring or bowl
Secure the blocks - Remove the second layer of blocks - Apply mortar or construction adhesive to the bottom layer of blocks - Refit the second layer and repeat the process for additional layers (most fire pits have 3-4) - Be sure to test fit each row as you go before permanently securing the blocks in place
Protect the surrounding area - Dig a 7-foot diameter trench around the firepit (2-4 inches deep) - Line the bottom with landscaping fabric to prevent weeds and other plant growth - Cover the area with pea gravel, crushed rocks or stone pavers
NOTE:Check the curing time for the construction adhesive or mortar to ensure the DIY fire pit is completely dry and ready to safely handle a fire.
Lighting a fire pit or outdoor fireplace is different depending on the fuel burned and the specific design of the fire piece.
WOOD
Build an ample pile of tinder (bark shavings, pine needles, cotton or cattail fluff)
Stack kindling (splinters, sticks & twigs) in a pyramid with smaller pieces first
Use a long-stemmed match or lighter to ignite the dry brush
Add larger pieces of kindling until the fire is blazing
Add firewood (slabs of wood or logs)
LIQUID PROPANE & NATURAL GAS
Make sure the gas control on the fire pit is turned off before opening the valve for the plumbed natural gas or liquid propane tank. Gas-fueled fire features are typically push-button or match light and each has its own protocol.
Push-button
Press the ignition button (usually red) until you hear a clicking that indicates that sparks are being generated
Continue depressing the ignition button and turn on the gas at a low level
Release the button when you see flames coming from all the jets
Adjust the flame height using the gas control
Matchlight
Ignite the lighting wand/rod and hold it next to the jets at the center of the firepit
Turn the gas to the "on" position
Remove the lighter once all the jets are lit
Adjust the flame height using the gas control
BIO-ETHANOL
Open the lid to the burner and make sure it's clear and ready for use
Fill the burner with approved bioethanol fuel using filling accessories recommended by the firepit manufacturer
Move the fuel container a safe distance away
Use the lighting rod provided by the manufacturer and follow their instructions for igniting the bio-ethanol (e.g. EcoSmart Fire directs you to dip the end of their lighting rod into the bio-fuel, light the rod and then dip the flame into the burner until it lights)
Adjust the flame height using the burner controls
Electric fireplaces can heat a room but they have a variety of pros and cons versus traditional wood-burning and gas fireplaces.
PROS:
Heats quickly
Low maintenance
Low cost
Pollutant-free
Safer for children and animals
Efficient energy to heat conversion
Variety of installation options
CONS:
Produces less heat than gas and wood-burning alternatives
Power-dependent
Artificial flame less aesthetically pleasing than the real thing
NOTE - Infrared electric fireplaces can heat a much wider area than electric fan heaters.
The best firepits are well-designed and made of high-quality materials with strong manufacturer warranties. Choosing the fire pit that is most appropriate for you depends on the unique requirements of your outdoor space and personal preferences.
High-level factors include:
Legal restrictions
Environmental constraints
Budget limits
Other important considerations include:
Placement (proximity to home)
Function (heating, cooking or aesthetic)
Design style (above or below ground, fixed or freestanding)
Material construction (metal, mineral or tempered glass)
Fuel type (wood, liquid propane, natural gas or bio-ethanol)
Safety features
Ease of maintenance
---
References